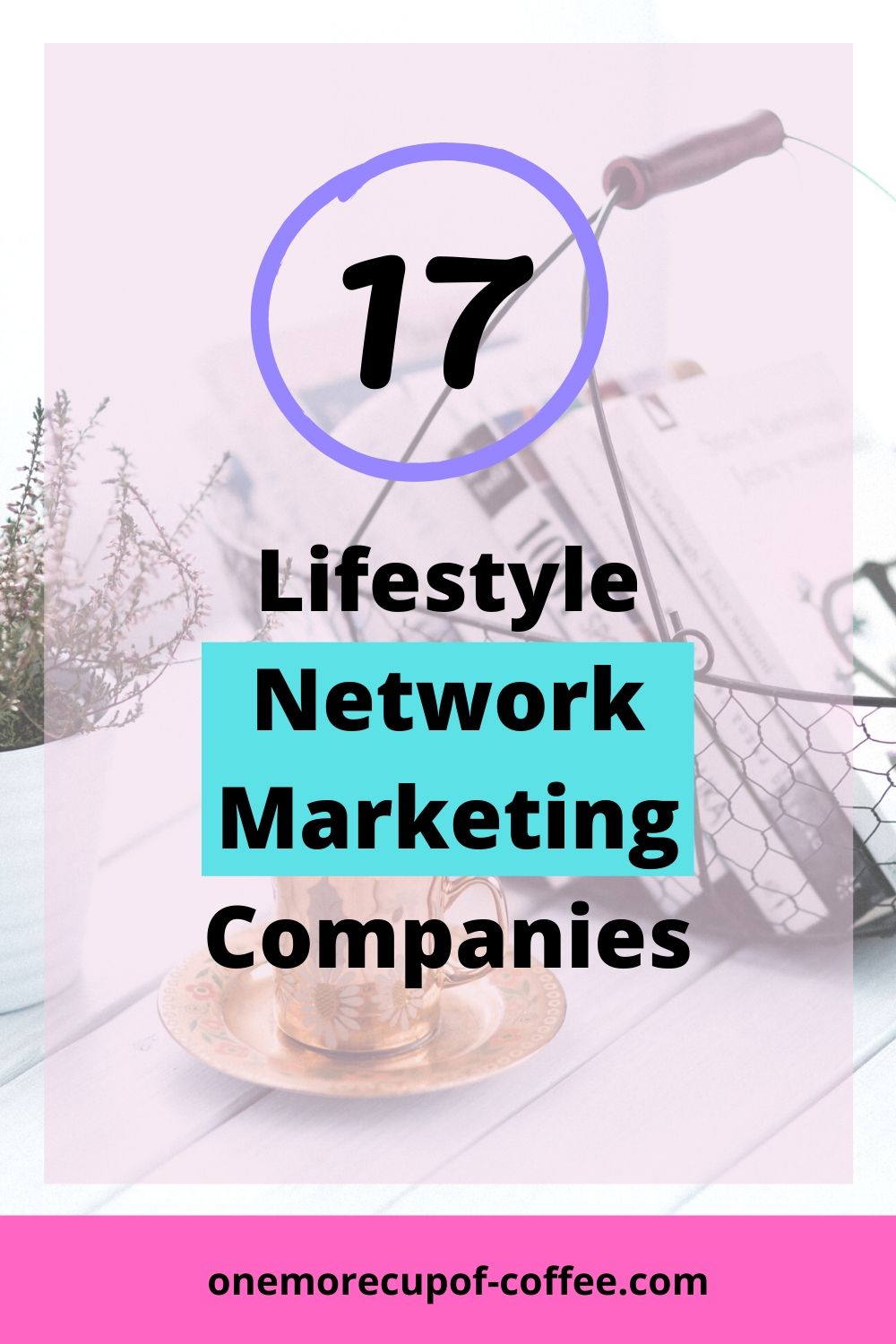 The idea of lifestyle blogs and lifestyle network marketing companies is a little amusing. These all focus on living an ideal lifestyle, which can basically mean anything. The phrasing often pops up in companies that claim to provide financial freedom, as well as those that promote health products.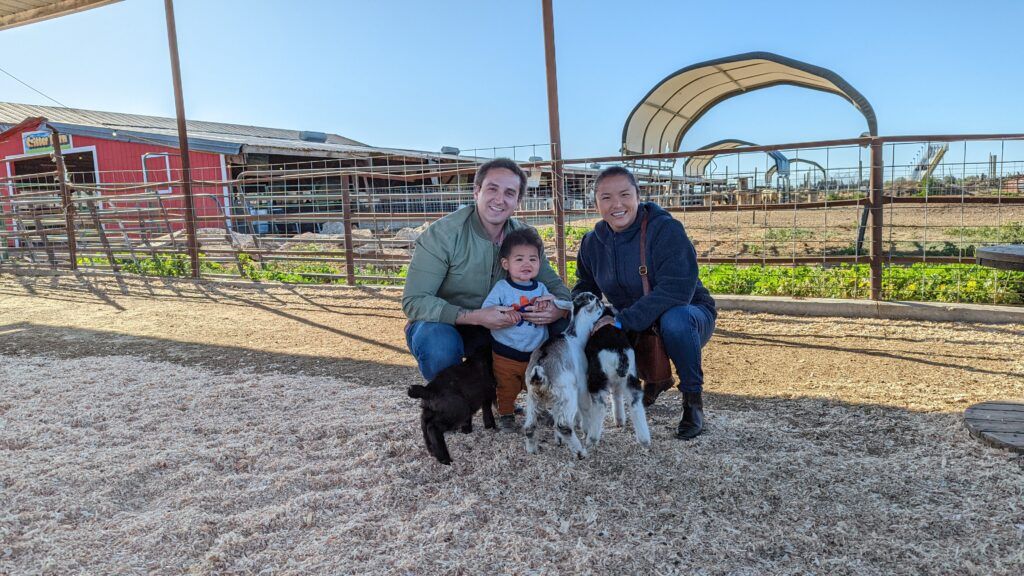 Are You Ready To Work Your Ass Off to Earn Your Lifestyle?
Are you tired of the daily grind? With a laptop and an internet connection I built a small website to generate income, and my life completely changed. Let me show you exactly how I've been doing it for more than 13 years.
Lifestyle companies can sometimes be very similar to one another. Other times they may have nothing at all in common. In this list, we're highlighting a variety of MLMs that fit into the lifestyle idea, broadly speaking.
Many of them fall into the health field and use the phrasing lifestyle in their marketing. But, there are other examples as well. Some of these are more unusual and could be more interesting too, as long as the products match your audience well.
We've aimed to keep the list to a reasonable length because, let's face it, we could have gone on and on. Lifestyle is one of the most commonly used words in MLM marketing. The second most used idea is to "make money", but you aren't really supposed to talk about that, because then then it starts to look like a pyramid scheme.
And this is my biggest problem with most network marketing, or direct sales companies. At face value, they are supposed to help you "start a business", but in reality you end up being just sales person trying to recruit your close friends and family into a get rich quick scheme. Personally, I would never join an MLM company, or encourage others to join.
Still, I think it's an interesting idea, and I've even chose a #1 pick at the very end of the list of which company I'd recommend (if I had to pick one). PS. I'm not affiliated with ANY of them. And if you're into lifestyle companies, you might also like these personal development MLMs, or fitness MLMs.
Lastly, my recommendation is that if you want to promote these companies, instead of relying on personal relationships and leveraging friends and family on Facebook to make sales, it's better to start a lifestyle blog and promote your stuff on the internet to a wider audience. You'll get more sales, and won't alienate those close to you, as is common with MLM and network marketing.

Lifestyle Network Marketing Companies
Orenda International
Optavia
Novae Life
World Global Network
Beachbody
Tranont
LIFE Leadership
Forever Living
Thrive Life
Nikken
Pruvit
Total Life Changes
Kuvera
Now Lifestyle
IDLife
Modere
World Ventures
1. Orenda International

Focus: Detox, weight loss and nutrition
Minimum Cost: Free
Product Overview: Orenda International uses the phrase be your best self, which sums up their marketing angle pretty well. The company also mentions that they aim to lift people up and provide them with more control over their health and lives.
The company certainly markets itself well and it's easy to see why people end up convinced about the products. Even so, the products that Orenda International actually offers are surprisingly typical.
Many of their products are supplements, including an immune supplement, digestive enzymes, a weight loss supplement and multivitamins. There is also a nutritional shake, which is pretty similar to shakes that you will find from other brands.
Orenda International does also have a detox program. This includes a coaching element (in the form of videos), along with a set of products.
Detoxing is highly controversial and there's a lot of debate about whether you can actually detox through food and/or supplements. I'm not going to argue the point, but it's worth considering your own views (along with what your audience will think) before getting involved with Orenda International.
Commission Quick View: Compensation from Orenda International is complicated. Members can get a 20% or 40% discount on their orders, while customers can get a 10% discount on autoship.
You need to hit the Manager rank to get the 40% discount. This can be done by reaching $2,000 in group sales within a month or by buying the appropriate membership pack (which costs upwards of $1,700).
Your profit margin depends on your own level of discount and the discount of the person that you're selling to. In practice, this means a profit of 20% to 40% on sales.
While Orenda International doesn't provide complete information about their team structure, it's clear that they rely on a rank-based structure. They also use a unilevel plan.
The unilevel design means that you can't just stop with the people who you recruit. They need to recruit others and so on. Otherwise your team won't get enough levels.
Final Thoughts: The products from Orenda International aren't unusual, but they might still sell to the right audience. Even so, the presence of multiple discount tiers would make it difficult to optimize your income.
This style may also mean that you need to purchase products and resell them. A resale model increases the money that you need to put into the company. It can also increase the risk that you'll lose money.
2. Optavia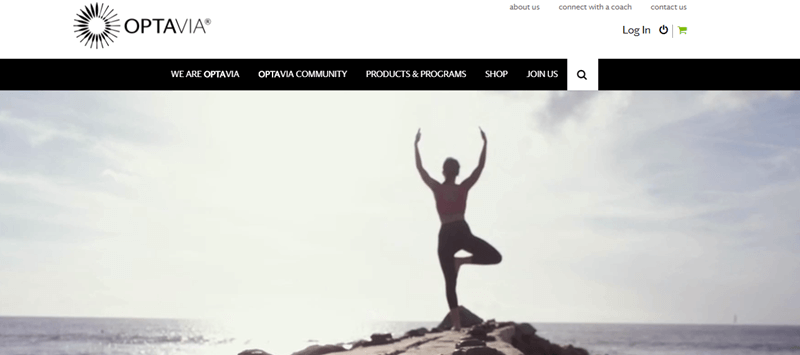 Focus: Health through weight loss
Minimum Cost: $199
Product Overview: Optavia focuses on the idea of changing a person's life through healthy habits. This mostly means weight loss, but Optavia is careful to avoid overusing that term in their marketing. Instead, they maintain a firm focus on health.
Optavia offers a handful of plans to provide these benefits. The main options are the Optimal Weight 5 & 1 Program, Optimal Weight 4 & 2 & 1 Program and the Optimal Health 3 & 3 Program. The numbers here refer to various types of meals.
Regardless of the program, members heavily rely on Optavia Fuelings. These are meals, snacks and protein shakes that Optavia develops. They're a little like the products from Weight Watchers, which means that many are packaged and fairly processed.
The meals and snacks aren't cheap either. For example, a kit for the 5 & 1 Program costs $364.65. The kit does contain 119 servings, so it's not quite as bad as it first seems. Still, many customers wouldn't want that much processed food in their diet and certainly wouldn't want to pay more than $350 for the items.
The main other area is Purposeful Hydration. This is a small product range that simply consists of drink mixes. The marketing makes the mixes sound amazing but there are plenty of similar products out there.
Commission Quick View: The compensation plan from Optavia reflects the company's focus on providing support for customers, rather than just products. As part of this, distributors are meant to act as coaches.
They can earn up to a 3% bonus for being certified in this role, along with up to 13% bonus commission for client support. The base compensation rate for sales is 15%, so the range of compensation ends up being from 15% all the way through to 31%.
However, the client support bonuses are related to the value of sales that you make each month. This means that only high-performing distributors will earn the maximum percentage from their work.
Optavia follows a unilevel plan for team commissions, but their approach is a little unusual. Instead of allowing members to earn from different levels in their downline, Optavia pays based on the ranks of people in the downline.
For example, at the Senior Coach rank, a distributor can earn 4% from all the Coaches in their downline. At the Manager rank, a distributor earns 6% from the Coaches in their downline and 2% from the Senior Coaches.
The style adds on another complexity, as distributors need to make sure that their team members get promoted.
Final Thoughts: It's nice to see that Optavia is focusing on health rather than weight loss. Even so, the idea of buying processed food for health or weight loss is getting less popular over time. The compensation plan from Optavia also makes the company pretty undesirable.
3. Novae Life

Focus: Financial fitness
Minimum Cost: $50 + $50/month
Product Overview: Novae Life once had a variety of lifestyle products, but the company now just focuses on financial fitness. The company suggests that their services can help people thrive financially and live the lifestyle that they want to.
Novae Life offers various financial services, but they mostly focus on Novae Money. This is a monthly subscription program that provides a variety of services, such as credit monitoring and debt elimination software.
There are two versions of the program. Novae Money Basic has a $199 enrollment fee and an ongoing fee of $49 each month. Novae Money Premium costs $199 to enroll as well, but has a monthly fee of $79.
These prices are high. How many people are going to have a spare $49 or $79 per month? To make matters worse, you're targeting people who need financial fitness education. You'd probably find that most potential customers couldn't afford the service.
Commission Quick View: Novae Life has an unusual compensation plan. To start off with, members can join the Affiliate Program (for $50 + $50/month), the Affiliate Program Plus (for $249 + $50/month) or the Affiliate Program Pro (for $499 + $50/month).
Only members of the Affiliate Program Pro version can promote all of the services from Novae Life. Other tiers can only promote Novae Money itself.
There is no single commission rate. Instead, your commission varies depending on the product. On the plus side, you do earn $75 for each $199 sale of Novae Money, along with $5 or $8 a month from the ongoing fee.
The payments for some of the other programs aren't as good and you don't make anything at all on the Financial Wellness Planner. Still, the overall compensation balance isn't too shabby.
The team aspect follows a rank-based system. There are more ranks than normal and a higher number of requirements per rank.
An odd aspect is that you earn a set Monthly Residual Commission based on your rank. The commission total doesn't appear to be influenced by team sales at all. The style might be a benefit in some situations, but it could be a serious limitation in others.
Final Thoughts: Novae Life is one of the few MLMs that still charges members a monthly fee for the chance to make money. I recommend avoiding it for that reason alone. The income potential isn't high either, especially as the services will only appeal to a limited audience.
4. World Global Network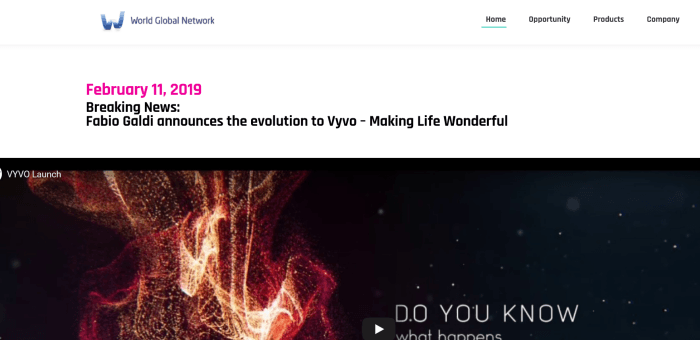 Focus: Wellness tools
Minimum Cost: $359
Product Overview: World Global Network may sound like a travel MLM, but it is basically a wellness company, but they don't take the same approach as other companies in the field. Rather than providing various supplements, drinks and powders. World Global Network offers technology that may improve health.
Their product range isn't extensive and it seems to vary between regions. But, their most significant lifestyle product is called HELO.
This is a wristband piece of technology that has a variety of sensors to track physical data. Some of the information provided includes fatigue, exercise, sleep quality, heart rate and blood pressure.
There are more unusual features too, including the use of germanium (which could offer health benefits) and the ability to send an SoS from the device itself. HELO uses an open API, which may allow for more features and apps to be developed at a later date.
Tools like these are popular with some people who want to improve their health. The data provided can help them to refine their behaviors. The HELO app even provides some recommendations that can be followed to improve health.
One other product to mention is BioZen. This is a small device that goes on the back of your phone. It is designed to block damaging radiation, which could offer benefits. If nothing else, a product like this is likely to be popular, as many people are worried about cellphone radiation.
Commission Quick View: With World Global Network, you earn 10% commission on sales. That's it. Just 10%.
The rest of your income is going to come from your team. The company follows a binary approach, which means focusing on two groups under you – your left and your right team.
The idea is to balance these as closely as possible. This is because the volume that you get paid on is based on the amount that two teams share. So, if one team gets 100 sales in a month and the other gets 1,000, you only earn from the 100.
World Global Network suggests that you can earn 10% if you hit 100 sales volume in each of your two teams or 20% if you hit 500 sales volume (those figures can vary depending on your country). However, some of their phrasing is unclear, so the percentages may mean something else.
World Global Network also has the standard variety of extra ways to earn, including a unilevel plan. The various approaches get complicated fast and you need to hit requirements to be eligible for extra pay.
Final Thoughts: The offering of just 10% commission per sale is a key reason to give World Global Network a miss. Regardless of where you get to with your team, trying to earn with such a low commission rate is just painful.
5. Beachbody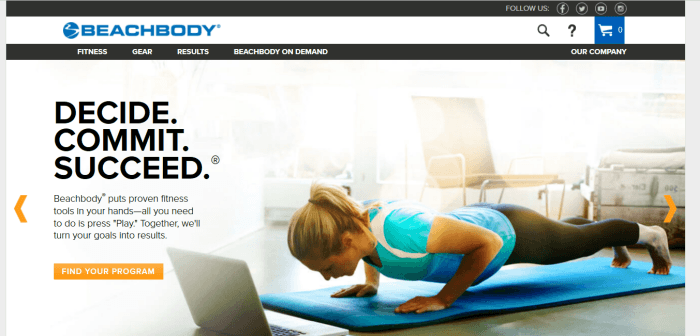 Focus: Fitness and weight loss
Minimum Cost: $39.95
Product Overview: It would be easy to consider Beachbody as just a weight loss company, as they're famous for their Shakeology shakes, along with some diet programs. While these could be appealing areas, they're just one aspect of what Beachbody has to offer.
As a whole, Beachbody focuses on a fitness lifestyle, one where people are eating well and getting the results they're looking for. Consultants for Beachbody are called Coaches. Their role isn't just to promote the products, but also to help guide and support customers.
One interesting service is Beachbody on Demand. This allows customers to stream workouts and find out information for healthy living. Marketing for the service strongly focuses on weight loss, but fitness is an important part of it too.
There are also a variety of fitness programs that can be purchased individually, along with fitness products, challenge packs, nutrition supplements and apparel.
The combination of products and services makes Beachbody an interesting company for promoting a healthy lifestyle. The emphasis on fitness rather than just weight loss helps Beachbody to stand out in the field.
That being said, Beachbody is an MLM, so the products are somewhat overpriced. There are also many similar products and services out there. The biggest advantage of Beachbody is simply that everything is available in one place.
Commission Quick View: Compensation varies depending on what you're promoting. Beachbody offers 25% commission on retail products and up to 35% on Challenge Packs. Beachbody on Demand memberships provide 40% commission.
The base level of 25% commission isn't amazing, especially as it cannot be increased. Still, it is higher than you'll find with some other companies.
Being able to earn 40% commission from Beachbody on Demand memberships is more impressive. The one limitation is that you're likely to earn just once per membership, even though members will be paying monthly.
The team aspect follows a binary model. Each cycle of your team earns you somewhere between $14 and $18, depending on your rank in the company. Cycling the team means hitting 300 points, which need be structured so that you get 200 from your strong team and 100 from your week team.
You can cycle your team many times in a month. This style means that less reliance on who recruited who, but you do need two legs to your team. Maximizing your income involves keeping these legs as balanced as possible.
Final Thoughts: Beachbody offers a decent number of products and multiple angles that you can focus on. While the compensation plan isn't amazing, it isn't horrible either.
If nothing else, it's nice to see a company that focuses on more than just weight loss. Many of the programs from Beachbody could even be sustainable for health and distributors could easily focus on that angle.
6. Tranont

Focus: Health products and various services
Minimum Cost: $349 + $49/year
Product Overview: Tranont is a health, wealth and community opportunity. At least, that's what their marketing suggests. The idea seems to be that they're a more well-rounded company than many others, which could be appealing to the right audience.
However, the emphasis does make the product combination a little odd. Basically, Tranont has a selection of health products, along with various services in areas like tax and identity protection.
There are six products in the health category. They're well-presented and aren't excessively expensive, but they're still pretty typical for the industry.
The main way to purchase services is through a Business Smart Pack for $59 per month or a Tax Pack for $45 per month. Some of the services can be purchased individually too, although there aren't many details provided about the pricing.
You might have noticed that we haven't talked much about the community side of the opportunity. That's because there aren't any community-focused products. The term mostly refers to the way that Tranont tries to support groups in need.
Commission Quick View: The base commission rate with Tranont is just 10%. You need to hit 500 volume in sales to increase this to 20%, then 1,000 volume to get 35% commission.
To make matters worse, you're not earning from the sales price. Tranont has set fees for each product or service.
In many cases, you're earning a percentage of Tranont's own profit. This is concerning, as Tranont is sometimes just a partner to the company providing the services. How much you'll get from those sales is anyone's guess.
There are also complexities in how volume is related to product sales price. These could make it difficult to maximize your income potential from Tranont.
The team aspect allows you to rank up mostly through sales volume, rather than the structure of your team. Just watch out for the monthly personal volume requirement. This could be difficult to meet.
Final Thoughts: With low commissions from sales and difficult volume requirements, Tranont doesn't have much going for it. Besides, it's tough to know whether the services would be competitive.
7. LIFE Leadership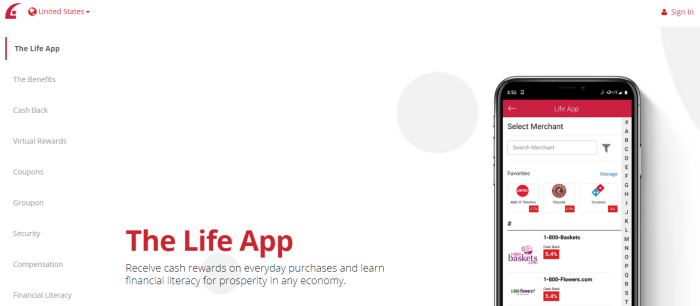 Focus: Financial fitness and personal development
Minimum Cost: $99
Product Overview: LIFE Leadership focuses on the idea of living a full and empowered lifestyle. Their product line focuses on two aspects of this – financial fitness and personal development.
The company offers various individual products in these areas, such as eBooks, physical books and audios. Many of these are accessible through the free apps that LIFE Leadership has developed. Of course, the products need to be purchased first.
LIFE Leadership also takers a membership angle. There is a monthly financial fitness membership (for $40) and a similarly priced one that focuses on personal development.
Both memberships provide access to various products for as long as the monthly fee is paid. This approach is less expensive than buying all of the products individually, especially for people who can learn what they need to quickly.
The free Life App is worth mentioning too. This has some familiar features, including coupons and the ability to get cash back on purchases.
However, the app requires a surprising amount of personal information before you can even see the features on offer. This aspect could be concerning for many potential customers.
Commission Quick View: The commission rate for LIFE Leadership starts at 15%. While this is a low rate, you can earn up to 30% in bonus commission (taking the total to an impressive 45% commission!).
The bonus percentages are directly linked to your Personal Volume each month. The requirements start off simply, at 150, 300 and then 600 Personal Volume for 3%, 6% and 9%, respectively. They quickly get into the thousands, which isn't nearly as appealing.
Volume isn't directly linked to dollar value either. For some products, $1.20 in sales will earn you 1 PV. Other products only provide 1/2 PV for $1 in sales.
Beyond this is the team aspect. This is more complicated than normal and heavily relies on bonuses.
Honestly, the number of bonuses is absurd. That's not a good thing either. Having lots of bonuses just makes the entire process far too complicated.
Final Thoughts: In the end, LIFE Leadership doesn't have many advantages. Their products aren't going to be that different than the other personal development items out there, while the earning money approaches are very complicated.
8. Forever Living

Focus: Aloe vera
Minimum Cost: Free
Product Overview: Forever Living is one of those health and wellness companies that seems to just keep on going. The company has actually been in business since 1978, which is pretty impressive for an MLM.
While Forever Living has a variety of products, their main emphasis is on aloe vera. Distributors tend to claim, or at least heavily imply, that the products offer considerable health benefits.
Some of the most significant products are aloe vera drinks. These are meant to offer an easy way to consume aloe vera regularly (if you want that!). Reviews are mostly positive, although some people complain about the flavor and the prices.
Another problem is that the products are marketed as natural (or 'as nature intended'), but there are some less appealing ingredients in some products as well.
Aside from the aloe vera drink, Forever Living has products in the fields of fitness, nutrition, beauty and skincare. None of these are particularly unusual, but the inclusion of aloe vera as an ingredient makes them stand out a bit.
As for aloe vera itself… views are mixed. Most people would agree that the compounds in the plant have some benefits for the skin. Pure aloe vera gel remains popular for that reason.
But, adding aloe vera into drinks and nutrition products? That angle is much more debatable. Could you really convince people to drink aloe vera regularly?
Commission Quick View: Forever Living focuses a reselling model. In the beginning, you're buying products at a 15% discount, which can be increased to a 30% discount once you make enough sales.
Reselling models are the pits. There's no way around it. Buying the products yourself is a risk. If you don't manage to resell every single one for a profit, then you could easily spend more than you earn.
Thankfully, Forever Living does have a replicated site for you to use as well. Making sales this way bypasses the need to purchase the products yourself. Because Forever Living focuses on buying and reselling first, the training for getting leads and sales through the site is likely to be minimal.
Distributors can actually reach an impressive discount of 48% on purchases. However, this involves progressing up through the ranks and building a team. The same is true for the other bonuses.
Forever Living also uses a differential compensation approach for some bonuses. This style means that if someone in your downline doesn't earn the maximum bonus for sales, you might get more.
While the differential approach has some benefits, it is also disheartening for beginners. This may make it more difficult to get people to join the company and become successful themselves.
Final Thoughts: I would only ever suggest Forever Living if you're passionate about the products. Even then, be sure that you know exactly what you're getting into.
The long history of Forever Living can also be a disadvantage in some ways. This means that many people have already heard about the products and some may already be resistant to the idea.
9. Thrive Life

Focus: Food for meal prep
Minimum Cost: $100
Product Overview: Thrive Life is one of the few MLMs that offers interesting products that aren't already being offered by countless other companies. The basic idea is to make eating and meal prep easy, while still allowing people to rely on natural food.
This idea is incredibly appealing and matches current trends well.
Thrive Life promotes three main categories of products: Snackies (snacks that can be eaten straight from the bag), To-Go (snacks that you add water to) and Ruvi (a blend with fruits and vegetables). There are other products in their store too, including proteins, sauces, seasonings and beverages.
These products largely rely on freeze-dried food. The approach helps Thrive Life to keep the food fresh and tasty without relying on chemicals.
The end result is that customers can eat much faster than would normally the case. Of course, the food isn't cheap. A snack pack of freeze-dried bananas costs $4.49, a container of freeze-dried beef slices is $27.29 and honey crystals are $8.67.
Commission Quick View: Thrive Life is refreshingly up-front about their compensation plan and the number of people who have hit each rank.
One of the most interesting things is the commission rate from personal sales. Or, I should say, commission rates, as there are a few of them. The range of rates is the same regardless of your rank.
The differences are based on the type of products that you're selling.
Enrollment Starter Kits: 20% to 32%
First Month Deliveries: 10% to 14%
Second and Third Month Deliveries: 10%
Other Monthly Deliveries: 5%
Personal Sales: 10%
These rates are pretty low, especially as the starter kits are one-time sales to new distributors. The only saving grace is that you have the potential for residual income. If someone gets deliveries from Thrive Life monthly, then you are getting regular income without any extra work.
The team side of things follows a very simple unilevel plan. Members can earn a maximum of 2% residual income from their Level 1, 2 and 3 members and 0.5% from Level 4, 5 and 6. Those are the highest rates. Distributors initially just receive 1% on their Level 1 team members and only if they can hit the third rank in the company.
There's one other thing to mention, ongoing costs. Thrive Life is one of just a few MLMs that still requires monthly purchases. You need to buy at least $50 of products yourself every month to be able to make money. The requirement increases to $100 and then $150 at the higher ranks.
This is personal purchases only. There is a personal sales requirement too once you get past the first rank. This starts at $500 (per month!) and increases from there.
Monthly requirements are frustrating at the best of times. Having to deal with two of them at once is just absurd.
Final Thoughts: The products from Thrive Life are interesting and unusual enough that you could make sales. There's also plenty of variation in the product types. You could find that some people like the idea of fast and easy snacks, while others are more interested in ingredients like butter powder for cooking.
Still, the products wouldn't appeal to everyone. The compensation plan is pretty rough too. The personal purchase requirements and low commission rates would make it hard to earn much at all.
10. Nikken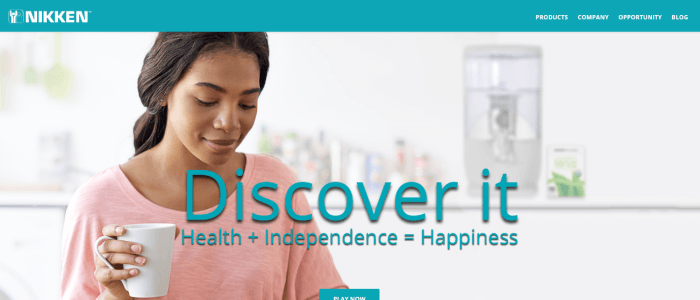 Focus: Health through magnets
Minimum Cost: $49
Product Overview: Nikken promotes a different idea of a healthy lifestyle. The company offers a combination of product areas, including nutrition, skincare, environmental products and relaxation.
The relaxation area is the most notable, as many of the products rely on magnets in some form or another. For example, there are magnetic insoles, magnetic jewelry and even a magnetic massager. Magnets also make their way into products that don't seem at all related, like comforters.
It's hard to know whether the products are well-priced or not. That depends a little on the value that you place on magnets. Still, there is a decent variation in price. The more expensive items might even have some advantages, as they could mean more income per sale.
Interestingly, Nikken's current marketing approach doesn't emphasize the magnets at all. The focus is on active wellness instead.
Magnets and active wellness are both lifestyle areas that distributors could focus on to promote the products. Even so, it's always best to be passionate about the products yourself. Without personal passion or interest, it could be very difficult to make sales.
Commission Quick View: Nikken offers 25% commission on all sales. This can be obtained by buying and then reselling the products, or by making sales through a replicated website.
The commission rate stays the same regardless of your rank in the company. However, members also gain a Personal CV Rebate of up to 20% (depending on rank). It isn't clear what this rebate is, but it could offer a way to increase income.
Regardless, you need to increase your rank to get access to the rebate, which involves building a team. Going up through ranks also provides you with an override bonus.
With Nikken, this bonus is based on your entire team and starts at 5%. The approach means that you don't need to worry about team structure at the early ranks.
There is the chance to earn residual commissions on team levels in higher ranks as well. However, these residuals only come from distributors who have hit the higher ranks themselves. This suggests that most people won't be earning commissions from the levels in their team.
Final Thoughts: Nikken has a surprising amount going for it, including unusual products, a decent enough base commission rate (25%) and the fact that you initially earn from your team as a whole, not from levels.
Even so, you would need to consider your audience carefully. Nikken's main products rely on magnets, so you'd need to be able to convince people that magnets have advantages.
11. Pruvit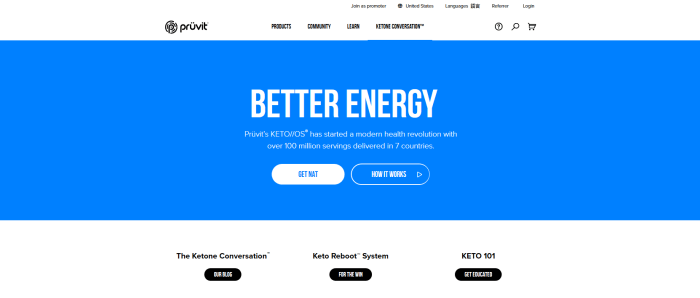 Focus: Ketosis
Minimum Cost: $37/year
Product Overview: Pruvit is an MLM for people interested in the keto diet. If you're not familiar with the idea, keto involves dropping down your carb intake low enough that your body enters ketosis, which is a fat burning mode.
People can live a keto lifestyle without ever relying on products by simply making good choices about food. In fact, most keto dieters rely on whole foods, rather than packaged products.
Even so, there is demand for products that make it a little easier to get into ketosis or to stay there. That's where Pruvit comes in. The company offers one product: KETO//OS NAT. It costs $130 for 20 servings.
While the product name (and price!) isn't very appealing, the product itself is. KETO//OS NAT is a type of naturally created ketone salt. Pruvit offers various flavors, along with the option to choose a version with caffeine or one without caffeine.
With just one expensive product, Pruvit might not seem like the greatest choice. Still, ketosis remains a popular lifestyle and there is decent demand for products like this.
Commission Quick View: Pruvit's compensation plan is one of the most complicated that I've seen. It includes a variety of different 'ways' to earn, including various bonuses and systems.
One notable aspect is that there are multiple fast start bonuses. These provide the chance to earn more in the early part of your membership.
Just be careful, as at least one of these bonuses costs to join. The theory is that you would earn more extra income than the price you pay. Still, there are no guarantees that it will work out that way in practice.
Another interesting thing is how Pruvit approaches its unilevel team plan. Unusually, distributors can earn all the way down to their Level 8 team members right from the first rank. Going up ranks largely increases the percentages that are earned, rather than the depth that distributors can earn from.
The style has some advantages if you manage to grow a large team without hitting the requirements to move up the ranks. But, it also means that percentages for most downline levels start off at just 1%, which is very low.
When it comes to selling the product, Pruvit provides 20% commission on sales. This seems to remain consistent throughout the sales plan. However, there are few details provided on the sales side of things, so it's tough to be certain.
Final Thoughts: Pruvit is interesting. I'm not convinced that you would make much from the company unless you had an audience that was very passionate about keto.
The most potential would probably come from promoting the products online. While you may not personally know many people who are interested in the keto diet, there are many such individuals online.
12. Total Life Changes

Focus: Health and nutrition
Minimum Cost: $39
Product Overview: Total Life Changes strongly focuses on the lifestyle angle. Seriously. A glance at their site makes it sound like they're promoting the most amazing lifestyle ever.
Yet, when it comes down to it, this is another company that primarily focuses on health products. Their products are broken down into the following sections: Weight Management, Full Body Nutrition, Energy and Fitness, Hair and Skin Care, Relaxation & Relief, and Women's Health.
Total Life Changes is most well-known for Iaso Tea. This is an 'all-natural brewed cleansing tea', which basically means that it aims to promote detoxing.
Detox products are controversial, to say the least, and Iaso Tea is no exception. Some people swear by the drink. Others claim that it is a scam product. Some people even experience side effects.
Other products from the company are less controversial, but they're still not all that unusual. For the most part, Total Life Changes offers similar products to other health companies, just with different packaging and their own sales pitch.
The products could still sell to the right audience, but it's critical to weigh up who you'll be selling to first. At the same time, think about whether you are passionate about what Total Life Changes offers. If you're not, sales would be much more difficult.
Commission Quick View: The retail bonus from Total Live Changes provides distributors with 50% of the products Qualifying Volume (QV) in commissions. For a $49.95 pack of Iaso Tea, this provides $20 in commissions (the QV is 40).
Earning $20 for a sale of roughly $50 isn't too bad, although the relationship between QV and product price might not always be the same.
That's it for sales compensation. There isn't any way to increase the rate.
For the team aspect, Total Life Changes follows a binary model. Each week you earn between 10% to 25% of the CV from your weaker leg – as long as there is one personally sponsored active recruit in each leg (we'll come back to being active shortly).
The percentage you earn and the cap on your earnings is based on your rank. Associates start off with 10% from their team and a $5,000 cap.
Total Life Changes has an ongoing requirement of 40 QV every month. You need to hit this to remain active, even if you're not planning to build a team. If you're not 'active', you don't earn any commissions at all.
One way to reach the QV is simply to buy 40 QV worth of product yourself each month. If you'd rather not do that (after all, the goal is to make money, not spend it), then you need to hit the target through retail sales.
There's a catch to the second approach. Each 40 QV retail sale nets you just 5 QV. So, if you want to take the sales route, you need to make 320 QV of sales each month. That's a huge difference.
The QV doesn't precisely equal the dollar value of the product either. So, you'll need to make more than $320 in sales monthly to just stay active (potentially quite a bit more).
Final Thoughts: Honestly, Total Life Changes isn't that impressive. There's nothing amazing about the products and the compensation plan isn't too good either. It might be okay if you just planned to make sales, but you still have to watch out for the 40 QV monthly requirement.
13. Kuvera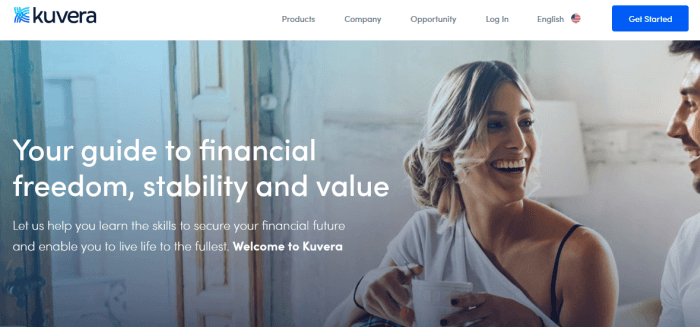 Focus: Financial Fitness
Minimum Cost: Unknown
Product Overview: Kuvera offers education in finances and money management. This includes interactive lessons, live webinars and financial training videos.
The company's marketing suggests that their education provides people with more financial control, which leads to 'fulfilling lives' and 'meaningful experiences'. The claims are bold for simple financial education, but the company is correct that being less stressed financially has many flow-on benefits.
Kuvera also provides market education. This product area includes Research and Market Analysis Sessions, live training and alerts.
I know that these descriptions are vague, but Kuvera doesn't provide more information. There are no details about the specific services that you get either or what they include.
To make matters worse, Kuvera doesn't provide pricing information. The company simply tells visitors to contact a distributor to learn more.
It's also worth mention that Kuvera's history is a little odd. The company once operated in the cryptocurrency sector, using the name Kuvera Wealth for that set of services. It's not clear whether the cryptocurrency side of things is still active, as the information on Kurvera's site just isn't useful.
Commission Quick View: The compensation plan from Kuvera has limitations too. For one thing, the plan doesn't provide information about whether you earn commissions from sales or not.
The main way to earn simply seems to be to get your subscription plan paid for you, which isn't all that useful.
The team aspect follows the typical rank-based structure. However, you seem to get paid a set dollar amount at each rank, rather than earning based on your team's commissions. For example, the payout at the second rank is $1,000.
Despite the uncommon style, this is still a team-based method of earning, as team volume plays a key role in moving up through the ranks.
Final Thoughts: Honestly, Kuvera is just frustrating. The company heavily relies on marketing hype, yet there is barely any information about the products or the compensation plan.
So, why bother? There are many other better choices out there.
14. Now Lifestyle

Focus: Nutrition products
Minimum Cost: Free
Product Overview: We can't talk about lifestyle MLMs without mentioning Now Lifestyle (because of the company's name, if nothing else). The company offers a selection of health and wellness products, in categories like muscle gain, fat burners, weight loss and enhanced energy.
None of the products are very unusual and the prices are typical for the industry too. To make matters worse, the product range isn't very large. Distributors would need to work hard to convince people that the products are worth trying out.
A more interesting aspect is the health and wellness program that Now Lifestyle offers. This costs $24.97 per month. It comes with tools like video workouts, calorie counters and automatically generated workouts.
The program doesn't offer all that much for the price, but perhaps that's not surprising. Many of the program's 'benefits' are linked to the chance to make money through the company.
On a side note, the product images have labels that say nowbody.com, even though that isn't the company's name.
Commission Quick View: Now Lifestyle offers 50% commission on direct sales, along with a '50% matching bonus' on the earnings of the people that you recruit. It's not entirely clear how this calculates out, but the commission rate does seem to be higher than many other MLMs.
The team side to the company runs through a binary model. Each time your team cycles, you earn as much as $20 in commissions.
The style is slightly unusual, as a cycle comes from having six students in your downline with a 1/3 + 2/3 balance. I've never seen this style in a binary plan before. Cycles are normally based on team sales rather than the number of recruits.
By taking this approach, Now Lifestyle strongly limits the amount that you can earn.
The requirements to earn from the binary part of the compensation plan are high too. You need to be paying $24.95 each month for marketing tools, have two direct referrals and bring in a new referral each month.
You can stop bringing in referrals once you hit six, if you want to, but as soon as one of them becomes inactive, you need to get another one.
Final Thoughts: Now Lifestyle just isn't worth it. Their products are unappealing and the compensation plan has serious limitations. The only saving grace is the amount of compensation per sale, but that wouldn't be useful unless you could make regular sales.
15. IDLife

Focus: Personalized Nutrition
Minimum Cost: Free*
Product Overview: IDLife takes a slightly different approach to the health industry by focusing on personalized nutrition. Their idea is that each person has different needs and their own lifestyle, so the best way for them to promote health will be different as well.
As part of this process, IDLife offers IDNutrition. This is a personalized supplement pack based on what a person is likely to need.
The specific supplements included in the pack are based on an in-depth questionnaire. Customers can also have a DNA test taken to customize the outcomes further.
While there's nothing new about supplements, IDLife's approach stands out. The company also breaks down the cost of its packs, giving people all the information that they need to compare prices.
Even if the supplements aren't the cheapest on the market, the combination of quality and convenience could be enough to convince many customers.
Beyond this area, IDLife is predictable. They have the same product types that you see with other health companies and similar pricing too.
Commission Quick View: Commission from IDLife is influenced by how you join. If you join as a free member, you need to hit $500 in personal sales and/or sell two starter kits (at $199 or $299) before you can earn commissions.
If you join with one of those starter kits, then you start earning immediately. The base commission rate is 30% on most sales. While IDLife does suggest that you should focus on buying and reselling products, they do also offer a replicated website that you can use to make sales.
A unilevel plan is used for team earnings. IDLife members can earn up to ten levels deep, starting at 5% for their first level. While there are still the typical challenges and rank requirements, the team plan from IDLife is better than many other companies.
Of course, there are monthly requirements for earning. This time you need to hit 100 Personal Volume of sales at the first rank. This increases significantly as you go up the ranks.
Final Thoughts: Most aspects of IDLife are decent enough. The main limitation is the monthly sales requirement. Because this increases with rank, you'll always need a strong focus on sales, even if you have a decent team behind you.
That aspect seems counterproductive. It would be better to be focusing more on team support work and less on personal sales as your team size increases.
16. Modere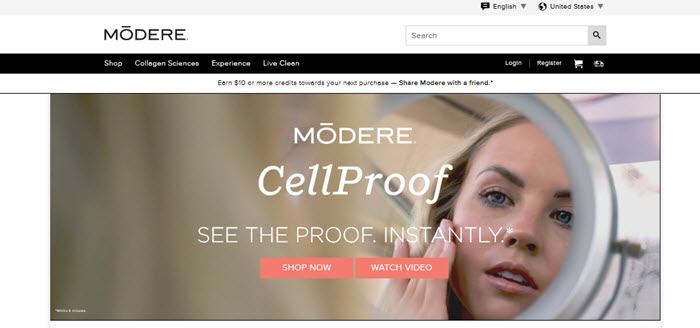 Focus: Clean living
Minimum Cost: $29.95
Product Overview: Modere focuses on the idea of a clean living lifestyle. Their products are meant to promote healthy homes, as they contain fewer chemicals and are generally safer.
That's the claim, at least. Modere isn't the only company to make similar suggestions. You can even find clean living products at grocery stores these days.
The products from Modere fall into a few key categories. First, they have typical health products, like protein shakes and weight loss supplements. They have skincare items too.
Modere also offers cleaning products. These rely on plant-derived compounds and avoid controversial compounds. Finally, Modere offers collagen products. These are meant to promote better looking skin.
All of the items are marketed well and the pricing is typical for the industry. These aspects could help to promote sales. Still, when it comes down to it, plenty of other companies offer similar items.
Commission Quick View: Modere has a frustrating compensation plan. Your commission rate is heavily based on your sales. You need to have 300 customer points in sales to earn anything at all. Even then, you're just making 5%.
To make significant income you need to be a Bronze promoter. Doing this gives you 18% commission. But, you need 500 customer points and five active customers.
That's rough. 18% isn't even a particularly good commission rate.
The team aspect uses a separate set of ranks and follows a unilevel system. The commission rates here aren't too bad, starting at 4% for your Level 1 and Level 2 and increasing to 7% with your next rank.
Even so, the problems with personal commissions would severely limit your chances of getting people to join your team and remain as active members.
Final Thoughts: If you earned more from sales, Modere might be an interesting choice. But, as it stands, most members would struggle to make the sales needed to get a good commission rate.
17. World Ventures

Focus: Travel
Minimum Cost: $99/year and $10.99/month
Product Overview: The marketing for World Ventures makes it sound like the company really is selling an amazing lifestyle. They actually focus more on this claim than on their service (which is concerning).
What World Ventures actually offers is a travel membership. People pay for membership and then they get a significant discount on their travel.
World Ventures sweetens the pot with its DreamTrips concept, which includes various services and accommodation. The marketing makes the trips sound amazing – while glossing over the fact that airfares need to be paid for separately.
Accessing these discounts requires being a member. That membership is what World Ventures distributors are promoting.
There are three membership tiers. Gold costs $144 initially and then $56.99/month, Platinum costs $200 initially and then $99.99/month, while Titanium costs $850 initially and then $149.99/month.
Not only are the memberships expensive, but there's no way to know what discounts members will get or whether these are any good. The examples on the World Ventures site are simply that, examples.
Besides, it's pretty tough to get people to pay for the chance to save money. The two ideas strongly clash. For that matter, most people who are saving to travel aren't going to put their money in a monthly membership.
Commission Quick View: Members do earn a commission from sales, but World Ventures doesn't provide many details about what you can expect here. The amount is likely to vary depending on what customers sign up for.
The team aspect is even more complex than usual. There is a unilevel system and also a binary model, each of which pays out in different ways. Not surprisingly, World Ventures has various bonuses as well.
These areas could mean more income potential, but they will generally just make everything more complicated. Members end up with multiple sets of requirements to hit.
One serious problem is the customer requirements. For example, to be a Senior Representative, you need 30 customers on each side of your binary plan – and this is just one of the middle ranks!
Honestly, 60 customers? Getting 60 people to pay for a monthly membership would be no easy feat.
Final Thoughts: World Ventures does suck people in when it first hits a market, as they offer a 'get four, pay no more' incentive. However, such traction is unlikely to last, especially once people realize the processes that are involved in being successful.
Top Pick
Of all the companies on this list, IDLife has the most potential. While many of the products from IDLife are common for the industry, the company manages to make itself stand out through the focus on personalized nutrition.
It's also pretty cool how up-front IDLife is about how the prices of various supplements break down. Customers can even access some of these details without paying for anything.
The biggest problem with IDLife is that your personal sales requirements end up pretty high as you go up the ranks. This isn't such a big deal if you mostly plan to focus on your own sales, rather than building a team.
Still, as always, it will be important to think about whether your audience would be interested in the products. It could also help to focus on how you would promote IDLife. One method may be to focus on what makes the company different than others.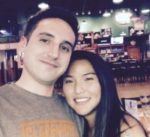 MLM Critic & Author: Nathaniell
What's up ladies and dudes! Great to finally meet you, and I hope you enjoyed this post. I have to be honest though. I'm not a big fan of MLM. Tried it. Hated it.
Affiliate marketing is cheaper, faster, and easier. See for yourself and join millions of other successful affiliates generating income from their blogs!
No inventory. No fees. No recruiting. 3 BILLION potential buyers online.
Reader Interactions