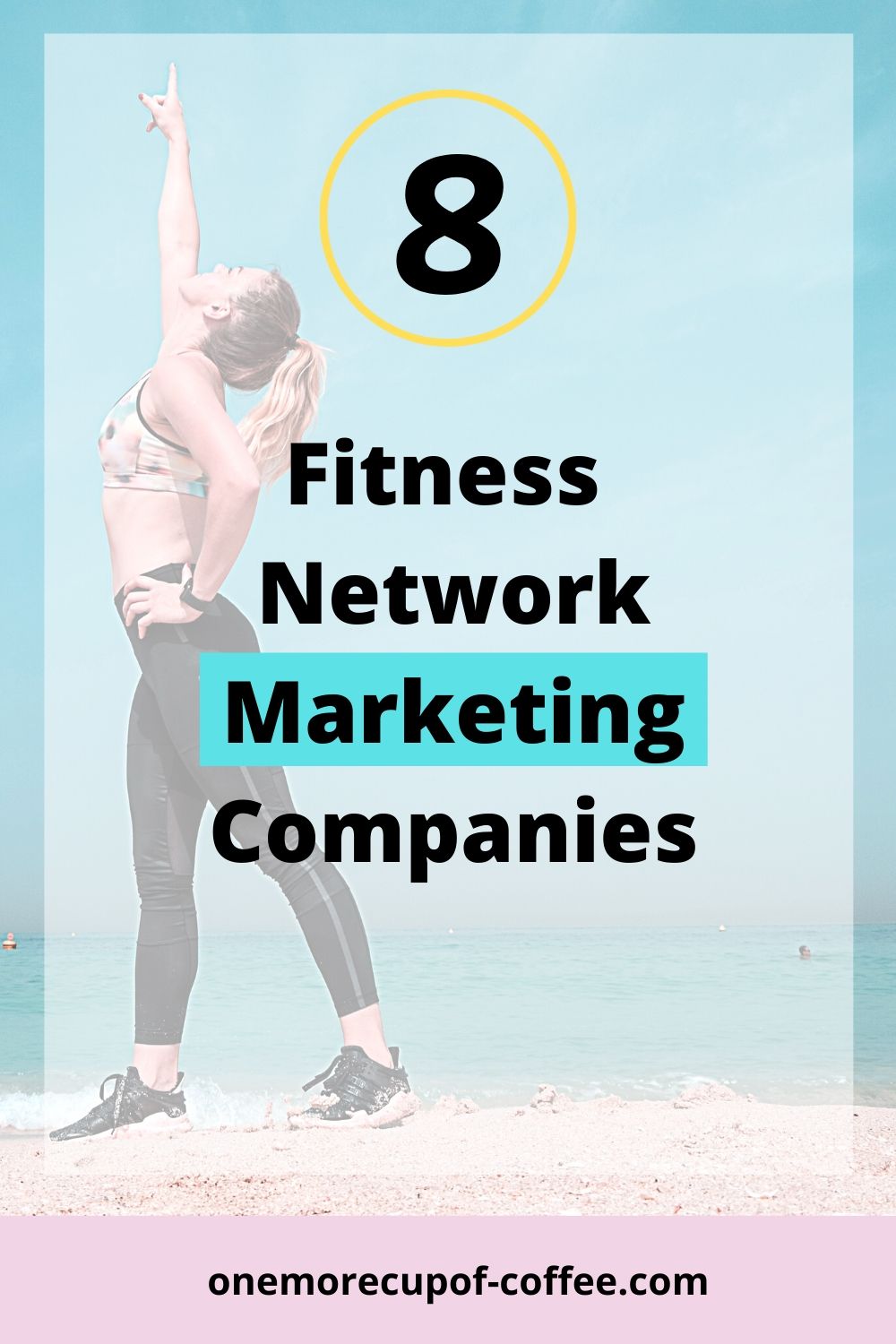 Fitness is a popular industry at the best of times. It's also rapidly growing right now, as people look for ways to improve their health and mobility. These fitness network marketing companies all offer interesting ways to get involved in the field.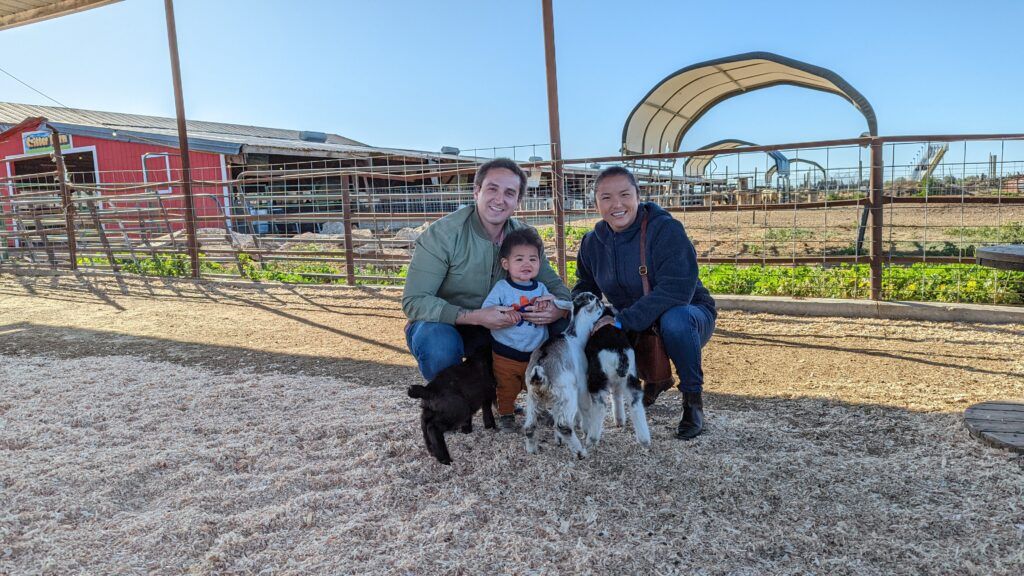 Are You Ready To Work Your Ass Off to Earn Your Lifestyle?
Are you tired of the daily grind? With a laptop and an internet connection I built a small website to generate income, and my life completely changed. Let me show you exactly how I've been doing it for more than 13 years.
They're very different than each other, which is exactly what you want. After all, there are countless fitness companies out there already. It often makes sense to focus on a specific audience or product area.
By doing so, you get the chance to target people that others aren't. You can also be certain that the product you're focusing on fits in well with your own values.
For example, Beachbody is a comprehensive and somewhat overwhelming company that offers a wide variety of fitness-related products and services. On the other hand, World Global Network has a device that can help people to monitor and improve their fitness.
Check out the list to see what the options are, along with which ones may be suited to your needs. Like any other MLM or network marketing companies, do your due diligence before investing any money or time into a program. Many companies focus more on recruiting rather than selling, meaning the big players are the ones who have big teams, not the ones who are selling products. If you are more interested in actually selling good products to people interested in fitness (rather than recruiting people to an MLM), then I recommend looking at fitness affiliate marketing programs instead.

Fitness Network Marketing Companies
Beachbody
First Fitness Nutrition
ID Life
World Global Network
Herbalife
Isagenix
Life Force International
Pruvit
1. Beachbody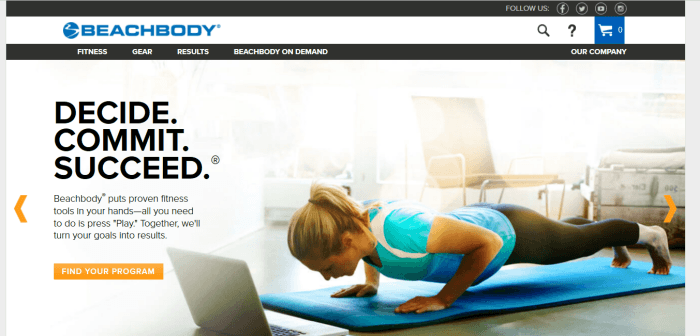 Focus: Fitness, weight loss and protein shakes
Minimum Cost: $39.95
Product Overview: Beachbody is one of the few companies that focuses as much on fitness as it does on nutrition and weight loss. In fact, Beachbody is also a large brand, offering many individual products and services.
Some of these include protein shakes and weight loss plans. The protein shakes tend to get good reviews and are popular for the added plant-based compounds that they contain. They're also famous for being expensive.
The fitness aspect is where things really get interesting. Beachbody has an extensive selection of fitness programs. These offer the ability to stream workouts in many different styles.
Representatives for Beachbody are also meant to support customers in their health goals. Doing so might include highlighting the best programs for their fitness goals and showing them which tools would be useful.
Commission Quick View: Compensation varies depending on the products being sold. Regular items earn 25% commission on sales. Challenge packs can earn you up to 35%, but this may vary depending on the pack.
The highest commission rate comes from getting people to join Beachbody on Demand. Doing so provides 40% commission. Beachbody on Demand is an ongoing membership, but it's not clear whether you get paid once or whether you earn 40% every month.
You can also earn from your team, through a binary model. With this style, your downline is split into a left leg and a right leg. Your team 'cycles' each time you hit 300 Balanced Volume Points (this is where you have 200 points in your strong leg and 100 in your weak leg).
Each time you hit a cycle, you earn between $14 and $18 (the exact figure depends on your rank). Your downline can cycle multiple times in a week, so the income potential is significant.
That being said, the amount you can earn each week is capped based on your rank. As such, you need to move up through the ranks to increase your income potential. The ranks requirements get complicated quickly, which makes the higher ranks difficult to hit.
Final Thoughts: Beachbody is a logical choice in the fitness field. There aren't many other network marketing companies that focus on fitness to this extent.
Just make sure that you weigh up the pros and cons carefully. Beachbody markets itself well and there is plenty of hype. But, the programs they offer aren't that different to what customers could find from many other places.
2. First Fitness Nutrition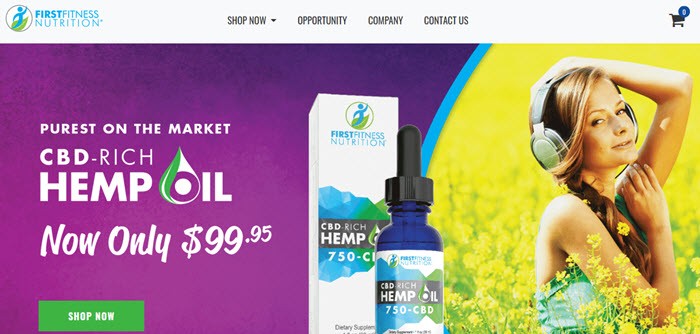 Focus: Weight loss, hemp oil and fitness nutrition
Minimum Cost: $29
Product Overview: Despite the company's name, First Fitness Nutrition doesn't have a strong focus on fitness. The company offers a variety of products instead, including weight loss, wellness and cleansing items, as well as CBD-rich hemp oil.
The fitness category contains four distinct products. These could all be used to complement a fitness lifestyle. The first product is an energy drink that doesn't contain sugar, but offers a variety of nutrients and amino acids.
There is also a rehydration drink. This is used to help people maintain a healthy electrolyte balance. While the sugar content is high (9 grams per 12-gram packet), the sugar can be relevant for rehydration too.
Finally, there are two gluten free protein bars (peanut butter and cookie dough flavored). These are expensive, at $34.95 for a box of ten. However, they do contain 15 grams of protein per serving, along with just four grams of sugar.
Commission Quick View: First Fitness nutrition uses a resale model for in-person sales. Distributors purchase products at a discount of 20% to 40% and then sell them on.
20% is the starting rate. Moving beyond this involves progressing up ranks or buying a starter pack. The starter pack allow you to hit the higher discounts faster, but they're not cheap. For example, the Executive Pak is needed for a 30% discount and this costs $549.
Regardless of whether you buy a starter pack or not, team commissions follow a unilevel model. This side of the commission scheme is surprisingly good, as the commission for your first generation ranges from 6% to 8.5%, depending on your rank.
Of course, this style means that you need to move up the ranks to get the most from your team. Increasing in rank gives you access to more bonuses too.
First Fitness Nutrition doesn't provide details about the requirements for each rank. There is also no information about any ongoing sales requirements.
Final Thoughts: The selection of fitness products from First Fitness Nutrition is slim and you also have to deal with the purchase first model. These aspects alone make the company less than encouraging.
3. IDLife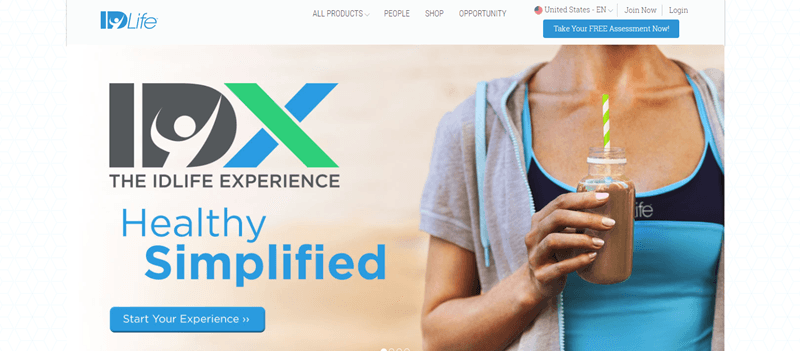 Focus: Health and nutrition
Minimum Cost: Free
Product Overview: At first glance, IDLife looks like most other health and nutrition companies. They offer the typical selection of supplements, protein powders, weight loss products and the like.
However, there are some interesting aspects too. One is that IDLife focuses on personalized nutrition. They use a detailed questionnaire to look at people diet and habits. This is then used to make recommendations about supplements and related products.
While most of the supplements are run-of-the-mill, the idea is interesting. It could be perfect for anyone wanting to easily improve their nutrition. IDLife even offers a breakdown of their conclusions, along with recommendations about health.
This personalized nutrition aspect is very relevant for anyone interested in fitness. After all, you need to keep your body in optimal condition.
IDLife also has a workout line. This includes a pre workout supplement and a post workout supplement.
The pre workout version includes caffeine, creatine, beta alanine and BCAAs. The post workout version includes creatine, BCAAs, d-ribose and glutamine. While the workout range isn't extensive, these two products would really be all that you need.
One final aspect is that IDLife offers a DNA test. This provides the chance to learn more about your genetics and how they related to wellness, nutrition and fitness.
Commission Quick View: The first thing to mention with IDLife is how you join. You can sign up with a product-based kit for $199.99 or $299.99. If you do this, you get a 30% discount on any products that you purchase.
You can then resell those products. You're also able to sell through a replicated website for the same 30% commission rate.
Alternatively, you can join IDLife for free. Doing so makes you a member, rather than a distributor. Members cannot earn commissions and they only get a 10% discount on products.
To move from a member to a full distributor, you need to make two sales of the $199.99 or $299.99 kit, or you need to hit 500 volume points in sales. The style is an interesting way to get started with IDLife without any financial risk. Just be aware that you're not going to make money on those early sales.
The team aspect of IDLife follows a fairly common unilevel scheme. This means that your downline is structured a little like a pyramid. People are positioned in it based on who recruited who.
IDLife's plan isn't too bad. The first team rank allows you to earn 5% from your Level 1. The next rank adds on 5% from your Level 2. You'd still need a decent-sized team for these figures to be worthwhile, but they are better than what you'll find from many other companies.
Final Thoughts: The personalized focus of IDLife is the biggest advantage that the company has. I haven't seen any other company focus on this area. Just be wary of their compensation plan, as getting started with IDLife is more expensive and/or requires more work than most other companies.
4. World Global Network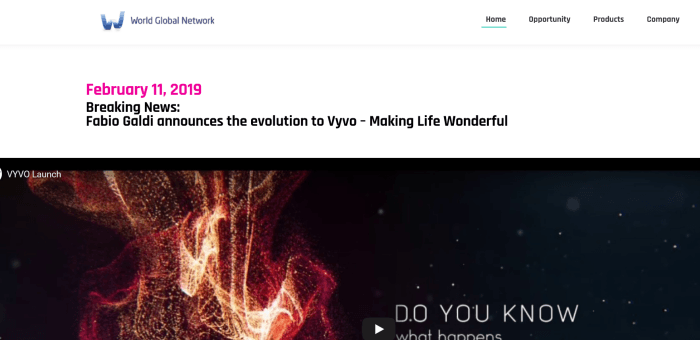 Focus: Health and wellness through technology
Minimum Cost: $359
Product Overview: World Global Network is an interesting addition to the health and wellness field. The company offers a small selection of technology products that are designed to help with health.
One of these is the BioZen. This small device goes on the back of a cellphone and is designed to decrease the effects of electrosmog. The site provides various pieces of evidence for the apparent benefits, but you'll have to decide for yourself how convincing these are.
The other product area is more interesting from the fitness perspective. World Global Network provides a wearable called HELO. The device is much like a FitBit, but it has extra features and some other potential advantages.
The general idea is that you can monitor various aspects of your health, including exercise, blood pressure and heart rate. The device even has ECG functions and the ability to send an SoS message.
Having access to your health data in this way is powerful for fitness. It gives you the chance to optimize your workouts and make good decisions.
While the idea of the HELO isn't new, the product is unusual enough that it could get people interested. World Global Network is also proposing some even more interesting features in the future, like the ability to test blood sugar and blood alcohol levels.
Commission Quick View: The compensation from World Global Network is unusually low – just 10% commission per sale. This is a horrible rate, one that is rarely seen in an MLM. To increase your income beyond this, you'll need to build a team.
World Global Network follows the binary approach to team building. This style means that you're building two distinct teams in your downline.
If you sell 100 Sales Volume in a month (the figure may vary depending on your location), you are considered a Team Builder Partner. Selling 500 Sales Volume will give you the rank of Team Builder Executive instead.
The general idea is that each of the teams under you make sales. What you earn from them is based on the common amount of sales between them. So, if one team sold 500 volume and the other sold 200, that 200 would be the volume that you earn commission on.
Team Builder Partners earn 10%, while Team Builder Executives earn 20%. There are various bonuses too. Just be aware that the compensation plan gets pretty complex in places, so it could be difficult to optimize income from World Global Network.
Final Thoughts: World Global Network might have some interesting items, but they don't have many products and their compensation plan isn't very appealing either. Simply put, the company doesn't have much going for it.
5. Herbalife

Focus: Supplements, weight loss, nutrition and related fields
Minimum Cost: $59
Product Overview: Herbalife is one of the most well-known health MLMs. The company is pretty notorious too, as there has been plenty of controversy surrounding it.
Many of their products are things that you would expect from this industry, including a variety of supplements, protein powders and weight loss programs. While many of the products seem decent enough, they're also expensive and not that unusual.
Herbalife also has a larger fitness section than most other health MLMs. Most of these products are pretty familiar, like protein shakes, protein bars and sports nutrition drinks.
A few products are less common, like dissolvable caffeine-containing tablets and guarana tablets.
Commission Quick View: Herbalife distributors need to purchase products first and then sell them on. You start off with a 25% discount. This gives you a 25% commission if you sell products at full retail price (and charge your customers the shipping fees and tax).
You're able to increase the discount up to 50%, but only if you can consistently make high sales.
The profit margin is appealing enough if you're selling the products at full retail price. Still, there's no guarantees that you will be. Herbalife has been around for some time and there are many distributors to compete against – not to mention all the similar products out there.
You might need to knock down the prices quite a bit before you can make sales. Doing so would decrease your profit margin.
Then there's the team aspect. Excelling in this area will involve making consistent sales and recruiting, while having team members that do likewise.
The prices of Herbalife products and the purchase-first model suggests that it might be pretty hard to hang onto recruits. Even if you can get people to stick around, are they likely to be successful at making sales?
Final Thoughts: Let's be honest, Herbalife has had its day. Whatever advantages the company had, they're long gone now. There is too much competition in the field and Herbalife is too mired in controversy. It just simply isn't a good option for income.
6. Isagenix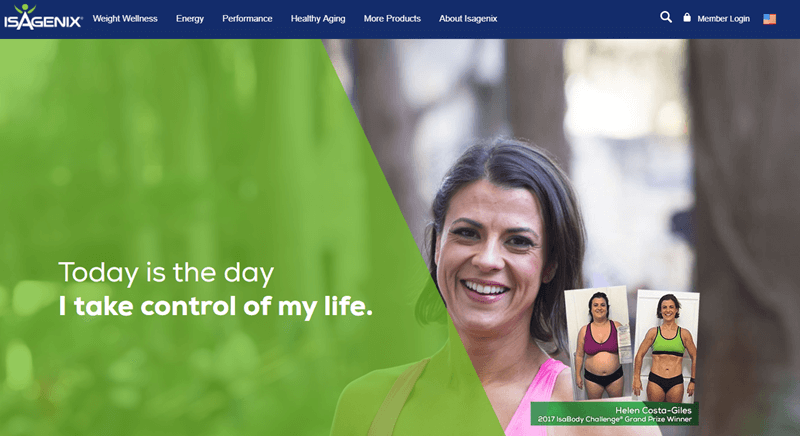 Focus: A weight loss system
Minimum Cost: $39
Product Overview: Like many companies, Isagenix offers a diet system that is meant to promote weight loss. This includes a variety of familiar products, like protein shakes, meal replacement bars and supplements.
There are various packs that offer combinations of the products, including a Weight Loss Value Pak, a 9-Day System and a 30-Day Premium Pack. Many of the items can be purchased individually too.
Isagenix also has various other products that are typical of the health industry, such as essential oils, personal care items and supplements. But, in this post, we're focusing on their performance products.
These items are all designed with fitness in mind. The product range includes a couple of different protein powders, one of which uses a tri-release formula. There is also protein bars, a hydration drink, a nitric oxide shot and a small selection of workout supplements.
The products are interesting enough, but they're not unusual. You'll find similar items from other health MLMs.
Commission Quick View: As for commission, Isagenix distributors earn the difference between the wholesale and retail value of products. Isagenix doesn't state what the commission percentage ends up being.
Distributors can buy and then resell the products or they can make sales through a replicated website. While the commission rate is the same for either approach, an administration fee is taken out for any online sales.
Team commission is made through a binary model. Your team cycles each time it hits 900 Business Volume (BV), as long as each side hits 300 BV.
The amount earn from each team cycle is based on your rank within the company. Rank also influences the bonuses that you have access to.
Finally, there is an ongoing requirement of 100 Personal Volume (PV) every 30 days. This needs to come from your personal sales and/or purchases.
Final Thoughts: There's nothing especially bad about Isagenix. The products are appealing enough and you do have the chance to sell through a website.
Still, there's nothing very exciting going on either. There are plenty of similar companies that follow the same general approaches.
7. Life Force International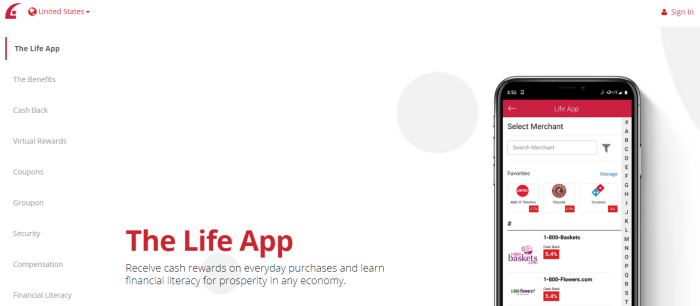 Focus: Health
Minimum Cost: Unknown
Product Overview: Life Force International mostly focuses on health. They include the typical selection of wellness and weight management products, along with sports nutrition items and hemp oil.
Their sports nutrition line is relatively small and contains just five different products. Most of these focus on nutrition overall, based on the idea that remaining healthy is a critical aspect of being fit and active.
The end result is that the product selection isn't strongly related to fitness. You could still sell the products to a fitness-focused audience, but you may need more sales skills than with other companies on this list.
Commission Quick View: Life Force International has a frustrating compensation plan where the amount that you earn is linked to your purchases. This is done through three different associate tiers.
Associate 1 just requests 25 Business Volume (BV) in sales or purchases each month and provides 25% commission on customer sales. Associate 2 increases that percentage to 30%, but you need to have a 50 BV autoship. With Associate 3, the commission rate increases to 45% and the autoship requirement goes to 95 BV.
It's unusual to still see a company with autoship requirements. The style has become unpopular and with good reason. An autoship means that you are purchasing the same set of products every month.
Autoshipping isn't just frustrating, it can also be expensive. The costs can add up quickly. You can easily find yourself operating at a loss, especially if you struggle to make sales some months.
The team commission aspect of Life Force International is simpler than normal. You always earn 5% on the first level of your downline. For the second level, the Associate 1 tier gets 20%, Associate 2 gets 25% and Associate 3 gets 40%.
Associate 3 also earns 10% from the third level, no other associate tiers do. There are other bonuses in place too. Some of these require the most expensive autoship as well, which is just frustrating.
Final Thoughts: The autoship requirement is all the reason that you need to avoid Life Force International. This type of requirement is seriously outdated and does you no favors.
8. Pruvit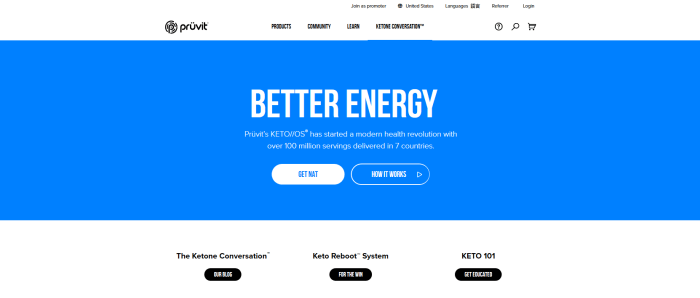 Focus: Keto supplements
Minimum Cost: $37/year
Product Overview: Pruvit specifically focuses on the keto diet. Their main product is KETO//OS NAT (NAT stands for Nutritionally Advanced Technology).
The product basically provides ketone salts. These are created through a fermentation process. Pruvit claims that their product is the only example of naturally made therapeutic ketones.
There are a variety of flavors available, along with the option to choose between caffeinated and caffeine-free.
KETO//OS NAT isn't cheap either. A 20 serving package costs $130 as a one-time purchase. This price can be decreased by around 30% if the order is made through an autoship.
Whether the product is worth it entirely depends on your audience. The keto diet is popular and some people do follow it while they're trying to increase their fitness. KETO//OS Nat does get good reviews too, which is helpful.
Still, many people wouldn't be interested at all, so you'd need to think about your audience carefully.
Commission Quick View: Pruvit has a long and complicated compensation plan, but manages to say barely anything about actually selling the products. The base commission rate appears to be 20% and this seems to stay consistent regardless of your sales volume or rank.
It seems like the only way to increase your commission from sales is through one of the short-term bonuses. Even then, you will end up back at 20% before long.
Pruvit uses an interesting unilevel plan for residual commissions. Distributors start off earning 5% from their Level 1 team members, then 1% for all level under that.
These percentages would seem low, except that it is possible to earn from up to eight levels in your downline right from the first rank. This is incredibly unusual. The percentages do also increase with later ranks, which is another advantage.
There is no shortage of other bonuses – far too many of them to go into here. Some of these are time specific, giving distributors the chance to earn more in initial weeks or months of their membership.
Just be careful with these bonuses, as Pruvit encourages members to pay for access to them. Paying for the chance to earn more is always a problematic idea, as there's always a risk that you won't really make that much extra.
Final Thoughts: With just one product and a base compensation rate of 20%, Pruvit isn't the most appealing company out there. Still, it could be a viable choice for the right audience.
Top Pick
In the end, Beachbody is the only realistic choice if you plan to focus on fitness. It is the only company on this list heavily emphasizes this area. All the rest have a handful of fitness-related items.
Beachbody also has a comprehensive selection of products, giving you multiple angles to target. It does follow a frustrating binary team model, but at least the commission rates for sales aren't too bad.
If you're seriously considering Beachbody, take the time to think about your audience first. The products and services won't appeal to everyone.
You may also want to consider what you're going to promote. Beachbody's selection is large enough that you could focus on a single area, like workouts, if you wanted to.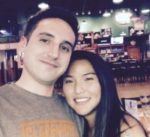 MLM Critic & Author: Nathaniell
What's up ladies and dudes! Great to finally meet you, and I hope you enjoyed this post. I have to be honest though. I'm not a big fan of MLM. Tried it. Hated it.
Affiliate marketing is cheaper, faster, and easier. See for yourself and join millions of other successful affiliates generating income from their blogs!
No inventory. No fees. No recruiting. 3 BILLION potential buyers online.
Reader Interactions