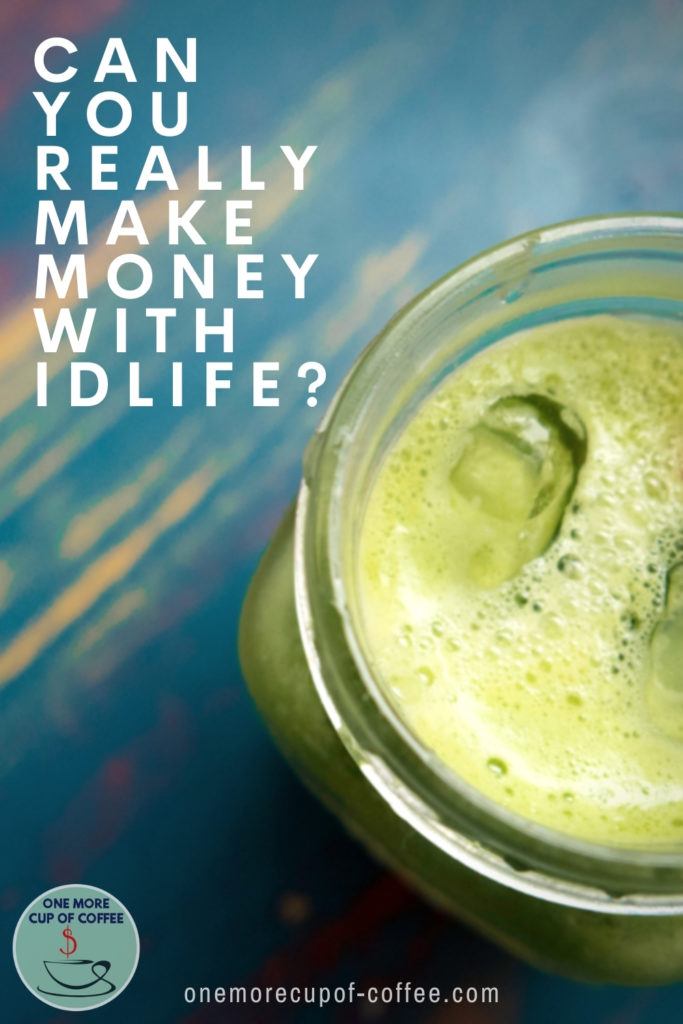 IDLife is a health and wellness company with a twist. As well as offering the common selection of supplements and the like, IDLife also provides personalized assessments.
The idea is that everyone is unique, with their own set of needs. Fitting in with these needs is the best way to see long-term health benefits.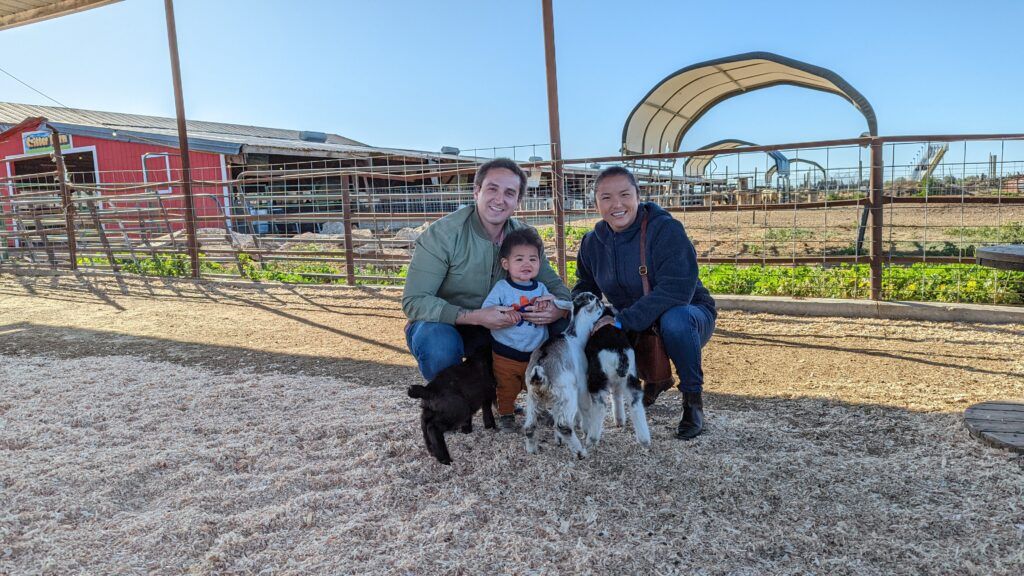 Are You Ready To Work Your Ass Off to Earn Your Lifestyle?
Are you tired of the daily grind? With a laptop and an internet connection I built a small website to generate income, and my life completely changed. Let me show you exactly how I've been doing it for more than 13 years.
IDLife hypes up the benefits of a personalized assessment a bit, but the underlying concept is valid. Personalized nutrition has become a hot idea in recent years and there is research to support it. Besides, there isn't much point taking an expensive vitamin supplement if your body isn't even short of that particular vitamin.
Health and wellness is also an interesting field to make money in. It's considered an evergreen niche, as people are always buying this type of product. The exact patterns of sales and popular products will vary, but many people retain a strong interest in health.
Most of the products that you'll be working with are consumable too – such as supplements and protein shakes. Consumable products are ideal for sales. If customers get the results that they're looking for, you may be able to make repeat sales with very little effort at all.
Of course, the overall approach doesn't guarantee that IDLife is a good way to make money. To figure that out, we need to dig deeper into the company and what they have to offer.
Two Ways To Make Money With IDLife
IDLife offers the same two ways to earn that we've come to expect. You can sell the products for a commission or work on building a team as well. As is always the case, you don't earn directly from recruiting. Your team income comes from residual commissions of team members, along with any bonuses from IDLife.
In this post, we're considering both angles. We then talk about how IDLife stacks up overall.
Make Money From Product Sales
IDLife has a decent product range, focusing on different aspects of health. This includes products for weight loss, hydration, energy, sleep, working out, and skincare. The number of different products could help make sales easier, letting you target a wider audience.

Most of the products are about what you'd expect from a health and wellness company. In fact, many MLMs have a similar distribution of items, as do local health stores.
One key feature is that all of the products are gluten-free, soy-free, and non-GMO. IDLife also states that they use the 'highest quality ingredients available' while avoiding unnecessary additives and fillers.
This idea is nice, but some other companies do something similar. The language is on the vague side too, as unnecessary can have slightly different meanings, depending on the context.
I'm not going to go through each of the products in detail, there's really no need. But, there are a few interesting ones that are worth highlighting. One of these is the meal replacement shakes.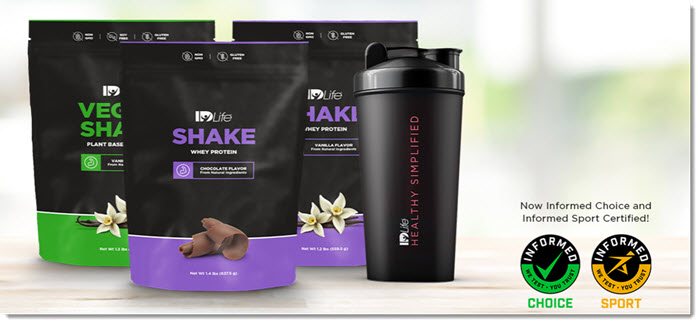 This type of shake is incredibly common as a weight-loss tool. To a degree, they even work. The protein and fiber help people to feel full, making the shakes a viable alternative to meals.
The shakes that IDLife offers are better than most other MLMs. The whey versions offer 26 grams of protein per serving, while the vegan ones offer 22 grams. There are few added sugars (3 grams in the whey version, none in the vegan) and relatively few ingredients.
As with most products from this company, the catch is the price. The shakes aren't cheap, costing almost $50 for a 15-serving bag. That calculates out to more than $3 per serving, which is very expensive for shakes. The price is even similar to Shakeology by Beachbody, which is famous for being expensive.

High prices like these are both good and bad for making money. On the plus side, you earn more commission if you can sell the products. But, the more expensive the items are, the lower the chance of making sales. People are always resistant to spending money, especially if they can get similar products elsewhere. So, keep that in mind when you're considering IDLife.
The other interesting area is the Kids Line. There is a demand for products targeted at kids, as adult ones aren't always suitable. But, few companies offer specialized options.

Whether these are any good depends on what you're looking for. But, they are low in sugar and don't contain artificial colors or flavors. The option also helps the company to stand out, which is good from the sales standpoint.
Customized Nutrition
While most of the products from IDLife are typical, the company does have one unusual angle – a program called IDNutrition. The program simply offers supplements, which might not sound too exciting.
However, IDLife uses a personalized approach to work out exactly what your body needs. This style is incredibly unusual. It's certainly better than taking a blind stab at your nutritional requirements.
You end up getting a vitamin pack that is customized to you. The packs look similar to the ones in the image below (which are designed based on specific needs).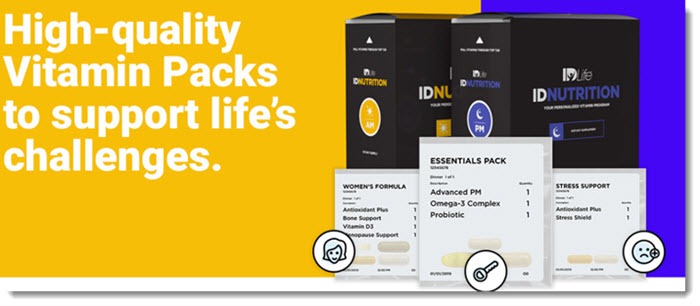 The IDLife website uses a detailed questionnaire to work out your nutrient needs. It asks some unusual questions, including your ethnic background, sun exposure, food intake, lifestyle and medical background. The outcome of DNA tests can even be included.
While the questionnaire takes a while, it's easy to see why. By collecting a lot of information, IDLife is able to give a realistic recommendation. They couldn't do so otherwise.
I stepped through the process and I was honestly quite impressed. While I didn't agree with every recommendation, IDLife provided some information about why, along with the ability to download a full health report.

Prices for the individual supplements were made clear too, along with the overall prices per day and per week. I particularly like that people can add and remove supplements based on what they feel is most important.

The products are just supplements. IDLife is packaging them so that it is easy to take a day's dose at a time, but the basic products aren't any different than what you'll find in countless other places.
Still, IDLife doesn't claim that the supplements are any better. They're simply offering a customized way to get them. The pricing information is clearly provided, so it's easy to compare the prices of each supplement against other brands.
Successfully Making Money
For the most part, the products from IDLife are appealing but typical. There is certainly a market for the items and many people do want to improve their health. Some of the product types are commonly purchased too, like shakes and energy mixes. So, it's easy to see how you could make sales.
By typical, I mean there are many other companies with a similar product range. For example, Zurvita sells weight loss shakes and supplements, while Life Matters has a similar focus overall.
Many similar products are also available at stores – especially the shakes. This leaves people with plenty of options to buy and means competition is high.
Even with this, you could still make sales. People often become brand loyal and will be passionate about particular products. If you can get them to feel that way about IDLife, then you could have a long-term customer.
The personalized nutrition approach might help in this area, but it could be counterproductive too. It would be fairly easy for customers to take the details that IDLife provides and use this in conjunction with products from an entirely different company.
The Income Side Of Things
To consider IDLife as a business approach, we have to look at how you get involved and the actual income potential. Unlike most options, there are two ways to get started with IDLife.
The first is to purchase a product-based enrollment kit. You can choose between the Associate Enrollment Kit for $199.99 or the Associate Enrollment Kit With DNA Testing Kit for $299.99.
You're getting products with those kits, so the initial pricing isn't as bad as it seems. Still, you'd need to weigh up whether the kits are worth it for you.
The other option is to join as a member through the Virtual Starter Kit. This kit is free. It provides three digital documents to guide you, along with one month's access to IDLife's Pro Website Bundle.
As a member, you need to sell two of the $199.99 or $299.99 kits or get $500 volume in personal sales. Doing so gets you the rank of Independent Associate. Until you hit that rank, you're not earning much money.
Basically, people in the Member tier get a 10% discount on purchases and can earn the 3 & Free bonus from IDLife. That's it. So, they can get some free and discounted products, but they can't earn any commissions. If you want to earn income from sales, you have to reach the Independent Associate rank.
IDLife mostly follows a purchase-first style of compensation. This means that you're buying first (at 10% or 30% discount) and then reselling onto customers. If you sell at retail price, this makes your commission either 10% or 30%, depending on your rank.
In fairness, 30% is a good commission rate. It's on the high end of average across MLMs. You are also promoting consumable products. That means people have to buy more regularly, which is always a good thing.
Purchase-first means that you have to buy the products and then sell them on to customers. It's a tricky system, as you need to guess what people are going to want. It's easy to lose money with this style, especially with so many products on offer.
On the plus side, this isn't the only way to make money. You do get a replicated website from the company as well and you can set people up on autoship, where they get products monthly. Both options get around the purchase-first requirement and mean you have to think less about inventory.
However, your income does decrease if you have any preferred customers. These customers get a 10% discount themselves, so you only earn a 20% commission on sales.
You do also earn from enrollment kits. If you get someone to join buy the $399 kit, then you earn $100. The percentage is lower than selling products directly – but recruitment does offer the chance to make more income.
Make Money Building A Team
IDLife is considered an MLM, which means you earn money through sales and recruitment. The ultimate goal is to build a large team of people under you, who are actively selling products and recruiting others.
In most cases, you'll start to build this team from friends and family, along with people you interact with regularly. Over time, you would need to reach out to more people and find extra connections. The style sounds amazing because you get to earn off the efforts of other people.
For example, the image below shows the residual income that you can earn as you go up the ranks with the company. These are the early ranks and you can potentially earn from up to 10 levels deep.
You can also earn bonuses based on the success of your team, along with bonuses from progressing to each rank. The income level can end up being high, theoretically. But, you do need to build a team and increase your rank.
That's where things get tricky. For example, the requirements for the first two ranks look like this: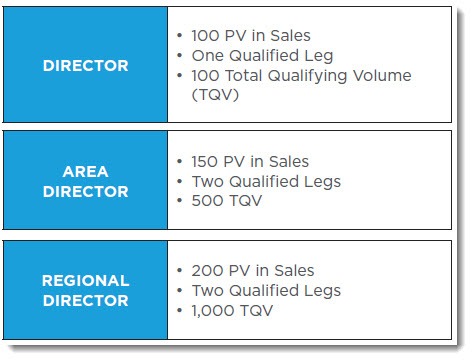 These are monthly requirements. So, even at the lowest level, you or your team needs to sell 100 of volume every month. At the next level, that goes up to 500. You also need 150 of personal sales.
Now, the volume isn't the same as the price of products. In most cases, the volume is likely to be less than the sales price. So, you're looking at more than $100 in personal sales for the first rank and more than $150 for the second rank.
The requirements also increase as you go along, as the examples below show. These aren't even the highest ranks either. There are another six ranks after these.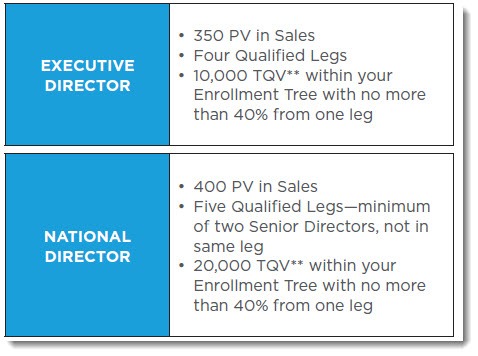 Basically, most of the income potential comes from increasing your rank and growing your team. But, you're faced with complex requirements to do so.
If you're just after a little income, you could stay in the early ranks or even skip team building altogether. Doing this would be achievable for some people and means you don't have to put pressure on friends and family.
But, if you do so, the income potential would be lower too. You may be able to make some pocket money or just get discounts on your own sales, a little more. The structure means that if you want to make a significant income, you must build a decent team. There simply isn't another option.
Staying Active
Beyond all of these complexities, you do still need to stay active with the company. Being active means having at least 100 Personal Volume each month. If you fail this requirement for any month, you don't receive any money from your team.
On the plus side, you do still make money from customer purchases. So, staying active doesn't matter if you just plan to focus on sales, not recruitment. But, if you're planning to team build, this monthly requirement is worth considering.
I personally hate requirements like these. They entirely ignore the complexities of life. After all, sales will be easier for some months and harder in others. There may also be some times where life just gets in the way. What if there was a death in the family? What if you have to put in more hours at your regular job for a while?
Can You Generate Reliable Income With IDLife?
The IDLife Review
Making money with IDLife is possible and the products are even somewhat appealing. The personalized nutrition approach gives you a clear sales angle. This alone makes IDLife stand out from other companies.
Even so, network marketing is never a field to enter into lightly. The team compensation style makes earning money complicated. You have to hit precise targets to maintain your earning potential.
There are two key areas worth weighing up. The first is whether you can make sales. Simply having appealing products isn't enough to ensure you make sales regularly. You still need to convince people to spend their hard-earned money.
The other thing is whether you want to rely on other people. The team structure means that your income is related to how well other distributors do. This can be very frustrating, as there's no way to force someone to be good at their business.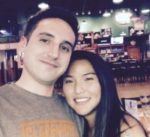 MLM Critic & Author: Nathaniell
What's up ladies and dudes! Great to finally meet you, and I hope you enjoyed this post. I have to be honest though. I'm not a big fan of MLM. Tried it. Hated it.
Affiliate marketing is cheaper, faster, and easier. See for yourself and join millions of other successful affiliates generating income from their blogs!
No inventory. No fees. No recruiting. 3 BILLION potential buyers online.
Reader Interactions