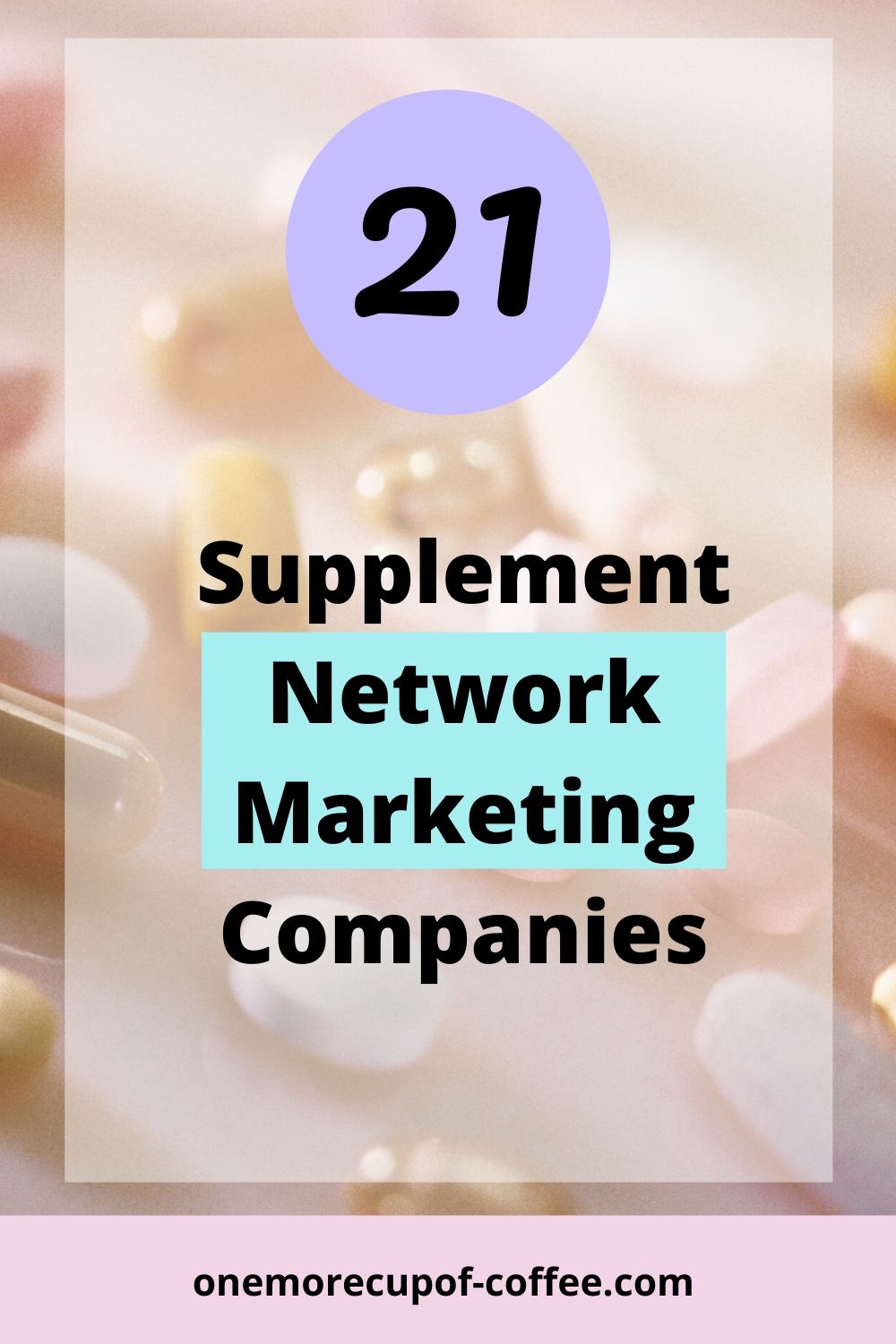 Supplements have become an incredibly popular industry, one that continues to expand. The market is currently worth around $37 billion a year, in the United States alone and countless companies are involved.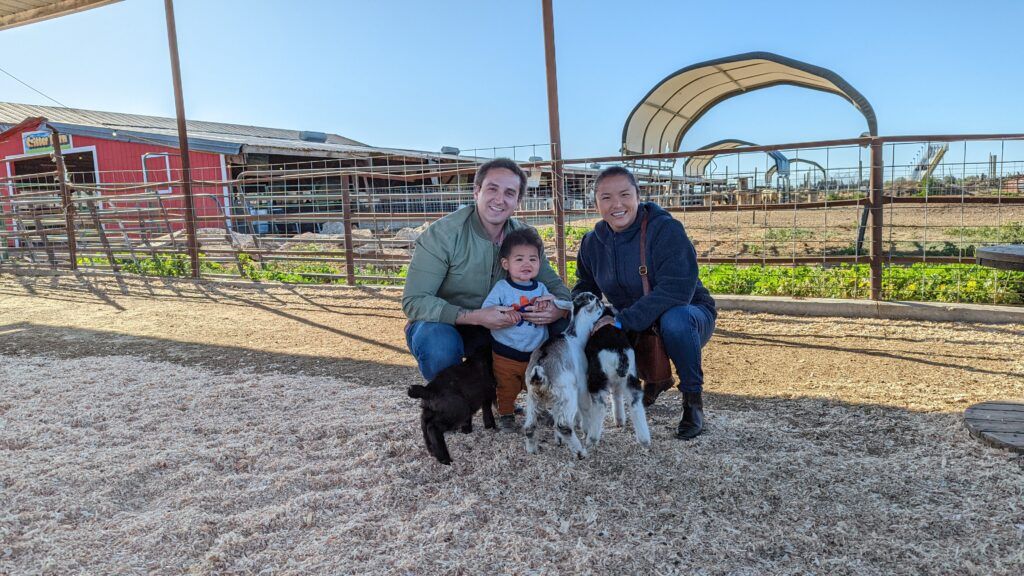 Are You Ready To Work Your Ass Off to Earn Your Lifestyle?
Are you tired of the daily grind? With a laptop and an internet connection I built a small website to generate income, and my life completely changed. Let me show you exactly how I've been doing it for more than 13 years.
The appeal is easy to see. Supplements offer the chance to improve health without much effort.There is also very little regulation, allowing companies to make bold claims and provide little proof.
With so many different types of supplements out there, such as nootropics or diet pills. Sellers always have something to promote, including products that are at least somewhat unique.
This list highlights some of the many supplement network marketing companies out there. We're focusing on companies that use supplements as one of their main product lines, particularly those who have interesting supplements or a large amount of marketing.
There is certainly potential in selling supplements. The demand is high and the industry is considered to be evergreen. It's also difficult for customers to determine whether or not the product does anything. Some will even convince themselves that they're seeing success.
Thus, we have one of the huge downsides of working within the supplement industry, especially via direct sales. There's a lot of misinformation out there, and plenty of more-than-will snake oil salesmen/women who are focused on making a sale and getting their bonus incentive rather than selling a product that actually works.
If you are going to promote any supplement, take the time to try it yourself first. Your odds of success are much higher if you're passionate about the product – and if it actually improves your health. Be wary about claims as well. Direct marketing companies often exaggerate the benefits of their products, along with the amount of money that you can make.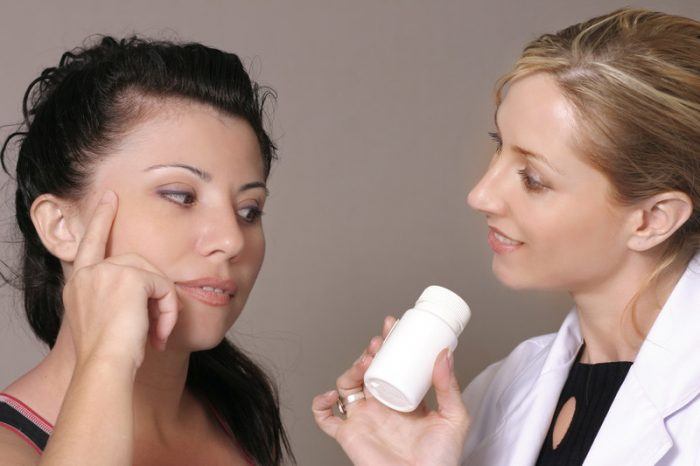 Supplement Network Marketing Companies
4Life
Asantae
LifePlus
Bod.ē Pro
Nspire Network
ASEA
Cerule
StemFoods
Foxx Legacy
Kyäni
NeoLife
Le-Vel Thrive
Juice Plus
My Daily Choice
Orenda International
Immunotec
LifeVantage
Rain
Mannatech
Vasayo
O2 Worldwide
1. 4Life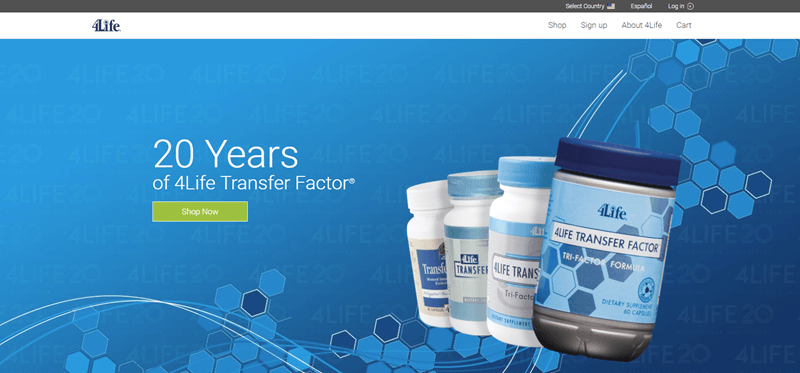 Focus: Science-based immune system supplements
Minimum Cost: $29.95 (for a welcome pack with tools and samples)
Product Overview: 4Life maintains a strong focus on science and research. This includes something they call a 4Life Transfer Factor, which is meant to help the body identify and respond to threats. In theory, the transfer factors that 4Life uses simply aren't found in other supplements. These same compounds are present in various products from the company.
The idea is appealing and it could be effective for sales. Promoting something unusual or unique can give you a competitive edge and 4Life does market this aspect well.
There is even some evidence provided, including scientific background and the outcomes of studies. But, be aware that the evidence is limited. The studies cited aren't especially powerful and they don't actually prove health benefits.
As for the products themselves, there are various supplements and related products. The most significant is their 4Life Transfer Factor Plus Tri-Factor Formula, which is a supplement designed to improve the immune system. A 60-capsule bottle costs $56.95 retail. There are various other supplements too. They tend to use some of the same ingredients and some different ones, each with a specific angle.
None of the supplements are especially cheap. They're certainly more expensive than a supplement from a grocery store or pharmacy, while the promoted benefits are similar. But, that being said, the prices aren't too bad for this field. With the right sales pitch, it might be possible to convince people to purchase.
Commission Quick View: 4Life is refreshingly transparent with their compensation plan and exactly what distributors can expect.
To begin with, a distributor earns 25% compensation on sales. But, this is only for everything above 100 LP (Life Points) in volume. 100 LP is a little more than $100, depending on the specific products. Commission for smaller sales tends to go to your upline instead.
First orders for distributors are different. Here, the person who recruited them gets 25% of the order, the person above them gets 2%, the person above them gets 5%, with further payouts up the line.
To me, this all feels needlessly complicated. It's certainly more complex than other MLMs. The design also means you would get little or nothing at all for some of the sales that you make.
The team side of things operates through a unilevel design. A unilevel plan is the most common approach in an MLM and it's also the simplest. The goal is to build a team (also called a downline) under you. The team structure is simply based on who recruits who and it ends up looking roughly like a pyramid.
You then earn based on the levels that people are within that pyramid. Level 1 is typically anyone you recruit personally, while Level 2 is their recruits and so on. In most cases, you progress through ranks within the company. Each new rank allows you to earn more from your downline.
Here, there are seven ranks, which is less extreme than many other companies. You need to buy or sell at least 50 PV (around $50) of product per month at the first rank and 100 PV at every other rank.
The compensation from your team is weirdly reversed. You earn just 2% from your first level (people you recruit directly) and either 15% or 25% from your second level. That style is incredibly unusual. The 15% to 25% for the second level is amazing – but you'd have to get a pretty large team to see that.
Final Thoughts: 4Life is effective at marketing and some of their concepts seem appealing. Still, the compensation plan isn't great, which is a limiting factor.
2. Asantae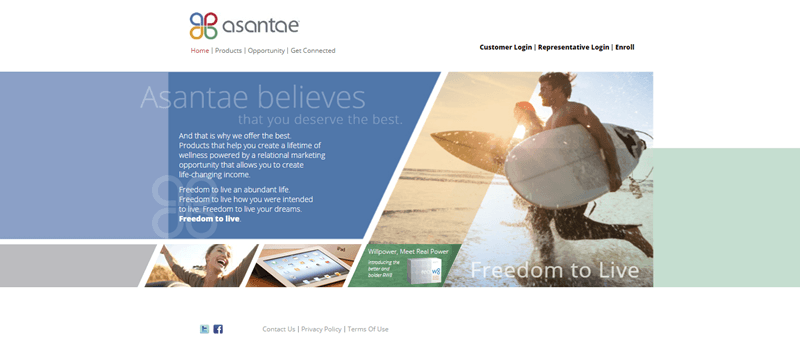 Focus: A 'lifetime of wellness'
Minimum Cost: Not provided
Product Overview: Asantae has a very limited product selection, with just three items to choose from. One is RealW8, which is a dietary supplement. Another is akea, which is a whole food supplement. The final one is iS2, which is a drink. That is promoted as providing support for inflammation and immunity.
Asantae does a great job at marketing each of these, providing details about their ingredients and the proposed health benefits. The items are all a little unusual too. For example, RealW8 is an herbal supplement, containing ingredients like green coffee bean extract and prickly pear extract.
Other companies will have similar items with a different selection of ingredients. But, the ones from Asantae are unusual enough that the right audience would be interested in them.
Asantae provides many details about the products, they just skip pricing information. It's not clear how much the items cost, which is never a good sign. Based on their marketing, I suspect they're on the expensive side.
Commission Quick View: The main way to earn with Asantae is to purchase the products first and then resell them. But, there are no details about how much you earn.
Reselling is always frustrating and means you have to pay for the items first. That's not good if you're struggling financially. Still, there are only three products to promote. This means you don't have to guess at what you should purchase.
You can also get people to enroll as Preferred Customers. They get their products directly from the company, at a discount. You simply earn 10% from sales. That's useful, especially if the products are expensive.
Team commissions are calculated from a binary model. You earn 10% of what your non-pay team earns. This is likely to be your lowest performing team. But, you need to hit 500 Business Volume to get paid and you need to be buying or selling 100 Personal Volume worth of products.
Oddly, the bonuses and requirements seem to be weekly, not monthly. This makes them much more challenging than most other companies.
There is also a unilevel aspect, where you can earn from your downline. Here, you earn 5% per level, up to four levels deep. The two approaches should provide more income than other models but they'd be difficult to optimize.
Final Thoughts: Asantae has some good points and some significant challenges. The limited product selection and the weekly requirements are both problems and would make it harder to earn consistently.
3. LifePlus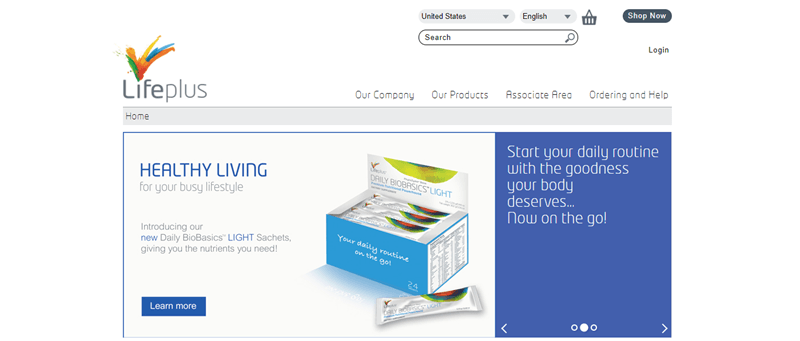 Focus: General health and wellness
Minimum Cost: There is no formal cost, but you do need to purchase a product initially
Product Overview: LifePlus isn't purely a supplement company but they do heavily focus on this area. They have 27 different items that they consider to be general supplements, although pH testing strips make it onto their list for some reason. There are other specific categories too, including weight loss and targeted wellness supplements.
Some of the supplements are fairly typical, such as iron, CoQ10 and vitamin C. These do have special formulations that are meant to increase absorption or offer other benefits.
Other supplements are more unusual. For example, Proanthenols 50 is an antioxidant supplement, designed to lower oxidative stress (although, research suggests that antioxidants in your diet are more powerful). Annoyingly, the site doesn't offer any details about pricing. Details can be found elsewhere and, as a general rule, the products aren't cheap.
The items do look appealing and there are plenty of angles that you could use to promote them. For these reasons alone, they probably do sell. But, nothing here is unique or even especially unusual. The formulations may be slightly different but the general concept is roughly the same as with many other companies.
Commission Quick View: LifePlus talks about transparency but their compensation plan isn't transparent at all. The main information provided is their commission rate – 25%. Sales are made via the company's website, where your customers enter in a PIN associated with you.
What frustrates me the most is that LifePlus does provide a compensation plan. The plan just isn't very clear and it misses many key points. The phrasing suggests that LifePlus has a basic unilevel plan and there are clearly ranks in place. But, the exact mechanisms aren't clear.
The one other thing to mention is ongoing requirements. Distributors need an autoship of 40 Personal Volume. This is probably around $40 to $50, although the amount isn't clear either.
Final Thoughts: LifePlus has some advantages, including a low startup cost and interesting products. Even so, I recommend finding out more specifics before committing.
4. Bod.ē Pro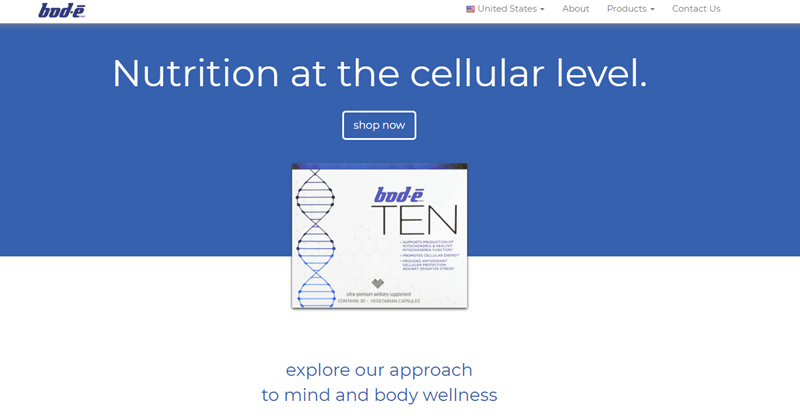 Focus: 'Nutrition at the cellular level'
Minimum Cost: $29.95 (for a starter pack, what this contains isn't clear)
Product Overview: Bod.ē Pro promotes itself as a science-based company, one that provides unique support to the body through their supplements. Specifically, their products focus on increasing mitochondrial function, protecting against oxidative stress and improving cellular energy.
The underlying concepts do have scientific merit and Bod.ē Pro provides some research evidence as well. But, the research is still in the early phases. Even if the ingredients in Bod.ē Pro's products do support mitochondrial function, it isn't clear whether this translates into health benefits.
I'm still not convinced personally. But, Bod.ē Pro does a solid job of marketing and they don't excessively hype their products. If you are going to promote supplements, they're not really a bad choice.
As for pricing, their main supplement (Bod.ē Ten) costs $69.95 for 30 capsules. They also have various supplements you can mix into drinks, two are less expensive, while the last costs $69.95 as well. The prices aren't all that unusual. Many companies in this list use a similar pricing scheme. Still, many people can't afford to spend almost $70 on supplements
One final note. The products seem appealing enough. But, there are only four of them and they're fairly similar to each other. That limited selection could make sales more difficult.
Commission Quick View: There are three tiers of retail profits for Bod.ē Pro and these are rank-based. The first rank (Influencer) requires one active customer and a Customer Community of 25 points. The second (Gold Influencer) requires two active customers and 100 points. The third requires (Platinum Influencer) requires four active customers and 150 points. They give 15%, 20% and 25% commission on retail sales, respectively.
The Customer Community is a reference to people who are buying but aren't distributors themselves. It means you need to maintain some active customers, regardless of the size of your team.
The percentages also influence team commissions. For example, if a person is an Influencer, they get 15%, the Gold Influencer in their upline gets 5% and the Platinum Influencer in their upline gets 5% as well.
This design also means that ranks influence the amount you earn from your downline. You might even make more from low-ranked members of your downline, which is an unusual design.
There are also other systems in place. For example, Bod.ē Pro has check matching and leadership bonuses, as well as financial bonuses for each new rank you hit. If you get high enough, those rank bonuses are substantial. But, the early ones aren't very impressive (you just get $5 for the first rank advancement).
Finally, you do need 50 points a month (from customers or recruits) to remain active. There is also a $9.95 monthly fee, which gives you access to the company's internet marketing tools.
Final Thoughts: The products from Bod.ē Pro are pretty decent and the compensation plan isn't horrible. But, be cautious. The commission per sale is relatively low for the industry and you've only got four products to work with.
5. Nspire Network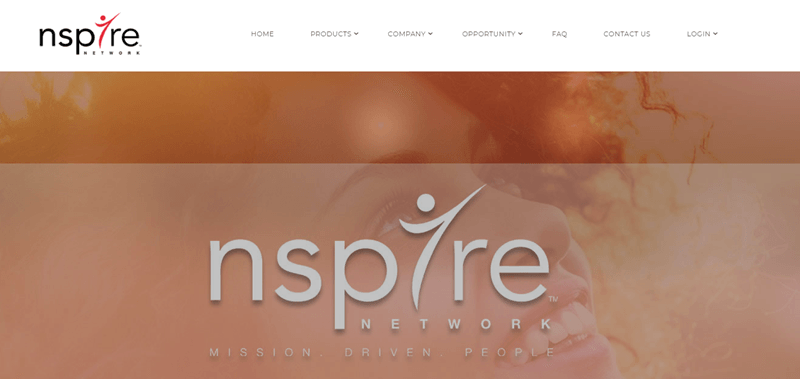 Focus: Sanitary napkins and supplements
Minimum Cost: $99 (for a starter kit that contains sanitary napkins only)
Product Overview: Nspire Network has two very different sets of products. First, they offer various sanitary napkins, which is an incredibly unusual choice. There are four different versions of these, each costing $5 a pack.
Beyond this, Nspire Network also has five different supplements. The supplements aren't the company's main focus but they're still interesting – simply because they're not the normal selection. The specific supplements are as follows:
MaxLife Prostate Care Plus – $79.99
Total Recall Memory Booster – $79.99
Sweetest for Her (female sexual enhancement) – $89.99
Taboo for Him (male sexual enhancement) – $89.99
Empower Testosterone Booster Plus – $79.99
Most of them focus on sexuality in some manner, rather than health. They are also expensive. But, the bottles provide enough pills for two months, making them better value for money than many other companies.
Like the sanitary napkins, these supplements have a limited audience. Many people simply won't be interested. But, if you found the right customers, sales would be possible. The product focus is certainly unusual, which would decrease your competition.
Commission Quick View: The main method of sales is through a replicated website and you get 40% commission on sales. This is an impressive amount. However, it can be lower in some situations, especially when the customer gets a discount.
The team-based aspect operates through a binary plan.
This type of plan involves building two teams – a left and a right team. Your team commissions are calculated based on how they perform against one another. Typically, that means you earn a percentage of whatever the weaker of the two legs earns.
With Nspire Network, you earn 10% at the first rank and it increases from there. There are other income opportunities too, in the form of bonuses. One set of bonuses even uses a unilevel plan, which gives distributors a whole new area to consider.
As a general rule, binary plans are more difficult to optimize. You have to worry about two teams instead of one and need to consider how they compare to one another.
To stay active, you need 100 Customer Volume of sales every single month. Up to 35 of this can be your personal purchases but the rest must come from sales. The only way around this is to have 35 Personal Volume yourself (your own purchases) and have two people in your downline (one in each team) who meet the same criteria.
This ongoing requirement is frustrating. If you just want to earn from sales, you still need to hit the 35 Personal Volume requirement each month.
Final Thoughts: The products from Nspire Network are unusual enough and the compensation is decent. Just be careful, as binary plans can be frustrating.
6. ASEA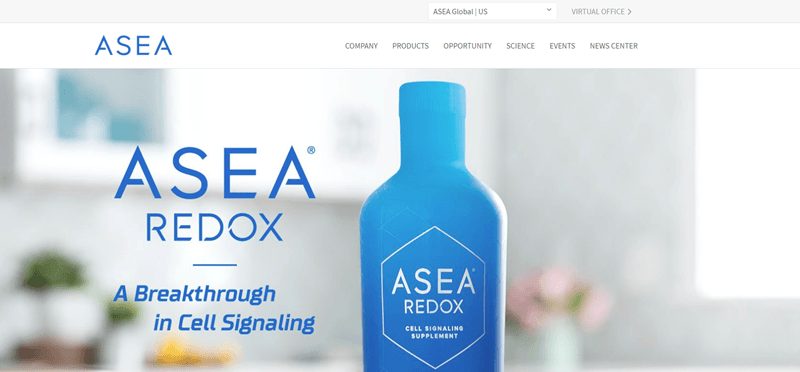 Focus: Cell signaling supplements
Minimum Cost: $50 (for a starter kit with brochures, business tools and samples)
Product Overview: ASEA isn't your typical supplement-based company. Instead, the products are a little unusual and have some interesting angles. Their main item is ASEA REDOX, which is a cell signaling supplement. It is meant to have many benefits, including boosting the immune system, lowering inflammatory responses and improving digestive function. In fact, the claims made about the supplement are extensive and some are difficult to believe.
Similar claims are made about the other supplements from the company. They're all meant to contain active redox signaling molecules and offer amazing benefits as a result.
Despite all of the marketing and scientific jargon, ASEA doesn't provide much evidence about the product itself. They talk about various important areas, like redox signaling, which is a relevant process. But, there is no way to know whether ASEA's products have any significant impact on overall health.
Personally, I don't trust ASEA. The marketing is far too vague and evidence simply isn't provided. Reviews are also very mixed. Many people say that the water is amazing and has provided many benefits. Others have seen no impacts at all.
Let's be honest, at least some of those positive reviews will come from distributors. Some others may be the result of the placebo effect.
On a side note, the supplements are expensive. Four bottles (32 oz each) of ASEA REDOX starts at $120. That's a lot to pay for a supplement that's mostly just water.
Commission Quick View: ASEA is another company that uses a purchase-first model. You buy the products at wholesale and then sell them at retail price. For ASEA REDOX, those prices are $120 and $150, netting you $30 per sale (20% of the retail price). That's decent but not amazing.
You can also sell via a website from the company. The commission rate is the same here too and the process is less risky on your end.
The next step is earning from a team. To do this, you need to be buying or selling 100 Personal Volume (PV) every month. You also need two recruits who are doing the same. The company recommends an autoship of 100 PV to make this easier but the autoship isn't a requirement.
Once you meet those criteria, you can start to earn from your team. ASEA uses a binary model, where you're building two teams, one under each of those recruits. ASEA then pays 10% of the volume of the lesser of your two legs – regardless of who makes the sales.
This sounds great on paper and it can be effective. But, you're only earning from one of your two teams, whichever one doesn't perform as well. That's particularly frustrating if one team is good at making sales and the other isn't.
As always, there are various other aspects too, including matching bonuses and additional ways to earn. Most of these are tied into your success. The larger your team and the more sales they make, the more you'll earn.
Final Thoughts: The compensation plan from ASEA is pretty typical for a binary scheme. Honestly, the biggest limitation is the products. Even then, the right audience would probably still buy them.
7. Cerule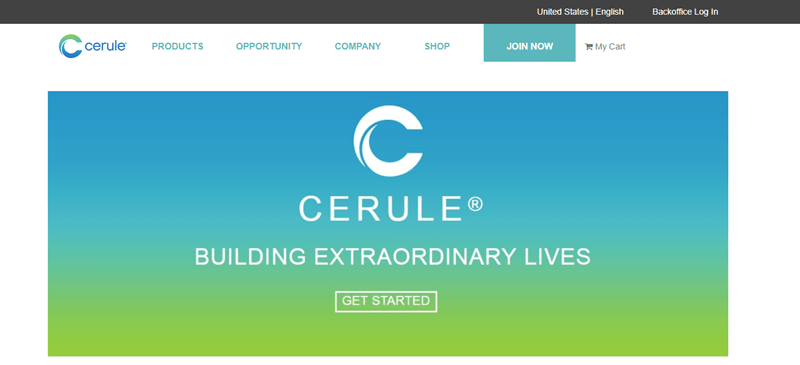 Focus: Health, in general
Minimum Cost: $69 (for a starter kit with various products)
Product Overview: Cerule is a limited supplement company, just offering three products to choose from. They all cost $79 each and contain 30 servings.
StemEnhance Ultra: Designed to support the release of stem cells and the body's ability to repair itself.
Plasmaflo: Supports heart health, by providing various enzymes, antioxidants and plant extracts.
Cyactiv: Reduces inflammation. The supplement is actually just a spirulina capsule, there's nothing unusual about it at all.
There are bold claims for all the products but very little proof. The ingredients used might provide benefits. But, then again, they might not.
Of the three, StemEnhance Ultra is the most unusual. There is considerable interest in stem cells and it's easy to see how the product would be appealing. Still, the idea is just to boost stem cells being released. Whether this translates into any health benefits remains to be seen.
I would only recommend these products if you were truly passionate about them. Otherwise, there are better choices out there. And honestly, if you're going to promote supplements, it's worth choosing a company with a range of products. That makes sales much easier to obtain and allows you to attract a wider audience.
Commission Quick View: Perhaps the most unusual thing about Cerule is that you don't seem to earn by selling individual products. Instead, the goal is to sell starter kits. You earn $10, $100 or $300 for doing so, depending on which kit you sell. But, those kids cost $69, $269 and $1,000, respectively, so the commission per sale isn't very great.
For each of these sales, the person who recruited you earns half as much. By extension, if you recruit someone into the company, you earn from starter packs that they sell.
The next aspect is the team commissions. This operates through a basic unilevel plan. It starts out at 10% for your Level 1 (i.e., the people you recruit). The next rank offers 5% from your Level 2 and it progresses from there. The percentages are higher than many other companies. But remember, you're not earning from individual sales – so the end income potential isn't that amazing.
Because this is a unilevel plan, your team earnings are associated with ranks. You need to move up the ranks to make a decent amount from your team. There are significant requirements for each rank, including group volume goals. You also need at least 50 volume in personal sales or purchases at the first rank. The volume requirements increase as you go along.
Final Thoughts: Not being able to earn from individual sales make Cerule a pretty bad choice. The products aren't very exciting either.
8. StemFoods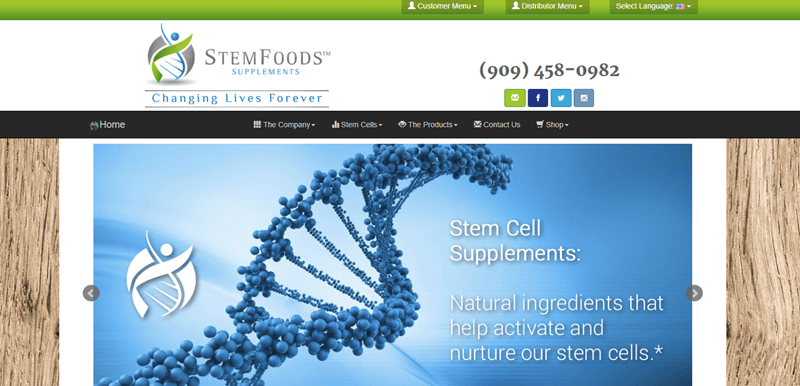 Focus: Stem cell nutrition
Minimum Cost: $148 (for a Personal Start Package with some products)
Product Overview: Cerule had one supplement that emphasized stem cells. StemFoods follows that same idea, but this time all of their products focus on stem cells to some degree.
The website also offer details about what stem cells are and how they promote health. The information tends to be accurate but it's also a little misleading. Stem cells are powerful within the body, that much is true. Likewise, stem cell therapy has considerable potential for disease treatment and is an area of active (albeit controversial) research.
But, that's not what StemFoods is offering. Instead, the products are just designed to promote stem cell production and release. Whether this works is debatable. There is even less evidence about whether doing so promote health benefits.
The products aren't as amazing as they sound either. For example, the StemAlive supplement includes vitamin D3, colostrum (a form of milk), spirulina, blueberry extract, goji berry extract and similar ingredients. You'll find many of these in non-stem cell supplements too.
On the plus side, this is a hyped-up topic. You could easily get people excited about the products, especially as the goal is just to promote stem cells (meaning, there are no ethical concerns).
Also, the supplements aren't very expensive, not for this field. For example, the retail price of StemAlive is $37 for 90 capsules. The serving size is one to four pills, to the bottle could potentially last three months.
Commission Quick View: The compensation plan for StemFoods is a little complicated. Basically, they use four different tiers that are related to business volume (BV). These are: Unranked (less than 100 BV), Personal (100 BV), Elite (250 BV) and Premium (400 BV).
Compensation is based on what level recruits join at, along with the level of the recruiter. The commission rates vary from 30% to 50%. But, rates above 35% are relatively rare.
The team aspect follows a unilevel plan. This includes seven different ranks to progress through, with requirements that increase rapidly.
Members also need to buy (or sell) at least 100 points of product each month to earn. That equates to roughly $130 per month, depending on the specific items. A cost like this is fairly common for the MLM industry. Still, it makes it that much harder to turn a consistent profit.
Sales are made through a site from the company. This means you don't have to purchase first and then resell. But, if you're buying products to stay active, you might find yourself stuck with more pills than you know what to do with.
Final Thoughts: I still doubt that the supplements would be great for health – but the stem cells focus and relatively low prices should help promote sales.
9. Foxx Legacy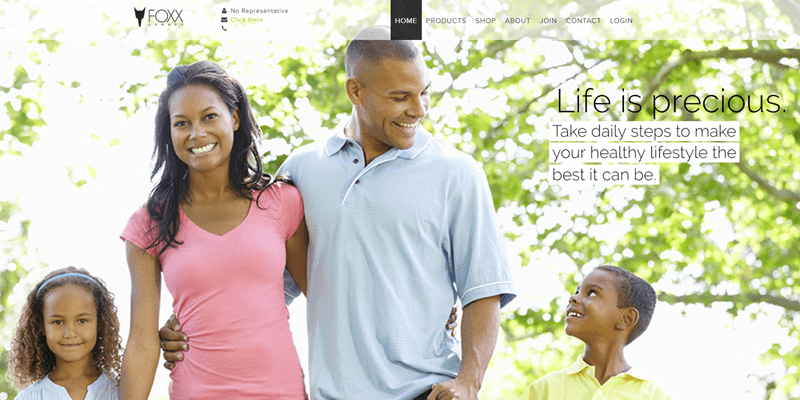 Focus: Supplements for humans and pets
Minimum Cost: No initial cost
Product Overview: Foxx Legacy is a little unusual. They still offer some typical supplements but they also have a product range for pets. This is something that most other supplement companies don't focus on.
For humans, there are three products, called Mind, Rejuvenate and Perform. Two of them are supplements, while the third is a skin balm. None of the products are particularly unusual or exciting.
For pets, there are four supplements to choose from, called Mobility, Allergy, Recovery and Life. They're all liquid supplements and come in 2 oz bottles with a dropper. This should make them easy to administer (in theory anyway).
The style is very similar to supplements for humans and includes various ingredients that may or may not promote health. The labels are also vague, which isn't encouraging. For example, Foxx Legacy relies on natural colors and natural flavors. Due to labeling laws, they don't need to specify precisely what these are.
The pet angle makes Foxx Legacy stand out and could help promote sales. But, there is a limitation. Feeding your pet supplements (or yourself, for that matter) requires a degree of trust. You need to be confident that the product is safe and the company's claims are accurate. Honestly, Foxx Legacy doesn't inspire that type of confidence. Their website and products feel low-quality and there is little evidence about safety.
Even if you love the products and see great results – that wouldn't be enough. You'd need to convince others that they're safe. That seems unlikely. Many people would choose to trust pet stores and vets, rather than a random MLM company.
Commission Quick View: Foxx Legacy doesn't provide many details about their compensation plan (never a good sign!). But, they do make various claims. This includes saying that there are no monthly fees and no forced autoship. They also avoid some issues that other companies have, like being unable to earn from anyone who is higher in rank.
There is also the common pattern of needing to progress through ranks. New ranks offer extra bonuses. Progression seems to be strongly based on hitting a certain number of customers and gets more difficult as you go along.
Despite this, it isn't at all clear how much distributors earn from sales or from their team. The information simply isn't provided. This means there's no way to know how powerful (or not) the compensation plan is.
Final Thoughts: With questionable products and a lack of transparency, Foxx Legacy doesn't have much going for it. Their main advantage is that the company is inexpensive to join. But honestly, that advantage isn't enough.
10. Kyäni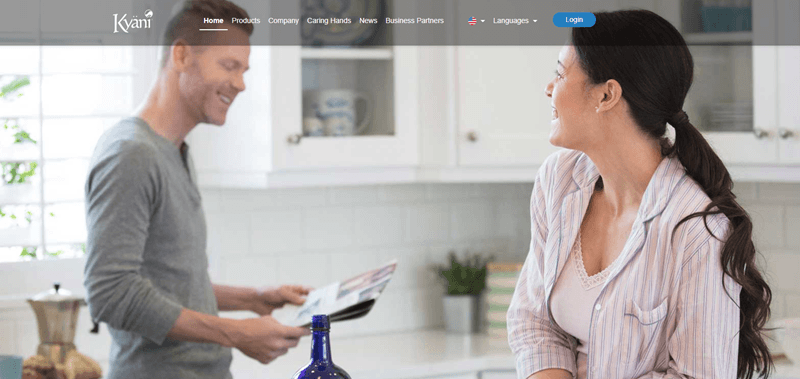 Focus: Liquid supplements
Minimum Cost: $89 (provides a welcome kit, with no apparent products)
Product Overview: Kyäni actually has two different sets of products. One is Fleuresse (a skincare range), while the other is Triangle of Health. The skincare range is fairly typical. Kyäni makes bold claims about it but doesn't provide much evidence for those claims.
For this post, we're mostly interested in the Triangle of Health selection. This includes the items Kyäni Sunrise, Kyäni Sunset and the Kyäni Nitro products (Nitro FX and Nitro Extreme).
Kyäni Sunrise is basically a pouch of fruit pulp and extra ingredients, including some so-called superfoods. Kyäni Sunset is a type of vitamin supplement, which contains omega-3, vitamin D and vitamin A, along with many other vitamins and minerals. The Nitro products both rely on nitric oxide, which comes from Noni juice.
The items all sound amazing. But, the focus is pseudoscience, at best. There's no proof that these offer radical benefits and they're certainly not cheap. For example, a 30 oz bottle of Kyäni Sunrise costs $45.95 retail. The serving size is just a fluid ounce but still, that's pretty expensive for a bottle of juice.
Like with the other items on this list, you could still make sales. Kyäni does market well and many people will purchase based on hype, not evidence.
Commission Quick View: Compensation from Kyäni is based on the difference between wholesale and retail prices. Kyäni doesn't provide a percentage for this and it may depend on how your customer orders. But, they do give an example – where a customer buys $140 of profit and the distributor earns a commission of $20.
That's a rate of around 15%. It's still better than what many affiliate marketing companies offer but it's not that great compared to other MLMs.
Kyäni offers two different team-based approaches to earning. The first is a Sponsor Tree, which follows a unilevel design. The other is a Placement Tree. This still follows a unilevel design but the distributor gets to decide how many legs they want and what levels people go into.
Anyone recruited is put into both trees, so they basically double up. Each tree then offers various ways to earn and bonuses.
The idea should be more powerful than conventional models. At least, that's the theory. Personally, it just feels more complicated than it needs to be. You also have two different team structures to consider and manage. This would make team optimization much more difficult.
There are qualification requirements too. To simply earn, you need 25 qualification volume (QV) per month. If you want the team aspect too, you need 100 QV each month. This is earned from your own purchases and sales you make to customers – but not from the activity of your team.
Final Thoughts: The biggest limitation with Kyäni has to be the team aspect. Kyäni simply focuses much more heavily on the team. This would make it harder to find success just from sales.
11. NeoLife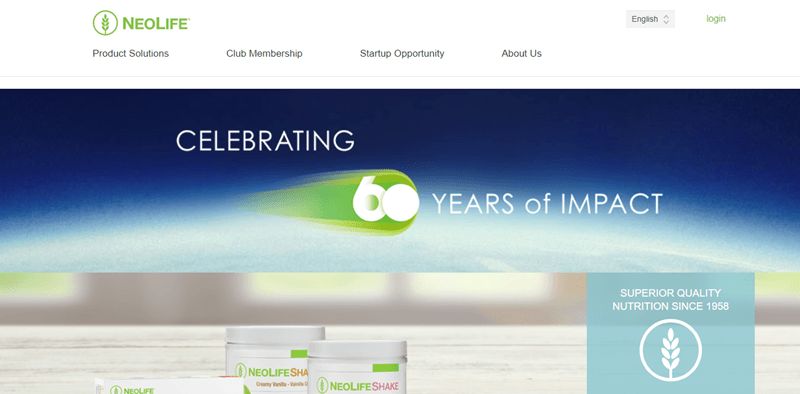 Focus: Wide range of health and wellness items
Minimum Cost: $49 (for a business kit, the contents are unclear)
Product Overview: NeoLife basically sells health products and there are many different products to choose from. But, by far, their main focus is on supplements. They have a significant range of these, including supplements for heart health, digestive health, energy & fitness, immunity, sharper mind and children's health.
Many of these are roughly what you would expect. For example, one supplement contains chelated calcium and magnesium, along with vitamin D3. The style is less common than just a regular calcium and magnesium supplement, but it isn't unusual either. There are also products like fish oil, protein shakes, tea and protein bars.
When I examined the products in the past, I noticed that they weren't as good as they sound. Instead, many are over-marketed and make promises that they don't live up to.
Don't get me wrong though – I'm sure the supplements work fine. There aren't any major issues with them and NeoLife does have a decent variety to choose from. The selection might make the products easier to promote, especially to a wide audience.
The one other limitation is the price. Pricing details aren't provided. It's not clear whether the products are cheaper or more expensive than the market average. I'd guess a little cheaper based on their marketing but it's impossible to be certain.
Commission Quick View: NeoLife seems to follow a volume-based approach to compensation. This means that you earn a higher commission rate if you can sell more products in a month. That much is typical and it's nice to get bonuses for sales, not recruitment.
The catch is that NeoLife starts low. Commission rates range from 3% to 20% based on sales. You need 1,000 in sales volume per month to even earn 10%. These are horrible rates for the industry. Many companies offer at least 20% right from the beginning, if not more.
The team aspect is slightly unusual as well. Distributors are meant to have 12 club members (these are basically customers). They're also meant to recruit three people, each of whom should have 12 club members as well.
That's a pretty high goal right from the beginning. Counting the distributors, that's a little over 50 individual people that need to get involved. Many of these will come from your social circle. Most people won't have the connections needed to hit those goals.
And, of course, there are bonuses and growth tracks. Increasing the size of your team allows you to earn bonuses from them. NeoLife has various patterns for bonuses in place. But, one follows a basic unilevel plan, allowing you to earn from up to three levels deep. The percentages are pretty typical for the industry, although three levels is pretty short for this field.
NeoLife also has an annoying joining pattern. You can choose between four starter kits. These range from $49 to $1,666! The more expensive kits offer additional opportunities to earn money, including extra bonuses. I hate this style. It's blatant manipulation and tries to get people to invest a significant amount before they know what to expect.
If you're going to try NeoLife, stick with the initial pack. If you can't earn money from that alone, then this really isn't a good business choice.
Final Thoughts: NeoLife would be decent enough if it weren't for the compensation rate. If you can get enough sales each month that might not matter. But still, plenty of other companies reward better.
12. Le-Vel Thrive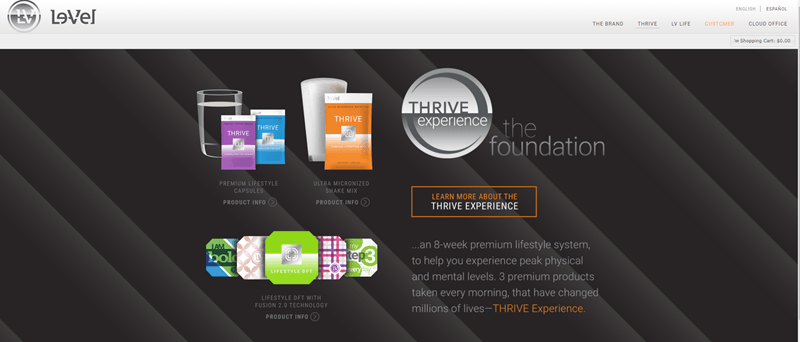 Focus: Patches, shakes and supplements
Minimum Cost: $100 (for your initial order)
Product Overview: Le-Vel Thrive (sometimes just called Le-Vel) is a supplements company with a difference. They do offer regular supplements (called Lifestyle Capsules), which contain ingredients like plant extracts, probiotics and enzymes.
But, their main focus is on their Thrive patches. Those patches basically just go on the skin and they're meant to promote health benefits, like weight management and mental acuity. Thrive claims this is done through unique derma fusion technology.
Basically, the patches act like supplements and use similar active ingredients. But, the compounds are absorbed through your skin. Doing so could potentially result in greater absorption and more benefits – although the research hasn't been done. Le-Vel Thrive isn't able to provide much proof at all about the patches or how they compare to other products.
The end result is simply a different type of supplement. Le-Vel Thrive doesn't provide pricing details but information elsewhere suggests that the patches are pretty expensive.
Reviews are mixed for all the products. Some people see benefits, others don't. Reviews also suggest that the patches don't always stay in place well, which is another frustrating aspect.
Still, the patches are different than regular supplements. This may be enough to promote sales.
Commission Quick View: Distributors for Le-Vel Thrive make sales through a replicated website, earning 20% commission by doing so. This remains the same regardless of rank in the company. The rate isn't amazing but at least you don't need to worry about buying and reselling products.
There are two different team aspects. First, distributors earn 12% from their Level 1 customers, 4% from Level 2 customers and 4% from Level 3 customers. Beyond this is a unilevel plan that offers 8% commission from each level, going up to eight levels deep. The same phrasing is used for each of these areas, so it's not entirely clear how the two plans intersect.
The percentages here are decent, for an MLM. I've seen many companies with lower rates. But, as always, there will be different ranks to progress through. Le-Vel Thrive doesn't offer many details about these but they do talk about ranks when discussing other bonuses.
You also need to be Active and Qualified to have access to the bonuses. Last time I reviewed the company, this meant being signed up to an autoship of at least $100. Most businesses do have some ongoing costs – but being forced to buy $100 of product each month is pretty rough.
Final Thoughts: The patches are interesting enough that some people would be interested in them. Still, the compensation plan is average, at best, and has significant ongoing costs.
13. Juice Plus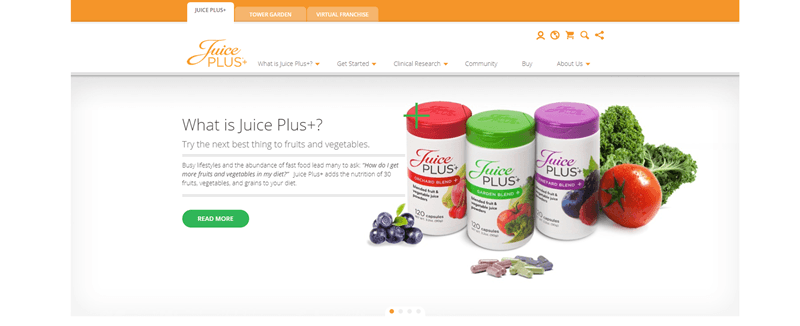 Focus: Fruit and vegetable supplements
Minimum Cost: $50 (this is simply a joining fee)
Product Overview: Juice Plus sounds like it should be a juice-based company – but it's really not. Instead, the goal is to provide the nutrition from fruits and vegetables. To do this, they offer three main products: Fruit Blend Capsules, Vegetable Blend Capsules and Berry Blend Capsules. Each contains 240 individual pills and you're meant to take two (of each type) per day.
The size means that you're getting a four-month supply at once. That's great – but Juice Plus charges $138.29 per month for the products. So, they're not cheap. There are also related products on sale, including an omega blend, protein shakes and chewables.
Honestly though, the products are average, at best. Many other companies promote the same types of products. You can even find fruit and vegetable supplements at local stores. Plus, there's a growing movement toward whole food rather than supplements, which could decrease the chance of sales.
Juice Plus has also been the subject of controversy. Numerous articles complain that the company makes far too many bold claims about health. There is even evidence of some side effects. These aspects aren't going to help you make consistent sales.
Commission Quick View: Juice Plus calls itself a 'virtual franchise', but it's really just another MLM. It also uses a typical rank-based design, where you need to progress through ranks to earn from the company.
In this case, there are seven different ranks and those ranks are permanent. So, you don't need to hit monthly quotas to maintain your level. This style is unusual and it's also appealing. As usual, each rank has extra bonuses and more income potential.
Compensation is unusual too. Juice Plus has a set level of retail sales profit for each product, ranging from $13 to $55. From the second rank onwards, distributors also get a percentage commission for sales. This starts at 6% and can increase up to 22% in the higher ranks.
The overall design should mean more income potential and less risk than many other companies. But, Juice Plus leaves out key pieces of information too. For example, there is little information about ongoing costs. I imagine you need to purchase products yourself and/or hit certain sales targets to remain active.
Final Thoughts: I am somewhat impressed with the compensation plan from Juice Plus. It has some unusual advantages. But, the products aren't that exciting and might be tough to sell. If you are considering the company, make sure you find out about any ongoing costs first.
14. My Daily Choice

Focus: Spray-based supplements
Minimum Cost: $20 (activation fee) + $69 (for a pack of products)
Product Overview: My Daily Choice has multiple types of products. But, their main emphasis is on a set of sprays. These are basically liquid supplements, ones that you spray into your mouth, rather than using a dropper. There are six of them in total, with names like Boost, Shield, Trim365 and Brain.
The general pattern is the same as regular supplements. For example, their Sleep spray contains melatonin, valerian root and GABA.
Theoretically, the spray approach should mean faster absorption. That's the underlying concept anyway. My Daily Choice doesn't prove that idea very well. Instead, the spray mostly ends up being a gimmick to make the company sounds interesting. There are other products too, including a line of hemp-based items and some products for dogs.
At one point, My Daily Choice also provided a program that offered discounts on a range of products. But, this doesn't seem to be available anymore. Perhaps they realized that discount programs aren't a good overall approach.
I'm not personally convinced about the health benefits. But, if nothing else, the products are interesting. This should increase the chances of making sales and does make the company stand out a little bit.
Prices for the products aren't available anywhere on the site. But, the compensation plan offers some insight. In particular, a pack of three sprays costs $69 and provides 50 Business Volume (BV – we'll come back to that soon). Larger packs offer better value for money but you're still looking at $15 or more for a small bottle.
Commission Quick View: Members of My Daily Choice have the privilege (their words, not mine) of purchasing at a discount and then reselling. That discount can be as much as 25% off the retail price. Just quietly, that's not much of a discount and it doesn't create an amazing amount of profit.
The compensation plan suggests that profits may increase further, up to 50%. But, it's not entirely sure how this occurs. Regardless of the mechanism, you'd need to progress through the ranks to reach those higher discounts.
It's also possible to make sales through a replicated website. The compensation rate isn't stated but it is probably the same as with direct sales.
To earn, members need at least 40 BV in sales or must buy one of the builder packs each month. This isn't a huge requirement, as you get more than 50 BV from one pack of sprays. Still, it is an ongoing cost, one you need to be aware of.
The team aspect follows a unilevel design. In this case, you need to hit at least the third rank (Director) to earn from your team. When you do this, you earn 10% from your Level 2 (which seems to be the people you recruit). The next rank also offers 8% from your Level 3 and 5% from your Level 4.
The percentages for the early ranks are better than most – but there's a catch.
Basically, My Daily Choice boasts that they pay up to 85% of all BV in their compensation plan. This means that the percentage you earn from your team is based on 85% of their sales. That's not as amazing as it sounds. Some companies pay on a lower percentage but many others let you earn from the entirety of your team's sales.
The end result is that the plan here is pretty typical. You can earn from your team but you'd need a successful team of a decent size to do so.
Final Thoughts: My Daily Choice has some advantages, including unusual products and a decent enough compensation plan. But, once again, you're having to purchase first. That's not an ideal way to earn money.
15. Orenda International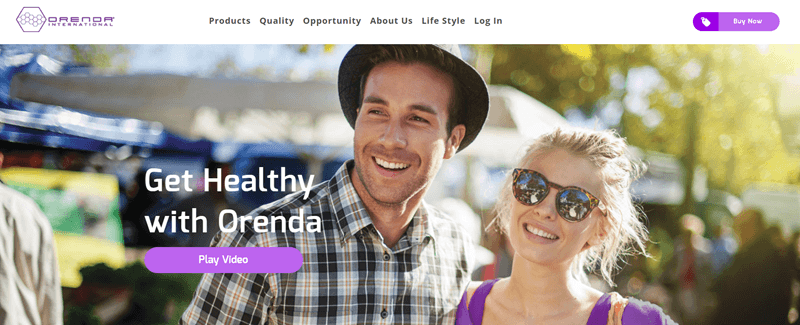 Focus: Quality supplements
Minimum Cost: Around $120 (for your autoship)
Product Overview: The general idea of Orenda International is simply supplements. But, the company also focuses on making these high-quality. Details on their site support this idea, such as testing the ingredients, complying with Good Manufacturing Practices and avoiding synthetic additives.
It's not clear whether the supplements are actually any healthier than conventional ones. But, at least the angle should help distributors to promote sales.
There is a relatively small selection of products, including Orenda Immune, Orenda Eaze, Orenda Male, Orenda Balance and Orenda Active. Each seems to be designed to look and feel unique. And, of course, the formulation will be specific to Orenda International. Still, there are plenty of products out there with similar combinations of ingredients and the same overall claims.
The pricing for the supplements is pretty typical. For example, a 60-count bottle of Orenda Immune costs $77 retail, while a 120-count bottle costs $149. This is a lot to pay for supplements and many people will hesitate. Still, as you may already have seen, many supplement MLMs have a similar pricing structure. If nothing else, this means you could earn more from each individual sale that you do make.
One other aspect is Orenda International's Clean, Burn, Shape program. This is a weight loss program that relies on a detox product, a metabolism supplement and a meal replacement shake. I'm always skeptical about programs like this but some people do find success.
The program also gives you one more angle to promote, especially as weight loss is a very popular field.
Commission Quick View: Orenda International follows a purchase-first model. Distributors buy the products themselves and then resell them to customers. The style involves some risk, as you need to invest money up-front and then earn it back. If you calculate wrong, you may end up with excess stock that you cannot sell.
There are three tiers within the company: Customer, Affiliate and Manager. Customers get 10% discount by having an autoship, affiliates get 20% off and managers get 40% off. The larger your discount, the more you earn from sales. This means you need to have your own autoship, which involves paying for and receiving products automatically each month.
On the plus side, 20% to 40% profit is decent. My personal complaint is just the purchase-first model. You'd have much more income potential without that style.
Beyond sales, you earn from your team. Orenda International roughly follows a unilevel plan. It contains six ranks (with the first being manager) and allows you to earn from an infinite number of generations. All of these ranks provide 5% from your first three generations, along with some rank-specific increases and bonuses.
The income potential is higher than many other unilevel plans that I've seen. Still, you do need to progress through the ranks. Plus, the first team rank (Manager), requires a monthly group volume of 2,000, which is around $2,000 in sales for Orenda International. That's a high goal, especially for anyone just starting out.
There are more ranks and bonuses beyond this but they're not worth discussing. As with any MLM, the income potential simply increases as you go along, as does the number of requirements. Those requirements mean that most distributors don't progress very far.
Final Thoughts: The purchase-first aspect sucks, as does the autoship requirement. Despite this, Orenda International does have appealing products, which is an advantage. You could make your money back from the autoship too, as you are meant to resell the products afterward.
16. Immunotec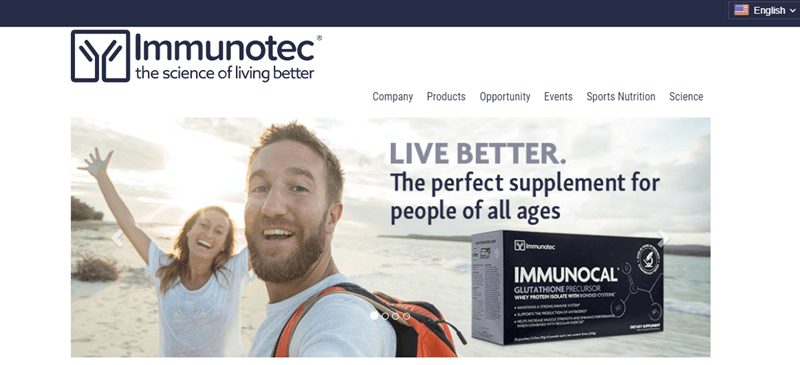 Focus: Science-based supplements
Minimum Cost: $262 (for a starter kit for products)
Product Overview: One of the most interesting things about Immunotec is their overall style. The company places a strong emphasis on the idea of science-based supplements, ones that can potentially boost health.
There are various different items to choose from, but their main focus is Immunocal, which is promoted as a glutathione precursor. The supplement costs $106 retail for 30 servings, so it's not cheap. Oddly, the main ingredient is simply whey protein isolate, something that countless other companies sell as well.
Many of their other products follow a similar pattern. The supplements often sound and look like they're unique and highly beneficial, yet the ingredients are similar to what most other companies offer.
Still, some are more unusual than others. For example, Immunotec has a multivitamin that also contains resveratrol (found in red wine). Even so, none of the items are radically unique. They're simply supplements that are well-marketed.
The marketing angle could be enough to promote sales. Immunotec does manage to sound very high-quality and the products look more compelling than many other companies. The high prices could limit your sales, but they do also promote the idea of quality.
Commission Quick View: Immunotec follows the popular purchase-first style. So, you buy the products at wholesale price and resell them at retail. The percentage commission isn't stated but all of the prices are on the site. For example, Immunocal has a retail value of $106 and costs consultants $74.20. That should mean a profit of $31.80 per sale, which is a little under a third.
You can also get people to join the ImmunoDirect program. With this, they get a discount and have products shipped to them each month. Their discount means that you don't earn as much. But, you don't need to buy the product first this way.
The team aspect is slightly unusual. It looks like a unilevel plan and there are ranks to work through. But, the levels in the plan aren't based on recruitment patterns. Instead, they're filled up consecutively. You aim to recruit four people, who become your first generational level (G1). Each person aims to do the same, creating a tiered structure.
At the first rank (Associate), you simply earn 5% residual commissions from your G1. The second rank (Venture) offers 5% from each of G1, G2 and G3. The rates increase from there and they are pretty decent.
Of course, you do need to meet qualification requirements for each of the ranks. There is also a required autoship each month, simply to receive commissions. This starts at 180 personal volume (which is likely to be at least $180) and increases with rank. As such, it's a pretty expensive autoship, even for this industry.
Final Thoughts: Immunotec markets itself well and I'm certainl you could promote some sales. Still, the products are expensive and the plan requires significant investment. You'd need to be making consistent sales just to break even.
17. LifeVantage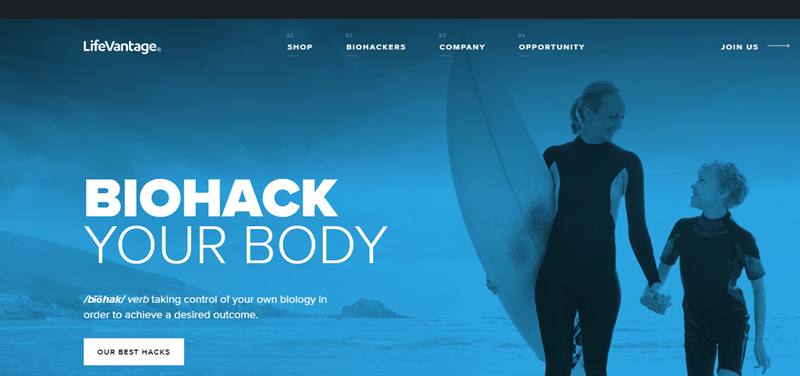 Focus: Biohacking supplements
Minimum Cost: $500 (for a starter kit with products)
Product Overview: LiveVantage emphasizes the idea of biohacking your body. That basically means trying to get the full potential out of your biology. The goal applies to all supplements really, but the emphasis is useful from a sales perspective.
LifeVantage offers products in four key areas: Nutritionals (basically just supplements), Beauty, Fitness (supplements and protein shakes) and Pets (a single supplement for dogs).
The most interesting product is Protandim. Technically, this is two products that are designed to be taken together. They're both supplements. LifeVantage claims that they can help to lower oxidative stress, boost mitochondria productions and help fight aging.
The claims are almost certainly overblown and the evidence is scarce. But, in fairness, LifeVantage does spend a decent amount of time discussing the science of their products – even if they don't provide much actual evidence.
As you can probably guess, the products are expensive too. For example, buying the two Protandim products costs $102.99 retail and you seem to get enough supplements for a month.
Honestly, there isn't much that makes LifeVantage special. Their products sound amazing but they're not likely to live up to those claims. Instead, it's better to think about whether they would work for you and whether you could promote them.
Commission Quick View: The compensation plan for LifeVantage initially looks amazing. Distributors earn 30% to 40% on sales, depending on their personal volume. But, this is only for the first calendar month of any new Preferred Customer or distributor. It also just applies up to 1,000 CV. Distributors don't earn on anything above that.
It's not clear whether distributors continue to earn after that first month. If they do, the amount certainly isn't specified.
The rest of the provided information is about the team. This uses a unilevel plan, with various different ranks. The initial rank provides 2% on your first level and 5% on your second level. The depth increases from there. Interestingly, the rates always remain the same.
This means you never get more than 2% for the first level. I don't like that design personally. Your first level consists of the people you directly recruit. Many people struggle to grow a large team, so most of their revenue comes from that first level. If commissions are as low as 2%, income isn't likely to be very much at all.
Final Thoughts: LifeVantage does have some interesting products with decent marketing angles. Still, their benefits aren't proven and the commission plan is concerning. If you are planning to get involved, find out whether you do get any commission for sales after that first month.
18. Rain

Focus: Seed nutrition
Minimum Cost: $249 (for a starter kit that contains various products)
Product Overview: Rain takes an unusual angle with supplements. They just offer one main product, which is called Soul. This is a small pouch of liquid that includes extracts from black cumin seeds, black raspberry seeds and chardonnay grape seeds. D-Ribose is also included as an ingredient. The end result is an antioxidant drink, one that may help reduce oxidation and promote overall health.
There is some merit to the concept. Plus, Rain provides a decent amount of evidence that the products decrease inflammation and oxidation. As they point out, relatively few products rely on seeds as a source of nutrients. These may well provide some plant-based compounds that aren't readily available elsewhere.
On the flipside, antioxidants aren't uncommon and you can simply get them in your diet or from alternatives like tart cherry juice. Many other companies have antioxidant drinks or pills too, even if they don't follow the same general style of Rain.
Personally, I think the supplement is unique enough that it would get attention. The pouches are very portable and Rain does a fantastic job with marketing. Reviews are generally positive too – although the 30 packages of Rain Soul costs $85 (or $65 on autoship). That's at least $65 for a month's supply. Ouch!
There are actually a few other products from Rain. One is Rain Core, which is very similar. There is a protein shake as well. Still, there aren't many products to promote and they're on the expensive side. Both aspects would limit your potential to make sales.
Commission Quick View: Rain has a long and somewhat complex compensation plan and we're not going to cover the whole thing here.
The first thing to mention is sales commission. Rain seems to pay 30% on all sales, which is decent enough. Oddly, their compensation plan barely talks about this – even though it should be your primary way to earn. Instead, the plan focuses on earning from your team.
The team aspect runs from a binary plan. In this case, team commissions are paid when you hit 300 commissionable volume (CV) in your lesser leg. Whenever you hit that goal, the team cycles and you earn based on the CV of your team. But, there's a catch. Rain only pays 50% of the total CV. So, you're earning much less than you might expect.
There are many other bonuses in play, along with complexities like FOB Compression, FOBM Compression, Binary Genealogy, the Cycle Cap Rule, Flushing Rule and Carryover Volume Rule. The end result is that you can earn but the team plan is complex and isn't all that powerful.
Rain also has ongoing requirements. Distributors need at least 50 personal volume (PV) points each month. These come from sales and/or purchases. I would guess this means selling or buying at least one pack of Rain Soul – but the PV to dollar conversion isn't discussed.
You also need to have an active autoship, of one box per month. It's not clear whether this counts as part of your PV or not (hopefully!). So, at the very least, you'd need to pay $65 a month to stay active.
Final Thoughts: Rain has a unique angle and it could be interesting for sales alone. But, the ongoing costs are significant, while the team aspect is no picnic. I'd only recommend Rain if you were incredibly passionate about their products.
19. Mannatech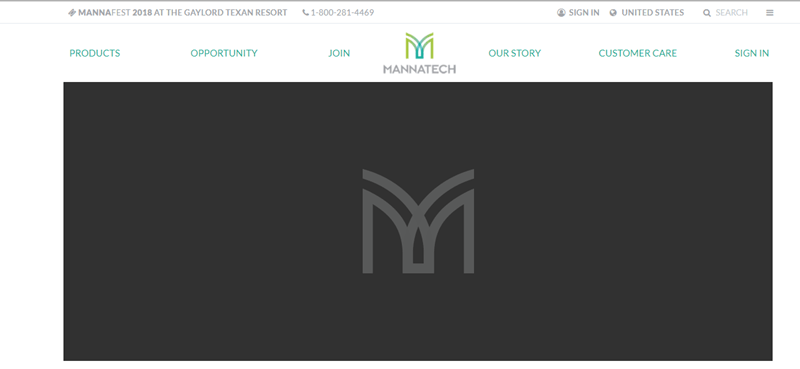 Focus: Health via skincare, home living and supplements
Minimum Cost: $10 (joining fee, this is waived if you purchase a product when joining)
Product Overview: Mannatech could be classified as a general health company because they do cover a range of different health products. But, we're including it in this list because all of their main health areas heavily rely on supplements.
In particular, Mannatech has five product lines. This includes one Home Living selection (essential oils) and a skincare range. The other three are health-related: Integrative Health, Targeted Health and Health + Fitness. All of the products are promoted as 'transformational' and ways to improve overall health. They also feature many supplements.
For example, one of their Integrative Health products is Ambrotose AO. This is a plant-based supplement that relies on a range of ingredients, including green tea extract, quercetin dihydrate and gum Arabic. It is promoted as a glycol-antioxidant, although it's basically just a vitamin C and E supplement with various added ingredients.
Mannatech is also another company that thinks adding herbs to coffee is going to produce amazing impacts (many coffee MLMs do something similar). They have a product called GlycoCafé, which is instant coffee with various other ingredients, including green coffee extract, coconut oil powder and aloe vera extract.
The products are also expensive and there is little evidence that they promote health benefits. But, in fairness, those aspects are true for every company on this list. There never is much proof in the supplement industry and evidence isn't really needed either.
People buy products because they want to feel good. Mannatech does have a decent range of products and they market them very well. So, evidence or not, making sales is a viable goal.
Commission Quick View: Mannatech claims to have 18 different ways to earn. This basically means that you can earn from your sales and your team, along with various bonuses for each. Mannatech does have more bonuses than most but that's not always a good thing. Each bonus has its own set of criteria that you need to work toward, which can make things complicated quickly.
Anyway, the basic way to earn is sales. Mannatech distributors purchase the products first and then resell them on to customers. But, the actual commission rate is never stated.
With so many bonuses in place, the Mannatech plan is hard to summarize. But, the general idea is still that you're growing a team and trying to get them successful. You earn in various ways, such as bonuses from selling product packs directly and in your downline.
There are also typical leadership bonuses if you can build a team far enough. With these, you earn percentage commissions of your team's success. The exact bonuses depend on your rank within the company and the requirements for ranks increase as you go along.
Many companies have a consistent pattern for their team, making it easy to visualize what each rank offers. That's not the case here. Instead, the percentages vary from rank to rank, as does what those percentages are for. The best way to summarize it is just that you need to increase your sales within your team and get people promoted to make the most money.
On the plus side, ongoing requirements seem to be sales based. You're not forced to buy products yourself every month.
Final Thoughts: There's no information about compensation per sale, so it's hard to know how profitable Mannatech truly is. The products are interesting enough that they could sell but the compensation plan is certainly on the complex side. Personally, I would recommend avoiding the company, unless you truly love their products.
20. Vasayo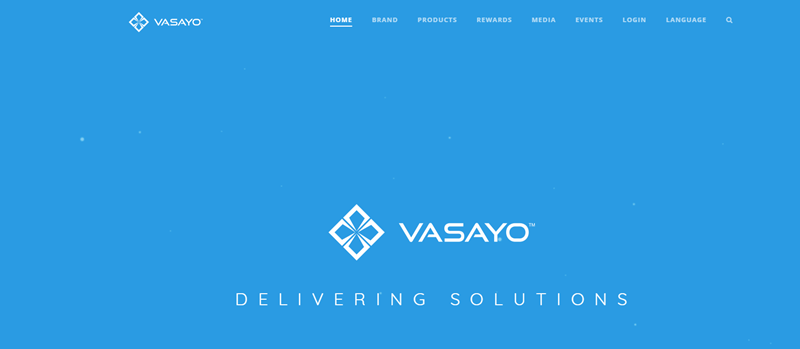 Focus: A small range of supplements
Minimum Cost: $239 (for a starter kit containing various products)
Product Overview: Vasayo is yet another supplements company – but they do have some interesting angles. The first is simply marketing. All of the products are well-designed and simply look high-quality.
Some are also unusual. For example, Vasayo has a sleep supplement in the form of a mist and a renew supplement that is a gel. Both of these are unusual styles that may offer health benefits. Even if they're no better than normal, the approaches could make them easier to promote.
Vasayo also has a supplement called Microlife Neuro, which is basically a nootropic. The supplement itself is pretty typical and isn't cheap ($64.95 retail for 30 capsules). But the physical design makes this stand out and seem like something unique.
There aren't many reviews about the products and evidence of their benefits is scarce. Still, the same is true for most companies on this list. The biggest disadvantage that Vasayo has would be the small range of products. Even so, the product design could make up for this if you were promoting to the right audience.
Commission Quick View: Vasayo distributors make sales through a replicated website – earning 20% commission on all sales.
The team aspect relies on the typical binary plan. With Vasayo, you need to hit 240 Commissionable Volume (CV) in one leg and 480 CV in the other. Each time you do so, you earn $28.
It's not clear how much CV you earn per dollar. But, at face value, this seems like a relatively low commission rate for the industry.
To make matters worse, Vasayo has high ongoing requirements. To make any money at all, you need 80 PV (Personal Volume) in sales each month. That's just for regular sales! Most companies have requirements like that to earn from your team. In this case, the team aspect requires you to have one Active member (80 PV) in each of your team's legs, along with at least one Active customer.
There are more opportunities to earn if you can build a large enough team. But, these aspects come with additional requirements that can be challenging to meet.
Final Thoughts: The products from Vasayo might sell well to the right customers. But, the monthly minimum requirements mean that you'd need to make decent sales just to break even.
21. O2 Worldwide

Focus: Oxygen
Minimum Cost: $39.95 (technically the company is free to join but you need to make a purchase to do so and the cheapest option is $39.95)
Product Overview: O2 Worldwide is a slightly odd supplement company. They focus on oxygen as being the key to health. That's technically true, I suppose – we do need oxygen to live after all. But, their emphasis is on oxygen-rich products, which are meant to provide extra health benefits.
That idea sounds incredibly shaky to me. O2 Worldwide doesn't offer much evidence to support their claims either. Instead, they simply rely on many bold claims and scientific jargon.
As for products, there are four to choose from. The first is O2 Drops, which apparently consist of 'activated stabilized oxygen and lyophilic third state minerals'. The others are Daybreak (a nootropic that also offers energy), Nightfall (a sleep supplement containing hemp) and Thrive (a supplement with plant-based ingredients).
The O2 drops are unusual but the rest aren't particularly interesting. There are also just four products to choose from, which sucks from the sales perspective.
Commission Quick View: O2 Worldwide has a dedicated compensation plan, although their information isn't always easy to follow. To start off with, distributors earn 50% of the CV (Commissionable Volume) on all retail purchases. As an indication, a bottle of the O2 drops costs $39.95 and has a CV of 30. This means you should get $15 as compensation, which isn't too bad.
On a side note, the commission is only 50% of the CV, not a 50% commission overall. That distinction is important, as most companies calculate commission from the product price.
There are also some bonuses, including extra income on the first order of anyone you recruit and a matching bonus if you meet sales goals.
Sales are also made on a replicated website. You don't need to worry about purchasing and then reselling anything.
Some key details are missing from their team plan but O2 Worldwide does make use of a binary model, where you need at least two team members making 40 CV orders each. There are also ranks to progress through. The amount you earn per leg of your team increases with those ranks, although the exact structure isn't clear.
One good thing is that getting started is easy. There are no activity requirements at the early ranks. You can also earn from sales without having a personal order. There are goals to hit at the higher ranks, especially once you start earning from your team. But, they're still low compared to many other companies.
Final Thoughts: I'm not a fan of the products but O2 Worldwide is a relatively low-risk MLM. This might make it a good choice in some situations.
Top Pick
There are a lot of companies on this list – and many are similar. Still, there are some criteria to keep in mind when choosing which one to go with. Ideally, you want a company with a decent compensation plan, one that pays you per sale and has minimal ongoing requirements.
The products should also be good. They don't need to be the absolute best in the market and scientific evidence isn't really necessary. But, you should still look for one with angles that you can promote, with something that makes them stand out.
With that in mind, we recommend StemFoods as one of the better options from the list. The stem cells focus makes StemFoods particularly interesting in my opinion. The compensation per sale is decent as well, while the compensation plan isn't too complicated. The main limitation is the presence of monthly sales requirements. But, that same pattern is true for most other supplement MLMs.
One final thing to mention – the supplement industry is huge. This list has focused on MLMs that specialize in supplements or heavily promote them (and, we've probably missed some!). But, there are many other MLMs that haven't made the list and sell some supplements too.
For example, many weight loss companies sell similar products, along with companies that simply focus on health and wellness. That doesn't even count all the supplement affiliate marketing companies.
PS. In the past, I have covered similar topics extensively, such as weight loss pills, making money selling supplements, and even starting a fitness website.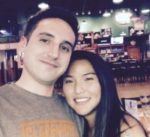 MLM Critic & Author: Nathaniell
What's up ladies and dudes! Great to finally meet you, and I hope you enjoyed this post. I have to be honest though. I'm not a big fan of MLM. Tried it. Hated it.
Affiliate marketing is cheaper, faster, and easier. See for yourself and join millions of other successful affiliates generating income from their blogs!
No inventory. No fees. No recruiting. 3 BILLION potential buyers online.
Reader Interactions