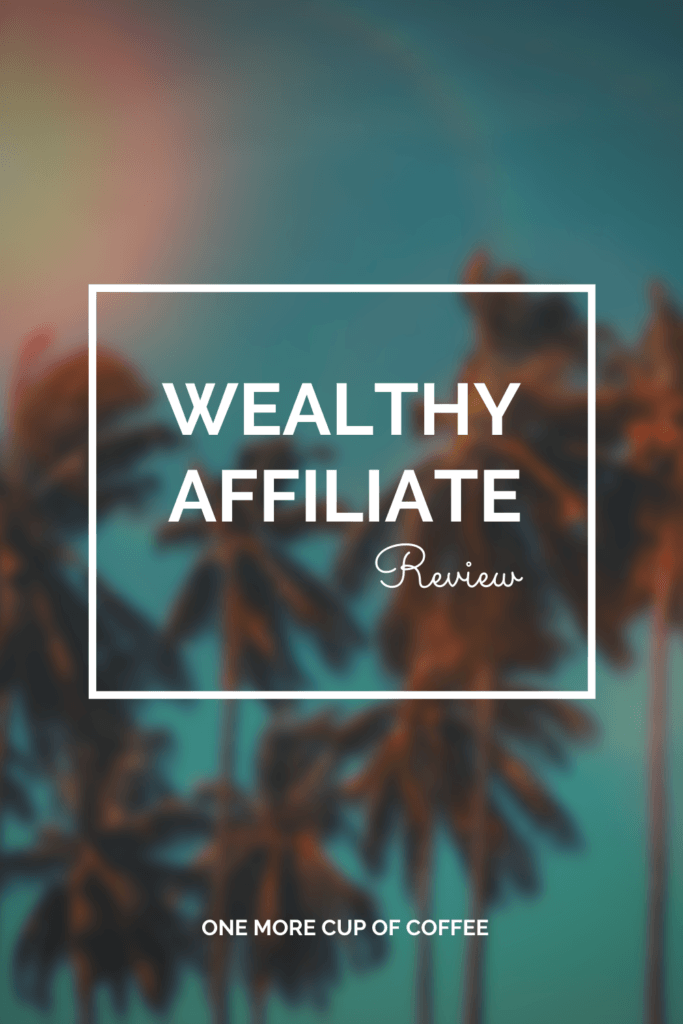 Quick Summary: Wealthy Affiliate taught me how to build a website that earns $10,000+ per month. I've been doing that for nine years now, and I can show you how to do the same thing.
With your membership, You get everything you need to build a successful online business, plus I'll personally help you get through the training and get your website profitable.
>>> Join The Starter Membership For Free Here
Sound too good to be true? Keep reading to see exactly what's inside the community.
Wealthy Affiliate Review
Flat out, this is the best Wealthy Affiliate review you can read online right now. As a decade-long member of Wealthy Affiliate, and as someone who's personally invested $10,000's purchasing "how to make money" style products online, and as someone who has consistently earned six figures with affiliate websites for the past decade, I've got a lot to say about them.
Should you join? That's up to you.
With this review, I hope to accomplish three things.
First, I want to give you an honest look inside Wealthy Affiliate, without all the noise. We'll look at what they offer, and how it benefits you.
Second, I want you to be inspired to actually take action and start your affiliate website. Making money with affiliate marketing is a lot easier than you think. It takes a lot of work, but it's not rocket science.
Third I want you to decide if Wealthy Affiliate is the right roadmap for you. Wealthy Affiliate isn't for everyone, and I'll offer some alternative affiliate learning options within my review.
This is kind of an "ultimate guide" style post with an exhaustive amount of information on the page. It'll take a good 30 minutes to read, so strap in. If you don't have the time, you can sign up for a free Starter Membership and start the training today. A Premium Membership costs just $49/month, which is less than a daily Starbucks habit.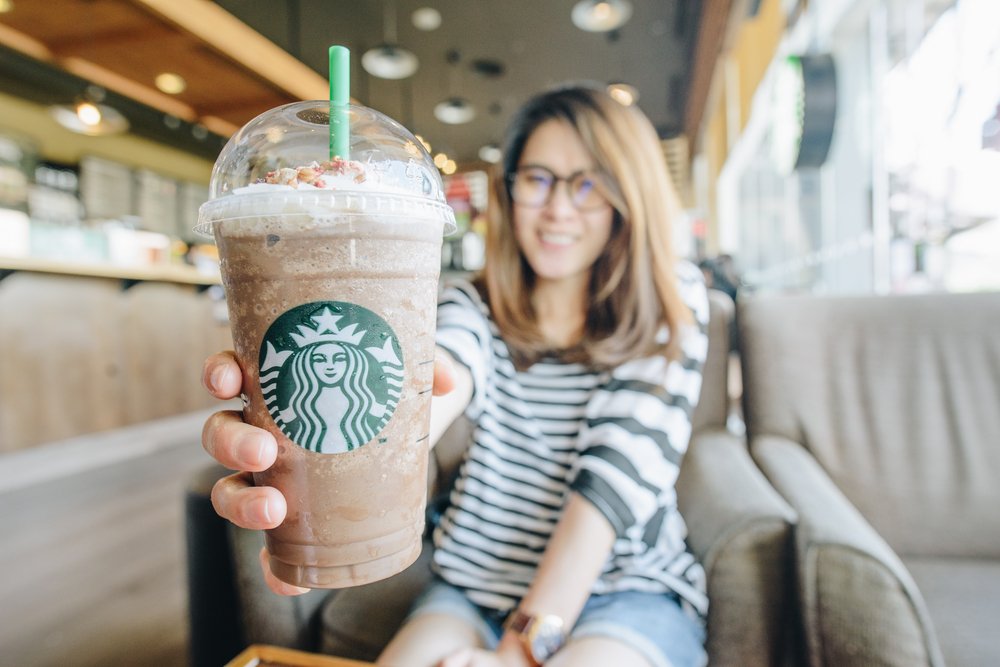 The affiliate training center and hosting platform known as Wealthy Affiliate is one of the most popular learn-how-to-earn services online. Unlike a lot of other products out there, these guys have been around for over 15 years. That's a crazy amount of time in this business, because most products don't last long before they become outdated.
As a member of their Premium membership for ten freakin' years, I know a lot about how their system works, how to navigate the community, and how to be successful online.
Got any questions? Leave a comment at the bottom!
The Core Concepts Of Wealthy Affiliate (WA)
The main thing you'll learn inside the Wealthy Affiliate community is how to build a blog-style website and earn money from affiliate commissions. What does that mean exactly?
After you build your website, the core task you'll be working on daily will be to publish articles related to the topic of your site.
Pretty simple, right? The idea of what WA teaches is not hard to understand. You're just going to be writing articles about something you find interesting. In fact, if you took just this basic concept and ran with it, you could make a successful affiliate website without needing any training at all.
The real struggle most people face is unrelated to the difficulty of actually doing the work. The biggest hurdle most people face, and why most people quit, is simply that they doubt it can work for them. They either doubt that this strategy can actually earn income, or they think that they are not good enough to make it happen for them.
I see it all the time. Somewhere down the line, 3…6…even 12 months without seeing a sale can be extremely demotivating. Trust me. I've been there. Believe it or not, I started out just like you.
What's very surprising to a lot of people is that Wealthy Affiliate doesn't teach some kind of "secret" method. What they teach is common knowledge. The true POWER behind their membership is something else…
In fact, here's the basic strategy outlined:
Build A Website > Write Articles > Add Affiliate Links. That's It. Surprised?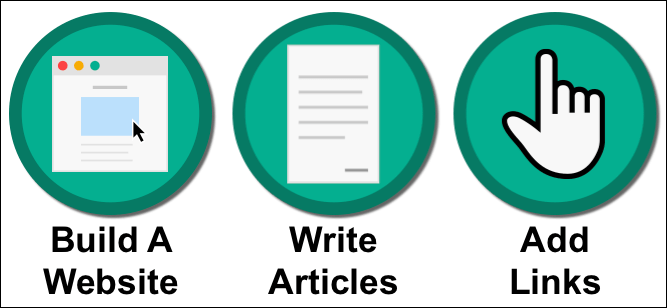 If it's so easy, then why isn't everybody successful?
Reading something is different from doing something. You're gonna have to do the work, and sometimes, that's not super easy. You're probably going to get confused a bit, and you're also going to have to keep doing the work even when you don't see results right away.
So what's the big deal about Wealthy Affiliate? The true power behind them is that they are an active community who wants to see you succeed. It's full of knowledgable, helpful affiliates who will help you get your business started and earning money.
You can post any questions you have about the training, and online business in general and have them answered in minutes. Rather than struggle on your own, you can follow proven training and get personal help every step of the way.
What Do I Make My Website About?
What to make your website about is one of the biggest questions everyone has when they get started. Before I built my first website, I was definitely very confused since I felt like I had nothing special to offer the internet.
I've built sites on many topics over the years. Horse hair care, computer privacy software, edible gold (that's a real thing!), and even sprinklers.
How to pick a topic for your website and how to find things to promote is going to be covered in your training, but because it's such a big question, I wanted to talk about it real quick here. There are two main things I want to emphasize.
ONE: Any website can make money. You'll be making money by promoting products from your favorite companies like Apple, Amazon, Best Buy, Home Depot, The NFL, and thousands other smaller ones you haven't heard of (yet). What to promote on your website is part of the research process, which is covered in the training.
Even for a website like, "My Favorite Super Cars", which is obviously not going to sell Dodge Vipers or McLarens online, you can still find related things to advertise. For example, maybe you could promote Ferrari car covers for guys with Honda Civics and a big imagination.
TWO: You absolutely, do not have to promote Wealthy Affiliate to make money. Some reviewers have criticized this training program saying that you can only make money if you promote Wealthy Affiliate.
This is far from the truth. You can see that myself and other affiliates are earning tons of money outside of the "how to make money online" industry.
You never ever have to promote WA, or recommend it to a family member, or recruit anyone into a team. In fact, I 100% recommend you stay away from the "how to make money online" industry unless you have a true interest in helping others make money online (like I do).
Teaching Style At Wealthy Affiliate
The lessons inside WA are in both written and video format. There are five training modules (detailed below), each with a different main topic they cover.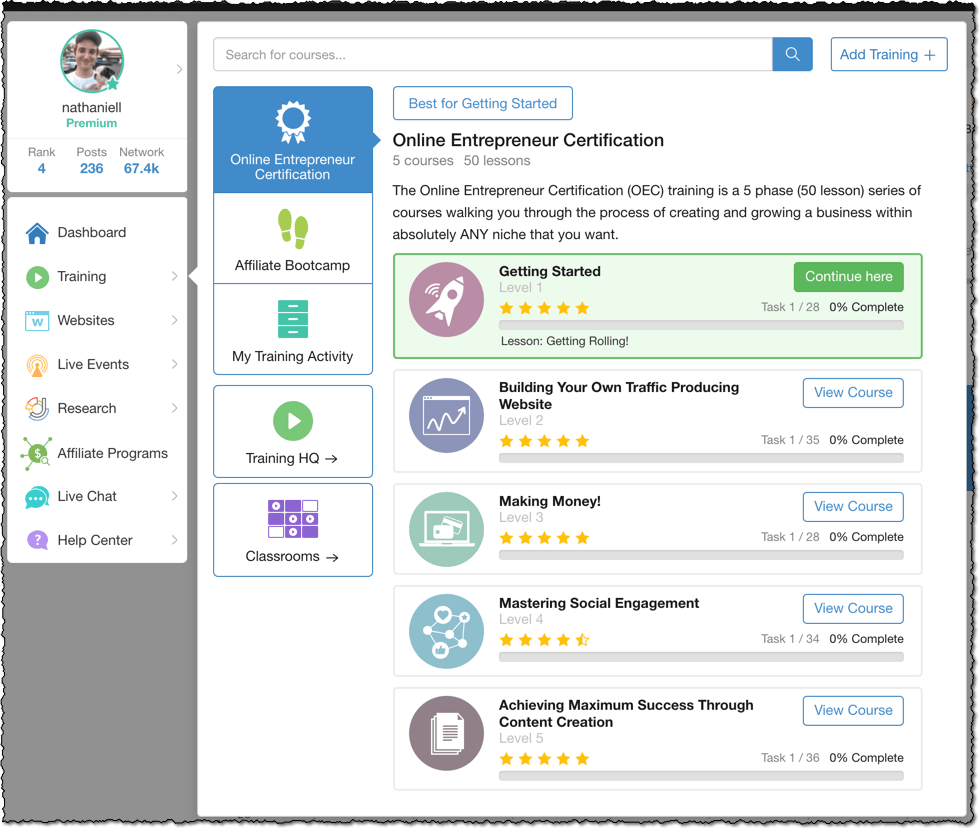 Within each of the 5 levels of training, there are 10 lessons. In each of the ten lessons, there are several tasks to complete. When you complete at task, you can tick the box for that task. When all boxes are ticked, you can move onto the next lesson.
Of course, if you want to skip a lesson, you can do that, but I don't recommend it! You can also view the lessons as many times as you want. I've done the training several times myself!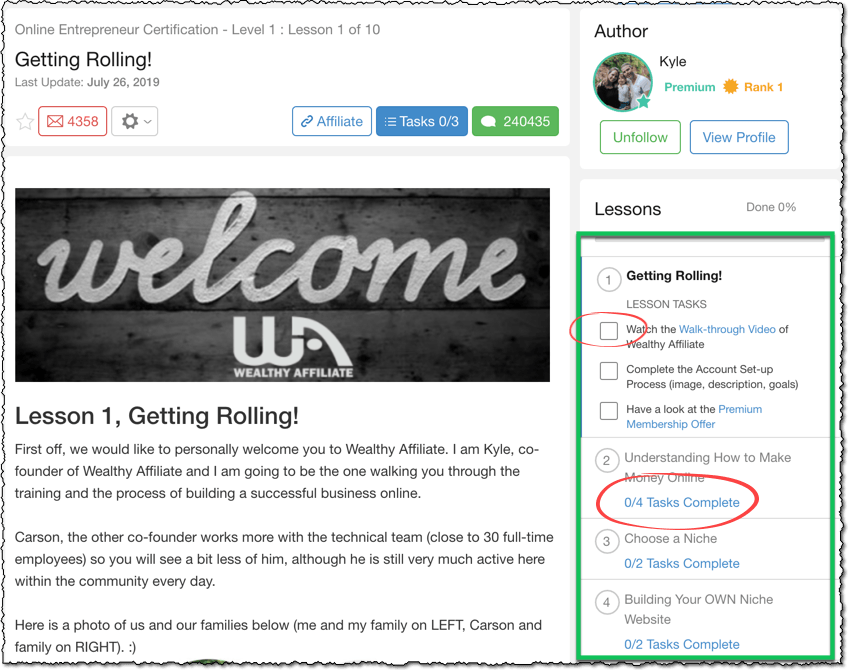 Within each of the lessons, you'll be able to read about the main concepts of what you need to learn. Then, Kyle will show you with a video what needs to be done (or with screenshots).
A good example of this, is in Level 2, Lesson 1 of the training. In the screenshot below, you can see that Kyle has written some content about why it's important to own your own domain name. Then, there's a video showing you how to buy a domain name (com/org/net), and how to connect the domain to the free website you were working on previously. (That's right – you can test out WA for free, using a free website, then you can move your work to a .com after you upgrade your account).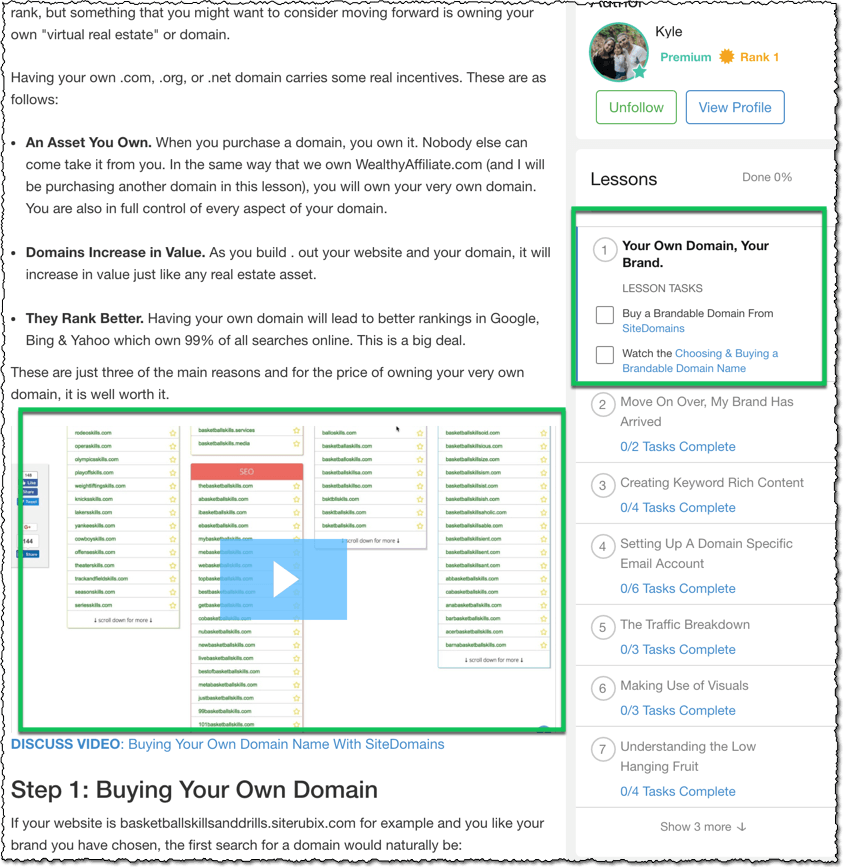 On the bottom of each lesson and video, there will be an open discussion where you can ask questions, or just see what other people are asking. This is a great way to connect with new members!
In many cases, you'll even see questions that you, yourself, can answer, even if you're a total newbie! Helping each other by asking and answering questions is part of the amazing vibe of this incredible community. Everyone is happy to lend a helping hand to a newbie, because we've all be there (believe it or not!).
There are new questions happening every minute, since there are thousands of members engaging in the training. As my referral, I get a notification when you ask something, so I log in every day to answer your questions and review what other people are saying (so you always get the right info).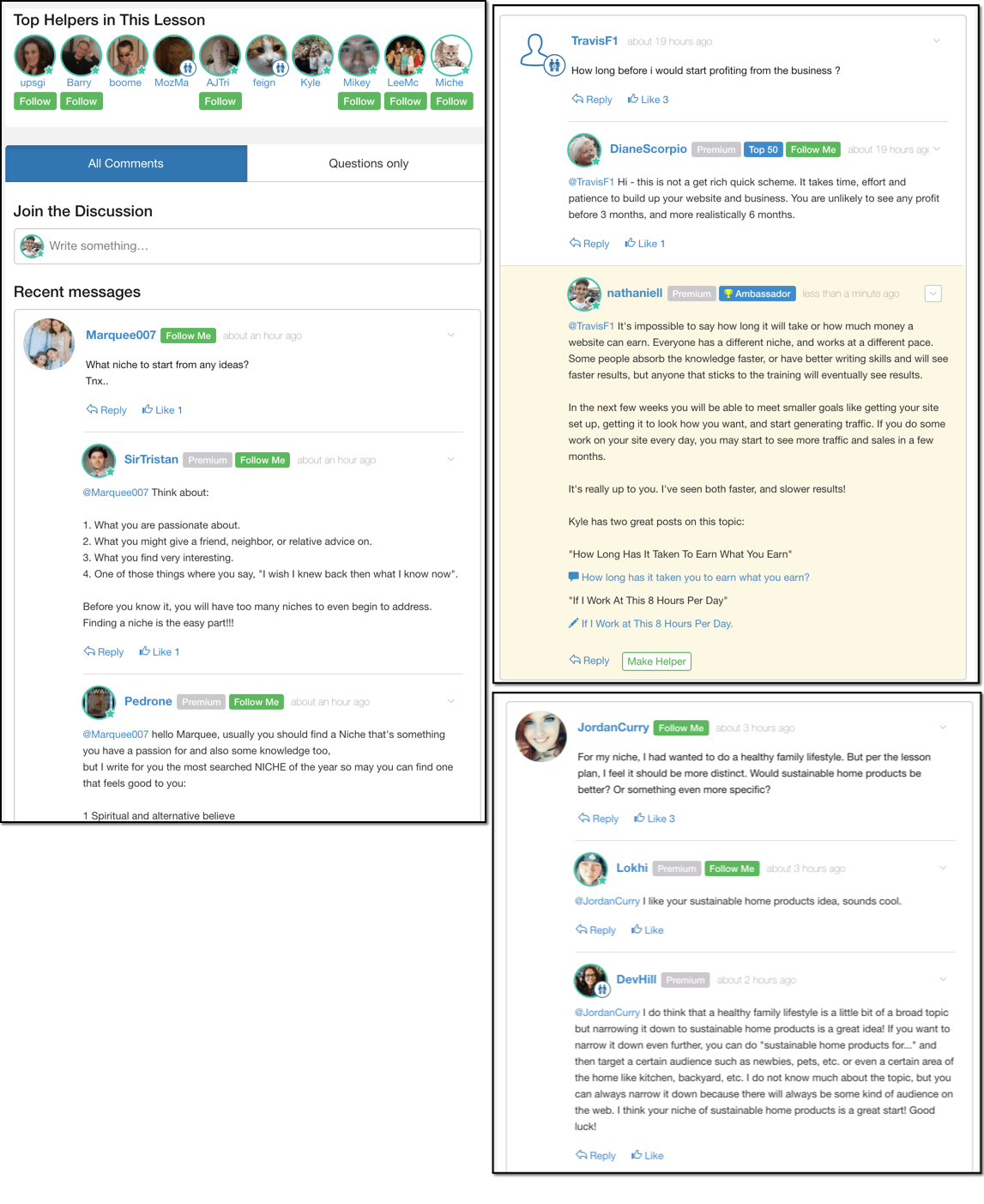 This mix of written and video lessons, with community Q&A, and personalized help (from me), is why Wealthy Affiliate produces so many success stories.
Free Stuff At Wealthy Affiliate
At its core, Wealthy Affiliate is a training center.
However, on top of training, WA offers lots of stuff for free included with your membership that will help your business success.
Managed WordPress Optimized Hosting (10 Websites): $100-$250+/month value
Free "SiteSpeed" upgrade for super fast loading websites
Free SSL Certificate: $60/year value
Free Spam Filter: $5/month value
Free Enhanced Website Security: $300/year value
Free Email Addresses: $10/year/address value
Free Keyword Tool: $50/month value
Free Image Optimization: $9/month value
If you're not familiar with those things, they basically work to make your website run fast and efficiently so you can grow without any roadblocks. Some folks look at the $49/month membership fee and think they can't afford it. Well, as you can see, it's gonna be more expensive to get all these things outside of Wealthy Affiliate, so can you afford not to?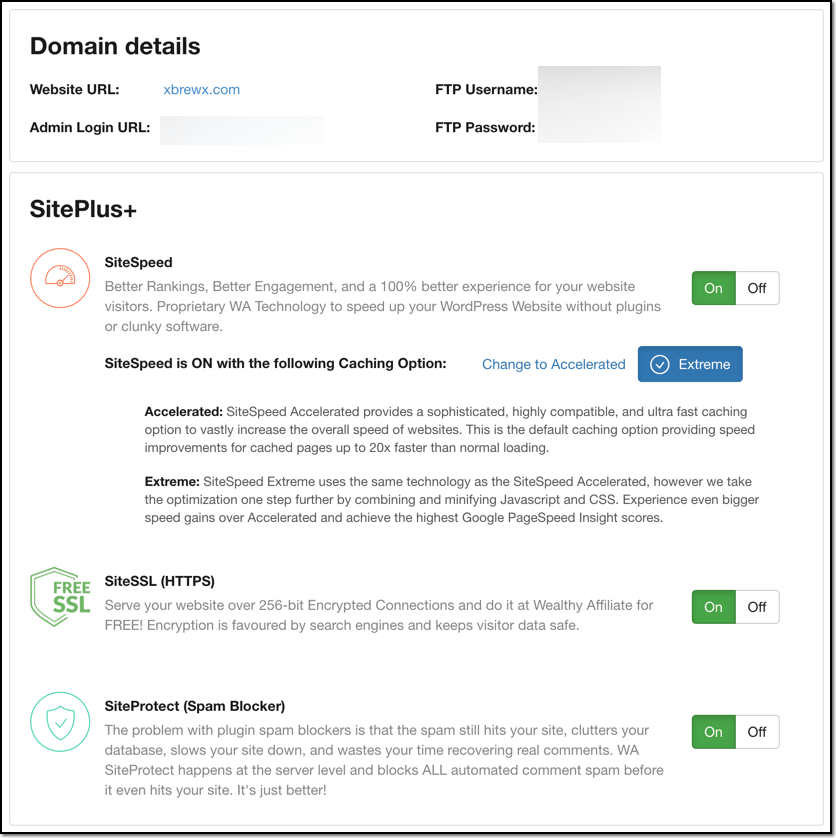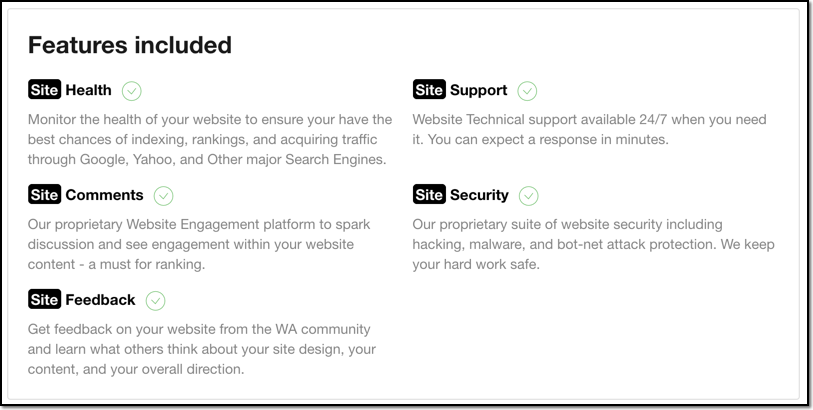 Weekly Webinars
I created special section of this review just to tell you about Wealthy Affiliate webinars because I think they are one of the most interesting aspects of the membership. Normally, webinars are just a way to sell you more crap. They'll bait you with an amazing claim, rope you in for 60 minutes, then try to sell you something at the end.
The great thing about WA webinars is that they are not selling you anything. Never have. Never will. Wealthy Affiliate weekly webinars are about practical education! Past webinar topics include:
how to install SSL on your website
2019 SEO checklist
beginner WordPress customization
advanced WordPress tactics
competition research
keyword research
ranking in Bing
produce, record, upload, and embed YouTube videos
tracking conversion in Google Analytics
how to build a website framework
how to write an SEO article
Plus, as a member, you get access to all previous webinar trainings. There are hundreds of them, each 1-hour long, so there's more than you could ever finish. Webinars are done live on Fridays, but you can always catch the recording later. If you do attend live, you can ask questions doing the Q&A session at the end of each hour.
The weekly webinars cover a range of beginner to advanced topics. Plus, the live nature of the events means that Jay (the guy running the show), can cover relevant topics too. The internet marketing industry moves at a fast pace, and if something is new is going to benefit or hurt your business, you'll hear about it in the webinar!
Step By Step Affiliate Lessons
There are five levels to the training, and each level contains 10 lessons. Within each lesson, there are 3-4 tasks to complete. Here's the step by step breakdown of what Wealthy Affiliate teaches.
Level 1: Getting Started
The first level of lessons are available for free to everyone with a free Starter account. In these lessons, you'll learn the core concepts of how affiliate marketing works, plus you'll pick a topic for your business and even build a free website.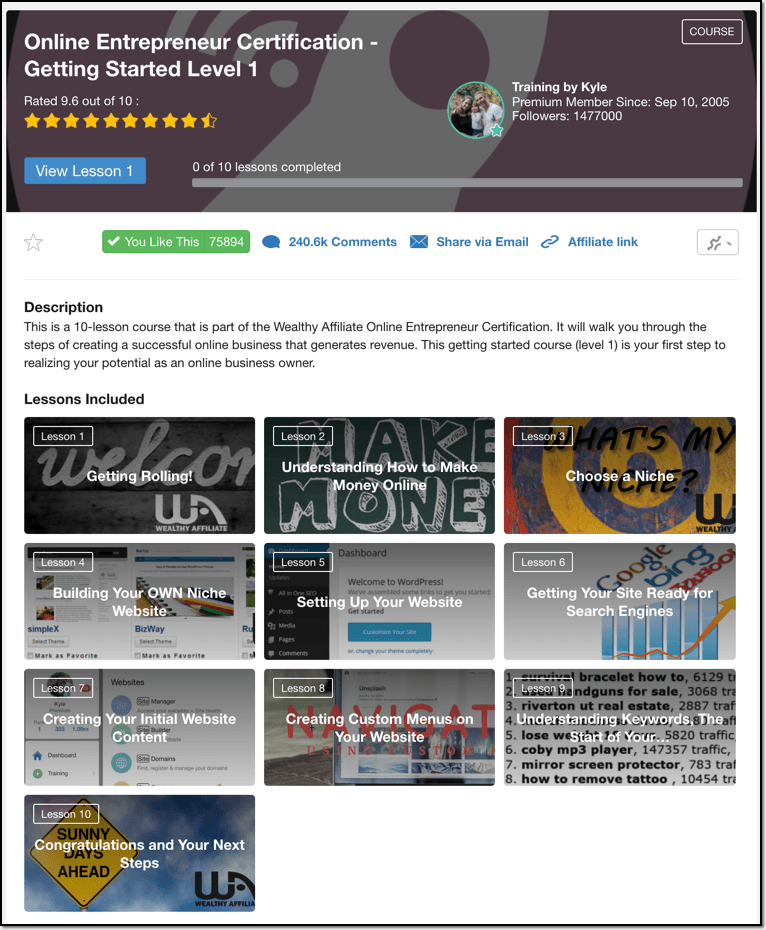 Getting Rolling
Understanding How to Make Money Online
Choose a Niche
Building Your OWN Niche Website
Setting Up Your Website
Getting Your Site Ready for Search Engines
Creating Your Initial Website Content
Creating Custom Menus on Your Website
Understanding Keywords, The Start of Your Content
Congratulations and Your Next Steps
Level 2: Building Your Website
Level 2 is for Premium members only. In these lessons, you'll purchase a .com domain name and redirect (1-click) your free site to the new domain name. Then you'll learn how to do keyword research and create search engine optimized (SEO) articles. Being able to rank articles in Google is the bread and butter of my business!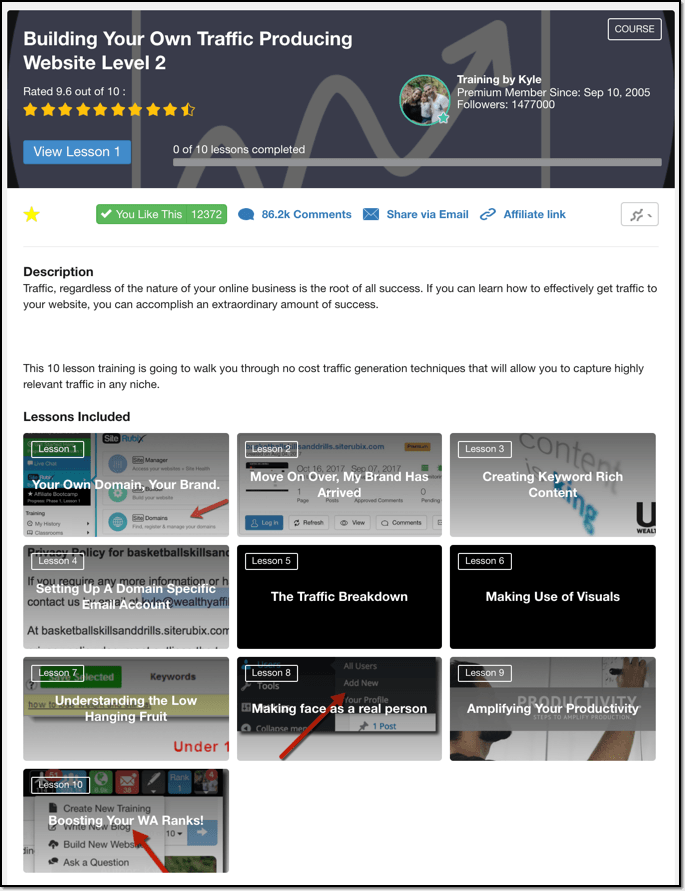 Your Own Domain, Your Brand.
Move On Over, My Brand Has Arrived
Creating Keyword Rich Content
Setting Up A Domain Specific Email Account
The Traffic Breakdown
Making Use of Visuals
Understanding the Low Hanging Fruit
Making face as a real person
Amplifying Your Productivity
Boosting Your WA Ranks!
Level 3: Making Money
In Level 3 of your training (Premium only), you'll search for affiliate programs relevant to your niche and get your first affiliate links. After you write a product review and add your affiliate links, you'll learn how Google Adsense works, and see how display ads revenue compares to affiliate revenue.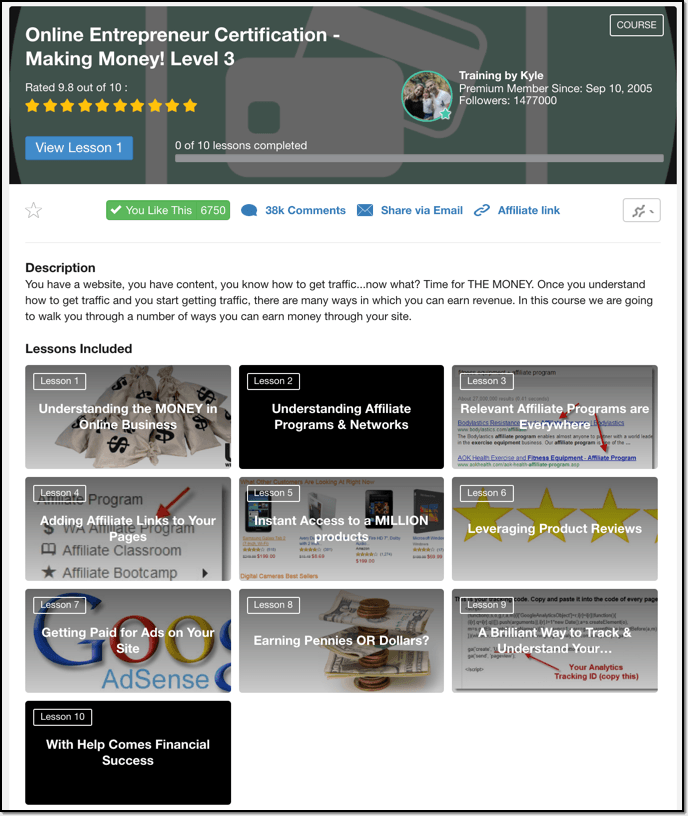 Understanding the MONEY in Online Business
Understanding Affiliate Programs & Networks
Relevant Affiliate Programs are Everywhere
Adding Affiliate Links to Your Pages
Instant Access to a MILLION products
Leveraging Product Reviews
Getting Paid for Ads on Your Site
Earning Pennies OR Dollars?
A Brilliant Way to Track & Understand Your Traffic
With Help Comes Financial Success
Level 4: Social Media
For Level 4 (Premium) of your training, you'll dig into social media. Pinterest, Twitter, and Facebook are the focus, but you don't have to build social profiles on every single platform. Personally, I'm not a huge fan of social media and don't do much of it for any of my websites. Some people love it and make it the focus of their traffic.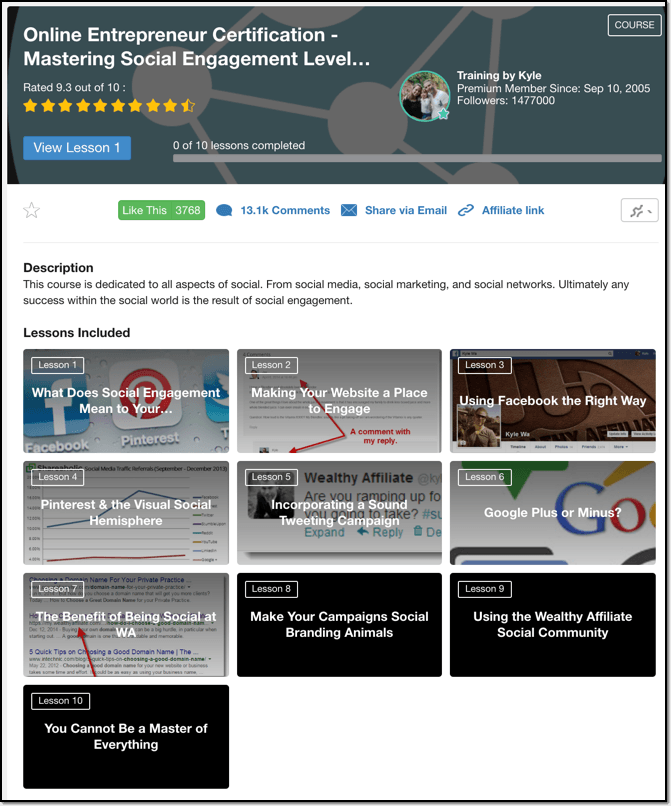 What Does Social Engagement Mean to Your Business
Making Your Website a Place to Engage
Using Facebook the Right Way
Pinterest & the Visual Social Hemisphere
Incorporating a Sound Tweeting Campaign
[Currently Being Updated]
The Benefit of Being Social at WA
Make Your Campaigns Social Branding Animals
Using the Wealthy Affiliate Social Community
You Cannot Be a Master of Everything
Level 5: Content Creation
In the last level of training (Premium), you're going to learn how to "level up" your content. Publishing high quality content frequently is the core of how to attract people to your website. The lessons show you how to write an excellent article, engage with your audience with intent, then track and analyze your traffic.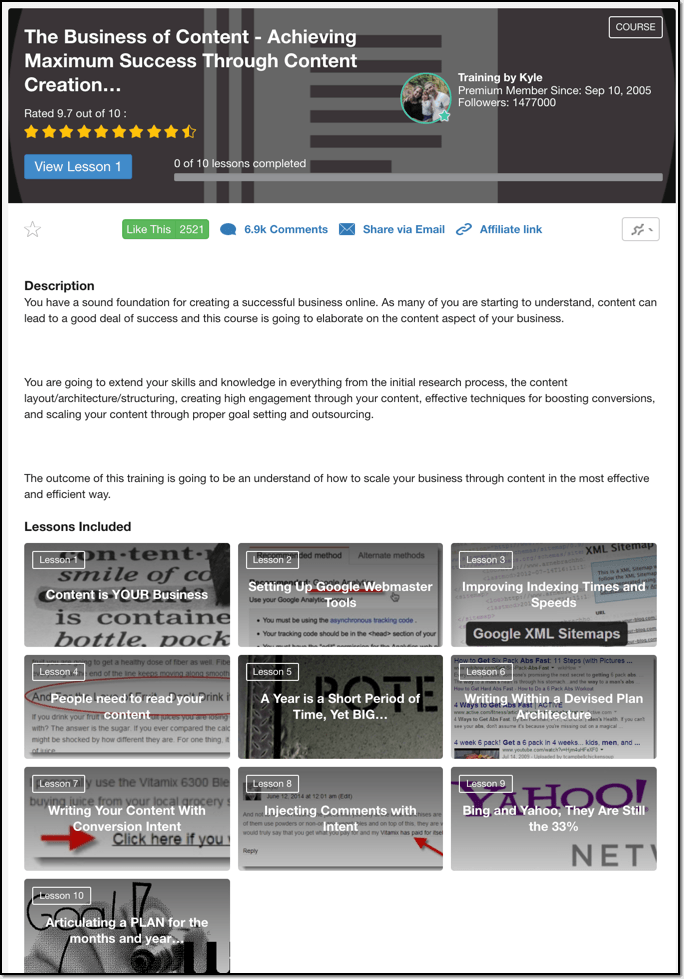 Content is YOUR Business
Setting Up Google Webmaster Tools
Improving Indexing Times and Speeds
People need to read your content
A Year is a Short Period of Time, Yet BIG for Business
Writing Within a Devised Plan Architecture
Writing Your Content With Conversion Intent
Injecting Comments with Intent
Bing and Yahoo, They Are Still the 33%
Articulating a PLAN for the months and year ahead
5 Ways To Get Help With Your Business
The #1 reason to join Wealthy Affiliate is the support community. There's simply no other product or service out there that offers this kind of support, let alone this level of support at this cost. A normal hour-long session with a guru would cost $300-$500, but you can talk to successful entrepreneurs in WA for just $49/month!
Complete newbies will get the most benefit out of the help channels in Wealthy Affiliate. Intermediate affiliate marketers will (with websites that already earn money), will get the most benefit from forging relationships with other affiliate marketers to exchange strategies, get feedback, and set new goals.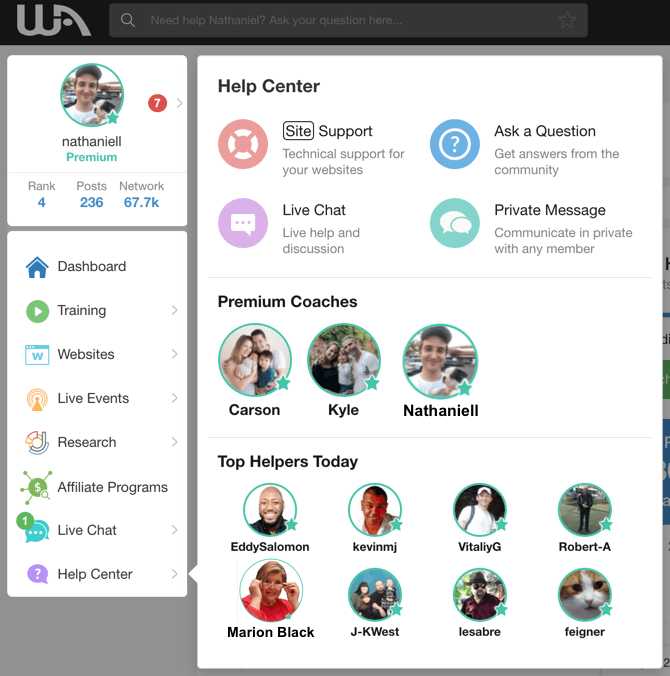 Live Chat
Wealthy Affiliate Live Chat runs 24/7, and gets you access to affiliate marketers from around the world. If you need an instant fix, or have a burning question that won't let you move on to the next lesson, pop in Live Chat and see who can help out.
I hang out a couple times per week just to see what's new and who needs help, but some members hang out daily just waiting for your questions!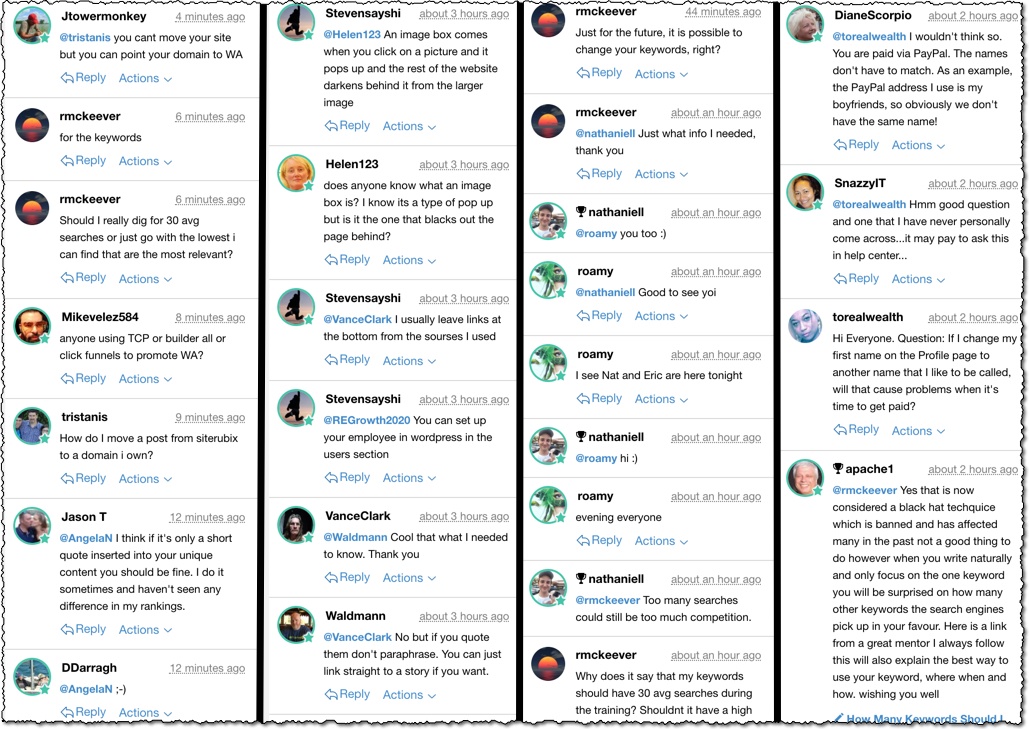 Classrooms
If you don't have time to for a 1-on-1 session in Live Chat, you can post your question to a topic-focused classroom. There are 23 of them, including:
Getting Started
Authoring & Writing Content
Search Engine Optimization
Website Development & Programming
Local Marketing
WA Affiliate Program
Everything WordPress
The Wealthy Affiliate Platform
Social Engagement & Marketing
Keyword, Niche and Market Research
Video Marketing
Email Marketing
Pay Per Click Marketing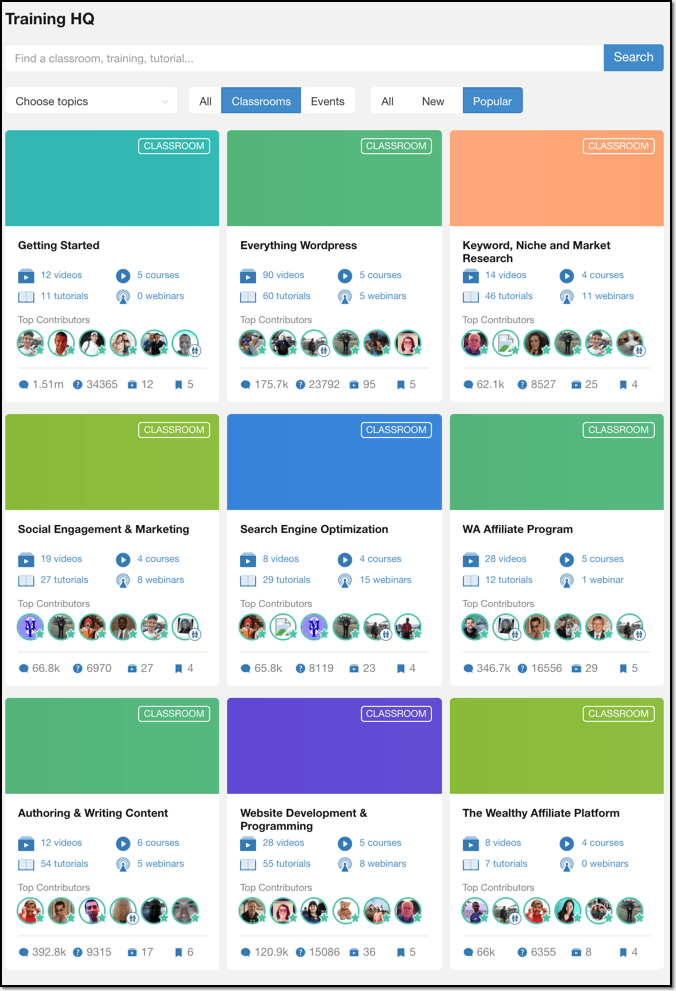 Classrooms are awesome because you can drop a question, then come back the next day to multiple answers from different members. It's like crowdsourcing answers to your questions, and the discussion can go from there. Engage with members over a couple of days as more and more people chime in with ideas, or even follow-up questions.
If you need to ask something, there are probably 100 other people who are stuck on the same thing!
Lesson Questions
As you work through the training, issues will pop up. It happens to everyone! Maybe something isn't clear, or your results don't look exactly like the video. Just post your question directly below the lesson, and another member, myself, or even the main trainer Kyle will respond.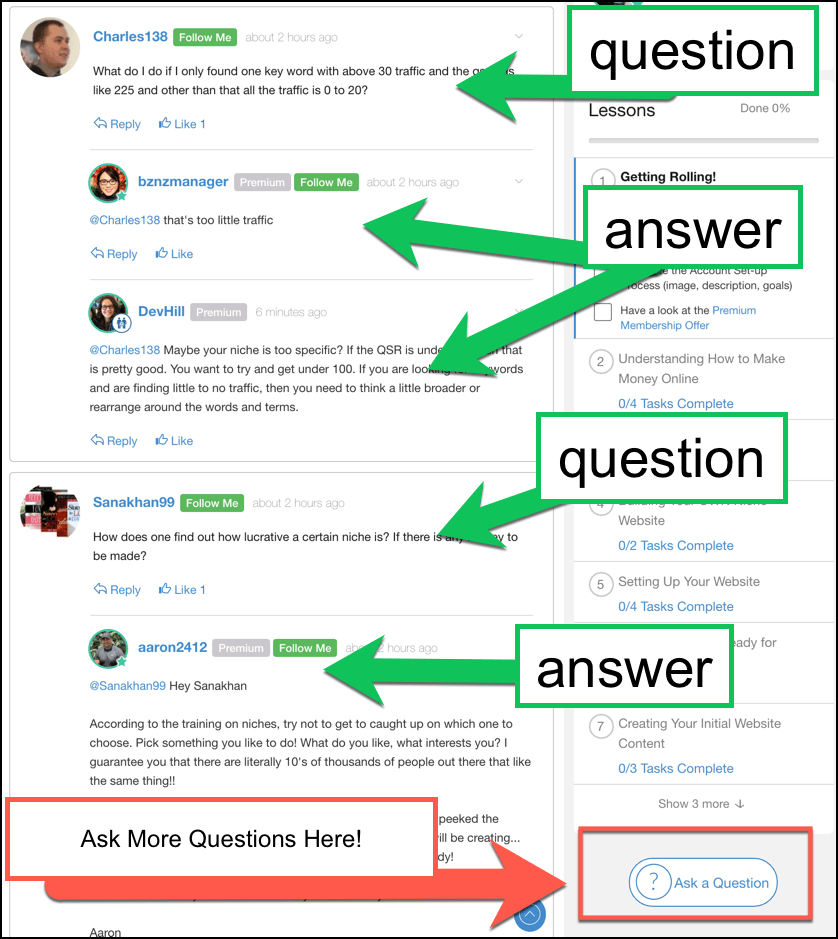 WA Blogs
Within the community you can also post full blogs posts on an internal blogging system. This content should strictly be about your online business, the WA platform, or something related to making money online. These blogs are not meant to advertise your website, and are just another method of communication with the community.
Some people do tutorials, or share the story of how they made their first sale. Other members might post an annual update on their income stats, or progress they made with their affiliate business.
The WA blogs are also a great way to reach out for help. You can post about anything frustrating about the training, or a mistake you made on your site and how you fixed it. Hundreds of members can respond, offering advice and tips.
Private Messages
PMs are a way to reach out to other members in a 1-on-1 setting. If you don't want to ask something publicly, or need the help of a specific person, you can send them a private message. I respond to PMs from all my referrals daily, so if you end up joining through my affiliate links, I'll be your 1-on-1 coach for as long as you're a member. I've been affiliate blogging full time for 8 years now, so I can help with literally any problem you run into.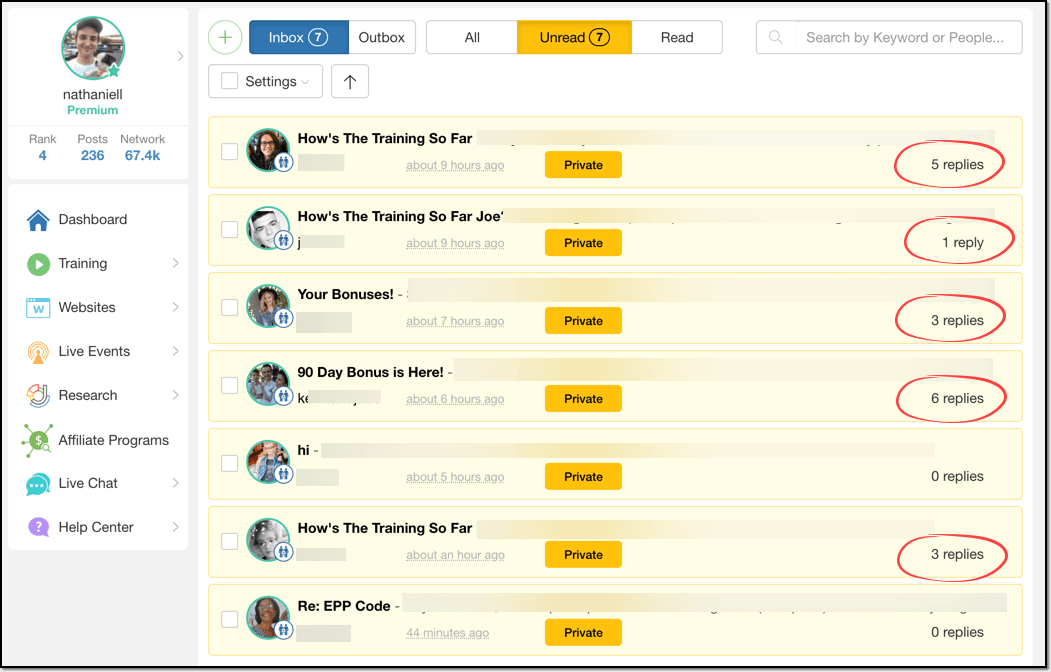 How Long Will It Take To Earn Money?
Everyone's timeline is different, so it's really impossible to say how long it will take for you to start earning money from your website. I've seen people (with my own eyes), generate six figures in less than six months. They are the exception to the rule, but it has happened before.
On the other end of the scale, I've seen folks that are members for many years and still don't earn more than a few hundred bucks per month. These folks are also a unique case, in that they are still working on their website, but not very seriously, and don't see good results because of it.
What we want to shoot for is the middle: someone who is dedicating consistent time and effort to their site over a long period of time. For the folks in the middle…for someone dedicating 1-3 hours each day to their business and a few more hours on the weekend, here's what you can expect:
1 Month: Website set up, first articles published, understand basic overview of how to run their business
3 Months: Getting first signs of organic traffic, 10-50 visits per day
6 Months: Getting consistent traffic, first affiliate sales ($0-$20)
12 Months: Traffic growing each month, making consistent sales ($100-$500/month)
24 Months: Focusing on making big traffic moves (1k-2k-month), optimizing affiliate pages ($1,000+ per month)
This is just a general timeline, and honestly, by the 24 month mark, anything is possible. For myself, I was earning about $12k/month by the 18-month mark. After I had some issues with Google, and dropped back down to $6k/month. Ten years later, I'm pulling in over $20,000/month from affiliate commissions.
Just talking about my personal goals, I really want to crack that $50k/month mark. Wow. Wouldn't that be nice. Check back on me in 2-3 years. I'm gonna get there!
As you can see from above, it's important to start with small goals, and work your way up. As you grow your site, and improve as a business owner and affiliate marketer, your goals will change. My first "success post" inside Wealthy Affiliate was just to say that my website was live. That tiny step was what set in motion my entire business for the next decade.
Nowadays, $100 commission isn't really that exciting to me. I'm hungry for those ten-grand moves in income. I'm looking at things on a larger scale.
Don't be discouraged if you are not earning a full time income in the next few months. Stick around long enough, keep putting in the time, and you will see results like these members!
The Myth Of Overnight Success Stories
One of the phrases I constantly repeat to my referrals is that your first website doesn't have to be a home run. Wealthy Affiliate success stories are rarely made overnight. In fact, my first website was a total turd! I made a free website about horse hair care products, but I don't even own a horse! Then I tried a video game website. I made one sale, then gave up. There are many more than these 5 websites I created that failed, some I don't even remember at this point.
Even my first successful websites were pretty garbage. That's why I just let them expire after a while. Yup. They earned a couple thousand dollars per year, for many years, but eventually I stopped working on them because I was busy with more successful projects.
Your first website might be a stinker, and that's OK.
What Happens When I Finish The Lessons?
When you finish the lesson at Wealthy Affiliate, chances are that you will NOT have an income generating website. In fact, I'd bet on it.
Well, then, what's the point of doing the training?
You have to repeat the tasks over and over again the tasks from the lessons. This is not a "one and done" deal. You don't just publish one article and have it rank. Like any business, you have competition, and you have to be diligent in providing value on your website so people want to read it.
Your #1 task moving forward after you finish the lessons is going to be to find ideas to write about, then publish articles on those topics.
In the meantime, you can keep yourself busy with the various other member-created training modules and weekly webinar topics. For example, you could install a pricing chart plugin and create product comparison pages. You could maybe start email marketing, and collect email addresses then send out a newsletter.
You could also get your site registered with Bing Webmaster tools, and start targeting Bing traffic, or even launching a Bing PPC campaign. There are many other possibilities of what to do with your website, and you have those training modules available to you in the Wealthy Affiliate community.
Each business owner has a different idea of what type of website and what type of business they want to create. As you grow your site, you'll also find ideas from other websites you want to emulate, and you can research how to that' done. Wealthy Affiliate has a ton of resources, but there are also lots of great blogs and YouTube channels you can follow to get more ideas of how to run your affiliate website.
How Much Money Does Wealthy Affiliate Cost?
My personal favorite thing about starting an affiliate website is that it's very cheap. Not only is creating your business inexpensive, but any mistakes you make are not likely to cost you much money either.
Since most of you will be working from a laptop or computer you already have, in a home where you already pay rent/mortgage, your cost of running the site won't add much to your lifestyle spending.
You build the website (free). You research topics (free). You write the articles (free).
Running an affiliate website on a shoestring budget means that you only have to pay for hosting. In this case, hosting is included in your Wealthy Affiliate membership. That means, altogether, the cost of running your business is $49/month + $14/year for a domain name.
Total cost: $50/month
Beyond that fifty bucks, all costs are optional. There are too many optional costs to list here. Some people run their business lean, others like spend money to supercharge their growth. Outsourcing content is the top thing I spend money on these days.
If you have the cash, the two things I recommend you purchase are 1) Premium WordPress theme ($100 one-time fee), and a keyword research tool ($19/month). Once you start making money, you can decide how to spend money to grow your business faster, but to start, you just gotta worry about paying that fifty bucks a month and you can run a six-figure online business.
Pretty good deal, right?
What Happens If I Quit?
I want to see you succeed with your website. Sometimes, life gets in the way, and you may need to take a break. Or maybe you realize this style of online marketing just isn't for you. That's totally OK. You can quit your Wealthy Affiliate membership at any point. There's no contract, and we won't hold you hostage.
If you are just done with everything, you can just log into your account settings, click the cancel button, and leave. Done!
If you want to keep working on your affiliate website, but don't want to be a WA member any more, first, you'll have to line up a new hosting service for your websites! Wealthy Affiliate will not host your website for free, but they will give you a 30-day grace period to move your site.
Prices range from $5 – $60/month for a single website, and about $50-$250 for multiple websites on a managed WordPress hosting service.
Also, you retain all rights to your domain and your content. Everything you created is yours to keep, including any commissions or revenue streams you earn. WA is just a training platform. They do not own anything you created!
If you need to stop for just a month or two, you'll need to decide whether your website is important to keep online or not. Wealthy Affiliate actually keeps a backup of your website for six months, so if you need to cancel, then come back, you can do that too! Just remember that your website will go down after 30 days, even if you plan to come back.
I've been a member for many years, and plan to continue to be a member for a long time (I like the weekly webinars, and have many smart friends there). When you restart your membership down the road, you can just PM me and let me know you are back in action. Your account will be exactly how you left it!
How To Pay For My Membership
Some folks reading my Wealthy Affiliate review will say to themselves, "Wow, that sounds great, but I don't have the money."
The cost of Wealthy Affiliate is $49/month. If your monthly budget cannot swing an extra fifty bucks, there's always a solution. Even though they don't want to hear it, most people can find that money somewhere. Eat out less. Stop your TV subscriptions. Snack less. Have a garage sale. Cancel Amazon Prime. Downgrade your data plan.
Starbucks is $5 for a cup of coffee. Cut out just one Starbucks trip per week and that's already $20 extra.
Fast food is about $10 per meal. Restaurants are even more expensive. Cut out one meal per month, and that's an extra $10.
Netflix is $10/month too. Now you're at $40. All you have to do is find another ten bucks somewhere in your life (either making money or saving money), and there's your membership fee. You cut out one trip to Starbucks, one trip to McDonalds, and sacrificed one entertainment channel. It wasn't that hard.
If you literally do not have an extra fifty bucks to matter how hard you look, then you just have to work more. You can take on some side gigs on the weekends, or even start doing jobs online. Plus, there's plenty of virtual assistant gigs available on websites like UpWork.com.
Additionally, you can make serious bank online writing articles. I regularly pay $50-$100 for a single article. Even if you make only $10 for 1000 words of content (an extremely low-paying job), all you have to write is 5 articles per month, and that can pay for your membership.
If you really want to join Wealthy Affiliate, you can find a way to pay for it. If you can't find a way to pay for it, maybe you don't want it that bad. That's fine, but be honest with yourself!
Price Comparison & Value Breakdown
It's going to cost you some money to start a business, no matter what type of biz you try to start. Here's a breakdown of a couple types of businesses, and the costs involved. Keep in mind, most brick and mortar businesses require getting a loan, and will usually cost you over $100,000 to start.
Average Cost To Start A "Micro Business": $3,000 – $5,000 (Business News Daily)
Average Cost To Start A Restaurant: $275,000 – $425,000 (Restaurant Engine)
Average Cost To Start An Ecommerce Store: $50/month + $140-$3000 For Inventory (Sumo.com)
How does an affiliate website compare? As you might have guessed, it's the cheapest of them all. With just a hosting account alone, you can actually make a profitable affiliate website for about $10/month. Crazy, right?
If you do sign up for Wealthy Affiliate training, you'll be paying $49/month or $495/year. That's about a dollar a day to run your business which could be earning $10,000 per month or more. The risk/reward ratio is pretty amazing. Spending a dollar a day to learn how to earn six figures is a great deal!
OK, but there are many products that teach you how to create affiliate websites. Why not buy those instead?
There are absolutely some awesome products out there which can also teach you how to make money online from affiliate websites. Two popular ones right now are RankXL and Income School Project 24.
RankXL costs $599 up front. There are no videos. The only support is in the Facebook group.
Income School's Project 24 costs $449 for the first year, then $199 per year after that. There's no monthly option, no free trial, and no discounts available.
Both of these products are very good, and worth your money, but look at the price comparison! Plus, consider that Wealthy Affiliate offers a free 7-day trial, and the first month is only $19. Very low risk!
Even if you aren't completely sure you want to follow through with what WA teaches, at the very least, you can try out a month for $19. Seriously. You can't take a twenty dollar risk to start a business?
Wealthy Affiliate Versus Other Products
Wealthy Affiliate isn't the only good product out there. It's my #1 recommendation, but there are some good alternatives, and some may be better for you, depending on what you're looking for. I'm adding to this section as I purchase and review "how to make money" style products and find the ones I feel are good enough to make this list.
Savage Affiliates
Savage Affiliates is a one-time fee product for $197. For folks looking for a single payment, and no recurring fees, right there, that's going to sound attractive. A single year alone is going to cost you more than that for a Wealthy Affiliate membership, even if you opt for the discounted yearly membership. However, the training for Savage Affiliates recommends a lot of products with recurring fees like hosting, autoresponders, landing page builders, and link building products.
Those fees can add up to hundreds of dollars per month, which will end up costing you a lot more than your "all in one" solution with Wealthy Affiliate.
The training at Savage Affiliates has a lot more videos in their core training modules, so you do get a lot of value out of this course. The videos are quite long, and super in-depth.
At the same time, they are a little disjointed, tedious, and there's no written component if you need to go back and skim for specific information. Also, there's a lot of emphasis on promoting specific products, specifically ones in the "make money" niche. It's not the only focus of Savage Affiliates, but it I feel like the trainer could have spent more time discussion other options to promote.
Lastly, and most importantly, I completely disagree with this training's take on link building. Not only do they teach is as a core component of building a successful website (I don't do any link building at all, and do fine), they actually recommend dangerous techniques that can harm your business long term like forum/comment spam and purchasing links from PBNs.
Many people do these techniques and end up fine, and you are free to skip these particular modules, but newbies may not know the difference.
You can read my full comparison of Wealthy Affiliate and Savage Affiliates for a more detailed head-to-head.
RankXL Authority SEO 2.0
$599 is not a small price to pay, but RankXL Authority SEO 2.0 is worth it. It's a really good course, and probably my #2 recommendation right now. It's all text based, so no video, but to be honest, if you follow the training you can usually find whatever step-by-step stuff you need on YouTube. For example, when you set up WordPress, do you really need a 100th version of how to do that? No. You can probably get your host to do it for you for free.
Anyway, the end results of Authority SEO is pretty much the same as Wealthy Affiliate – to have an authority website that earns money. You'll have a couple of in-depth, core pages, and more low-competition blog posts to support those core pages. However, they do a couple things different.
Most importantly, they focus on link building to gain authority in search engines for your core pages. Wealthy Affiliate, instead, focuses on creating more content to boost your authority. I've always done it the Wealthy Affiliate way, but I can see some merit in the RankXL way. Plus, I think their link building techniques are more ethical, and more effective than the stuff taught in Savage Affiliates (referenced above).
Unfortunately, the Facebook group is kind of dead, so quality support, especially for the newbie crowd is not a benefit of joining Authority SEO 2.0. However, the training is rock solid, and I'm glad I bought the course because I plan on incorporating some of their strategies into my own site building techniques.
This type of course will appeal to a more technical-driven person. They go over lots of research strategies before you get started, and have goals set about how many links to get to what pages, and the exact steps to become an authority in your niche. In comparison, Wealthy Affiliate is more for newbies and free-flowing people. They take the angle that any site can make money if you have an interest in the topic, and given enough time and content, you'll be able to figure out a way to make money.
Price wise, Authority SEO 2.0 is way more expensive up front – $599. While Wealthy Affiliate is free to test, then $19 for the first month, then $49/month, including hosting. You can read my full Authority SEO 2.0 review, and I'll post a link to my full comparison of the two if I ever get around to it.
The Authority Site System
You thought six hundred bucks for an infoproduct was steep? Try $997 for The Authority Site System. 2020 is a year of spending money for me, so I decided to finally throw down a grand and see what The Authority Site System was all about.
Well, it was definitely worth the cost IMO. This product is legit. The gist of what they teach is to build a couple of core "skyscraper" articles, which are basically ultimate guides to whatever your niche site is about. You build backlinks to those large, top-notch quality pages, then use a variety of techniques to build backlinks to those pages. To grow your content base, you'll also write some more informational articles based on keywords, as well as product reviews.
This system is way more heavily involved in niche research than Wealthy Affiliate. In fact, over 65% of the course is just getting your website set up (including niche research, which is 40% of the course).
For more analytical minds, this would be an appropriate product. However, for newbies who want to just jump in and get started, I think you might get overwhelmed with the amount of research involved in picking a niche. As an experienced marketer, I definitely learned a lot about niche and competition research here, but I'm still the type of person who likes to learn as I do, rather than study study study to "learn".
The Facebook group for TASS is in much better shape than Authority SEO (above). There are actually discussions going on! Also, their email support system is fast, accurate, and friendly. There are a lot more resources for direct help than with Authority SEO, but Wealthy Affiliate still has more avenues for help. Way more.
Unfortunately, their main focus of creating "authority" is to build backlinks. They encourage you to create good content, but really the focus building links for business growth. Lots of prominent affiliate would say that this is the correct thing to teach, and in the world of link building these guys teach some great, white hat methods. Link building isn't for me, but these guys teach it well. For now, here's my review of The Authority Site System, and I'll get that full comparison up some time before the end of the decade.
Clickbank University
Honestly, this one probably isn't even worth mentioning, but it's a program with some decent exposure so you might have heard of it. Back in the day, Clickbank was the place to sell your digital information product. Well, the internet got better, and Clickbank stayed stuck in the 2000's. Nowadays, people host their digital courses on places like Teachable, Udemy, Video, Wistia, and a bunch of other more modern platforms. Clickbank has a reputation of being low quality, but there are some okay products if you know what to look for.
Their training is called Clickbank University, and actually, the main training focuses on teaching you how to create and launch a digital product. That course is not bad, but also not really what I'm talking about here. They also have a smaller course specifically for affiliates, which is pretty bad in terms of quality, and it's why I wholeheartedly do not recommend it to someone wanting to learn how to build an affiliate website.
They charge a recurring fee for membership, but no real benefit to staying on month after month (as I see it). You can check out my review of CBU if you want, but really it's not worth your time. Here's the comparison to Wealthy Affiliate.
What About The 1-on-1 Coaching?
In this review of Wealthy Affiliate I've mentioned the phrase "coaching" a few times, and you'll also see it within the members area once you join. I just want to clarify what the coaching includes, so there's no issues down the road.
The 1-on-1 coaching I offer is through the WA system, which includes personalized help with your questions, and a guaranteed response via Private Message from myself. That means you'll be able to send me a message about your business and get a response. I will personally help you by explaining something you don't understand, or sending you a link with the appropriate training.
I'll even review your website and offer suggestions from time to time.
However, I will not log into your website and do the work for you. I will not do the keyword research for you, or install the plugins for you. You need to do the work.
One complaint I receive from time to time is that some folks expect a weekly phone call or Skype session. I know that there are some other programs out there that offer "coaching" sessions, but here's the truth: Most of those phone calls are a sales pitch. Yup. Most coaching calls in this industry are designed to sell you into a private mentorship for $10,000-$25,000.
Actually, I've done the phone and Skype thing before. Unfortunately, they were a waste of time. People just wanted to chit-chat and ask general questions, so I stopped doing them.
So just to be clear, the 1-on-1 coaching I offer to my referrals is going to be within the WA platform, via private messaging, not on Skype. Still, you get to basically email me daily if you want with questions, at no extra cost. This is only available to my referrals. I'd love to coach everyone, but I just don't have the time.
Investing In Yourself (Mindset)
Lots of people want to start an online business these days, but they don't want to make the commitment it takes to actually be successful. I get weekly messages from people saying that they want to give Wealthy Affiliate a try, but only if they can do it for free, and then they'll start paying after they earn money.
If it doesn't work within a couple weeks, they want to bail.
Starting a business from scratch is hard. Starting a business from scratch without having any formal education is even harder. Make no mistake. Earning money online with your affiliate blog is going to be an uphill battle, and only the most persistent will survive.
But what's your alternative? Just go about your normal life and not make any changes? Keep doing what you're doing and give up before you start?
In my opinion, the main reason people fail online is because they do not make a proper investment in themselves. They don't want to invest the money. They don't want to invest the time.
Are you seriously telling me that you wouldn't pay a few hundred bucks to change your life?
Is your time so precious that you can't devote a single year of it to attempting to make a positive change?
I like to draw analogies between starting an online business and other things people do. One of the best comparisons is going to the gym to lose weight.
Let's pretend you're a personal trainer, and a client walks in and says they want to lose weight. You say that you have a 1-year weight loss plan you can customize to their needs, and you can even try the gym out for a week to see if you like it.
Then the client says that they want to work out for free until they start losing weight, and they will only pay for the membership if you can guarantee their results. Outside of those conditions, they don't really have the time or money to commit to meeting their goals.
Sounds pretty ridiculous, right?
That's how a lot of folks come at this "start an online business" thing. They want guarantees before they even try.
The fact is, you're going to have to take on some risks if you want to change your life. In the grand scheme of things, seven days and $19 is pretty dang low-risk. Even if you prepay your yearly membership for $495, that's a freakin' low investment cost into yourself.
I get it. You're probably skeptical about everything you just read. Is affiliate marketing legit? Is Wealthy Affiliate a scam? Am I smart enough to do this? Those are the same questions I asked myself in 2010.
Here was my thought process at the time, and how I think about a lot of investment risks I make:
I looked at my entire life from start to finish. When I'm 80, will I miss a few hundred dollars and a single year? Not really. What have you got to lose then? Join up. Doing a little work every day, and make at least some baby steps towards reaching your goal of starting a profitable, successful online business.
Each month you can look back at everything you accomplished. Recalibrate. Make new goals. If it's not for you, then you can try something else. But isn't it worth at least trying?
Invest money and time into yourself, and you will see results.
>>> Join Wealthy Affiliate Today
Exclusive Bonus For Joining
There are a lot of affiliates doing their own Wealthy Affiliate reviews, and no doubt you've read them already, or are going to read them to fact-check me. That's totally fine. However, as an incentive to come back to my website and join through my links, I'm going to offer a very cool bonus you can't get anywhere else.
Remember – the affiliate who gets the last click will be registered as your referrer, so if you want this bonus, you gotta create your account through my links.
In addition to all the cool stuff you get from Wealthy Affiliate, and in addition to having me as your 1-on-1 coach, I'm also going to give you my 3-part series on how to outsource content properly so you can work less, and make more money. A lot of the content on my other websites is outsourced, because I simply don't have the time to write that much now that I manage multiple websites AND mentor people inside Wealthy Affiliate.
Outsourcing is cool because the formula is simple. Spend $10. Earn $20.
Easier said than done though. I've literally wasted tens of thousands of dollars on content that went nowhere. Just money down the tubes. This 3-part series is all of my mistakes and successes distilled into three separate PDF guides: Beginner, Intermediate, Advanced.
The beginner guide will show you the basics of how to find a good contractor and what type of work is best to outsource. The intermediate guide will give you clues to how much you should be paying, and even what the signs are you should fire someone. The advanced guide (which will probably take a while before you actually need to read), covers much more detail about how to get really good content that actually can help you make money.
The only catch is that you have to be a Premium member to get them. I don't hand out these PDFs like candy. They are full color, hand crafted, 100% original. I only give them out to people who really want them. Want them now?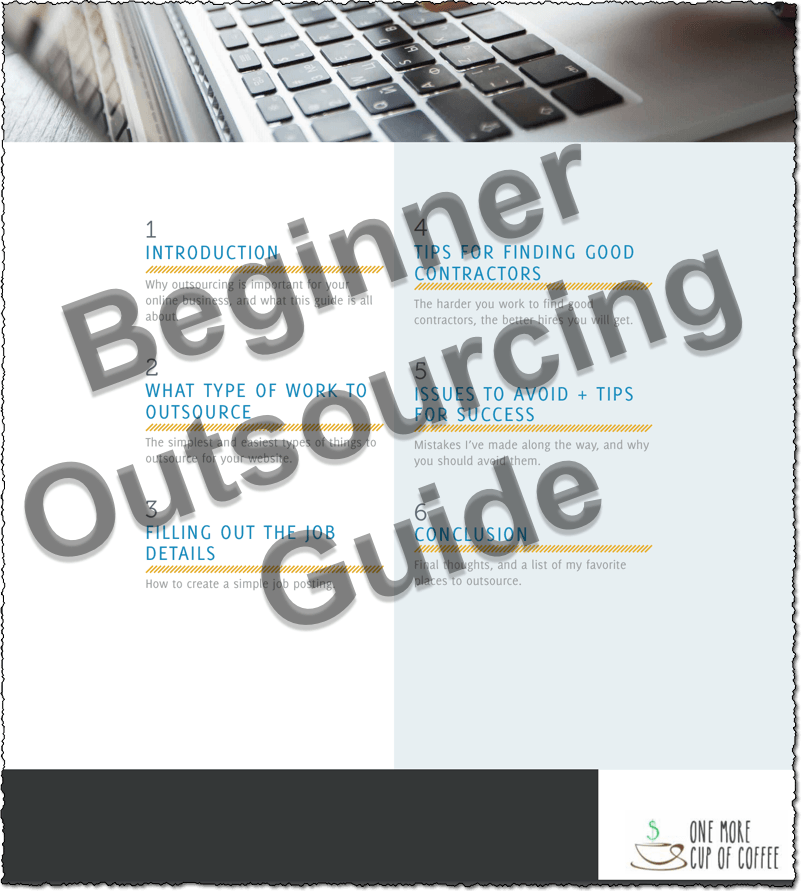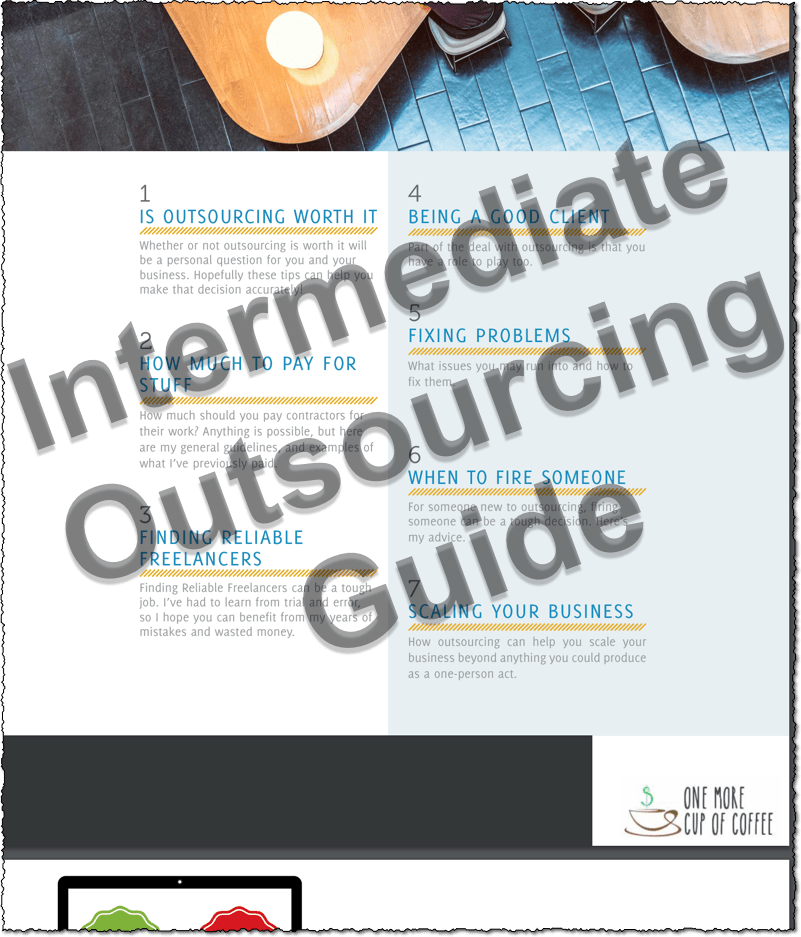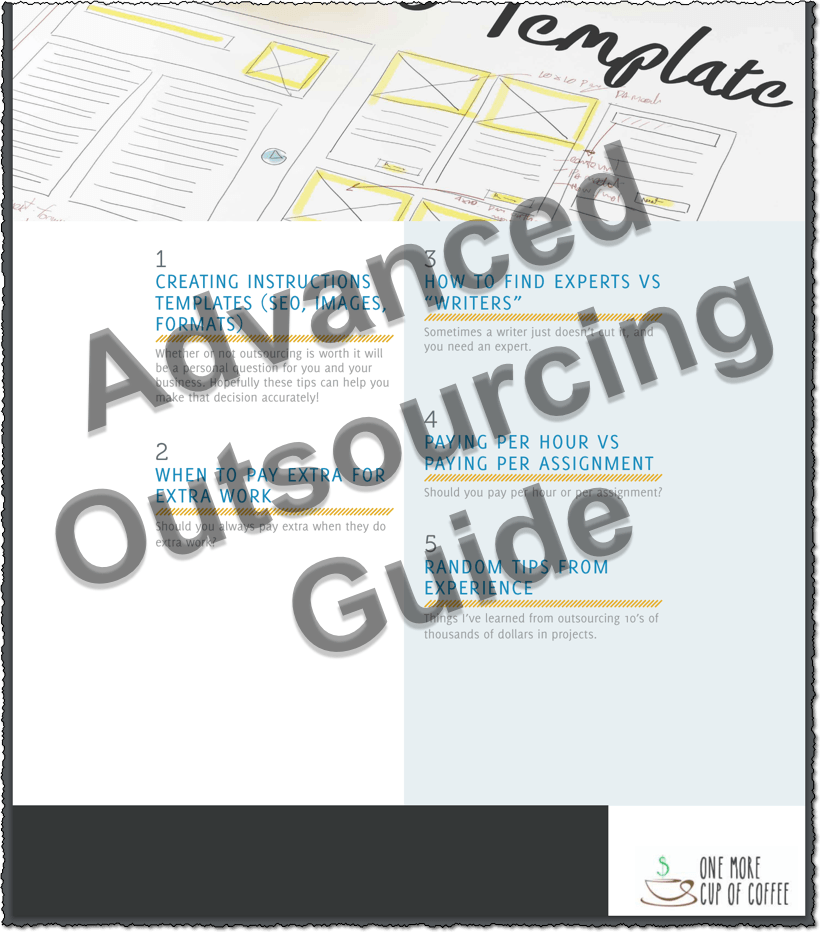 Wealthy Affiliate Review
Training Material Quality
Longevity Of Training Material
Wealthy Affiliate has been my #1 rated product for learning how to build profitable affiliate sites for more than a decade. Its newbie-focused training, robust support network, and focus on timeless, authority site building strategies are the foundation for my own six-figure affiliate websites
People with a more technical, fast-paced mind may find the training a bit slow at times, and may be unimpressed by the lack of "tactics" such as link building. I recognize that as a feature, not a bug, but others may disagree.
The personal, 1-on-1 support is unparalleled in any other product I've ever purchased. The inclusion of a keyword research tool, WordPress optimized, managed hosting, and weekly live webinars make this an incredibly valuable investment.