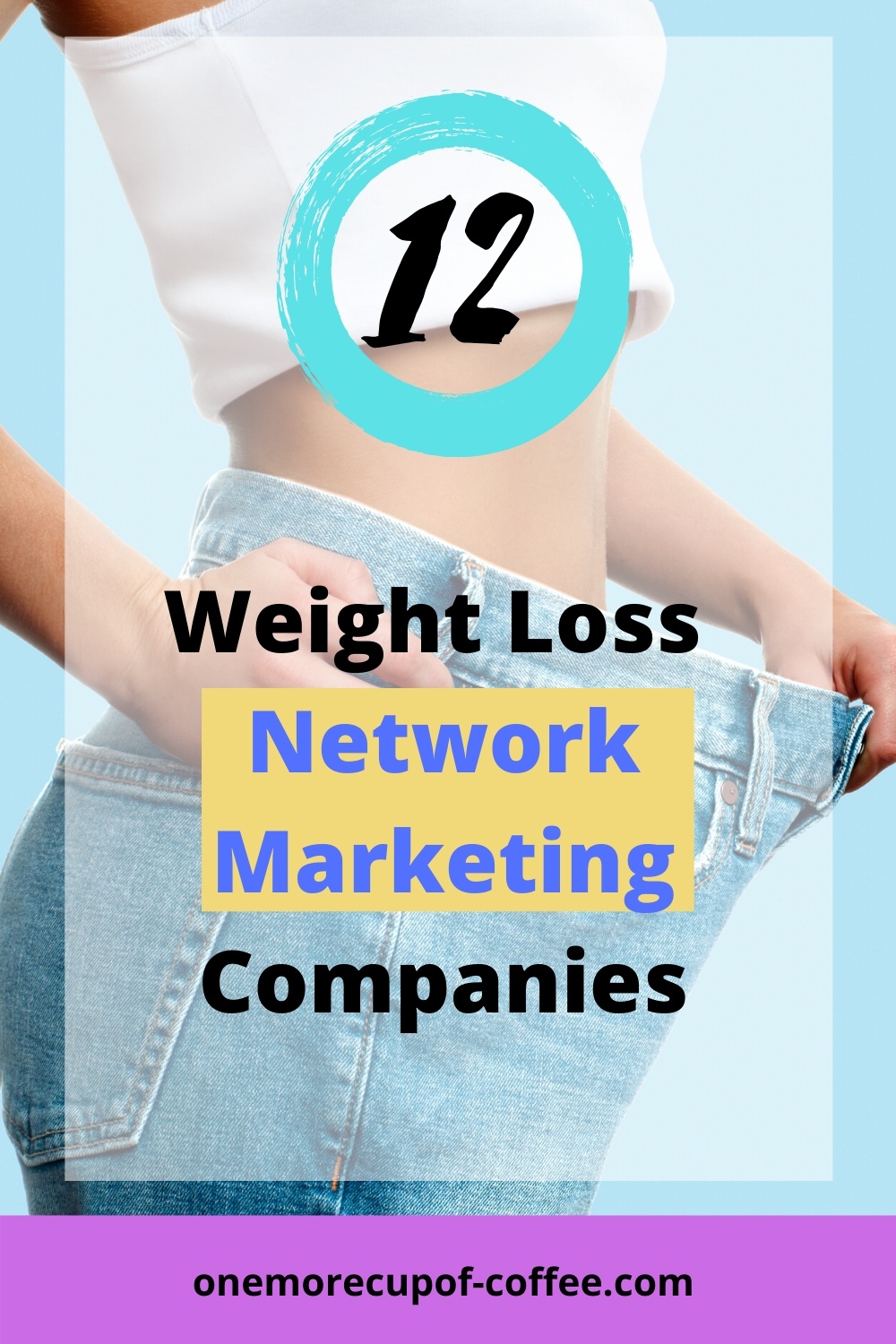 Weight loss has become an incredibly popular industry, worth an estimated $68.2 billion in the United States alone. Many people are looking for ways to look and feel better, with weight loss companies promising to help them along the way.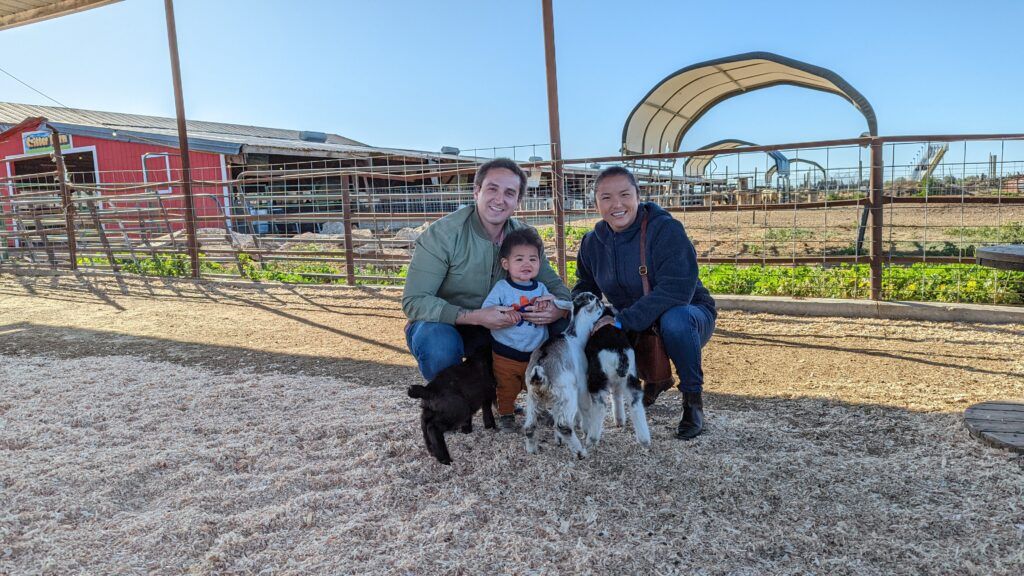 Are You Ready To Work Your Ass Off to Earn Your Lifestyle?
Are you tired of the daily grind? With a laptop and an internet connection I built a small website to generate income, and my life completely changed. Let me show you exactly how I've been doing it for more than 13 years.
Some of these companies offer pills and powders – quick fixes that sound like they should work, but rarely ever do. Others sell fad diets and/or related products. Most are ineffective in the long-term but that doesn't stop them from making sales. And finally, a handful promote realistic ideas. Most approaches will have some success stories, although many other people never achieve their weight loss.
As much as I critique MLM companies for being dishonest and selling snake oil, I can't deny that the weight loss and fitness stuff does work for some people, and there are many folks making bank selling the stuff. Don't take that as a recommendation to join any of these companies though. You'll need to decide for yourself if network marketing and direct sales is for you. Personally, I prefer to run my own website and promote a variety of companies, rather than push just one.
In this post, we're looking at health and wellness companies that emphasize weight loss to some degree. Most health-focused companies have some weight loss products, but, we're not including every one of them in this list. Instead, these companies are entirely about weight loss or they have at least one significant weight loss range of products.
As you look at these companies, think carefully about what they're offering. Weight loss is a powerful industry, but the competition is high too.
Weight loss is also heavily testimonial based. You'll probably need to be using the product yourself to make sales. You have the best chance of success if you've noticeably lost weight while doing so.
Many of these companies rely on the "party method" or sharing with Facebook friends to make sales. This could mean trying out the products first and choosing an option that is likely to work for you and for the people you will sell to.
Weight Loss Network Marketing Companies
Isagenix
Beachbody
Skinny Body Care
SPX Nutrition
AdvoCare
Modere
Optavia
It Works!
Vfinity
Plexus
Wakaya Perfection
TruVision Health
1. Isagenix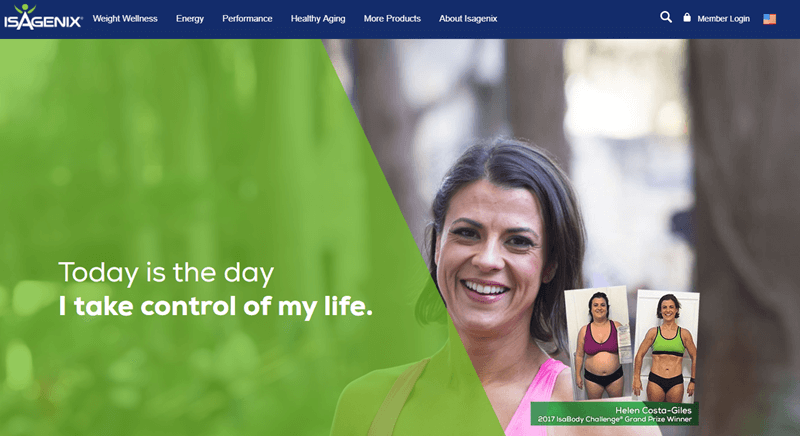 Focus: Meal replacement shakes and supplements
Minimum Cost: $50/year (for access to the Associate Support System)
Product Overview: Isagenix offers many different products, including areas of Weight Wellness, Energy, Performance and Healthy Aging. Their main focus involves a combination of protein shakes and supplements. The shakes act as meal replacements, while the supplements are designed to improve metabolism, reduce appetite and the like.
There is a decent selection of items, along with various value packs that contain many products at once. There are also multiple styles of shake, including some that are vegan, a Kosher option and various shakes for athletes. The shake selection is broader than other companies, which is a nice touch.
In general, the shakes tend to offer decent levels of protein (24 grams per serving for the regular vanilla version) and various nutrients. But, they do contain sugar (11 grams for the regular vanilla shake) and natural sweeteners. The sugar levels are surprisingly high for a weight loss product.
Reviews of the shakes and the systems are mixed. Some people find results, others don't. The flavor tends to be better received than many other brands but that's partly because of the high sugar content.
The products from Isagenix have the same pattern you'll see from most companies on this list. The protein shakes probably work for weight loss – but the same is true for protein shakes in general (including ones from the grocery store!). There is little evidence for the other products and a good chance that they do very little.
And, of course, the products aren't cheap. A 14-serving canister of the shake mix costs somewhere around $50. Customers would need to pay more than $100 per month just to have one shake each day.
Commission Quick View: The main way to earn with Isagenix is buying and then reselling. Distributors get products at a wholesale price, typically 33% less than retail. They then resell them. The amount of profit depends on the sales price.
Distributors also get a website from the company, which customers can order through directly. Commissions here are the difference between wholesale and retail price, with a $4.95 administration fee subtracted. Oddly, any retail sales of 100 Business Volume (BV) or less are counted towards the distributor (i.e., you). All volume above that is counted toward the minor leg of your team.
Isagenix uses a binary model for team payment. Anyone you recruit is placed in on one of two legs under you. You need to generate 900 in Group Volume (GV) across your entire team. 600 of those points must come from one leg and 300 from the other (your minor leg). Every time you meet those criteria, you earn a bonus.
This style means that you need teams that perform well. The design involves more strategy and planning than other systems too, as the leg that recruits are on will influence your chance of success. There are, of course, various other bonuses as well and chances to earn. But, this is the general structure.
The overall idea does work and you can earn money. But, a binary model is always more difficult to optimize. It can quickly get confusing, especially as there are carryover volumes and various other quirks to the model.
Final Thoughts: Isagenix isn't unique and the products aren't amazing. But, there is still the potential to make money if you enjoy them. Just take a close look at the compensation plan before deciding whether this is a good fit for you.
2. Beachbody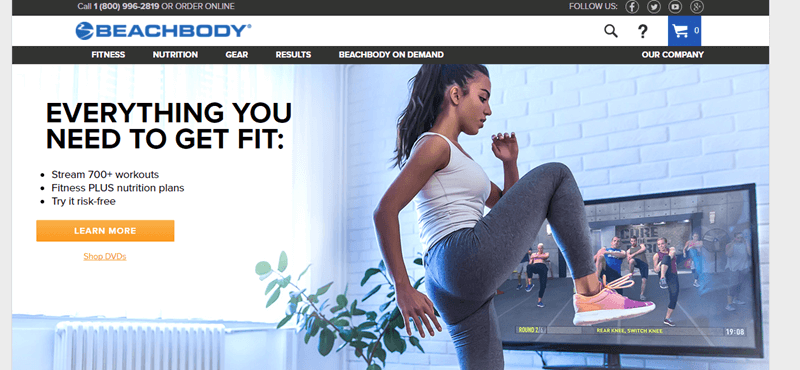 Focus: Weight loss programs and support
Minimum Cost: $39.95 (signup fee)
Product Overview: Beachbody offers a lot, more than most other weight loss companies. They have multiple different angles and systems. This includes protein shakes (the Shakeology range), diet programs (like 21 Day Fix), fitness programs (like PiYo), supplements and support programs.
The overall idea is a wide range of products and personalized coaching that can help support people in their weight loss journey.
This is an unusual approach and a powerful one. It gives people the support they need and you can promote the products that are most likely to benefit them. Many of their programs do appear to be effective too.
That being said, Beachbody is controversial. Their shakes are some of the most expensive options on the market and aren't necessarily any better. Some of their other programs are questionable too (like 21 Day Fix) and may not offer the promoted benefits. Coaches also have a habit of body shaming clients and suggesting that Beachbody is the only way to effectively lose weight (spoiler alert: it's not).
If you consider the company as a whole, Beachbody does have merits. But, you would need to become very familiar with all the different products and programs.
Commission Quick View: Beachbody offers a 25% commission on retail sales, right from the beginning. This is true for recurring orders too. So, if someone signs up for a monthly subscription, you get a commission each month.
There are some exceptions. Challenge packs pay a set amount of $40 to $100 (depending on the pack), rather than a percentage. You can also earn up to 40% commission on memberships.
Beachbody is another company that operates through a binary plan. The plan cycles each time you get 200 volume points in your strong leg and 100 in your weak leg. Each cycle pays between $14 and $18, depending on your rank in the company.
Binary models simply depend on which leg recruits are placed in. It doesn't matter which generation those recruits are in or who recruited them. But, they can be more confusing and are often tough to optimize.
To stay active, you need to buy or sell 50 volume points of product each month, which is around $55. That's not a high requirement but you do need to meet it every single month. If you don't, you could purchase products to remain active but this starts to increase your costs.
Final Thoughts: Beachbody does have some significant advantages, including a diverse product selection and weight loss approaches that may actually work. But, be a little wary. The design assumes that you're supporting your clients in their weight loss journey. That process could end up being very energy intensive.
3. Skinny Body Care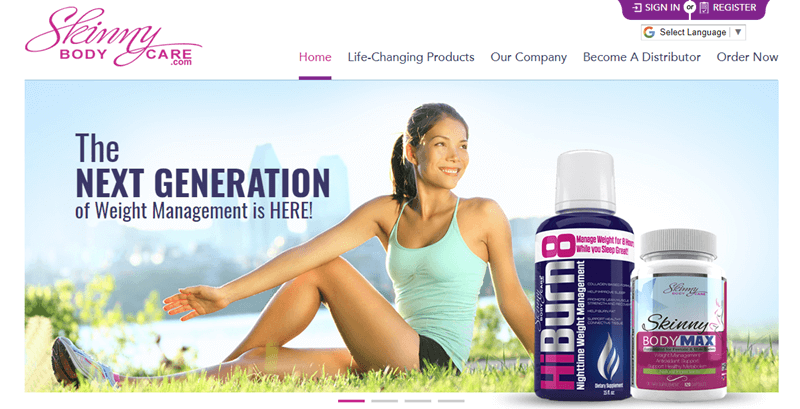 Focus: Weight loss pills
Minimum Cost: $69.95 + $59.95/month (for membership and products via autoship)
Product Overview: Skinny Body Care was once just about weight loss, which I highlighted in my previous review. At the time, they had two main products, with the focus being on Skinny Fiber. Since then, they've expanded their range to include extra items, such as Skinny Body Max, HiBurn8 and Instant Youth.
The products fall into two general categories, weight loss and skincare. The weight loss items are mostly supplements. Skinny Fiber is basically a fiber supplement (as you may expect), with additional enzymes. It could promote weight loss but the same is true for any fiber supplement.
Another product is Skinny Body Max. This contains fiber and enzymes again, along with ingredients like raspberry ketones and cayenne pepper. These are meant to boost the metabolism, although the scientific research is limited. The products are expensive too, often costing more than $50 for a single bottle.
At the end of the day, there isn't much evidence for benefits. Products like this are also very easy to find and extremely common. I'm not convinced that you could get other people to buy them. That aside, there are only seven products in total. It's tough to make consistent sales with such a limited range.
The skincare products are Instant Youth and Ageless. I'm honestly not sure why a company called Skinny Body Care even has skincare products. Regardless, these are fairly typical. There's nothing to suggest that they're better than other products. If you do want skincare – it's better to stick to a company that specializes in the field (there are plenty to choose from).
Commission Quick View: Skinny Body Care a slightly unusual approach to commission. Distributors earn 40% commission on the first order of any new distributor or Preferred Customer that they get to sign up. After that, they earn 20% commission on reorders.
This means new customers are the best immediate source of income. Even so, regular customers may provide consistent income, especially if they order month after month.
But, this seems to be just for people on monthly autoships. The payment is different for individual orders and uses a matrix model. The general pattern is that you earn 2% commission on the volume of each level. The levels are simply based on how many people that are recruited.
There are various bonuses in play as well, including fast start bonuses that give you significant income for early sales.
Skinny Body Care does offer all the details of their compensation plan but they do a poor job of explaining that plan. It isn't clear how the different aspects relate to one another or how Skinny Body Care compares to other companies.
Final Thoughts: Honestly, Skinny Body Care just isn't worth it. The compensation plan is too complicated and the products aren't competitive enough. You're also facing a decent monthly cost, which decreases your odds of making money.
4. SPX Nutrition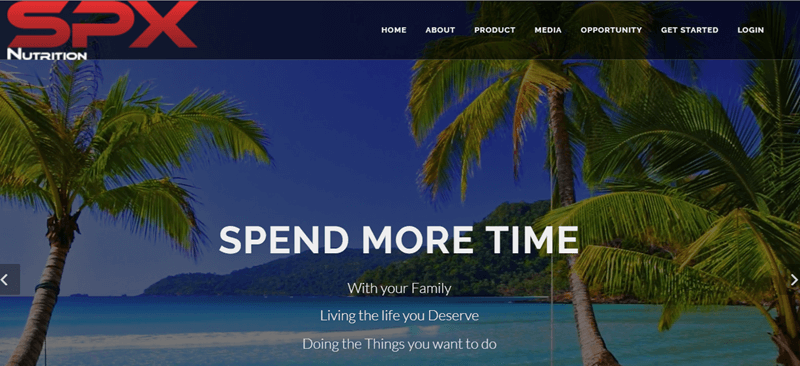 Focus: Weight loss supplements
Minimum Cost: $120 (for a starter kit)
Product Overview: When I reviewed SPX Nutrition originally, the first thing I noticed was the quality. The website simply looks budget, as do the labels on the products. This isn't a deal breaker, but you are trying to sell these products. Sales become more difficult if people think the products are poor quality.
There are currently four different supplements available through SPX Nutrition, along with a skincare range. The supplements are:
Nutri-Thin Weight Loss: A weight loss supplement that relies on B-vitamins, caffeine and various herbal ingredients. Most are meant to boost your metabolism.
Nutri-Cleanse Detox: Various herbs that are designed to detox. The detox concept is highly debatable and it's not clear whether this help weight loss. However, the supplement does contain Senna extract, which is a laxative.
Xtreme Cardio: A nutrition supplement with a strong focus on L-Arginine, which may offer heart benefits. There is research supporting the role of L-Arginine in the body but it's not clear whether you'd see benefits with supplementation.
Nutri-Biotix: A fairly conventional probiotic supplement.
The products could work, in theory, which is true for most supplements. Many of the individual ingredients have some evidence. But, it's not clear whether they're effective for practical weight loss and research is typically limited. SPX Nutrition offers no evidence and reviews are mixed.
The supplements aren't unique either. Other companies on this list (and elsewhere) follow the same ideas, with a different combination of ingredients.
That being said, I've noticed many passionate advocates, especially as the result of my original review. But, most of these focused on attacking the specifics of what I said (like whether the products are a pill or a powder), without even stating whether they saw weight loss benefits.
Commission Quick View: The basic commission rate here is 25% on all sales that you make. The idea seems to be that you're promoting through a replicated website, although SPX Nutrition doesn't offer many details.
SPX Nutrition has an unusually deep compensation plan, allowing members to earn from up to 20 levels deep. This sounds like a good thing, but it's really not.
The deeper you go in a compensation plan, the more difficult the process gets – and the lower your odds of success. With 20 levels, the chances of hitting all of them are very slim.
There are also a lot of different ranks to go through. These get more difficult as you go along too. To be successful, you'd need a large team that is great at sales and recruitment. That doesn't happen often. Most people find that their team members simply don't stick around.
Final Thoughts: Even if the products did work, SPX Nutrition is just a run-of-the-mill weight loss company. The odds of success would be higher if the products were competitive and the company did a better job of promoting itself.
5. AdvoCare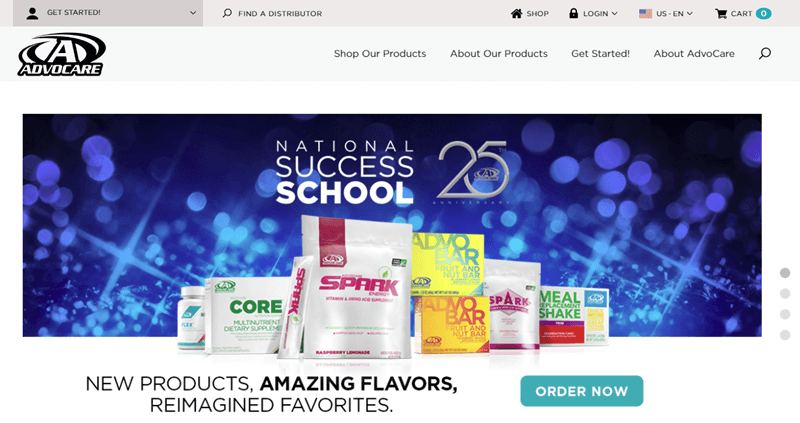 Focus: Overall health
Minimum Cost: $59 (for a starter kit with business tools and a small selection of products)
Product Overview: As a whole, AdvoCare is about health, rather than weight loss specifically. They even have an impressive product range. Their key areas are Trim, Fit, Active, Well and Performance. Most contain a range of supplements and related items.
Because this list is about weight loss, we're just going to look at that section of the site. The options here are about what you would expect. It includes some meal replacement shakes, a range of dietary supplements and a product called AdvoCare Slim.
The shakes are interesting. AdvoCare offers unusual flavors, like Mint Chocolate Brownie, along with an impressive amount of protein (24 grams) and fiber (6 grams) per serving. The retail is $44.95 for 12 servings ($35.95 for preferred customers). That's expensive but it is more reasonable than some of the other companies. The catch is that the shakes contain 12 grams of sugar per serving – far too high for a weight loss product.
The various supplements are typical. They all have different angles, but the pattern is the same as other companies in the field. Some are reasonably priced compared to other companies, like $31.95 for 30 servings. But, others are $41.95 for 14 servings.
I also want to mention AdvoCare Slim. This is a powder that is added to drink (the flavors are Lemonade or Apple Pear). The idea is an easy supplement that may promote weight loss. Ingredients include green coffee extract and garcinia cambogia. These are common in weight loss supplements and have minimal evidence.
Commission Quick View: AdvoCare has a ton of terms and conditions in their compensation plan. I found it surprisingly tough to make heads or tails of it, and I've been focusing on this field for a while now.
The basic idea is that you buy and then resell. New distributors get a 20% discount on the products. So, if you sold at the suggested retail price, your commission would then be 20%. The discount can get as high as 40%, mostly based on your sales.
People can also sign up as Preferred Customers. They get their products from the company, at a discount. As a distributor, your commission would be based on the difference between your discount and the retail value, once the customer's discount has been considered. Preferred Customers can end up being consistent sources of income – but you earn less per sale.
Your income is lower for anyone you recruit for the same reason. There are other complexities too, including overrides, bonuses and many different ranks.
Final Thoughts: AdvoCare is effective at marketing and their products look good. But honestly, they're not competitive in the slightest. The compensation plan is also a nightmare.
6. Modere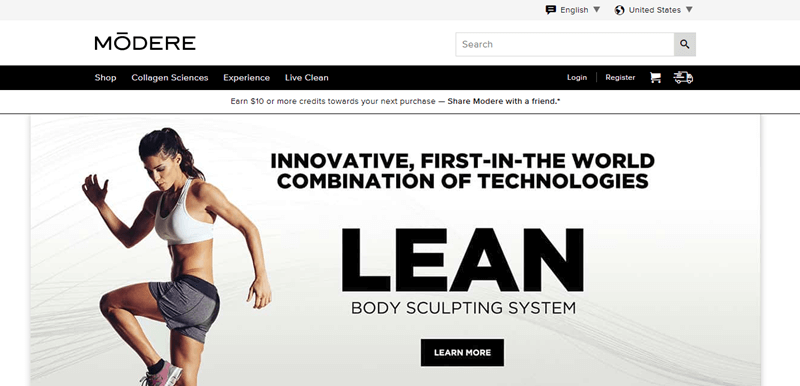 Focus: Health and weight loss
Minimum Cost: $29.95 (to join, no products are provided)
Product Overview: Modere is a health and wellness company but they have some interesting weight loss products too.
Modere is most well-known for their weight loss system, simply called M3. It consists of three products. One is a supplement, one is a protein shake and the last is a fiber drink mix. The goal is to take the three products each day for three months, while also making three lifestyle changes. The changes are all healthy and include options like avoiding sugary drinks and cutting out fried food.
The marketing claims that the system is based on the Mediterranean lifestyle, although it's tough to see how. The lifestyle recommendations aren't particularly Mediterranean and the products certainly aren't. If people were eating poorly beforehand, they would probably lose weight. But, the benefits are likely to come from the lifestyle changes, not the products.
As for the items themselves, they're roughly what you would expect. The main interesting aspect is the shakes. Protein shakes typically help reduce hunger due to their fiber and protein content. But, these ones just have 10 grams of protein per serving, which is far too low for the intended purpose.
The system costs $159.99 for a month's supply, with a discount for anyone who has it shipped to them automatically. Reviews are also mixed, with many people seeing no weight loss benefits.
Commission Quick View: Compensation from Modere is a little unusual. You can earn up to 60% on sales – but only for the first purchases that a customer makes. For reorders, the maximum compensation is 25%. There are retention bonuses based on your total customer orders. Even so, the emphasis is mostly on new customers, not current ones.
The income also starts low. The first rank only allows you to earn 10% on new customers and nothing on reorders. The second rank offers 10% on both. You have to hit the third rank (Bronze) to earn 35% on initial sales. Even then, you're still getting 10% on reorders.
The team commissions follow a unilevel system. This starts out at 4% of your first generation and 4% of your second generation, increasing from there. But, these commissions are based on 30% of the points from a customer's initial order and 70% from a customer's second order. There are various bonuses too but we're not going to talk about those here.
This approach is far more complex than it needs to be. The differing impacts of initial orders and reorders would make it tough to optimize your income levels. You also need to hit 150 Activity Points each month (sales that you make) or 75 Marketing Points (purchases that you make).
Final Thoughts: The compensation plan is frustrating here and the products aren't that great either. Modere is probably only worth it if you absolutely love what they're promoting.
7. Optavia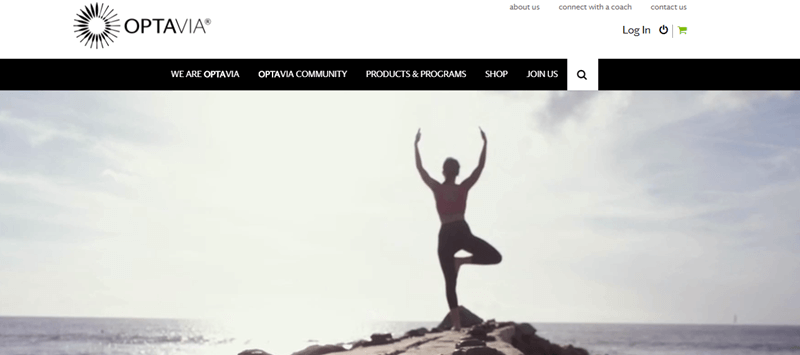 Focus: Weight loss snacks and meals
Minimum Cost: $98 (mostly for membership and tools)
Product Overview: Optavia takes a different approach to weight loss. Instead of offering supplements and shakes, they focus on meals and snacks. The idea is to use these as alternatives to regular meals, rather than additions to your diet.
To do this, they have two ranges, the Optavia Essential Fuelings and the Optavia Select Fuelings. The Select Fuelings are slightly more expensive, are non-GMO, have a wider flavor selection and avoid artificial preservatives. The Essential Fuelings are a little cheaper but don't have those other advantages.
The idea could certainly work for weight loss. Customers would be eating lower calorie meals and snacks that should be more filling. But, the food doesn't look appealing. You can also find similar meals and snacks at a grocery store (at a lower price).
There are various programs that guide people and offer a range of products at once. In fact, Optavia has an underlying system, including a focus on the nutrients in meals that people make themselves. Even so, most of what they teach is common knowledge.
The products don't fit well with current trends. There's a movement towards whole foods and meals that people prepare themselves. Personally, I'm not convinced that these products would sell.
Commission Quick View: Optavia offers a base compensation rate of 15% on sales. There are some additional bonuses too. This includes 3% for being a Certified Coach and up to 13% as Client Support Bonuses. For Certified Coaches, the base compensation rate ends up being 18% and the maximum is 31%.
This should mean a greater focus on supporting your clients rather than always looking for new ones. That's powerful in this industry.
The team aspect is a little different than normal. You earn percentages from your team but this is based on their rank, rather than who recruited who. For example, at the Senior Coach rank, you earn 4% from all Coaches in your team (Coach is the starting rank). At the Manager level, you earn 6% from all Coaches and 2% from all Senior Coaches.
The style relies on your team members getting promoted. You won't earn much from lower ranked team members, even if they're making a large number of sales.
The traditional level-based team model is still used elsewhere for bonuses. But honestly, that just adds to the complexity. There end up being many ways to earn, with each approach having its own requirements and quirks.
Final Thoughts: If the products were amazing, Optavia's compensation plan might just be worth it. But, unless your audience is an extremely good match to the products, there are better options out there.
8. It Works!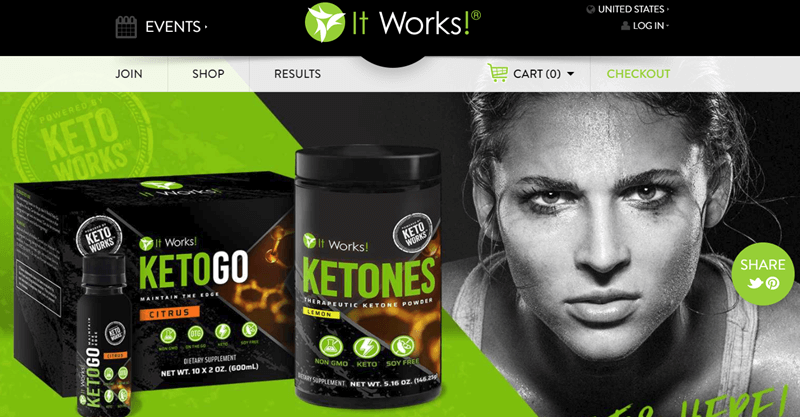 Focus: Wraps, weight loss products and health
Minimum Cost: $99 (for a starter pack with a few products, basic training and back office access)
Product Overview: It Works offers an extensive range of health-related products, including skin care, supplements, wraps and even essential oils. But, they're most famous for their wraps. The official name is the Ultimate Body Application, although the phrase "That Crazy Wrap Thing" is also used.
While distributors are passionate about the wraps, outside reviewers are skeptical. Many sites argue that the body wraps cannot possibly offer the results that they claim to.
The other products are less controversial. For example, the greens range offers various plant-based ingredients that could promote benefits. I'm skeptical that the products would contribute to weight loss, detoxifying or alkalizing. But, they'd still be an appealing source of nutrients.
The various keto products could also be good for anyone on that diet, while the skincare items are probably decent enough. The prices vary. They're typically more expensive than a retail store but are pretty typical for an MLM.
The overall product range is appealing. There is decent variation, allowing distributors to appeal to a wide audience. All of the items are well-branded and look very professional, which should make sales a little easier.
Commission Quick View: The main method of compensation is buying and then reselling. The difference between distributor and retail price is pretty high, so the potential for income is decent. For example, a kit called The MAN Stack costs $99 for distributors and has a retail price of $226.
Of course, the amount you could sell products for would depend on your audience. You can also earn by making sales through a replicated website but the commission rate isn't clear.
There is also a monthly requirement. Distributors need to order an 80 PV autoship each month (which comes to around $75) or they need to make 150 PV of sales each month. The first approach probably makes the most sense, given you'd be reselling most of the items. Still, having to meet those goals each month is a tough requirement.
The team aspect works as you would expect, with various ranks and increasing requirements. There's nothing much to say about that. But, be aware that the process gets more difficult as you go along. Most members will simply end up in the first two ranks.
Distributors for It Works do seem to be relatively successful, more so many other companies. This is probably the result of hype, good marketing and perhaps the products themselves.
The success of others doesn't guarantee that you'll make money. In fact, the more distributors there are for It Works, the more difficult sales will become. Is income possible? Of course. But, make sure you scope out the competition in your area and pay close attention to all requirements.
Some distributors also talk about ongoing costs. A replicated website through the company will cost you $20 per month, along with around $75 for autoships (if you go that route). Those costs can add up fast, especially if you're not making many sales.
Final Thoughts: I don't like the hype around the wraps but the rest of the products from It Works are better than many other companies. Just be aware of the ongoing costs, they're pretty substantial.
9. Vfinity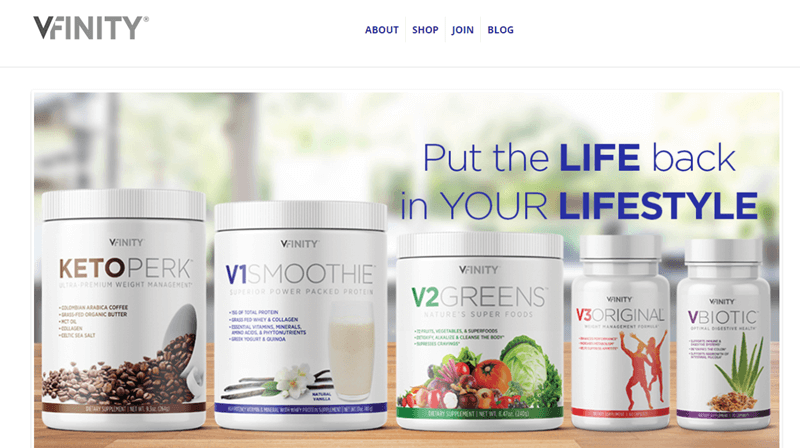 Focus: A weight loss system
Minimum Cost: $24.95 (for a starter kit with business information, no products)
Product Overview: Vfinity offers five main products (they had three last time I reviewed them). The main emphasis is their V1 Smoothie, V2 Greens and V3 Original. These are designed as a weight loss system, to be used in conjunction with one another.
None of these are particularly amazing. The first is just a protein smoothie, the second offers various plant-based nutrients and the final one contains a combination of ingredients that may or may not work. That includes various B vitamins, chromium, caffeine and some other compounds.
There is no evidence that any of these products are highly effective– and the products are pretty similar to other options on the market. The same is true for the probiotic supplement, which is another product they offer.
They do have KetoPerk, which is a little more unusual. It's basically Bulletproof coffee with some extra ingredients. But, most people who follow that idea prefer making the coffee themselves.
The products are expensive too. For example, the protein shake costs $60, for 15 servings. A non-MLM shake from your local grocery store might cost you half that much and provide many more servings.
Commission Quick View: As is often the case, there are two ways to make money. Selling through the company's website gives an average profit of around $15 per sale. If you buy and then resell, the compensation is based on how much you charge. But, you would have to keep your prices in line with other distributors in your area (and your own recruits), or you would never make sales.
The team aspect uses a unilevel system. It allows you to earn 15% from the success of your first tier, regardless of your rank. Progressing through the ranks opens up more levels for you to earn from, ultimately allowing for 10% from Level 2, 10% from Level 3, 5% from Level 4 and 5% from Level 5. And, of course, there are various bonuses along the way based on different goals.
The commission rate is pretty impressive but there is a catch. The rates only apply for the first 50 of your monthly group volume. What happens after that isn't clear.
You also need to be active to earn from your team. That requires 220 PV of personal sales every month. Your own purchases are probably included in this total too, but details aren't provided. What PV costs isn't clear either. But, this is likely to be at least $220 of product each month, possibly more.
Final Thoughts: Honestly, Vfinity simply isn't good enough. The products aren't exciting, nor is the compensation plan. With so many other options out there, why bother?
10. Plexus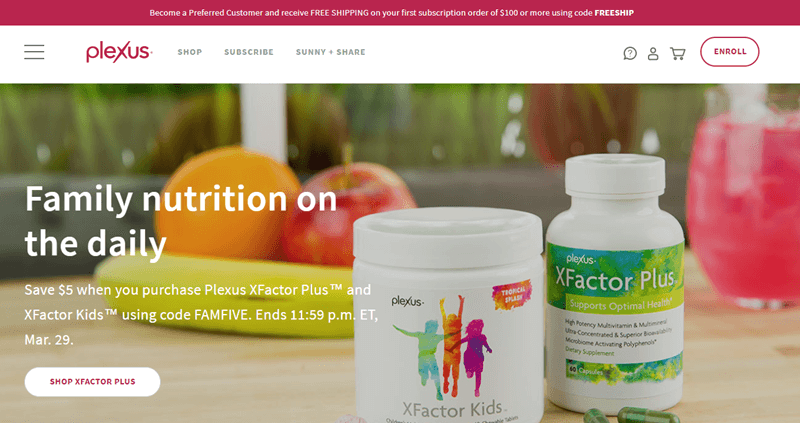 Focus: Weight loss and nutrition
Minimum Cost: $99 (for a welcome pack that includes products) + $34.95/year
Product Overview: Plexus is mostly focused on weight loss, although they have some health and nutrition products as well. The company is famous for one single item – Plexus Slim (the 'pink drink').
Plexus Slim is basically just powder that you add to water. It comes in raspberry, watermelon and lemon flavors. Reviews for the product have always been mixed. This is even more significant now, as it recently went through a formula change. That change frustrated some long-term customers, who aren't fond of the new flavor.
The change also added in prebiotics, which should help promote a healthy gut. But, there's no guarantee that those will lead to weight loss. There is little evidence for the other ingredients either. So, the drink may promote weight loss, or it may not.
The remaining weight loss products are more typical. Three of them are supplements and two are protein shakes. The shakes have 15 grams of protein, which is on the low side but not horrible. They are also low in calories and have no sugar.
The other limitation is pricing. Plexus Slim costs $87.95 for 30 servings and the shakes cost $35.95 for 12 servings. The supplements are a little better, costing around $40 for 60 pills. The prices would be too high for some people and could decrease the chance of sales.
There are other products too, including some in the nutrition field (mostly supplements) and a small personal care range. These may help increase sales but most aren't especially unusual.
Commission Quick View: Distributors earn by selling through a website from Plexus or by buying and then reselling products. If you sell the products, your income is simply the difference between what you pay for the products and what you sell them for.
If you're earning through the site, the basic commission rate is 15% for a personal volume (PV) of 100 to 499.99 and 25% for anything above that. If PV is similar to the dollar value, then most people would only get to the 15% level.
But, you don't earn from your first 100 PV each month at all. You also need to hit that 100 PV tier each month to stay active. There are bonuses too, of course. Plexus actually claims that there are 11 ways to earn but most of these 'ways' just refer to the bonuses and none are especially unusual.
With so many bonuses, the team aspect is a little confusing (which is never a good sign). But, Plexus heavily relies on a system it calls Plexus Points. Members earn points for everyone in their downline with at least 100 PV. These points then have value and are used to calculate income. The value is partly based on 'the amount of money in the Ambassador Pool', which suggests your income varies somewhat based on factors entirely outside of your control.
Final Thoughts: If you're passionate about Plexus Slim or other Plexus products, the company might be okay. But, not getting paid on your first 100 PV of sales each month is rough. That puts you at an immediate disadvantage and would make it much harder to earn consistently.
11. Wakaya Perfection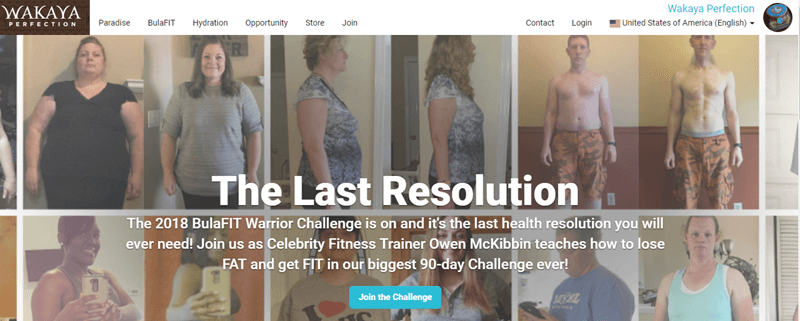 Focus: Health and ketogenic weight loss
Minimum Cost: $49.95 (membership only)
Product Overview: Wakaya is an island in Fiji and Wakaya Perfection plays on this location and the concept of purity. They offer an unusual combination of products and the company is hard to fit into any single category. For example, these are their main product categories:
Culinary. Includes items like Ginger Gems, along with Ginger, Sea Salt and Caramel Popcorn.
Personal Care. Includes various moisturizers, masques (beauty masks, basically) and other similar items.
Wellness. Supplements with a difference, such as Organic Pink Fijian Ginger Capsules and Calcium Bentonite Clay Powder.
BulaFIT. A fitness program that includes workout products, resistance bands and various smoothie-related products.
Skincare. Cleansers, toners and the like.
Hydration. Mostly drink bottles and filters to go with them.
Essential Oils. Including 15 ml bottles and 10 ml rollerball options.
We're not going to look at the products in detail. But, they tend to be relatively expensive. The focus on purity may help with sales, although that may not be enough for all audiences.
The key weight loss aspect is the program BulaFIT. This follows keto principles, which means a diet that's high fat, moderate protein and low carbs. Keto is controversial but many people are passionate about it. So, there is sales potential, especially if you are interested in keto yourself.
That being said, Wakaya Perfection doesn't have very many keto-specific products. There is a meal replacement shake and a handful of other items but that's it.
Commission Quick View: The base commission rate is 20% for regular sales and 10% for anyone who joins up as a Preferred Customer. Preferred Customers get 10% discount on orders, so many regular customers are likely to sign up sooner or later. The 20% commission level isn't too bad but 10% is extremely low for this industry.
The team aspect and some of the bonuses use a binary model. This involves having two teams under you. You typically place recruits into one or the other team. Team income depends on how they perform compared to one another. Wakaya Perfection doesn't offer many details about the specifics, although the various bonuses do appear pretty complicated. The same is true for requirements to go up the ranks.
Wakaya Perfection claims to have no ongoing purchase requirements, but that's only partly accurate. To earn, you need 80 or 150 of Business Volume (BV) each month, depending on your rank. That can come from sales or your own purchases. So, you would need to purchase if you couldn't hit the sales requirements.
Wakaya Perfection does claim to provide decent training, along with an easy-to-understand interface and tracking system. This should make the process easier. But, be wary, companies are prone to exaggeration.
Final Thoughts: The biggest advantage of Wakaya Perfection would be the keto angle. Despite the diet's popularity, few MLMs focus on it. But, I'm not convinced that would be enough to promote sales – especially as there are many other keto products on the market.
12. TruVision Health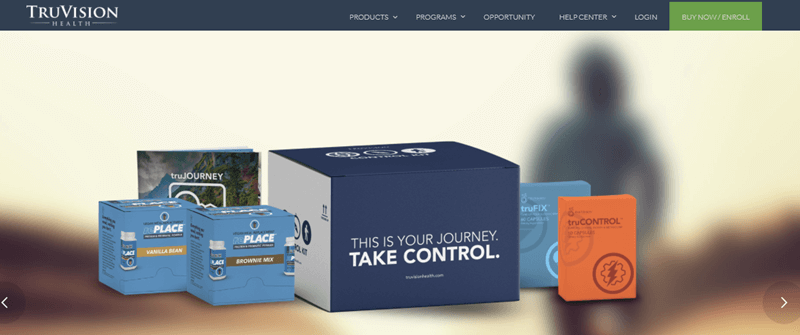 Focus: Weight Loss
Minimum Cost: $25 (for a trial weight loss kit)
Product Overview: TruVision Health does have some general health products, including protein shakes, some supplements and essential oils. But, weight loss is their main emphasis.
A key aspect of this is two products, called truFIX and truCONTROL. These are often promoted together as a way to get healthier and lose weight. truFIX contains some nutrients, along with ingredients like raspberry ketones, alpha lipoic acid and green coffee bean extract. It is meant to promote healthy blood sugar and cholesterol, while helping maintain liver function.
truCONTROL specifically focuses on losing body fat, increasing energy levels and helping people to maintain portion control (somehow). The ingredients used include green tea extract, cocoa powder and caffeine, along with various other compounds.
The products are fairly typical for this industry. Once again, they contain a range of different ingredients. Some of those could improve health and/or weight loss, others may not. But, the evidence is limited. Instead, the products mostly come down to personal experience. If you find that they help you lose weight and have more energy, they may be worth promoting. If not, avoid them.
Either way, be aware that experiences differ. Some of your customers may get the outcomes they want from TruVision Health, while others wouldn't.
As is often the case, TruVision Health's range does change over time. Their product selection was a little different last time I reviewed them and their core products seem to have gone through an update as well. But, the general patterns remain the same.
TruVision Health does also offer some programs that are meant to help people lose weight and get healthier. But, details on those are scarce.
Commission Quick View: TruVision Health offers two slightly different ways to earn. The first is when customers order products to try through a replicated website. The other is when they sign up for monthly shipments from the company.
In both cases, you get the difference between what the customer would pay and the Associate Cost. TruVision Health gives an example of a product that costs $25 and has an Associate Cost of $12, giving $13 profit. That's a little over 50% commission, which is amazing. But, it's not clear whether the rate is accurate or consistent across products.
I suspect the actual rate would be lower, as 50% is excessively high for this industry.
The team aspect uses a unilevel model. You earn from team members based on your rank. This includes earning 7% from Level 1 recruits (anyone you recruit personally) at the first rank. The second rank gives 7% from Level 1, 7% from Level 2 and 6% from Level 3. These rates are higher than normal but aren't amazing.
Overall, the plan seems to offer more income than most companies, especially as there are bonuses as well. But, one limitation is the rank requirements. These are simply based on the number of active people in your downline. To hit the second rank, you need five active people (two of whom you enrolled personally). The next rank requires 30 active people and the following one requires 90.
The numbers keep increasing too, with later ranks requiring 250, 500, 1,000, 2,000, 4,000 and 8,000 people in your downline. Those requirements mean that hardly anyone will hit the higher tiers.
Final Thoughts: If you like the products and want a little income, TruVision Health might be viable. The payments do seem to be higher than most options when you're in the first rank or two. But, after that, the plan quickly becomes unrealistic, making this a poor choice for decent reliable income.
Top Pick
I wouldn't personally recommend joining a network marketing in the weight loss niche if you plan to promote to friends and family. The truth is that most people will fail at losing weight, and that's a lot of pressure on you, as a seller of these products.
Not only are you reliant on the buyer (your family) to enjoy the product, but you are also dependent on them being consistent with their diet/exercise regimen. Once they quit, you quit making money.
Yes, you can encourage them, and essentially be their business AND fitness coach, but are you prepared to do that? If you're going to be a coach, you might as well start your own fitness coaching business, or at least sell some products online like weight loss pills and create an online presence independent of promoting a specific brand.
So much of the network marketing industry is tied up in false claims about how easy it is to lose weight, that it's hard to even break through and convince people that network marketing isn't a scam.
Yes, you CAN make money in the fitness industry! However, my advice is to work on building your own brand, promoting a variety of products, and to not depend on your close relationships to keep your business afloat.
Lots of folks will ignore my advice. If this is you, choose a company with decent products and a reasonable compensation plan.
The best option out of this list would be Beachbody. They have a very broad range of products and services, including some that could be effective. The emphasis on supporting clients is also nice. But, tread carefully. Beachbody does use a binary compensation plan and the products won't suit everyone.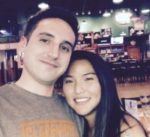 MLM Critic & Author: Nathaniell
What's up ladies and dudes! Great to finally meet you, and I hope you enjoyed this post. I have to be honest though. I'm not a big fan of MLM. Tried it. Hated it.
Affiliate marketing is cheaper, faster, and easier. See for yourself and join millions of other successful affiliates generating income from their blogs!
No inventory. No fees. No recruiting. 3 BILLION potential buyers online.
Reader Interactions