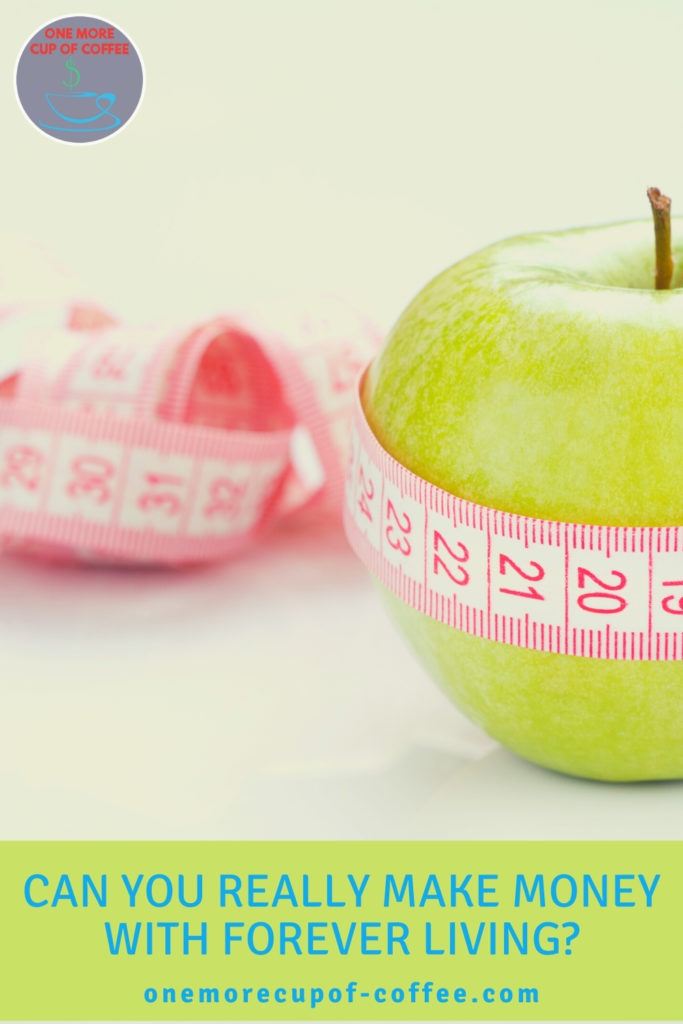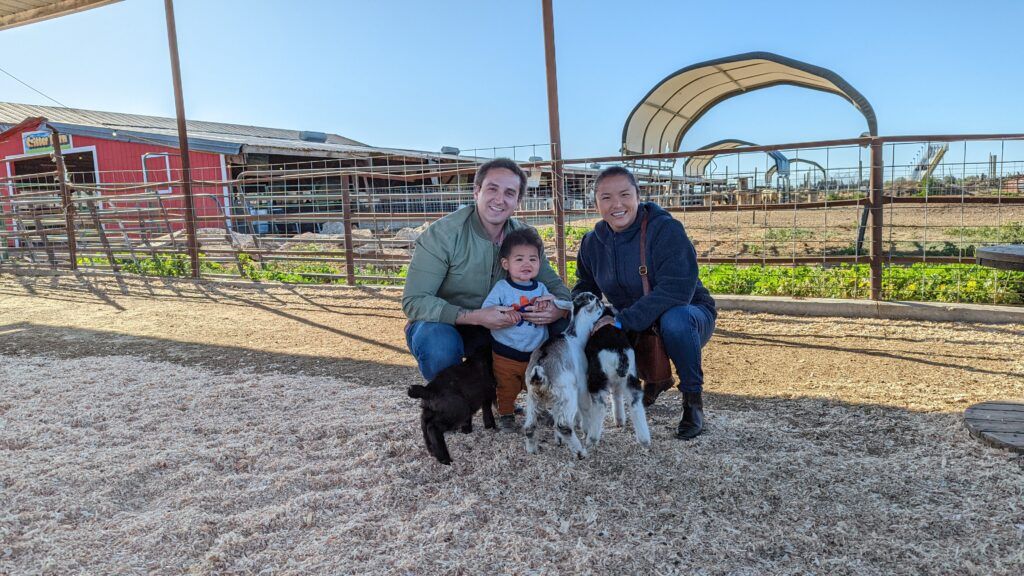 Are You Ready To Work Your Ass Off to Earn Your Lifestyle?
Are you tired of the daily grind? With a laptop and an internet connection I built a small website to generate income, and my life completely changed. Let me show you exactly how I've been doing it for more than 13 years.
Forever Living is a health and wellness MLM with a difference. Forever Living strongly focuses on aloe vera, based on the idea that consuming aloe vera offers substantial health benefits. The idea does have some merits too, as aloe vera has long been linked to health benefits.
Forever Living has been around since 1978, with surprising consistency. This should mean that the company is more stable than many other MLMs. You may also hear the name Forever Living Products or FLP, as Forever Living Products is the official name. Regardless of the name, there are plenty of people passionate about the products and their potential health benefits.
The idea is interesting from a sales perspective. For one thing, there is always a decent demand for health products. People want to find ways to improve their quality of life and live longer. If a product that contains aloe vera offers that potential, many will try it out.
Focusing on aloe vera works well too. The angle helps Forever Living stand out from all of the other health companies. That's a good thing, as there are a lot of them out there. Distributors can also focus on the benefits of aloe vera for marketing. Many of them do just that.
Two Ways To Make Money With Forever Living
Forever Living offers the chance to make money from product sales and from team building. The focus on products is stronger than many other MLMs, which is a nice touch.
In this post, I'll be taking a close look at both of these areas. I'll also talk about whether Forever Living has much potential as an ongoing source of income.
Make Money From Product Sales
Aloe vera is the main focus of Forever Living, so it's no surprise that most of the products involve aloe vera in some form or another. The most notable is the drinkable aloe vera products, partly because the style is a little unusual.

Although fake reviews from distributors are common, it's very hard to hide the real reviews from unsatisfied customers, so I always check Amazon and other retailers to see what people are saying.
There were actually very few negative reviews of the drink and skin products. Most of the complaints were about the price and the taste of the drinks. A few complaints, and perhaps the most relevant ones, is that this the drink and skin products are marketed as "natural" but they contain a lot of unnatural ingredients.
Some people find that they don't see the expected benefits, but that response was surprisingly uncommon. There were also many particularly positive reviews for
Aloe vera lotion
Eye cream
Shampoo
Sunscreen
The pattern isn't too surprising. The external benefits of aloe vera are well-known. Many people already rely on aloe vera gel, so other product types that contain aloe vera are certain to be popular. Other products in their lineup include areas like fitness, nutrition, beauty, and skincare.

On a side note, Forever Living fails to mention any risks of ingesting the pulp of this plant, namely diarrhea. Maybe that's why people are losing weight!
One thing I will say, however, is that a lot of people go kind of nuts about superfoods and cure-alls, which is not my style. If you read the Forever Living website it sounds pretty much like aloe can cure cancer. But there's a group of equally fanatic people that make the same claims as coconut oil, essential oils, enzymes, and gandoerma.
As you might have guessed, these are all products sold by MLM companies. There are videos, blogs, and reviews all expounding the amazing results of clarity, weight loss, muscle gain, reducing eczema, clearing acne, etc.
I'm very skeptical of these things. Personally, I think a lot of losing weight mostly has to do with making people are of their daily routines, eating habits, etc and a lot of the effects are placebo. I could probably sell canned air from the Rocky Mountains and after a bit of marketing, people would start to claim it cleared up their sinuses.
Of course, that's just me. I also dislike Dr. Oz with a passion, but he's very popular. Objectively, I'll say that Forever Living product are probably pretty good and might be worth trying if your friend is selling them.
The products from Forever Living aren't just aloe vera focused anyway. There are some other types of items on the site, like various bee products, including honey, royal jelly, and pollen.
There is one more area to mention – price. The products from Forever Living aren't cheap. Some potential customers will probably find them too expensive, especially as the product size is often relatively small. There are many other aloe vera products in the marketplace and some of those will be less expensive.
Making Money With Sales
One notable aspect is that Forever Living uses Case Credits as a way to measure individual performance. For American distributors, one Case Credit represents $214 of sales.
The Case Credit model is a little annoying, as it makes it easier to lose track of the amount you are spending versus earning. Even so, the idea has advantages, as it makes international sales less complicated. This is an important point, as Forever Living is one of the few MLMs that allows you to sell to an international audience.
Forever Living does provide a retail website, which in my opinion, should be the main way that you market your products. No one likes to attend MLM parties or get cold-called, so putting your stuff online and having customers come to you is the way to go. The best way to grow any business, whether it's MLM, eCommerce, or affiliate marketing is with a website and online presence.
Even so, you're unlikely to get enough training to take full advantage of a website. This also isn't the focus of Forever Living.
The main way to earn is to buy products yourself and resell them. You start out by getting a 15% discount. You can increase this to a 30% discount by hitting a purchase requirement.
Earning in this way is both frustrating and risky. You have to put your own money into the company and then try to get that back (plus a profit). Getting the right balance between supply and demand is tricky enough for regular businesses. Doing it successfully as a new network marketer would be so much more difficult.
One other aspect is that Forever Living allows people to become Preferred Customers. These individuals can get a 30% discount too, so you're not going to earn much from any Preferred Customers.
Make Money Building A Team
When it comes to teams, the first thing to mention is the personal discount. You can get up to 30% discount as a regular distributor. This can be increased up to 18% based on your rank, as follows:
Assistant Supervisor: 5%
Supervisor: 8%
Assistant Manager: 13%
Manager: 18%
This creates a potential commission rate of 48% from sales, which is pretty impressive (although, this does suggest that the products are priced much higher than they're worth – how would Forever Living turn a profit otherwise?). There are other bonuses too, like these ones for the Assistant Supervisor rank:
15% profit on sales to Preferred Customers
5% bonus on online sales
5% bonus on sales to preferred customers
The next rank up (Supervisor) starts to get bonuses from the team too. The image below shows how Forever Living Depicts these.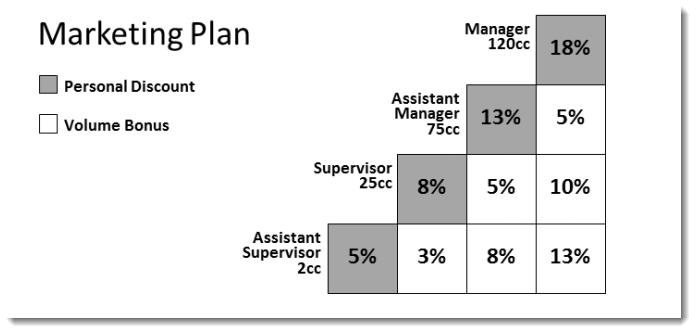 You might notice something else from the image too. Each rank has a CC requirement next to it. The Supervisor rank has a requirement of 25 CC. That's more than $2,000 in sales and you need to hit it within a month.
It seems like members stay at a rank once they get to it, so that's good at least. Still, most people aren't going to progress up ranks fast.
The style is a mixed bag. It means that you don't need a specific team structure and you can focus more on sales than on recruitment. Still, the sales requirements are huge and they'd be tough to meet.
All MLMs involve some team building (by definition!), but Forever Living relies on the process more than most. One reason is that the company uses a differential compensation model, which applies to some of the bonuses that you can earn.
In practice, this seems to mean that if you don't qualify for the full 48% compensation, then the person in your upline gets the difference between your current level and the maximum. This works the other way too. So, if someone in your downline only makes a 35% commission from a sale, you get the difference.
While this style means more income potential, it may discourage any new recruits that you get to join Forever Living. No one is going to enjoy having to pass on a percentage of their profits.
*On a side note, Forever Living is not very upfront with their compensation approaches. Most of the online documentation is very complicated and/or out of date. I attempt to be as accurate as possible in this post, but some aspects may be incorrect or out-of-date, depending on when you read the piece.
Activity Requirements
If you want to earn from your team, staying active in the company is essential. With Forever Living, you need to have four active Case Credits in your home country. One of those Case Credits needs to be a Personal Case Credits. In other words, you need at least one Case Credit in your own sales or purchases each month.
This doesn't sound too bad until we remember that each Case Credit totals $214 of sales. So, four Case Credits represent more than $800 of sales and/or purchases. That's a lot!
You also need to hit the requirements for whatever rank you happen to be on.
If you don't meet the Active requirements in any month, you lose out on some of your team bonuses. These get passed up to the next Active distributor in your upline.
Hitting these requirements consistently would be pretty tough. And, that's only part of your goal. You're also trying to create a successful team. As part of doing so, your team members must beit's important that your team members are making money and stay with the company. Requirements that are difficult to meet will decrease the odds of this occurring.
Becoming The Annoying Aloe Guy/Girl?
I start to question this company when I see a conference of thousands of people screaming for more aloe like it's a Kane West concert. Then I read a blog called MLM: The American Dream Made Nightmare. The actual post about Forever Living is quite in-depth, but it's a little bit over-the-top in my opinion. He has left a number of comments on my website below.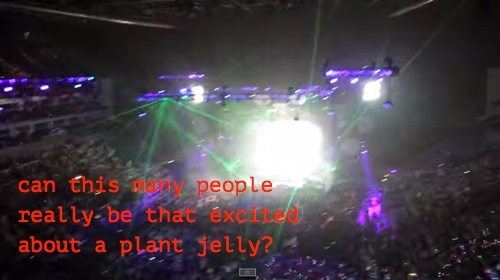 What's most interesting about that particular blog is the comment section. There are aloe defenders, writing in to tell him how wrong he is and how ashamed he should be of writing such nonsense. There are also folks writing to thank him for exposing this company for what it is. I never knew there was so much controversy surrounding this plant!

Many people on that post talk about their experience with family members basically changing into a new person that just can't get enough aloe in their lives. If you watch some of the videos on the page, including "testimonials" (which are often paid for) and conferences with thousands of people screaming about how much they love Forever Living…some of the cultish aspects start to come into focus.
Can You Generate Reliable Income With Forever Living?
The Forever Living Review
Making a reliable income from Forever Living would involve making a large amount of sales consistently. You'd want an audience that is passionate about the products and is prepared to order them regularly. You'd also need to expand your reach considerably. You're not likely to have enough people in your social circle to get anywhere close to the sales targets that you need to hit.
Is this possible? Sure. There are success stories in Forever Living, just like there are in any network marketing company.
Even so, possible and desirable are two very different things. Finding success with Forever Living means an uphill battle. You're doing a lot of work to promote products that most people already know about.
With how long the company has been around, most people who would be interested in Forever Living products will have found someone to buy them long ago. You might be able to convince new people, but you'll be competing against other distributors (including any of your new recruits). Forever Living isn't the only aloe vera distributor on the market either.
From a personal perspective, the whole process just doesn't seem worth it. Why bother with so many rules and hoops to jump through? There are other ways to earn that are much less complex.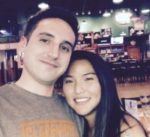 MLM Critic & Author: Nathaniell
What's up ladies and dudes! Great to finally meet you, and I hope you enjoyed this post. I have to be honest though. I'm not a big fan of MLM. Tried it. Hated it.
Affiliate marketing is cheaper, faster, and easier. See for yourself and join millions of other successful affiliates generating income from their blogs!
No inventory. No fees. No recruiting. 3 BILLION potential buyers online.
Reader Interactions