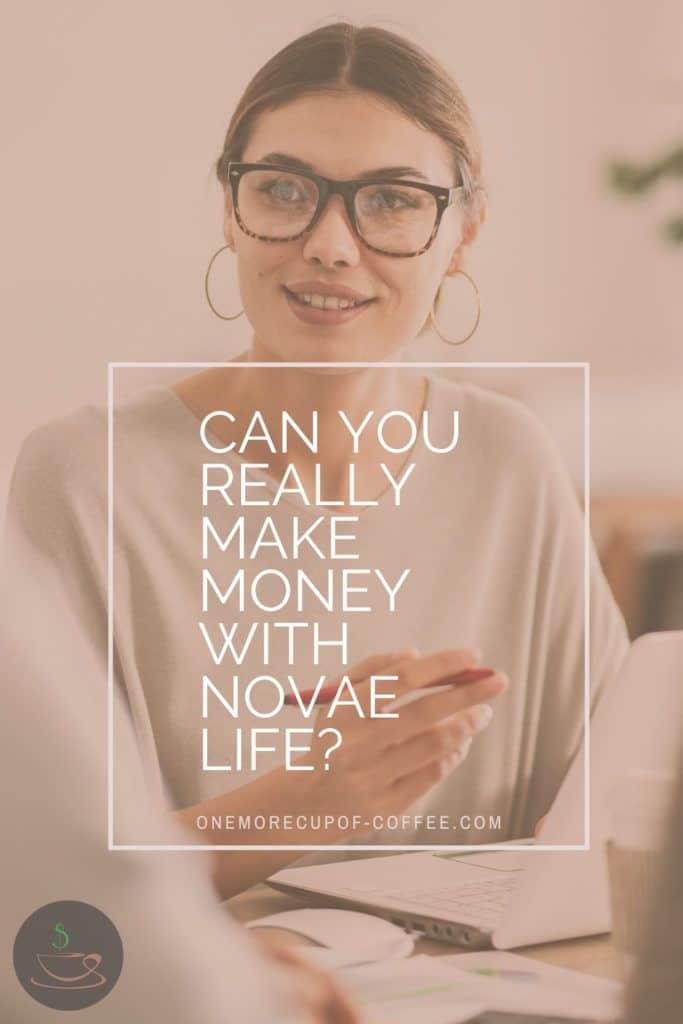 Novae Life is an interesting company. It was once entirely focused on lifestyle, offering various services to help people live healthily and well. Novae Life is still a service-based MLM, but the company now focuses exclusively on financial services.
The idea is that their products can help people to improve their credit and get out of debt. Doing so should help individuals to live the life that they have always wanted to. At least, that's the theory.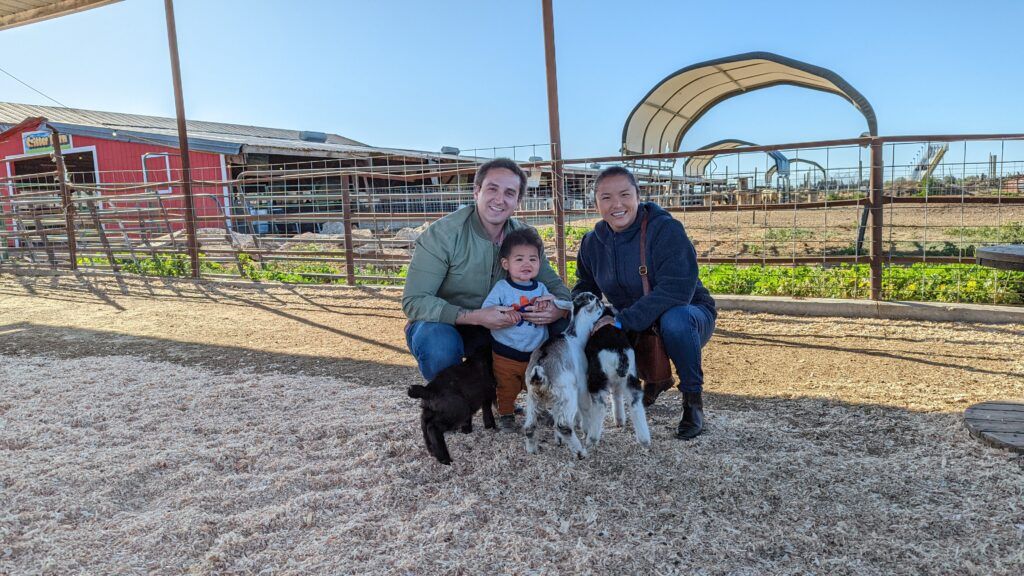 Are You Ready To Work Your Ass Off to Earn Your Lifestyle?
Are you tired of the daily grind? With a laptop and an internet connection I built a small website to generate income, and my life completely changed. Let me show you exactly how I've been doing it for more than 13 years.
Financial fitness always sounds amazing. Most people are interested in the idea, so you have a ready-made audience at your fingertips. Of course, having an audience isn't enough. You need to sell the services too and that's where things start to get a bit more complicated.
Here's the thing. How do you convince people to pay for the chance to get their finances in order? That's a tough sell at the best of times. Distributors for Novae Life are at a disadvantage too, as the company's services aren't exactly cheap.
I imagine that sales are possible, but you'll need a very good fit between the services and your audience. You'll want to be a convincing salesperson too.
Two Ways To Make Money With Novae Life
Novae Life allows members to make money by selling their various services or by building a team. Both areas come with their complexities and Novae Life even has a few quirks that aren't often seen. As such, the final section of this post considers how Novae Life stacks up overall.
At one point, Novae Life mostly focused on health and wellness. They offered a variety of products and services that emphasized different areas of health, like mindset, physical fitness, and financial health.
The company has changed angles since then. Novae Life now focuses almost entirely on financial fitness.

The main service that they offer is called Novae Money. It helps people eliminate debt, qualify for better credit, improve their budgeting, and gain financial literacy.
The idea sounds good until we start talking about the price. Both versions of Novae Money cost $199 to enroll. Then, the basic version costs $49 each month, while the premium one costs $79. That's pretty expensive!

There is a decent range of services included, like debt elimination software, online budgeting, a credit score tracker, credit monitoring, and the like. Their services could help people to get wise financially and start to save money.
Still… it's a tough sell.
How many people will be willing to pay almost $50 or almost $80 a month to improve their finances? For that matter, the people who would need this type of service the most won't have the spare money.
Let's be honest. Even if you're relatively well off, an extra $50 a month is a serious commitment. If you're barely making ends meet, $50 a month would be impossible. You'd still need the $199 enrollment fee too.
There are some other programs through Novae Life as well:
Business Funding and Credit
Credit Builder
Loan Programs
Novae Personal Finance
Financial Wellness Program
Credit Card Offers
Franchise Program
Smart credit Monitoring
We're not going into these in detail, but all of the services focus on finances in some way.
One concerning theme is the focus on credit. Financial advice tends to focus on people getting out of debt, not increasing their debt. There are ways to use credit responsibly, sure, but Novae Life is targeting an audience that needs financial help. Recommending credit to that audience isn't a great choice.
Here's another point. The services that Novae Life offers aren't unique. They're not even unusual.
For example, you'll often see credit repair services, which is one part of what you find in Novae Money. Likewise, there is no shortage of financial education programs out there.
Reviews for Novae Life tend to focus on the opportunity rather than the services. This makes it impossible to know whether the services are even competitive. The only reviews that I could find seem to come from distributors, especially as they are very enthusiastic while giving few details.

If you're considering being a distributor, it would be worth trying out the services for yourself first, to see whether they're good enough to promote.
Opportunity Breakdown
Novae Life claims to be following an affiliate approach. I don't agree, as they have a team-building component. Their compensation plan isn't simple either.
The first thing to mention is that there are three tiers to membership. These all have an initial fee and an ongoing fee of $50 per month.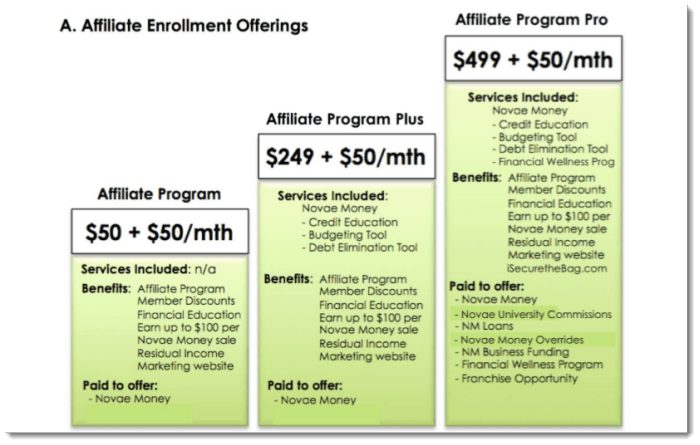 It's incredibly rare to see an MLM (or affiliate program) that still charges a monthly membership fee. The idea is pretty concerning too. I mean honestly, paying $50 a month for the chance to earn money? You don't even get any of the services at the initial tier.
The compensation from sales is based on the products that you sell. Some of the amounts aren't too bad – like the $75 commission from a $199 sale. That's pretty impressive really.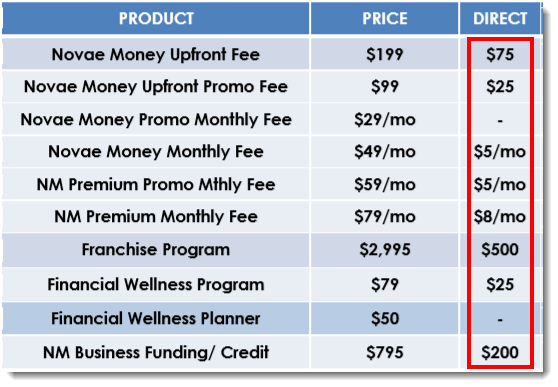 Other commissions are less appealing. For example, you're just earning $5 a month on the basic monthly fee, which is a much lower percentage. Still, you do get to earn from the initial Novae Money fee, as well as the recurring monthly fee. It's rare to see that style.
Make Money Building A Team
Selling services is only part of the story. The other key way to earn through Novae Life is by building a team.
Team building tends to be more profitable than sales alone. In fact, most of the bonuses and extra income opportunities are only available if you work on team building.
One key aspect of Novae Life's plan is the ranks. The idea here is that members progress up through ranks within the company. Each new rank offers more potential to earn money but also has more requirements.
The pattern is true for most MLMs, but Novae Life takes the idea to the extreme. There are 17 different ranks. The image below shows nine of these.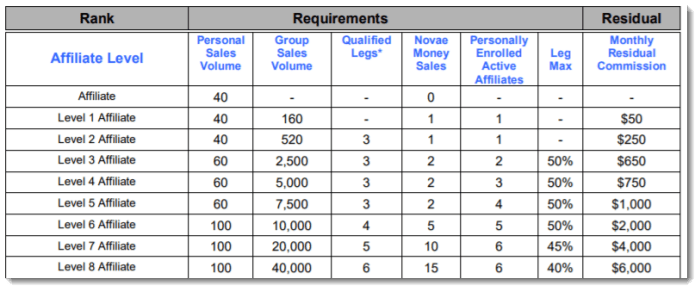 One thing that you might notice is the idea of legs. This tends to refer to one branch of the team that is below you. So, if you recruited three people and each of them was successful in recruitment and sales, each of those would be considered a leg. For a leg to qualify, it would probably need to meet a specific amount of sales per month.
Even at these early levels, the requirements for going up the ranks are fairly difficult and they get progressively harder. There are also more requirements than normal. I mean honestly, Personal Sales Volume, Group Sales Volume, Qualified Legs, Novae Money Sales, and Personally Enrolled Active Affiliates? That's overkill.
Now, the company isn't entirely clear about what the group volume is measured in but regardless, getting to the high levels of group volume would be tough. Honestly, getting decent sales and reaching the higher ranks is never easy and that process is so much more difficult with Novae Life because the products are just so unappealing.
There are various other bonuses that aren't shown in the image above. However, most of these are tied into your rank or the success of your team. Theoretically, this means that it is possible to make money but if you want to get even close to a decent income, you'd have to rely on recruitment – an approach that I never recommend.
While we're talking about compensation, it's worth highlighting the Personal Sales. These are sales that you make yourself every month. You need between 40 and 100 Personal Sales Volume per month to earn.
Now, 40 Personal Sales Volume probably isn't all that much, but this is still a requirement that you need to meet every single month. The monthly aspect is where things start to get tricky. You're likely to have some months where sales are more difficult than others.
Can You Generate Reliable Income With Novae Life?
The Novae Life Review
Even with the focus on financial products, you could still make money from Novae Life. This is especially true if you promote the services well and if your audience is interested in the area.
Still, it's worth taking a serious look at the company before you get involved. One of the biggest challenges is the cost.
You need to pay $50 a month just to make money, not to mention the fee for whatever tier you start on. Why take that approach when most companies charge a one-time fee or none at all? Honestly, the monthly fee would only be worth it if you're getting a service that you actually use along with that fee.
Think about team building too. The process is much more difficult than it sounds.
Most people aren't going to have the time or inclination to get involved with direct marketing. Even if you can convince some people, how many are likely to be effective at recruitment and sales?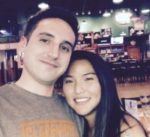 MLM Critic & Author: Nathaniell
What's up ladies and dudes! Great to finally meet you, and I hope you enjoyed this post. I have to be honest though. I'm not a big fan of MLM. Tried it. Hated it.
Affiliate marketing is cheaper, faster, and easier. See for yourself and join millions of other successful affiliates generating income from their blogs!
No inventory. No fees. No recruiting. 3 BILLION potential buyers online.
Reader Interactions