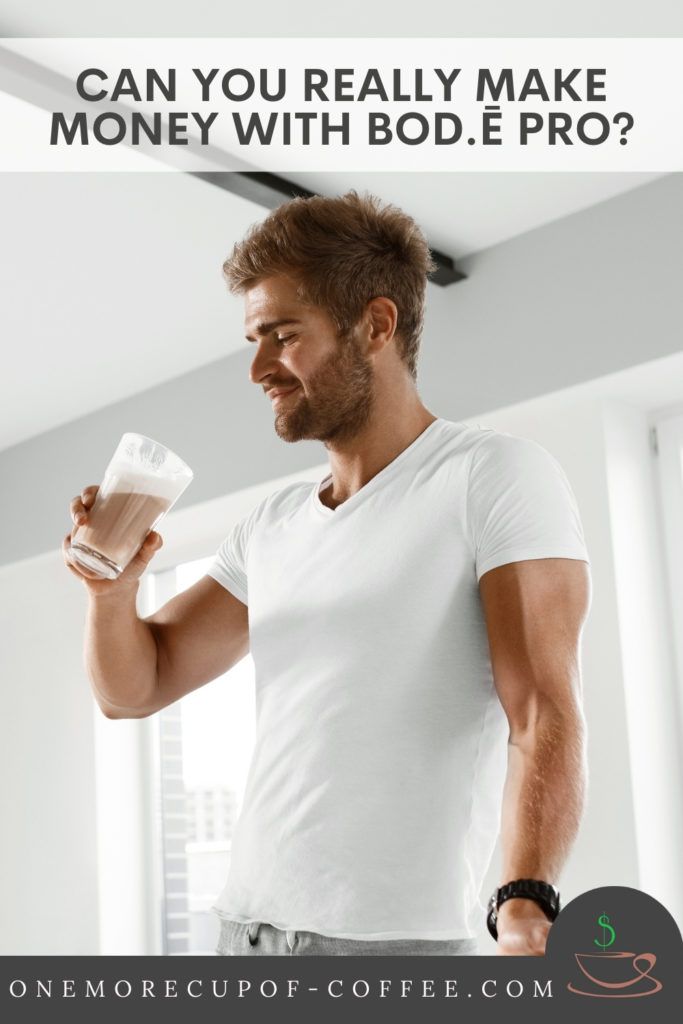 Bod.ē Pro Review
Company Name: Bod.ē Pro
Costs: $29.95
Rating: 39/100
Do I Recommend Bod.ē Pro?
This company has more advantages than I initially expected and you could potentially make money with Bod.ē Pro. Even so, the company wouldn't be a good fit for most people or situations. You are still dealing with a complex income method that heavily relies on recruitment.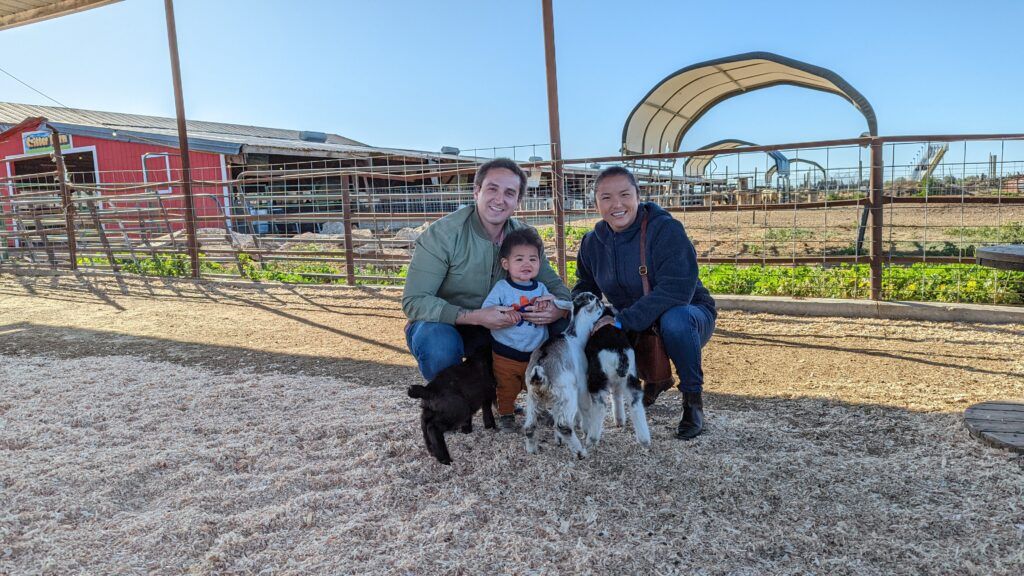 Are You Ready To Work Your Ass Off to Earn Your Lifestyle?
Are you tired of the daily grind? With a laptop and an internet connection I built a small website to generate income, and my life completely changed. Let me show you exactly how I've been doing it for more than 13 years.
The products are another issue, as many people wouldn't be able to afford them. Unless you have an ideal audience in your local area, you would have much greater income potential by relying on affiliate marketing and choosing cheaper products.
What Products Does Bod.ē Pro Sell?
Bod.ē Pro is basically a nutrition company. They simply have four different products: Bod.ē TEN, Bod.ē Happy, Bod.ē Bee Happy (this is just a different flavor of Bod.ē Happy) and Bod.ē Strong.
The flagship product is Bod.ē TEN, which focuses on the idea of increasing energy by supporting the mitochondria in various ways.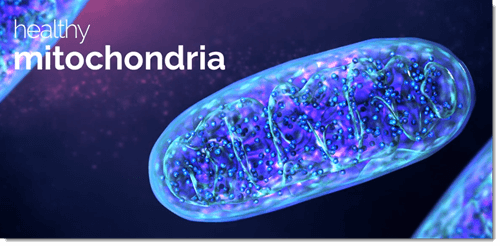 This approach does have some scientific basis. Mitochondria are organelles in our cells and they do provide energy to cells and to the body. In theory, optimizing their function should provide increased energy and improved health overall.
The company was also able to show that Bod.ē TEN can increase mitochondria levels, improve mitochondria efficiency, and protect against oxidative stress in humans.
Even so, it's worth mentioning that the company mentions only three studies, and just one of those was conducted in humans. The human study was also termed as a pilot study, which means a small sample size and limited results. That evidence isn't nearly as strong as the company implies.
Bod.ē TEN itself is mostly just a nutritional supplement. It offers some unusual compounds and doses but much of what you see is present in other brands as well.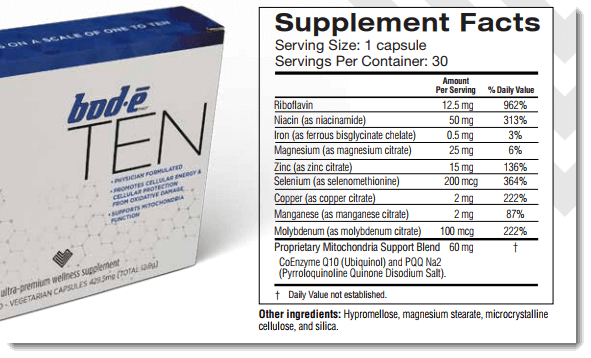 Bod.ē Pro isn't the only company to talk about mitochondrial health either. For example, Foxx Legacy uses the term in some of their marketing. There are also many sites that teach people natural ways to increase mitochondria number and function.
Beyond all of this, there is little evidence that Bod.ē TEN leads to any significant changes in energy or health.
One other area to mention is pricing. Supplements are never cheap and that's certainly true for Bod.ē. The retail price for Bod.ē TEN is $69.95 and you just get 30 capsules for that fee.
The other products seem to have less support and are a little more common as well. For example, Bod.ē Happy is a powder that you add to water. It is like a mini-supplement, with nootropics added in. There are two versions, which are slightly different in flavor and ingredients.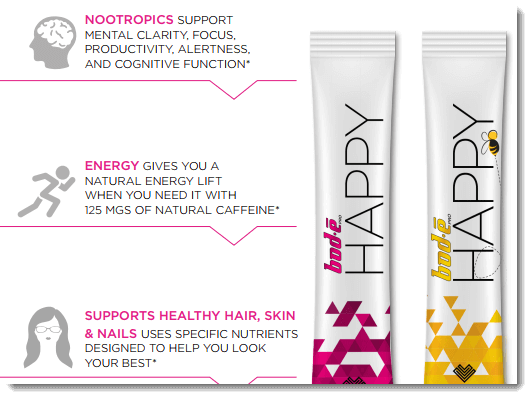 To be honest, the ingredients list looks similar to an energy drink, except that it isn't packed with sugar.
It's pretty clear that the drink would give you energy. If nothing else, it contains 125 mg of caffeine.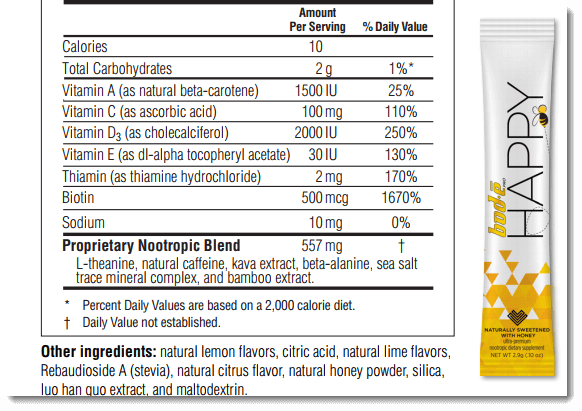 Bod.ē Strong is another drink mix. This one focuses on improving the immune system and fighting aging instead. It's mostly a vitamin supplement as well, although it uses mangosteen and a few similar ingredients for their apparent health benefits.
Do The Products Work?
All of the items from Bod.ē Pro make strong claims, without providing much evidence. As such, it's impossible to know whether they actually offer benefits or not.
There isn't much useful online and reviews for health products aren't all that accurate anyway. The problem is that you can't really tell when this type of product is working and when it isn't.
How do you know if your immune system is getting better or your energy is improving? All the signs that you'd look for are subjective and the patterns will vary based on what you're looking for.
In fairness, I'm a bit of a cynic with supplements and health products. I've seen countless products claim to have the next best thing, like the way XanGo is obsessed with mangosteen or how Forever Living focuses on aloe vera.
Many different companies claim to have supplements that can dramatically increase energy or improve health, yet few ever live up to the ideas. Bod.ē Pro has the same focus, including plenty of hype and much less science.
That being said, the products are unusual enough to gain interest. In the case of Bod.ē TEN, there is even some scientific support. The company doesn't mention many studies and doesn't provide much detail but there is still more evidence than most other companies I've seen.
Most of the products also contain various nutrients and plant-based ingredients. These could offer some health advantages, especially for anyone who doesn't have a balanced diet.
Could You Sell Them?
I'm not personally impressed with the products from Bod.ē Pro – and they are expensive. Still, with the right audience, you could make sales.
For one thing, health is an incredibly popular field. People are always looking for ways to feel better and live longer. Bod.ē Pro claims to offer just that. The company also does an amazing job at marketing. Their sales pitches are believable and there is enough science to make people trust the products.
If you were passionate about the products, your sales potential might be higher as well.
From that perspective, there is the chance to make money. However, it's important to consider your audience first. The products here are expensive and you'd want people to buy multiple per month. Does that fit in with your audience?
If most people you know don't regularly spend that much on health products, Bod.ē Pro probably isn't the right choice. You could still make sales but the process would be much more difficult.
The alternative I always suggest is affiliate marketing. This is a technique that applies to any field, including health products. For example, there are affiliate programs for nootropics. Many of these products would offer the same claims as Bod.ē Happy but you get to promote them online.
By doing so, you can reach a much wider audience. You also get to pick and choose what you're promoting. This gives you the chance to focus on popular items that would actually sell.
This field also allows you to promote to people who are already interested. That's a much easier process than trying to convince someone they need a product that they only just learned about.
Is Bod.ē Pro A Good Business Opportunity?
For the right audience, Bod.ē Pro could make sense. Some people would find the products compelling and wouldn't be put off by the price. So then, what about making money?
The process starts off a little unusual for Bod.ē Pro.
You begin as a customer and each customer gets a personalized website that can be used to promote products. This happens when you're just a customer, which is a style you don't often see.
If you are able to get one person to buy through your website, you can then upgrade to being an Influencer, at a cost of $29.95. There is then a $9.95 monthly fee and a $29.95 annual fee to stay an Influencer. The company states that the fees pay for internet marketing tools and social media training.
If you fail to pay the ongoing fees or if you can't maintain a single active customer for three consecutive months, you are dropped down to the customer tier.
The design means there is no risk in trying it out. Until you make your first referral, you're only paying for your own products, which you hopefully wanted anyway.
Once you are considered an Influencer, there are four aspects. The first is that you get a discount (25%), as long as you have at least one active customer. This is most useful if you want products for yourself. But, it is also a good way to get others interested in being an Influencer.
Next, you earn between 25% and 45% commission from sales. This amount is based on the number of customers you have enrolled and the total amount that they are spending.

The rates here are pretty good. Most companies won't let you get anywhere near 45% commission. The increase is also based on sales alone, not on the team.
There are also bonuses to consider. For example, Influencers earn $50 when people you recruit buy a Retailer Pack. There are also matching and leadership bonuses based on the success of your team.
I'm not going to go into those in detail. But, the idea is that if you have a large team, the bonuses you earn can be significant. In fact, the bonus pool is based on the overall sales of the company.
The catch is that most bonuses come from progressing through ranks. The same is true for the money you earn from your team. There are 10 total ranks, starting at 1 Star and going through to 10 Star. The first five are considered Rising Stars, the next five are considered Elite Stars.
For example, the table below shows the requirements for the Rising Star Ranks. These are the ones that offer the lowest bonuses.

The requirements cover multiple areas, including the structure of your team, the level of sales (measured in points), and the number of people enrolled. As you go through the ranks, the residual income you earn increases and there are extra bonuses as well.

The end result is fairly complex. Most people don't have the skills or resources to get high up in the ranks – and that's where the money is. As a result, Bod.ē Pro is best considered a side job, not a significant source of income.
But, on the plus side, Bod.ē Pro lets members earn from three generations deep as soon as they hit that first rank. This is unusual.
When you consider that along with the commissions from sales, it's clear that there is more chance to make money early on than with most other companies.
Merits Of Bod.ē Pro
The products aren't the greatest in the world and you would have to work hard to build a decent team. Even so, Bod.ē Pro does many things right. The compensation plan is fairer than many others that I've seen, with a larger potential to earn from sales alone.
There are also various aspects that would make selling and recruiting easier. For example, customers can earn free products by getting other people involved. This makes an easy introduction to the idea of being an Influencer and you could gradually build people up from there.
Influencers also get a significant discount, which makes the idea more appealing again.
You are also making sales through a website. This is mostly a replicated site, so you couldn't rank it in Google. But, using a website gives you more opportunities to promote through social media and to sell to remote customers. Bod.ē Pro even offers social media training – although it's unclear how good the training is.
This style is never going to be as powerful as building your own website and selling through that. Even so, it's better than only being able to sell in person.
A Word About History
Bod.ē Pro has some good aspects, including very effective marketing. But, it does have some concerning history. The company was created by BK Boreyko, who was the owner behind Vemma, another MLM.
Vemma had similar products, including some that were branded with the Bod.ē and Bod.ē Pro name. Vemma faced considerable difficulty with the FTC, which included being shut down as a pyramid scam, although they reopened later and changed their plan. The company still seems to be active but has been harmed by all of the controversies.
Hopefully, the management behind Bod.ē Pro took the lessons learned from Vemma and applied them to make a company that is more powerful and more sustainable. But, it's too soon to know whether that's the case.
This doesn't mean you have to avoid Bod.ē Pro. But, it suggests that you should be wary of the company. Similar issues could easily happen again.
Can You Generate Reliable Income With Bod.ē Pro?
The Bod.ē Pro Review
Bod.ē Pro has some advantages and interesting enough products to consider. Even so, you would need the right audience to have a chance of making long-term income.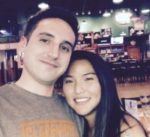 MLM Critic & Author: Nathaniell
What's up ladies and dudes! Great to finally meet you, and I hope you enjoyed this post. I have to be honest though. I'm not a big fan of MLM. Tried it. Hated it.
Affiliate marketing is cheaper, faster, and easier. See for yourself and join millions of other successful affiliates generating income from their blogs!
No inventory. No fees. No recruiting. 3 BILLION potential buyers online.
Reader Interactions