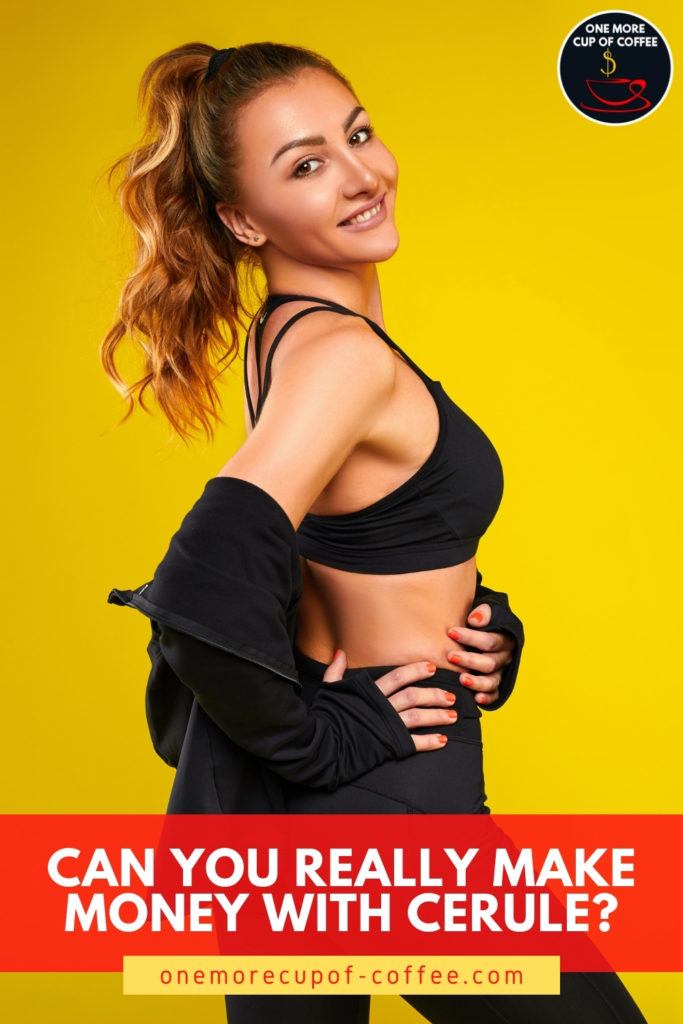 Cerule Review
Company Name: Cerule
Costs: $69
Rating: 32/100
Do I Recommend Cerule?
While you can make money with Cerule, the company isn't one I recommend. There are only three products on offer and these aren't especially amazing. Besides, with so many options, why limit yourself to just three products? You could turn to affiliate marketing instead and choose any product from around the world promote.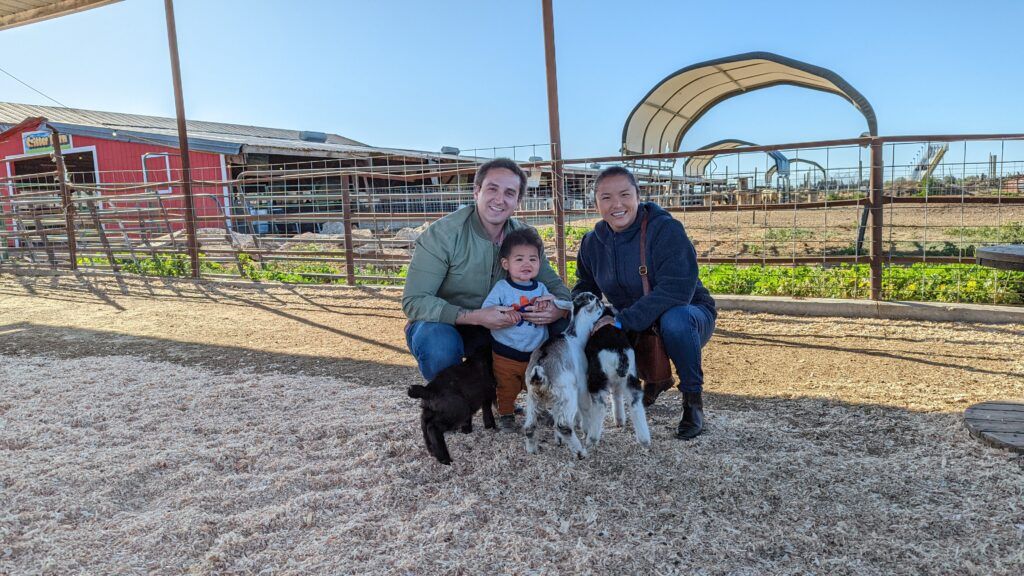 Are You Ready To Work Your Ass Off to Earn Your Lifestyle?
Are you tired of the daily grind? With a laptop and an internet connection I built a small website to generate income, and my life completely changed. Let me show you exactly how I've been doing it for more than 13 years.
What Products Does Cerule Sell?
Like many companies, Cerule offers health and wellness products. These are all items designed to boost your health and make you feel better overall. Most such companies offer a wide range of options, with dozens of different products to choose from.
But, that's not the case here. Instead, there are just three products on offer.
StemEnhance Ultra

StemEnhance Ultra is the first item from the company. It is promoted as a way to boost your stem cells and uses microalgae extracts to do so. The idea is similar to some of the products from StemFoods.
Scientifically, there is only weak evidence that you can increase stem cells through supplements like these. And, even if you could, it isn't clear whether your health would improve at all.
Cerule mentions that there have been multiple clinical trials but fails to link to any of them. The lack of evidence alone is a concerning pattern and applies to all of the products. Scientific backing would make it easier to promote sales.
Another aspect is risk. This field is relatively new, so there hasn't been much long-term research on health benefits versus risks. For example, the underlying concept here is to release stem cells from bone marrow into your bloodstream. Such a pattern could offer benefits but it could also have negative impacts.
The product also costs $79 retail for 30 servings or $69 on autoship. That's pretty expensive for something with questionable benefits.
Even so, StemEnhance Ultra isn't all bad. From the sales perspective, it could be powerful and the high price could even be an advantage. A key benefit is just that the supplement focuses on stem cells. Regardless of whether or not it actually works, the hype surrounding stem cells is considerable.
That hype alone could help you make sales. It would also be difficult for customers to know whether or not the supplement works. Most of the benefits would be things like improved energy, better immune system and the like. Those outcomes are subjective and people often see them even with a placebo.
PlasmaFlo
The next product is PlasmaFlo. This one aims to improve capillary health and blood flow, along with reducing inflammation. The marketing targets people who are concerned about heart disease – although the benefits could apply to anyone. Once again, the outcomes are all subjective and people have no way to be certain whether the supplement even works.
In this case, the product offers a range of plant extracts, enzymes and antioxidants. Some of these will have some research support, even though the company doesn't link to any studies.
As a general rule, most plant extracts have been studied to some degree. Research often shows the potential for health benefits. But, the observed effects are typically small and the studies tend to be poorly designed.
This means that most supplements will never have the amazing health benefits that companies promote. Many of them will do nothing at all. As for PlasmaFlo, there is no evidence that the ingredients would have any dramatic impact. For most people, the benefits would be minimal.
Once again, the product isn't cheap either. Instead, customers pay $79 for a single bottle or $69 on autoship.
Cyactiv

The final item is Cyactiv and it costs the same as the other two products. In this case, the product relies on an extract from spirulina and aims to decrease inflammation throughout the body.
Lowering inflammation in the body does have the potential to benefit health and chronic inflammation may contribute to disease. There is also some evidence linking spirulina to this impact, although the research is far from complete. This makes the scientific support stronger for this particular product compared to the rest.
Even so, there are countless anti-inflammation products out there, as well as spirulina powder and supplements. Many people prefer an anti-inflammatory diet, which ends up being cheaper and healthier in the long-term.
The Products Overall
At the end of the day, the items from Cerule are overpriced and far from unique. Countless other companies take similar approaches and there are cheaper alternatives on the market.
But, if you were passionate about the products (or the company), sales would still be possible. People are always looking for ways to feel better and be healthier. For some people, the products from Cerule may even be beneficial.
How To Turn Health And Wellness Into A Business
Health and wellness is considered an evergreen field. This means that there's always money to be made. But, why turn to companies like Cerule? Even if you could make sales there's considerable energy involved, as the products simply aren't that great.
Plus, with Cerule you'd be selling in person, often to friends and family members. Making sales that way is always challenging and you're often limited by your social network.
Another option is to sell online, through affiliate marketing. This gives you the chance to build your own brand and to target a much larger audience. You also get to pick products that are competitive and popular – ones that you are passionate about yourself.
There are also countless different angles to consider. For example, what about a site on fitness equipment or on sporting goods. These are both popular fields and there are many high-quality items out there. You can also focus on providing information and guidance to people, rather than having to continually focus on sales.
Is Cerule A Good Business Opportunity?
The products from Cerule may not be amazing but the income potential does still exist. With most companies, you earn commissions from the sales of products. This may be true for Cerule too – but they don't mention commission from sales anywhere in their compensation plan.
Instead, the main way you're making money is through recruitment. When you recruit someone, you get them to buy one of the three packs on offer and you get a commission from that.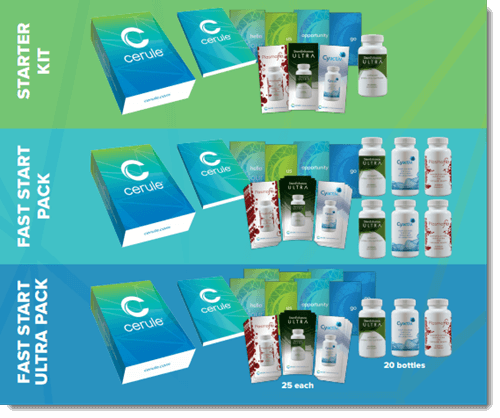 The Starter Kit earns $10 in commission, the Faster Start Pack earns $100 and the Fast Start Ultra earns $300. The initial costs of the kits are $69, $269 and $1,000, respectively. If you could get people buying the larger kits, then the income potential is quite high.
But, the kits are expensive. I don't know many people who would spend $269 on supplements all in one go – and I can't think of anyone who would buy an $1,000 pack.
Kits aside, you can also earn money from your team. The idea here is the same as for other MLMs. So, you recruit people into the company and try to get them to recruit others. You can then earn from their success.
The simplest example is the matching bonus. So, if you sold the Fast Start Ultra kit, you earn $300 and the person who recruited you gets $150. The same is true for people you recruit. This gives you the chance to make money without directly making sales.
You can also earn commissions down to 7 generations, as the image below shows.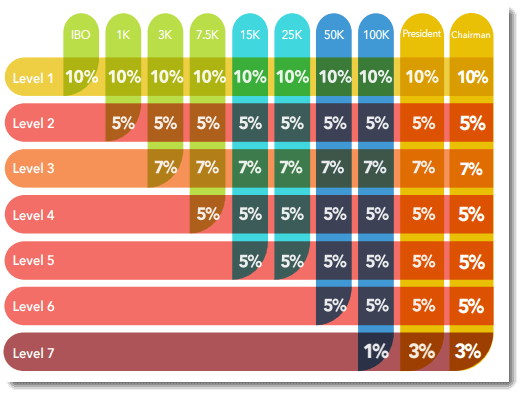 In this system, Level 1 refers to people you recruit, Level 2 refers to people recruited by your Level 1 team and so on. If you can get far enough and recruit enough people – the income potential is actually very high.
So, what's the catch? The MLM model does work for income. Cerule has been around for a while too, making it somewhat reliable.
The challenge is getting to the point where you make enough money. To do this, you need to grow a decent team and continue to consistently recruit. Recruitment is especially important for Cerule, as most the income potential comes from the kits, not from individual sales.
Take a look at that compensation image from before. Do you see how it is broken into ranks? The first is IBO, then 1K, 3K and so on. The further you go through these ranks, the more levels you can earn money from. The higher ranks will also get extra bonuses and more income potential overall.
But, each rank also has requirements. To progress, you normally need to reach specific sales targets on your own and in your team. You may also need a specific structure in your team.
The requirements dramatically increase as you go up the ranks. This often means people get stuck in the first few ranks, which severely limits income potential.
Additionally, sales and recruitment are more difficult in practice than they seem. People often find that they can make a few sales without much effort. But, scaling up far enough is no easy feat. In practice, you'll often run out of interested people to promote to. Many of your contacts will get sick of the idea quickly as well.
After all, there are probably more than 1,000 active MLMs right now, each of which has its own distributors. Many people will already know multiple distributors and will have heard sales pitches countless times. For example, Juice Plus offers various supplements, as does Lifeplus, Kyani and various other companies.
There are also many other places for people to buy supplements. Even grocery stores have a large range of them now, not to mention places like GNC. Other people choose to buy off Amazon or may order from the sites of manufacturers. This competition adds to the challenge of making sales, decreasing your chances.
Long-Term Potential
In some ways, Cerule is a mixed bag. Yes, you could make money – especially with the right audience. Even so, the focus on recruitment over sales is a serious problem. The products themselves aren't wonderful either. For the right person, they may offer benefits but they're simply not that different than what's already out there on the market.
My main suggestion is to take time and think about your audience. Do you know people passionate about health? Do they tend to buy supplements regularly? If so, Cerule may have some advantages. The stem cell focus alone could help you make sales and this is an area people are interested in.
On the other hand, if most people you know tend to focus on food and exercise for health, rather than supplements, Cerule may not be a good fit. You might be able to convince some of them to buy the products. But, that would be an uphill battle. It's more efficient to start with an audience that is at least a little interested in what you are offering.
Can You Generate Reliable Income With Cerule?
The Cerule Review
You can make some money with just about any company, including Cerule. Even so, the potential isn't high. The products from Cerule simply aren't appealing enough and getting consistent sales would be challenging.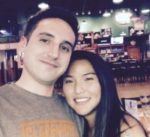 MLM Critic & Author: Nathaniell
What's up ladies and dudes! Great to finally meet you, and I hope you enjoyed this post. I have to be honest though. I'm not a big fan of MLM. Tried it. Hated it.
Affiliate marketing is cheaper, faster, and easier. See for yourself and join millions of other successful affiliates generating income from their blogs!
No inventory. No fees. No recruiting. 3 BILLION potential buyers online.
Reader Interactions