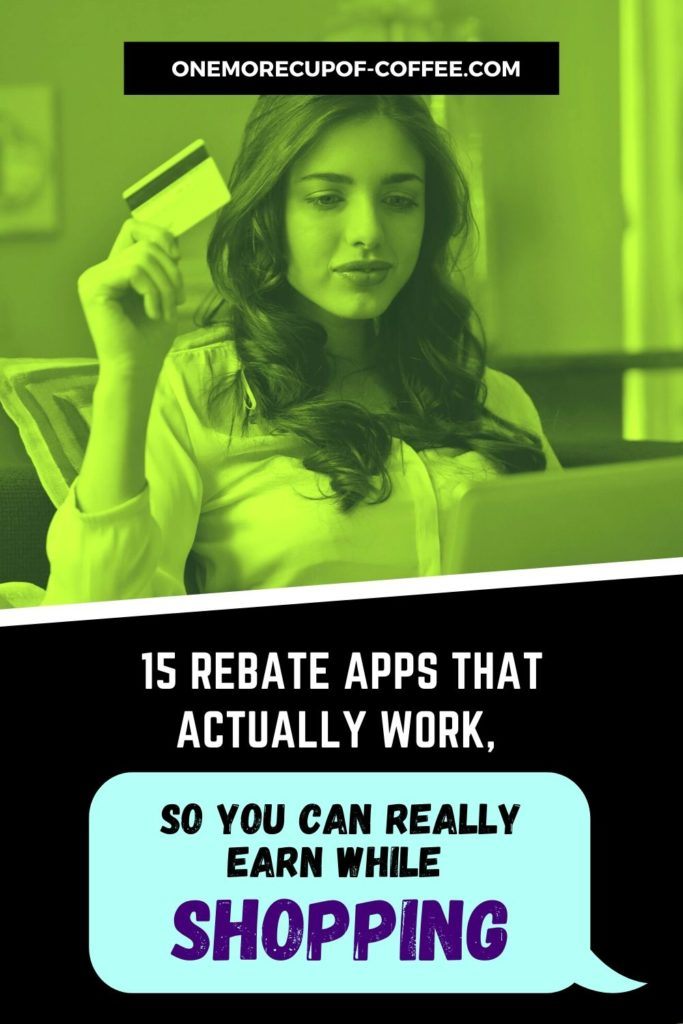 We highlight many different side hustles on this site. Some of them are surprisingly powerful ways to make money, while others will just earn you a little bit extra. The apps in this list all fall into the latter category. Specifically, we're focusing on rebate apps that work.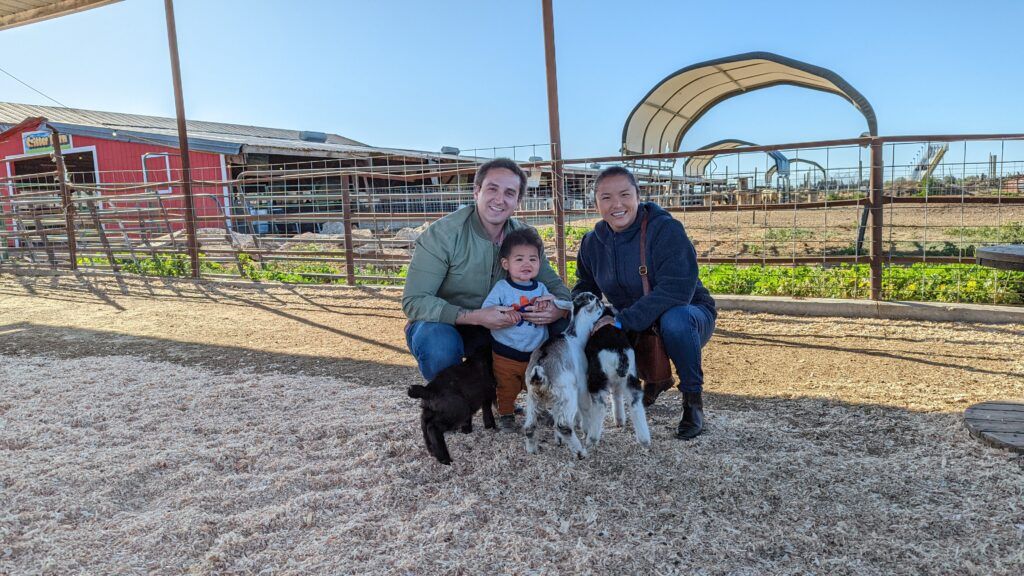 Are You Ready To Work Your Ass Off to Earn Your Lifestyle?
Are you tired of the daily grind? With a laptop and an internet connection I built a small website to generate income, and my life completely changed. Let me show you exactly how I've been doing it for more than 13 years.
Rebate apps provide the chance to earn some money back when you spend. You'll also find them called cash back apps sometimes. The principle is the same either way.
While rebate apps have their own features and styles, the general idea is that you are able to get points or credit when you spend money at specific partner companies. You're often able to earn from spending at places that you would anyway, like Walmart or an online store.
Sometimes you need to purchase directly through the app earn, while other apps may require you to scan in an image or your receipt or something similar.
Rebate apps are never going to be an amazing way to earn. Instead, they're mostly a way to decrease the amount that you spend a little bit. Most of the time it takes quite a while to even cash out once using an app
You also need to be careful with them. Apps like this are only effective if you keep your spending at roughly the same level. If you spend even a little bit more when you're using the app, the entire process quickly becomes pointless.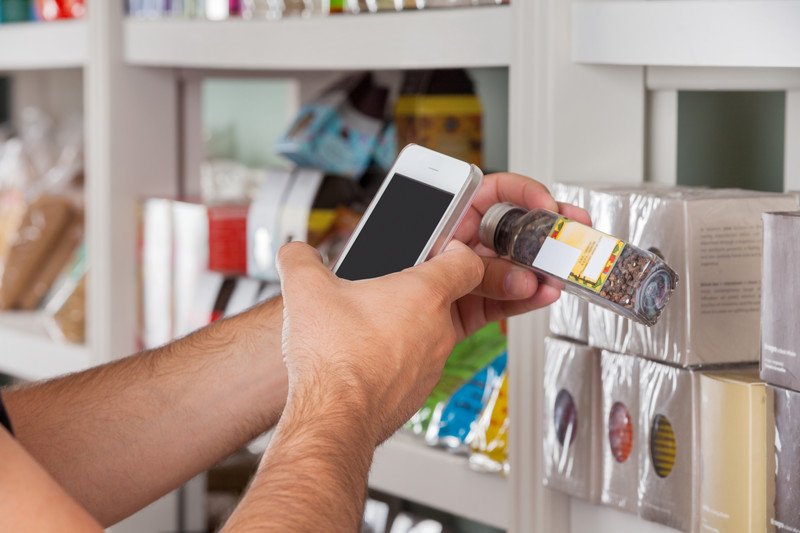 Rebate Apps That Work By Category
Receipt Scanning Apps
1. Checkout 51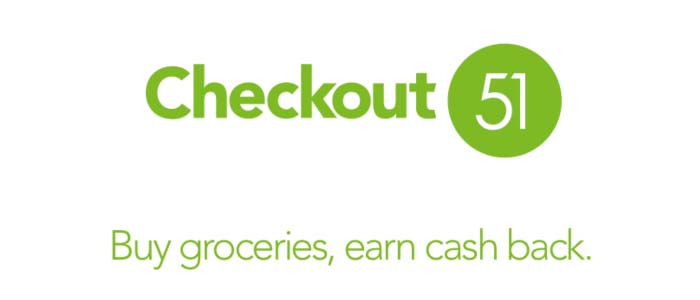 Checkout 51 focuses on grocery shopping. The app updates with new offers for you to choose from. When you have purchased the items, you check them off on the app and upload an image of your receipt using the relevant part of the app.
The app is very easy to use and we were surprised at how many offers there were to choose from. Most provided less than $1 cash back, but there were a few better paying options in the mix, including one that offered $5 cash back.
Cashing out with the app is done via a check once you hit $20 in credit. This is pretty cool actually. Many apps restrict you to PayPal (which has fees) or gift cards.
From the offers that were present when I looked, it seems like it would take most people more than a month to earn enough to cash out once. Of course, this depends a bit on what you buy and how willing you are to make changes to your purchases to meet the requirements of an offer.
2. Receipt Hog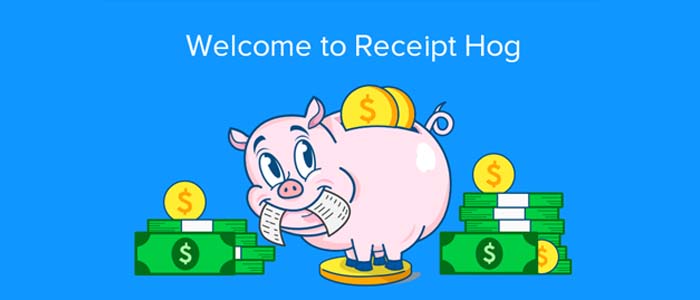 This is one of the most popular rebate apps and currently averages around 4.4 stars on Google Play and 4.7 on Apple's App Store. Those ratings are very good for an app of this type.
There are some complaints, such as poor customer support, receipts not scanning correctly and concerns that members don't get many coins for their work.
The app allows members to scan in receipts from various locations and then rewards you with coins from the receipts. Coins can be earned in other ways too, like by providing your email address or spinning on a jackpot wheel.
Receipt Hog tries to make the whole process fun, by using a cartoon pig that you 'feed' and a game-like atmosphere. While the idea seems a little silly in place, I did find the app entertaining as I was testing it out.
The biggest limitation is the time factor. I earned around 10 coins per receipt when I tried out the app. Based on the receipts that I get regularly, I estimate that I might be able to earn $80 worth of gift cards a year. That's not horrible, but it would mean scanning in each receipt.
3. Fetch Rewards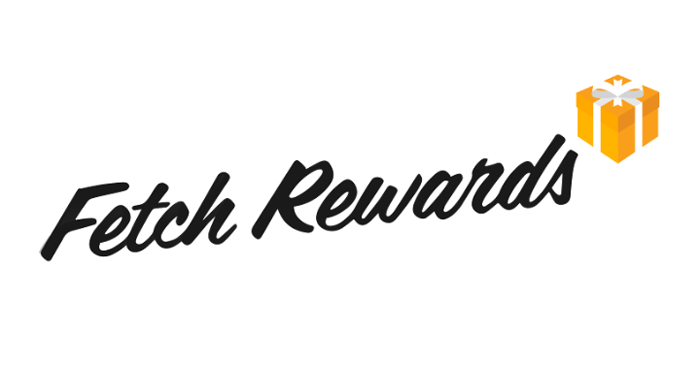 Fetch Rewards is a grocery shopping app, but it has some interesting features that aren't too common. One is that you are able to earn points based on the brands that you purchase, rather than individual products.
This is a pretty cool style. Most similar apps focus on individual products instead, which can be frustrating. Even when I like the brand, I often find that apps want me to buy different products than I would normally. Fetch Rewards gets around the issue nicely.
Plus, there are some popular brands in the mix, including Kraft, Quaker, Country Time and Lunchables.
While the app itself is easy to use, it has the annoying habit of talking about the number of points that you earn, rather than providing monetary values. Thankfully, the conversion is simple. 1,000 points translates into $1 in gift card credit.
Most of the offers I saw provided 500 to 1,000 points, so the money could add up fast. You can't withdraw via PayPal or check, unfortunately, but there are Amazon gift cards, which are almost as good.
Another cool thing is that the app has a grocery list function. This makes it easy to organize the products that you're going to buy.
4. Receipt Pal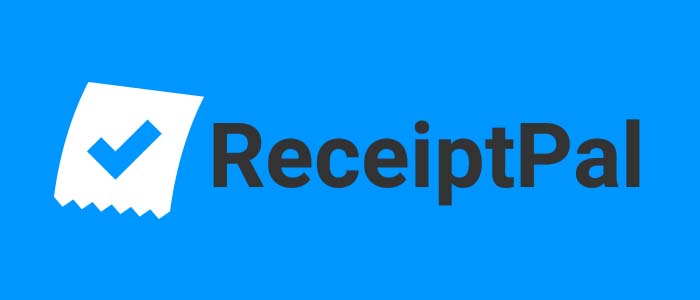 Here's an app that does well in terms of reviews. At the time of writing, Receipt Pal scored an impressive 4.3 stars on Google Play. There are some odd patterns with some of the positive reviews, so some may be fake. Even so, at least some of the positive ones are likely to be legitimate.
The app itself follows the receipt scanning approach. The app worked well when I tried it, without any technical problems. However, I wasn't able to get up to the receipt scanning part, as the company was not accepting new members at that time.
Perhaps the biggest limitation is that points expire after just 90 days if your account is inactive. This means you need to upload at least one receipt every 90 days, which is a bit frustrating.
Still, reviews suggest that some users are able to cash out successfully. One mentioned earning around $75 per year. That rate is about what I would expect from a receipt app.
It's also worth mentioning that the ratio of points to reward dollars isn't always the same. For example, it generally takes 350 points to earn $1 on an Amazon gift card. But, you can cash out for a $100 gift card at 17,000 points.
5. SavingStar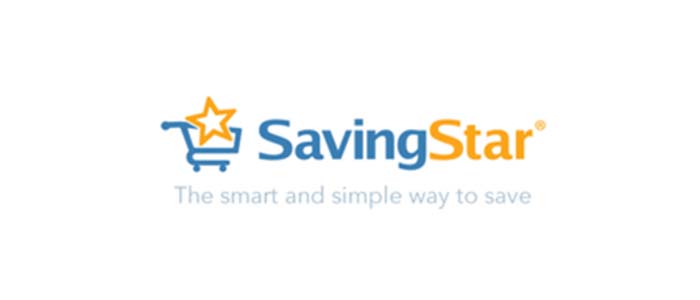 The cash back offers from SavingStar mostly focus on grocery items, including fresh produce and laundry products.
I also saw various alcohol offers on the app. These were particularly appealing in terms of the amount of cash back provided. However, the offers weren't available in all states, which is a shame.
I was pleased to see that some of the featured stores were large and common, like Wal-Mart and Dollar General. This is always a welcome sight for me, as such stores can often be found even in small towns.
When I used the app, the cash out limit was $5, making it extremely appealing. Recent reviews suggest that the requirement has increased to $20. This is a little frustrating, but $20 is a common cash out level across rebate apps.
SavingStar mostly uses a receipt scanning approach, but it is possible to link in loyalty cards for some stores, like CVS. Using a loyalty card like this means you don't need to worry about scanning your receipt. The downside is that the points from loyalty cards can take a while to process.
6. CoinOut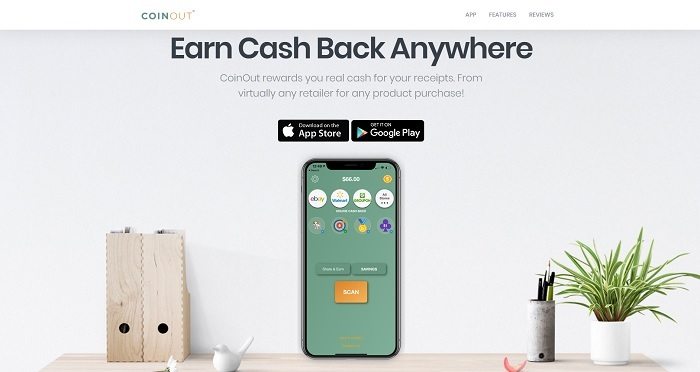 CoinOut is a little different than most rebate apps. Instead of giving you specific amounts of cash back on purchases, the site provides you with randomized rewards.
The style sounds like you're just throwing away your effort, but CoinOut does consistently get good reviews. One reviewer mentioned that they earned somewhere between $0.01 to $0.16 per receipt and that the amounts added up fast.
Other reviewers have suggested higher figures, such as $0.07 per receipt. Even then, the process is random, so many receipts will earn you less than that.
The cash out requirements start at $10 for PayPal and almost any total for Amazon – giving you money sooner than most other apps.
CoinOut does have a cap of five receipts per day. This could be frustrating if your internet access is limited. The cap also makes the process of earning money slow. After all, if you're only earning pennies for many of your receipts, hitting the $10 mark is going to take a long time.
7. GetUpside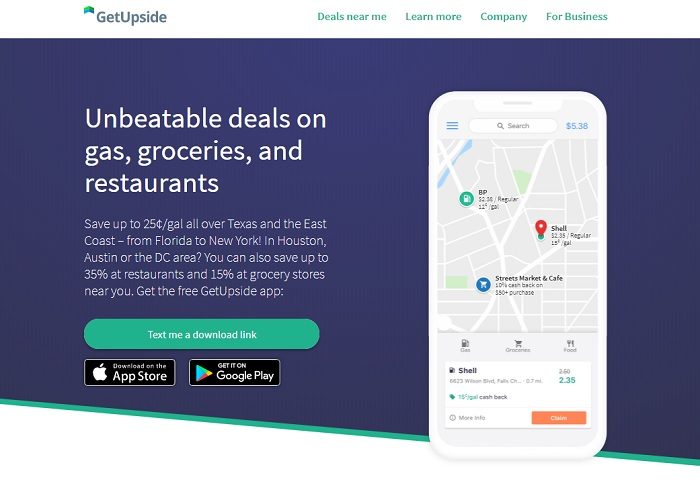 With GetUpside, you're mostly earning cash back on gas, along with local companies. In fact, one of the app's features is the ability to see gas prices in your local area, allowing you to pick and choose where you fill up.
Taking a photo of your receipt is all you need to earn cash through the app. Cashing out can be done through check or PayPal.
It seems like you can cash out at any amount, but there is a $1 fee for PayPal if your total is less than $15, and a $1 fee if your check total is less than $50. Gift cards don't come with a fee, but you can only cash out in $10 increments.
GetUpside focuses on local offers, so your location matters more than with most other apps. People in larger cities are likely to have the best luck.
It's also important to follow the app instructions carefully. For example, you often need to check in and claim an offer before you make your purchase. Failing to do so may mean that you don't get your cash back.

Product Scanning Apps
8. Ibotta

Ibotta is an appealing app in some ways and a frustrating one in other ways. It is frustrating because you need to scan the product that you purchase and scan your receipt. Both processes are easy to do, but they do take a little bit of time.
It also seems like the purchases need to be made from specific stores. For example, I chose $3 cash back on Smirnoff when I tested the app. I was then told that I needed to make the purchase at Dollar General.
You do get to choose which stores you can visit when you first use the app. But, even so, the style felt very limiting.
One good thing is that the cash back figures are decent. I was impressed at getting $3 from a Smirnoff purchase and saw $5 cash back for Ciroc. Both options would be great if you were going to buy the products anyway.
You can cash out via PayPal, Venmo or a variety of gift cards. The minimum cash out amounts were mostly $20 or $25. I don't imagine it would take too long to hit those targets.
9. ShopKick

It's difficult to know what category to place ShopKick in, as there are multiple approaches for earning kicks. As you can probably guess, kicks are the currency that ShopKick uses. These can be redeemed for gift cards.
ShopKick has a surprisingly low minimum withdrawal. You can start withdrawing at 500 kicks, which will give you a $2 gift card. So, roughly speaking, 250 kicks is the equivalent of $1.
The main ways to earn kicks are as follows:
Bonus tasks: Around 5 kicks
Simply walking into a store: 25 to 100 kicks
Scanning items (regardless of whether you buy them): 10 to 50 kicks
Scanning a receipt: 100 to 500 kicks
Linking your credit card: As much as 200 kicks
Referring a friend: 250 kicks (you may earn more based on their earnings)
These figures are just estimates. The exact amount of kicks will vary depending on the offer.
The cool thing is that you can often get kicks from multiple actions in the same location. For example, you might earn kicks from visiting your local Wal-Mart, scanning a couple of products and buying some of them.
How well the app works for you will depend on where you are and how well the offers work with your shopping habits. Of course, this is true for all of the apps on the list.

Apps That Link To Your Cards
10. Dosh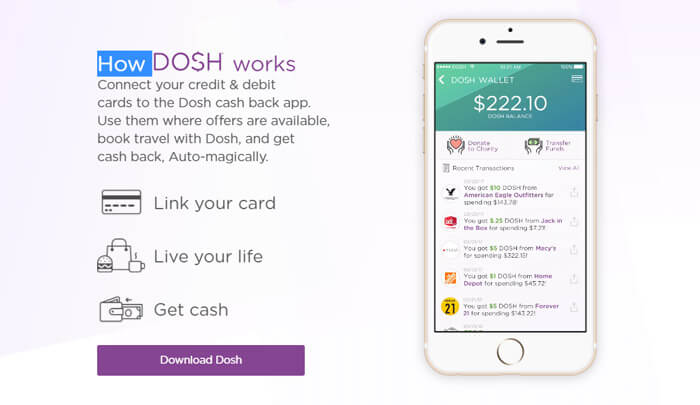 Dosh is a particularly appealing cash back app. It allows you to earn money back on many types of purchases, without needing to scan products or take photographs of receipts.
To get around these processes, Dosh has members link their credit/debit cards to the app. The process means that you can earn rebates without needing to mess around with receipts and the like. All you need to do is make purchases that match the offers in your area.
Like many apps, Dosh uses location services to show you offers that are relevant to you. But, where you live matters. If you're in a small rural town, you're not going to find many offers at all. If you're in a large city, there should be many more.
It is possible to get cash back from Dosh without linking your cards as well. This might be good for anyone concerned about privacy. The app isn't quite as efficient if you use it this way, but it still seems to work well.
The app is particularly good for anyone who travels. Dosh offers discounts on hotels if you book through the app. You earn cash back for doing so as well.
Currently the cash out minimum is set to $25 (it was $15 at one point). You can cash out through PayPal or direct deposit.
As with many apps, you can also earn credit by referring other people. You get $5 credit to your account for each person who signs up and links their card.
11. Drop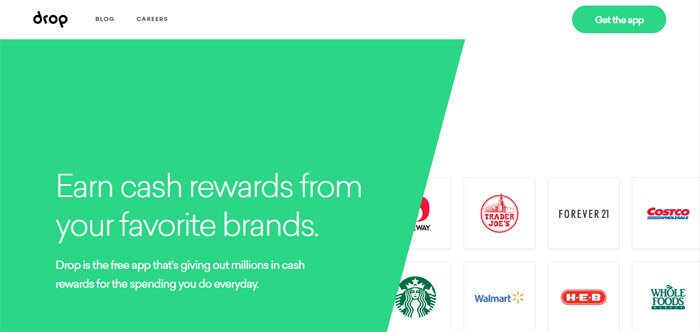 Drop is another app that links to your credit/debit cards. One of the best features is the sheer number of popular brands and stores that you can earn from. For example, I saw Target, Walmart and McDonalds all mentioned as offers.
This is the ideal – the chance to earn from places that you would shop at anyway.
Drop is also fantastic at providing information. They have a comprehensive website and provide complete details about how the service works and what you can expect.
The biggest issue with the app is the reviews. While I've seen various positive reviews of the app, it still manages to score just 3.4 on the Google App store.
One problem seems to be the reward tiers. Some users mention that they need to make purchases that they don't want to so that they can unlock the lower cash out tiers (such as $5 and $10 gift cards). Even then, some users seem to be stuck at a $25 minimum for cashing out.
The approach seems to be a way to promote purchases through the Drop app itself, but it hasn't been a popular decision among Drop users.

Apps With An Online Focus
12. Ebates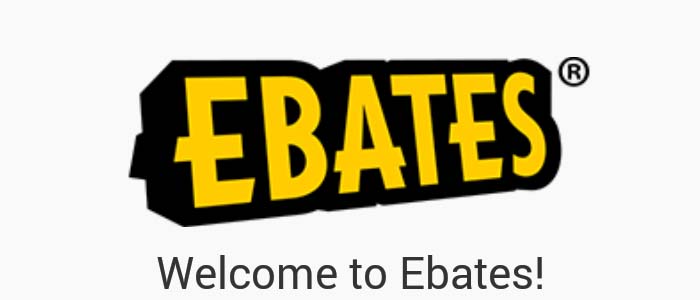 Rebates from Ebates largely come from ordering online. There are many popular brands featured. I saw Levi's, The Body Shop, Travelocity and Orbitz featured when I tested the app, along with plenty of others.
The app tends to provide cash back in the range of 1% to 3%. There are often discounts as well, such as 25% off specific purchases. The discounts probably aren't unique to Ebates, but they're interesting all the same.
Ebates is one of the few apps that allows you to layer savings like this. Doing so creates the potential to save more money, especially if you use the app regularly.
There is also an in-store cash back feature. This approach involves linking your credit/debit card to the app. Once you have done so, the appropriate purchases will earn you cash back.
One thing to mention is that Ebates recently changed hands. It was previously owned by Shopular and is now owned by Rakuten instead. While the app is still popular, there have been more negative reviews since the change in ownership.
13. Paribus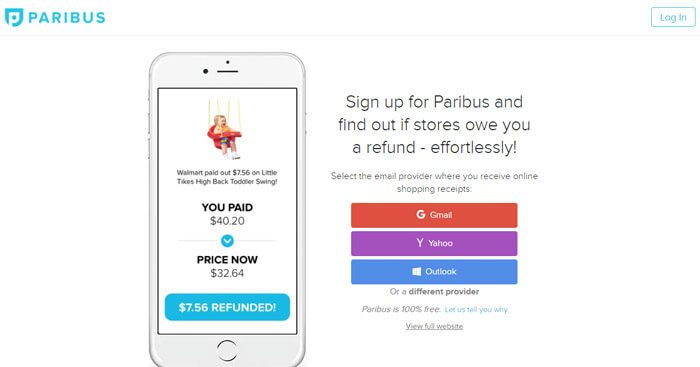 Paribus works differently than any other cash back app. In particular, you're not getting money back by buying certain items or by scanning receipts.
Instead, Paribus aims to find savings for you. The app is based on the idea that companies offer refunds or money back under various conditions, such as if the price drops online after you make an order or if a delivery was late.
Paribus basically files claims for you. The claims won't always get accepted, but if they do, you may earn some money. The company currently monitors around 30 different online companies, focusing on their price protection policies.
This approach makes income from Paribus very unpredictable. Some people may have much more luck than others. Thankfully, the app is free and is almost entirely hands-off, so you're not losing much by trying it.
There is also the chance to earn much more than with a conventional cash back app. This could easily happen if there was a significant price drop on something that you purchased.
That being said, there are some limitations to consider.
One is that the app needs access to your email. Every indication suggests that the service is reliable and won't take advantage of your data. Still, you'll need to decide for yourself whether you're comfortable with the idea.
There isn't an Android version of the app either – just an Apple version. This isn't a serious issue, as you can use the service through the Paribus website instead.

Other Types Of Rebate App
14. NCP Mobile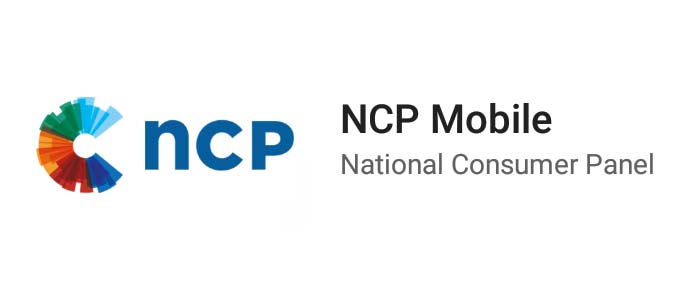 The NCP Mobile app comes from the company National Consumer Panel. You actually need to be a member of the panel to use the app. There are no special requirements for signing up, although the process takes a while and the company wants some pretty personal details.
It seems like the National Consumer Panel has been around for quite some time. Members previously used handheld scanners to send information. Those scanners have now been replaced by the mobile app.
The biggest difference with this app is that you're not just buying items and scanning them in. NCP Mobile wants a decent amount of information. For example, when I tried it I had to provide details about what I paid, whether I used coupons, whether the product was on sale and various other pieces of information.
None of the questions were difficult, but the time involved does add up.
While the app gets a decent average on Google Play (4.4 at the time of writing), some people feel that the whole process takes too long for the rewards provided. Other reviewers are more positive and have been successful at cashing out from the company.
Still, it does seem like this app doesn't reward much more than other rebate apps, even though it asks members to do more.
15. CheckPoints Rewards

This is one of the most interesting types of rebate apps that I've seen. Unlike most of them, CheckPoints Rewards doesn't seem to require you to purchase anything.
The idea is to 'check them out' instead. This is done by scanning the barcodes.
It is also possible to scan receipts, although the process seems to be less reliable. Hopefully, the issues get fixed with future app updates.
I found the app quite enjoyable when I tried it out. I wasn't able to use the local shopping aspect, as there aren't many chain stores in my local area. Even so, I was able to earn points through other parts of the app.
If you live in an area where all parts of the app will work well, then you're likely to rack up points even faster.
Honestly, there are tons of various apps that claim to help you "make money", but really there are two facts to consider. 1) Most of them don't actually work. 2) If you can make money, it's not going be very much. If I'm going to spend any amount of time working online, I want to be working for myself by building my own profitable website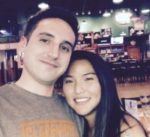 Nathaniell
What's up ladies and dudes! Great to finally meet you, and I hope you enjoyed this post. My name is Nathaniell and I'm the owner of One More Cup of Coffee. I started my first online business in 2010 promoting computer software and now I help newbies start their own businesses. Sign up for my #1 recommended training course and learn how to start your business for FREE!