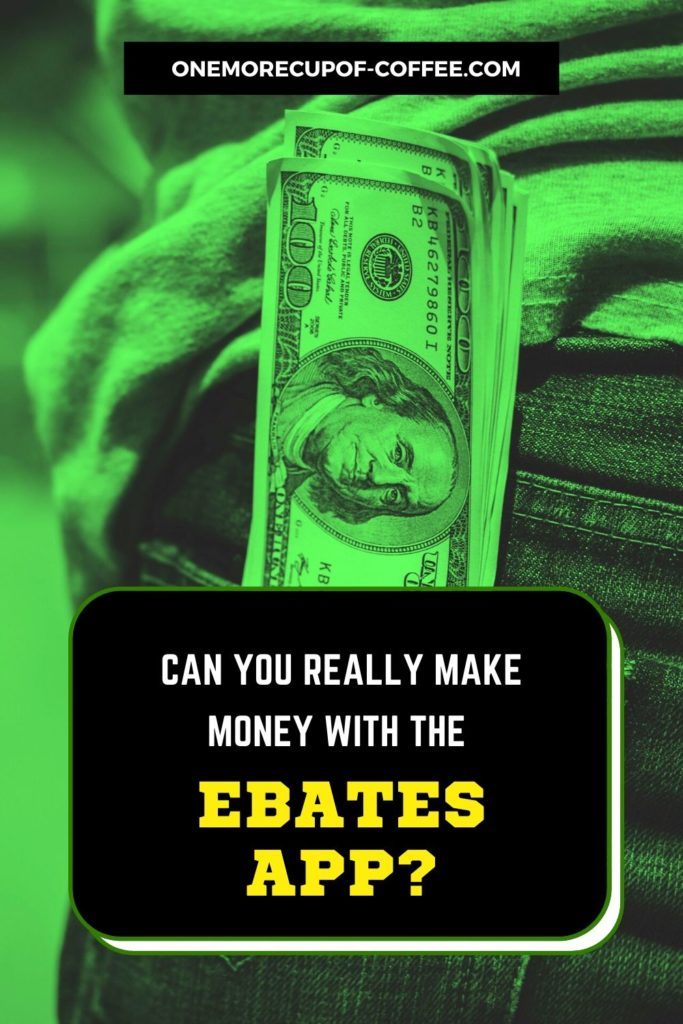 We've been hearing a lot about this one lately—so we finally decided that it was time to review it. We love to save money and earn extra cash, and this app seems to be right up our alley. But can you really make money with the Ebates app?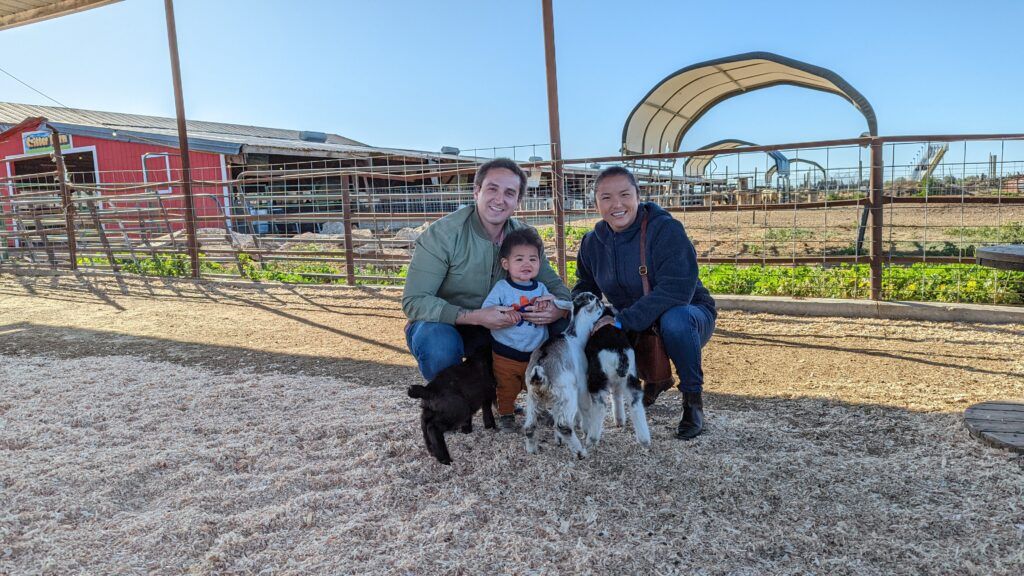 Are You Ready To Work Your Ass Off to Earn Your Lifestyle?
Are you tired of the daily grind? With a laptop and an internet connection I built a small website to generate income, and my life completely changed. Let me show you exactly how I've been doing it for more than 13 years.
This was our big question, so we downloaded it and decided to try it for ourselves.
Here's what I found out over the course of my research.
Making Money With The EBates App
Let's start with the obvious question, what is Ebates?
Ebates is an app on the Google Play store that is said to give you coupons and cash back at Expedia, Groupon, Macy's, Sephora, Target, Walmart, and other stores.
Here is a quote from the Google Play listing that helps to explain exactly what the app does.
"Buy online and earn rewards when shopping online with money saving Cash Back, coupon savings, best buy deals and more. Save even more with coupon sale deals."
The app has over 1 million downloads, has a pretty awesome 4.5 star rating, and has been reviewed by almost 40,000 people. It seems to have a really good reputation online, but we were interested to see if we could really save (or make) some cash with it in the real world.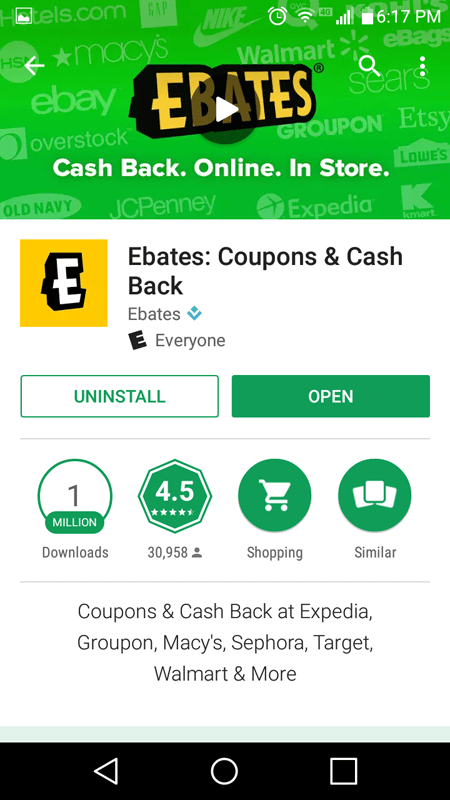 Here's what we found out.
Opening Up Ebates And Getting Started
Opening up Ebates brought me to this page.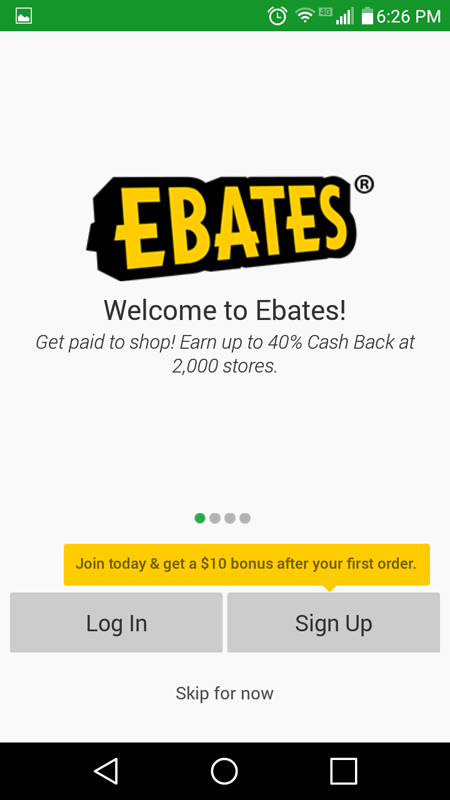 I signed up using my Facebook account, which worked pretty well. It was fast and painless, as usual.
Next, I was taken to this page… which seemed to be the 'hub' of the app.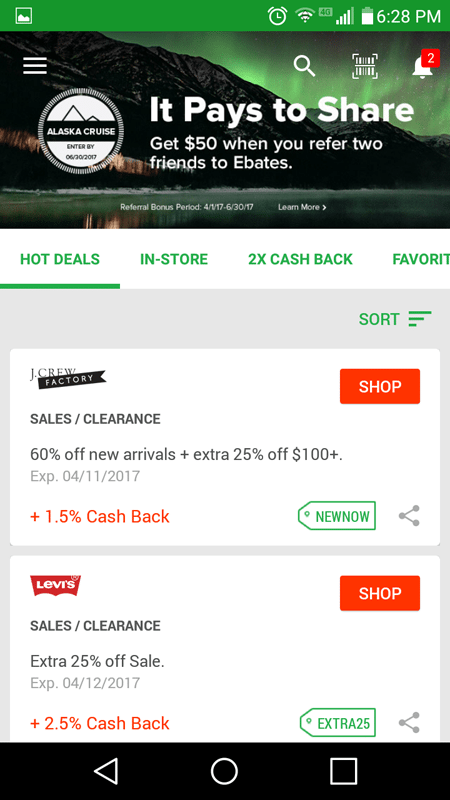 There were banner-like ads moving across the top of the page, a drop-down menu located at the top-left corner of the screen, a notification bell icon at the top right, a search bar, and a number of buttons located in a menu-type tab just below the ad banners. These gave me options like Hot Deals, In-Store, 2X Cash Back, and Favorites.
I could also sort through what looked like ad listings. Here are some examples of the types of listings that I was seeing as I scrolled down through them.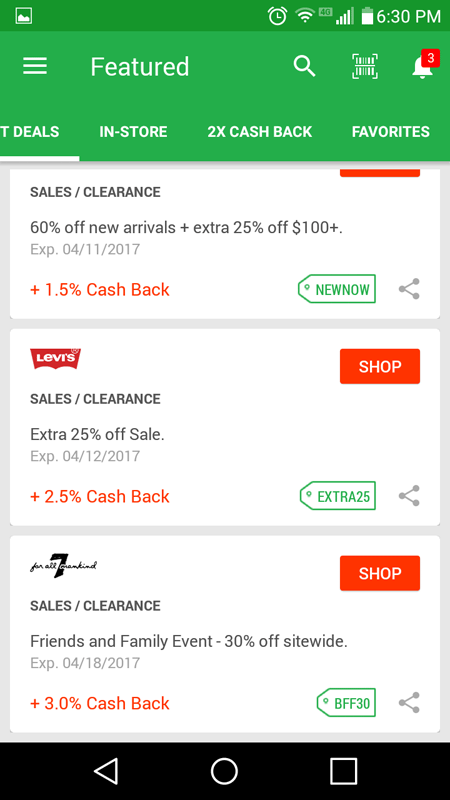 So at this point, I saw right away that the app offered a lot of deals on different products from different stores. But I still wasn't sure how you would cash-in on the deals or what you had to do to get the savings/cash back, so I clicked on one of the sale ads to get a better idea of what was in them.
A Closer Look At The Sale Ads On Ebates
I was about to click on one of the ads and take a closer look at the listing, but as I tried to do that, this screen popped up.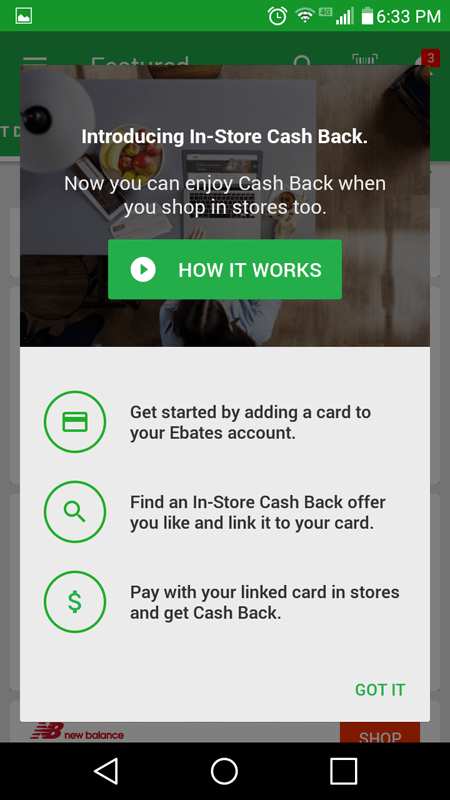 Apparently, you can use this app in-store to get cash back, which was a pretty cool feature, I thought. But anyway, I decided to go ahead and keep things moving by closing out this page and moving ahead to the ad listings.
I clicked on a Levi's ad, which did something quite unexpected. First of all, it told me that my Levi's discount was activated, then it automatically copied a discount code into my phones clipboard, and told me to paste the discount code into the box at checkout.
Then, my phone was directed to the Levi store to go shopping.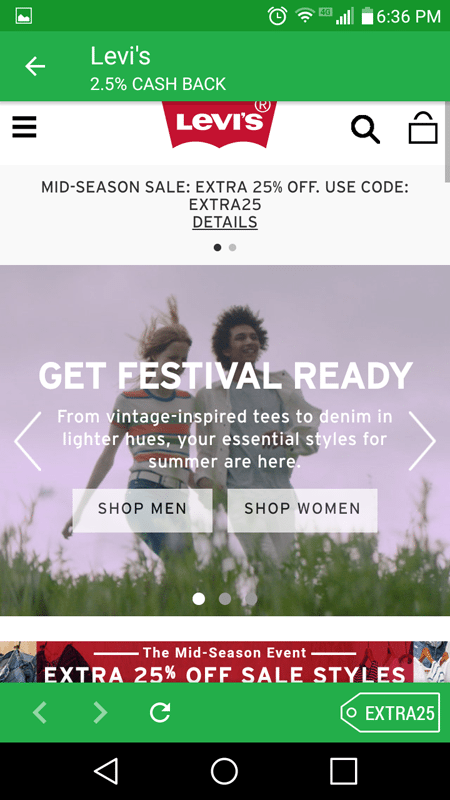 Apparently, using this code, I could get 2.5% cash back, which is a decent deal. Obviously there are a lot of these types of deals available on Ebates. This was only one of the many options, but it was a good example of exactly what the app could do for me.
After this, I decided to go back to the app to see what kind of variety I could find in the listings. Could I find deals for items or stores that I would be interested in?
How Relevant Were The Stores And Deals On Ebates
I found sales for a wide variety of different stores. Here are just a few that were represented in the list…
J. Crew Factory
Levi's
For All Mankind
New Balance
H&R Block
Naturalizer
The Body Shop
New York & Company
Sephora
And the list went on and on.
I found a pretty good deal on Express, which is a store that I tend to shop at from time to time. I also found some cool stuff for Travelocity, and for Orbitz as well—which were two companies that I sometimes use when traveling.
I'm honestly not much of a 'shopper,' to be completely fair. I order most of the things I buy on Amazon.com, or pick them up at the local Walmart (I know… feeding the corporate monster… I'm not proud of myself).
But still, I found some deals that I would probably make use of on the app… especially if I was planning on a purchase and I checked the app off and on as the time for the purchase arrived, and waited to make use of it until I found a listing that would help me.
There was also a barcode scanner that you could use to scan barcodes to get cash back in-store. This was what it looked like.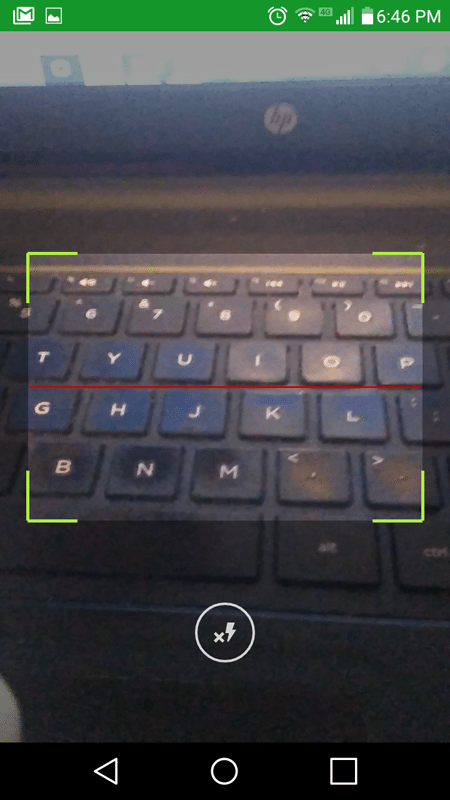 All in all, it seemed to work nicely.
How Do You Get Your Money With Ebates?
With Ebates, you can actually layer your savings—which is really cool. You earn cash back through the app, but you can also use coupons and other savings tools to get even bigger discounts… and they can all add up together when you use Ebates.
Your cash back is then saved up on the site, and the company will mail you a check every quarter with your cash back included on it.
I will admit that I was pretty impressed by this detail. Not only can you layer savings and earn cash back, but you get your money in check-form four times per year!
Is Ebates Worth The Time To Use?
Here is what I will say about Ebates.
Yes, it is worth the time to use—but it probably won't really give you any real benefits unless you use it consistently. If you shop a lot, love looking for deals, and love using shopping apps, then this app might be perfect for you.
Technically, the app works like a charm. There are also a lot of awesome deals on it, and the cash back can really, really add up quickly.
Obviously, the amount of money that you can make on this app is directly related to how much stuff you buy—but if you are going to be buying stuff anyway, why not use the app and make some sweet cash back on it?
The app is easy to understand, easy to use, and pretty simple to figure out. It won't take you but a few minutes of trying it out to get the hang of it.
And once you start racking up cash back, you'll realize why Ebates has such a positive user rating on Google Play.
The Basic Upsides And Downsides To Ebates
Here are the basic upsides and downsides to this app, in my opinion.
Upsides… It works well, it looks good, it can make you some serious cash back, and can get you some sweet deals.
Downsides… It won't really help you that much if you don't do a lot of name-brand online shopping, it won't earn you any cash unless you spend money, and you can't always find the types of stores that you would like to shop at available in the app.
But with that being said, there are a lot of stores featured on this app, and I feel like you would be hard pressed not to be able to find at least a few that fit into your purchasing schedule.
Another possible downside is the fact that the app won't help you much in a one-off context. Making one purchase won't get you enough cash back to make it worth your time.
You would need to use it at least fairly consistently to really see some good cash back in the quarterly checks… so if you're not really a shopper, this app might not be for you.
But if you love shopping apps and like to save money, then Ebates just might be your piece of cake! I may not leave it on my phone, because I seriously DO NOT do a lot of online shopping. Not enough to make it worthwhile, anyway.
But I know people who do, and I would definitely recommend this app to them, because it could really save them some serious cash and get them some pretty sweet cash back at the same time!
If you're like me and focus more on in-person shopping, receipt scanning apps might be the way to go. Fetch Rewards, Saving Star and Receipt Pal all work in this way.
Our Final Thoughts About Ebates
Should you download it and use it on your phone?
The Ebates App Review
Honestly, there are tons of various apps that claim to help you "make money", but really there are two facts to consider. 1) Most of them don't actually work. 2) If you can make money, it's not going be very much. If I'm going to spend any amount of time working online, I want to be working for myself by building my own profitable website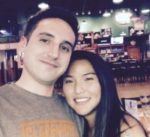 Nathaniell
What's up ladies and dudes! Great to finally meet you, and I hope you enjoyed this post. My name is Nathaniell and I'm the owner of One More Cup of Coffee. I started my first online business in 2010 promoting computer software and now I help newbies start their own businesses. Sign up for my #1 recommended training course and learn how to start your business for FREE!