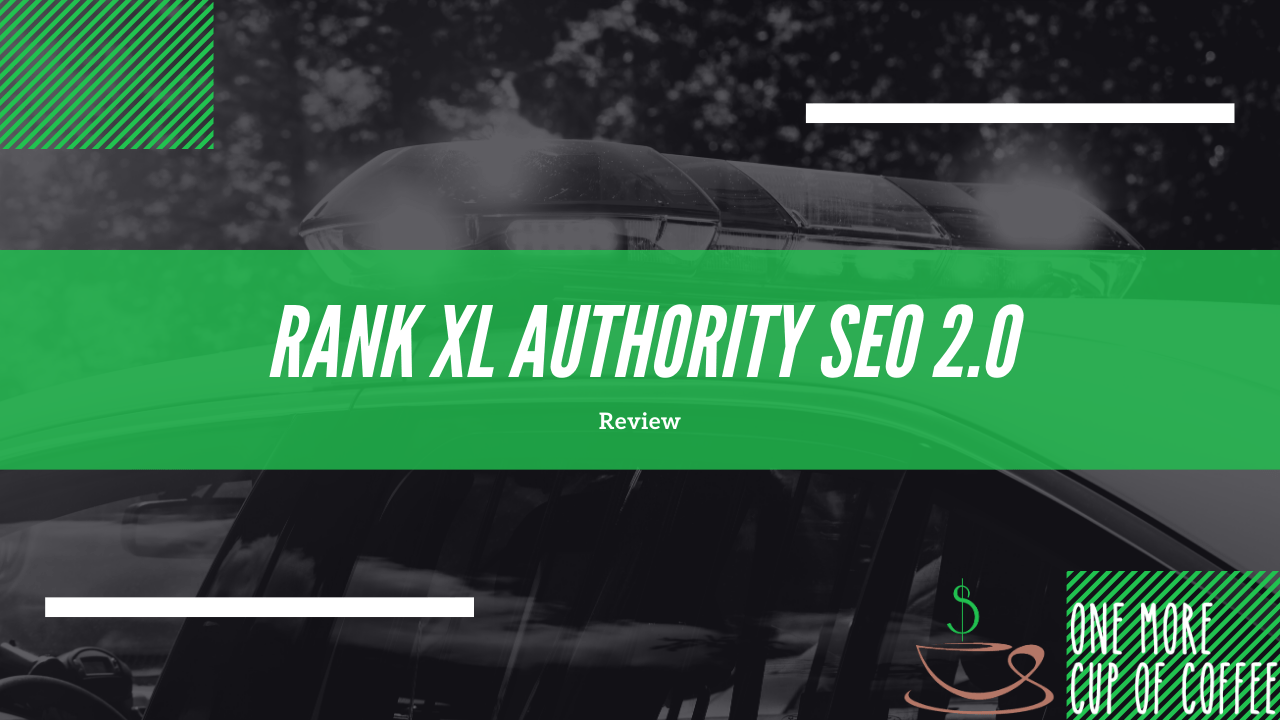 SEO is an art, not a science. As many people will tell you they have a winning formula for guaranteed success, ask them in 3-4 years, and their methods will have changed. The truth is, no one really knows how Google's algorithm defines "authority", and a best guess is still a guess.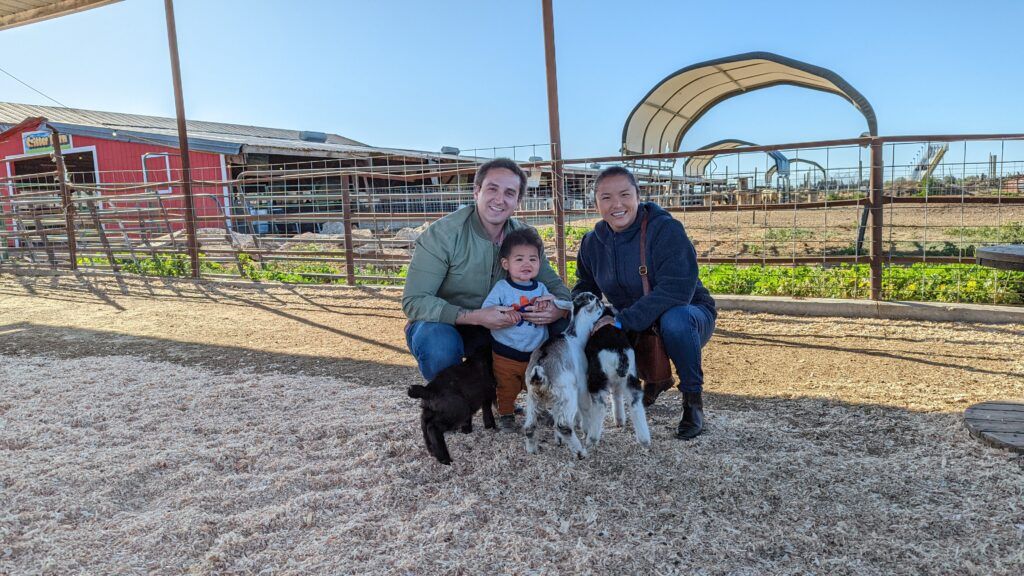 Are You Ready To Work Your Ass Off to Earn Your Lifestyle?
Are you tired of the daily grind? With a laptop and an internet connection I built a small website to generate income, and my life completely changed. Let me show you exactly how I've been doing it for more than 13 years.
The original RankXL Authority SEO was consistently one of the highest rated courses for how to start profitable website, but with the new owner, and the newly dubbed Authority SEO 2.0…does the course hold up?
I like to hold people accountable to their own advertising, so in my review of Authority SEO 2.0, I'm going to give it to you straight. Is this course really, "your passport to a better life"?
Spoiler alert. The course delivers. Authority SEO 2.0 is why I've never created my own course. So much time and work has gone into revamping and updating version 2.0, even at the price of $599, it's a great deal.
THIS PRODUCT IS NO LONGER AVAILABLE
Just a quick note here. Despite the fact that I thought this product was awesome and worth the high price, it's no longer available. This is pretty much par for the course with internet marketing products. Very few last more than 1-2 years before the founders get bored and move on to other projects. This is why I heavily encourage people to join Wealthy Affiliate instead. They've been around for 15 years, and are continually innovating with new ways to help affiliate marketers start their first successful business.
Andrej Ilisin takes you from the keyword and competition research phase through 24 months of consistent content production, in a step-by-step manner that even a complete n00b could follow. It's all very clearly laid out, with examples, and there's even a Facebook group.
However, the course isn't for everyone, and before you slap down six hundred bucks, please read below to see if this course is for you. There are lots of other good courses online, and Authority SEO doesn't do everything perfectly.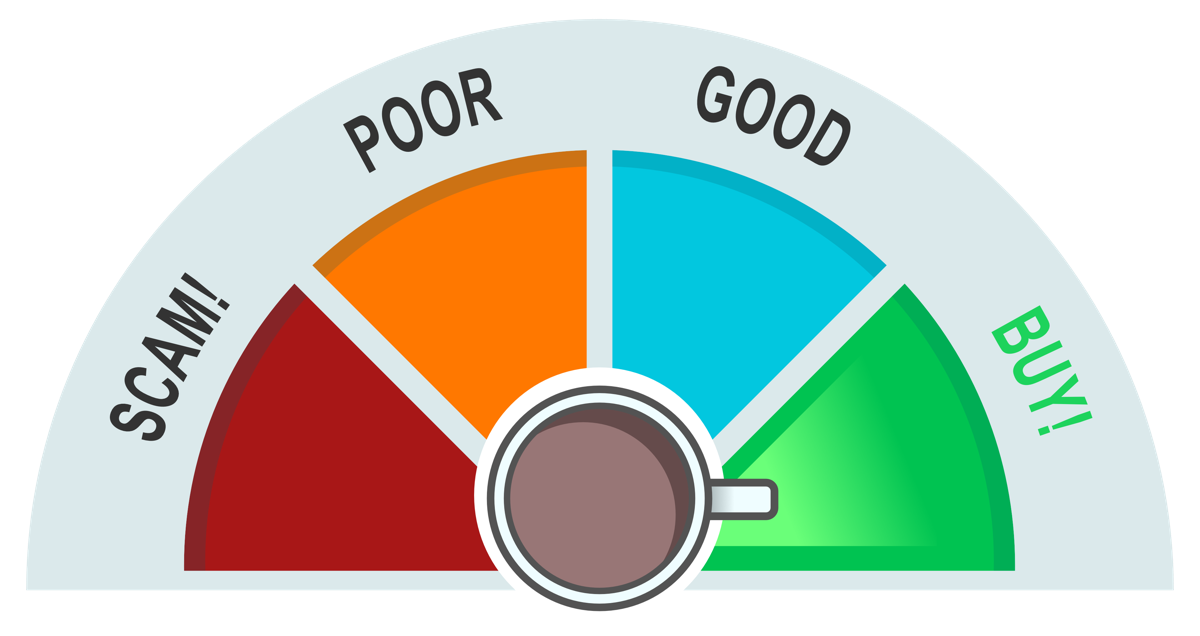 THIS PRODUCT IS NO LONGER AVAILABLE
RankXL Authority SEO 2.0 Review
I'll take a page from Andrej's book and let you know ahead of time what my Authority SEO 2.0 Review is going to cover. By the end of this blog post, you will:
know what's inside the members area of RankXL Authority SEO 2.0
have a clear view of topics covered by the lessons
see some specific examples of things I agree or disagree with
know if the Facebook group is any good
see a concise list of pros and cons of the course
Inside The Members Area
Authority SEO 2.0 is hosted on Teachable, a popular platform for online course creators. The setup is very simple. Your menus is on the left side, and content on the right. You can do the lessons in order (recommend) by clicking the "complete and continue" button, or you can skip around using the table of contents in the sidebar.
Teachable also tracks your progress, which is an incentive to complete all the lessons!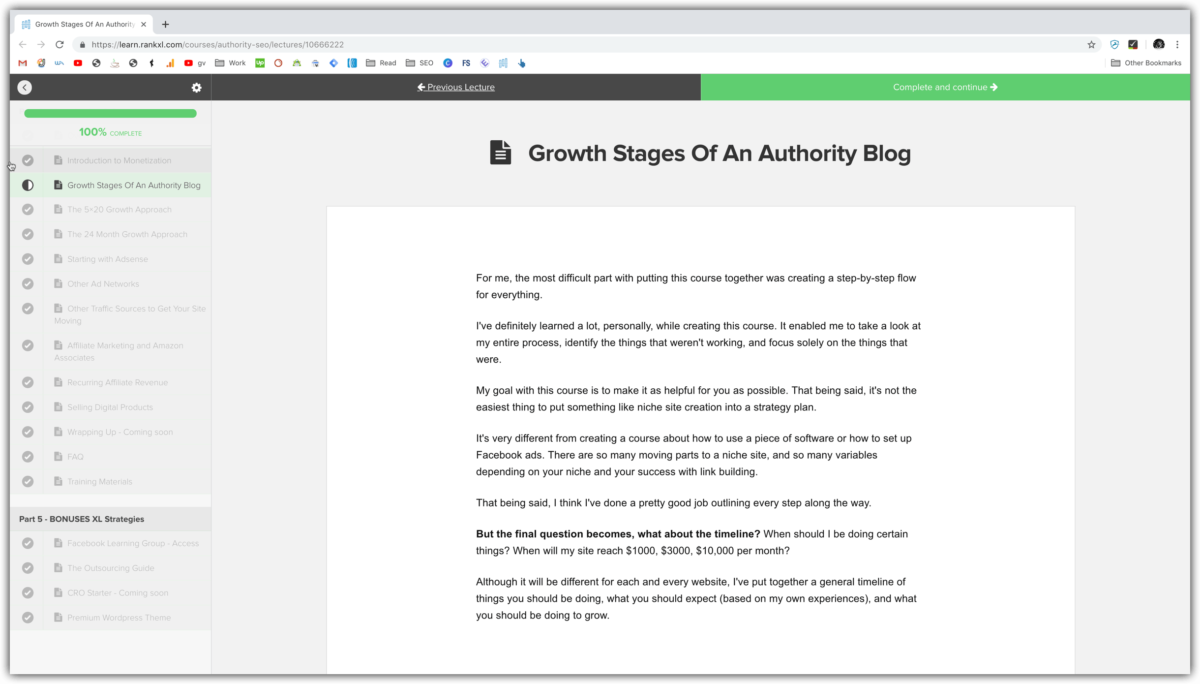 For each lesson, the vast majority of the content is written. It might not seem significant, but the font is easy to read and flows nicely. This takes some of the friction out of learning.
There are also a good amount of high quality images, links to external resources, and a "training materials" section at the end of each section with additional content, such as the 24-Month Roadmap in PDF format, or the niche selection worksheet.
I like that Andrej has included both an introduction, which includes material you will learn, as well as a wrap up section, summarizing what you did learn. This helps immensely with the learning process IMO. Too many online courses these days, especially in the world of MMO, are just slapped together in a day or two and published quickly so money-hungry affiliates can launch jack, in a kind of digital product pump and dump scheme.
Authority SEO 2.0 was clearly created with getting real results for buyers in mind.

Part 1 – Niche & Keyword Research
Part one of Authority SEO 2.0 starts off strong. The niche research advice here is legit, and very similar to my own views on picking a topic for your website I like that this courses truly does stick to the goal of creating an "authority" website, instead of micro-niche websites.
After doing this stuff for 10 years, it's clear to me that the long-term profit potential for a high traffic websites is just insane. Broadly themed websites can hit millions of visitors per month, and earn 5 figures a month, and that's just the beginning.
Andrej gives some really solid advice about aiming for a broader topic for your website, but starting out very narrow.
He gives the example of planning out a general strategy for a hobby sports website, but starting off just being an expert in bowling. Do the bowling stuff for a year, then do cricket for a year, then do mini-golf for a year, etc.
Within the content, you also get access to "the niche book", a product which previously had a price tag on it, so that's a nice bonus.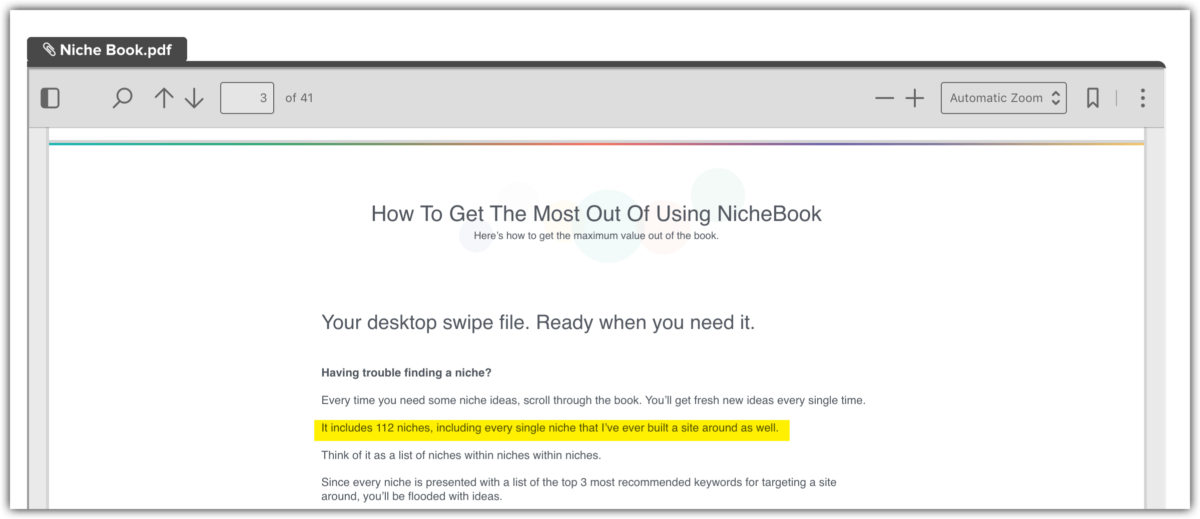 In the niche selection lessons, Andrej does a great job of explaining that you need to understand the meaning of keywords, not just the order of the words. Plus, I really like his technique of including these similar phrases in your pillar post. I haven't tested this myself, but I think it could be a good way to get your post ranked for multiple phrases, not just a single keyword.
My main critique of this section is that it gets into the weeds a little too much for newbies, right at the start. He has you checking keyword volume stats using complicated tools like Ahrefs before you're building a website, and that's going to be a huge hurdle for a lot of folks.
While it may seem counterintuitive that you should build a website without doing detailed research, to be honest, I'd rather see someone build their first WordPress website, publish content for three months, then change direction rather than get frustrated and give up because they don't understand Ahrefs.
Though it sounds a little cliché, taking action is what got me "stuck" in this business. I had websites going. I made my first sale. I saw the light at the end of the tunnel. My first websites were not successful, but it was enough experience to get me excited to work on projects that eventually turned out.
This type of information is perfect for anyone who's built a couple websites and hasn't hit their goals yet though. Actually, it took me over a week to get through this part while writing this review because I kept doing research on my own sites while going through the material. 1 hour later down the rabbit hole of competition and keyword research, I'd get back to writing this damn review.
Can't blame Andrej for that though 🙂 Good stuff. It was clear from the beginning that Authority SEO 2.0 clearly focuses on building a long term asset, not just some rank and flip niche website.
For an even more in-depth look at niche research and the initial stages of website planning, you should check out The Authority Site System.

Part 2 – On-Page SEO & Site Structure
There actually isn't much to say here. He covers the basics of how to choose a domain, get hosting, build a WordPress website, install some basic plugins, and get your first content published.
One interesting and unique thing about his recommend site structure setup was that he uses a blog roll for his home page. I do the same, but I see a ton of "gurus" all using their home page for lead capture or navigation. I honestly don't know which version is better, but my email marketing sucks, so I just leave a blog roll on the homage page and display my new, and or favorite content.
You'll also learn how to install Google Analytics in this area, which will be essential for tracking traffic, and optimizing conversions later.
In terms of on-page SEO and site structure, his setup is simple, but I think simple is the most effective. You basically have your core pages, with a few on-page optimizations, and then your blog posts will be your "fresh" content where you publish regularly.
Simple sound boring, but it works.

Part 3 – Off-Page SEO & Link Building
I'm just gonna be honest here. I think link building sucks. On all fronts. I hate spending time on it. I think most of it is deceptive. It pisses me off that someone writing garbage can outrank someone writing gold if they spend enough money on annoying outreach emails.
However, Andrej's recommend approach to link building is the most interesting method I've seen so far, apart from this, and his value-focused outreach methods is something I might actually dip my toe into at some point.
I guess my gripe about link building is that people are so damn focused on it for growth, that they forget to actually publish something worth reading. I've built two six figure websites without a single link built, so you don't need it to be successful. Flat out. I've proven it to myself, so I don't believe anyone when they say you need a link building strategy to be successful. It's BS. I'm not the only one who's figured that out either.
However, I will concede that if done smartly, building links may be able to get you authority faster. And if everyone is building links, you might have to keep up Jones's in competitive niches.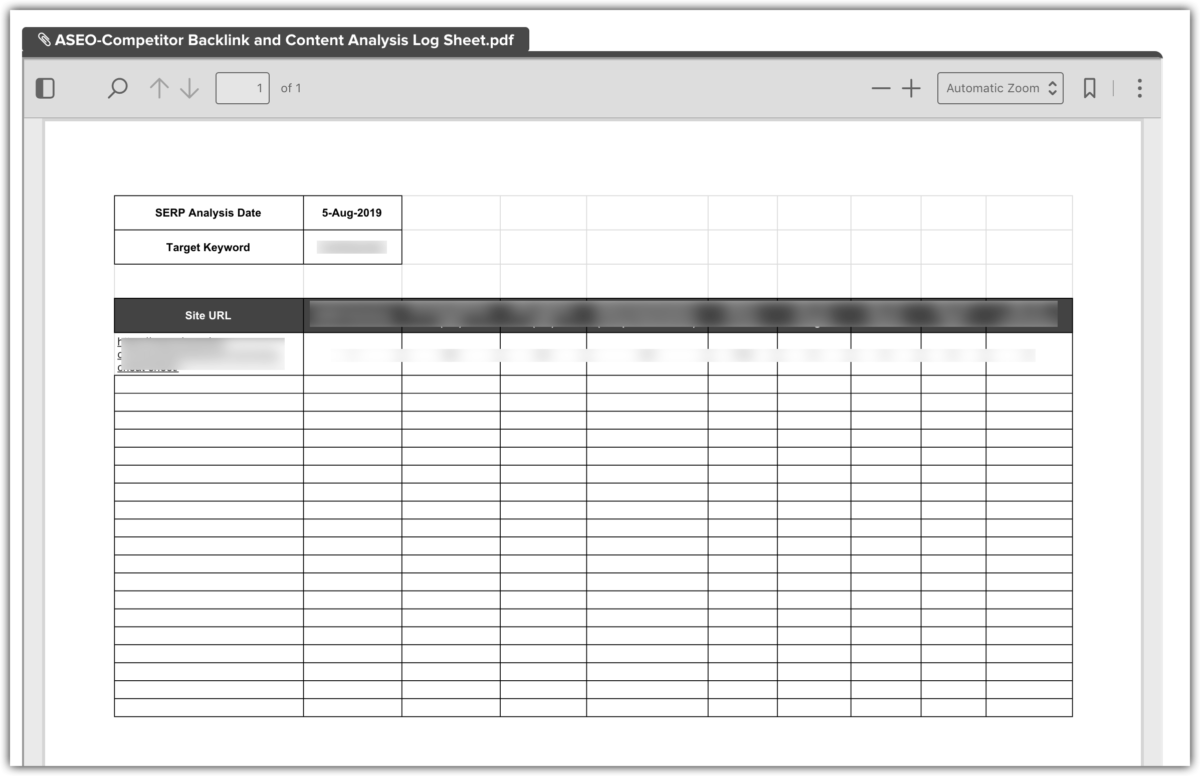 Andrej recommends publishing much less than I do. So it's a tradeoff. While I'm spending money on content, he's recommends spending money on links. Either way, it's time and money to build authority.
Even if you decide to not build links, this is a good skill to have. I don't think practicing your link building skills will hurt at all, and then you can turn around and use these skills to build your own SEO agency in the future. If your sites go belly up in the next algorithm update, boom, you have a backup plan.
At the very least, you can advertise this service on freelancer websites, and you'll be able to charge a premium now that you have experience building authority sites from the ground up.
Here's a great example of a link building strategy from Authority SEO:
Type "YOURKEYWORD inurl:links" into Google. This returns websites that have a page dedicated to resource links. From there, you can just email them and suggest that they add you to their list of resources. You can also use some search parameters to find broken links, email the website owners to let them know about the external 404, and see if they want to replace it with your link.
There are tons of ways to research broken links or other link building opportunities using these search queries.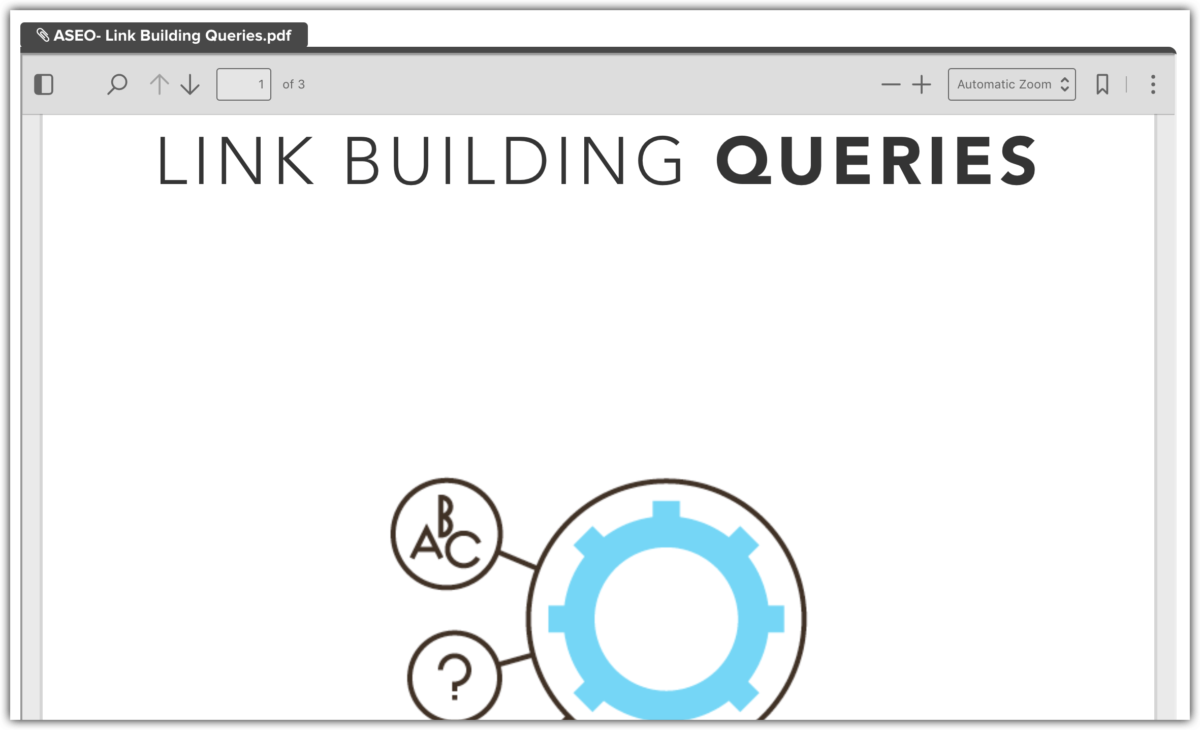 In my mind, this is actually creating value for users. You are basically doing a free website audit for the person, and helping them create a better user experience for their website visitors.
Isn't that what Google wants? Good UX and good information?
There's a bunch of other techniques too, and they all sounded pretty interesting. If you are excited about link building, first, what's wrong with you? Second, Authority SEO is my top recommended resource after 8 years of reviewing MMO products.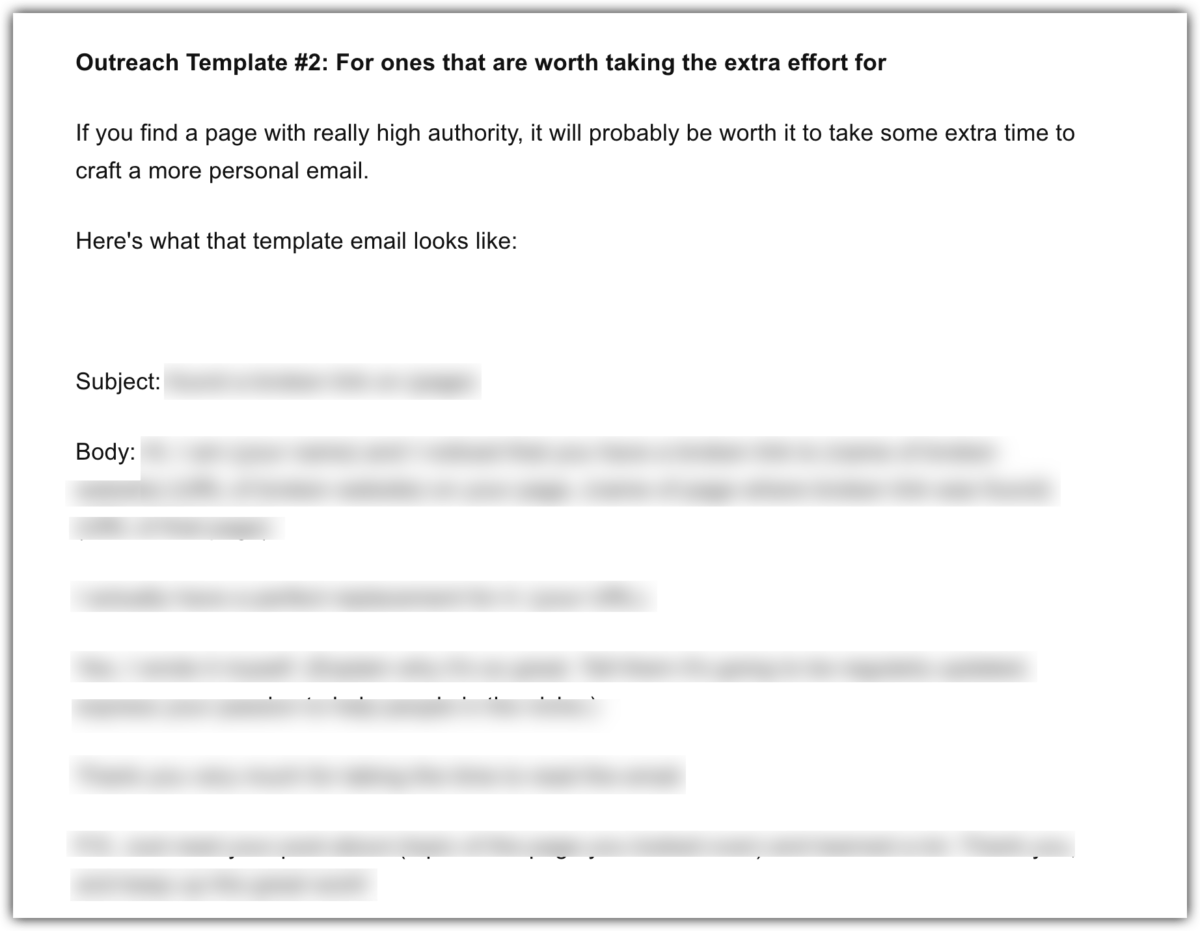 Part 4 – Monetization & Growth
The monetization section focuses on Adsense and Amazon. Both solid strategies. I used to hate on Adsense, but it's now a solid part of my online income. With a total of 10k visits a day from two websites, I pulled in about $8,500 in December 2019. Not bad.You can certainly make a lot more money doing targeted affiliate offers, especially with low traffic websites, but display ads are easy to understand, easier to scale. Just pump content out, and revenue grows in tandem with traffic.

Some of the "growth" strategies here were a little corny though, like creating fake online personas to post links to your own website in forums. Sure, it can work, but do I really want to do the work to build a fake persona in my niche to get a couple of forum links to my site? No.
I also think in the growth section, Authority SEO could have done a better job of showing writing examples of how to structure content.
I work closely with a lot of brand new affiliate marketers daily, and the content is terrible (to start). Not blaming them – I used to do the same! I'd say that maybe 1/50 people I work with start off their website with readable, rankable content. Learning how to write a good article, or a product review, or even a top 10 list is a challenge most people will face.
Can people just emulate their favorite websites? Will a lot of folks figure it out themselves? Absolutely. I'm just offering a suggestion to improve the material for this product.
In this section you'll also get the 5×20 PDF (growth strategy plan), and a 24-month roadmap. The roadmap was a little disappointing. It basically just tells you to write content and add links every month. Still, it's a decent way to look at what can happen if you put your ax to the grindstone for 24 months. It would be better with a more detailed look at what to publish over those 24 months.

My Comments About Authority SEO Training
From start to finish, Authority SEO 2.0 is a solid course. Even the structure of how everything is laid out is impressive. I love that there's a goals section before each lesson so you know what to expect, and then a review section at the end so you can see if you actually learned the material. I think this type of setup really helps with the learning process.
It's clear to me that Chris Lee (original creator), and Andrej Ilisin (new owner) have both created authority sites before, and they are speaking from experience.
I'm totally on board with the vast majority of strategies they lay out, and even though I've historically be very against doing link building campaigns, the link building advice in the course is actually something I might try on one of my new sites for 2020. Aside from the silly tactics of trying to get your links in Quora and forums by pretending to be an honest citizen who totally cares, I think most of the tactics sound legit, like the broken link finding stuff.
Complete newbies may get lost in the beginning lessons during the research phase, but just power through it. My advice is to just start a site on ANYTHING, and see what happens. If you haven't got your site built within a week of buying this course because you're worried about keyword volume or competition, you're doing it wrong. Doing something is always better than doing nothing.
As I mentioned before, I wish there were more examples of "good content" that people could follow, or even some content templates people could use. I think that could help a lot of members actually take action and start writing if they could just fill in the blank and hit publish. Even something simple like a top 10 list template, or a product review template would be helpful.
Is it worth the price of $599?
Yes. For the quality and volume of information you get, this product is appropriately priced. If you can't front that much cash, and you want to get started now a decent alternative is Savage Affiliates. That course covers very similar information (in video format only), for the price of just $197. However, the quality is obviously lower, and focuses too much on promoting junk offers from yesteryear like Clickbank.
With Savage Affiliates, you do get some really good paid ads training, and all of the training is video content, which some folks may prefer. Personally, I prefer written stuff so I can skim when I go back to review material, but video + text really is the best combination.
For a price tag much easier on your wallet (initially), my top recommendation is free to join (10 lessons), then $49/month. After 12 months, that's $588, so the price of a year is similar to what Authority SEO costs (one time fee), but paid in monthly installments is more affordable.
With that course, you also get a much more engaged community, more 1-on-1 support, and more action-taking lessons in the beginning so you basically have your niche and site structure set up by lesson 4 (of 50). It doesn't teach any backlinking at all though, which for some crazy reason turns people off, but whatever. It is what it is.

What About Support & Help?
Unfortunately, the Facebook group is pretty dead, and this is where Authority SEO 2.0 drops the ball. Don't get me wrong – Andrej, the course owner, is plugged in. I see him respond to all comments in the group. However, most activity, at least within the last few months, has mostly been support requests about people not being able to access the product.
There just isn't a thriving discussions of website builders.
It's also kind of hard to gauge how much hands-on support you get if you're a newbie and need help figuring out something simple. For example, some people just can't figure out how to connect Search Console to their site. Will someone hold your hands through the process?
Probably not.
So in my opinion, with regards to support, if you think you might struggle with the basics of setting up your website and publishing content, then Wealthy Affiliate is a perfect alternative. They have a much more robust support system, and a thriving community of helpful internet entrepreneurs. It's really a newbie-friendly community, and as a long time member, I'm answering messages daily ranging from, "Why is my header image blurry", to "How do I recover my site that was just hit by a Google update"
Of course, you'll still have YouTube, and there are tens of thousands of free written tutorial you can reference online. The information is out there if you search for it. But you'll need to be an independent learner to get through the Authority SEO course.

Pros & Cons
Pros
solid quality of information at a fair price
no upgrades or upsells in the back end
learning-focused lessons structure, with goals and lesson reviews
includes ALL necessary information to publish and rank an authority website
great competition research lessons
focuses on building monster authority websites, not just rank & flip niche sites
high quality backlinking strategies (+ email templates)
Cons
large, one-time investment
needs more writing tutorials
Facebook group is dead
limited access to 1-on-1 help
no example website to follow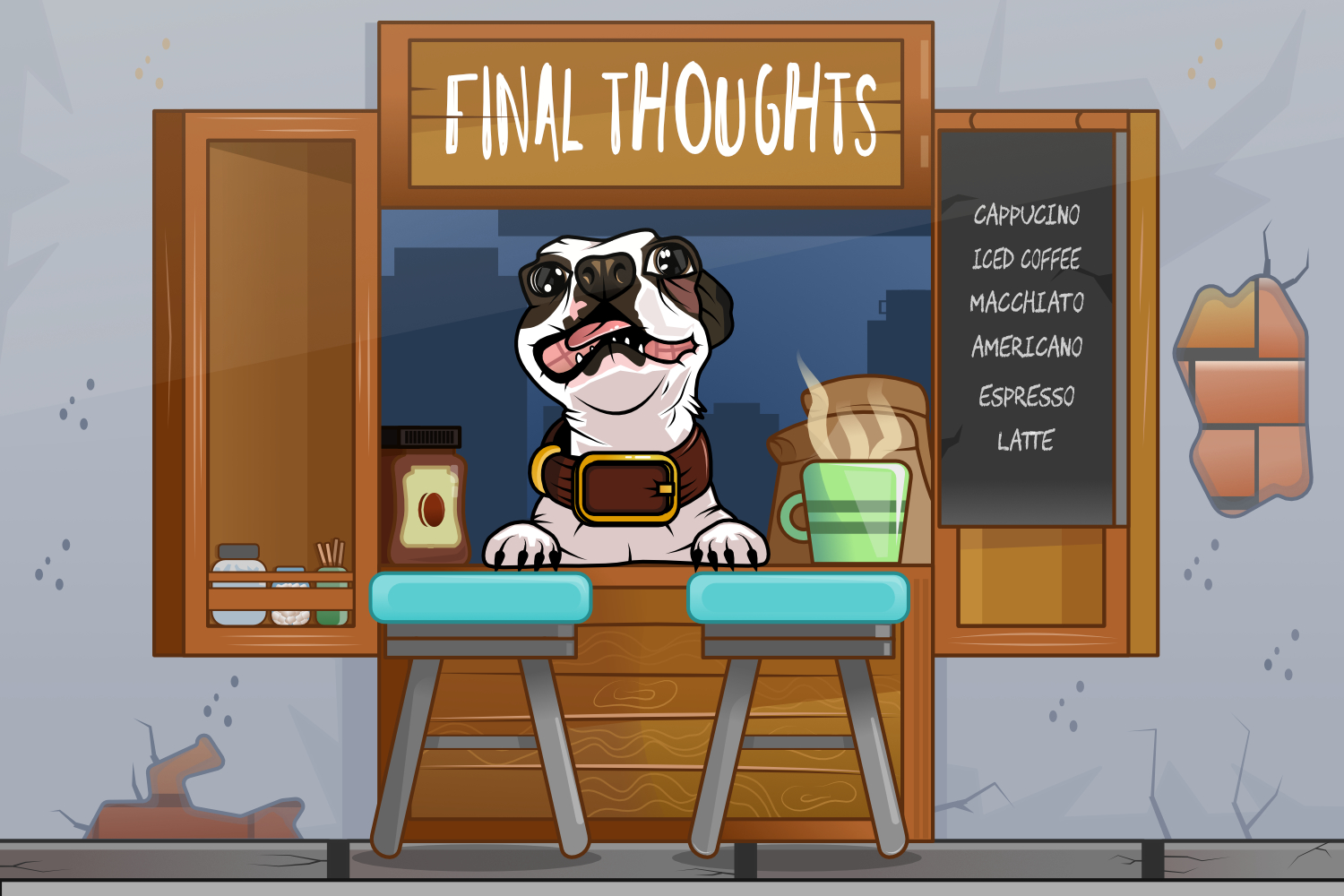 Should you buy RankXL Authority SEO?
$599 is a lot to drop on a course you aren't sure isn't going to actually work. When is the last time you dropped that much cash on a book or a DVD? Never.
At the same time, $599 is a drop in the bucket in terms of what you can earn with an authority website. If you follow the advice in Authority SEO 2.0 and actually do the work required for the next 24 months, your website could easily be earning thousands of dollars per month.
So from an investment standpoint, spending a few hundred dollars one time, to earn thousands of dollars over and over and over again just makes sense.
If you're serious about getting to work and making money online, I highly recommend this product from RankXL.
There are many ways to make money online though! Who is Authority SEO best for? Someone who…
has at least 1-2 hours per day time to dedicate to starting a business
doesn't want to create their own product (ecommerce)
doesn't want to source product from China (dropshipping)
can research/write articles, or is willing to learn the process of researching/writing online content
has a topic they want to learn a lot about
sees the incredible potential and profitability of starting websites
Who shouldn't buy Authority SEO? Someone who…
expects 100% ROI within the first few months
wants to outsource everything on a budget (low quality content)
needs 1-on-1 coaching or support
doesn't believe they can become an expert in any topic
Don't forget that content-based websites typically sell for between 20x and 40x monthly earnings, so a site earning $10k/month can sell for $400,000, so after 24 months you could possibly bank a half a million dollar payday. No, I'm not exaggerating. $10k/month after 2 years of work is a completely reasonable possibly.
Unfortunately, since this product is no longer available, there is literally only one other course to recommend if you want step-by-step lessons with support. Sure, there are cheap PDFs you can buy but they are usually just "funnels" to get you to buy expensive mentorships and other garbage. As far as legit, long term learning to blog programs, there's really not that many good ones to choose from.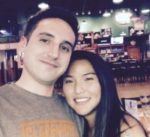 Nathaniell
What's up ladies and dudes! Great to finally meet you, and I hope you enjoyed this post. My name is Nathaniell and I'm the owner of One More Cup of Coffee. I started my first online business in 2010 promoting computer software and now I help newbies start their own businesses. Sign up for my #1 recommended training course and learn how to start your business for FREE!