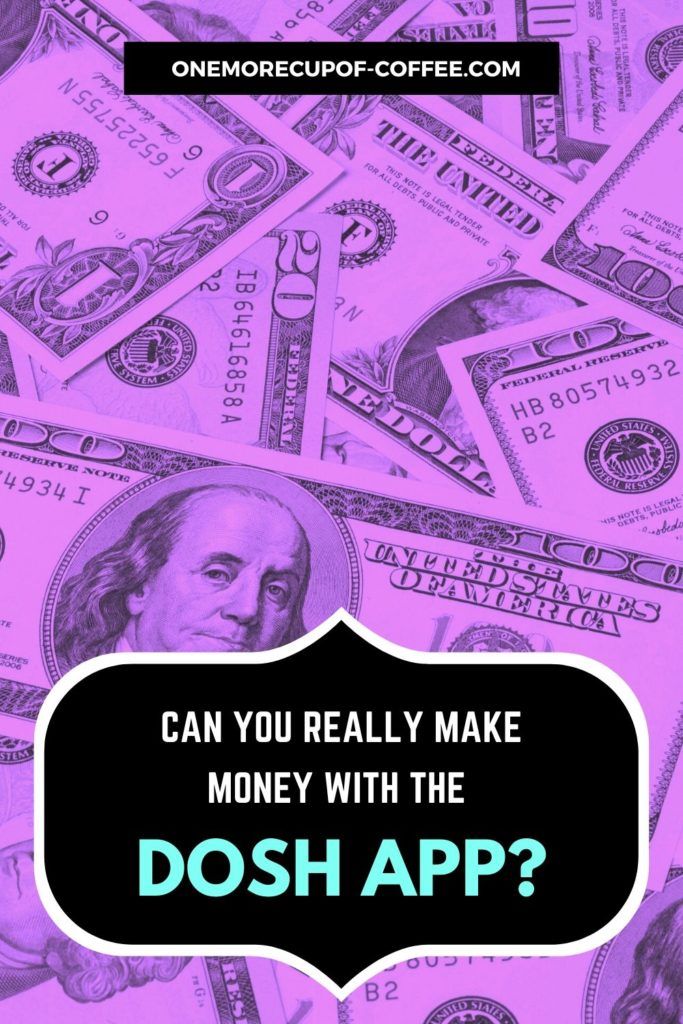 This app was #10 Trending in the Shopping category on Google Play when we discovered it. But can you really make money with the Dosh app?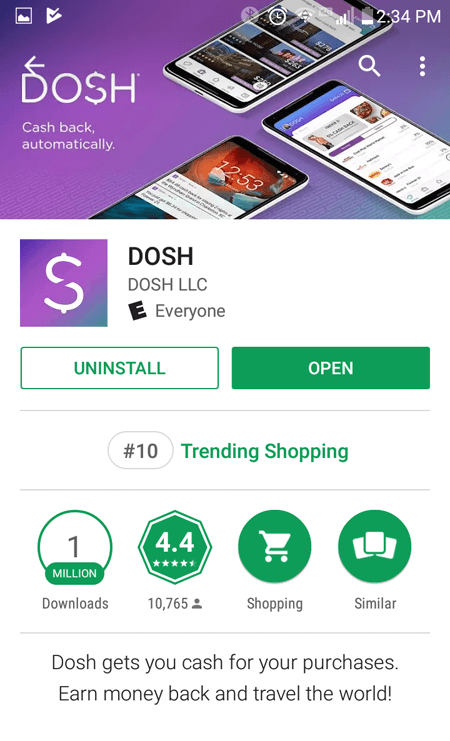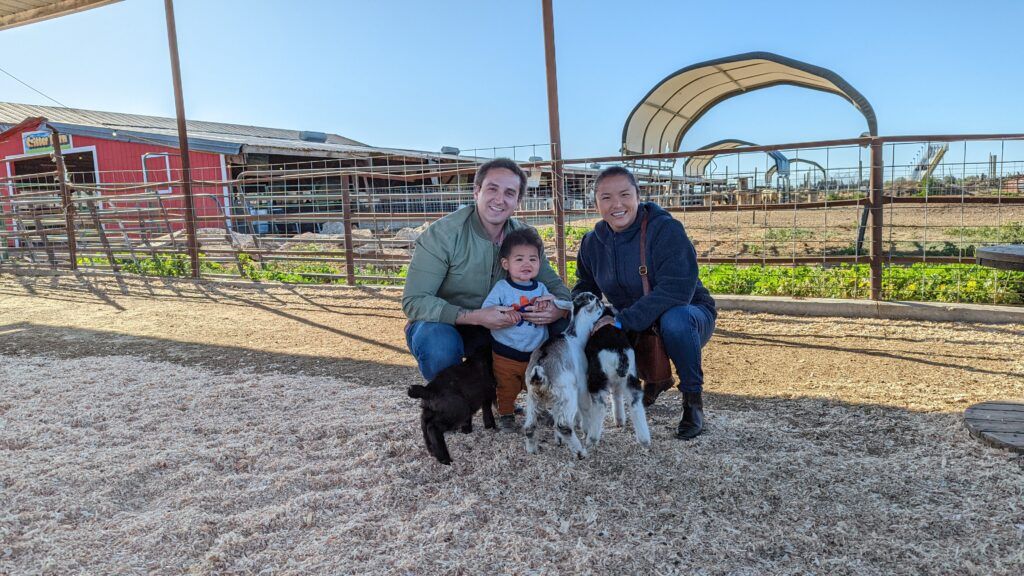 Are You Ready To Work Your Ass Off to Earn Your Lifestyle?
Are you tired of the daily grind? With a laptop and an internet connection I built a small website to generate income, and my life completely changed. Let me show you exactly how I've been doing it for more than 13 years.
It boasts over 1 million downloads, has a 4.4 star rating, and has been getting quite a bit of 'buzz' lately on the internet. But what is it all about? Why exactly is Dosh trending, and why should you pay attention to it?
These are all good questions, and when I first started my research, I had no idea how to answer them. So I downloaded the app for myself and decided to get to work. Here is what I found.
Making Money With The Dosh App
On the home screen of the Dosh listing in the Google Play Store, this short description is used to tell us what it is.
"Dosh gets you cash for your purchases. Earn money back and travel the world!"
So from this, we can safely assume that Dosh is some kind of cash-back app that earns you cash-back on purchases. They also mention travel… so maybe it earns you a particularly large percentage on travel-based purchases?
I will admit that some of the best money-making apps that I've ever reviewed were cash-back apps, like Ibotta, but even these types of apps tend to come with a common downside.
The best thing about cash back apps is that they truly do present you with 'free' money… meaning that you don't really have to do anything (other than purchase a product that you were going to purchase anyway) to make cash off of them.
But the bad part? Well, some of these apps do not offer cash back on a wide-enough variety of products. This means that you may or may not ever be able to even earn anything.
Or, worst-case scenario, you want so badly to use them that they actually increase your odds of making the choice to spend money on things that you wouldn't normally spend it on to begin with.
So, in other words, some cash-back apps can actually help you to make some sweet extra cash, while others are not so good at it.
But what about Dosh? How does Dosh fit into this equation?
When I visited Dosh.cash to see what I could discover about the app, I was greeted with a very well-done website where I was able to learn quite a bit more about the app. Here is a screenshot of one of the screens.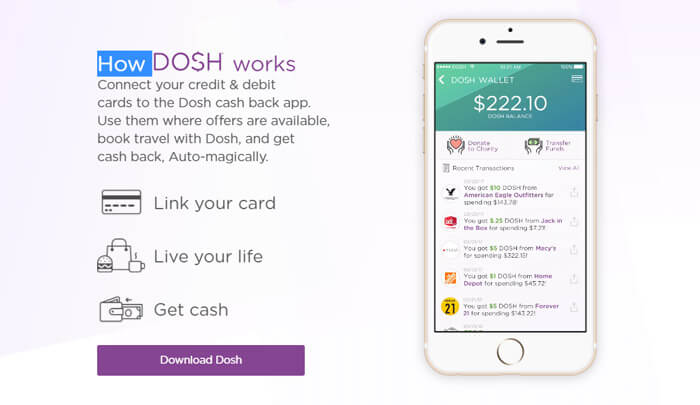 So here we learn a few interesting things. First, we learned that you can connect your credit and debit cards to the app. Then, you can use them wherever offers are available. You can, however, book traveling expenses through Dosh, and earn cash back 'Auto-Magically.'
I was still not sure why travel kept getting mentioned. I think they just wanted to make sure everyone knows that earning cash-back for traveling expenses is an option. But anyway, I kept on looking around.
I also learned another really cool thing about the app on the website. I learned that, unlike some other apps in this category, you do not have to…
Scan UPCs
Take photos of receipts
Mail in any rebates
Use promo codes
Or even use the app in-store
This was all pretty good information, actually—because this can also be part of a problem with these types of apps that can get a bit tiresome. Apps that require you to take these extra steps can most certainly be a pain… so kudos to Dosh for sidestepping all of this.
I also learned that the app works with a huge number of name brands (over 100,000 hotels, stores, restaurants, and online brands, to be more exact). Seriously… most stores that you can think of that are popular are supported by this app, which is awesome.
The app even supports a lot of hotels, which is really good for traveling. You can actually get better rates for hotels through Dosh, and can even get cash back in addition to that… which is a super-good deal!
How Does Dosh Work?
To join Dosh, you first have to give them your cell phone number. Once you do, they will text you a code that you will need to enter to verify your account.
Next, you will need to fill out some basic information. Your name and email are included in this, and you will need to create a password.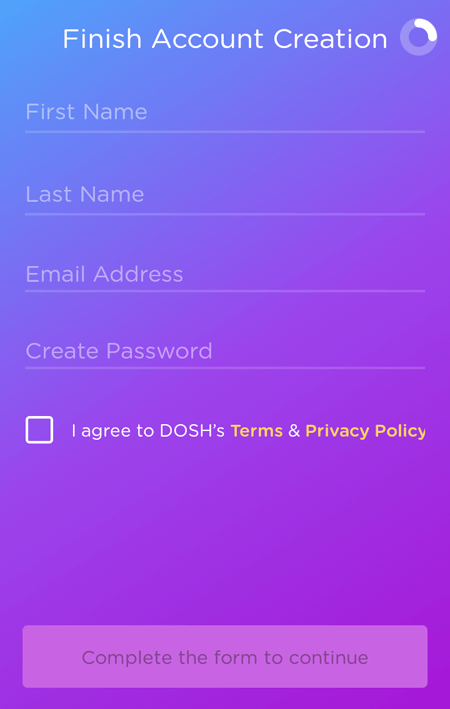 Next, they ask if they can enable the location on your device. And from what I can tell, this is actually pretty important—because the app seems to be designed to help you find qualifying stores that are close-by. So I went ahead and enabled it.
After this, I arrived at what seemed to be the 'main hub' of the app. Here is a picture of it.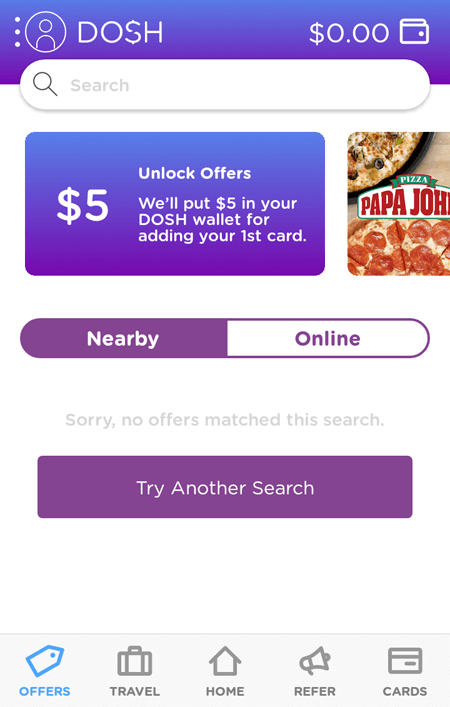 So here, I learned a few things. First, I learned that I had no new deals in my immediate vicinity. And two, I learned that I could make a quick $5 for adding my first card.
I wasn't surprised that I didn't have any matches nearby, because I do live in a very small town in the rural Midwestern United States. And honestly, most cash-back apps are not really useful to me here. But for people who live in larger towns, this app would definitely be useful!
At any rate, I wanted to see what other people thought of the app as well, so I did some searching online. Here is what I found out.
What Do Other People Think Of The Dosh App?
I started searching online for some Dosh app reviews, and was not disappointed. I learned a lot from these reviews, mostly about how the app functioned.
For example, I learned how the coupon features worked. Here is an example of one of them that was displayed on my home screen.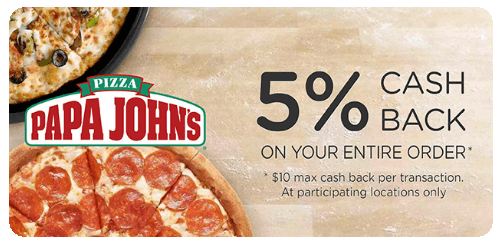 I found out that I can use these coupons to get some pretty awesome cash back, which is not a bad deal at all. This one promised to give me 5% cash back, up to $10 max per transaction, at Papa Johns.
I also found out that they pay out via PayPal or Direct Deposit once you've accumulated at least $15 in your account. I also found out that they pay out quickly and without hassle, which is awesome.
I also found out that you don't have to connect your cards if you don't want to. Some people, admittedly, get nervous about this… and for good reason. In this age, electronic theft and nonsense like that is a real danger.
I do feel that Dosh is a trustworthy app, but it is also good to know that you can still earn cash-back even without linking your cards.
Overall, I discovered a lot of cool things about Dosh through reading other reviews. I also found out that it has a good reputation on Google Play.
And last, but certainly not least, through using the app, I found out that it is actually a pretty cool way to earn extra money, despite not working as well in my immediate vicinity (due to how rural it is).
But, when I do travel to a larger city, I plan to give it a try… and everything that I've seen and read, up until now, supports my theory; that this is actually a better method for earning cash back than most other apps can offer.
My Personal Feelings About The Dosh App
Personally, I liked this app a lot. It is a bit limited in the sense that you cannot use it at every store. But it also makes up for this a bit by giving you a TON of options for really good cash back at a LOT of businesses. This is especially true if you like to eat out or get hotel rooms while traveling.
If you want to try a cash back app, and think that you might like to do a bit of traveling with one, then I would really recommend the Dosh App – or to at least give it a try. If you link your cards you will be able to maximize the app's potential—but you can also do well with it without taking this step.
I also really love that you don't have to scan bar-codes, save receipts, or deal with any of that nonsense. Drop is another app that has a similar feature.
I am going to be giving this one a try, just to see what I can come up with. Hopefully it ends up staying as good as it was when I tried it out the first time.
But yeah. Two thumbs up for this one. Dosh is a bit of a winner, in my book. Give it a try if you're looking to make some extra cash. You won't get rich off of it, but it can certainly generate a bit of extra spending money for you along the way—and every little bit helps!
Our Final Thoughts About The Dosh App
Should you download it and use it to make some extra cash?
Dosh App Review
Honestly, there are tons of various apps that claim to help you "make money", but really there are two facts to consider. 1) Most of them don't actually work. 2) If you can make money, it's not going be very much. If I'm going to spend any amount of time working online, I want to be working for myself by building my own profitable website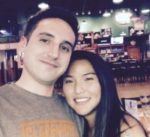 Nathaniell
What's up ladies and dudes! Great to finally meet you, and I hope you enjoyed this post. My name is Nathaniell and I'm the owner of One More Cup of Coffee. I started my first online business in 2010 promoting computer software and now I help newbies start their own businesses. Sign up for my #1 recommended training course and learn how to start your business for FREE!