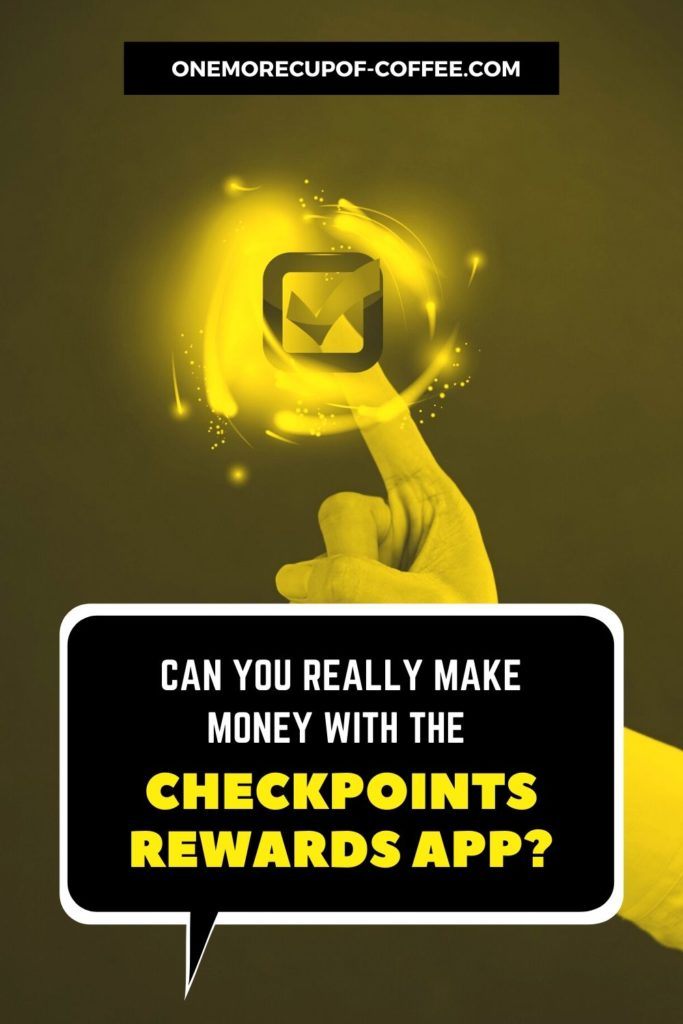 Who doesn't love gift cards? They are pretty much the same as extra cash, especially if you can get them for businesses that you use on a regular basis. But can you really make money with the Checkpoints Rewards App?
I found this Google Play offering as I was looking for ways to earn more cash, so naturally I was pretty excited when I stumbled across it.
But… does it really work?
Making Money With The CheckPoints Rewards App
The first thing to look at is the app itself. I was surprised to find that the Google Play stats for it are actually pretty good. There was also a cool little intro video hosted on the listing for it, which was kind of cool.
You can view the video here, on the app Youtube channel. To be honest, it did a really good job of explaining what the app does and how it works.
This is what I call a shopping app. Basically, Checkpoints rewards you for shopping, but it does so in a way that I haven't seen very regularly among other apps that I've checked out in the past (like Checkout51, Ibotta or Ebates).
With this app, it doesn't actually sound like you have to buy products to earn points. Instead, you just have to 'check them out' by scanning the barcode with your phone.
Then you earn points, which you can then trade in for gift cards to your favorite businesses, etc. You can also get PayPal cash-outs, which is pretty sweet.
So, I will admit that this idea intrigued me a bit. I love the idea that I am not necessarily required to buy something to make extra cash.
And besides, I will also admit that shopping/cash back apps are generally my favorite types of apps for making extra cash, for a lot of reasons—but usually because the work-to-pay ratio is better in the long run.
But anyway, let's take a closer look at CheckPoints to see if it really is all that it's cracked up to be.
Opening Up The Checkpoints Rewards App For The First Time
First, let's take a look at the Google Play information. The app has over 500,000 downloads, boasts a rating of 4.1 stars, and has been reviewed by over 22,000 users.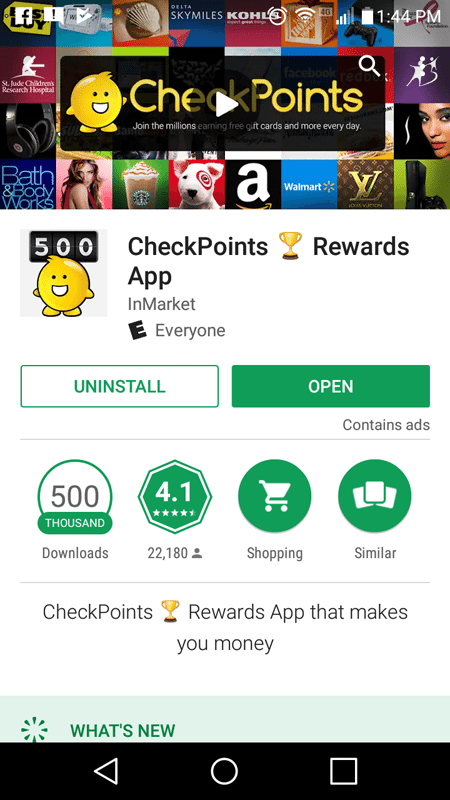 These are all good stats. So, thus-far, everything was looking pretty good.
Opening up the app for the first time revealed this get-started screen, after a brief loading screen that boasted the same basic background design.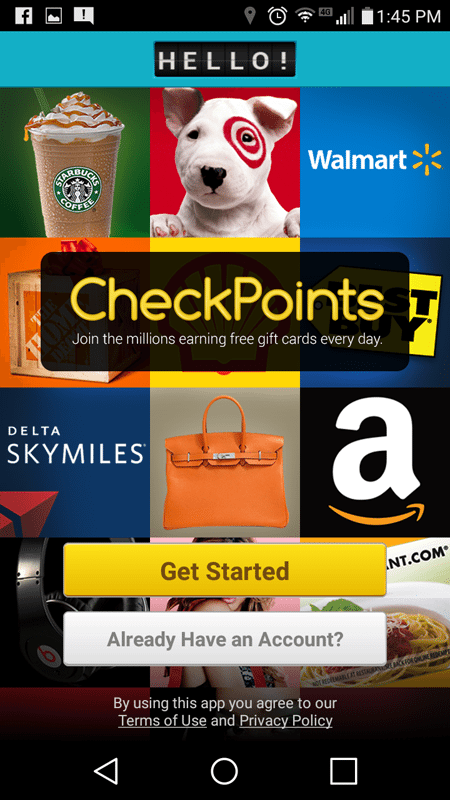 I loved the colors in this app, and I was a pretty big fan of the design thus-far. It was really vibrant and beautiful, and certainly made me feel like it was professionally designed—at least in an aesthetic sense.
Clicking on the 'Get Started' button led me to this screen, which basically described how the app worked.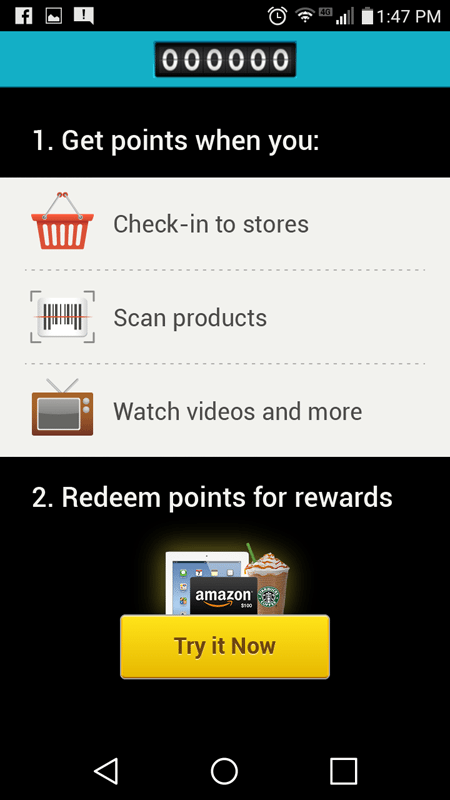 I clicked on through to the next page, and was brought to a screen where I could check in where I was at this current moment. I could choose either school, work, or home. Since I was at home, I checked in at home—and promptly earned 2 points.
Then, a barcode scanner popped up—and gave me instructions to just 'grab a nearby product and scan it.' I was drinking an energy drink at the moment, so I scanned it—and was promptly rewarded with 12 more points!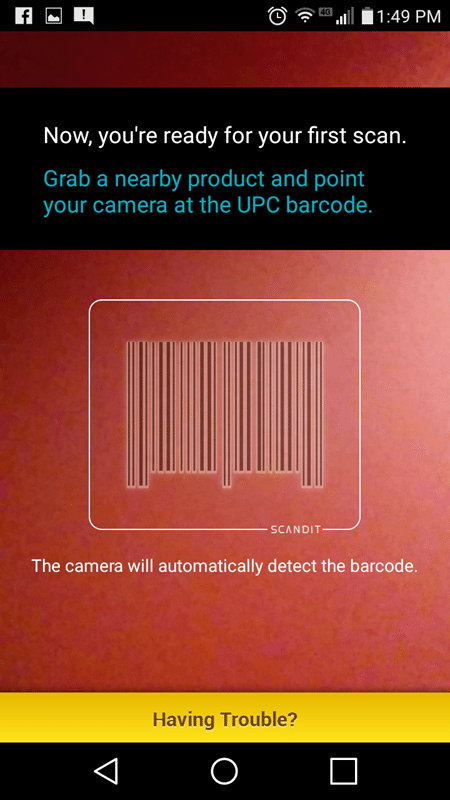 After this, the app told me that I could also watch videos to earn points. It gave me a video, told me to watch it until the end, and then to click 'done.' I followed all of these instructions, and found that it worked perfectly.
I was awarded another point for watching a 15 second video, and was then ushered to a page that told me how I could redeem my rewards.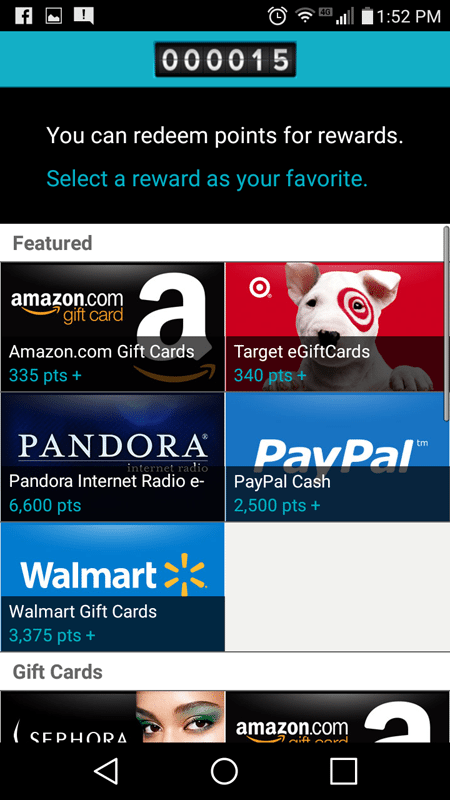 After selecting which type of reward I wanted (I chose the Amazon gift card), I was awarded 5 more points, and was taken to a screen where I was prompted to create an account.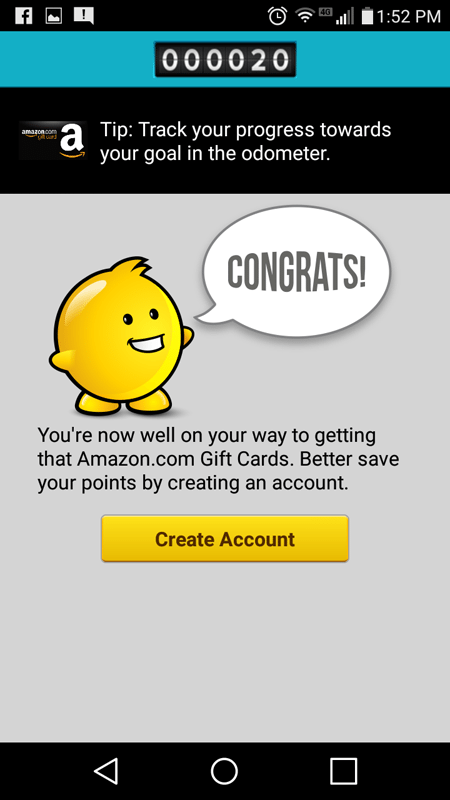 Let's talk about that next.
Creating An Account In The CheckPoints Rewards App
I used my Facebook account to get a quick start on this process… which was nice.
Thus far, I need to make a few comments about how the app was performing. In essence, it was awesome. It was fast, the sounds were fantastic, the graphics were sweet… I have not used a more attractive or functionally sound app in a long, long time.
So kudos to Checkpoints, for doing what it does with some style and pizzazz!
Anyway, I went through the account creation process, chose a username, and finally arrived at the main hub of the app.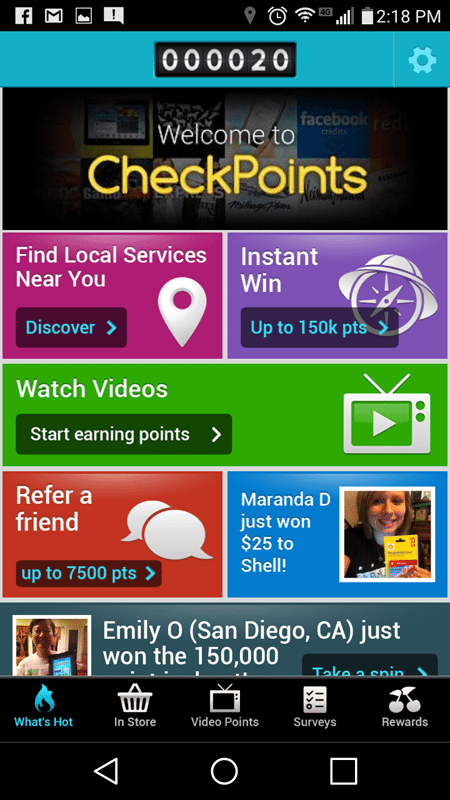 I was the most interested in the shopping/check-in feature of the app, so I wanted to click on the 'Find Local Services Near You' button. This is where I started to see a problem. The app literally found no local businesses that I could visit to earn points at. None. Zero.
Now, with that being said, I do live in a smaller-sized town. We have some basic stores, like a WalMart and a Dollar General—but for the most part, the businesses around here are local. We don't really have shopping malls or chain stores or anything like that.
So, I am not really all that surprised that the app couldn't locate anything nearby—though I will also admit that I was surprisingly disappointed by this. I was expecting to be able to earn some sweet points, and was actually pretty excited to do so.
But that's ok. Maybe on trips to the larger city a ways away from my home town (I make them once a week or so) I would be able to earn points.
Anyway, there were other ways that I could earn points. I could take a survey about me to earn 50 points, though I could also watch videos and the like.
But more than anything else, I wanted to figure out how much these 'points' were worth in real-life currency. So that's what I looked into next.
Figuring Out How Much CheckPoints Points Are Worth In Real Money
This was actually really, really easy to figure out. Basically, I clicked on the Rewards button at the bottom of the app, and was taken to this screen.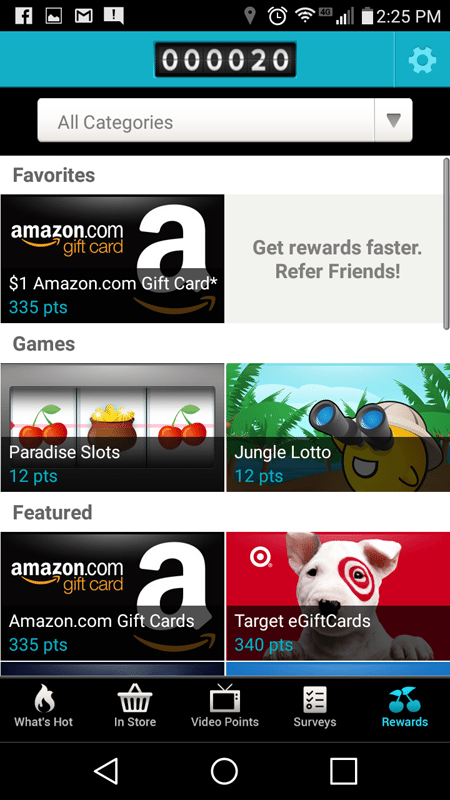 Here, I found out that it takes 335 points to equal a $1 Amazon gift card.
I could definitely see myself earning 335 points in a week, or maybe even in less time with CheckPoints. But then again, that isn't a lot of extra cash. If I could land some good shopping trips, then I could probably double this—but that is still just $2 a week, which is $8 extra per month.
But… it should also be noted that this wouldn't take much time, would not require me to spend any money, and could be accomplished during normal shopping trips. I would pretty much just need to dedicate a few random minutes to it, and it would then be done.
So the time investment is pretty minimal, really. The work-to-pay ratio isn't so bad.
But, the consistency would be difficult, because I could never really count on earning a specific amount, because it really wouldn't necessarily only count on my willingness to work. It would also count on what opportunities I could find in the app.
But… yet again… there are other opportunities within the app that I could use to supplement my earnings. Surveys, videos, and the like.
So really, I went back and forth on this one a bit before making my final choice.
Will I Be Leaving The CheckPoints Rewards App Installed On My Phone?
This was a surprisingly difficult question to answer… but I have to say no.
This app was cool, in a lot of ways. Don't get me wrong. If you live in a town where there are a lot of shopping opportunities near you, and if you don't mind giving it some time to let the points build up, then there are not many shopping apps out there that are better than this one.
But, for me, it just wasn't really feasible to put the time into it. I feel like I could earn extra cash in other, better ways.
I love the idea of this app, and it was done very, very well… but I'm afraid that I just need a bit more consistency. I would also need to be able to earn just slightly more than what this app could provide me.
If I am going to spend my time on something, it is going to have to be something that I can grow and nurture over time… and this app just didn't quite do it for me, unfortunately.
Our Final Thoughts About The Checkpoints Rewards App
Should you download it and use it on your phone?
The CheckPoints Rewards App Review
Honestly, there are tons of various apps that claim to help you "make money", but really there are two facts to consider. 1) Most of them don't actually work. 2) If you can make money, it's not going be very much. If I'm going to spend any amount of time working online, I want to be working for myself by building my own profitable website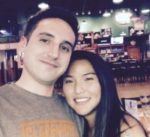 Nathaniell
What's up ladies and dudes! Great to finally meet you, and I hope you enjoyed this post. My name is Nathaniell and I'm the owner of One More Cup of Coffee. I started my first online business in 2010 promoting computer software and now I help newbies start their own businesses. Sign up for my #1 recommended training course and learn how to start your business for FREE!