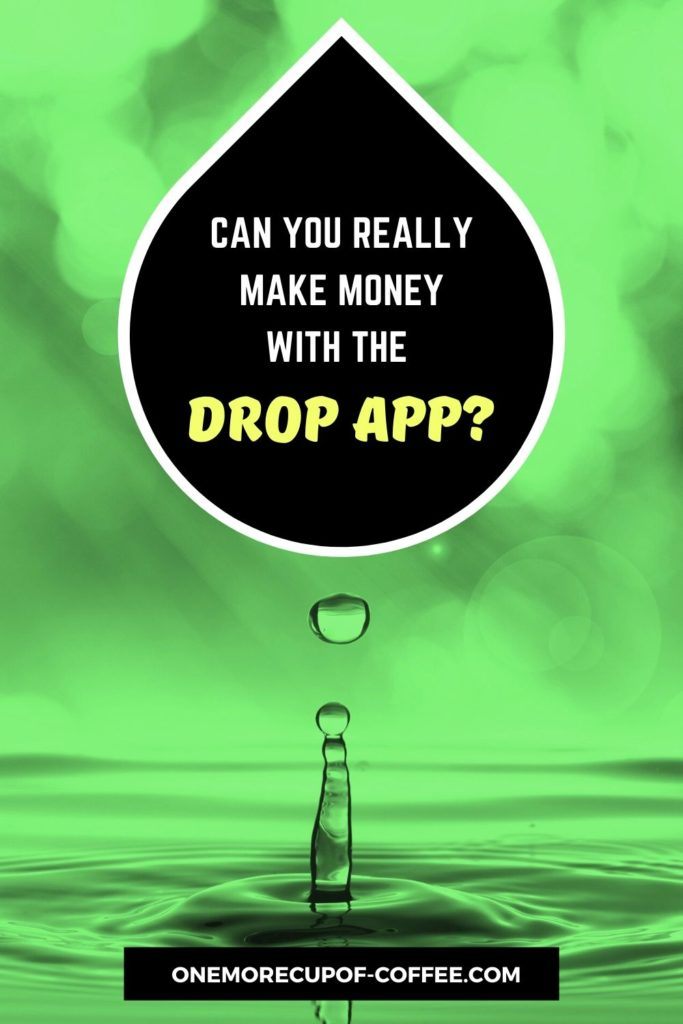 We found this rather interesting app while looking for ways to make cash online. But can you really make money with the Drop app?
Drop is said to be a free app that's giving out 'millions in cash rewards for the spending you do everyday.' Right from the beginning, this sounded like a shopping app to me… and as I continued looking into it, this became even more apparent.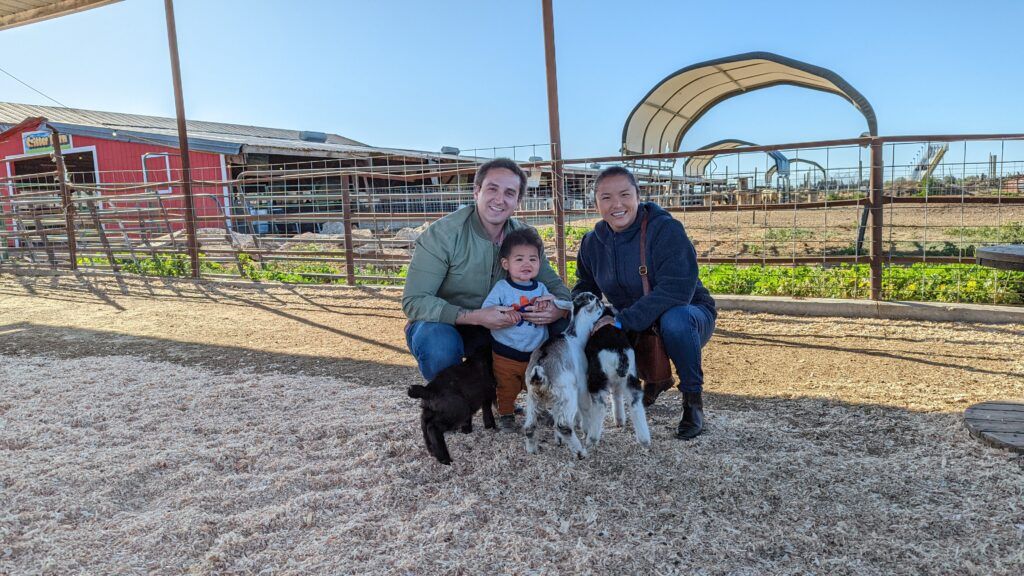 Are You Ready To Work Your Ass Off to Earn Your Lifestyle?
Are you tired of the daily grind? With a laptop and an internet connection I built a small website to generate income, and my life completely changed. Let me show you exactly how I've been doing it for more than 13 years.
Right on the home page, you can see that there are a number of prominent businesses and brands (including some that I use) that the app will work with. Some of these even include names like Starbucks, WalMart, Costco, Nike, Krispy Kreme Lyft, GAP, Sephora, and more.
The app has been talked about in publications such as Forbes and Business Insider, and has about 75 thousand likes on Facebook—which is certainly not a bad sign.
But obviously, I wanted to learn more about it.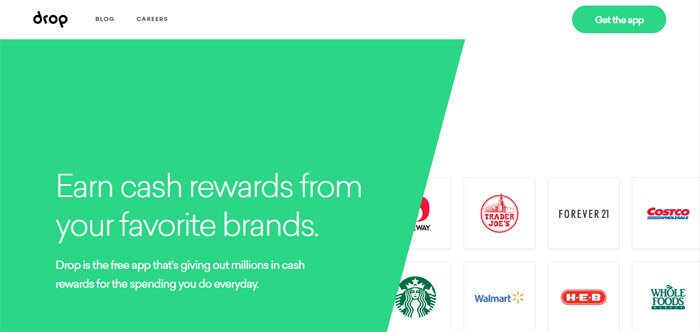 Making Money With Drop App
I was turned-on to Drop by some online reviewers I follow. One reviewer, I follow in-particular gave the app 9.5 out of 10 stars, which is quite impressive.
I will admit, though, that I am a lot less forgiving than a lot of reviewers when it comes to apps, because I actually have pretty lofty expectations. If I am going to be downloading an app and spending time on it, then I need to know that it is actually going to make me a decent amount of side-hustle cash.
So that is pretty much the baseline I use for determining whether any app is worth the time.
So what about Drop? Is it worth the time? Does it pay out enough to make it worth-while?
Here is what you need to know.
Drop: The Basics
So, Drop is one of those shopping apps that requires you to connect your credit and debit cards in order to make it work. I have been seeing more and more of these lately, and to be honest, they do come with their upsides and downsides.
If you scroll down a bit on the official app website (https://www.earnwithdrop.com/) you will find a 'how it works' screen that does a pretty good job of describing how the app functions.
Here is a quick look at it.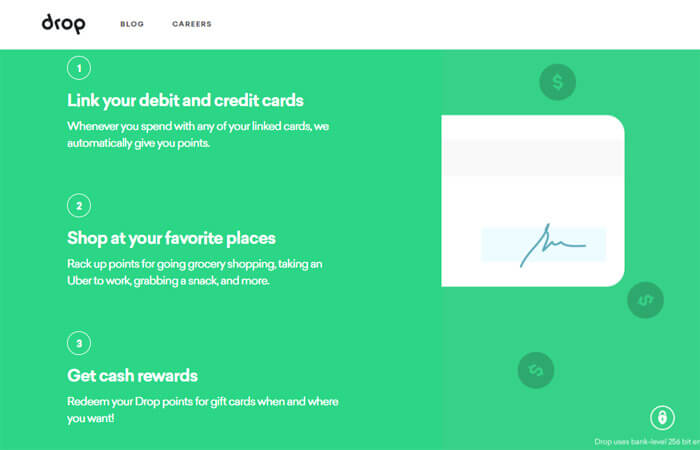 So, there are 3 simple steps to this process. First, you link your debit and credit cards. This allows them to automatically give you points whenever you spend your money on qualifying purchases, which saves a ton of time and makes the app far more efficient than other shopping apps that I've reviewed.
Second, you just go shopping as normal… and rack up points in the process.
And third, collect your rewards. You can turn your points into gift cards for many different businesses, which is very cool.
On a review that I was reading about this app, I learned that they give out different numbers of points based on how much money you spend on qualified purchases. For example… you earn 10 points per $1 spent at Target, 10 points per $1 spend at McDonalds, 2 points per $1 spent at WalMart; and so on.
As I said before, there are a lot of different businesses that you can shop with while using Drop, and you will get quite a few points as you use your cards.
But how much money can Drop actually earn you? That is another question that I wanted to answer, so I went hunting for rewards information. Here is what I found.
How Much Money Can You Actually Make With Drop?
So next, I needed to figure out how much money I could actually make while using Drop. So I looked into it, and found quite a bit of information.
First of all, I learned that 1,000 Drop points are basically worth $1 when you are redeeming rewards. You can find a full list of rewards in the drop-down menu on the app, making it easy to see exactly how much you need to qualify for different rewards.
I will also say this. In researching this app, I discovered that Drop maintains a pretty awesome website, and a very detailed FAQ section. So that is an upside.
Some shopping and cash-back apps that I've looked into don't even have a website, and many more do not have a 'good' one. So kudos to Drop for doing this part well.
Upsides And Downsides Of The Drop App
The biggest upsides to this app are as follows.
First of all, since you link your cards, you get your cash back without having to mess with things like coupons, offers, barcode scanners, etc. All of it is done automatically, which saves a ton of time.
Apps like this, which let you link your cards, are so efficient that I am not sure that I could ever go back to the idea of a barcode scanner. And this makes cash back apps that require you to scan receipts pretty obsolete as well.
So yeah. As far as cash back apps go, Drop is one of the better ones out there. It can also be used with a lot of brands and in a lot of popular stores. Plus, you can get pretty cool rewards with it.
As for downsides? Some might say that being required to connect your cards is a downside, as a lot of people are still afraid of sharing sensitive information like that with an app. I haven't seen any indication that Drop is sketchy at all—but I also understand how this could be tough for some people.
Another downside to the app that some people aren't happy with is the absence of a cash option. As of right now, you can only get gift cards on the app… though I have to admit that this isn't that big of a deal for me. If I can get gift cards to businesses that I regularly visit, then to me, that is pretty much the same as cash.
But I can also understand how some people might not like it.
And last, but certainly not least, there seems to be some issues with the support team for the app. In reading through the reviews for the app in the Google Play store, it would seem that some users have a tough time getting their problems resolved.
Here is an example of one of these reviews. This type of thing seems to repeat itself, which does take away from the app a bit, in my opinion. I always take it pretty seriously when reviews suggest that points are being messed with or not credited properly.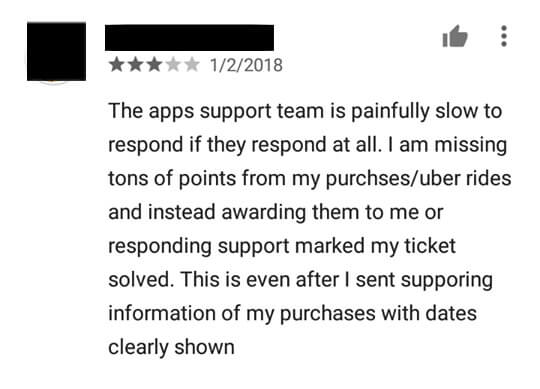 Where Can You Find The Drop App?
You can find Drop in the Google Play Store. It is actually a pretty new app, so as of the time that I wrote this review, it only had 100,000 downloads and just over 2,000 reviews. It also had a 3.4 star rating on Google Play, which surprised me.
I was anticipating seeing a higher rating for it than this. But, it is what it is. I will be keeping an eye on it, to see if it improves with time. But as it is, the app really isn't bad.
I found out, through some additional research, that Drop is more popular in Canada right now, and that it was just opened up in the US recently… so that is probably why it doesn't have a larger download base on Google Play.
My Personal Feelings About The Drop App
Personally, I really did like the Drop app. Is it an app that you could use to generate some pretty serious cash? To a point, the answer to this is yes… though it is limited to how much you spend… which is probably its biggest downfall.
It is not going to make you rich, but it is possible that you can mindlessly accrue quite a bit of credit without really doing anything, just for having your cards connected to it… and therein lies its potential. The same is true for Dosh, which is a similar app.
You are not going to be able to use this app to generate a major side-hustle-level stash of cash, but you can use it to maximize your purchases and to earn yourself some decent cash-back on qualifying purchases. And that is most certainly a good thing.
It has its limitations, and it is most certainly not going to make you wealthy—but it is not a bad app for what it is. I would encourage anyone interested in cash back to just give it a try.
I must also clarify that the app seems to have a really good reputation in reviews located outside of the Google Play store. I have been doing some research about it online, and have found that a lot of people have received it very favorably.
So that is certainly something to take into account!
Our Final Opinion Of The Drop App
Should you download it and use it to make some extra money?
Drop App Review
Honestly, there are tons of various apps that claim to help you "make money", but really there are two facts to consider. 1) Most of them don't actually work. 2) If you can make money, it's not going be very much. If I'm going to spend any amount of time working online, I want to be working for myself by building my own profitable website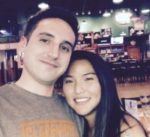 Nathaniell
What's up ladies and dudes! Great to finally meet you, and I hope you enjoyed this post. My name is Nathaniell and I'm the owner of One More Cup of Coffee. I started my first online business in 2010 promoting computer software and now I help newbies start their own businesses. Sign up for my #1 recommended training course and learn how to start your business for FREE!