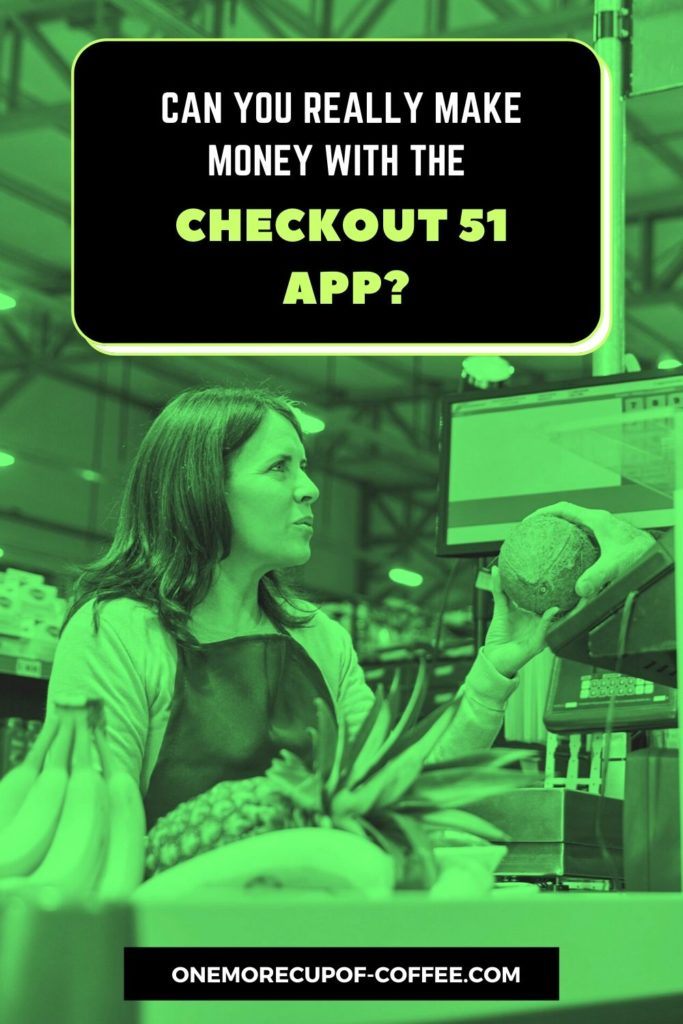 This app is another coupon app that we were excited to try out. Coupon apps can tend to be all the same sometimes—but this one did seem to have some different qualities about it that made us excited to give it a try.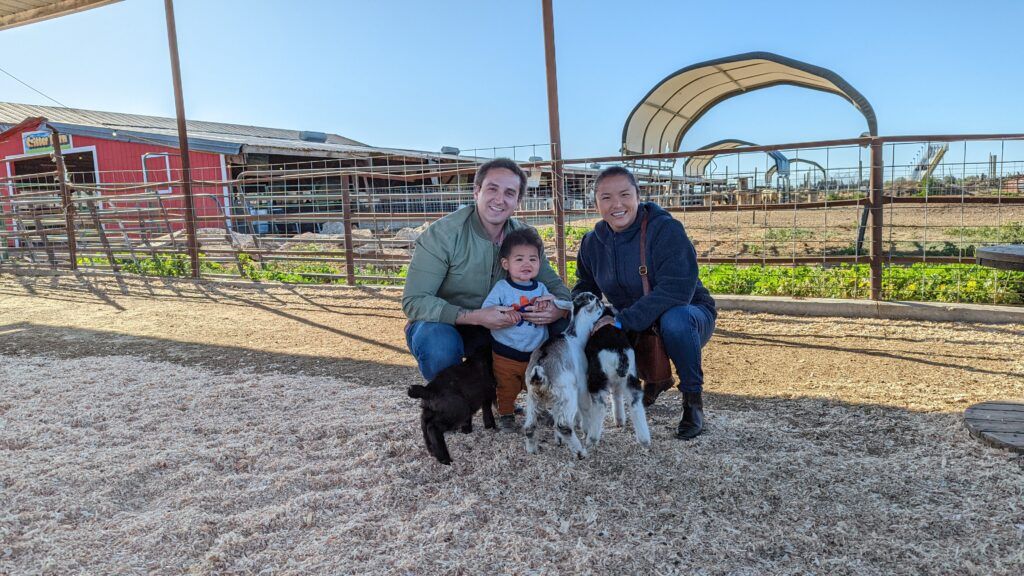 Are You Ready To Work Your Ass Off to Earn Your Lifestyle?
Are you tired of the daily grind? With a laptop and an internet connection I built a small website to generate income, and my life completely changed. Let me show you exactly how I've been doing it for more than 13 years.
But can you really make money with the Checkout 51 app? This was our major question—so we decided to download it and give it a try for ourselves.
As you know, we're all about earning extra cash. And we're not interested in gimmicks or low-quality apps. But did Checkout 51 make the cut?
Here is what we found.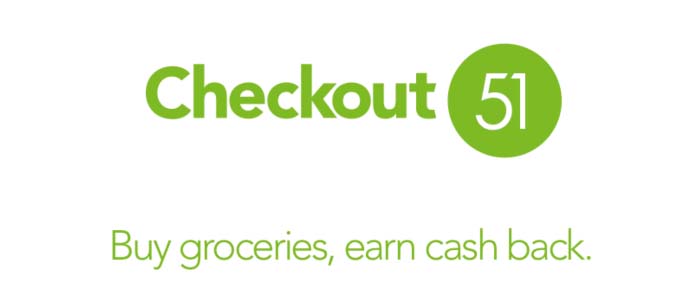 Making Money With The Checkout 51 App
Checkout 51 is basically a coupon app that helps you to save/make money when you buy certain products. Here's a short blurb that's supplied on the Google Play Store that briefly describes it…
"Save on the brands you love! Cashback savings, grocery coupons, rebates & more!"
We also took a look at the READ MORE section of the store, and found this helpful blurb…
"Checkout 51 is a free grocery savings app that saves you money and time spent on grocery coupon hunting!"
The READ MORE section of the app also contained a pretty detailed step-by-step process for how the app works. Here's a screenshot of it.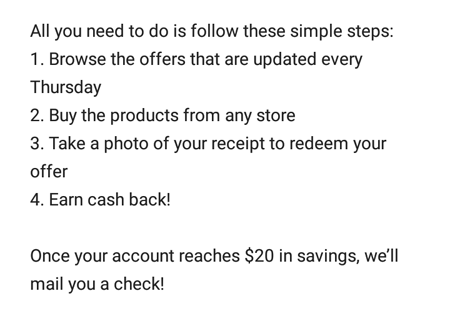 One definite different thing that we noticed about this app was that they mail you a check when your account reaches $20—which is pretty awesome!
Most apps like this give you a bank account transfer or PayPal option—but a paper check is pretty cool. I've legitimately never seen this on an app before… so I was pretty pumped about it.
As far as other basic information is concerned, the app has been downloaded a total of 5 million times, has a 4.1-star rating in the Google Play Store, and has been reviewed by over 45,000 other users. The vast majority of these reviews have 5 stars… which is impressive.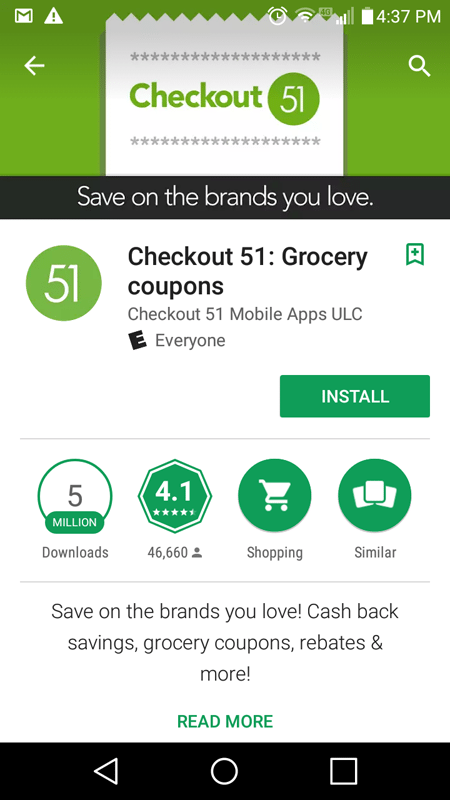 But enough with the basic stuff. It was time to get into the app and find out exactly how it worked.
Getting Started With Checkout 51
Upon opening the app, we were greeted with a simple sign-in/sign-up screen. We chose to sign in with Facebook, which made the process super easy. We needed to acknowledge that the app was going to get information from our account, of course… but this was pretty normal.
Next, we were greeted with this getting-started screen.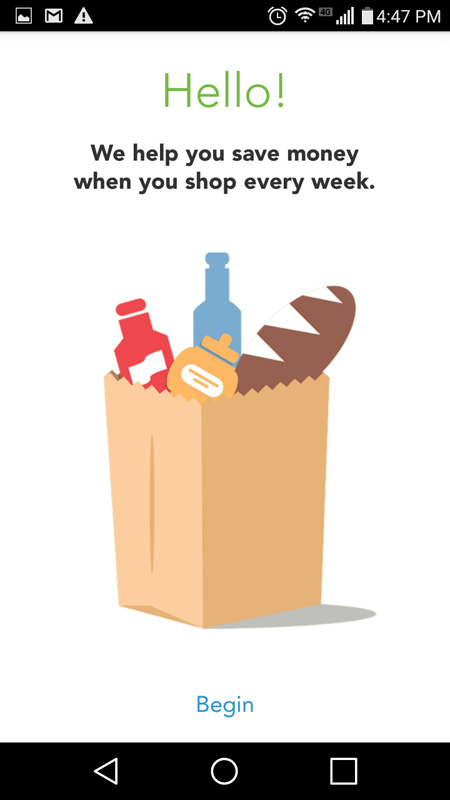 After clicking through that screen, we were taken to this one—which basically gave us another rundown of how the app worked. The app behaves pretty typically when you take into account how most couponing apps work, though there are a few notable differences.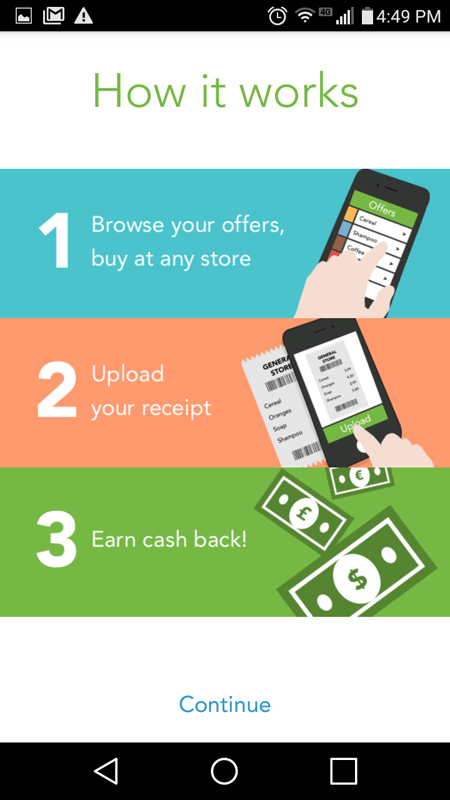 Next, we were prompted to set our location. This was accomplished through GPS. The app pretty much just needed our permission to use it. Next, we were taken to a 'Pick An Offer' page. Here's what it looked like.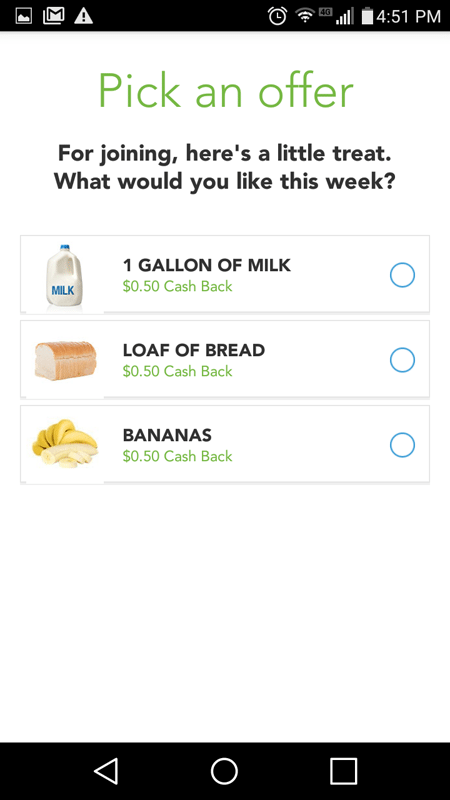 The cashback on these products was decent—though maybe not altogether incredible. It obviously would have been nicer to see $1 or $2 cashback on milk—but hey, $0.50 is something, and over time, deals like this do tend to add up.
So, we really couldn't complain about it. Besides, there were some better deals on products when we scrolled down.
We were then asked about some other information. I was asked about the size of my household and my birthday and was then taken to this screen.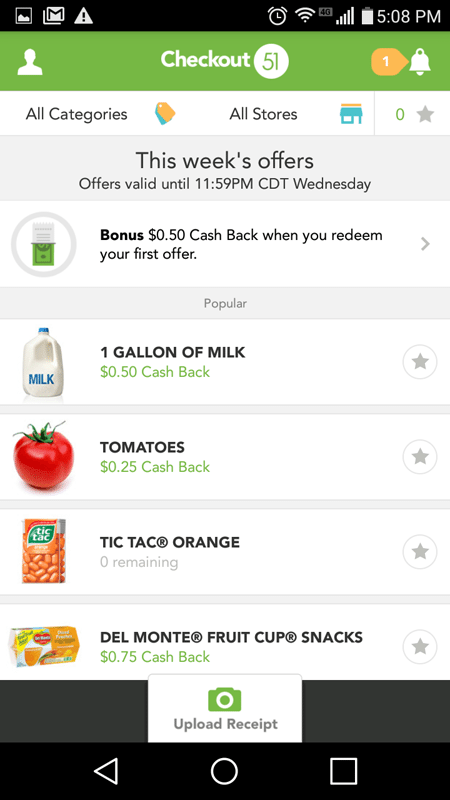 I took a look at the offers by scrolling downward—and was surprised to see quite a few different options. Most of them seemed to be grocery items, and for the most part, the savings on each were less than $1—though there were also quite a few that were $1 or more. I even saw one offering for $5!
I took a look at one of the offers, just to get a sense of what was entailed in redeeming it. So I clicked on an offer for $0.50 back on a gallon of milk.
Once inside, I found that it was redeemable for any brand, though the offer excluded non-dairy milk. There was also a limit of 1—which was understandable.
Scrolling down from here, I was taken to a recipe for a dessert called 'Two Ingredient Truffles.' This was kind of a random thing to see in a coupon app—but it wasn't unpleasant.
I mean, the recipe looked good. I guess it was intended to compel me to buy additional products to make the truffles with… or perhaps just to add something extra to the app.
Either way, it was pretty cool.
At the bottom of the screen was a button called 'Upload Receipt.' I clicked on it, and was taken to this page…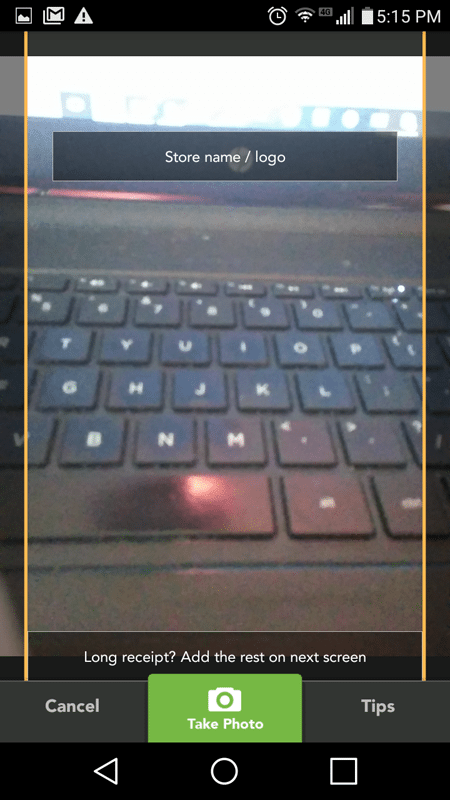 This was basically a receipt photo tool and seemed to operate quite nicely. There were also some instructions that came on before it that did a good job of describing how to get the best picture of the receipt.
I found these to be rather useful. You could also access tips for the camera, or cancel it out if you ended up not needing it.
How Well Does Checkout 51 Function?
To put it simply, this app works really well. The camera works—the home screen is easy to navigate from—the registration process is easy—and cashing out seems to be a breeze.
Speaking of cashing out, let's talk about how you get your money when you use Checkout 51.
If you go to your profile, following the icon at the top-left of the screen, you will see a lot of information about your activity in the app. It will show you how many receipts you've input into the app, how much your account currently has in it, and how much you've earned overall.
You can also request to 'cash out' at the bottom of this screen as long as you have $20 or more in your account. This basically means that you can request a check that will be physically sent to your address.
We really liked the cash-out feature in Checkout 51. It seems straightforward and hassle-free.
We like how you can get a check sent to you instead of having to redeem your cash in the form of gift cards like some apps require you to do. We also liked how many options there were for offers that you can redeem.
How Much Can You Earn With Checkout 51?
I feel that you could easily earn $10 a month with this app. You might be able to earn more, but even $20 might be a bit of a stretch unless you really got serious with it. You would need to be conscious of your purchases, and you would need to consult the app every week, as the offers are updated every Thursday.
One downside to the app is that you might need to go out of your way to buy different things then you would normally buy… things that are included in the offers.
Obviously, some of your normal everyday items might be included in the list… but there is no guarantee of this. You could pretty easily substitute some things, obviously, but at the end of the day, you still need to spend money to make money with this app.
But, it does what it was designed to do, and makes earning cashback on purchases super easy and effective. I really liked how many deals it offers, and the fact that the company will send you a paper check to cash you out. I cannot say enough good things about this feature!
In the end, I liked it. I will even go as far as to say that I will probably leave this one installed on my phone. It's not free money—but it does give you the ability to earn some cashback on products that you might be buying anyway—so why not use it when the opportunity strikes?
Scanning the receipts is easy, and barely takes a minute. So you really can't go wrong with it… unless you hate technology and just don't want to mess with an app to earn extra cash—in which case it might not be for you.
There are options if you want to skip the receipt side of things too. For example, Dosh and Drop can both link to your credit cards and track your spending that way instead. The site Ebates gets around the challenge by focusing on online shopping.
Anyone who buys groceries could probably make use of Checkout 51… though people who buy a lot of the same things week after week might not find as much of an opportunity to use it as other people.
There are truly a lot of listings on this app too. I know that I've said this once before—but this is a definite positive upside for me. If you want to make some extra cash with this app, it's going to be possible—no doubt about it.
Our Final Thoughts On The Checkout 51 App
Should you download this app on your phone?
The Checkout 51 App Review
Honestly, there are tons of various apps that claim to help you "make money", but really there are two facts to consider. 1) Most of them don't actually work. 2) If you can make money, it's not going be very much. If I'm going to spend any amount of time working online, I want to be working for myself by building my own profitable website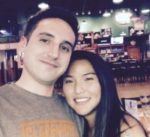 Nathaniell
What's up ladies and dudes! Great to finally meet you, and I hope you enjoyed this post. My name is Nathaniell and I'm the owner of One More Cup of Coffee. I started my first online business in 2010 promoting computer software and now I help newbies start their own businesses. Sign up for my #1 recommended training course and learn how to start your business for FREE!