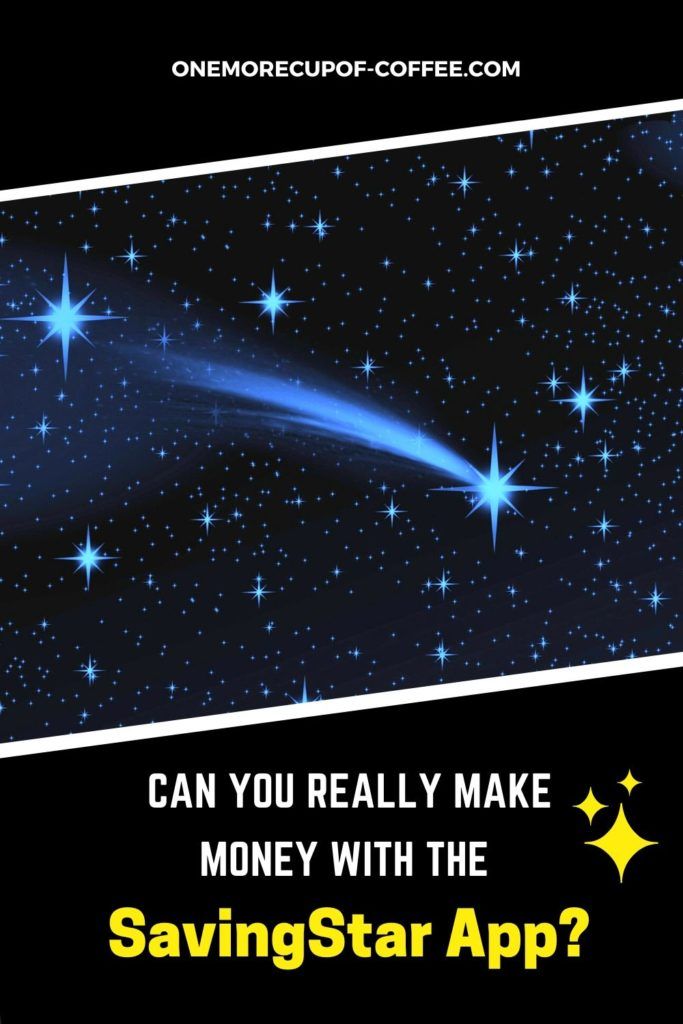 This is an app that you can download for free from the Google Play store that can apparently get you awesome deals on products that you buy at local stores. But can you really make money with the SavingStar app?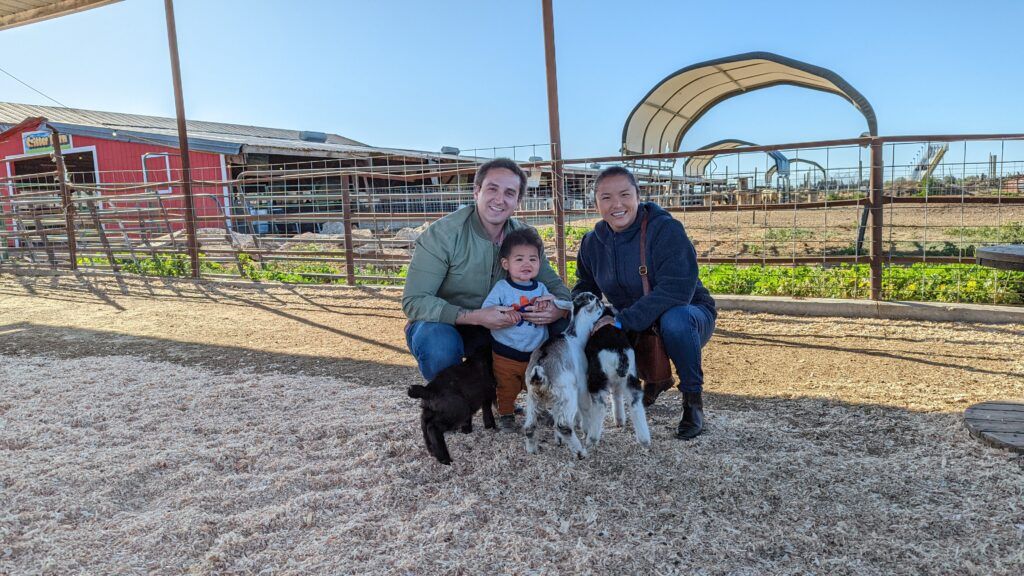 Are You Ready To Work Your Ass Off to Earn Your Lifestyle?
Are you tired of the daily grind? With a laptop and an internet connection I built a small website to generate income, and my life completely changed. Let me show you exactly how I've been doing it for more than 13 years.
This is obviously the big question, and our mission was to answer it.
We had admittedly never heard of it before downloading it for this review—so what you are about to hear is a real, unbiased opinion of how it works and operates.
How much can it make/save you? Is it worth the time and the download? Or is it just another gimmicky coupon app?
Here's what you need to know.
Making Money With The SavingStar App
To look at income through the SavingStar App, we're going to step through the process of using the app, right from the very beginning.
The Basics: What Is SavingStar?
On the Google Play Store, you will find this description for the app in the READ MORE section…
"Like grocery coupons? Shop your grocery store and get cash back. Easy and free!"
We also found this bit of text further down in the read-me, which seems to do a good job of describing, in more depth, exactly what the app does.
"Earn cash back on your groceries with BIG SAVINGS on your favorite brands and produce items when you shop at your local grocery store."
So right away, we began to get the sense that this isn't a traditional coupon-type app. Rather, it seems that it gives you some sort of cash back for the purchases you make—which is pretty awesome. There are similar apps that focus on groceries too, like Checkout51 and Fetch Rewards.
SavingStar has 1 million downloads, 4.2 stars in the Google Play store reviews, and far more 5 star reviews than most other apps that we've reviewed. By all accounts, this app seemed like it was going to hit the ground running for us, right from the get-go.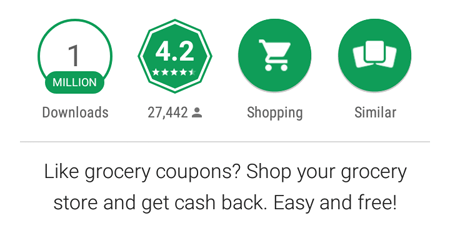 So far so good… so we decided to open it up and give it a try.
Getting Started With SavingStar
Upon firing up the app, we were greeted with this screen. It gave us a bit of information about the app, and presented us with a very clean, professional-looking first impression.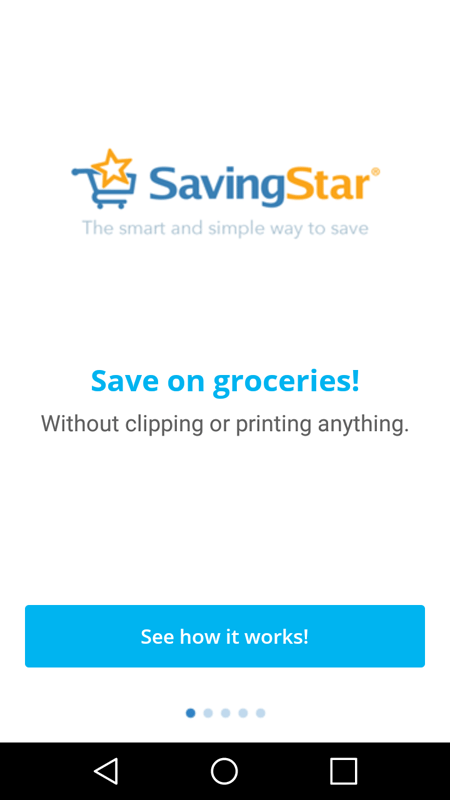 There were several sliding screens here that gave us a general overview of the process. Here were the steps outlined in this little 'how-to' sequence.
Step 1: Add stores
Step 2: Select offers
Step 3: Redeem offers
Step 4: Get cash back
Getting cash back seems pretty easy with the SavingsStar system. You just save up your cash in your SavingStar account, and can then cash out to your bank, with e-cards, or to PayPal once you've earned at least $5.
Earning $5 with this app turned out to be a lot easier than we thought it would be… but we will discuss this a bit later on in the review.
Registering with SavingStar is a pretty simple process, especially if you use Facebook to log in/sign-up.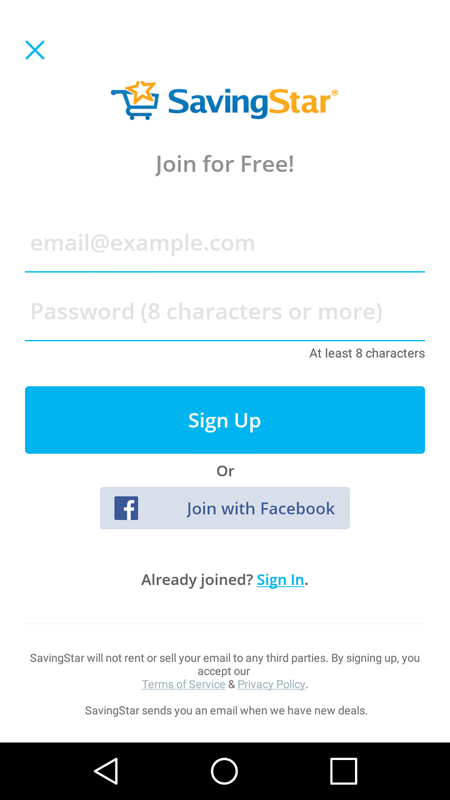 Once we registered, we were taken to this screen.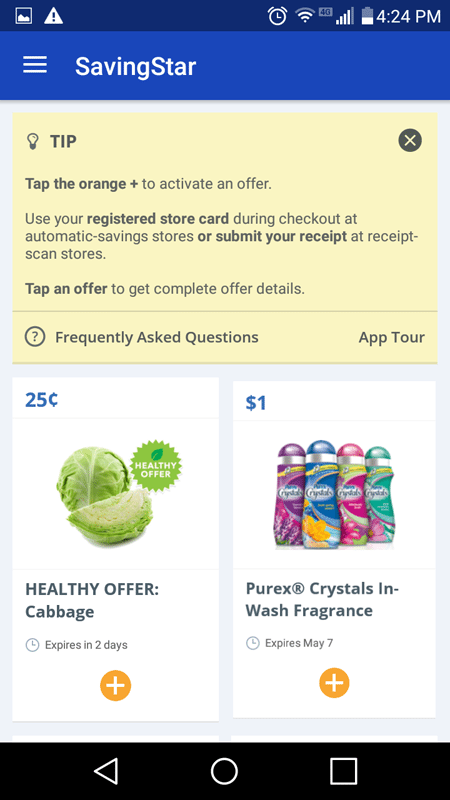 I was instantly greeted with a range of deals that could earn me cash back—and was pretty amazed by what I found. But before I could really get into this, I needed to register a store. So I set out to do that next.
Registering A Store In SavingStar
When I went to the menu and selected the 'stores' option, here is what I found.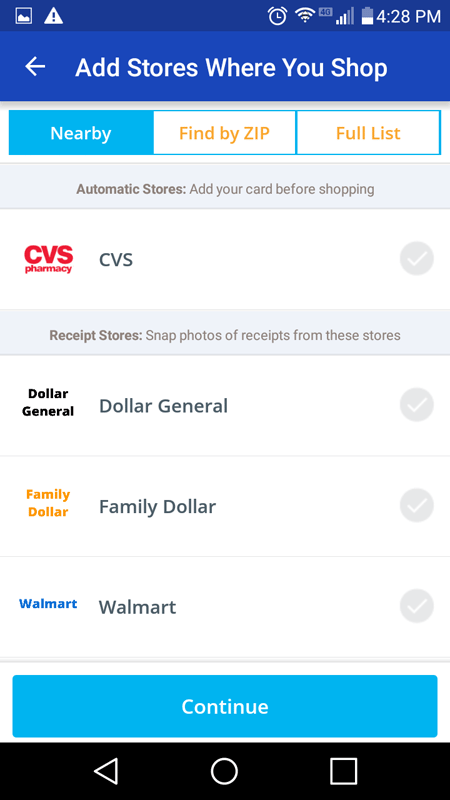 I decided to find stores nearby based on my zip code, so I typed it in. A pretty familiar range of the usual types of options popped up—which was pretty cool.
Stores like Dollar General and Wal-Mart were a welcomed sight, mostly because I live in a small town and it can sometimes be difficult to make use of apps like this in such a rural area sometimes.
But this didn't seem like it was going to be a problem with SavingStar. I selected two stores from the list of available options, and clicked 'Continue.' I was taken to this screen.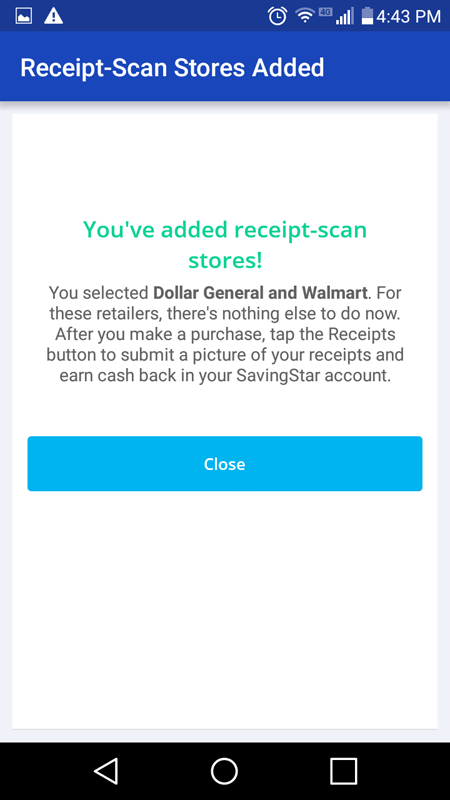 That's it. That's what it takes to get set up with SavingStar. As it says in the screenshot, you just photograph and upload the receipts to redeem the offers. That's about all there is to it aside from making sure that the products you are buying will actually qualify for the offers.
Next, I decided to take a look at what kinds of deals and cash-back I could get on different types of items. I was really interested in how much I could actually earn with this app—so I did a bit of research to see what they had to offer.
How Much Could I Earn With SavingStar?
Here was one example of what seemed like a good deal on Absolut products—which I buy on occasion from Wal-Mart.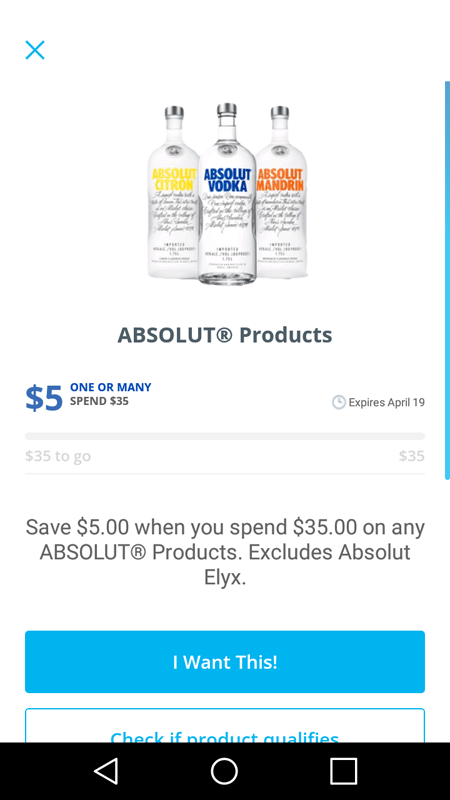 But as I scrolled down, I quickly realized that there were some states where I could not redeem this deal—and Missouri (which is the state I live in) was an excluded state!
So keep in mind that some of these offers might not be valid in your area. This wasn't that big of a deal, honestly—but it was something that disappointed me a little.
There were other offers that looked attractive to me, of course–so the usefulness of the app certainly wasn't diminished too much because of this.
On the flipside, for people who could redeem this offer, it seemed like a really good deal. $5 cash back when you buy at least $35 worth of Absolut products is pretty good really—and that's an amount that you could redeem as an e-card all by itself!
One thing that I noticed while trying the app, which was really cool, was that it has a nice barcode scanner built into it. When you press the 'Check if product qualifies' button, you are instantly taken to a screen that looks like this.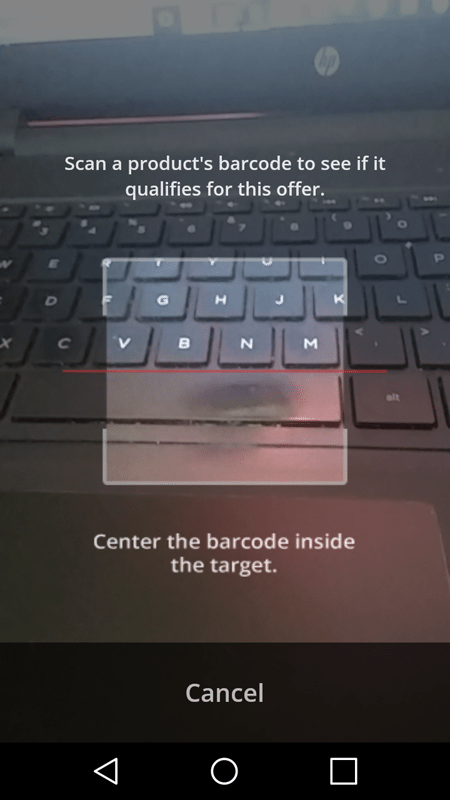 You can then use this barcode to input products that you're going to buy—which will help to minimize guesswork when choosing which products will actually qualify you for the cash back.
There were about 40 deals altogether that I had access to while scrolling down through the app. These deals eventually expire, and new deals are put in to take their place—so there is always a bit of randomness to what you will actually be able to get, it seems.
But the deals were quite good—especially if you were going to be buying those products anyway. I could easily see this product earning someone an extra $10 a month without them even trying hard… or maybe even more (like $20 a month) if they planned out their purchasing strategy week-by-week based on the deals provided in the app.
This isn't necessarily free money, because you need to scan barcodes and upload receipts to get the cash-back—but the cash back is indeed excellent.
You get actual, real cash with this app—not just points worth scant pennies that build up over months of time before you can even withdraw $5 (I have reviewed far too many apps like that… and I can tell you right now, SavingsStar is a lot better).
With this app, you can consistently make extra cash and redeem it pretty easily—making it one of the better and more profitable apps that we have ever run into.
How Does SavingStar Compare To Other Cash-Back Apps We've Reviewed?
SavingStar is, hands down, one of the more awesome apps that I've ever looked at. The amount of cash that you can get, combined with how well the app operates, makes it a real, true winner in my book. It's not perfect, obviously, and it does have some downsides.
For one, you are limited in how many different types of products you have access to while using it. You are also limited to certain stores, and the app might be difficult to put to good use if you live in extremely rural or low-density-populated areas.
It may also limit you if the deals provided in the app don't really match up with your purchasing wishes. But in most cases, this app shines.
It provides you with a quick and easy way to earn extra cash back on products that you may already be interested in buying—which is basically money back in your pocket. Granted, you have to spend money to make money with this app, so it might not work well for people who don't buy the types of products advertised in it.
But I think that it would be safe to say that most people could find at least a few items in this list that they could be interested in on a weekly or monthly basis—and I really feel that some of the bigger-ticket items offer enough savings to really make using the app worthwhile.
You only get a dollar or two on cheaper items—but savings like $4 or $5 can be had on larger-ticket items, which is pretty cool.
Our Final Thoughts On SavingsStar
Should you download it onto your phone?
The SavingStar App Review
Honestly, there are tons of various apps that claim to help you "make money", but really there are two facts to consider. 1) Most of them don't actually work. 2) If you can make money, it's not going be very much. If I'm going to spend any amount of time working online, I want to be working for myself by building my own profitable website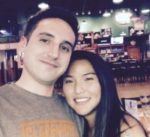 Nathaniell
What's up ladies and dudes! Great to finally meet you, and I hope you enjoyed this post. My name is Nathaniell and I'm the owner of One More Cup of Coffee. I started my first online business in 2010 promoting computer software and now I help newbies start their own businesses. Sign up for my #1 recommended training course and learn how to start your business for FREE!