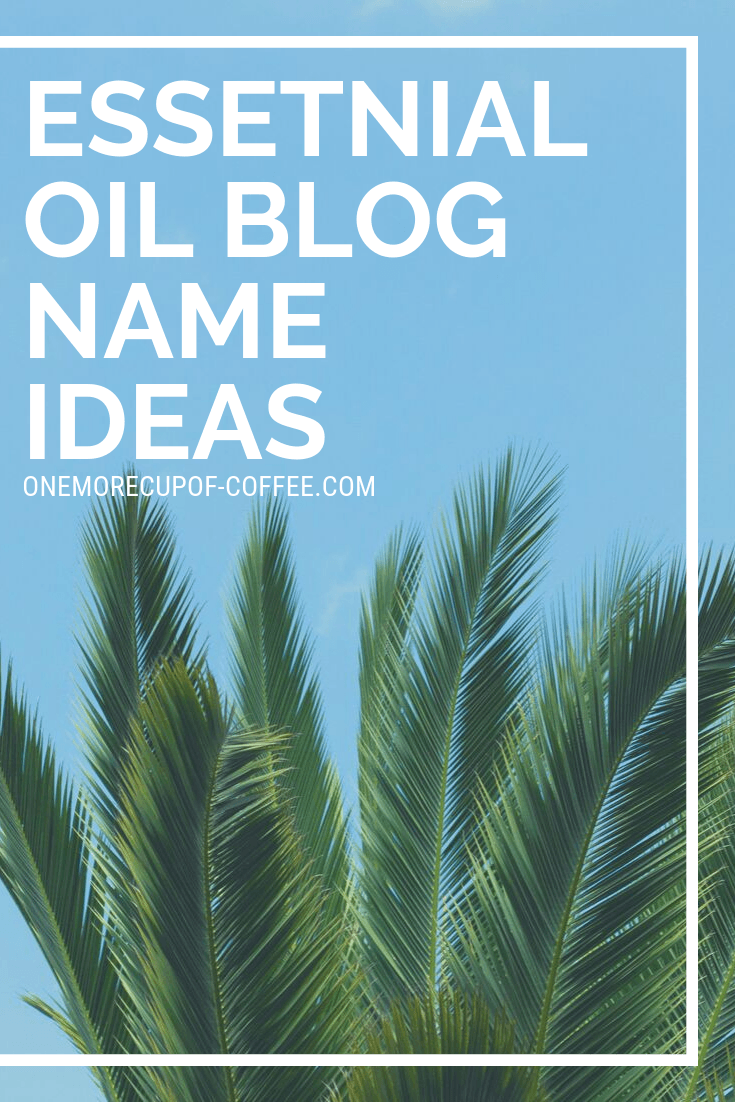 Essential oils continue to be immensely popular with a variety of groups of people, with estimates suggesting that the global industry could hit $13 billion in sales by 2024. This popularity might be reason enough to start an essential oil website of your own and cash in on this trend. To do so, you need to find some essential oils blog name ideas.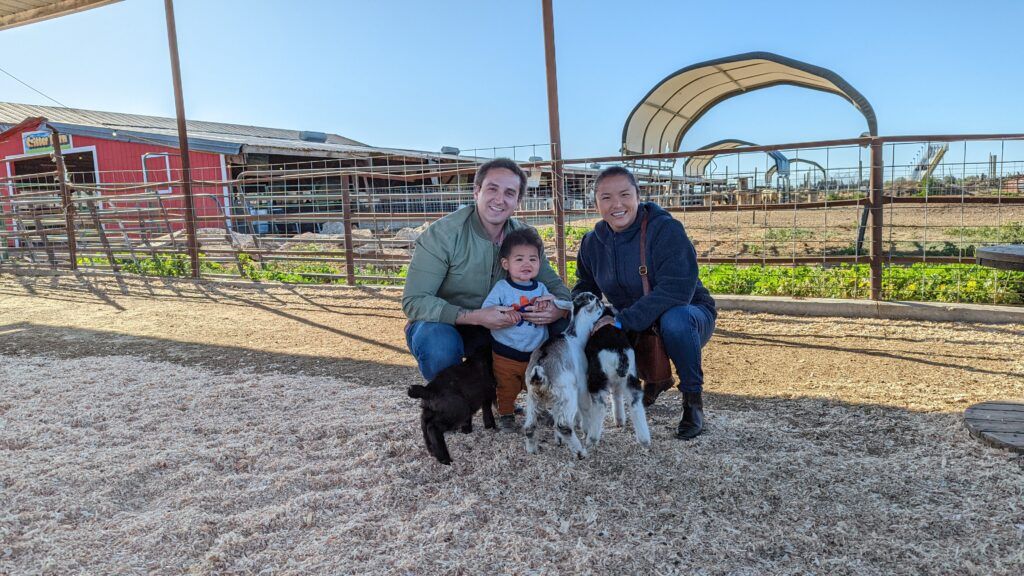 Are You Ready To Work Your Ass Off to Earn Your Lifestyle?
Are you tired of the daily grind? With a laptop and an internet connection I built a small website to generate income, and my life completely changed. Let me show you exactly how I've been doing it for more than 13 years.
Where do you begin? Essential oils mean different things to different people. For some, they offer a holistic way to improve health or promote specific benefits. Others just like the scent.
There are also many sites out there already. How can you compete with all of that, and have a unique name too? No worries. I can help. This post features 50 different essential oil blog names that you can use for inspiration.
Further down, I also talk about some guidelines to consider when picking a blog name, then how to buy a domain name, build a website, and how you can make money from it.
50 Essential Oils Blog Name Ideas
Sweet is Home
Scent in the Home
Essential Oil Review
The Scent of Health
Essential Oil Things
Essential Oil Ratings
Your Essential Aromatherapy
Sciessentials
Quality Oils Reviews
Essential Oil Healthy Living
Oils for Our Home
Essential Natural Living
My Aromatics
Best Oils for You
Essential Oil Advice
Natural Oil Essentials
Essential Oil Freak
Life with Aromatherapy
Our Essential Nature
My Therapeutic Oils
Essential Oil Mix
Best Oils Today
Curative Oils
Essential Oil Systems
Pure Essentials
The Aromatic Secret
My Stunning Scents
EO Green Living
Essential Living Guide
EO Good Life
Alchemy of Scents
The Relaxing Spot
Get Quality Oils
Aromatherapy Systems
My Essential Aromatherapy
Essential Oil Trends
Journey to Relax
Scientist of Scent
Oils, Oils, Pure Oils
Essentials for Mothering
Aromatherapyly
Subtle Aroma
The Aroma Entrepreneur
Essential Oil Center
Stunning Aromas
The Aroma Guide
Your Bottled Health
Scent is Love
The Scentologist
Relaxing Cloud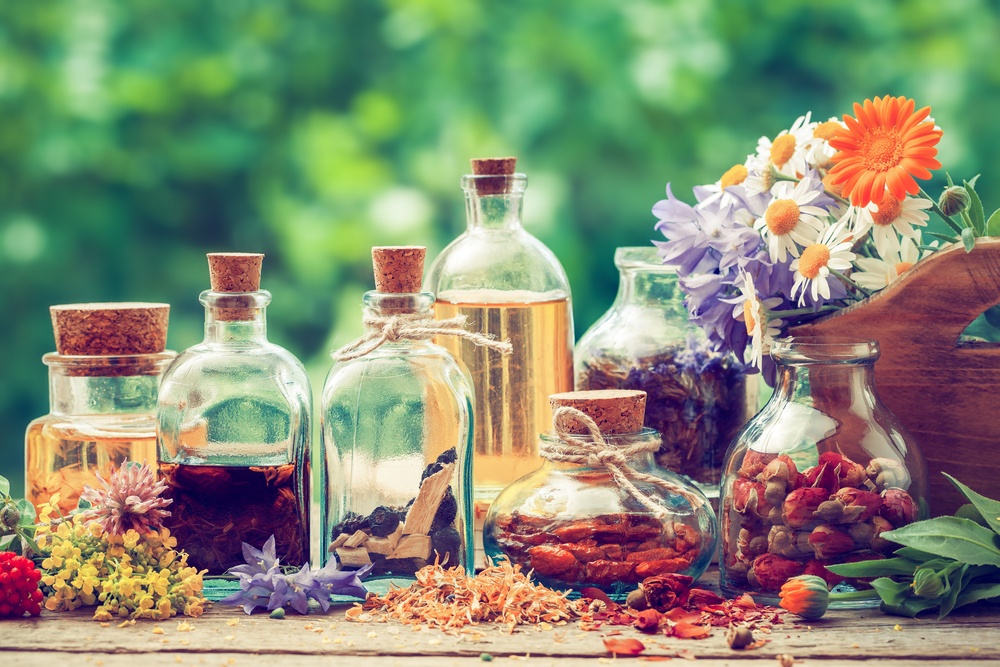 How To Choose A Good Blog Name
You don't need to try and find the perfect domain name, but there are some common mistakes that you want to avoid. The first is making your name too similar to what is already out there.
Similarity might seem clever at first, as this could allow you to take advantage of misunderstandings. For example, you might want to be the facebookofessentialoils.com. In the long-term, it's difficult to establish your own brand if your site is always getting confused with something else.
This issue also means that you should avoid copyrighted names and anything that is associated with something else. For example, I called this site One More Cup of Coffee, but that phrase is also the name of a Bob Dylan song. That similarity does me no favors when it comes to ranking my site.
Using quirky spelling for some words or relying on a combination of words and numbers would be an issue as well. Domains like this are hard for people to remember. Essential0ilz.com might be available because it uses a zero instead of a letter O, but how are people supposed to recognize that?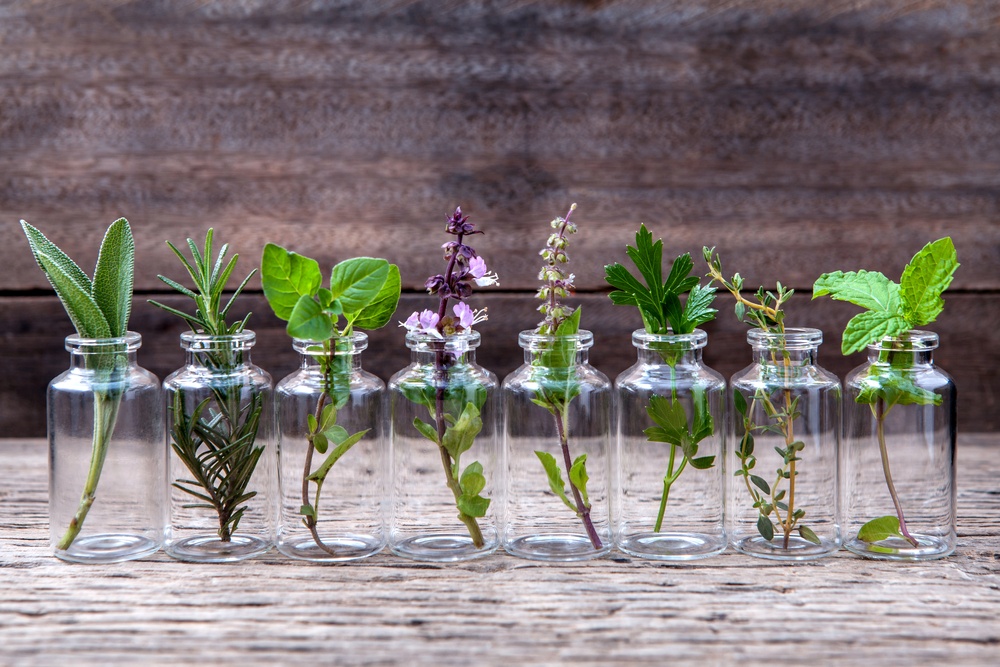 Keyword VS Branding
Another area to consider for the essential oil blog name that you want is whether you want to go with branded or keyword-based. There is no right or wrong answer here, just different approaches with their own advantages or disadvantages.
A keyword-based domain name is exactly what the name suggests. A keyword or keyword phrase makes up part of the domain name. The approach helps to make your site topic more obvious and may improve ranking too. RecipesWithEssentialOils.com is an excellent example of using a popular keyword in your domain name, and guess what – she ranks #1 and #2 for that phrase!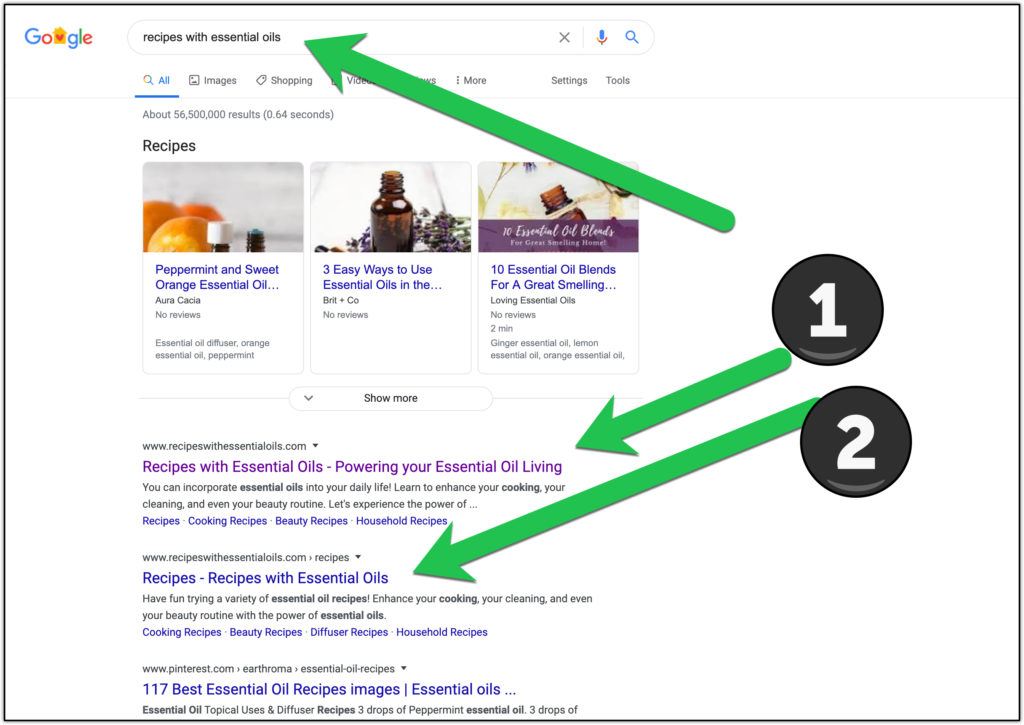 I did a bit of research, and she's doing very well with traffic, just posting recipes! Her website is currently getting over 10,000 visits per month.

Another example could be something like naturalhealingessentialoils.com or sleepbetterwithessentialoils.com.
However, the approach is popular, so sites often end up with similar names as a consequence. You might also struggle to find a good name that isn't already taken, or get a .net when the .com is already taken. It might be a little confusing when there are websites with names like:
bestessentialoils.com
bestessentialoils.net
topessentialoils.com
thebestessentialoils.com
Many people say that you need to include keywords in your domain name to rank. This isn't the case. Your domain name plays a tiny role in how well your site ranks.
That's why many people choose a unique brand name instead. After all, your home page is just one page on your website. The vast majority of your rankings and traffic will come from individual articles you publish on the site.
A branded name typically doesn't use a keyword at all. This makes it much easier to find a website name that is memorable and unique. Some sites use words or phrases that are related to the industry, like organicaromas.com. Others may phrases that are entirely unrelated.
Long term, branded is the way to go IMO, but it's still nice when you can find a solid domain name with a highly searched keyword because it's almost a free pass to rank for that phrase.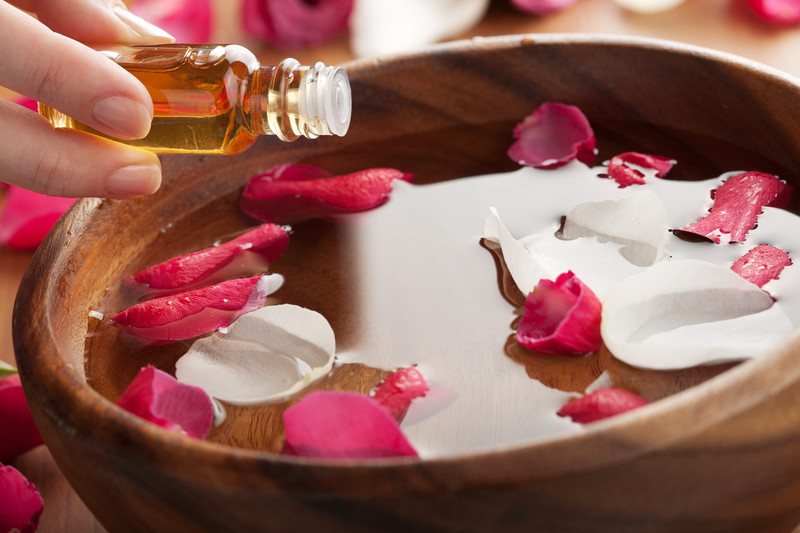 How To Buy A Domain Name
The processes of buying a domain name remain the same regardless of the specific name that you choose. There are many registrars to choose from, but they all have the same general functions.
Even so, the companies differ in some areas, like their pricing structure, their interface, and what you pay for additional services. While all registrars will offer popular TLDs like .com, .net, .org, or even .info domains, the availability of some less common domain extensions will vary across companies. Examples could be .gallery, .expert, or .forsale.
I've used and researched various domain name registrars over time. My current favorite is Namecheap. I like how upfront they are about their pricing structure. There aren't any hidden fees to worry about and there are fewer upsells than with other companies.
How To Build & Make Money From Your Essential Oils Website
There are various free website builders out there. These can help you to make sites that look simply stunning. Most website builders are very easy to learn too.
However, free website builders often have rules that limit your income potential. This could include banning affiliate marketing or preventing you from using display ads. Even if you can earn from the site, you'll normally be working with a subdomain rather than a domain of your own.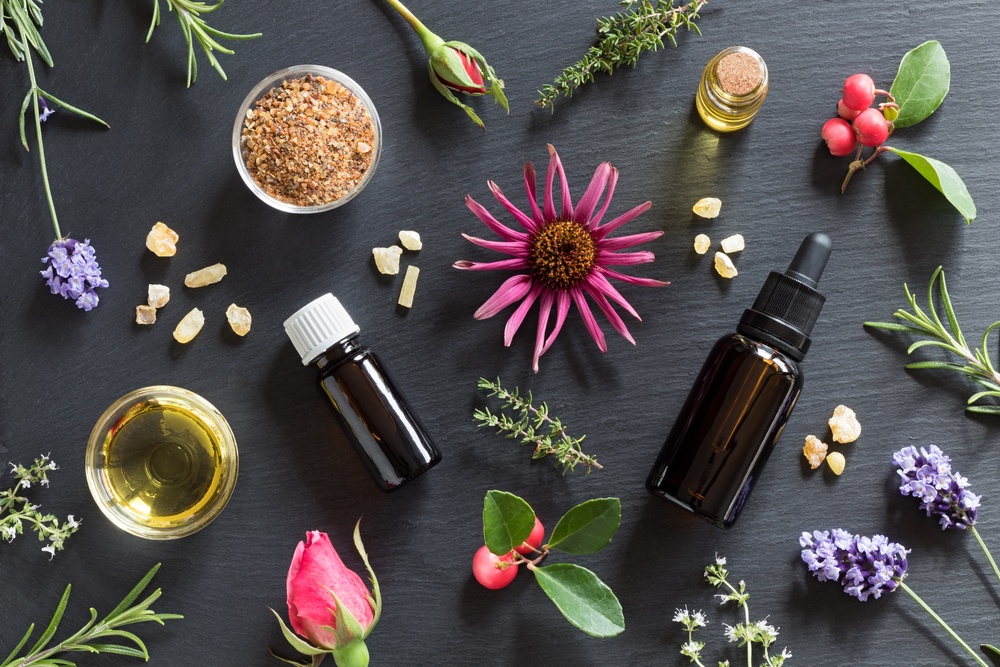 Plus, subdomains like .blogspot or .weebly tend to rank poorly and they don't inspire trust. You can normally upgrade to a paid plan, which gives you more options and the chance to use your own domain. The plans for doing so are often expensive.
While website builders create beautiful sites, they're often not versatile. You're very limited in what you can do with your own site. It's like paint by number. You can make something that looks nice fast, but once you get more advanced, the limitations will become more obvious.
The natural alternative is a self-hosted WordPress site. WordPress is the most popular CMS (content management system) and it is easy to see why. You are able to make the site look and behave exactly as you want it to (with practice).
There are even plenty of themes, plugins and other products that are designed to help with making money through WordPress. The biggest challenge is that WordPress takes longer to learn. The service is much more user-friendly than it used to be, but beginners can still find it confusing.
Thankfully, you can turn to tutorials (including my own!) for instructions. These can give you all the information that you need and start you off with the basics.
As for making money, I recommend getting started with affiliate marketing and/or display ads. Both approaches are perfect for beginners. You can start to get involved in other ways to make money as your traffic grows.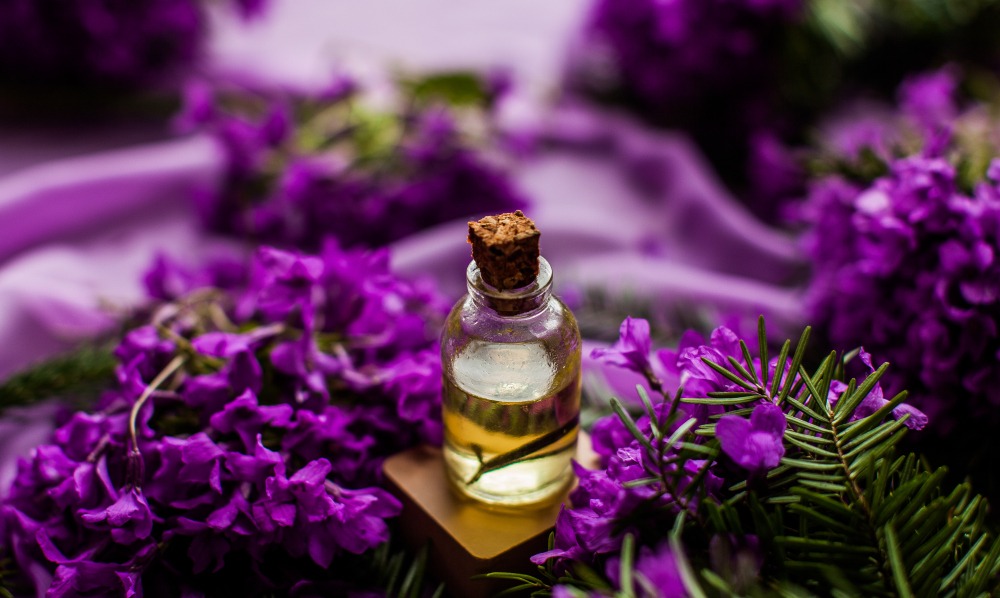 How Much Do Essential Oils Bloggers Make?
AromaMama is one of the few blogs that focuses entirely on essential oils, making it the best example for essential oil bloggers.
In March 2018, she earned $520.43 (the post has since been removed, so you'll just have to believe me). Most of this came from affiliate marketing. Roughly $220 of her affiliate sales were from the health and wellness field, while the rest came from the blogging field.
The site Simply Natural Mama takes a different approach. She includes essential oils as one key topic areas. Her blog also talks about parenting and healthy living.
Her most recent income report was in October 2017. She earned $1,105.87 in that month. $350 of that income came from freelancing, while the rest came from ads and affiliate marketing. These are just two examples, and when you combine essential oils with other related products in the health and wellness industry, your income potential skyrockets from there.
You could also include oils as part of a mom blog, and those types of blogs have lots of high income earners!
Display Ads
Display ads is one of the most passive ways that you can make money from a website. You're basically allowing a display ad network to show their ads on your site. Once you do have ads running on your site, you get to choose how involved you are in ongoing ad management.
Some people let the ads do their own thing as much as possible. Others turn to ad management plugins. These can make it easier to work with your ads and to test out various ways to optimize income.
The best thing about ads is that your content doesn't need to relate to them. You can simply write whatever you want to, without worrying about the income side of things. This can be very relaxing, especially if your posts often don't have a natural association with products. The ad networks take care of populating ads on your site based on individual users.
The main limitation is traffic. It takes more traffic than you might expect to earn with ads. Your income will be very low indeed when you first get started. Increasing this takes considerable time and effort.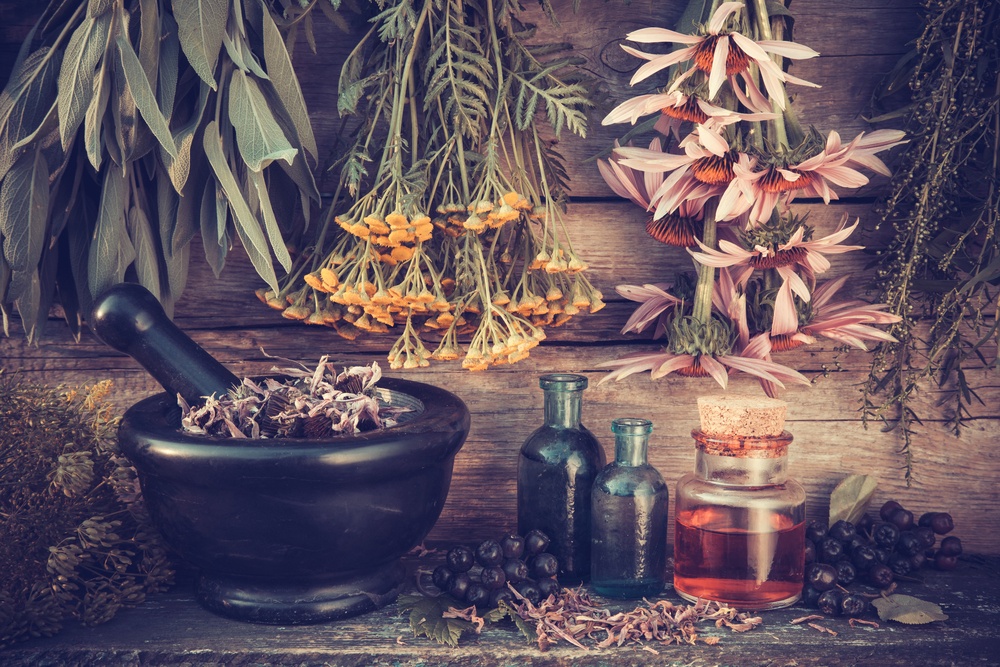 Affiliate Links
You still need traffic to earn from affiliate links, but the relationship between traffic and income isn't as strict as it is with ads. This tends to mean that you can earn more from less traffic, especially if you get the hang of keyword research to get your content ranked well, and if you find some good products to review.
If you're good at writing, you can earn a lot of money from just a few visitors to your blog. Before anyone buys anything these days, they check reviews online, right?
Affiliate marketing works best if there is a natural link between what you write about and products. This is certainly the case for essential oils.
Is X Brand Essential Oil Good?
Which Essential Oil Companies Use Natural Extraction Techniques?
Can You Use Lavender Oil On Dogs?
These are all potential topics you could write about to promote your favorite brands. Many people get involved with essential oils through MLMs, but the thing I like about affiliate marketing as opposed to "network" marketing is that you're not limited to a single essential oil company. You could compare multiple different brands and also talk about related products.
Here are some essential oil affiliate programs to start with, but if you're building out a big affiliate site, you wouldn't limit yourself to just this type of product promotion. You could also promote diffusers from Amazon. You could promote sleep products because many people use oils to help them relax at night. You could promote CBD oil (very popular!). The list goes on.
If someone searches for "how to sleep better naturally", and your blog turns up with a recommendation for lavender oil, you can make a sale pretty easily. You just solved their problem!
Affiliate marketing can sometimes feel overwhelming. Some bloggers find that they hit into a wall, as they struggle to turn their traffic into sales.
Product reviews are a simple way to start. My post on writing product reviews is a good place to begin this process, but there are lots of other ways to make affiliate sales.
Final Thoughts
Creating a successful essential oil website site won't happen overnight. The process happens one step at a time, starting with your initial decisions, like the name of your blog and where you purchase the domain name from. Are you ready to pick a name? Let us know what it is (after you've purchased it already, of course!)
Should You Start Your Own Blog?
Honestly, the sad thing is that most people who want to start a blog get a domain name and a website set up, but never really do much beyond that. They are leaving a serious amount of money on the table!
If you want to actually make something of your site, and earn the kind of income that could allow you to quit your job and work full time online, then this members-only training site is what I recommend. If you're serious about making some moves, they're your best shot at building some fat traffic to your brand and profiting from your blog!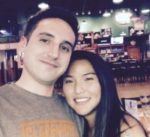 Nathaniell
What's up ladies and dudes! Great to finally meet you, and I hope you enjoyed this post. My name is Nathaniell and I'm the owner of One More Cup of Coffee. I started my first online business in 2010 promoting computer software and now I help newbies start their own businesses. Sign up for my #1 recommended training course and learn how to start your business for FREE!