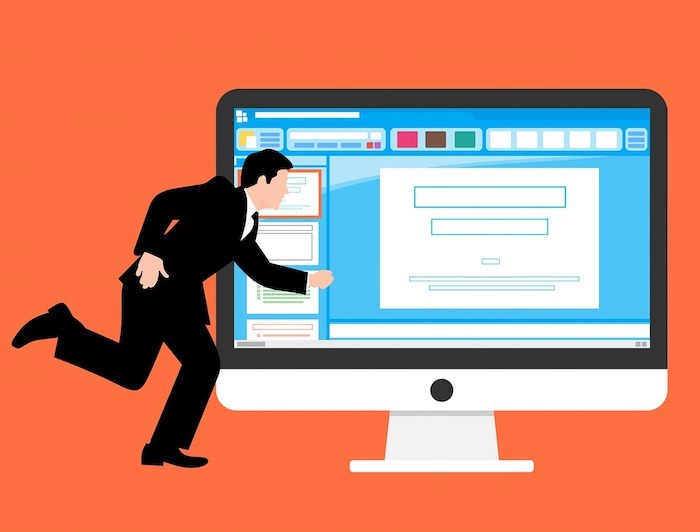 Making your own website has never been easier. There are countless different options out there, including a variety of free website builders. These give you the chance to make a beautiful and functional website without any previous experience or coding knowledge. These services can be an effective way to start your own blog or business. Many even provide tools to help you rank in search engines.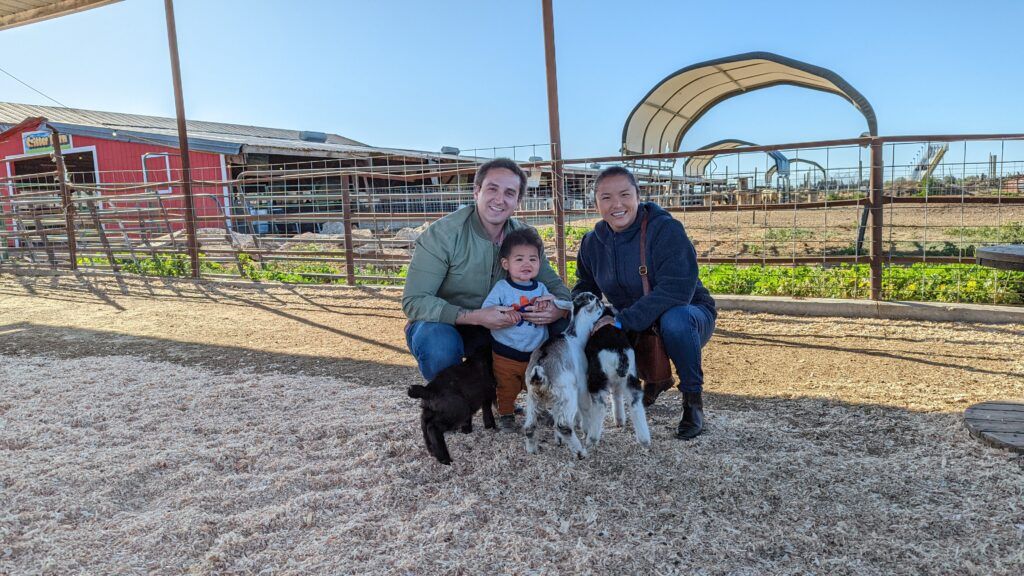 Are You Ready To Work Your Ass Off to Earn Your Lifestyle?
Are you tired of the daily grind? With a laptop and an internet connection I built a small website to generate income, and my life completely changed. Let me show you exactly how I've been doing it for more than 13 years.
With so many options, shopping around is critical. Each website builder has its own quirks. It's often not possible to move a site from one builder to another, so you need to make a wise decision at the beginning.
In this list, we're saving you the trouble and highlighting the best free website builders that you can use. We also discuss what they offer, along with the various things you should consider before trying each service.
That being said, despite checking out all these builders, WordPress is still the way to go. It's the most versatile, longest lasting, most widely supported CMS online. The initial learning curve is problematic for some people, but if you are serious about building a profitable website, it's without a doubt, your best long-term option.
SiteRubix (The Only Exception!)
Siterubix is my favorite of the list, so I'll introduce it first. It's much less well-known than the other 13 on this list because it's a highly-focused website builder aimed at affiliate marketers. SiteRubix leverages the open source WordPress content management system. WordPress accounts for 30% of the webs traffic, so it's an immensely popular builder with lots of customization and support available.
Newbies tend to not want to use WordPress because everything isn't "drag and drop" like competing builders, but WordPress is much more versatile. In terms of building a business that ranks well in Google and can convert visitors to customers, WordPress is your #1 choice, hands down.
Siterubix is a custom version of WordPress, which allows you to do things like install a free SSL certificate at the push of a button, and the hosting provided through SiteRubix is WordPress optimized and cached at the server level, so your sites will be lightning fast.
What's more, the Siterubix platform was built for marketers meaning you can promote whatever you want on your website. Unlike some of the examples below, they will not place ads on your site or put any marketing restrictions on you.
You can upgrade to the full version of WordPress at any time, and for $49/month you can host up to 25 domains on your account. The hosting is done through the parent company Wealthy Affiliate, which specializes in teaching people how to build affiliate websites and earn money online.
The downside to the free version of SiteRubix is that you are limited to the type of themes and plugins you can install while using the free account, and you can only build two free websites. If you upgrade to the Premium hosting plan, then you get access to all free WordPress themes, plugins, and the ability to install your own.
Wix

Features: Beginner-friendly, drag and drop editor, good-looking templates
Limitations: 500MB storage and bandwidth, runs ads, cannot use a personal domain
Wix is a particularly popular website builder. You don't need any coding knowledge and the builder offers a large amount of flexibility. They say that you have "the freedom to create anything", which isn't an understatement. The versatile builder combined with the ability to edit code means that there isn't much that you cannot do.
Wix does provide more than 500 different templates or users can build their own sites from the ground up. The service also receives consistently good reviews and you can keep your website on one of their subdomains without paying anything. I wasn't impressed with Wix hosting, but they are very popular because of their newbie-friendly templates.
Personally, I would never use Wix for affiliate websites for a couple reasons. For one, it just doesn't have the SEO capabilities of WordPress. Secondly, because Wix uses its own builder, websites cannot be transferred to a different host.
Lastly, the free plan also caps storage and bandwidth at 500 MB each, so serious website users will need to use a premium plan. There are also prominent Wix ads on the free version. The subdomain isn't especially appealing either and can be difficult to remember.
Despite the limitations, Wix remains an incredibly popular builder, one that many people rely on.
Weebly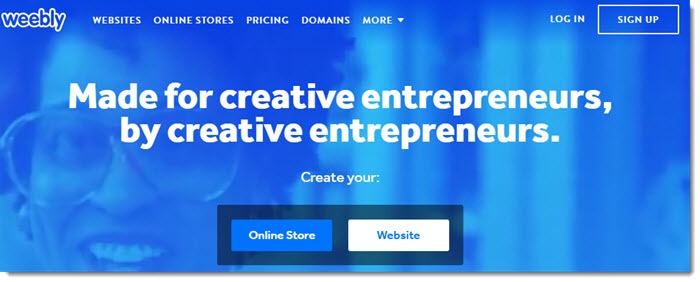 Features: Drag and drop editor, user-friendly, mobile responsive templates, useful support and guidance
Limitations: Less flexibility than Wix, runs ads, similar storage restrictions
Weebly is another popular choice, with many of the same features that Wix offers. This includes drag-and-drop builder functionality and templates to choose from. There aren't as many options as with Wix, but that's not necessarily a bad thing.
The extensive features of Wix can sometimes slow down website building, as there are simply so many different options to choose from. Again, I wasn't hot on Weebly hosting. These companies focus on the builders, and let hosting speed come along second.
The balance of features makes Weebly especially good for beginners. You have everything you need to create your own website, along with plenty of guidance. The free version offers 500 MB of storage. Bandwidth isn't specified, but this is likely to be 500 MB as well.
However, think twice about putting your affiliate website on Weebly. Long term, you'll run into customization issues, including finding quality developers who will work on your site. Plus, you may find that placing display ads is difficult since most ad networks are optimized for WordPress.
Once again, the free plan uses a subdomain and does incorporate ads for the builder. You'll see this pattern across most free builders. Weeby is particularly well-suited to eCommerce, although most of those aspects are through Weebly's paid plans, rather than the free options.
IM Creator

Features: Mobile responsive websites, provides various templates, easy to use
Limitations: Some key details are missing, free version includes ads, websites built through the Creator approach may not be mobile responsive
IM Creator is a comparatively simple builder compared to Wix and Weebly. It doesn't contain nearly as many features and you have less control over the final site. While these aspects are clear limitations, they also mean that you can get a site live much faster than with other builders. Having fewer options also means that the process doesn't feel overwhelming.
There are various beautiful templates that you can use as a base for your site. These are mobile responsive and come pre-loaded with content. You can easily replace the pre-loaded content with your own work. This approach is important, as it helps ensure that the website looks exactly how you want it to.
The service provides two website creation options. XPRS uses a drag and drop website builder, while Creator follows a Lego-like style, where they use blocks. Only XPRS websites are automatically mobile responsive. You need to take additional steps if you want Creator sites to look good on mobile.
There are few specifics about which features you get with the free version. However, the site does mention that you need to be a paid member to have eCommerce features and a site with no ads. IM Creator does also provide free premium accounts for students, artists and non-profits, which is unusual.
Webnode

Features: Drag and drop editor, multilingual functionality
Limitations: Limited information about the free plan, ad-supported, only 100 MB storage
Webnode is often promoted as one of the largest website builders, with 30 million users. It also tends to receive good reviews. One of the key features is the multilingual function, which allows your site to be translated into more than 20 different languages. There is also eCommerce functionality and the builder uses drag and drop features.
While these aspects sound amazing, most reviews are for the paid versions. Webnode provides surprisingly little information about the free plan, aside from the fact that you are using a subdomain and get up to 100 MB of storage. There is also a small ad on your page. In fact, even the first two paid plans for Webnode (which cost $3.95/month and $6.95/month) includes an ad, which is unusual indeed.
Like many builders, Webnode relies on templates and has various ones to choose from. You can make changes too, although the HTML and CSS cannot be edited. Content cannot be carried across from one template to the other. If you start with one template then change your mind, you would have to redo everything.
Mozello

Features: Includes an online store that supports PayPal, has visually appealing themes
Limitations: Ad-supported, coding knowledge is required for significant customization, no drag and drop functionality, is not as beginner-friendly as other options
Mozello is one of the few builders that has eCommerce functions on their free plan. You are able to create an online store that supports PayPal and contains as many as 10 items. The first paid plan allows for 30 items and the highest plan has no item limit. The builder offers 0.5 GB storage, which is better than many competitors.
The builder is theme-based and users can make basic changes. There is also the ability to use HTML, CSS and Javascript to customize further, if you have the background knowledge. Mozello also has support for multiple languages. This addition is unusual.
However, the builder doesn't have drag and drop functionality. This makes it considerably more difficult to use. In fact, the learning curve for site development is surprisingly steep. Some beginners would struggle as a result.
DoodleKit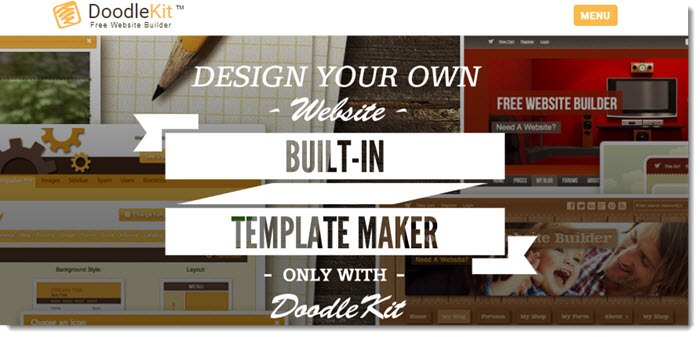 Features: Offers the unusual ability to develop and share templates, provides a form builder and shopping cart
Limitations: Users don't have full control over their websites, website design is unappealing, doesn't provide much storage
The most unusual aspect of DoodleKit is the ability to design your own templates and share them with others. The service also has various design options, including background patterns, border effects, fonts and icons. The free version includes 100 GB of bandwidth, but only 100 MB of storage. The low storage space would be a serious issue for many sites.
While you can make many website tweaks, DoodleKit doesn't provide the full design flexibility that many other builders offer. Their underlying design style isn't that appealing either. Their templates and sample sites look relatively old-fashioned. I wouldn't recommend them for most situations.
Strikingly

Features: Can create amazing landing pages, has plenty of customization options, can sell a single product, has 5 GB in monthly bandwidth
Limitations: Free version only provides one page, lacks some common features
Strikingly is a little different than other website builders. It focuses on the creation of one-page websites. These can look really good. They also function exceptionally well as landing pages or as introductions to a physical business. The service does allow for multiple pages, but only on their more expensive paid plans.
The builder allows you to create your own sections for the page or to use any of the pre-built ones from the company. There are also eCommerce functions in place. The free version allows you to sell one product per site. That doesn't sound like much, but most other builders don't allow eCommerce at all on the free plans.
Other features are limited. For example, you can't create forms and the mailing list component doesn't integrate well with common providers like GetResponse. While some aspects of your page can be easily changed, you don't have any ability to change font sizes, colors or background images.
Strikingly mightn't be amazing as an overall website builder, but the service is hard to beat for single page websites.
WebStarts

Features: Drag and drop editor, appealing bandwidth and storage amounts
Limitations: The editor doesn't give complete freedom, ad-supported, is missing some common features
WebStarts uses a similar style to Wix, where you can drag and drop elements. However, the flexibility is more limited and elements will follow specific patterns. Although this gives you fewer options, it does make the design process much faster. It might be the perfect builder for someone who wants a good looking site and isn't too particular about the specifics of the design.
The free plan comes with 1 GB of storage and 1 GB bandwidth per month, which is decent for a website builder. On the flipside, there are intrusive ads on every page. Some key features are also missing, like SEO tools, social integration and contact forms. Free sites aren't mobile optimized either and you cannot access the HTML to make your own changes.
WebsiteBuilder.com

Features: Drag and drop editor
Limitations: Relatively few features and no significant advantages
This service also goes by the name sitebuilder.com. The approach is roughly the same as other builders, where you choose a template, customize the site using a drag and drop editor and then publish the site. The features are more limited than with other builders and there are no clear advantages to the company.
Like most free options, your website is also ad-supported. This wouldn't be so bad except that the ad fills the width of the screen and scrolls with visitors. The ads on many other sites aren't in your face quite as much.
SITE123

Features: Mobile responsive templates, decent storage and bandwidth
Limitations: Level of customization isn't amazing
SITE123 offers hundreds of mobile responsive templates that can be used to design your website. Once the website is created, you are then able to customize various elements. The customization isn't nearly as comprehensive as tools like Wix, although it may be enough for many situations. The limited customization isn't all bad – it does make the program easier to use.
The free plan from SITE123 offers 500 MB storage and 1 GB bandwidth per month. This is on par with many of the other free programs on the list. While it won't be enough for all situations, you're not going to get much better without paying for it.
Webs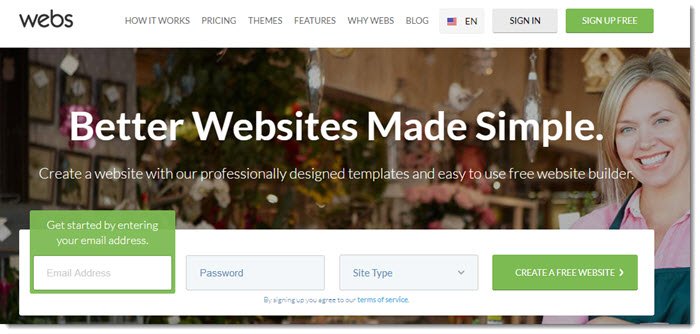 Features: Has some SEO options and various interesting components
Limitations: Not updated regularly, can only have 5 pages on the free plan, users report bugs, features are not as comprehensive as other builders
Webs is one of the more experienced website builders in the field, having existed since 2001. They have had many customers from that point until now, although customer experience has been mixed. Users often comment about bugs, which make the service hard to use.
Webs doesn't get updated very often either. The large major update was in 2012. That's not encouraging when many other website builders are updated regularly. As a result, some of the website designs from Webs appear outdated.
The free version offers the common 500 MB of storage and is ad-supported. Unusually, it is also limited to just 5 pages. That might be fine for some situations, while it is a frustrating limitation for many. You could still make a decent website with Webs, but it probably isn't worth the bother. There isn't much that sets the service apart, so it's better to look elsewhere.
Ucraft

Features: Allows you to build landing pages using blocks, decent flexibility, sites look appealing
Limitations: The free plan only allows you to build a landing page, your page comes preloaded with content that you need to remove
Ucraft is a little different than most of the builders on this list. Instead of offering an entire website, Ucraft simply allows you to create a landing page. The page can be multilingual and can contain up to 50 basic elements. You have control of the content, along with some SEO tools and Google analytics. You even have the ability to connect your own domain. That's extremely unusual for a free plan.
There are various templates to get you started. These tend to look professional and you can easily customize them toward your needs. Any site you create comes preloaded with content, which you can then tweak. The builder is easy to understand and use, with a surprising amount of flexibility.
The pages you create are also branded, with a small 'Powered by UCRAFT' notice in the bottom right. This isn't as intrusive as the ads for other brands.
Jimdo

Features: Includes an AI designer that gets sites off the ground quickly, is very beginner friendly, has more bandwidth (2GB) than competing services.
Limitations: Few templates compared to options like Wix and Weebly, free version includes ads, not a drag and drop editor.
Jimdo has a strong focus on being easy to use. Part of this includes two different builder options. The first is Dolphin, which uses an AI web designer to create a customized and complete website, based on information that it finds online. You can then make changes as you want to. In essence, Dolphin is a faster way to get everything done.
The other option is Creator. This is similar to other builders, where you are responsible for making your own site. In both cases, you have access to an intuitive editor. This doesn't follow a true drag and drop style but is still an effective way to build your site. The website builder has eCommerce functionality. As always, some features are only available for paid members.
Like other options, Jimdo offers templates, although there isn't a large number of these. There are fewer creation features than competing services as well. The free version of Jimdo offers 500MB of storage and 2GB bandwidth, which is slightly better than competitors.
Starting A Site With Free Website Builders
The free builders have many advantages. They let you get started without paying anything. This is great for figuring out whether you want to put time and energy into a website. Most of them also have paid plans, so you can upgrade for more functionality when you are ready to pay.
Just be aware of the pricing and limitations. Website builders typically charge more per month than a site made using WordPress or a similar platform. There will always be more limitations as well, particularly if you have complex requirements or want to focus on SEO.
Because you often can't transfer from a free website builder to something like WordPress, it's important to look at the limitations first. If you want a simple blog or a site for a physical business, these builders are a good choice. If your requirements are more in-depth, you'll need to have a closer look paid options.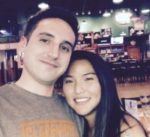 Nathaniell
What's up ladies and dudes! Great to finally meet you, and I hope you enjoyed this post. My name is Nathaniell and I'm the owner of One More Cup of Coffee. I started my first online business in 2010 promoting computer software and now I help newbies start their own businesses. Sign up for my #1 recommended training course and learn how to start your business for FREE!