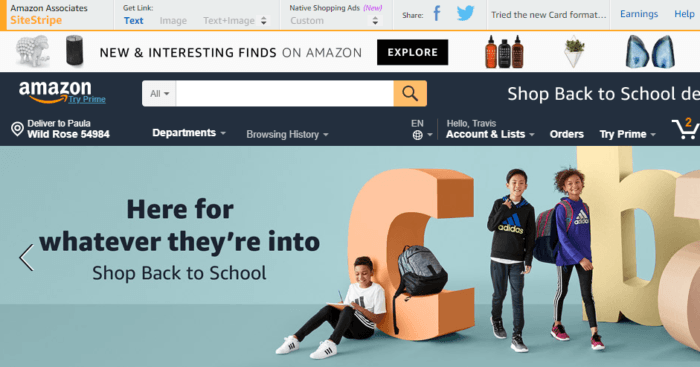 Right now Amazon stands to be the most popular eCommerce site out there and it was a long road to achieve the current success that they have. The affiliate program that they have has many of it's own hurdles that you need to understand so you can effectively make money from the program.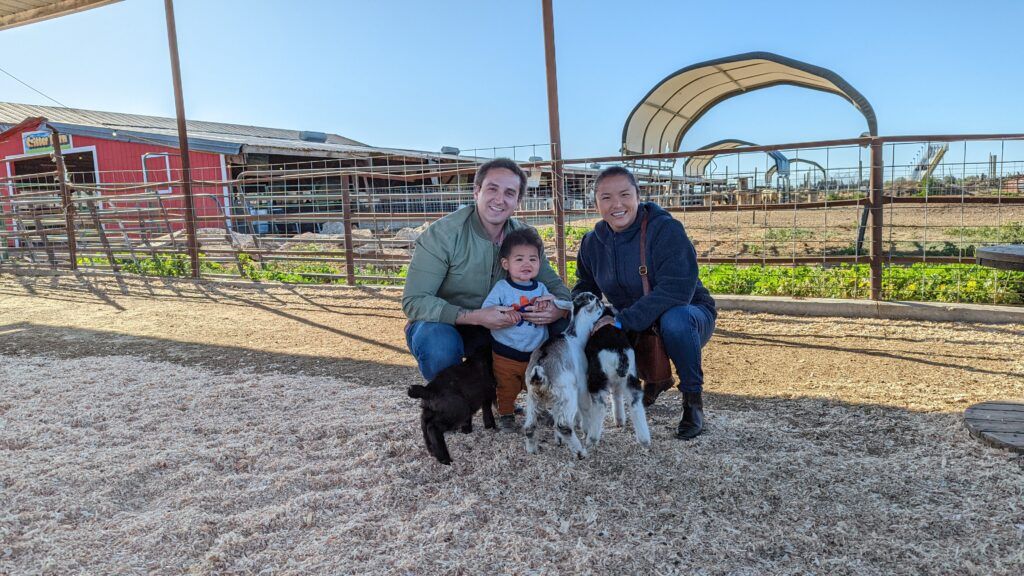 Are You Ready To Work Your Ass Off to Earn Your Lifestyle?
Are you tired of the daily grind? With a laptop and an internet connection I built a small website to generate income, and my life completely changed. Let me show you exactly how I've been doing it for more than 13 years.
Aren't there hundreds of thousands of affiliate programs out there? Yup. Here's are 25 networks that will get you access to thousands instantly. But still, there's something special about the Amazon, so in my Amazon affiliate program review I'd like to cover what makes it different than others, and why it should be a part of your portfolio of affiliate income.
In addition to that, for my affiliate program review today, it won't be just another "how to use the program" but rather a "should you use the program" and how to do it effectively if you do.
Lets jump right in then and talk about one of the largest affiliate programs out there…
Amazon Affiliate Program Review
I felt it was important to discuss the affiliate program especially after the changes that happened last 2017 to the affiliate program which affected many of the existing partner's commissions. Before the 2017 changes Amazon "Associates" (as they are called) earned a flat commission percentage which increased depending on the total number of products they sold within a given month across all products. The higher the number of products, the higher the commission.
This worked well for many of Amazon's associates and meant they could sell mass amounts of even small dollar products and earn a high commission on any product sold. You started around 4% and could earn as much as 10% (maybe more, I can't remember).
Amazon's Commission Structure for 2018 2020
After the 2017 change implemented was that each product category had a fixed commission percentage that you would earn. If you were selling products like fashion, home improvement, and furniture then you'll be happy with the change as you're in the upper 8-10% commission. If you were selling Video Games, Televisions, or PCs then you would have been on the losing end of this change, and earn just 4%.
This hurt many of the tech writers specifically for Amazon and appeared to drive many of their affiliate associates away from the program as they no longer were earning what they were in the past. Actually, most people just sucked it up, optimized their campaigns a bit, and went on promoting Amazon products. Everyone learned their lesson though, and started to diversify.
Then they cut commissions again in 2020. Here is the current affiliate commissions per product category for 2020: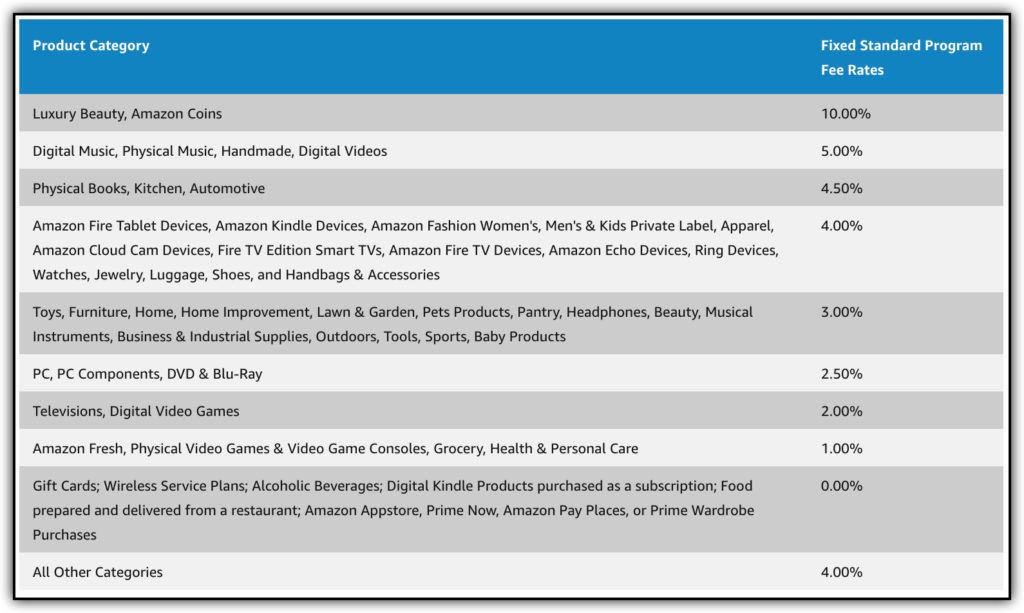 Does Amazon's Commission Stand Up to the Competition?
Amazon's affiliate commission ranges from 1-10% depending on the product category as referenced above, and this is a broad range but when we look at other companies commission, it is pretty much on-par with the other companies although I would say in certain categories Amazon offers a higher commission. Most of the retail competitors commission ranges anywhere from 1-5%. Many other companies will pay up to 75% or more, but they are rarely the big box stores like Walmart or Target.
Really, it all comes down to looking at each of the different competitors commission rate and then selecting which one to go with. Nobody is stopping you from selecting different companies per product that you promote. If you can earn twice the commission on a different affiliate partner, then go with that one!
Actually Amazon recently cut commissions in April 2020, and that cause a lot of affiliates to say they were leaving the program. Whether they did or not, I'm not sure. However, I still promote Amazon, and highly recommend it as a great beginner affiliate program for new affiliate bloggers.
Competitors Affiliate Programs of Amazon
If you're just getting started with affiliate marketing, it can be a little overwhelming as there are literally thousands of affiliate programs on the market. Here are a few of the top of mind alternatives to Amazon which really dominate the US and Global markets in terms of eCommerce sales with affiliate programs attached:
Target: We all know Target and they have some of the most high-quality department store products on the market. What I like about Target's affiliate program is they offer around a 5% commission on products sold. They also have different commissions for each product type and some go below and above 5% but in general their commission rates are higher than most of the other companies for eCommerce. There is definitely potential in working with Target! You can read our full review on the Target Affiliate Program here.
eBay: While eBay and Amazon offer a bit of different product type, eBay has been evolving over the years to now offer manufacturers to sell new products on it's site as well. The interesting difference between most affiliate companies and eBay is that eBay offers the affiliate partner between 50-70% of the profit that eBay earns. They dont tell you flat out what the profit is, but you get over half of it. Learn more about eBay's Affiliate Program here.
Walmart: The Walmart affiliate program is one that I was skeptical to join at first because their commission s between 1-4% only. Compared to other affiliate programs this is quite low, but on the flip side the product prices on Walmart's site are also very low which makes it easy to sell. I definitely think that advertising with Amazon you are likely to make more money than utilizing the Walmart program. You can read the full Walmart Affiliate Program Review here.
AliExpress: While AliExpress has some really great deals on products, I will say right away that their commission structure is very low. You can get commissions of between 1-4% but 4% is the highest commission you can achieve and you'll only get that once you're generating over 1,000,000 in sales monthly (which i think for most users t his is not achievable… ever).While the eCommerce site is highly used, I do not suggest it as a great affiliate program at this time.
Wayfair, Hayneedle, and Houzz are other competitors, although they tend to specialize in the home-goods categories.
There are so many more programs out there that you can check out including Best Buy, Office Max, and many others which have many of the same products that you'll find on Amazon but it just depends on your sites specific niche. Don't be afraid to use multiple programs though and see which works the best for you.
Grabbing Affiliate Links From Amazon
Amazon is one of the easiest programs to find and use your affiliate links now. Once upon a time, they were just as confusing as Rakuten or CJ.com, but they have been making some changes to their affiliate program which make it easy even for newbies to use. Once you sign up and get "Site Stripe" working on your Amazon account, you can pick an affiliate links for (almost) any product you see.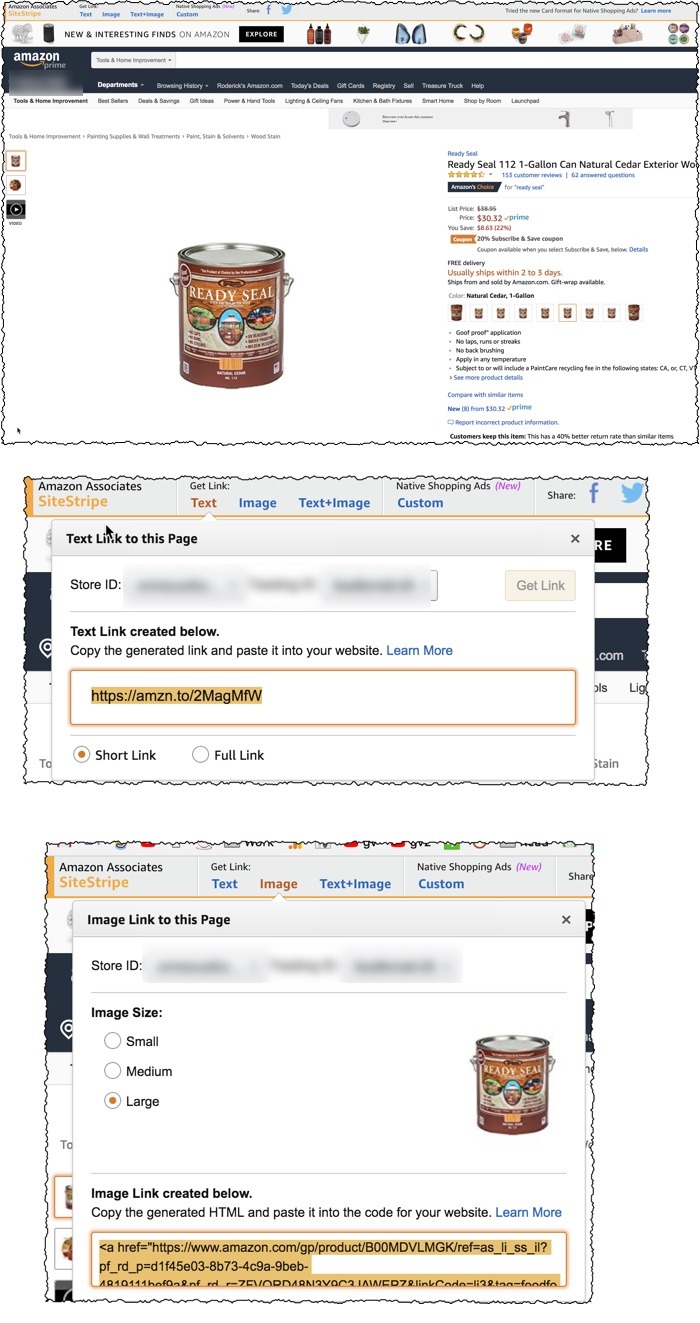 That being said, with Amazon, they could improve their tracking and testing ability. Many other more developed affiliate programs will have tools available to help you get more conversions. Some affiliate programs may even have multiple landing pages, custom tracking codes, custom images, and communication with an affiliate manager.
With Amazon, you're pretty much on your own. What's worse, is that the images are not that customizable, and are often too small to be as effective as I'd like. Considering you're not allowed to download/upload Amazon images to your site, you're stuck using their small images or installing a plugin with API access.
So in comparison with other affiliate programs, Amazon makes it easier to find you link, but doesn't give you enough freedom to run a truly customizable and highly effective campaign.
How can you Effectively Make Money Using The Amazon Affiliate Program?
There are many ways to make money using the Amazon affiliate program, but the amount that you'll make is dependent on how and what you sell. There are different ways to advertise products on your website and social media network but picking the right product is going to be the key.
1. Pick higher dollar products
One of the most important lessons that Amazon affiliates learn right away is that lower dollar products wont earn you much money unless you have the traffic. Lets say for example you're posting a $10 product with a 5% commission. That's only .50 cents per product purchased. After 10 sales you're still only at $5.
As a lesson, it's suggested to target products which have a base commission you have in mind, with the potential to earn an actual income you want. What's your minimum number per sale? $1? $10? Find appropriately priced products in the categories that pay the most. You can often get creative and tweak the products you review to fit higher paying categories.
For example, if camping is you niche, outdoors pays 5.5%, which isn't bad. But you can increase this by searching for camping products that fit into the pet product category, like dog lifejackets, or pet travel bowls.
2. Jump on New Products/Trends
FAST
If you start writing on an iPhone X right now, you'll never enough traffic going to your posts to achieve any sales. Writing about new items as they come out, or before they come out can get you a boatload of temporary traffic (if you can get early access or at least make some predictions, then edit after it comes out).
Lets say for example when the Google Home was just coming out and you were one of the first ones to write about what it can do for you and the benefits of having it around. Those articles went viral so fast! Those are the types of articles you need to write. Listen to your audience and watch for all of the newest trends and write about them.
If you want to know more about how to get started and promoting the right Amazon products, you can use our guide here on how to make money using the Amazon Affiliate Program.
Advantages/Disadvantages of Working With Amazon
So lets break it down and review some of the likes and dislikes that we have with Amazon. These are the reasons people either love the program or hate it.
Advantages
Largest Selection of Products: It's without a doubt that Amazon is one of the largest eCommerce sites in the world and you can pretty much find anything you want on Amazon.com. From the common to the strange, they'll have products in your niche to write about.
Easy to Use: The program is easy to and the portal is setup so that you can easily link specific products/pages without being an expert. They also have great tutorials to get you started.
No Cost to Sign Up: It's a free program and they typically approve anyone who doesn't have any harmful, sexual, or derogatory content.
Endless Supply of Ad Choices: The affiliate portal has so many options in terms of text links, banner ads, interactive ad boxes, etc.
Ad Tracking: One of the best things about Amazon's program is that you can track the performance of specific ads. This helps you understand what routes produce the highest amount of revenue so you can replicate that in the future.
Well known Site: It's one of the most well known eCommerce sites on the web today. Discussing and linking to products on Amazon wont be hard to sell as everyone knows the company already and they trust doing business with it.
Seconal Products/Sales: They offer products for all of the seasons/holidays so throughout the whole year you have an ever changing supply of things to write and talk about. Especially during those Black Friday and Christmas shopping seasons where you can make a big bang!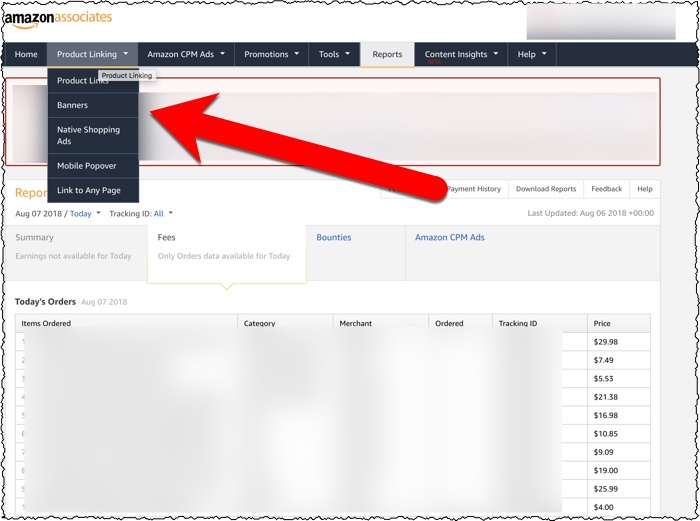 Disadvantages
Short Cookies: My biggest disappointment with Amazon is the fact that a cookie only stays with a customer for 24 hours. So if they make a purchase within that 1-day period you get the commission. If it's after that, then it's all over – no more commission unless they click your link again, or the person added the item to their card (90 day cookie).
Low Commission: While this is highly dependent on the category, some of my personal favorites like PCs, games, tablets, and TVs have a very low commission which makes it not a great option to try to sell in. Of course there are other categories which have a higher commission if you're into writing in those niche categories.
Payout Methods: I am still a bit disappointed that PayPal payouts aren't allowed so you're stuck with having direct deposit or a check mailed to you as the only options.
Getting Banned: The terms and conditions can often be quite confusing and one wrong move and you're banned (which is hard to get back on – near impossible from what I've heard). It's important to follow strictly to their rules. When in doubt if something seems on the line, dont do it. Better to be safe than banned from the program forever. One example is that you're not allowed to use Amazon images since they're copyrighted! That's why I use a special plugin for that.
Bottom line?
Amazon Associates, despite having low-ish commissions and being a boring choice because everyone uses it, is actually a great affiliate program. They have a ton of products, and would make a great affiliate program for your "main" product or for some one-off links within the content of your website.
That being said, they are a big company, and like Google, don't provide great support to their affiliates. It's easy to get banned, and the don't need you. That's why I never tried to make Amazon my main source of income, although do earn some income from Amazon. I do like it being part of my portfolio of affiliate income, but the lack of expert communication with affiliates, in comparison to some other programs I've joined, makes me a bit skeptical that they'd really pull through for me if I needed them.
The Internet's #1 Affiliate Training
It sounds like you're pretty familiar with the basics of how affiliate marketing works. Awesome! But is your website profitable yet? Are you stuck spending hours wondering why you aren't seeing results yet?
You aren't alone. Most newbie affiliate marketers are a little lost, jumping from one "how to" guide to the next, hoping to learn the secret sauce of how to make money with affiliate marketing
I was able to turn my basic niche blog into a six-figure earner in 18 months following the training from this company. They focus on building a sustainable business that will earn for years, not just a website that will "game" search engines for temporary rankings. That's why 8 years later my websites are still earning and still growing.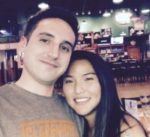 Nathaniell
What's up ladies and dudes! Great to finally meet you, and I hope you enjoyed this post. My name is Nathaniell and I'm the owner of One More Cup of Coffee. I started my first online business in 2010 promoting computer software and now I help newbies start their own businesses. Sign up for my #1 recommended training course and learn how to start your business for FREE!