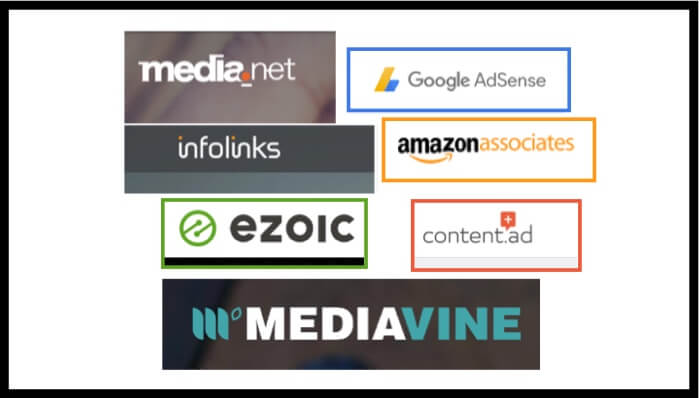 After you make your first website, the thing that's on your mind most is how you are going to make your first dollar. At least for me, that first money came in the form of Google Adsense. I didn't have to sell anything! All I needed was a few ads on my site, and with a trickle of traffic, I made my first penny, then dollar, then $100, and so on. Though Google dominated for years, they are no longer the only game in town. There are lots of alternatives out there, and some are actually pretty competitive with Adsense earnings.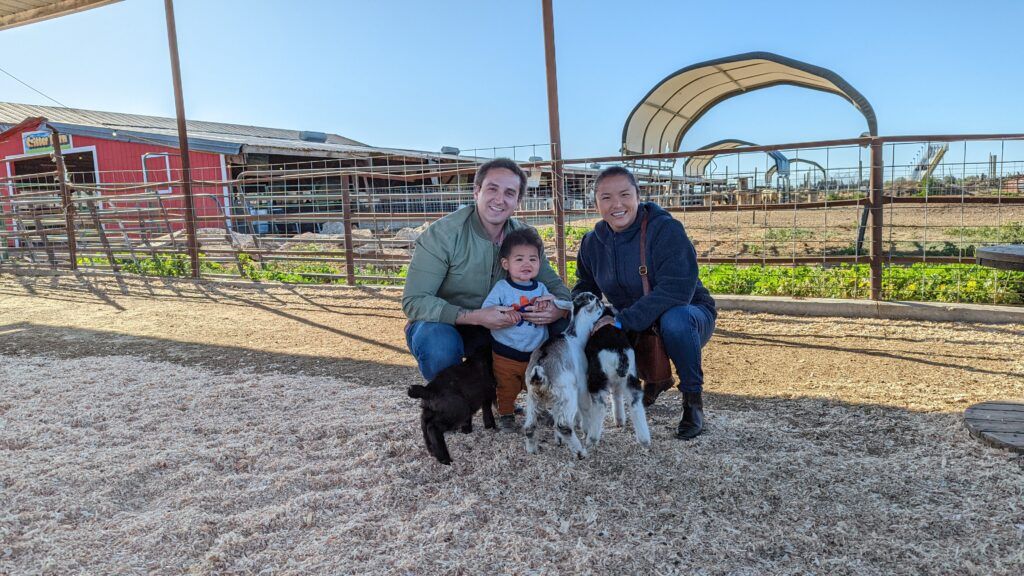 Are You Ready To Work Your Ass Off to Earn Your Lifestyle?
Are you tired of the daily grind? With a laptop and an internet connection I built a small website to generate income, and my life completely changed. Let me show you exactly how I've been doing it for more than 13 years.
What's more, there are services that help you make money with Google Adsense even though you aren't working with Google directly. One such example is a service called Ezoic, which will basically manage your Adsense account for you. They do work with multiple ad networks, but because Adsense pays so well, that's the main ads they display on your blog.
Essentially, they are an ad testing system, and will display whatever is more profitable for your website. If you do go with Ezoic, I highly recommend using one of these ad management plugins so you can keep track of all your tests properly.
There are tons of options out there. I haven't tried them all, but I have tried more than the average website owner. While struggling to monetize one of my other blogs, I cycled though a total of six different services before I finally landed on something that turned a pretty good profit. Which one was it? Keep reading to find out!
But keep in mind that this particular service worked for ME. I have seen the opposite happen. For example, I know a person that started out with my #2 choice, then switched to my #1 choice, but switched back because he made more money with the other company. This is why you need to test this stuff for yourself, and see what works best for your niche, your traffic, and your business!
Media.Net
OK, now we are getting into some decent earnings here. Media.Net is actually a pretty cool company to work with, and they would be a great option for anyone that cannot use Adsense, doesn't want to for whatever reason, or as an addition to ads from other CPM companies.
The cool thing about Media.Net is that they have a lot more customization and flexibility than other ad companies. I was able to change the style and look of my ad units quite easily, so they matched my content. In Adsense world, that's a no-no because it counts as a deceptive click, but in Media.Net world it's just clever advertising. Plus, they have a post-click page before displaying the ad, so advertisers don't get a bunch of false clicks.
In other words, a visitor will click the ad, go to a intermediary page from Media.Net, then go to the ad.
You don't have to blend your ads, but it can help with click through, especially if you use a sticky ad (also a no-no with Adsense), or one of their ads that look like a list. People love lists!
Plus, if you are a high earner they will do extensive testing to help you get more clicks on your site. They did a bit of testing for my site, but stopped shortly after. My guess is that I wasn't giving them enough clicks to make it worth their while.
Also, they stopped communicating with me after about 3 months, so I don't know what was up with that. Perhaps my account manager was fired? He often took days to respond to email requests, and then stopped responding altogether. I would have made a bigger deal about it, but I was pretty much done with Media.Net by then.
Though I liked their setup, the earnings were very poor.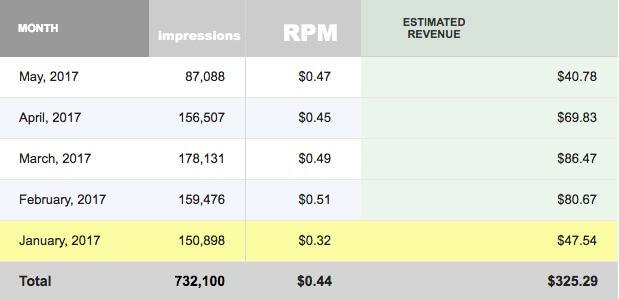 The main concern here is the RPM. That's the rate of earnings per 1,000 views. It's simply horrible. Unacceptable. Less than $1 RPM? It would be worth MORE money to not have the ads and just do affiliate promotions. Part of the issue is my niche, which has a low cost per click to begin with. However, even with Adsense I was able to get at least $5 RPM, and with my #1 rated service (bel0w) I'm able to get over $20 RPM, and even close to $30!
$0.30 to $30.00 is a huge leap.
This is one reason why I don't use Media.Net any more. However, I know that some people do extremely well with them, even better than with Google Ads. Even if earnings are not on par with Adsense, consider this: If you are earning $10,000 USD from Adsense, why not add a few more ads through this company and earn an extra $2,000 USD per month? Sure, it only earns 20% of the revenue, but an extra two grand per month is nothing to scoff at.
For me, an extra $50 per month was in fact something to scoff at, so I removed their ads.
==> Sign Up For Media.Net Here
Google Adsense
Most people will be familiar with Adsense, so I don't spend too much time here. In fact, I didn't spend too much time using Adsense myself, because I was able to leverage their ads through an "Certified Publishing Partner" exchange. In other words, I didn't work directly with Google. Instead, I worked with a middle-man, who published Google ads to my site (along with other ad companies).
Back in 2011 I was able to get my junky, little website of just a few hundred visits per day up to about $10 per month in earnings. That's not bad for a first time website owner! Your first dollar is always the sweetest (even if it is a $0.01 click), and it was the same experience for me.
I don't have any recent stats from my website with just plain Google Adsense, but believe me that their earnings will surpass most other display ad networks by a long shot, even with all their silly rules.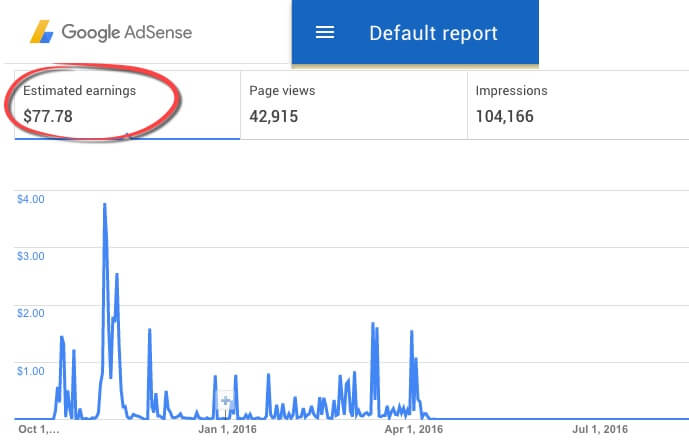 Which brings me to the main downside of working directly with Google – the confusion about the rules, the lack of support, and the permanent bans.
There are a lot of rules when dealing with Google's display ad network!
no dropdown menus that obscure ads
no sticky ads in the sidebar
only 3 units per page (rule has since changed)
no more than two ads can be displayed on a mobile device at one time
various content restrictions
anything that causes accidental clicks
…and more!
Of course, it's all laid out in their rules, but who reads those? Even if you do, most newbies will simply be confused by them. Got a question? There's no support team. Just endless FAQ pages.
So although Google Adsense my favorite "ad deliverer", I don't actually recommend you use them right away. I'd recommend that you use one of the intermediaries shown below. They are essentially companies that deliver a variety of ads on your website, but are approved by Adsense to manage ads. That way they ensure you are in compliance with Google ads policies, so you can have less worry of being banned simply for not understanding the rules.
==> Sign Up For Google Adsense Here
Amazon CPM (No Longer Available!)
This display ad network got me surprisingly good returns! I earned at least triple what I was earning with Media.Net, which, although it wasn't much, percentage-wise was a big deal. Although I was only making about $5 per day with my "top earner" (Ezoic, below), adding $1 per day through Amazon CPM was a 20% increase in revenue per day. Speaking in dollar amounts, it wasn't much, but if you can keep your eye on the time when your site will be getting 10's of thousands of visitors per day, a 20% increase in revenue can be significant.
Imagine earning $10,000 per month and adding another $2,000 per month on top of that!
However, there were a number of issues with Amazon CPM worth mentioning. I used them right after they launched, so these issues may have been remedied by now.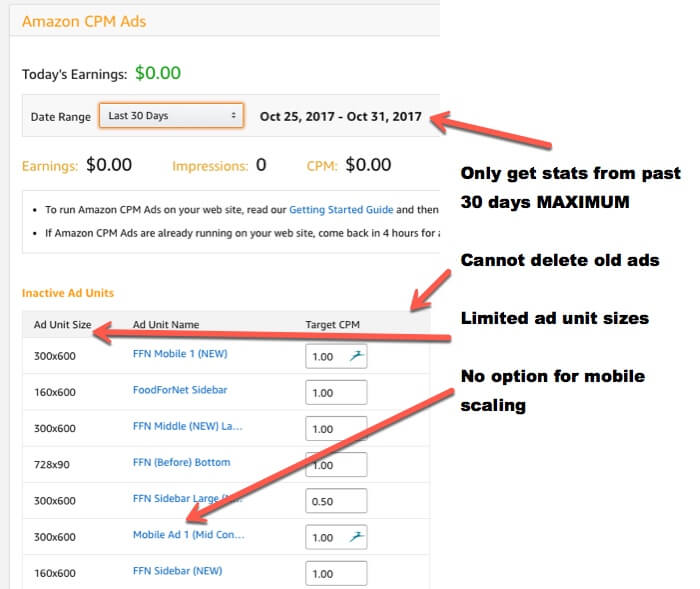 First, their interface sucked. It was a little buggy, very slow, and there were very few tracking tools to allow me to truly track and increase my earnings. I had an issue where I couldn't delete any ad units, so each time I wanted to test a new ad placement, it would just add more units on top of what I already had. This is difficult for organization interpreting my testing results!
Why was I deleting old ads?
For some reason, Amazon CPM kept telling me my ad units were out of date. I got an error message essentially telling me I was using old code, so the earnings wouldn't be counted or tracked. Although I deleted all 10 of my ad units (not all were running at the same time) and replaced them with new ones, the old ad units were still receiving impressions somehow. Could it have been a caching issue? No. I deleted my website cache. Plus, these impressions were showing up months after being deleted.
I even ran a test where I removed ALL Amazon ads for a bit, but they were still getting impressions. I contacted their support, and although they were very friendly and attempted to be helpful, they could not solve the problem.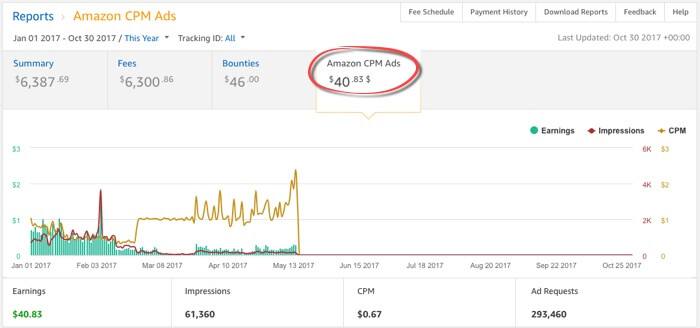 Actually, I was very surprised to find that Amazon CPM had a support team. Unlike Google, you can speak to real people working with Amazon to help you troubleshoot or ask questions. I got the impression that they weren't super savvy with regards to display ads, but something was better than nothing!
==> Sign Up For Amazon Associates Here
*Note: All associates accounts have access to Amazon CPM
Ezoic
Using Ezoic really opened my mind to the possibilities of how much money you can earn through display ads. Actually, I learned about this service through a product I bought called Niche Tycoon. Although my paltry $150 per month earnings didn't nearly match up to the $40,000 per month earnings of the product creators, I did learn a whole lot about ad testing, and driving paid traffic to display ads. This is still a model I believe in even though I didn't personally earn much money from the method.
What was so great about Ezoic?
They really give you a lot of control in ad testing, while taking care of all the hard parts of the testing process. It's a bit complicated to explain, but I'll do my best.
Basically, Ezoic will give you a bunch of different "titles" for your ads so you can name each unit. You can then place each unit on a spot in your website. These spots can match up with the titles like "Sidebar Ad", "Before Content", or "Footer", or you can just assign them as you see fit.
You can place as many as you want on your website, in any position (as long as the position doesn't violate Adsense policies like a sticky sidebar). Ezoic will then take control and display only as many ads as it thinks your site can handle. They choose from a variety of ad providers, but it's mostly Google ads. They will then run the ads in different positions for each visitor of your site, running tests on which ads make you the most money, with the best user experience.
The "user experience" part is why they call it EPMV instead of CPM.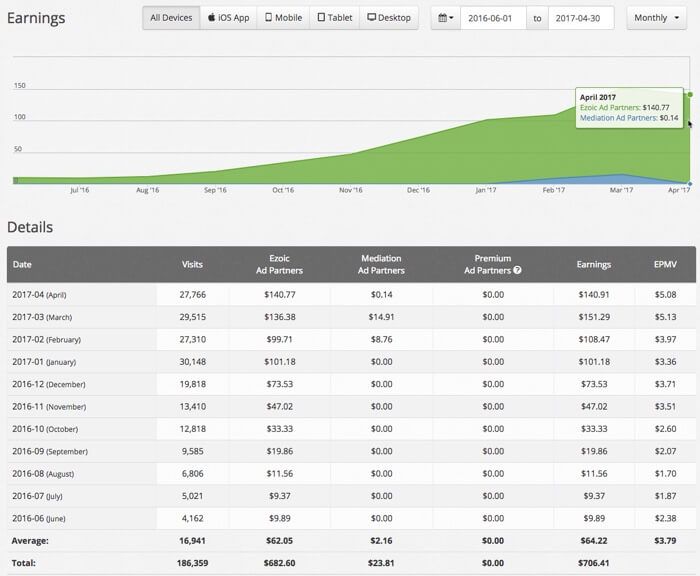 Ezoic really did help me grow my earnings from a few pennies into dollars. Eventually I was earning over $100 per month from just a few hundred visits per day. That isn't a full time income, for sure, but my $5 CPM (EPMV shown in chart) was improve incrementally over time. Improvement is all you can hope for really! Although it would have taken longer, I think eventually Ezoic could have earned me about $1,000 per month in ad revenue from my site.
But why wait around that long? I found a better service that skyrocketed my CPM from $5 (on a good month) to $30! (keep reading below).
Before you get too excited about my crazy results below, you may still want to stick with Ezoic. Why?
The main thing to know is that many of the best ad services have traffic requirements, so if you are starting out, you may not meet those requirements. Such is the situation with the service I'll mention below. They have a 30,000 visitor per month requirement
Some of those services have exclusivity contracts, which mean you cannot combine it with other ad networks! Again, this applies to the example below. With Ezoic, I could run Ezoic + Amazon CPM + MediaVine to increase earnings.
CPM will vary for each person. You may get better earnings than me if you have a different niche, or different traffic source.
[Note: Ezoic does not accept websites or Adsense accounts that have been banned by Google Advertising]
Mediavine
MediaVine is what I'm currently using for the website I've mentioned several times throughout this post. After getting frustrated with earning just $150 per month from the ads on my site after two years of creating content, I decided I didn't have much to lose by experimenting with other services.
The first day MediaVine ran ads, I got something like a $15 RPM. Then $20, then $28. Now I average between $20 and $35 RPM during the year, and sometimes as high as $50 RPM during Christmas.
That's huge! Check out the graph below and see how I'm doing over time.

And you can see, my earnings have went from $150 per month at the peak of all previous efforts, to $800 per month.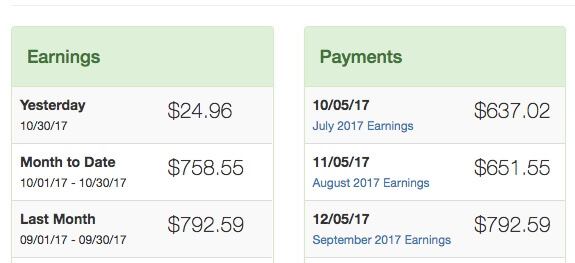 Update 2020: Still Working With Mediavine
I'm up to 6k-7k sessions per day with $3,000-$5,000 earnings per month. You can track my current Mediavine earnings to see how the site is going (it's going very well).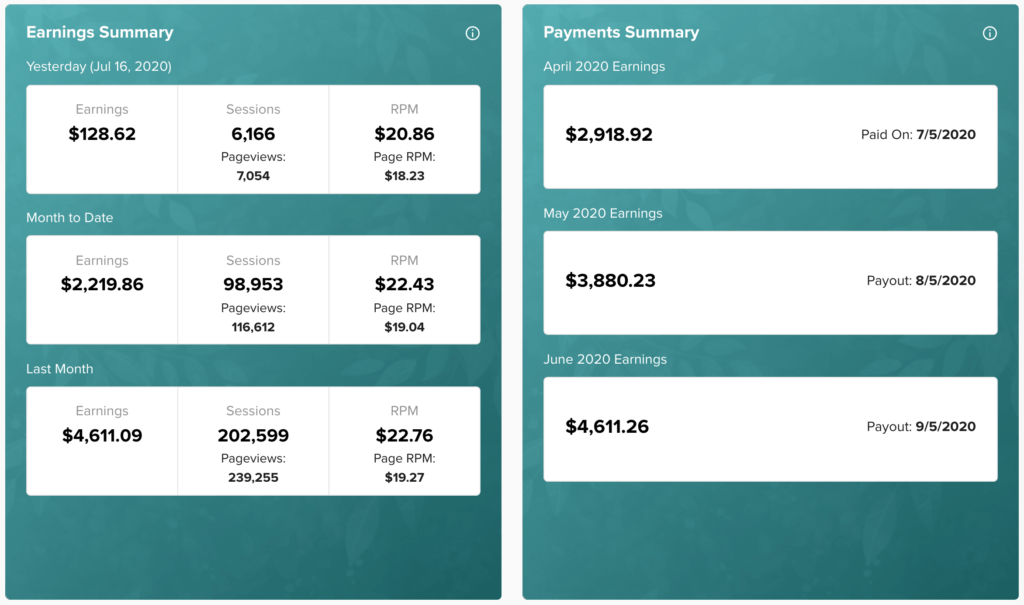 The best thing about all of these all of these earnings is that I had to do zero work to run or test ads. All I had to do was install their plugin and fill out their contract forms, and they did the rest. They do the testing, the ad placement, and all of the behind-the-scenes stuff.
In fact, I don't have to sell anything on my site either, which means I don't have to figure out where to place affiliate links or what type of products to sell.
The Downsides To Mediavine
There are downsides though. While we're on the topic, all of this "behind the scenes" work means you have very little control over the ads that appear on your site. There's no custom placement option, and tracking data is sparse. You can remove ads from specific pages or places, but it's like chopping wood with a butterknife.
The worst part is that lack of data. One thing I really enjoyed about Ezoic is that I could track individual ad unit earnings, page earnings, or entire site earnings. This would help me learn which ads were making the most money, so I could repeat the process, or optimize for further revenue.
With MediaVine, I can't even see what my top pages are for CPM. I can only see my top traffic stats (which I already know from Google Analytics), and assume they are my top earning pages.
Another potential downside to MediaVine is exclusivity. That means you cannot run Amazon CPM, Media.Net, or other networks along with MediaVine. They seem to do pretty good with filling your site up with ads, so it's not really an issue with me, but it's something to keep in mind if you are currently getting good earnings from those networks. You really don't want too many ads on your site though, so this type of quality control ends up benefiting website owners and visitors in my opinion.
Also, don't forget that you'll have a contract with them, so you wont' get paid right away. Payments are delayed by a month, and you need to give them a month notice if you plan to end your agreement, so there's a bit of a time commitment if you want to test out their service.
==> Sign Up For MediaVine Here
Final Thoughts And Comments About Display Ad Networks
There are a lot of options out there, but in my experience, the places that will make you the most money are going to be Google Ad focused. Sites like Media.Net or others which I didn't discuss here like Infolinks just can't compare in terms of RPM and the bottom line of dollars versus traffic numbers.
On top of that, using services like Ezoic or MediaVine, which help you do testing to optimize your site for maximum earnings and a balanced user experience will help you grow your income faster than manually testing this yourself.
Should You Even Use Display Ads?
I used to be very hard on display ad networks, saying that the amount of traffic you need to make good earnings was too astronomical to make it worth your while.
I've since softened my stance on this (obviously), and I see how display ads play a specific role in the world of making money online. What's more, though you do need a lot of traffic to earn good money…so what? There's a billion people on the internet and you need just a few thousand per day!
It takes a lot of hard work to build up that kind of traffic, but it's possible. You don't have to be superhuman to achieve this. Normal people like me and you are earning good money from display ads.
If you combine these ads with affiliate links, sponsored posts, and other forms of monetization, there's no reason your website can't earn $10k per month, no matter what your niche is.
However, keep in mind that you can still make more money from less traffic using affiliate marketing. It's still true that 100 visits a day can earn a very good income with a targeted affiliate approach to your website. I've done it. I had a website that was earning $3,000+ from about 50 visits per day because it ranked for a great keyword. There's just no way you could earn any significant income using display ads for that small amount of traffic.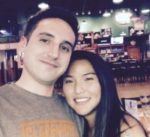 Nathaniell
What's up ladies and dudes! Great to finally meet you, and I hope you enjoyed this post. My name is Nathaniell and I'm the owner of One More Cup of Coffee. I started my first online business in 2010 promoting computer software and now I help newbies start their own businesses. Sign up for my #1 recommended training course and learn how to start your business for FREE!