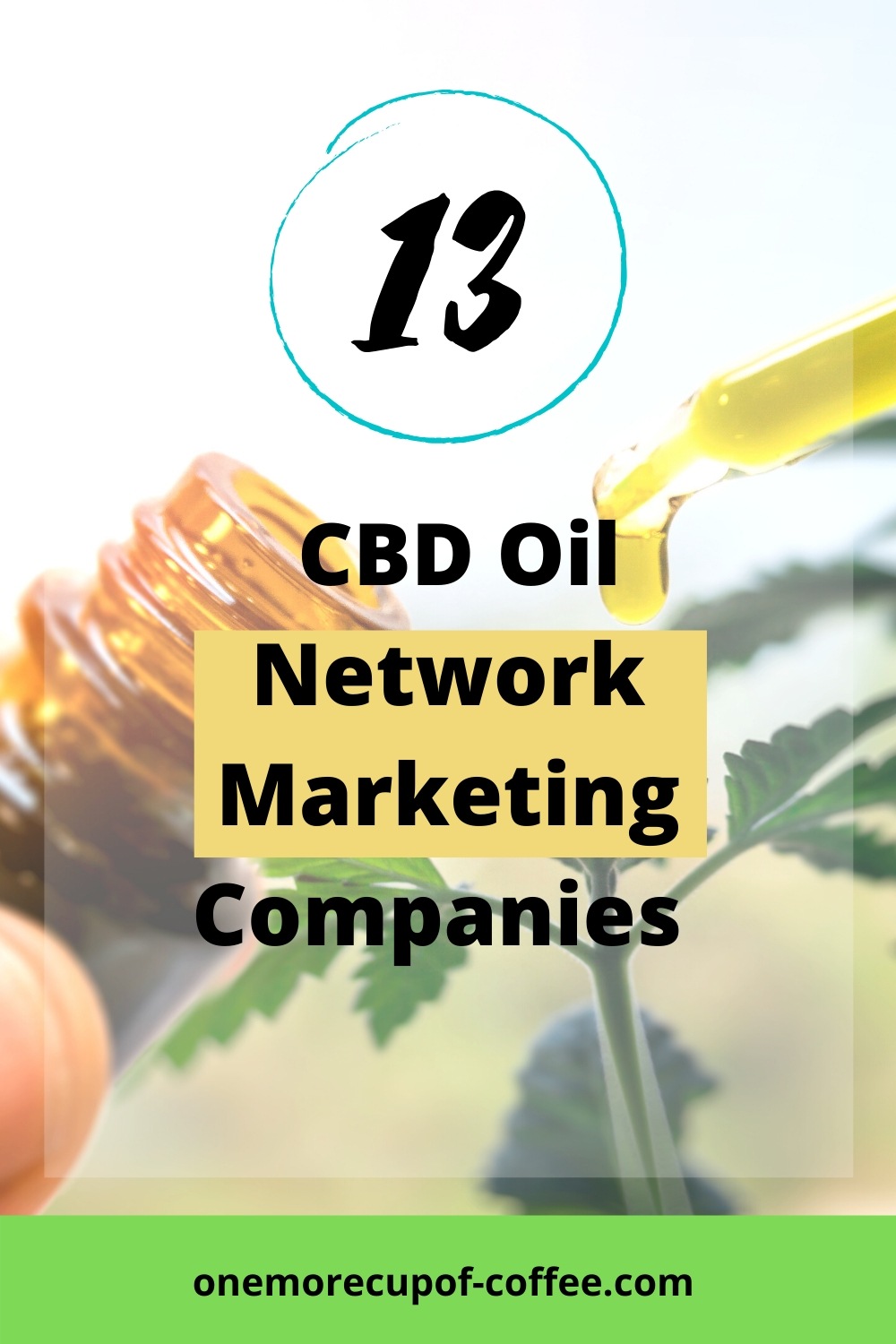 CBD oil is the hot new product in the health and wellness field, which makes it big in network marketing companies as well. The CDB oil network marketing companies featured in this list all sell CBD oil while offering people the chance to sign up as a seller (often called IBO) and earn money building a "team" of sellers as well.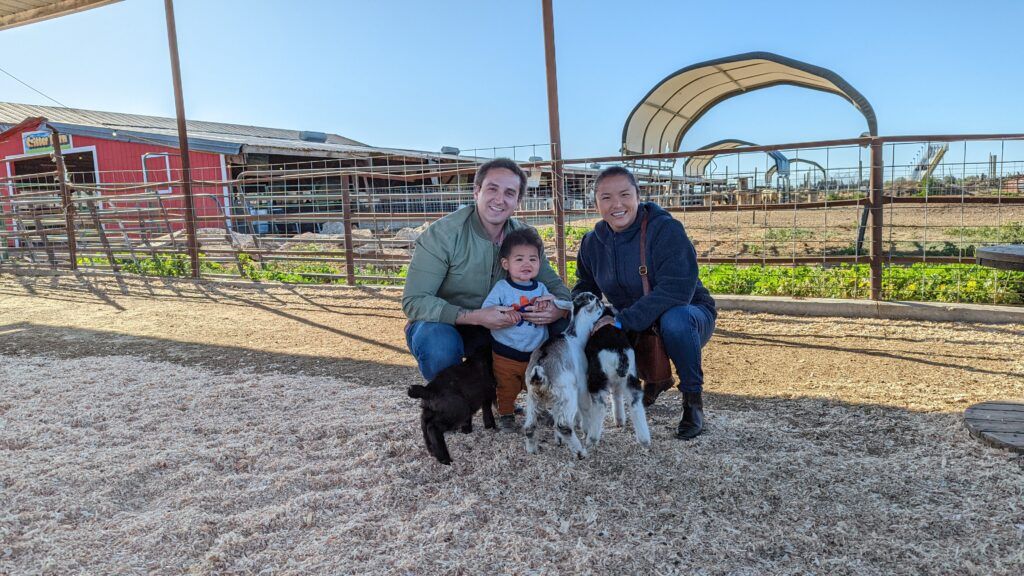 Are You Ready To Work Your Ass Off to Earn Your Lifestyle?
Are you tired of the daily grind? With a laptop and an internet connection I built a small website to generate income, and my life completely changed. Let me show you exactly how I've been doing it for more than 13 years.
There's no doubt that the idea sounds appealing. Why not make a little money by promoting products that many people want to buy?
The oil itself is derived from the cannabis plant (Cannabis sativa). It consists of cannabidiol, which is a key compound in marijuana, along with some type of carrier oil. Cannabidiol (CBD) doesn't have any psychoactive properties, so CBD oil won't get anyone high. This makes it valuable as a potential health product for a wide variety of uses, and because of this, we've seen a huge explosion in companies selling CBD through traditional marketing methods.
There are generally two styles of oil. The isolate version just contains cannabidiol, while the full-spectrum version contains other compounds as well. There is demand for both types, as CBD isolate is considered purer, while the full-spectrum oil could potentially offer advantages from the additional compounds.
While research is still ongoing, CBD oil has been linked to specific health benefits, including the potential to decrease anxiety and depression, relieve lower back pain & arthritis, get better sleep, have faster workout recoveries, and improve heart health. None of these effects have been proven, but the current information is enough to make CBD oil a trending topic.
The popularity of CBD oil could make it a good product to sell. There is already a large audience ready to make purchases. You're also promoting a consumable product. If customers do like the products or see benefits, then they're likely to come back for more.
This list features the key CBD oil MLMs that are currently operating. Since this is a new industry, there will no doubt be lots of competition, lots of hyped up (then missed) promises, and plenty of companies won't survive the fallout.
Some of these sell entirely CBD oil and related products, while others offer a wide variety. It's important to consider any company carefully before getting involved. MLM compensation plans are often complex and success can be more difficult than you may first expect.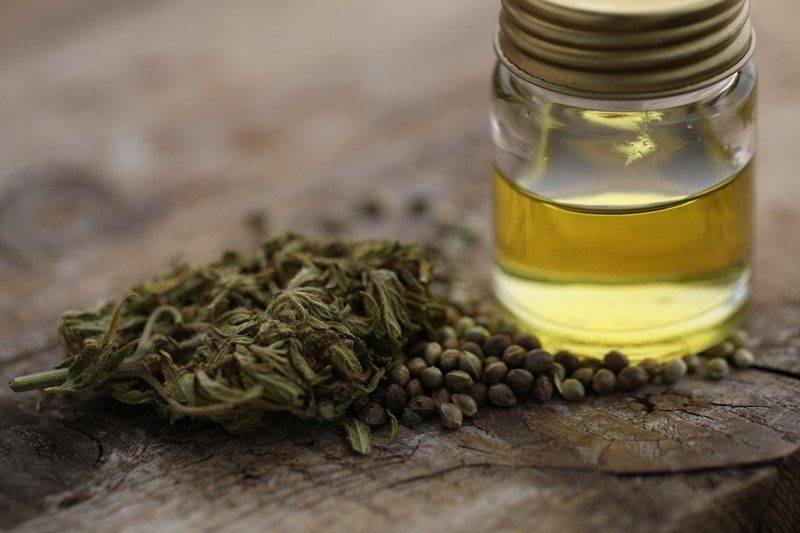 You may also want to consider skipping the whole MLM & direct sales aspect. I don't do network marketing, but make a full time living doing "affiliate" marketing, which involves product promotion, without the team building (recruiting) aspect. Here are some CBD affiliate companies worth promoting:
CBD Oil Network Marketing Companies
CBD BioCare
Kannaway
CTFO CBD
Reliv
HB Naturals
My Daily Choice
Bocannaco
Zilis
First Fitness Nutrition
Trevo
5Linx
Prime My Body
Morinda
1. CBD BioCare

Focus: CBD oil and beauty products that contain CBD oil
Minimum Cost: Free
Product Overview: The main range from CBD BioCare consists of CBD oil, capsules and gummies, along with a couple of pain treatment products. There are also two skincare categories, with a total of seven products between them. Finally, there is a 'CBD oil for pets' product range, where the oil can be purchased in various quantities.
As you might expect, the oil is a little on the expensive side, but not excessively so. The company has an average rating of 4.9 out of 5 from reviews. While this sounds good, the reviews are recorded on the CBD BioCare site itself and may be biased.
One notable feature is the emphasis on quality. The company's website states that the hemp is organically grown and has been third party tested. The manufacturing facility has been registered with the FDA as well.
Details about the testing and supply of products are provided as well. The site even hosts certificates of analysis and various outcomes from testing. This type of information helps to prove that the oil is of decent quality.
Commission Quick View: CBD BioCare bounces between suggesting that members are affiliates of the company or that they are sales representatives. This may be partly because the company has a simplified approach to MLM.
In particular, there are just three ranks to the compensation plan, which are Sales Representative, Sales Manager and CBD CEO. Members can earn 20% to 25% commission on sales at the first rank, 30% to 35% at the second rank and 40% at the third rank.
The ranks are mostly linked to sales, rather than recruitment. Earning the 30% rate involves reaching $5,000 in sales, while the rate 40% involves reaching $25,000 in sales.
Unlike most MLMs, CBD BioCare doesn't seem to have any sales minimums, quotas or fees. The company also provides various tools, like a dashboard, landing pages and coupons for visitors. These aspects give CBD BioCare an advantage over other similar MLMs.
There is some team aspect present too, as CBD BioCare talks about sub-reps. One page of the site mentions that representatives can earn 10% overrides on the sales of recruits. However, there is no other information provided.
One other thing to mention is the cost. While it is free to become a sales rep, you need to pay extra to have access to all of the tools. CBD BioCare offers packages for $99, $199 and $349.
All three packages offer a 5% discount code for customers and a landing page. The more expensive two also come with some products. After the first year, anyone who purchased a package needs to pay $49.99 per year for access to the landing page.
Final Thoughts: CBD BioCare is a pretty good choice if you plan to just focus on the sales side of things. Joining as a free member gives you a sales dashboard and the chance to earn, which is all you really need.
The 5% off coupon would be a nice way to promote sales. Even so, it may not be worth the $99 initial fee (plus $49.99/year after your initial year). I would also recommend skipping out on the landing page that they offer and promoting their products yourself. That way you're not using the same sales pitch as everyone else.
2. Kannaway

Focus: CBD oil products and some unrelated items
Minimum Cost: $54.98 per year
Product Overview: Kannaway features various CBD oil products, including salve, CBD oil, capsules and an oral oil applicator. Other less common items are part of the selection too, like gum, vape packs, Rev!ve Liquid and energy chews.
There are also other products that might seem unrelated, including nutritional powders, skincare items and essential oils. These actually tend to contain compounds from cannabis as well.
Interestingly, the company sells two versions of some CBD oil products at different prices. For example, their Premium Hemp Oil Capsules cost $113.99 (or $93.99 at wholesale). Their Pure CBD Capsules cost $107.99 (or $88.99 at wholesale).
The CBD oils are independently tested and are extracted using a low heat CO2 method. Both approaches should help to ensure a high-quality product.
The main issue with Kannaway isn't the product quality, but the price. Their items tend to be on the high side, even for a CBD MLM.
Commission Quick View: Signing up as a Brand Ambassador for Kannaway costs $58.98 per year. Ambassadors can buy and resell the products and/or allow customers to purchase through a replicated website. The base commission rate is 30% of the commissionable volume, regardless of how customers make their purchases.
Kannaway's compensation plan strongly focuses on the team aspect and it gets complicated fast. For example, the amount you get paid depends on the program the customer is in, while precisely how you get the income is based on whether the customer is in their first 30 days or not.
The team aspect follows a unilevel plan with compression. This means that recruits are placed in your team based on who recruited who. Any volume generated by a distributor who is considered inactive will go to the level above them.
There are 12 ranks to progress through, each with their own requirements. Various other bonuses are present too. While these should mean more income potential, most bonuses are linked to the higher ranks and many members will not hit them.
Final Thoughts: Kannaway's biggest advantage is that the company is well-known, but this isn't enough of a reason to get involved. Their pricing is likely to make the products difficult to sell, while the complicated compensation plan does you no favors.
Many ambassadors would find the plan confusing or need to spend a long time trying to understand it. Optimizing income can also be difficult with a plan like this one.
3. CTFO CBD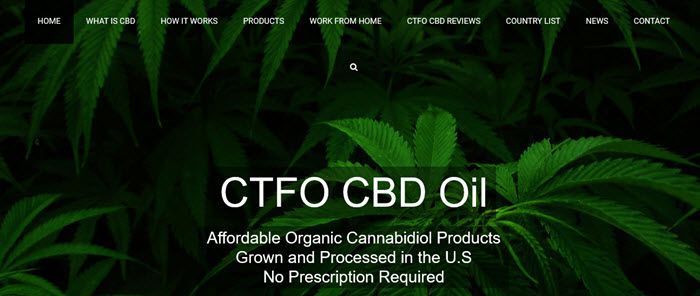 Focus: Inexpensive CBD oil and related products
Minimum Cost: Free to join
Product Overview: CTFO CBD offers the following product categories:
Oils & Vape
Edibles & Sprays
Hair Growth
Pain Creams
Pet Products
Skin Care
Most of these are similar to what other CBD oil companies offer. One interesting aspect is the various sprays. These contain CBD oil and various other ingredients to promote the desired effect. For example, the Energy Blast and Focus spray includes caffeine, coconut oil and green tea extract.
CTFO CBD offers 10x PURE hemp oil, which is promoted as being superior to other types. The company provides some scientific support to the claim, but there are limits to the science highlighted. This can be seen in the graphs that the company provides, which have large error bars.
While the 10x PURE hemp oil may offer some benefits over regular types of hemp oil, there isn't enough evidence to prove this fully. It's also not clear whether customers would notice any practical difference.
Thankfully, CTFO CBD does follow processes to ensure that its products are high quality overall. This includes relying on organic hemp that is grown in the United States. Their oil is also third party tested and the results from testing can be found on the company's site.
Those features should be useful in promoting sales. The wide product range helps too. It's also worth mentioning that the oil from CTFO CBD tends to be less expensive than most competing companies.
Commission Quick View: Distributors for CTFO CBD can earn by selling the products through a replicated website, or by purchasing and reselling them. Selling through the site provides a commission rate of 20%.
When you make a sale in-person, you receive the difference between the wholesale and retail product price, as well as 20% of the Customer Volume (CV) as commission. This pattern makes selling in-person a more profitable approach than making sales online.
Aside from selling in-person, there seems to be no way to increase the compensation rate for your own sales. To earn more, you'd need to turn to team building.
CTFO CBD does make team building less complicated than many other companies. They follow the unilevel model, which means that you don't need to manually place team members anywhere. You earn a percentage of the sales from your team, based on where they fall in your downline.
For CTFO CBD, you earn 4% from each level. The number of levels you earn from is directly related to your rank. Interestingly, the early rank requirements are only based on the number of people you recruit and whether they're qualified. There is no requirement to hit certain sales volumes within your team.
That being said, the qualification requirements for CTFO CBD are a serious limitation. You need to make a purchase of at least $47.47 every 31 days or have 10 qualified customers and/or associates in your downline.
It would be pretty difficult to get 10 people in your team early on, especially as they would need to hit the qualification requirements themselves. As such, many associates would end up buying products each month, which decreases income potential.
Final Thoughts: CTFO CBD does have a good reputation in the industry. They also offer a decent range of products that are inexpensive and appear to be of high quality. These aspects could make the company a good choice if you were just focusing on product sales.
The team side of things is less appealing, especially as the compensation for your own sales is low. You also need to meet the qualification requirements every month to be able to earn team commission and these are unusually high.
4. Reliv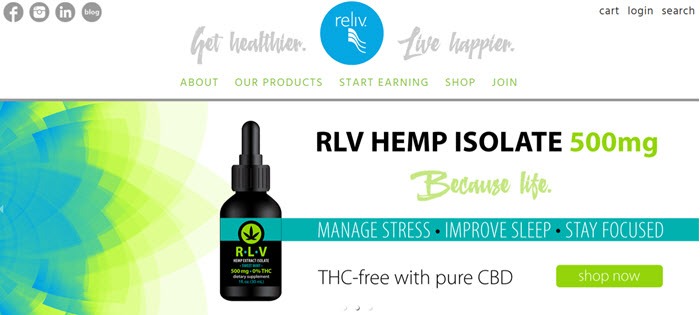 Focus: Health and wellness products, including CBD oil
Minimum Cost: Less than $50
Product Overview: Reliv is a broader company that focuses on health overall. Their product categories include Core Nutrition, Targeted Solutions and RLV Hemp Extracts. They also offer a Fit3 Program, which combines some of their products with a nutrition guide and a workout program.
The hemp products don't quite seem to fit in with the rest of the company's marketing, making it seem like they are a way to cash in on current interest in the field. Regardless, there are four different products to choose from.
Two of these are hemp isolates (500 mg and 750 mg). There is also a 500 mg tincture of full spectrum hemp extract and a container of hemp balm. The isolates just contain CBD, while the full spectrum oil offers other cannabinoids from the hemp plant as well.
Reliv offers a Certificate of Analysis for the hemp extracts, which includes details of the testing results. This testing approach acts as an indication of quality. The hemp was also organically grown.
The 500 mg bottles both cost $80 retail or as low as $48 for Master Affiliates, while the 750 mg bottle is $100 retail or $60 for Master Affiliates. While the Master Affiliate prices are pretty good, you would be selling the products at the retail price.
Commission Quick View: Reliv distributors can earn between 20% and 40% commission. The amount is based on your own sales, along with the sales of your team. It takes 1,500 volume points to earn 30% commission and more than 5,000 to hit the 40% mark.
Details aren't provided about how these volume levels convert into dollar sales, which is a shame. Unusually, most Reliv ranks are permanent and you only need to hit them once. The only non-permanent rank is Master Affiliate, which needs to be earned on a yearly basis.
While the approach sounds simple so far, the team building aspect is more complex. For one thing, members are meant to order products from their upline (and then, presumably, resell them). The idea is that you buy from whoever has the largest discount.
This style would make your profit more confusing. It could be tough to optimize your income too.
Reliv does offer generous percentages from your downline, but you need at least one Master Affiliate in your team to access them. Doing so would be pretty difficult and I imagine that most people wouldn't achieve the goal.
Final Thoughts: The biggest advantage with Reliv is that you can increase your commission rate significantly from sales alone. You could even rely on the sales of your team to do so.
This might be useful if you were planning to promote the entire product range from Reliv. However, if you're just interested in CBD oils, you've only got four products to work with. These are all pretty generic and won't be extremely competitive in the field.
5. HB Naturals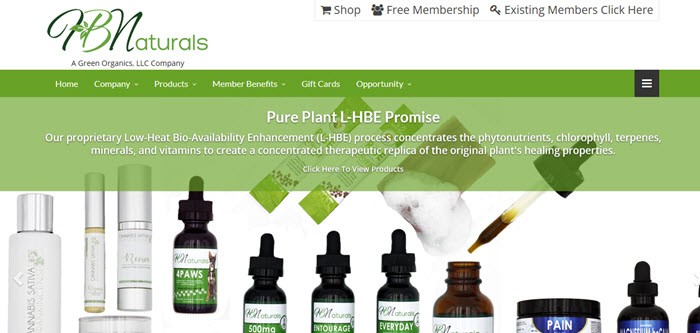 Focus: Organic and nutrient-rich products
Minimum Cost: Free
Product Overview: HB Naturals is another company that offers many different products. Their range includes herm herbals, products for pets, superfoods, essential oils, personal care items and supplements.
While the company doesn't exclusively focus on CBD oil, their overall approach may not be a bad thing. All of their products relate back to the idea of nutrient-rich items that are high quality. HB Naturals even suggests that they use powerful extraction techniques to ensure that all the benefits from plants remain in their products.
This can be seen in the marketing for the hemp oils for the company too. HB Naturals highlights the presence of cannabinoids, terpenes and omega fatty acids. They also focus on full spectrum oil, rather than CBD isolate.
The hemp oil selection is a little unusual too. There are different quality tiers, which vary in their pricing. Various flavors are available as well, along with some related products that contain CBD oil. HB Naturals even offers inexpensive samples, which could be a good way to get people passionate about the products.
Commission Quick View: HB Naturals provides distributors with 50% of the CV (commissionable volume) of any product that they sell, for sales made online. Despite the phrasing, this doesn't mean you're making 50% commission.
In practice, the CV of a product tends to be lower than the dollar value. HB Naturals gives one example on their site, where a $149.95 product has a CV of 100. The commission per sale would be $50, which is closer to 33% commission.
The team aspect operates through a binary model. You build a team that has two distinct legs. Whenever those legs hit 200 CV each, you get a percentage of the sales from the team that has the lowest CV.
This percentage can be 4%, 8% or 1%, depending on the amount of sales that you make each month. The style means that you need both sides of your team to perform well. You also need to make consistent sales yourself.
As always, there are various bonuses that you can earn, including Binary Match Commissions, bonuses for advancing up ranks and a Fast Start Bonus. These bonuses do act as extra ways to earn money, but hitting the requirements is another story.
Final Thoughts: While HB Naturals does have appealing products and an interesting angle overall, the binary compensation plan isn't a good sign. This type of plan can get confusing fast, especially if you're new to the MLM field.
Anyone interested in the company would be better to stick with the sales process only. Doing so comes with less risk and you don't need to rely on the success of your team members.
6. My Daily Choice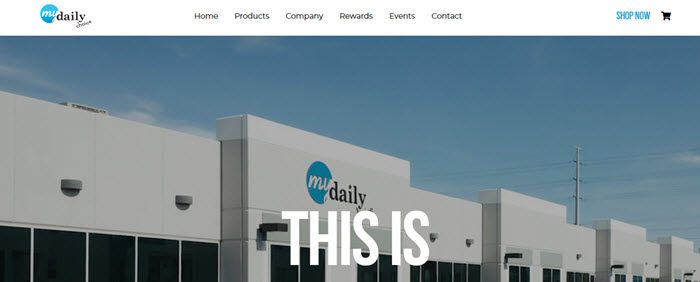 Focus: CBD products and sprays
Minimum Cost: $39
Product Overview: My Daily Choice offers two types of products. The first of these are sprays, which are basically an unusual style of multivitamin. The sprays are called Brain, Boost, Shield, Peak, Trim365 and Sleep.
Most of these use ingredients that you would expect, like green coffee bean extract and vitamin B12 in the energy spray. The only unusual feature is that these are sprays, not multivitamins. The dispersal mechanism may improve absorption and benefits, but the evidence for this isn't very strong.
The rest of the products are more relevant to this list. They are all part of the brand HempWorx, which is one of the most well-known CBD brands on the market.
My Daily Choice includes typical products, like CBD skincare and tinctures (full spectrum and CBD isolate). They also have some less common examples, like products for pets, bath bombs, coffee and keto creamers. All of these include CBD as well.
Commission Quick View: My Daily Choice follows a purchase and resell model, where you start off earning around 25% commission. This can increase as you go up the ranks, up to 50%.
However, the commission is based on the BV for the products rather than the sales price. This means that the amount you earn may not be as high as the numbers suggest.
The team aspect follows a typical binary model. Once again, this means that you're building two teams under you. You're aiming to hit 300 Business Volume (BV) with each of those teams. Whenever you do, you earn from 8% to 20% commission on the sales of the lesser team.
The percent you earn from your team is based on your rank in the company (again). As always, the rank requirements get progressively more difficult.
There is also an ongoing requirement to earn from your team. This starts out at 40 BV each month and increases to 90 BV. That BV can include your own purchases and sales that you make, but it needs to be met every month.
Final Thoughts: My Daily Choice has been around for a while now and the HempWorx products do have a good reputation. These two aspects should increase the chances of making regular sales.
The products themselves aren't too bad either. My Daily Choice has a wider range than other companies and their sprays help to broaden the audience that you can promote to.
While the compensation plan isn't amazing, it is fairly typical for the industry. The largest issue is that the commission you earn starts low. This makes it important to carefully weigh up the work versus rewards with My Daily Choice.
7. Bocannaco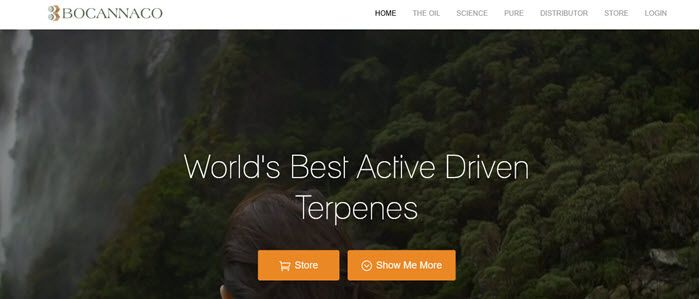 Focus: Nanoemulsion CBD oil
Minimum Cost: $99/year
Product Overview: Bocannaco is a new entry in the CBD MLM field. They take a different approach than most, by focusing on the idea of exquisite products that offer more health benefits.
The company barely talks about hemp or CBD oil at all. Their marketing focuses on 'active driven terpenes' instead. There are five products to choose from, including a 1,500 mg concentration of CBD oil and a 1,000 mg concentration.
The other products on offer are a hydration stick, a face mask and a gel. All three appear to contain CBD as well, but this isn't entirely clear, as the information provided is heavily focused on hype and is somewhat vague.
As the company is so new, there aren't many reviews for the products themselves. However, Bocannaco doesn't provide the same proof of quality that many other companies offer. There aren't even any certificates of analysis.
The manufacturing process used is meant to create an oil that is more bioavailable than normal. Bocannaco provides some information about how the concept works, but there is no proof given at all.
Commission Quick View: It seems that distributors for Bocannaco can earn around 15% commissions from sales. That's a very level of commission for this industry and the rate never increases beyond 15%.
On the plus side, distributors don't need to keep an inventory. This suggests that you would be selling the products using a replicated website rather than needing to purchase and resell.
Bocannaco's team aspect is simple. You can earn from up to seven levels in your team. The first level is the most impressive, as you can earn 10% from your direct recruits.
Unusually, there are no ranks in Bocannaco's plan. The number of sales that you make is all that determines how many levels deep that you can earn from. Making just five personal sales allows you to earn residual commissions at all seven levels.
Of course, you have to grow a decent team to have seven levels to earn from. There is also a first sale payout, which ranges from $3 to $20, depending on the level of the new member.
Bocannaco doesn't provide any more details than this. While members do need to be 'qualified and eligible' to earn any commissions, Bocannaco doesn't state what either process involves.
Final Thoughts: The newness of Bocannaco means that there aren't as many distributors to compete against. While this aspect could theoretically give you an edge for making money, the company really isn't appealing. The products don't seem like they would be competitive and the compensation plan misses many key pieces of information.
8. Zilis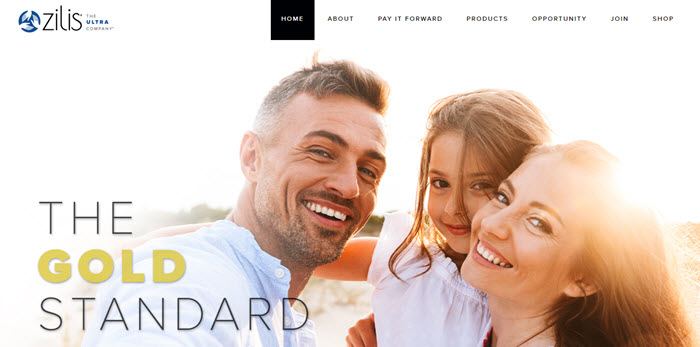 Focus: Full spectrum CBD oil and some non-hemp oils
Minimum Cost:
Product Overview: Zilis has a fairly small product range, with just three types of items. The first is a collection of full spectrum CBD oils. They're available in berry, lemon and raw flavors. The oils all contain 500 mg of oil, with an estimated CBD content of 16.67 mg/mg.
Zilis claims that the products have "maximum bioavailability" and use "superior formulation". While they do provide some details about this idea in their science section, there isn't enough information to prove that the oils from Zilis are better than other companies.
Another issue is that Zilis doesn't provide any Certificates of Analysis on their main site. This calls the quality of the products into question.
There is also a topical CBD product from Zilis. This is available in two sizes. It relies on a full spectrum extract and essential oils.
The final set of products is Ultra Boosters. These are basically liquid supplements that do not contain any hemp. They could help to promote health, but once again, there isn't much evidence.
Commission Quick View: The compensation plan from Zilis mentions that members can earn retail commissions of "up to 100%". What this looks like in practice is anyone's guess. Zilis doesn't provide details about the amount you actually earn.
The team side of the opportunity follows a binary model. Your downline is split into two teams and you can earn up to 20% income from the sales of your weaker team.
To earn from your teams, you must have a 50 PV autoship with the company or 75 PV in your own purchases or sales. These requirements jump to 100 PV autoship or 150 PV from purchases or sales if you want "accelerated binary commissions" (whatever that means).
This creates the standard pattern where you need to consistently earn or spend money every month. That design doesn't allow for the complexities of life and can be frustrating.
There is also a Fast Start Bonus of $20, $60 or $130 for each time you recruit someone and get them to buy a product pack at the same time. Zilis has a large number of other bonuses too, with the complexity that you might expect.
Final Thoughts: There is nothing particularly unusual about Zilis and they follow a pretty typical compensation plan. While their products look interesting, I'm not convinced that they would be competitive as there are so many other products in the industry.
9. First Fitness Nutrition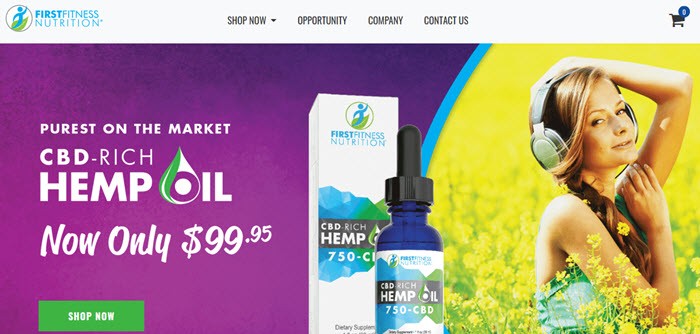 Focus: Health and nutrition products
Minimum Cost: $29
Product Overview: As the company's name suggests, the products from First Fitness Nutrition fall into a range of areas. Key sections on their site include skin and body, weight loss, wellness, herbal cleansing, sports nutrition and CBD-rich hemp oil.
The company suggests that their hemp oil is amazing, as it is pure and organically grown. It is also guaranteed to contain at least 750 mg of CBD.
The problem is that those same claims apply to many other CBD oils. 750 mg of CBD is a common concentration too, so that aspect doesn't help to promote sales much either.
There is just the single oil on sale, no other CBD products. The oil costs $99 for a 30 ml bottle or $1199 for a case of 12 bottles. That's it. No other CBD products.
Commission Quick View: While First Fitness Nutrition only costs $29 to join, the company offers multiple Enrollment Paks upon signup. Buying one of the Business Paks (for $279) provides a 25% discount on purchases from the beginning. An Executive Pak costs $549 and increases the discount to 30%.
Finally, a Director Pak costs a whopping $1,495 and provides a 40% discount. The same discounts can be reached by hitting sales targets. Even so, the pay-to-win style is manipulative and is never encouraging.
With discounts like these, it shouldn't be surprising that First Fitness Nutrition operates mainly through a purchase-first model. This means that you need to buy the products and then resell them.
Your profit is based on the difference between the price you pay and what you sell the product for. For First Fitness Nutrition, this means a profit of 20% to 40%.
Members do have access to a replicated website as well. This helps to decrease the risk for distributors. Even so, there does seem to be an emphasis on making sales in-person.
As is often the case, there are multiple ways to earn from your team, including binary and unilevel models. Some of these involve hitting specific sales targets, while others are focused on progressing through ranks.
Final Thoughts: Despite the company's rhetoric, the CBD oil from First Fitness Nutrition isn't unusual. There's nothing to make it competitive over other companies.
It would also be better if the company had more than a single oil. Having one CBD product to promote and various unrelated items would not be a powerful way to earn.
10. Trevo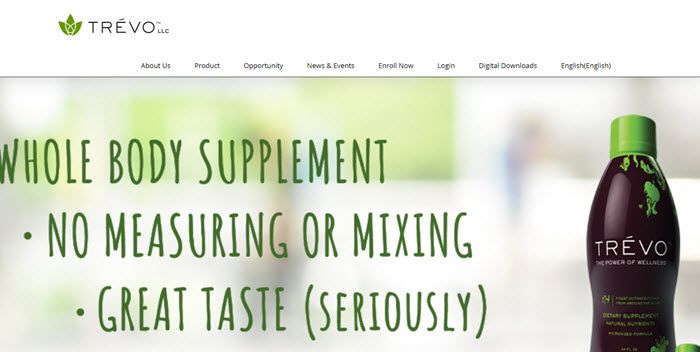 Focus: A wellness supplement, hemp oil and a male supplement
Minimum Cost: Not stated
Product Overview: The main product from Trevo is called Trevo (just to make things confusing). It is a fruit drink that acts as a nutritional supplement. The drink comes in two sizes and there is plenty of hype surrounding it.
The next product is called RP3. It is a male supplement that targets male sexual and prostate health.
Finally, Trevo offers Sync. This is a 500 mg full spectrum hemp oil that comes from organically grown hemp. Unusually, the oil comes in orange or vanilla flavor. There is no unflavored version.
Trevo does offer proof that their oil is compliant with current laws, along with lab test results. However, the results provided are more limited than what many other companies offer.
Commission Quick View: Distributors for Trevo earn 25% commission on all sales that they make. These sales can be made to customers in person or through an online store.
Trevo also offers an Elite Customer program that provides customers with significant discounts. Distributors only earn 20% commission from these sales, but Elite Customers order through recurring subscriptions, so there is the chance for ongoing income.
Trevo has an unusual approach to team commissions. They use a Single Line Matrix, which organizes people based on the date and time that they enrolled, rather than positioning people based on who enrolled them.
This creates an unusual situation where you are earning from people who you didn't have any role in recruiting. The style takes some pressure off you but could mean that you have no potential to influence how well your team performs.
Unlike most companies, Trevo doesn't rely on a rank system for income. The number of generations that you can earn from is based on your monthly sales instead.
Final Thoughts: While it isn't clear whether Trevo's unusual commission plan will earn your more or less than with other companies, the rest of their setup isn't too encouraging. Having just a few products to promote rarely works well.
You're also dealing with a 25% commission rate that you can't increase. This rate is lower than many other companies.
11. 5Linx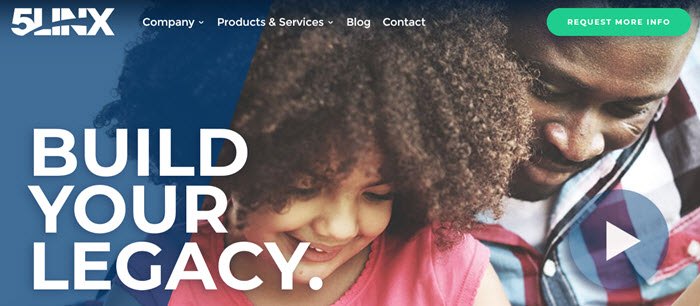 Focus: A surprising variety of products and services
Minimum Cost: Unknown
Product Overview: 5Linx is an unusually diverse company. They offer various health and wellness products (including CBD oils). They also have a selection of services, like energy and television.
The style gives 5Linx the ability to compete in more markets than normal. Still, it's hard to imagine anyone wanting to order services like television or energy through a network marketing company.
The CBD products from 5Linx are in a line called Oxzgen. There is an unusual number of products to choose from, including CBD tinctures, nutrition sprays, coffee, pain relief, moisturizing products and more.
Certificates of Analysis are provided for all the CBD products. However, the company provides little information where the hemp comes from. The lack of details makes the products appear lower quality than competing options.
Commission Quick View: While 25% commission is earned from each sale, individual distributors can only make 10% to 20%. The rest goes to their upline. The specific amount earned is based on sales for that month.
With this style, you do have more potential to earn from your team, but the amount of income from your own sales is likely to be lower.
The team aspects follows a typical unilevel plan that provides commissions based on a pyramid-like structure. This relies on ranks, as always, with the requirements increasing as you go along. Requirements for other bonuses can get complicated too.
One interesting thing is that 5Linx has a personal and business angle. This could allow you to make more by selling to businesses, but the style doesn't seem like it would work well in practice.
Final Thoughts: Not only does 5Linx offer many types of products and services, they also have many individual CBD products. This product range gives you the chance to promote to a broad audience. This could be a serious advantage, as many people won't be interested in CBD oil.
Even so, I advise caution with this company. 5Linx has been getting some pretty bad press due to the previous leadership. The damage to the company's reputation could make sales much more difficult (not to mention recruitment!).
12. Prime My Body

Focus: Health and wellness
Minimum Cost: $39
Product Overview: Prime My Body is another health company that has recently stepped into the CBD oil arena. Their product range includes skincare items, pet products, ways to hydrate and a few more areas.
In the CBD area, they have two main products. The first is Recept, which is a broad spectrum hemp extract. The marketing states that it is "delivered by sonicated nano technology".
The nano technology angle sounds appealing and Prime My Body talks about how the process works. However, scientific evidence isn't provided. Details about any analysis of the oil are absent too.
The other product is NOX. This is a skincare product that uses full spectrum CBD oil and nitric oxide. There aren't many similar products on the market, which could help with sales.
Commission Quick View: Distributors for Prime My Body earn retail commission on sales. This is the difference between the wholesale price and the amount that customers pay.
While Prime My Body doesn't specify the percentage, they do give some examples. One is hemp oil that retails for $149 and costs distributors $119 (giving a $30 profit). Another example retails for $60.50 and costs distributors $55 (giving a profit of just $5.50).
These patterns mean that the commission rate ends up low indeed for the industry. While there are some bonuses for first orders by preferred customers and recruits, there is no way to increase the base commission level.
The team building approach follows a binary model, where distributors develop left and right team under them. Teams accumulate Reward Points based on sales. When both teams hit the target points, the system cycles and the distributor earns some income as a result.
There are also various bonuses and the chance to earn Residual Rewards (through a unilevel design). In both cases, the amount you can earn increases as you progress up through the ranks.
Final Thoughts: Prime My Body is let down by a low amount of compensation from sales, along with the limited product selection. There are only two CBD products to promote. One is typical for the industry, while the other (NOX) will only appeal to a limited audience.
13. Morinda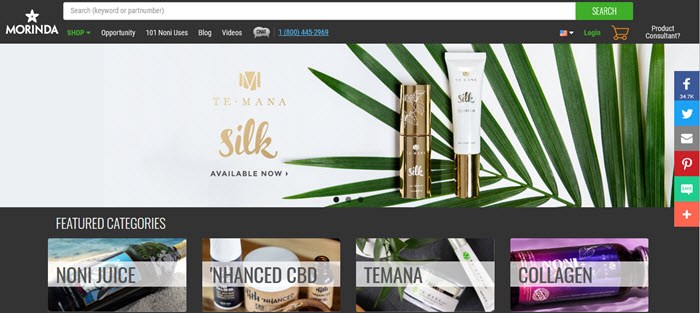 Focus: Products that contain noni juice
Minimum Cost: $130
Product Overview: Morinda heavily relies on the noni fruit from Tahiti. The company promotes this as an amazing superfruit, one that many people miss out on. This is why many of their products contain noni juice or compounds from the fruit.
There are three CBD oil products from Morinda. The company provides three of these: 'Nhanced CBD Oil (for $69), 'Nhanced CBD Body Cream (for $59) and 'Nhanced CBD Roll-On Gel (for $62).
The CBD oil comes in a 30 ml bottle. It is full spectrum oil that contains 500 mg of CBD. Details about the source of the hemp are not provided, nor are there any details about analysis.
For that matter, it isn't even clear why the oil is called 'Nhanced. It is the same as oil from other companies and doesn't even contain any compounds from the noni fruit.
Commission Quick View: Morinda takes an interesting approach to commission. Distributors are encouraged to enroll people as customers. Enrolling provides the person with a discount on purchases and the distributor earns 20% commission on sales.
This style minimizes your risk, as you don't need to worry about buying and then reselling products. You can also earn from up to five generations of customers. Of course, that's only if some of your customers end up recruiting other people.
For team building, Morinda follows a unilevel system. Moving up the ranks allows you to earn from more levels below you, up to a maximum of eight levels.
Morinda is a little unusual in that the residual commission increases as you go down the generations. This style is useful for people who grow large teams, as the lower levels are likely to contain more members.
Even so, the style works against beginners. You only earn 1% commission from your Level 1 members. This is a serious problem, as many people never get beyond Level 1 in their team.
Final Thoughts: Morinda might be appealing if you're in the health and wellness field, as they do have some unusual products. While the effectiveness of noni juice is highly debatable, it at least acts as a good area to focus on with sales.
For people interested in selling CBD products, Morinda doesn't seem like a good choice. You only have three products to promote and they're not very unusual. There is also little indication of quality, which could hamper interest in the products.
Top Pick
From the companies featured in this list, CBD BioCare is the standout choice. There is no fee to join as a basic distributor and the chance to increase compensation from sales alone. In fact, I've listed them in my top CBD edibles affiliate programs too. The product selection is appealing too, as CBD BioCare has a decent range of products, along with proof of the quality of their items.
One caveat is that there is very little information about growing a team with CBD Biocare. There are also optional packages and a yearly fee. While these may offer some benefits, the costs seem to outweigh any advantages.
I recommend trying CBD BioCare out from the sales perspective only. The company is pretty decent if you just stick with promoting products through the free plan.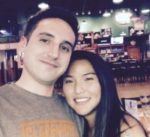 MLM Critic & Author: Nathaniell
What's up ladies and dudes! Great to finally meet you, and I hope you enjoyed this post. I have to be honest though. I'm not a big fan of MLM. Tried it. Hated it.
Affiliate marketing is cheaper, faster, and easier. See for yourself and join millions of other successful affiliates generating income from their blogs!
No inventory. No fees. No recruiting. 3 BILLION potential buyers online.
Reader Interactions