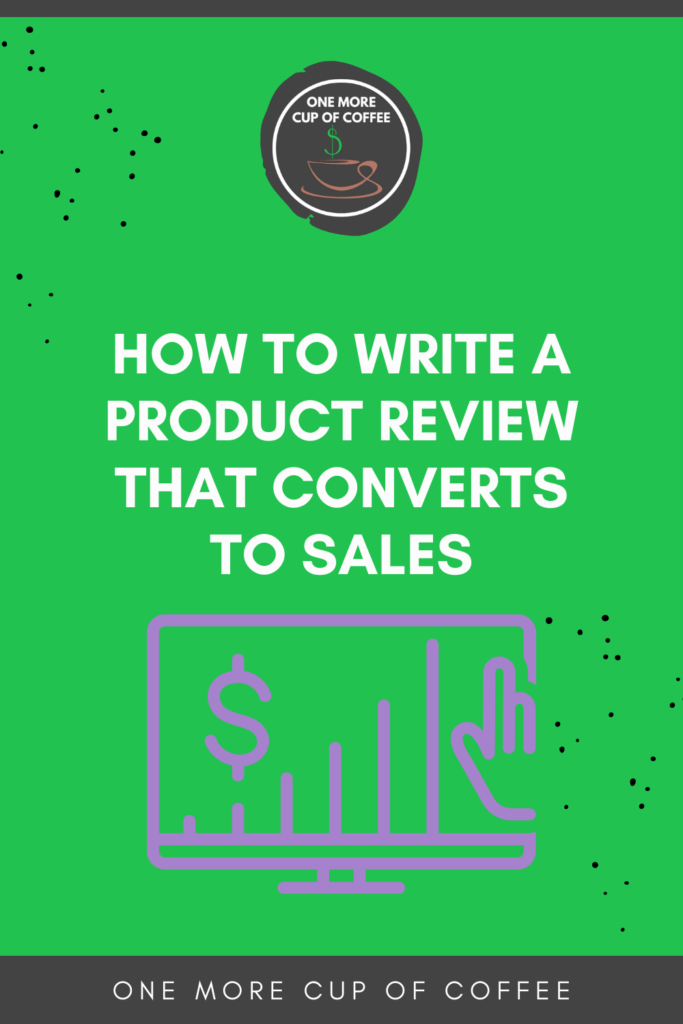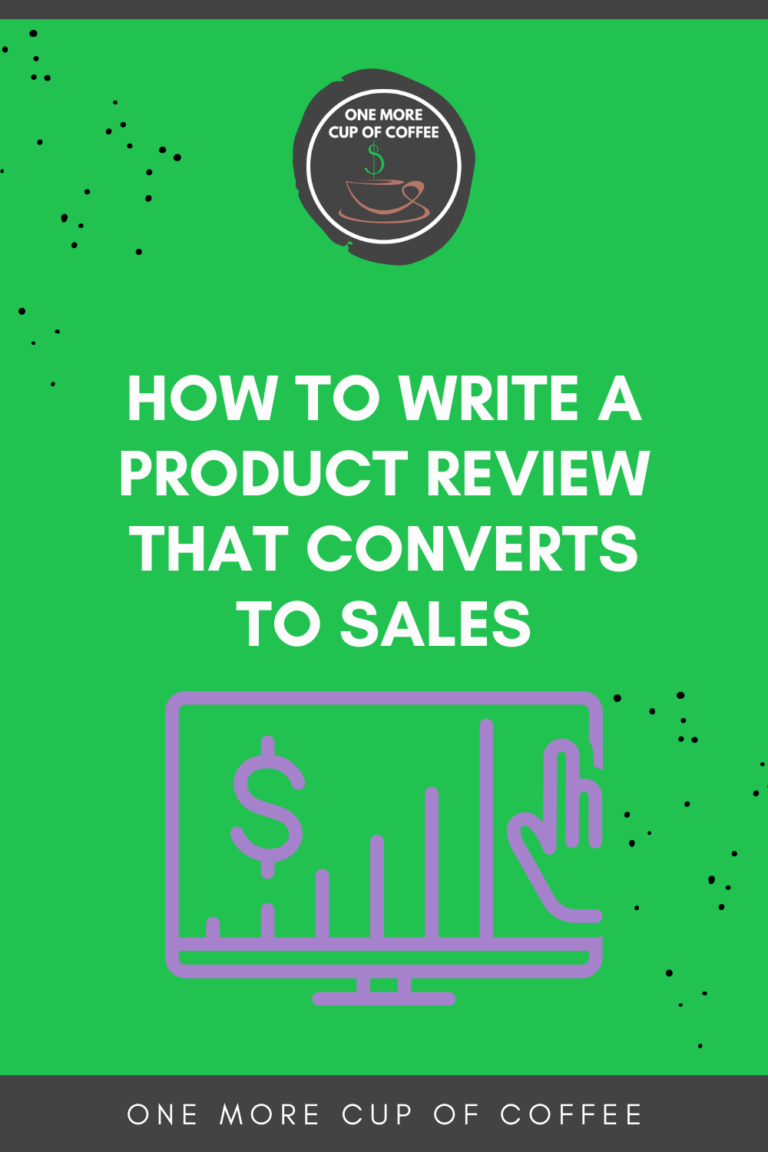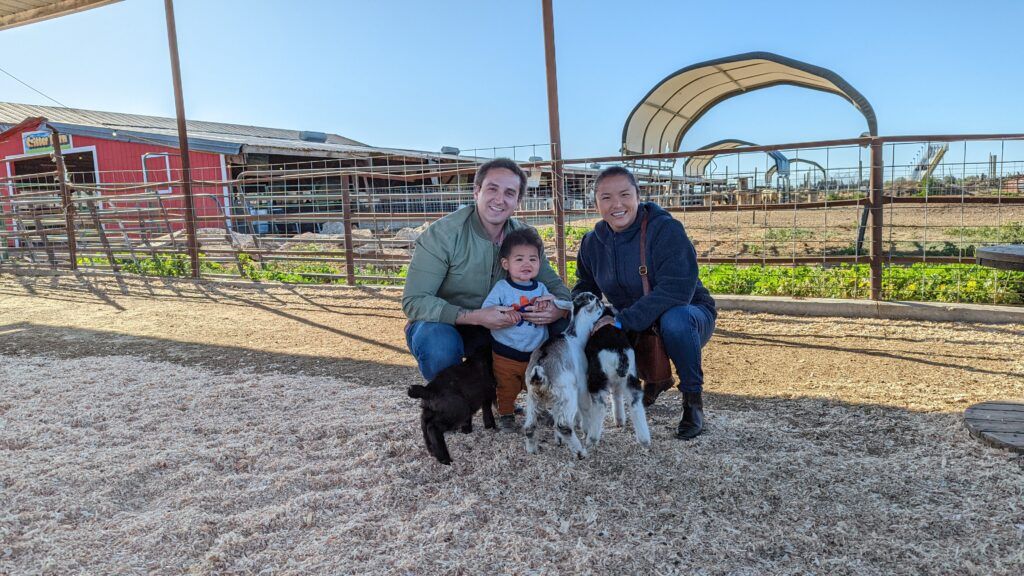 Are You Ready To Work Your Ass Off to Earn Your Lifestyle?
Are you tired of the daily grind? With a laptop and an internet connection I built a small website to generate income, and my life completely changed. Let me show you exactly how I've been doing it for more than 13 years.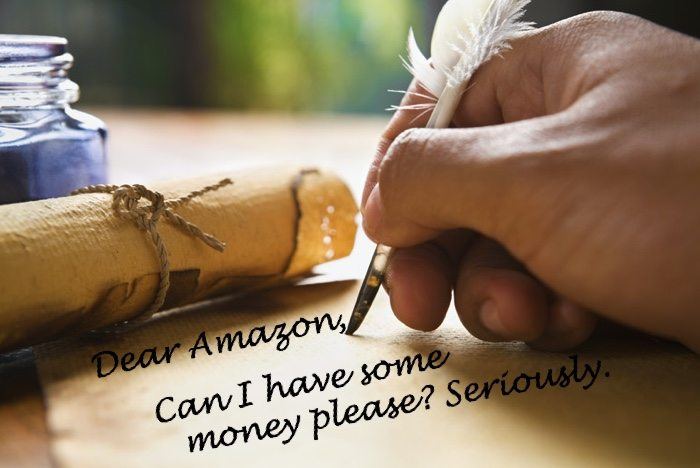 Starting an affiliate website is pretty simple: set up a standard Wordpress blog, write some articles about your topic, then put some affiliate links in the content or ads in the sidebar. However, getting your website to actually create consistent revenue for you requires patience and skill.
One of the biggest challenges of earning money online is getting your content to reliably convert to sales. Product reviews are one of the simplest ways to turn traffic into dollars, so for this post, I want to show you some good ways to write product reviews so they convert to sales. In fact, I'll show you 15 different ways.
Not all of these tactics work all the time, or for all niches. You don't have to do every single one of these for each review or blog post you write. In fact, it may be hard to pack them all into a single piece of content.
But these 15 ideas will get your brain working. And they'll help you brainstorm some ideas on how to improve conversions on your own niche website.
Very rarely can a newbie marketer start hitting home runs right from the beginning. It could take severals months, or even years, to lock down a system that works for you and gets your website generating reliable income.
Don't feel like you have "failed" so far if you are not earning good money from your website yet! You are already halfway there if you are reading this article.
Implement a few of these ideas, see if it changes your affiliate stats, then implement a few more. It's going to be hard work, especially if you have a lot of established reviews to update, but work is part of owning a business. Keep in mind, adding fresh content to old posts is also going to send positive signals to Google that your website is up to date, and I think you'll also start to notice a boost in rank over time.
15 Ways To Improve Affiliate Review Conversions
1. Summary At The Top
One of the most powerful ways to make a sale with you review is actually quite simple: Don't be afraid to use an affiliate link near the top of the page.
I know that common SEO lore will tell you that affiliate links near the top of the page will hurt SEO…and it might. But on-page optimization is not black and white, so if you make up for a negative metric with positive signals like volume and quality of content, good internal linking, and comment engagement, a single affiliate link at the top of the page won't be a big deal.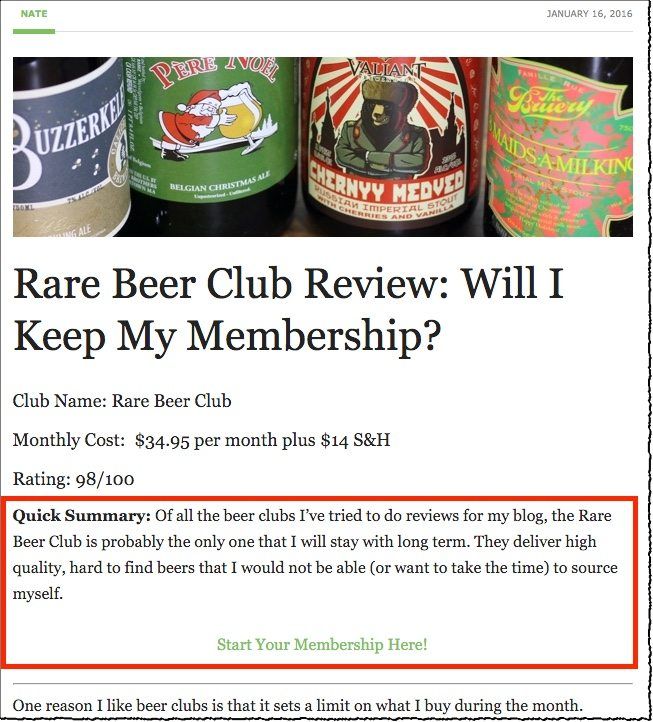 Google has even said that they don't penalize pages with affiliate links unless it's excessive, spammy, or low quality content.
People (including myself) can be really lazy. A lot of folks will not read the full review, or will be coming to your review after a good amount of research they did on other sites. If they reach your website and finally decide, "OK, I'm just going to get this.", a link at the top of the review will be convenient and will get you the sale.
2. Implement A Rating System w/ Metrics
In the same vein, having a rating system with just a few, clear metrics on how you achieved that rating will appeal to the "buy it now" type of personality.
Honestly, sometimes I get sick of doing hours and hours of research when buying something online. So if I find a high-enough-quality website with a rating system that rates the product I want highly, I'll just buy it then and there.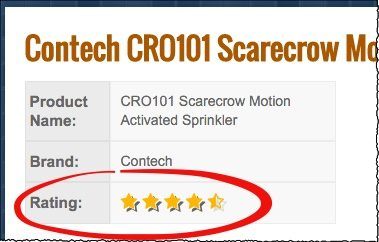 A simple, visual way to say, "Hey, I approve of this product" can be a real confidence booster in purchasing decisions. There's got to be some kind of psychological principle at play here in my opinion. Like, if the product isn't that good, you're not officially responsible for a bad buy since it was recommended by some website.
Whatever the reasoning behind it, your summary should include an image of the product, a rating system, a couple metrics (optional), maybe a quick reason why it's awesome, and an affiliate link to the product.
An excellent plugin to do this is WP Product Review. This plugin actually implements many methods I cover in this post. For schema markups in Google (rating stars in search results), All In One Schema.org Rich Snippets is also a great option. There are other plugins to choose from too.
3. Sufficient Number of Affiliate Links
Again, with the affiliate links bro! Yeesh!
Don't get me wrong, you should not pepper the entire page with links for a number of reasons. Mainly, it's annoying to the visitors and obvious you are trying to push a product on them. But from an SEO standpoint, that many outbound links to a single page is going to look sketchy, and hurt your page's rank in the SERPs.
But too few can be bad as well! I've seen many product reviews with just one tiny little link at the bottom. You may have convinced the person to buy the product, but if the link to the product is not immediately obvious they may open new tab and search Google or Amazon.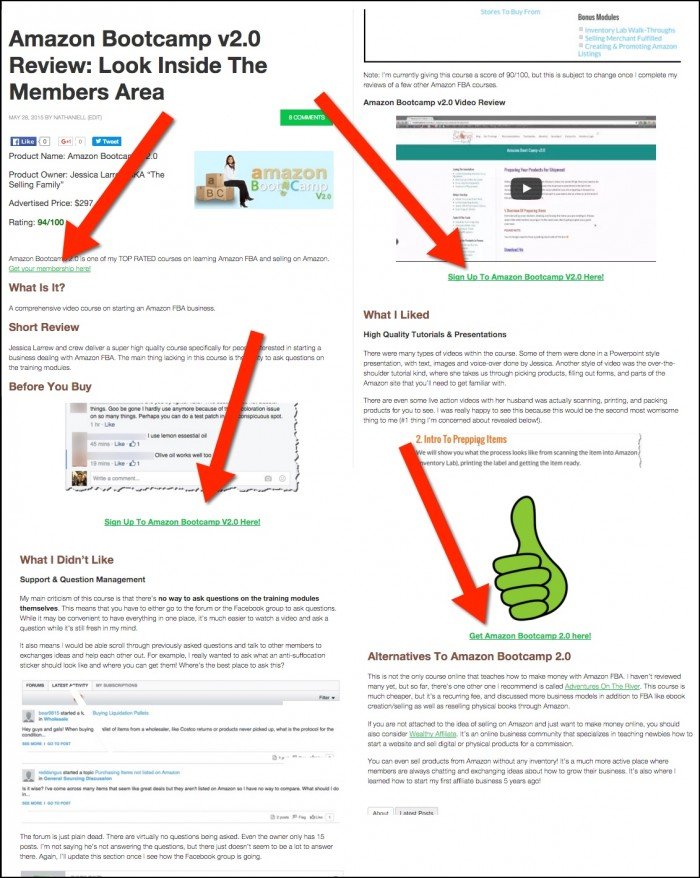 You need to provide a sufficient number of points of exit. Some people will be convinced halfway through your review. Others will need to read to the end. They may even scroll back up to the top to check out your star ratings again.
I have always found that links near the top of the page get the most clicks, but links near the bottom of the page convert the best.
I guess that makes sense; people who click sooner are clicking based on impulse and may change their mind. People that reach the end of the page are much fewer, but when the click, they are more confident that what they are buying is the right thing thanks to your awesome review.
If you are going to focus on affiliate link placement to, here's an excellent supplemental training on where to place affiliate links for results.
5. Limited External/Internal Links
Limiting the number of internal and external links on the page (which are not affiliate links) can help you make more sales from money pages on your site because it limits the options for people to leave the page.
Even links to your own pages can be a distraction. Though informational links can be helpful, it's still a reader leaving your money page, and they may become more distracted and leave your site entirely (eventually).
This is one of those tactics you'll have to balance. There's no need to handcuff a visitor to this page, and you may lost them forever if you don't provide them with enough information on the products they want to read about.
At the same time, too much information can overload them, causing frustration, and preventing the buy. People are often happier with purchasing choices if they have fewer options and less data to process. Your job as an online marketer, is to help people make good buying decisions! Simplifying data and preventing potential buyers from being overwhelmed is within the realm of your responsibility as a service provider, so "more" is not always better.
6. Include Multiple, High Quality Images
To some of you, this is a no-brainer. But I'm always surprised at how many reviews I read with one tiny little low-quality image at the top of the review. Just as bad (and just as common), is using a tiny image of the product and the rest are irrelevant stock photos from free photo sharing websites.
Also, stop using clipart!
The affiliate programs you join should allow you to use product images for your reviews. If there are not quality images to use, maybe the affiliate program you joined isn't that great. Still, I have a few ideas of how you can get around this.
One, which will only work for some of you, is to actually buy the product and take your own images. Hey, it's a tax write-off, right?
Another is to have the small image of the product as a teaser, and find a similar, or relevant stock photos. For example, I did a review of a copper pan set on one of my websites. The image on Amazon was not very good, but I used it in the product summary at the top. Within the review itself, I used another image to display how beautiful copper pans can look.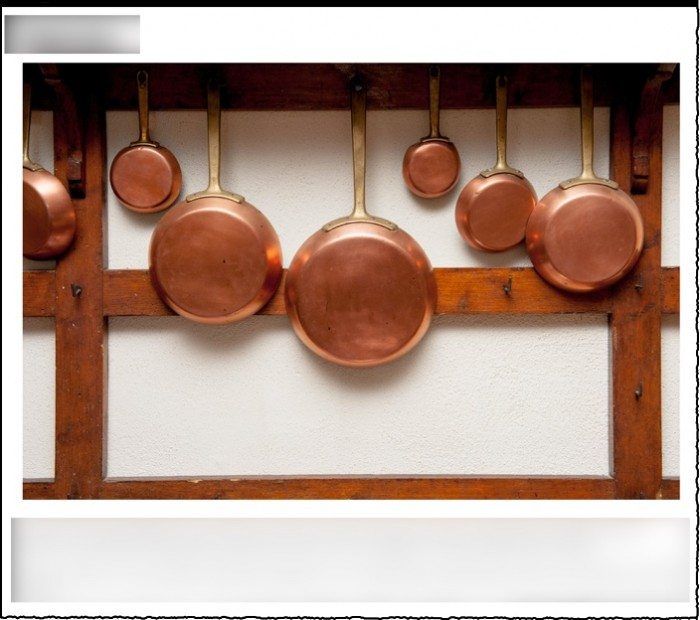 Throughout the post I used stock photos relevant to what I was talking about. It was clear that the image used was NOT of the product, but the image was still beautiful, and made the post look better. For example, when talking about maintenance, I had an image of someone cleaning copper pots.
It was a high quality image, relevant to a portion of the review. It showed what type of results a buyer could expect, and keeps the reader interested in reading my content.
7. Organize Points To Carry Reader To Conclusion
This is a point that I have to work on within my own niche websites! Writing a product review that converts to sales is more than just getting down the facts and hoping that someone trusts you enough to buy it.
People want to know if this is the right product for their need. As a marketer, your job is to show them it's the best way to spend their money, or if not, a better way to spend it. This process of understanding how something works, what it does, and if it's good needs to be easy to understand for your target audience.
One easy way is simply to break down your points into bite-sized bits. Dividing your review into small paragraphs or sections with bold headings is one way. I like to think of "carrying" my reader down a hill. I gotta make it as easy as possible so reading comprehension is one less barrier to the goal at hand (a sale)
With each section, make it clear why this is relevant, and what the main idea is.
For example, which sounds better:
"The camera of this smartphone is pretty good, but you'll have to decide if the price is worth it for you".
verus
"The new camera on this phone is a major improvement over past models, and clearly worth the cost for someone that enjoys taking lots of photos. If you enjoy editing your photos on your phone as well (like I do), then the iPhone 7 is a must-have."
The first example is very bland, and the person reading doesn't know what your opinion is, and how it's relevant to them. The second example makes them feel very confident as a buyer. As an amateur photographer, they are really going to enjoy the new iPhone.
I'm more of a scientific and analytical writer, so well-structured, point-by-point breakdowns is a style I use a lot. If you are more of a creative writer, another way to "carry" your reader to the conclusion is by using a narrative. This is essentially telling a story about what type of person would enjoy this product the most.
Is this product going to be best for
a young, amateur enthusiast?
an older person looking for a hobby?
a newbie on a budget who wants to test things out for a while?
someone that doesn't want to replace the product in a year, so is willing to spend more money up-front?
Telling a story about who should buy the product will help readers identify with your review, and get more excited about becoming the person in your story.
8. Make Use of H3 and H4 Tags
This follows along with the previous two points or organization and clarity, but I just wanted to emphasize how h3 and h4 tags can be useful for your reviews.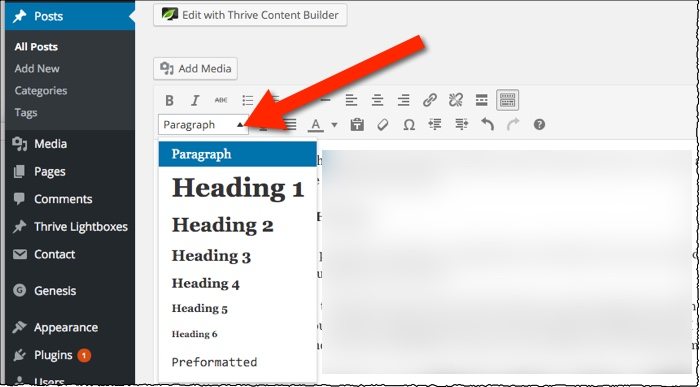 For one, these paragraph headings readers to find the areas of your article which are most important to them. If I'm going to buy a camera and I skim your article, I might stop by the "size and weight" heading because I want to take it camping. Or I could read the "App Connectability" section if I care about how I can manage my photos with my smartphone.
Another interesting thing to do with h tags is to basically give the reader the gist of what you're saying right in the title. If I think that a certain vacuum cleaner I'm reviewing doesn't have enough power, I can title a section, "Product X Simply Doesn't Have Enough Power".
Of course, I'll expand on the point within the next few paragraphs of the review, but this allows readers to skim your review, reading only the headings, and understand your main points. If a person can get your main points in less than 10 seconds and there are enough exit points to the product on the page (or alternative product), you'll capture a lot more clicks and sales.
H tags can also be useful for on-page SEO. Don't go overboard and keyword stuff your article, but having your keyword in an h3 and h4 can definitely boost your chances of ranking. Your title will already be an h1 tag, so it'll give Google a very strong indication that you should be ranked for that phrase, with minimal effort on your part.
If you can't squeeze in the keyword naturally, don't forget that LSI phrases (related keywords) can also be useful for getting ranked for your target keyword as well as allow you to rank for other unintended phrases.
9. Pros & Cons
A very, very powerful section of any review is going to be a bullet point list of pros and cons. This lists out very clearly the good and bad points of a product somewhere in the review.
You can choose to put this in the beginning, as a "preview" of what's in your review, or at the end as a "summary" of what was said. Both work, and just depend on how you want to create your review template. You might want to use both!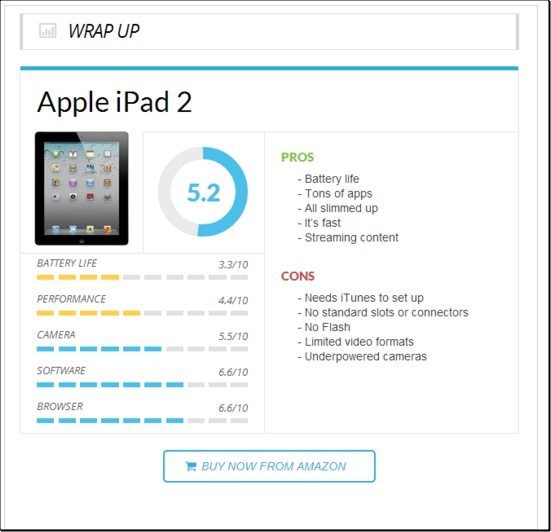 Even as someone that makes money writing reviews online, I still gravitate towards, and am affected by pros/cons lists. Sometimes data and information can be overwhelming, so to have an expert summarize the main points of what's important about this particular product is a powerful tool that cannot be ignored.
One thing that trips people up, and you'll have to make a decision on, is how to deal with the "cons" list.
Doing an objective, honest review will usually have a list of negatives to talk about. But if you are trying to make sales of a product, will the cons scare people away? Even if you list this item as you #1 choice, negative points could send people away searching for the perfect item.
After continuing their search, they stumble upon a reviewer that says an item is perfect and has no flaws! Although your review was more objective (and better), the other review is more convincing. The potential buyer would end up with the same product regardless.
So should you only write positive reviews in order to boost sales? No. But when you list no negatives, your more analytical readers may be skeptical and keep searching for a more honest review so they can get a full picture of what to expect from the item they plan to buy.
There are definitely some advantages and disadvantages to how you want to write about the negatives of an item you're reviewing. How you choose to deal with this will again, depend on your personal "voice".
For me, I try to make sure the cons list is visually smaller than the pros list. I also tailor the offending items to not sound as drastic, and I match up each negative with a positive counterpoint when possible. For example:
Pro: Sturdier casing that will last longer than cheaper items
Con: Will cost more initially
Oh, another tip for your "pro" section is to talk about how certain features will affect the user, instead of just listing the actual feature. Talking about how a feature will make the users life easier, better, or more fun will resonate more than simply listing what it does. For example:
This sous vide water oven has a multi-pouch rack.
versus
The multi-pouch rack in this sous vide water oven allows you to cook multiple items at one, meaning you can prepare an entire meal while you're away from home.
In the second example it's clear what the feature does, and how it will help the person solve their problem of needing to cook while away from the home, or save time each day. Of course, the second example doesn't fit as nicely into a bulleted list, so you'll have to find a balance in your list.
10. Summary at The End
You might think that with an introduction, and a pros + cons list, that a summery might be overkill. It isn't! Keep in mind that a lot of people will be skimming, or distracted while reading, so take as many chances as you get to deliver bite-sized information.
Lots of readers will just skip to the end to read the conclusion anyway. I know sometimes I start at the end of the review to see if this person is an honest reviewer or just a marketer pushing a product.
In other words, don't just leave your summary as "this is great. buy it here". List a few main points, and allude to the fact that you delved in deeper into each point within the review. Something may catch the readers eye (whether negative or positive), and encourage them to go back to reread.
Since you definitely made use of your h tags, they'll be able to find the points in the article to match up with your conclusion. And as long as you have enough exit points linking to the product, you'll get the click and commission as well.
11. Comparison Charts
Yes, another way to summarize the product features/pros/cons, but more visually this time.
To be honest, reading a lot of text at ones can be overwhelming. Especially if this is a more expensive item and you are really digging into why it's worth buying, your review could end up 1500-3000 words. That's a lot to consume, then remember, then act on.
Having a visual way to compare to other possible choices can help readers decide which item is best for their needs. As long as you have affiliate links to all of the items, it doesn't really matter which one they buy in the end.
Too extensive of a comparison chart can also be overwhelming, so I try to stick to just enough items that someone can see on the screen at one time. This way they can take a full glance rather than have to scroll up and down. Pick just a few features to compare which are most relevant to the product and most differentiating. I also like to link to individual reviews of the other products if I have them on my site.
The product review table I use is called Go Pricing that I've used successfully for about 3 years now , but there's another great one that I've seen called Easy Pricing Tables.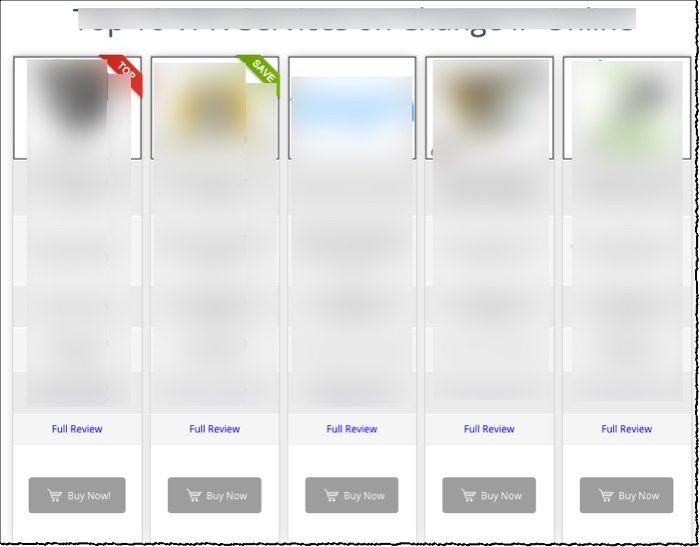 Both allow for custom table options, colors, graphics, and other customization. Personally, I like Go Pricing because it's interactive for the user and has more "out of the box" customization options.
12. Links To Similar Products VS Focused Review
Here are two options for you to consider when writing your reviews: Is your website focused on promoting one product, or several products?
For example, you can see on this website, One More Cup of Coffee, I have chosen Wealthy Affiliate as my #1 way to learn how to do online affiliate marketing. All negative and positive reviews I do of other products have a link to my Wealthy Affiliate review because it's simply the best out there in my opinion.

You may have a similar website, which is very niche focused. For example, I want to create a website about bluetooth headphones for sports. This type of site would allow me to choose a "best option" for anyone. I can still make money from other reviews, but I would want to promote the clear winner heavily since it's going to be better in almost every aspect.
However, your niche may not allow for you to pick a "best" item to promote. For example, I have a website about how to brew beer at home. There's no "best" way to brew beer! In this case, I could pick a best beginners kit, a best boil kettle, and multiple options for kegging the finished beer.
For this type of site, I could review 5 different beginner brewers kits. In each review, I could link off to a main comparison page where I break down each kit, including pros and cons. Of course, I could include the comparison chart on both the individual review as well as the comparison page. The comparison page would link to the individual reviews as well.
This type of internal linking will give Google a strong indication that you have done extensive research on the topic, as well as let your user know that you have both surface-level info for someone that just wants an answer now, as well as in-depth info for someone that wants to do more extensive research before buying.
This keeps people on your site longer, attracts high quality backlinks from other websites, and helps to establish authority over time.
I've done an example of this with my post about 5 cheaper alternatives to Amazing Selling Machine, which promotes Amazon FBA training courses. I've also done something similar with my post about several ways to make money on Amazon, that links to appropriate courses for each method.
NOTE: Even when comparing similar products, it can be helpful to choose your favorite, so that the reader can know which one you think is best. That little nudge, can help a potential buyer make the final decision.
13. Links Convert Better Than Images
Your review page should include lots of high quality images. However, it's text links which are going to convert visitors to clicks and sales. Personally, I rarelly use images as a clickable item anymore, unless there is a button within the image that looks clickable AND it's accompanied by a text link.
When I first got started in affiliate marketing, I was sure that images would be more attractive and clickable. However, after many experiments (and the advice of my mentors) I learned that colored links are very much ingrained into our brains as something that we should click. Pictures? Not so much.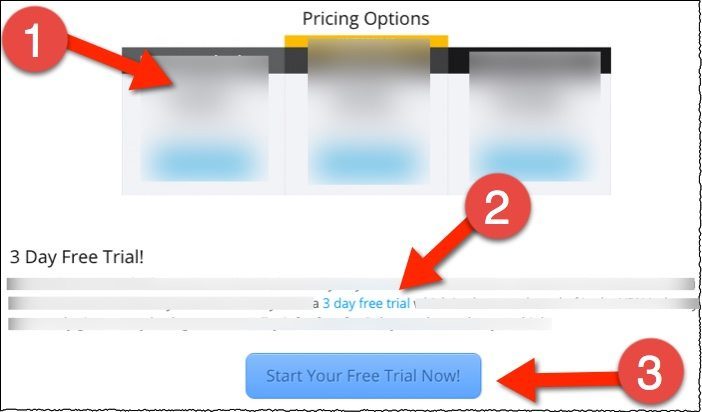 Especially on mobile devices where you cannot hover over an image to watch the cursor change over clickable items, having clearly defined text links will be vital to making sales.
In general, I try to minimize the amount of affiliate links on my site. I don't use image links at all, unless they look like a button, or have something that appears clickable without hovering. If it's an important review page that makes good money and I'm trying to boost conversions, I'll experiment with adding different styles of affiliate links and see what works best. But I usually start off with fewer links, and mainly text links.
There are two basic text link styles to work with. One is going to be a Call To Action, and one is going to be Contextual.
A call to action is an attention getting headline, away from other bodies of text such as:
Click Here To Buy This Item
or
Get Product X From Amazon
You are telling the reader that they should get the item, or take some kind of action like "reserve a copy" or "sign up".
Contextual links can perform just as well in terms of conversion rates, and are much more subtle. Sometimes it can be tought to get the balance right between subtle and effecting link placement versus and making it obvious where to buy. Honestly, I don't have any great advice here other than both are options, and you should test things out to see what works for you.
Let's take a look at an example.
A contextual link could be something like:
For professional climbers, the [Black Diamond Half Dome Climbing Helmet <== LINK] is an obvious choice due to it's excellent safety features and stylish look.
Placed at the end of a review as part of the summary, it's pretty obvious that you can buy the helmet by click the link. It's not as obvious as a call to action, but if someone is interested enough they'll click.
Not all contextual affiliate links have to be at the end of a review as your final attempt to make a sale! You can place affiliate links anywhere within the body of text of your review.
Just keep an eye out for phrases you type naturally which could be used to link off to the affiliate product at appropriate points. I try to put affiliate link somewhere after positive points, or summary points within the text. For example, I wouldn't place a link under the "negatives" section of a review because I feel like it would be a waste of a link. They just finished ready why to not buy it, remember?
Images that look like links, buttons, or images that appear to be buttons can also perform well!
14. Create Custom Images For Focal Points Of Review
Using custom images for your review can be a powerful way to establish authority and gain trust with your reader. They are simple to create, and can make a huge difference in how your page converts.
The custom images I'm talking about could be a variety of things.
Create a custom heading for your review pages which features the product, your website logo, and the word "review"
Take your own photos of the product at your home if you purchased it
Use a text-based image across multiple reviews for certain sections like "pros and cons" or "final review" so that when someone reads multiple reviews they can see consistency and professionalism
Here are two examples from One More Cup of Coffee. Every MLM review I do has the logo of the company with the word "Reviewed" stamped on it.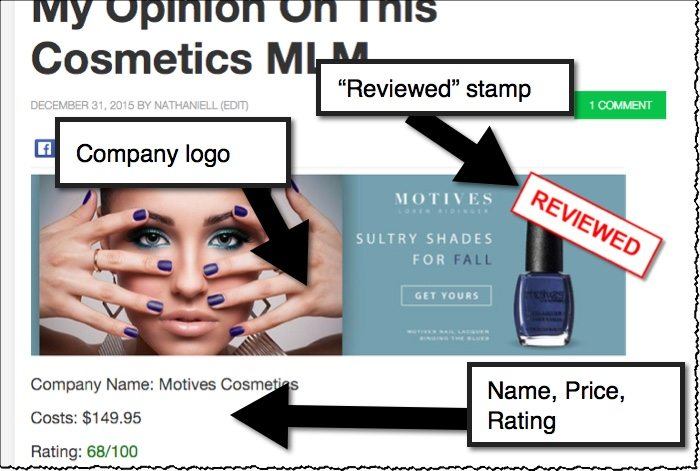 Some of the reviews which I've updated contain an image with "Final Thoughts". It was easy to make, free to use, and unique to my website.

These were not hard to make, and because they're mine, cannot be used on any other websites. Of course, someone can recreate their own version, but this version is unique to me. With a little more effort on your part, you can probably make something a lot better looking!
I especially like to at least put a border around the product image at the top of my page so my review. This is a simple way to make a review page look more professional in my opinion. Here's an example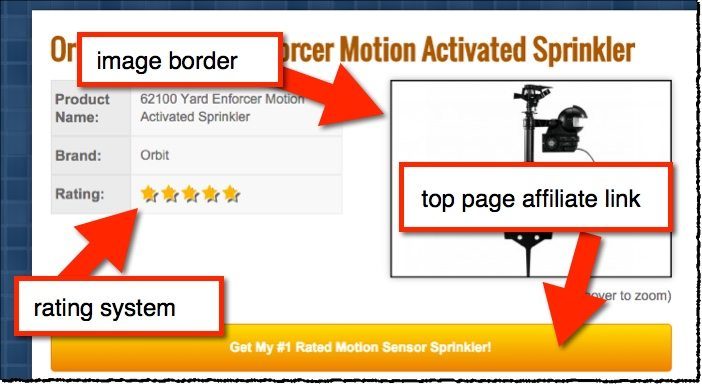 15. Use Your Own Product Images
Alright, so I don't have any real data or anecdotes to back this up, but it's just my personal belief that adding unique photos to your website reviews makes a big different in what users thing of your site.
Even if the photos are not professional, they at least show you using the item. Beyond that, it gives you ample opportunity to take the specific type of photos you need that can go along with what you write.
Normally, you're limited to a few boring white-screen product image shots from the product page. With your own photos, you can take full color, large images, and get the product in a variety of settings.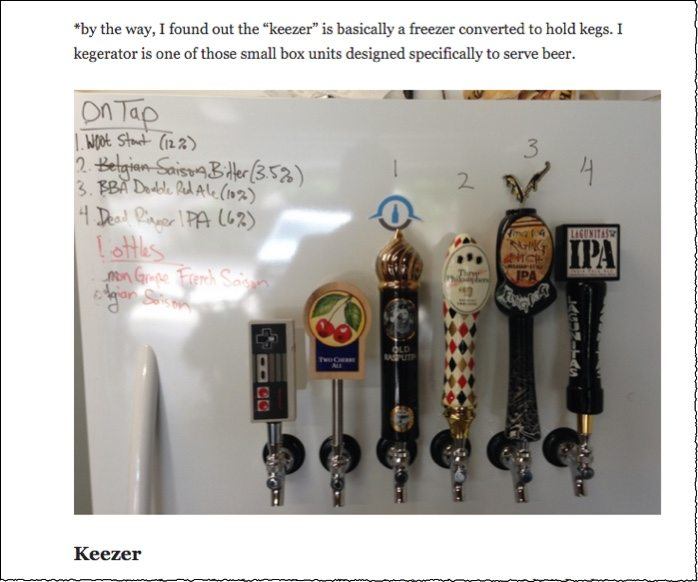 What makes a bigger impact on a visitor that wants to buy his kid his first baseball: A sterile closeup of a clean baseball that looks like any other one? Or a candid shot of you tossing the ball to your son? Obviously the second one is going to demonstrate more feeling, and what kind of results the buyer can expect.
I do this with my beer site all the time. If I do anything with my kegs, bottles, or fermenter, I take photos with my iPhone or Canon camera. Then I can use them later to show people what a real homebrewer looks like!
Plus, it feels pretty cool to have copyrighted images on your website that no one else in the world has.
Even if you aren't a fantastic photographer right now, it's just another awesome skill that you get to learn while building your business.
Strategies For Making Your First Sale
1. Use A Template For Your Reviews
This is hands-down the most powerful thing you can do to step up your game for how you write your reviews. A review template will help you immensely in some ways that you may not have considered.
a) It's going to create consistency for your readers. If visitors do your scout around for other product reviews, especially if you are leveraging comparison charts and internal linking, the consistency between pages will make it easier for them to decide which product they want to buy.
How many times have you had multiple tabs open at once to flip back between different models just before you make a busying decision? I know I have!
b) It's going to create consistency for you. How hard is it to get up in the morning and reinvent the wheel every time you make a post? Very hard.
The "thinking" part of writing a blog is often harder than the "doing". Getting past the hurdle of knowing what to write can send you into a tailspin which ruins your productivity for the entire day. At least it does to me.
When I have a template to follow, even if I don't feel like writing, I know I can start with the easy stuff like the product name, price, and cost. Then I can move on to a summary, brainstorm a few key points for each section, and a general end of post summary.
In less than 20 minutes I can have a very broad outline of what I want to say and congratulate myself for being productive. After that, it's just a matter of expanding these ideas into full sentences, and then more ideas will flow from there.
As you'll read below, consistency in posting reviews is vital to establishing authority and rank over time. In the beginning stages of your online, 1-2 reviews per month just isn't going to cut it!
Having a template on had to rely on is going to remove one more barrier between you and a ranked article in Google.
2. Consistency Writing Reviews
Publishing consistent reviews over a long period of time is going to be vital to getting rank and authority for your website. The logic behind it is simple: As a newbie, why should anyone trust your website that has 5 pages on it?
There are players in your industry that have been around for 10 years and have 1,000+ articles on their website! Volume and variety of content is just one of those barriers to entry that a lot of folks don't get past.
I have a lot of newbies approach me to review their website and ask why they aren't ranking. They have 5 pages and 20 posts published. Yeah, that's a great accomplishment considering they on zero just a few months ago, but in the grand scheme of things, saying 20 different things about denim doesn't mean you're an authority on the topic!
Remember, we're building a business. Our goal is to be an AUTHORITY on a topic in a couple years, not to quibble about ranking a couple pages two months into your very first website!
It's been proven time and time again that small, consistent steps lead to success more often that big, infrequent leaps. Publishing 3x per week for 52 weeks (one year) means you'll have 156 articles on your website. That's a lot.
Writing 10 articles one day, publishing them all, then doing nothing until next month means you'll have just 10 articles on your site. You'll probably feel a bit defeated, and also stress out about publishing another batch of 10. Of course, everyone works differently, and 10 articles per month is still 120 articles per year, but in my experience, having the schedule is more likely to keep you consistent, interested, and growing as a business owner.
3. Set Goals For Reviews Per Week And Timeline
As kind of a supplementary point to above, I suggest creating a publishing schedule that you stick to no matter what. If you plan to publish three reviews per week, do Monday, Wednesday, Friday. Or do two on Saturday then one on Sunday and schedule for the following week.
If you wait until "you feel like it", or inspiration hits, a lot of weeks you'll end up publishing nothing. Then several months down the road you'll feel like you wasted time.
Even if you publish low-quality content, at least you can congratulate yourself for sticking to the schedule, and you always have a chance to go back, edit, and improve the content over time.
My philosophy has always been that doing something is better than doing nothing. You can always go back and fix the mistakes later.
4. Add 3-5 Pieces Of Supplementary Content
So many new affiliate marketers miss this point. A review is not done when it's done! There are many things you can do to help boost the rank of a piece of content after it's publishing.
The main thing I do is internal linking! It's more powerful than you think, and really makes logical sense why it would work.
After I publish a review I want that's important for me to rank, I think brainstorm 3-5 pieces of content that are related to that review.
Of course, reviews of similar products are related and will make use of internal linking as well, but I don't count those. I think of keyword-based, information articles that I can use to link back to my review. They can be closely related to the review subject, or tangentially related.
Here's an example.
Let's say I write review of the Amazen Pellet Tube Smoker that I bought a couple weeks ago. It's used for adding smoke flavor to meats.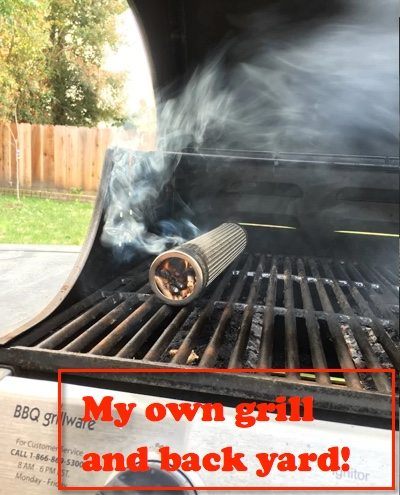 Step 1, I'll write a full review as described in this blog post. Step 2, I'll brainstorm 5 other related topics. I can use a keyword research tool like Jaaxy, use Google instant, or just use common sense to come up with ideas. Closely related topics could be:
Top 5 Ways To Add Smoke Flavor To Your Grilled Meats
8 Unique Devices To Improve Your Barbecuing Skills
How To Make Fall-Off-The-Bone BBQ Ribs
Can You Cook Ribs On A Gas Grill?
All of those articles will leave an obvious opportunity to link to your review of the Amazen Pellet Tube Smoker.
Some other, not-so-obviously related topics that could provide you with an opportunity to link back to your review would be:
How To Host Your First Outdoor Family Event
Do Smoked Meats Contain Carcinogens?
8 Ways To Mix Up Your Cooking Routine This Summer
Thought the actual topics of the posts aren't about how to grill meat or how to smoke anything. However, if you bring up the topic of adding smoked flavor while grilling, you can link off to your review, or you can link to another info post about grilling on gas, THEN link to your review.
This type of "funneling" is how you drive traffic to money pages on your site. Writing 3-5 posts that link back to your review will be a strong signal to Google that this is an important page on your site (thus your entire site should be ranked for related phrases) and also, considering the anchor text is relevant to the topic (or the exact keyword), that this specific page should be ranked for that keyword.
Summary
There is no fix-all solution or strategy that can guarantee you make sales from the product reviews you write on your website. Trial and error is basically how I learned, plus a little common sense.
In short, the most important things I've learned to write reviews that convert to sales are
Make your post readable
Make your conclusions obvious
Make it easy to buy through your links
Use visuals to keep things interesting
One last point that's worth mentioning is that you should write enough information to satisfy any question a reader may have. This is so after someone finished reading what you have to say, they don't feel the need to continue their research somewhere else.
You can have a super high quality piece of content, but if there are questions that are still unanswered after reading, the next guy could answer those questions, and make the sale.
This is a frustrating point for newbie affiliate marketers. I used to stress about losing sales like that. It's just part of the job, and should be incentive to improve your website enough that people don't want to leave. Oh, and once you start getting traffic to your page, it's time to start analyzing and improving.
What If I Don't Own The Products?
When starting your first online business, it's very likely you're on a budget. Or maybe you don't quite trust the system yet, and want to keep your initial investment low. That's completely understandable!
For these reasons, you probably don't want to purchase and try everything you review, even if it is your passion. Heck, brewing equipment can run $1000's of dollars, so there's no way I can afford to try everything.
The good news is that you don't have to own products to review them. As long as you do your due-diligence and write objectively, you'll be fine. Writing as an objective reviewer with experience in the field can be just as convincing of an argument to buy (or not buy) as is having hands on experience.
Would you rather read a review from a newbie that doesn't know much about the product he just bought, or an expert with tons of experience in related products? There are advantage and disadvantages to both methods, but if you plan on doing a lot of reviews, you need to get comfortable reviewing products you don't own in a way that is helpful.
---
What's been your experience with your affiliate websites so far? Do you have any tricks you want to share, or comments on my tips in this post?
Help future readers out and share your thoughts in the comment section. Let's build an awesome resource that can be shared and help affiliate marketers around the world.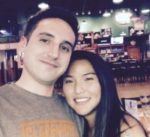 Nathaniell
What's up ladies and dudes! Great to finally meet you, and I hope you enjoyed this post. My name is Nathaniell and I'm the owner of One More Cup of Coffee. I started my first online business in 2010 promoting computer software and now I help newbies start their own businesses. Sign up for my #1 recommended training course and learn how to start your business for FREE!