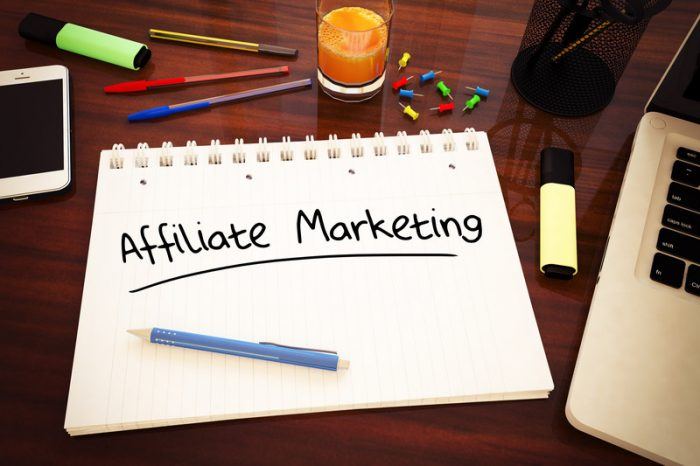 Affiliate networks are not the same as "affiliate programs", which you are probably familiar with. Still, affiliate networks aren't too hard to understand. An affiliate network is basically a single company that provides a collection of affiliate programs from many different sources.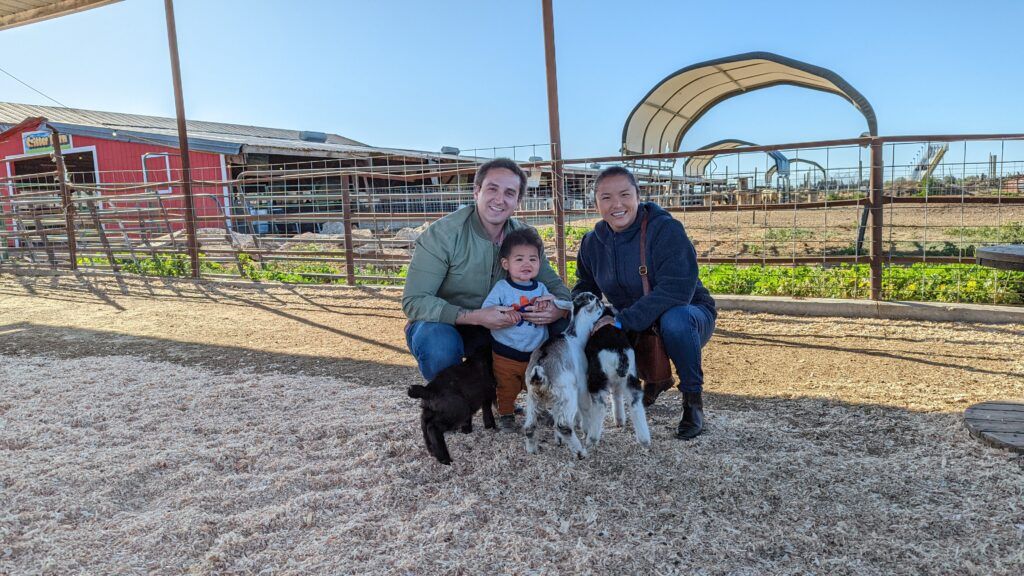 Are You Ready To Work Your Ass Off to Earn Your Lifestyle?
Are you tired of the daily grind? With a laptop and an internet connection I built a small website to generate income, and my life completely changed. Let me show you exactly how I've been doing it for more than 13 years.
In other words, rather than have a company run their own affiliate program through their own software with their own manager and support system, they leverage the network's resources. So you can join one affiliate network, and simultaneously get access to thousands of individual programs. Some networks give you instant access to all programs in the network, but most will require that you individually apply to each.
Even though you still have to pick and choose which programs to apply for, as well as get approved individually, there are some advantages to promoting through networks rather than individual companies.
They give you access to multiple merchants without you needing to join multiple different websites
They offer you a directory loaded with deals to promote
It's much easier to discover new companies to work with
All of your links are in one place. Plus, tracking and related processes are all similar between companies
Payouts can happen faster since all of your money is paid out in one place
Because affiliate networks are so powerful, they're almost essential if you want to be successful as an affiliate marketer.
Each affiliate network offers their own unique set of features and advantages. Here's the big list of all the networks I could find. I've worked with some of these personally, including ShareASale, FlexOffers, Commission Junction, Clickbank, Impact, JVZoo, and Amazon.
The Affiliate Networks You Need To Know About
ShareASale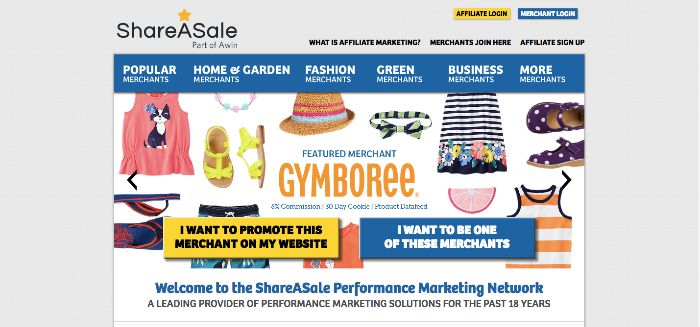 Notable Affiliate Programs: Reebok, Sears Home Repair, NFL Shop, Animoto.
ShareASale has 18 years in the market. We could describe them as fast, efficient, and reliable – with a broad selection of products and companies.
In 2017, Awin acquired the company to expand their reach and technological capabilities.
ShareASale offers a rainbow of products in almost any niche imaginable and I'm certain you'll find great offers to promote regardless of your niche.
The platform offers a simple and effective user experience. Even complete beginners find it easy to work with.
However, don't expect a dedicated manager for customer support, as you might find with other companies. Even so, they do offer an extensive knowledgebase to solve any issues that you might face along the way. This should be sufficient for most situations.
Payments are timely and issued on the 20th of each month. The platform has a minimum payout of $50 through direct deposit or personal check.
ShareASale is a great affiliate network that I recommend trying. It is a user-friendly platform with timely payments and a large number of merchants in many niches. It is also free to join and you can leave whenever you want with no penalties whatsoever.
FlexOffers

Notable Affiliate Programs: Nike, Macy's, Directv, Lenovo, The North Face.
FlexOffers doesn't offer anything innovative from a technological standpoint, despite the fact that they have more than a decade's worth of experience.
However, quick payments and a broad range of affiliate programs make FlexOffers an interesting option.
It doesn't matter what niche you're in, you're certain to find a suitable advertiser among the more than 12,000 options that the platform hosts.
There's also no need to wait for approval to start working with their offers. Register and you'll be ready to begin earning commissions. Really, it's that simple.
However, like any other affiliate marketing network, you still need to comply with their terms and conditions. This basically means having a legitimate website with original content.
Normally, you'll get paid on monthly basis and you can receive payments with PayPal, checks and wire transfer.
It's also possible to get paid on net 7 terms, but you need to apply and get approved to enjoy this feature.
FlexOffers is one of the industry leaders. There's no approval process and the payouts are some of the fastest in the industry, if you qualify for their net 7 payments.
While FlexOffers might be one of the best opportunities as a new affiliate, it has less long-term potential. Reviews suggest that once you grow beyond $1,000 in commissions, it may be best to move onto another affiliate network.
Awin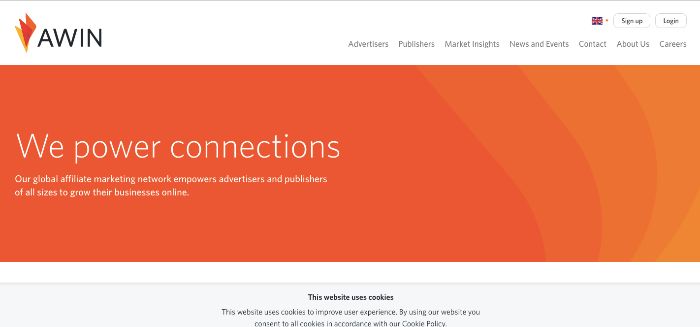 Notable Affiliate Programs: House Of Fraser, SuperDry UK, BitDefender, Expedia UK.
Awin is one of the leading affiliate networks in the market with more than $148 million in sales worldwide.
Awin doesn't disappoint in terms of merchant selection, offering more than 1600 to choose from. With this many to choose from, I'm sure you'll never run out of products to promote.
Something that I know many of you won't like about Awin is the fact that it's not free to join.
There's a £5 registration fee that they'll give back to you once you get approved. I couldn't find any details about what happens with the £5 if you don't get approved, but let's assume you don't get your money back.
Now, you might be thinking why join an affiliate network where you need to pay and might lose that money if you don't get approved?
Well, for one thing, the minimum payment threshold is low compared to other networks in the market. Additionally, they offer payments twice a month, real-time reports, and you gain access to tons of merchants.
Overall, Awin is a solid affiliate marketing network with useful tools, an intuitive interface, and a good variety of merchants.
Joining does require a fee but it is totally worth it. Plus, they provide great infrastructure and access to top-level merchants.
OneNetworkDirect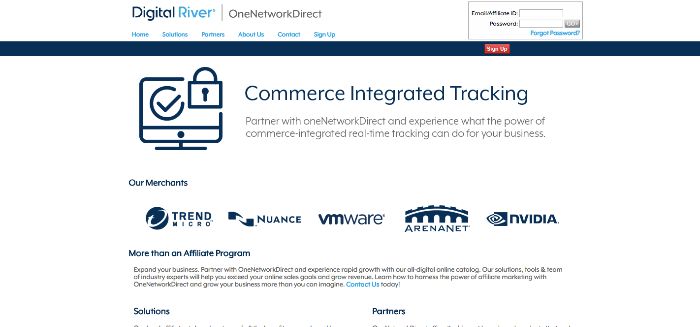 Notable Affiliate Programs: NVIDIA, ArenaNet, VMware, TrendMicro.
This affiliate network contains more than 400,000 products in their database. What's interesting is that many of these products are from top players in the software and consumer electronics industry.
We're talking about brands like Trend Micro, VmWare, Avast, Bitdefender, and D-Link – and that's just a small selection.
I'm not implying that you can't profit from smaller brands. However, promoting recognizable brands on your site is great for your own reputation and brand.
Additionally, it might be easier to make sales when promoting products from top brands. What can I say? Brand recognition is a powerful tool.
Perhaps you run a blog about malware removal. Wouldn't be great to have a banner right there with Avast products?
Another powerful thing about this affiliate network is that once you get accepted as an affiliate you might earn up to 60% commission.
Register you'll receive a confirmation email where you're required to provide your website URL, a description of your site, and your social security number.
They don't have any form of live support, FAQ section, help center, or knowledgebase. As a result, you can only get a response to your question (even the easy ones) by contacting their team. That aspect might slow down your workflow with the platform, especially early on.
Still, OneNetworkDirect is a solid choice as an affiliate network – offering thousands of products from recognizable brands, commissions up to 60%, and amazing reporting options to help you track your campaigns.
I suggest that you seriously consider this affiliate network if you see a relevant connection between your content and the software and consumer electronics industry. You won't regret it.
Commission Junction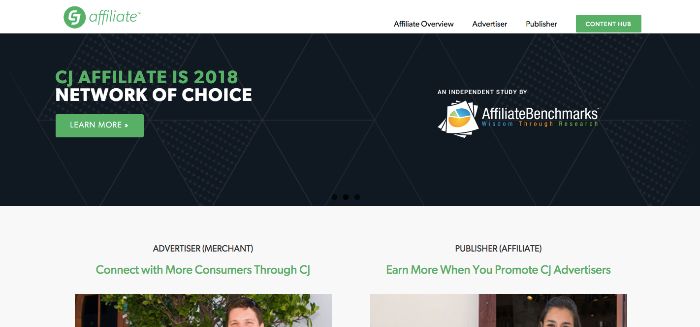 Notable Affiliate Programs: Home Depot, InterContinental Hotels Group, H&R Block, Boden.
Our list of affiliate networks wouldn't be complete without Commission Junction (or CJ Affiliate) in it. Basically, this is one of the top affiliate networks that you'll find.
Commission Junction partners with 2,500+ top-level advertisers that your visitors already love. This makes it easier to increase CTR on your ads and thus boost your earnings.
The platform is reliable in terms of payments and you'll get paid on net 20 terms or 20 days after the end of each month. There is a minimum payment threshold of $50 and payment methods are paper check or direct deposit. Surprisingly, PayPal doesn't seem to be an option, which is very unusual.
One of Commission Junction's strengths is their large selection of advertisers to choose from. However, you do need to "join" each affiliate program in the platform individually.
By signing up to Commission Junction you're not instantly getting access to all those top-level advertisers. Instead, I would say that you're gaining access to a large database of advertisers and it's up to you to join the best ones.
Of course, this isn't a big deal if you think about all the benefits and how long it would take you to find and join that many affiliate programs individually. Still, the selection at Commission Junction is massive and you might find that it feels overwhelming at times.
Commission Junction is a top-notch affiliate network. They have considerable experience, a large number of quality advertisers in all verticals that you can imagine, reliable payments, an intuitive and easy to navigate site, and a comprehensive Help Center.
I believe their only downside is that you have to deal with each advertiser individually. Even so, go ahead and give Commission Junction a try. Let me know in the comments how the platform worked out for you.
Rakuten

Notable Affiliate Programs: Wallmart, Sephora, Ray-Ban, New Balance.
Rakuten has facilitated more than 100 million sales all over the world and is one of the oldest affiliate networks still existing today.
Rakuten it's completely free to join as an affiliate, which I know many of you with a small budget will appreciate.
To join Rakuten, you simply need to go to their site and fill out their application form. As part of the process, you'll need to provide your Social Security Number and Tax ID.
The downsides of using their service are the unpredictable payment schedule and the fact that PayPal is not available as a payment option.
You only get payments when the advertiser pays Rakuten for the service. It might be that you get a payment one week from advertiser A but you might need to wait 45 days for advertisers B and C.
This means that Rakuten isn't the best choice if you're focused on creating stable and reliable streams of income.
Despite this limitation, Rakuten is a good affiliate network overall. It has many advertisers in a range of categories like fashion, gifts, and lifestyle. The network is free to join and offers amazing tools for tracking and reporting.
However, requirements like Social Security and the lack of PayPal payments mean that Rakuten is not the best choice for international publishers.
SellHealth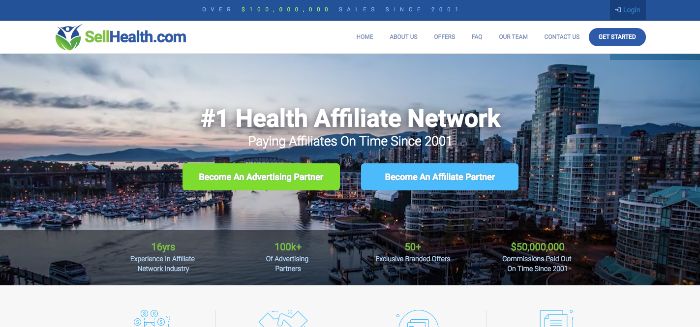 Notable Affiliate Programs: TestRX, Kollagen Intensiv, Skinception, VigRXPlus.
SellHealth has generated $50,000,000 in commissions paid to affiliates since 2001. The network contains more than 100,000 advertisers from verticals like anti-aging treatments and skin care.
Many products from this affiliate network could become a steady source of revenue for you. There are often recurring commissions, where you just need to make a conversion once and then you earn for as long as the customer buys from that company.
However, affiliates often complain about poor customer support. Reviews suggest that the support team is inefficient and it often takes a long time to receive a response.
As for commissions, you can expect a solid 40% per sale, once you reach a steady volume of sales per day. For high performers, the commission rate may be increased to 50%.
SellHealth offers you a dedicated account manager, relevant health-related products, a reward program based on your sales volume, and recurring payments.
Their bad reviews for poor customer service are clearly a downside. However, I believe it is still an interesting affiliate network for those in the health and fitness niches.
MarketHealth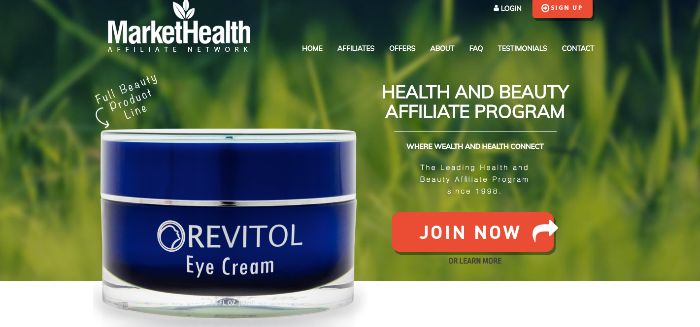 Notable Affiliate Programs: Bowtrol Store, Acnezine, Revitol, Creatine Muscle Builder.
As the name suggests, MarketHealth has a strong emphasis on health and beauty related products. This includes products like dietary supplements, diet pills, and skin care creams.
You can earn up to 60% commission, as long as you consistently generate more than 20 sales per day.
Once you reach your 20 sales per day, go ahead and contact their sales department at their email address: info@markethealth.com.
Someone from their team will review your request and if everything seems to be correct, they'll increase your payout.
MarketHealth is free to join. But, as you might expect, you do need to submit some information as part of the account creation process.
For example, they expect you to provide a Federal Tax ID or Social Security Number. Also, you must be over 18 years old to join the platform.
The minimum payout is $20 and you receive your payout twice a month by Check, Bank Wire, Skrill, or Payoneer.
MarketHealth seems to be a solid affiliate network for those in the health and beauty niches. It is a free network to join and it offers commissions of up to 60% based on your performance.
eBay Partner Network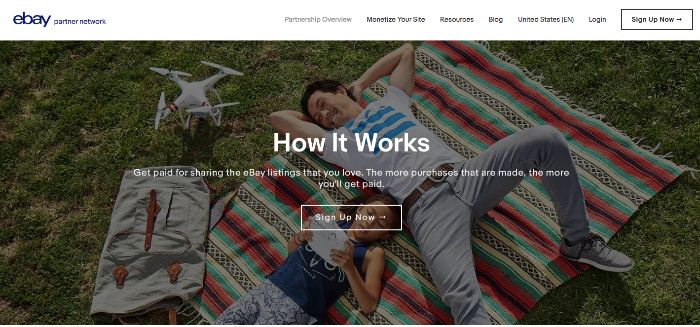 Notable Brands: Ralph Lauren, Xbox, GoPro, The North Face, and basically any other top brand you can imagine.
As you will already know, eBay is a multi-billion dollar site with global impact and is huge in terms of brand recognition.
I'm not going to give you a detailed guide to the eBay Partner Network here. The platform has so much to explore that it deserves a full article about it. So, if you would like to learn more details about the network, you can click the link above.
Similar to Amazon, I believe there's no niche that isn't represented on eBay. The site has an extensive range of products, including everything from clothing, collectibles, hunting gear, toys, supplements, shoes, and many other areas. If you can name it, the item is probably listed on eBay somewhere.
This means that it really doesn't matter what your blog is about. You'll always be able to monetize through the eBay Partner Network with amazing products that add plenty of value to your readers' lives.
Of course, the eBay Partner Network does have its disadvantages. Personally, I'm not happy about the fact that since 2003, their cookies last only one day. However, there's no such thing as a perfect affiliate network.
And, as long as you optimize your site for short-term cookies, you can still profit with the eBay Partner Network. For example, you can focus on promoting auctions that are on their last day.
At the end of the day, eBay Partner Network is still an incredible way to make money as an affiliate.
Amazon Associates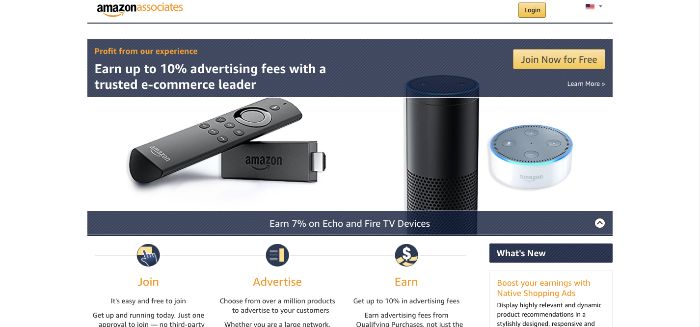 Top Brands: Levi's, Hanes, Calvin Klein, Adidas. Again any other brand with global recognition that you can think of.
Amazon isn't a typical affiliate network, as you are able to access all products and services on their website once you're approved. However, it's similar enough to a network because the products you promote actually come from individual stores! Amazon doesn't buy and sell all these products themselves. They just let individuals and brands leverage their systems to sell products. Check out who the seller is next time you buy something on Amazon to see what I mean.
Amazon's warehouses are larger than 700 Madison Square Gardens according to Business Insider
Amazon is not only one of the best eCommerce websites available, but it is also an interesting way to make some cash with your own website. In fact, there are people profiting big on daily basis thanks to Amazon Associates and there's no reason why you can't get a piece of that action.
The platform offers a mixture of ads for you to try and a large selection of products. And when I say large, I mean something like 700 Madison Square Gardens in products that you can make money from. This is combined with a low minimum payment threshold, making Amazon Associates a common choice for beginners.
The commission rate is low. But, if you keep working on it, you'll see results.
Amazon's affiliate program it's, without doubt, one of the best affiliate programs that you can be part of.
Through the program, you can expect reliable and secure payments, cutting-edge technology, constant innovation in their platform, and huge profit opportunities for publishers of all sizes.
By joining Amazon Associates you're taking advantage of Amazon's brand recognition to boost your online revenue. But, most importantly, you gain access to a seemingly infinite selection of products, flexible ways to display your ads, and much more.
Amazon Associates is definitely a wise choice when it comes to creating income from your website's traffic. For more in-depth information about how to profit with Amazon don't miss my post – Start Making Money With Amazon.
ClickBank

https://www.clickbank.com/
Top Affiliate Programs: Lean Belly Breakthrough, The 2 Week Diet, The CB Passive Income, The Woman Men Adore.
Clickbank is a top-tier company from the affiliate space with more than $3 Billion in sales.
You'll mostly see offers like online training programs, eBooks, and software in a wide variety multiplicity of niches. You can check out this link to see all that they have to offer.
On ClickBank, you'll frequently see offers with 75%, and in some rare cases, up to 100% commissions.
The sign up is pain-free and there's no approval process to complete like in other networks. I would say that almost anyone, regardless of their traffic, will be able to use the program effectively.
Clickbank allows you to choose between weekly or bi-weekly payments. Payments are always delivered in a timely manner. You can even choose your minimum payment threshold starting at $10.
So far, it probably feels as if I'm just pushing you to try Clickbank. With that in mind, let's take a look at some of the less amazing things about the platform.
The biggest problem with Clickbank has to be the low-quality products and trust me, there are a lot of these.
They offer an ocean of offers in diverse niches. However, a large chunk of these offers are junk products that I'm sure you don't want to associate your site with.
Beyond the poor quality products, Clickbank is a great affiliate network. Big commissions, a large selection of offers, safe payments, pain-free signup, and more make it a decent option for you.
Not every product will be a winner, but you can find many good offers to promote. Clickbank is also a good way to train your affiliate marketer skills on a safe platform. This is particularly relevant for you if you're a newbie.
AvantLink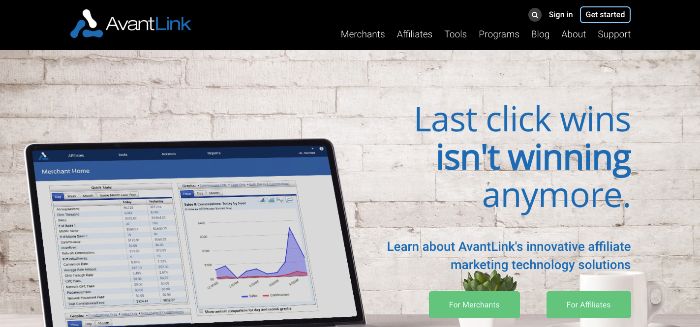 Notable Affiliate Programs: Raleigh Electric, Smith & Wesson Accessories, University of Northern Iowa, BN Labs.
AvantLink is transparent when it comes to relevant merchant information. Few affiliate networks are willing to share such detailed overviews of their merchants.
I know this might not sound like an impressive benefit, but having access to detailed merchant information and what you're committing to might save you time and future headaches.
To become an affiliate, you need to apply at the following link and their team will manually review your application.
After that, you need to complete an ownership verification process. But don't worry, you'll receive all the instructions and guidance that you need via email.
There's no minimum traffic requirement to join the AvantLink affiliate network. However, the general rules to join any affiliate program still apply.
This includes the need to have an established website with consistent traffic that is of decent quality. With AvantLink, the focus is more on the quality of your traffic than on the quantity.
AvantLink pays affiliates the 25th of each month via direct deposit, with a minimum payment threshold of $50 plus a $10 fee per withdraw to accounts in the United States and Canada only.
AvantLink is a good option to add to your list of affiliate networks to try. Sure, it has its flaws, just like any other platform. But, AdvantLink has a broad range of merchants in several categories, a solid set of tools and features, and a beginner-friendly website.
Commission Factory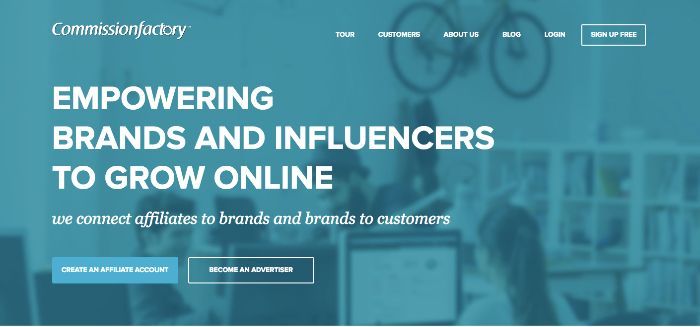 Notable Affiliate Programs: Etihad Airways, Princess Polly, Accor Hotels, Debenhams.
Commission Factory has more than 400 retailers.
In the past, they worked mostly with Australian brands only. But, recently they have expanded to other brands from the United States, Canada, South America, and Asia, where they had already established partnerships with companies like AliExpress, Sephora, and Lazada
The platform offers direct communication between advertisers and affiliates. This is true transparency when it comes to affiliate-advertiser relationship management.
Commission Factory is a retail-focused network. This means that you'll get paid on a CPS or Commission Per Sale model. There are also some CPA and CPL offers, but most of them are CPS offers.
You can expect to find offers with commissions of around 8% to 10% per sale, which is a good average percentage in the industry.
The platform offers weekly payments, with a minimum payout of $100 through PayPal, Australian Bank Deposit, or International Bank Transfer.
Avangate (2checkout)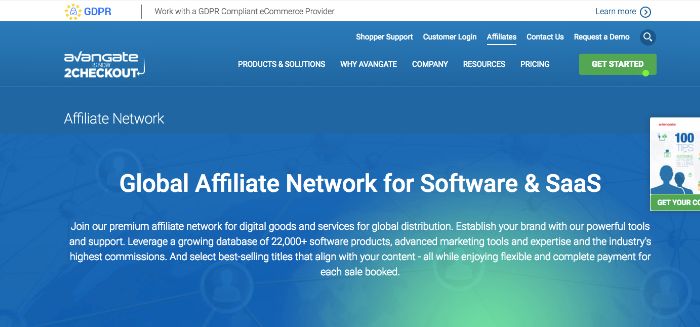 Notable Affiliate Programs: HMA! Pro VPN, Kaspersky Security for Android,
SEO PowerSuite, Awario.
Avangate (now 2checkout) offers more than 22,000 software-related solutions as part of their database and provides reasonable commissions for the software affiliate network industry.
The company is a great option for anyone blogging in the gaming, education software, audio/video software, and design software niches.
In their extensive database of offers, you'll find names like HideMyAss VPN, Kaspersky, Bitdefender, HP, and more.
Imagine one of your listicles about the top VPN options of the year with a beautiful link to HideMyAss VPN. Nice, right?
Your visitors will already know many of these brands, which helps to dramatically increase your potential to earn money.
Avangate is free to join. They also have a 24/7 support team that can help to resolve any issues or concerns that you have.
Cookies last up to 180 days. This is impressive, as many affiliate networks have 90-day or even just 30-day cookies.
For software website owners, the Avangate affiliate network is an amazing option, not only for their recognizable merchants but also for their quality support and amazing technology.
RevenueWire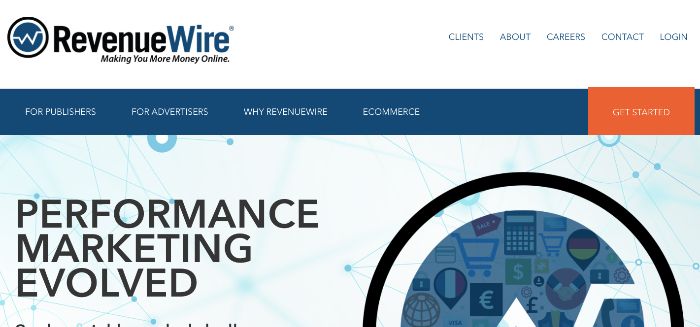 Notable Affiliate Programs: Adidas, McAfee, Uber, SecureVPN.
The offers from RevenueWire are mostly software. The platform currently has more than 1 billion conversions and counting.
The sign-up process is fast and simple. You just need to complete the publisher application and you are good to start using the platform immediately.
Commissions are up to 75% per sale. You receive payments twice per month the 15th and the 30th, via PayPal, check, or wire transfer.
However, RevenueWire doesn't allow for much customization. This means that you have limited control over what is advertised on your site, compared to most other platforms.
Whether this is good or bad depends on your personal preferences. Are you the DIY kind of affiliate or someone that wants to relax and focus on content creation?.
Olavivo

Notable Affiliate Programs: Bitcoin Revolution.
Olavivo is an affiliate network from Israel with cryptocurrency offers.
All publishers must submit an ID. A valid passport or driver's license is more than ok.
You also need a utility bill or a recent bank statement before you open your Olavivo account.
As you can see, the process isn't as simple as just filling out a form and getting started. The system seems to be designed to ensure that the network only gets legitimate publishers and that they can keep a close eye on publisher quality.
Cookies last between 30 to 90 days. However, advertisers control how long they want the cookies to last on their campaigns, not you.
Olavivo is flexible in terms of payment frequency. They offer weekly, bi-weekly, and monthly payments. It is up to you to define how often you would like to receive payments.
But, not everything is that flexible with Olavivo. The minimum payout is $250, which is high compared to many other affiliate networks.
They have multiple payment options to choose from, including PayPal, Payoneer, ACH, or bank wire.
JVZoo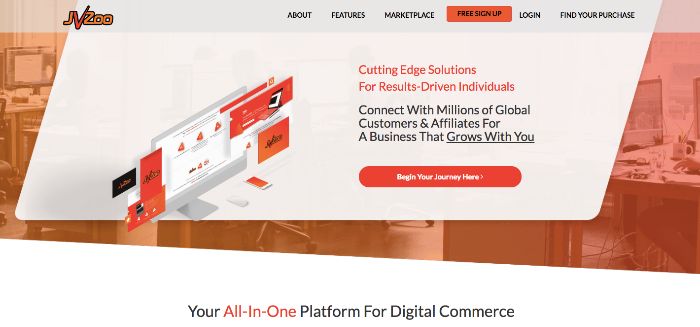 Notable Affiliate Programs: EZ Magic Video, ThemeMaker Agency Licence, Viddyoze Commercial, Flickstr.
On JVZoo, you will find offers like software, video courses, ebooks, and more.
But, why is JVZoo worth your time in the first place? Well, for one thing, they pay immediately into your PayPal account.
There's no need to wait to get the earnings from your hard work. Personally, I enjoy the feeling that I am creating income on a daily basis. It doesn't matter if is just a small amount.
The confidence that you gain from seeing the payments flowing to you on daily or weekly basis is a huge motivation to keep going.
Having daily PayPal payments is awesome. However, there are many low-quality offers on JVZoo.
That doesn't mean you cannot make money with the affiliate network. In fact, JVZoo is one of my income sources. To take advantage of it, you need to look past the junk offers (like binary options scams) and focus on reliable options that will sell well.
If you would like to know more about How You Can Make Money on JVZoo, take a look at that article I wrote a while ago. I'm sure you'll find it helpful and it offers many more details about the network.
Linkconnector

Notable Affiliate Programs: Reeds Jewelers, Check Into Cash, Global Golf, coupons.com.
If you look for LinkConnector reviews online, you'll run into affiliates claiming it's not worth your energy, that the platform is dying and you should look for other options. Even so, there are some advantages that make LinkConnector worth considering.
For one thing, LinkConnector takes anti-fraud policies seriously. In fact, more than 60% of publishers that request to join are rejected.
They also have an attractive list of offers from top brands like the Disney Store and several other categories.
With dedicated support and, of course, an extensive list of recognizable merchants, LinkConnector is an interesting platform to explore.
Clickdealer

Notable Affiliate Programs: MacKeeper, GameLoft, AliExpress, Booking.com.
ClickDealer generates 40 billion ad impressions, has more than 13,000 offers, and gets millions of conversions every month.
You can find offers related to dating, retail, software, games, and much more. They also offer 24/7 support from their team, which goes a long way.
Whether or not you get approved will depend on how good is your promotional strategy is – because you need to describe how you plan to promote their offers.
If accepted, you will receive payments through multiple payment methods and there's a minimum $500 payout.
This platform is an interesting option. However, there are some negative reviews online talking about things like ClickDealer canceling accounts without paying the money you had in there, delayed payouts, and unreachable customer service.
Pepperjam

Notable Affiliate Programs: Puma, PBS, Dr. Martens, Volcom.
Transparency is a key term to associate with Pepperjam. It implies that information like promotional strategy, detailed website analytics, and even your contact information will be available to the brands on Pepperjam.
This is amazing for brands because they obtain more control over who will promote their products.
But, what's the benefit for us?
Well, the more information you share, the better your income potential is. There is also a chat through the platform, which allows you to directly communicate with brand representatives.
Pepperjam is a great option, but there are some bad reviews out there. Even so, they offer thousands of advertisers like Shutterstock, total transparency between publisher and advertiser, reliable payments, and more.
Impact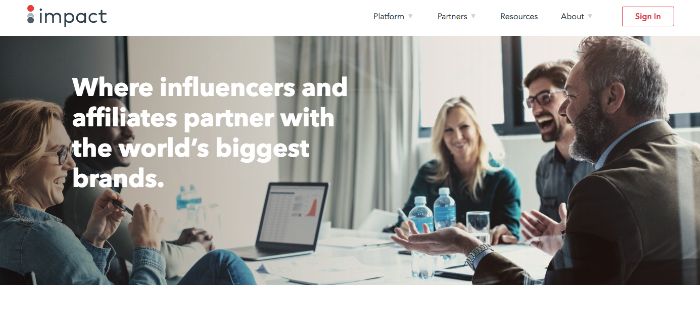 Notable Affiliate Programs: Cabela's, Liquid Web: Web Hosting, BuyDomains.
Impact has generated an estimated $40 million in revenue and has more than 800,000 media partners, including sites like Forbes and BuzzFeed.
They also offer a SaaS solution to help agencies and advertisers fully track and manage the performance of their marketing efforts.
There's a phone verification process to double check your information, which also allows Impact to learn more about core aspects of your website.
Impact pays the 1st or the 15th of each month, once you reach the payout amount of your choice (between $25 and $5,000).
There's not much information on the company's website. But, their network of affiliates is full of top-level publishers. As a result, attracting new affiliates might not be a top concern for the company at the moment.
Moreniche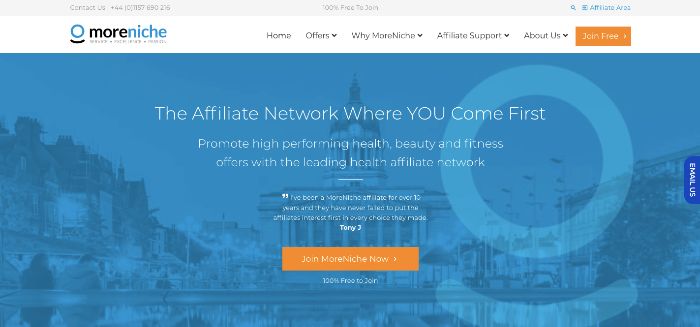 Notable Affiliate Programs: CrazyBulk, Male Extra, PHENQ, Marine Muscle.
To join Moreniche, you simply need to fill out the form, then you can log in almost instantly. Yes, it's that easy. Most deals that you find on here will be from the fitness, health, and beauty markets.
The average commission is in between 40% and 80% per sale.
One amazing thing about Moreniche is that they offer you lifetime cookies. Yes, that's right. In contrast, most other affiliate networks only offer you cookies that last between 30 and 90 days.
Moreniche pays every two weeks with minimum payouts of £50, €100, or $100. Payment methods include Payoneer, Skrill Bitcoin, and international wire.
Of course, the platform is not a money printing machine. In other words, you can't expect to join and instantly receive hundreds in commissions per day. This is especially true for newbies with little to no experience as affiliates.
Still, Moreniche is an interesting option to try. They don't offer anything innovative to the market, but they are a well-rounded solution that covers all of your basic affiliate marketer needs.
Paid On Results

Notable Affiliate Programs: Rox Diamond and Thrills, The Dressing Room, Fun Bikes, Bodykind.
This platform offers payments on demand within 5 days. But, you should know that this only works for UK affiliates.
You also need to receive at least two regular payments from Paid On Results before you can get payments on demand.
I personally love this style, as other companies normally require you to wait for 30, 60, or 90 days to get the earnings that you worked so hard for.
Before you have access to payments on demand it takes 6 weeks to get your earnings. But, don't worry. The company is reliable and they have an extensive list of merchants to choose from.
However, there are some reviews complaining about poor customer service, low-quality traffic affiliates, and not many sales after months.
Nevertheless, Paid on Results remains one of the top affiliate networks in the UK, due to their constant innovation, interesting payment policies, and merchants. Even so, I wouldn't say that it is one of the best options once we start looking beyond the UK.
Trade Tracker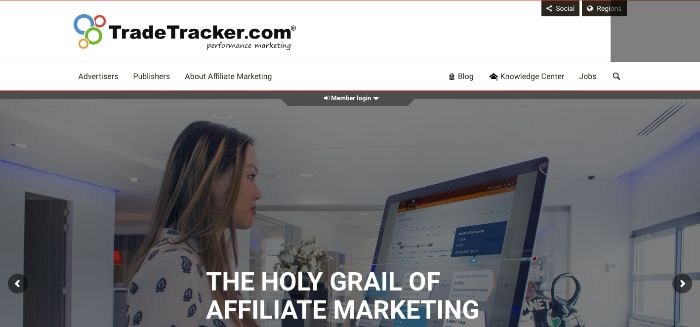 Notable Affiliate Programs: Allianz, Trivago, Orange, Disneyland Paris.
Trade Tracker operates in 16 office locations with approximately 150 employees. Here you can find every single category that you can possibly imagine. Some examples include adult, art and living, animals, books, dating, toys, travel, and many more.
You'll need to register for the company. Once you submit your registration, their team analyzes your request. If everything is alright, you should get approval. After you have been approved, you can start working immediately.
One great thing about Trade Tracker is the potential to receive payments up to 4 times a month.
That's not all. They go even further and offer you a super fast payment option, paying you within hours of the transaction being verified. Payment is made via PayPal or a wire transfer.
I don't need to tell you how great this is. As an affiliate, you'll know that it's an unusual style. You don't normally have much control over your payment frequency.
Trade Tracker, on the other hand, offers you full control over your payment frequency according to your needs.
This affiliate network is interesting, offering a broad range of products alongside a uniquely flexible payout system and dedicated account manager. There's also no risk as an affiliate to simply create an account and start monetizing.
ShareResults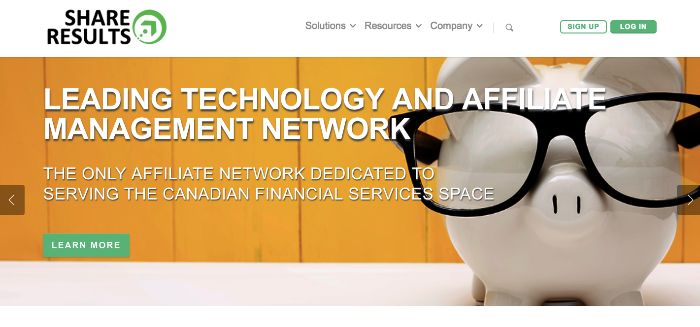 Notable Affiliate Programs: ScotiaBank, Tangerine, CIBC, Ding.
Based in Montreal, ShareResults started operations in 2004. The company now possesses an extensive list of offers that are mostly focused on the Canadian financial industry. They also have more than 12,000 publishers.
To sign up, you simply need to fill in and submit the form. In most cases, you should know whether or not you got approved within 48 hours.
Affiliates receive payments the 10th business day after the end of each month using PayPal (with a minimum payout of $20), wire transfer (with a $500 payout), and check (where your threshold is $60).
What I don't like about this platform is that when you join Share Results it's still up to you to contact merchants to get their branded banners.
On top of that, you can't create your own banners on behalf of the merchant. This means that if your merchant isn't proactive enough, you might miss opportunities to promote their offer.
As a dedicated affiliate marketer, I consider this archaic. But, it may just be the way they like to work to ensure merchants are in control of how their brand is promoted.
Bonus Platforms
Congrats! You've reached the end of our list of affiliate marketing networks that you can add to your arsenal of income streams.
But, because I believe you might appreciate some more ways to grow, I would like to highlight a few bonus platforms.
They're here to help you expand your horizons as an affiliate and they're not affiliate networks.
Offervault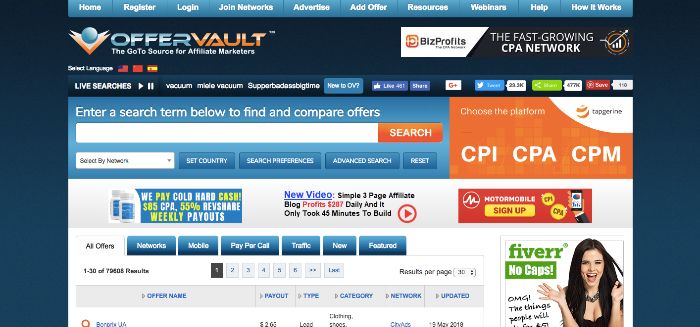 As a website owner with consistent relevant traffic, Offervault allows you to browse around several CPA offers in a matter of seconds, saving you precious hours looking for those offers yourself.
Offervault is free and you don't even need to join to gain access to their selection of more than 50,000 offers.
With this approach, you still need to apply to each affiliate program separately. Offervault is just for researching offers and doesn't provide a way to access them all through the platform.
Creative Market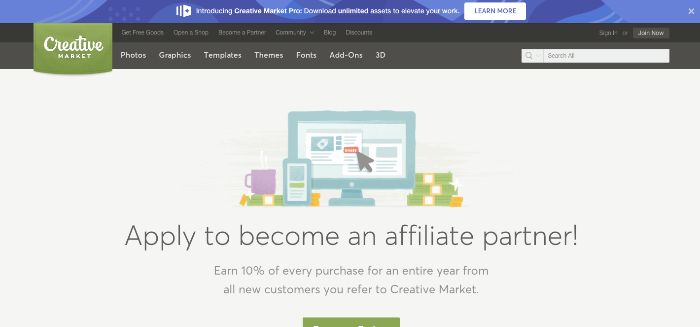 This platform and its products are well executed. There are people generating thousands of dollars a month with it.
The company is focused on creative assets like logos, themes, product mockups, photos, fonts, and similar items.
As affiliate marketers, we use logos, websites, photos, and infographics on a regular basis. So, why not profit by recommending your favorite solutions from this platform?
This is also an attractive opportunity to write about things that you're already doing as an affiliate, to help others, and to make some money in the process. This company helps you to do all of that.
You receive a 10% commission for each customer they acquire thanks to you, plus you earn on all purchases that the customer makes for a full year.
The program may also be a great way to start earning from your passions if you're a designer or work in another area of the creative industry.
AffiBank

AffiBank is a marketplace that is similar to Offervault in the way that they organize many offers in a user-friendly manner. However, it is also different, as the site provides you with support for your promotional efforts.
Most offers will pay you 75% per sale. Each one comes with all the details that you will need, including screenshots, the percentage per deal, and the media kit for promotion.
There's a 30-day payment threshold period, which is designed to cover any possible refunds. The only method of payment is PayPal and you need at least $50 before cashing out.
To sum up, AffiBank let you access many affiliate deals that are conveniently organized by type and even by affiliate network. Plus, you can earn 75% commission from most of the offers listed there.
ShopStyleCollective

ShopStyleCollective works well for fashion bloggers and influencers. You can find offers from brands like Gucci and Forever 21. ShopStyle is a division of Rakuten and they share some tracking technology and features.
This platform only works through a Cost Per Click (CPC) model. Imagine that you earn 1 cent per click and one of your readers buy something using your link. That's not much income for your work.
If you ask me, I would rather put my effort into getting myself an AdSense Account or joining any other platform with more significant earning potential.
I only recommend ShopStyleCollective to people in the fashion niche because the program tends to accept all bloggers regardless of the traffic that they receive.
ShopStyleCollective pays affiliates on monthly basis via PayPal and there's a minimum payout of $100.
To be honest with you, I'm sure that you can earn better commissions from affiliate networks that use a Commission Per Sale model. However, I wanted to include at least one fashion industry related option in this article.
MORE
I'll just keep a running list of more affiliate networks as I discover them. There's a ton out there, and I run into new ones all the time. A lot of these will be CPA networks, which are surprisingly hard to find and super exclusive to the top affiliates many times.
Not all are CPA though, for example She Is Media, which is a great affiliate network.
Final thoughts
Every single platform that we just went through comes with their own great and not-so-great features and policies.
I hope that after reading this article you have a well-rounded idea of each platform. Now, it's time to take action. Go ahead and join your favorites from the list then share with me in the comments what you liked about them and what you didn't.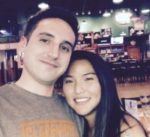 Nathaniell
What's up ladies and dudes! Great to finally meet you, and I hope you enjoyed this post. My name is Nathaniell and I'm the owner of One More Cup of Coffee. I started my first online business in 2010 promoting computer software and now I help newbies start their own businesses. Sign up for my #1 recommended training course and learn how to start your business for FREE!