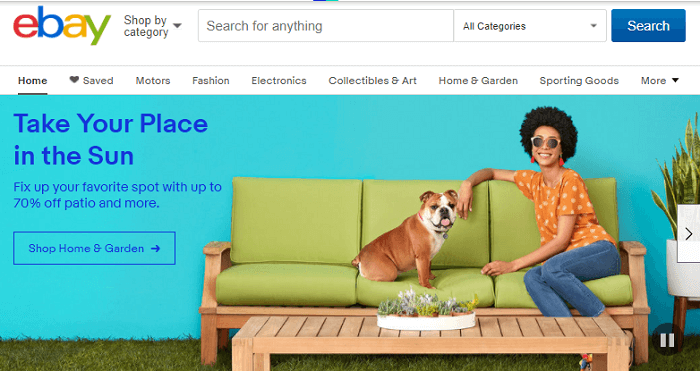 If you're like everyone else that has internet access, you get sucked into sites looking for new electronics, clothes, home decor, and other random things. Online shopping is much more relaxing than taking a trip to the store and dealing with the public. Plus, you have way more stuff to choose from online – you can shop the entire world!
eBay is one of those incredible sites that allows you to find new/used items for a more affordable rate from real people like you!
Though many people don't know, eBay has an affiliate program that allows you to make a profit from advertising for eBay products or pages! I thought to myself, how can I make money from other people selling their things? Well, keep reading on because this is an affiliate program unlike the others and I think you'll be excited about it too!
In fact, eBay has some distinct advantages over Amazon Associates, one of the most popular affiliate programs for affiliate marketers.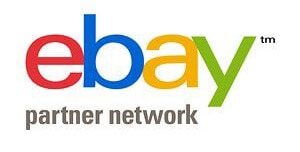 For those who aren't familiar with affiliate programs, they allow you to sign up (for free) and promote their products, pages, and services. If a customer then signs up or makes a purchase, they offer you either a flat rate ($10 per sale) or a percentage (25% of sale). If you have the right audience interested, you can make serious money online. 25% of $10 doesn't sound like much, but multiple that by the hundreds of millions of people online, and you can make six figures in your sleep. Literally.
What Type Of Products Are Featured
eBay offers a large range of products depending on what the world is selling at the moment. Most commonly items sold would include things like clothing, electronics, and other home furnishings/appliances, but the list is limitless. Items can be new or used, and in varying types of condition. Here are the most common high level category of products sold on eBay:
Fashion
Electronics
Collectibles and Art
Toys
Home and Garden
Sporting Goods
Motors (Vehicle Goods)
Music
Gift Cards

There are two different types of sellers on eBay as well. When eBay first started out, it was a site primarily just for ordinary people to sell items they no longer wanted. Think of it as a garage sale online except with eBay you rate your seller and customer so you can see how trustworthy they are and if their items being sold are legit.
Today they also allow retailers to sell on eBay as well and promote their products and items (Companies like Adidas, Samsung, etc). Many people have their own "eBay store", where they exclusively sell new items, or drop ship from China.
What Is The Commission Rate
eBay offers a commission rate unlike most of the others out there. They offer you 50-70% of the profit that eBay gets. That means they offer more than half of their profit to you for making the sale happen! For me, this is legit amazing for eBay to provide that high of a commission to their customers. I do want to make sure to clarify that you do not receive "50%" of the whole sale, but rather of the profit that eBay receives from the sales.
The percentage of profit you will get will be dependent on the type of products sold. For example, fashion products you receive 70% of the commission whereas electronics you get 50%. Each product type has a percentage assigned to it. There are exceptions that eBay will make depending on the product/seller but as a general rule they have standard brackets for each product type.
For other companies on the market, they often give you a percentage of the total sale, however, in eBay's case most of the customers are real people selling items on their own items. The profit in this case has to be shared with eBay since they cant very well take part of the seller's profit and give it to you 🙂
Alternative Affiliate Programs
Although there are many other companies similar to eBay, really they have their own individual niche market. The closest types of alternative programs on the market today is Amazon and Etsy. Amazon doesn't allow people to sell used products on it, but it does offer a large variety of many products that you can also sell as an Amazon affiliate. Etsy on the other hand is a site for people to sell their hand-made items on. Etsy is quite similar to eBay in that it is for everyday people, but it's got a very crafty/artsy vibe to it instead.
For both of the above two affiliate programs, they offer a % of the full sale still which is different from eBay. While in both scenarios you have potential to earn money, eBay just has a unique style of profit that you share eBays profit (and the majority of it, I may add!).
Website Ideas
With eBay being such a broad program, the different types of websites you can utilize it in is limitless! If you're a fashion writer, or do electronics product reviews, or if you write about do it yourself home projects or decorating, eBay is a perfect affiliate resource for you to use! Lets talk about some ways you can do this on your websites.
If you go for fashion, think about your target audience. WHO are you writing for. Don't go for "men's fashion". It's too broad. Pick a topic like "fashion for young professional women" or "practical fashion for outdoors enthusiasts" . When you do this, you can link to products already available on eBay for them. This not only gives them the idea and concept, but the way to order the product right away.


The same thing goes for electronics. Don't aim for "computers" or "software". Pick a topic where you can picture the type of person that will be using this products. For example, "Apps for the productivity growth hacker", "building a gaming PC for newbies", or "how to build cryptocurrency mining rigs"
Can You Make Money With The eBay Affiliate Program?
There is so much potential to make money with eBay. It's not a matter of can. It's a matter of how. Broadly speaking, I highly suggest for you to focus on your content first as always. If you have great content first, you'll start to gain traffic, and at that poin you can start to compliment it with great affiliate programs! A website with all affiliate links and no information to back them up will go nowhere. As an eBay affiliate, there are an infinite number of things you can promote, plus there are other affiliate programs out there too. Website monetization is not rocket science.
Lets review the different ways eBay offers you to advertise their products:
Link Generator: The link generator tool is extremely useful for most of your needs in terms of directing customers to specific places. In the link generator tool you can direct customer to the eBay home page, or you can enter search results like "iPhone 8" or any other text search. You can also direct them to a specific item or a seller's store. You can then use these links in your website articles or on social media.

The link generator will be your most useful tool in eBay and is extremely easy to use. Once you've entered what you need in the options, hit the generate link button and the text will be available to you in either URL, HTML, or Java Script.
Creative Banners: eBay has banners for each of their high level categories ready to go. They come in many different dimensions so you can fit them in all the different sidebars and banner sections of your site. These work really great basic advertisements on your site if you don't have a specific item to sell. These banners are best for general advertising when it relates to your niche topic.

Custom Banners: You can also create custom banners which you can specify the text, photos, colors, and insert background search criteria that when a customer clicks it, an eBay results page will appear. The custom banners are quite complex to create and require a lot of work, but having banners that match the theme of your website can increase conversions.
Promotions and Sales: eBay also make it really easy to advertise different promotions and sales. You can choose to show generic sale items, or you can make it more specific to what your niche is. It can also be customized to "today's" deals, or "weekly" deals, etc.

Working with eBay affiliate program is really easy and they've built tools that allow you to quickly start advertising products that your website visitors will love! Another great thing about eBay is that there are zero charges. So whether you generate thousands of dollars in sales or zero dollars, they wont kick you out 🙂
Pros/Cons of Working With eBay
The plus side of working with eBay is that you have a huge range of products to work with so whatever your niche is, they will have something for you to profit from. There's a lot of items here that are simply not available anywhere else because they cannot be bought new. For example, I bought a bunch of used tap handles from bars to decorate my homemade kegging system.
They also have an easy/fast payment system utilizing PayPal for their payments to you.
On the downside, some customers may not like purchasing from eBay as they want "new" products. While eBay now also offers many retailers that sell new products from the warehouse, customers still prefer to use other companies like Amazon who only sell new products. As an Amazon shopper myself, I do find eBay's shopping platform to be seriously needing an update.
At the same time the amount of products on the site is as well enormous which can sometimes be intimidating for first time affiliate users.
Wrap Up
Overall if you want a great program which offers you a large range of products to choose from then you should definitely give eBay Affiliate Program a try!
Have you made any money with eBay? Let me know what you thought of the program and share any success stories below.
The Internet's #1 Affiliate Training
It sounds like you're pretty familiar with the basics of how affiliate marketing works. Awesome! But is your website profitable yet? Are you stuck spending hours wondering why you aren't seeing results yet?
You aren't alone. Most newbie affiliate marketers are a little lost, jumping from one "how to" guide to the next, hoping to learn the secret sauce of how to make money with affiliate marketing
I was able to turn my basic niche blog into a six-figure earner in 18 months following the training from this company. They focus on building a sustainable business that will earn for years, not just a website that will "game" search engines for temporary rankings. That's why 8 years later my websites are still earning and still growing.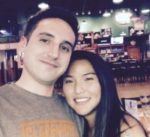 Nathaniell
What's up ladies and dudes! Great to finally meet you, and I hope you enjoyed this post. My name is Nathaniell and I'm the owner of One More Cup of Coffee. I started my first online business in 2010 promoting computer software and now I help newbies start their own businesses. Sign up for my #1 recommended training course and learn how to start your business for FREE!