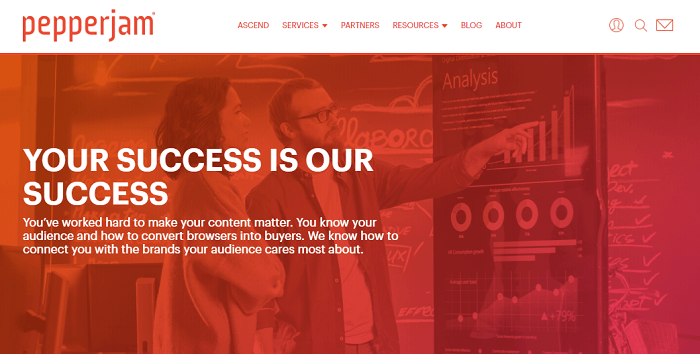 Affiliate marketing is one of the fastest growing ways that bloggers, social media influencers, and YouTube stars have been earning from the hard work they put into creating their content. Why is affiliate marketing so great though? To start, it's the cheapest and easiest way to monetize anything you put online, and the Pepperjam affiliate network is one of the best ways to accomplish that.
While many maintain blogs and websites just for personal expression, over time all of that hard work could lead to a very successful business as thousands of other digital entrepreneurs have found out through affiliate marketing.
Like most other affiliate networks, Pepperjam doesn't require any money to participate in affiliate programs. Plus, the fact that you don't need any staff, and owning a domain is super cheap, the whole "affiliate marketer" gig is an incredibly cheap and easy way to start an online business.
Through that partnership, if you're discussing a certain topic, you may insert links throughout that topic which guide your reader to an affiliated company that they may be interested in. If that person purchases something based on those links, you often get a commission of that sale. It doesn't require you to sell either – you just have to learn where is the most appropriate location to place the links and let the readers do the purchasing on their own.
If you want to learn how to earn money with affiliate marketing, my free email course is a great way to get started.
Affiliate Programs VS Affiliate Networks
Affiliate marketing has two different setups that you'll find online in terms of affiliate "programs" and "networks". The affiliate program as a term is when a single company hosts their affiliate marketing campaign on their own website. In an affiliate program you will work just with that one company, sign up with them, and utilize their platform to run the affiliate work on.
Affiliate networks on the other hand are large platforms that companies can choose to put their affiliate program on. Affiliate networks will have often hundreds or thousands of affiliate programs within it. The benefit of affiliate networks is that you'll only have to sign up once and you'll be able to access all of the affiliate programs within it easily with a one-click application to each company.
Affiliate networks give you a big advantage as you can easily switch between different companies to see which one works best for you. It also eliminates the learning curve and application time that signing up for a single affiliate program one-by-one.
Today's tutorial is on the Pepperjam affiliate network is a privately owned marketing company who created a simple yet dynamic affiliate network full of hundreds of popular brands including companies like Bath & BodyWorks, Nordstrom, Honey, Groupon, Aeropostale, Ace Hardware, Dollar General, and so many more.
Read on to find out more about how to sign up and use the platform so you can start earning form your digital masterpieces. If you're interested to learn about more affiliate networks, we have a list of the best affiliate networks.
PepperJam Affiliate Network Review
If you'd rather follow along step-by-step on video, we've got you covered on our YouTube channel here.
How To Sign Up To PepperJam
The first step to becoming an affiliate with the Pepperjam affiliate network is getting your login created. Head on over to: https://www.pepperjam.com/.
There is so much great information on the Pepperjam site that will show you how good the program is. They even have an area to "convince you" if you're not sure yet. But to sign up, scroll down to the section that asks if you're a "Brand, Publisher, or Agency". This section may look confusing, but you would be a "Publisher or Influencer" as you earn commission by monetizing content.

You can also go there directly by clicking here.
Here you will see all of the information about publishers with Pepperjam. Scroll down until you see the link to "Become A Publisher".

You'll then be taken to the publisher registration page where you'll need to enter the following information:
Company Information: Name, URL, address, phone number, currency, and overall online reach.
Personal Information: Name, email, and password.
Payment Information: PayPal is the only payment platform that Pepperjam supports. You can sign up with PayPal easily.
Company Category/Promotions/Social Media: Select the type of category your site most closely aligns with. Then select the typical promotional methods you take to attract visitors. Lastly, add what social media platforms you utilize along with your site.
Lastly accept the legal agreements and then submit your application.
It's important to note that if you don't have a website yet, you should consider getting one. While there are some very successful affiliates who are utilizing only social media, to be the most successful in your future affiliate marketing business you should have a website that can compliment it. That way you can utilize affiliate links and banners in the most effective manner.
You can use our guide on building a simple website here if you're unsure where to start. We help guide you through how to successfully create your own website and earn money from it.
Finding Affiliate Programs
Once your application has been approved to join Pepperjam (typically between 1-2 business days) you'll now be able to access the affiliate dashboard where you'll be able to search for affiliate programs. In Pepperjam they are referred to as advertisers, so to get started click on the advertisers button on the left side and then select "Find New Advertisers."

This will display quite a few different filters that you can utilize when looking for an advertiser that might interest you. There are a bunch of filters, but I suggest utilizing the "Relationship Status" of "No Relationship" and then narrow it down by the "Advertiser Category."
Each advertiser is given a certain category like "Computers", "Travel", "Food", etc. This way if your site is food related you can narrow down to just see the companies that are in that same niche.
By clicking the "Filter" button you'll see the results below of the companies. You can see the company name as well as their website and a summary of the affiliate program.
There are two specific pieces of information here that are the most important including:
Commission Rate: This is the amount that you'll get in commission from that company. This can be displayed as either a percentage or a flat dollar amount.
Cookie Duration: The duration of time from when a customer clicks the affiliate link until you'll get commission on any sale made through that company. That means if a cookie duration is 15 days then you'll get all commissions from that customer from that company for 15 days and then after that you no longer get commission from that customer.

If you want more information, click on the company name to open the program details.
How To Apply For Programs
Once you've determined if the company aligns to what your website/social media page niche is, applying for programs is as simple as clicking the Apply button on the right-hand side of the search window. This will automatically send your profile to the advertiser to review.
Advertisers will take 2-3 business days to review your profile and determine if you are applicable for their affiliate program or not. If you are denied for any reason, you can look under the "Contact Info" of the advertiser's page to see if there is a contact person/information.

You'll also be able to apply for each company by using the "Apply" button under the advertiser's information page.
To see the status of your application simply select the "My Applications" tab on the left side of the Advertiser's window. This will show you all of the outstanding applications that you've submitted. If they are still in the applied screen it means it has not yet been reviewed by the advertiser yet.

You may be denied for a multitude of reasons, but the most typical reasons are not having enough traffic yet or if your site does not align with the product/service that the company is offering.
How To Find Your Links
Getting your text links and banners in Pepperjam is really simple. Start by clicking on the "Creatives" tab on the left side. Then select either "Text" or "Banners". This will display all of the text/banners available under your advertisers.
Narrow it down then by the specific Advertiser you want to utilize. See screen capture below.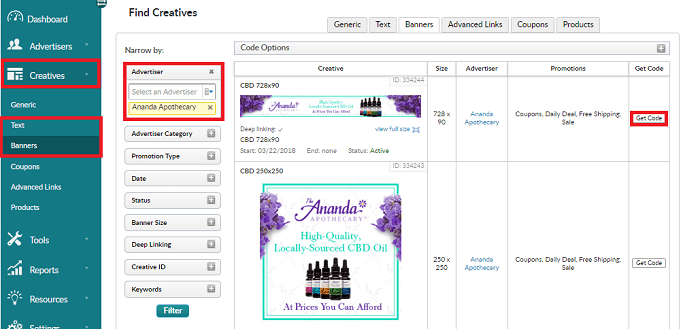 You can then scroll through all of the different ones available and click on the photo/text to see more information about it.
If you find one that you're interested in using, click on the "Get Code" button to display the URL and HTML code available. The great thing about Pepperjam is they easily separate both the URL and the HTML code in different boxes so you can easily utilize them for which ever reason you need.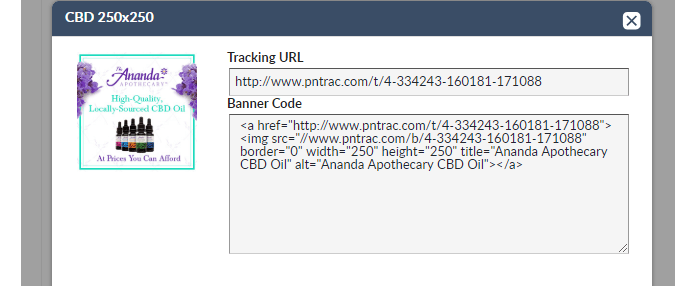 With the HTML code you can simply place this into the HTML section of your website and either the hyperlinked text or the image banner will appear automatically. If you just want the URL for that specific deal/image that will take you to the advertiser's website, you can also use the URL for hyperlinking your own text/images.
Be sure to only use URLs and HTML code that comes directly from Pepperjam as if you use the advertiser's company website alone it will not track that sale and give you credit.
You can also get generic URLs for each of your advertisers by simply clicking on the "Generic" tab on the left under Creatives. This will give you a general URL that will lead to the advertiser's website. Use these when referring customers to the company directly or when creating your own custom hyperlinks/photos.

Custom Link Generator (Deep Linking)
If you want to create your own custom links, Pepperjam also has its own Link Generator which is similar to other companies "Deep Linking" tools.
To utilize it, click on the "Tools" tab on the left-hand side of the screen and select "Link Generator". From here, drag the button that says "Pepperjam Link Generator" into your browser's bookmark bar. If you're using Microsoft Edge the details may be different.

Next, visit the website of your advertiser (first check the list of supported companies to ensure it's included). With the link generator you can go to any web-page that you want to share with your website visitors and then click the "Pepperjam Link Generator" button from your cookies. This will generate a unique URL that you can then share on your site. This URL will include your affiliate ID so you'll get credit if anyone makes any purchases.
What Next?
Now that you've got the basics, the rest is up to you to create content that is engaging and educational. It's important to know the difference between creating an online article simply to place affiliate information, versus creating content your readers will trust and learn from. If your visitors trust the information you've shared they will be more likely to click your affiliate links and make purchases.
Stay tuned as we continue to review additional affiliate programs and networks and if you have any questions, let us know in the comments below.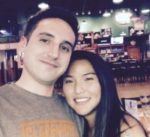 Nathaniell
What's up ladies and dudes! Great to finally meet you, and I hope you enjoyed this post. My name is Nathaniell and I'm the owner of One More Cup of Coffee. I started my first online business in 2010 promoting computer software and now I help newbies start their own businesses. Sign up for my #1 recommended training course and learn how to start your business for FREE!