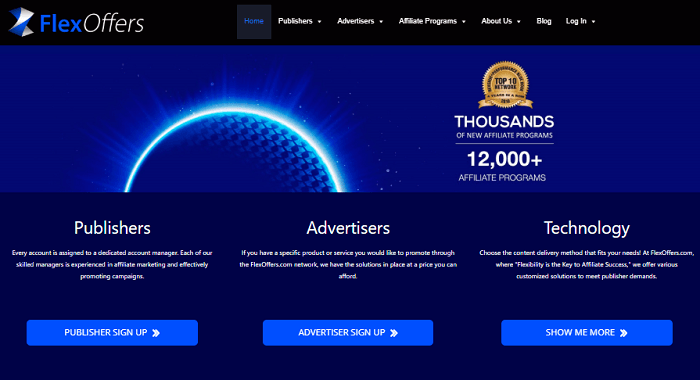 For those of you looking for an awesome way to start your own online business at home, affiliate marketing is the perfect way to go. Affiliate marketing cost nothing to start and doesn't require you to have any prior knowledge or skills in order to start.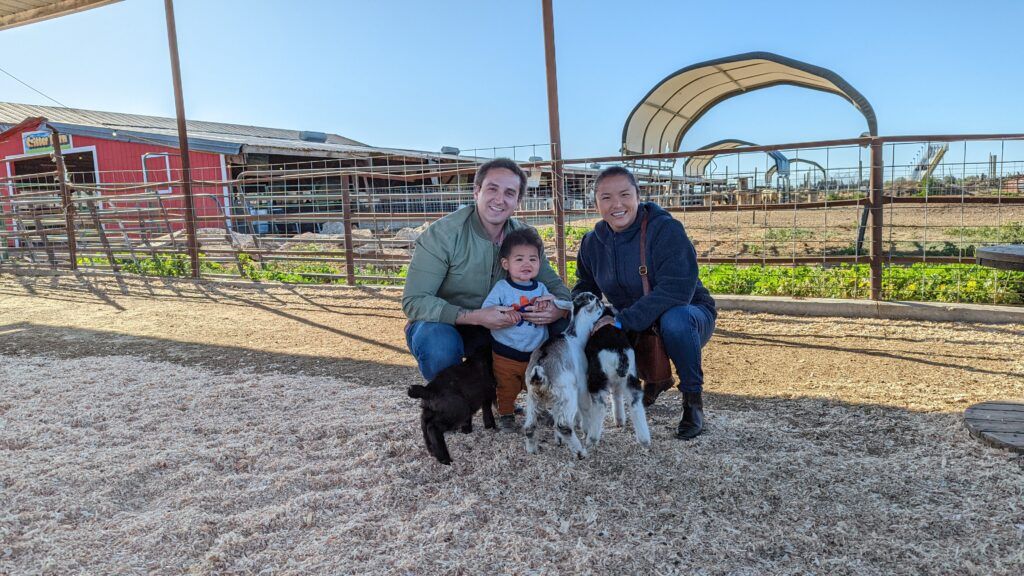 Are You Ready To Work Your Ass Off to Earn Your Lifestyle?
Are you tired of the daily grind? With a laptop and an internet connection I built a small website to generate income, and my life completely changed. Let me show you exactly how I've been doing it for more than 13 years.
The basic concept of affiliate marketing is to provide you with a platform that gives you the ability to create advertisements for a company(or companies) to use on your website, blog, or social media site. When you advertise for these companies, there is the potential that they will make a purchase from that company which is why affiliate marketing was created.
In return for advertising you'll receive a commission in the form of a percentage of the total sale or a referral commission amount per customer sent. This is the basic concept for affiliate marketing as a business concept. You can learn how to do this stuff (exactly like I do it), when you sign up to my free email course!
Flexoffers is long time, trusted affiliate network which connects you to these affiliate programs and gives you the tools to earn money in the world of affiliate marketing.
Flexoffers Affiliate Network Review
To advertise on the different platforms, you'll need to create content that potential customers/readers will want to get engaged in. If you have a large social media platform, you can use affiliate marketing to refer customers to purchase something. If you dont have a large following then the best way to get started is to create your own website.
You can find more information on how to create a website and make money with FlexOffers using our basic guide, or an in-depth training program.
Affiliate Programs VS Affiliate Networks
In the affiliate marketing space space there are two different terms you should be aware of and the difference between them: affiliate programs and affiliate networks.
Affiliate Programs are created/hosted by a single company to use only for their products and services. These are sometimes created in-house, sometimes using affiliate software, and are quite different from each other.
Affiliate Networks on the other hand are affiliate platforms that companies can have their products and services on-boarded to. The great thing about affiliate networks is that you only have to sign up for it once and then you'll have an unlimited supply of affiliate programs available to you.
FlexOffers is an affiliate network which is what we will be reviewing. There are over 12,000 affiliate programs inside of FlexOffers which makes it one of the largest in the world. When you are looking to decide on a specific affiliate network, choose one that has alot of affiliate programs and many popular companies.
You'll find companies like Reebok, IHG, Macys, Aldo, AT&T, Gap, H&M, Nike, and so much more with FlexOffers.
If you want to research and compare additional affiliate networks, we have a comprehensive list of affiliate networks that you can review. With 10,000+ advertisers per network, there's no shortage of affiliate companies to work with. Here's a quick list of more of my favorite networks I earn money with (links to full reviews with instructions on how to signup).
How To Sign Up With Flexoffers
Now that you know a bit about what Affiliate Networks are, let's jump right in on how to get signed up so you can start exploring the FlexOffers affiliate network.
First go to www.flexoffers.com and you'll be presented with two different sign up options. Advertiser's Sign Up is for companies who want to sign up and have their companies' products advertised. Publisher's sign up is for those who want to utilize FlexOffers to advertise companies products on their website. This is the one you'll want to sign up for as an affiliate.

You'll then need to enter all of the required personal and business information to get your account created. You'll need to ensure you've already created a website in order to get approved.
Once your account is submitted you'll have to wait until the FlexOffers team approves you. While most accounts will be approved, some get declined if their website has only just been created or does not have any posts created yet.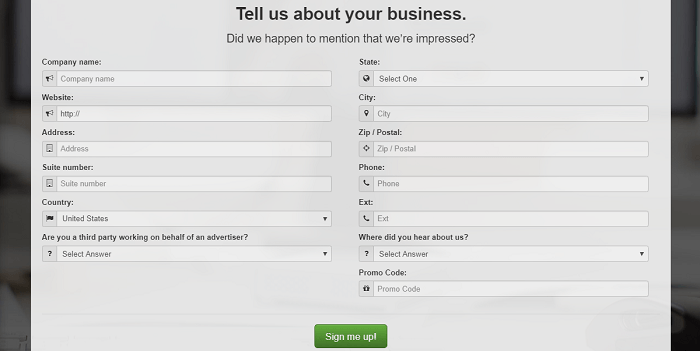 As soon as your account is created, you'll be ready to start searching for affiliate programs (advertisers) and start advertising products/services on your website.
Finding Affiliate Programs with Flexoffers
Now that you're signed up, the first thing you need to do is to start finding advertisers that fit with your specific niche. If you haven't yet found your niche (target area of interest) then you'll want to first decide on that.
If you know what your niche is then you can easily search for advertisers in FlexOffers. First click on the "Advertisers" tab and then look for your advertiser by category. From the screenshot below you can see a couple of these categories including Automotive, Business, Careers, Clothing, Electronics, Credit Cards, etc.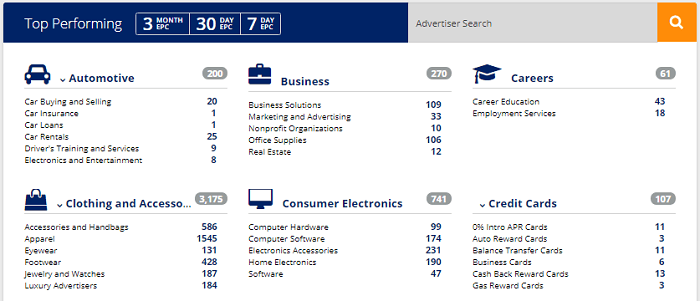 Advertisers will be listed upon clicking on each category and you'll have the options to filter the results. Here are some of the filters you can modify to help find the perfect affiliate company:
Status: Here you can filter by companies that you're approved for already, ones you applied for, and ones that you haven't applied for. If you're looking for a new companies, put the checkbox in the "not applied for" section.
Sort: The sorting dropdown is perfect for finding high-earning companies. Sorting by EPC Highest to Lowest gives you the companies with the most potential. EPC is the average earning per 100 customers who click on an affiliate link.
Commission: The commission is not a filterable field, but you'll see the commission rate to the right of the company name. Use this to understand what commission you can expect to earn.
Utilizing the EPC and Commission are your two primary factors when considering a potential affiliate program. You wouldn't want a low paying company as your potential to make money wont look very high.
How To Apply For Programs
Once you've narrowed down your choices, it's time to start applying. From the search screen you'll see an option on the right-hand side to "Apply Now" to the company's affiliate program. If you're ready to apply, go ahead and click the apply button. You'll be prompted with a pop-up box with that company's affiliate program terms and conditions. It's important to read through these terms as it has all of the specific details of the commission structure and payout.
After reading through the terms if you're satisfied and ready, click the checkbox that you agree to the terms and then click "Apply to Program".
This will send your application to that company's affiliate program manager. They will review your profile, your website, and determine if you're the right fit for their affiliate program. Usually within 1-2 business days you should hear back from them on the status of your application via email. If approved, you're ready to start utilizing your affiliate links.
If you get denied, this can be for many different reasons but the primary one will be if your website is too new, does not have enough content, or does not yet have enough traffic to be applicable to their company.
How To Find Your Links
Once you've received a confirmation email that you've been approved for an affiliate program, you'll get access to the affiliate links.
To star using them, first go to the "Home" page and scroll down until you see the "Advertisers" section where you can both find new and existing advertisers. To find the companies that have already approved you, click on the "Approved" tab.
Here you'll see the companies that you can already start advertising their products by clicking on the "Get Links" button as shown below.

This will bring you to the Links tab which will allow you to use the affiliate links for that company and all others that you're approved for. To start you can filter the type of link type you want to advertise. Here are all the choices available:
Text Links: When you're writing articles, you'll often be discussing products and services for a company. You can use the affiliate text links to hyperlink text in order to give the readers a direct path to that company's website. I focus on affiliate links for the vast majority of my promotions.
Banners: The banners allow you to add graphic advertisements to your website either in your sidebar, header, footer, or throughout the text of your articles. These banners are created by each affiliate company but you can always create your own and then hyperlink the image using Text Links.
Widgets: When working with an affiliate company, some have complex widgets that can act as live advertisements that show current deals and may include a search box. Each widget is unique for each company and not all companies will have one.
On the below image you can see the different content types on the left-hand side that you can filter on. Underneath the "Product Name" you'll see what kind of link it is. If an image is present it's a banner. Text links will say "text link" on it.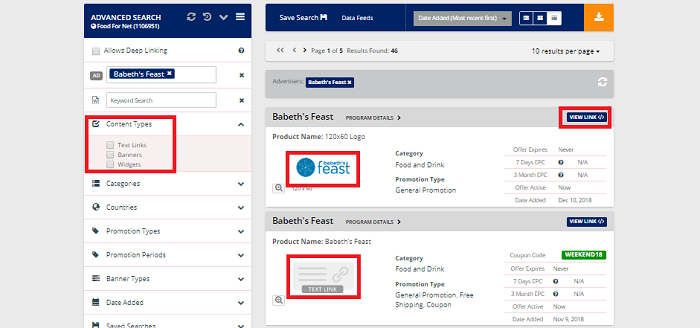 You'll be able to view more information by clicking on the "View Link" button which opens the full details. Here you can either copy the HTML code to the HTML section of your website which will automatically show the link on your site. Additionally for text links if you click on the "link" tab you can get the URL which can be used for hyperlinking text/images.
It's very important to note that you should only use links you get from the FlexOffers portal to ensure you get credit for any sales. Don't create your own links or use the company's website URL as you wont get commission for any potential sales.
Deep Linking
Another incredibly useful tool that affiliates need to know and understand is the deep linking tool that FlexOffers has available. This is a great tool to track and optimize your affiliate promotions. To get to it, click on the "Links" tab at the top of the FlexOffers portal. Once under the links tab click on the sub-tab that says "deep linking".
This will bring you to the deep link configuration tool as shown below.

First, select your advertiser by typing it into the advertiser field.
Second, find a URL you want to advertise by going to the company's website you're trying to advertise for. Select the specific website URL you want to place on your website and place it in the URL field of the deep linking tool.
Last, click generate for your FlexOffers affiliate URL to be produced. You'll see the link on the right-hand side under the box that says "single". This is a very long URL so if you want one thats much smaller, select the "short URL" below. You can use these then to hyperlink text and images to refer customers to your affiliate company's website.
What Next?
Now that you have all of the necessary steps and tools to create your FlexOffers account and use their affiliate links on your website, you're ready to start earning money. There's a few important things to understand when you begin creating content.
Make a plan for what you want your website to be about. Have a mission.
Then decide what content you want to post that fits into that. Brainstorm the next 10 articles that you want published and make sure they all go together.
In our affiliate marking guide for making passive income we have many great sections which will guide you on what the best articles are to write. You'll also learn how to write to get traffic because traffic is how you'll end up earning money.
Once you have great content with affiliate links and traffic going to your site, you'll start earning money. To track the money you make, the FlexOffers tool has reporting capabilities for you. You'll see a snapshot of the total network stats under the Home tab as shown in the screenshot below.

On the left-hand side you'll see your ranking in the overall FlexOffers network and your average earnings per 100 clicks. You can also filter it to show you the data based on the current day, week, or month. The basic report will show you your total earnings, total sales, total clicks, the conversion of those clicks to sales, etc.
To know more information about each of these, you can click on them to open a report to get additional details.
Now get out there, create your website and use your affiliate links to begin earning today!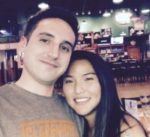 Nathaniell
What's up ladies and dudes! Great to finally meet you, and I hope you enjoyed this post. My name is Nathaniell and I'm the owner of One More Cup of Coffee. I started my first online business in 2010 promoting computer software and now I help newbies start their own businesses. Sign up for my #1 recommended training course and learn how to start your business for FREE!