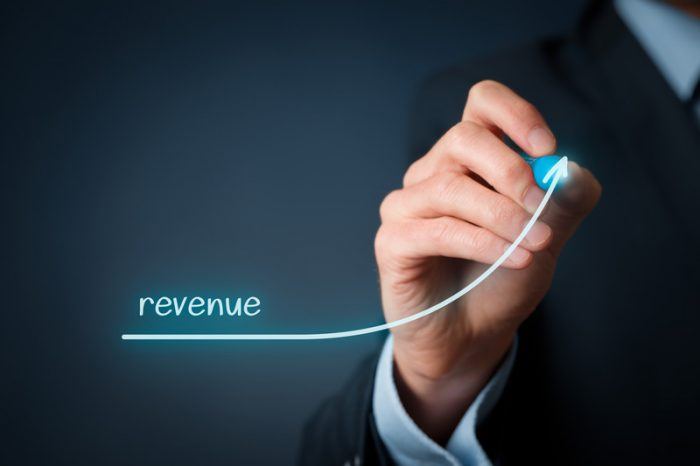 AdSense is, without any doubt, the most popular and well-known way to monetize your website's traffic. However, it's not the only approach to monetization and there are many reasons why you might want to consider other ways of making money with your website.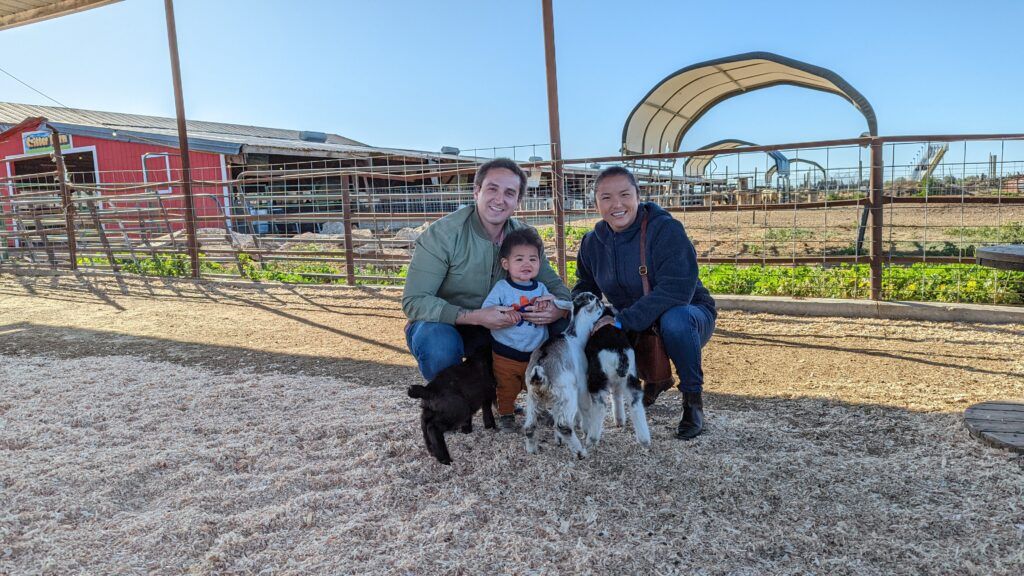 Are You Ready To Work Your Ass Off to Earn Your Lifestyle?
Are you tired of the daily grind? With a laptop and an internet connection I built a small website to generate income, and my life completely changed. Let me show you exactly how I've been doing it for more than 13 years.
Maybe you're looking how to increase your ad revenue or you want diversity with your ads. Perhaps you are getting tired of dealing with the tasks involved with ad management, or AdSense simply isn't an option for you anymore. Some of these networks, a few of which are Google partners, can help you increase the ad revenue on your website by leveraging their "optimization algorithms"
I started out at about $0.30 RPM using just plain AdSense on one of my websites. When I moved up to Ezoic, I was proud to have it reach a whole $5 RPM. Then after switching to MediaVine, I've now reached as high as $40 RPM during the holidays, averaging out at about $25 throughout the year. Big difference huh? It certainly pays to experiment, so don't be afraid of risking current income while you strive to stretch your earnings (meanwhile growing traffic).
My own story, and the hope that you can double or triple your current earnings, is why I decided to share with you this comprehensive list of Google AdSense alternatives for your website. Lots of other lists will give you just five to ten, and be on their way. With 50 on this page, you should be good to go for the next decade of ad network testing 🙂 Enjoy!
PS. Don't have a website yet? ==> Build one here. ==> Pick a topic here. Anyone can make money online if they are writing about something they think is interesting. Even just $10 per day from display ad earnings is $300 per month. That's a month of groceries or a plane ticket across the planet.
Google Certified Publishing Partners
Non-Google Partners Ad Networks
Google Certified Publishing Partners
You'll find that some ad networks have a badge on their website that says they are a part of the Google Publishing Partners program.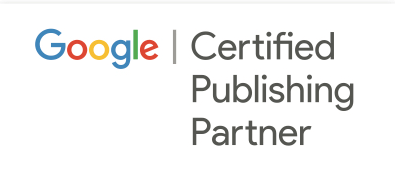 Certified Publishing Partners are companies that Google has certified as experts in providing support to web publishers using Google's tools like AdSense, DoubleClick for Publishers, and DoubleClick Ad Exchange.
If you have a healthy AdSense account and you're looking to expand your horizons trying other tools (or even if you're new to Google AdSense and other related Google products), working with companies that partner with Google could be an amazing opportunity for you.
These companies have a direct contact at Google to help them with publishers request and issues. Plus, Google gives them exclusive training and access to tools that are not commonly available.
The companies will also provide you with insights and up-to-date information to help you make the most out of your Google publisher experience.
You also get access to tools that you could not access alone, along with support and additional expertise, either to improve your skills or simply to increase your capacity.
How do I know if the company I work with is a Google Partner?
Many companies can claim to be Google Partners, but only a few are actually part of the program.
All certified companies are listed on this page. Select your location and if they are not on that list it means they are not a Google Qualified Partner.

Mediavine
Network Description: Ad Revenue Optimization, Analytics, Audience Development, Mobile Site, Quality Review, SEM, and Video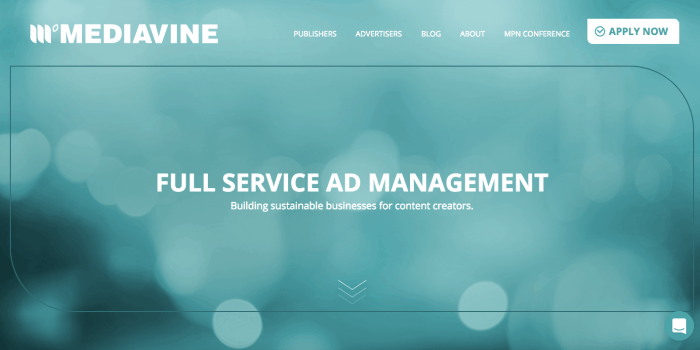 Mediavine is an ad management platform that has existed since 2004. They focus on trying to offer a full ad representation service.
They to do this by managing your ad server and helping you to optimize placements for your ads. They also remove the middlemen by working directly with advertisers for you.
Mediavine may get you better deals because they'll group your site with other sites under one "package" for the advertiser. This way you can end up with ads from amazing brands and products that will convert better.
And, think for a minute about how much traffic and resources you would need to impress big brands to advertise with you if you were working on your own. Know what I mean?
Here's another great thing. Mediavine lets you know what you're making daily. There are no hidden fees. In contrast, some other networks don't tell you anything until the month ends. With them, your income can also go down after administration fees come out. Mediavine's approach is much more appealing.
Mediavine also has a useful Facebook group that you get access to. It's a pretty awesome resource and it's only available to the active publishers. Although Mediavine has a small team, they work efficiently. You'll probably never need to wait more than a day for an answer to your question.
You can contact their support team through your dashboard, email, or even on the Facebook group. I would say in general they have solid customer service and that's always a plus for any company you work with.
But there are some things that you need to know before applying. They prefer content in categories like food, parenting, DIY, health, fitness, fashion, travel, crafts, education, finances, lifestyle, and entertainment.
They do allow other categories but it is better if your content is within the options mentioned above.
Your site needs to have at least 25,000 sessions a month and you need to be on good terms with the Google AdSense policies. This means that you need to have a healthy account.
Finally, you need to give the exclusive access to your site's ad space for both desktop, and mobile. Mediavine doesn't allow you to have other platforms advertising on your site.

Acquamedia
Network Description: AdX, AdMob, AdSense Optimization, Google, and Policy Management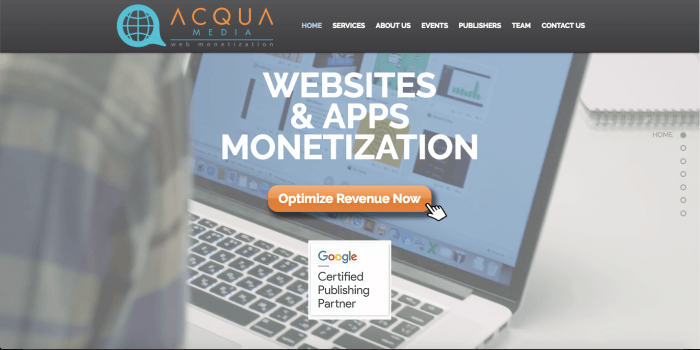 Acqua Media is a specialist in website and mobile app ad monetization via Google AdX, AdMob, AdSense, and DFP.
They serve 8 billion+ ad impressions globally every month and manage 150+ publishers, including areas like videos, blogs, forums, and classifieds.
Their management fee is simply a revenue share. This means that they earn a percentage of what you make. The approach is meant to promote growth for everyone, as it means they earn more from you as your success increases.
I would like to mention that most of their publishers are in the Asian market.
They do work with publishers from other regions like Skyscanner and their offices are in Beijing, Hong Kong, and Sydney. But, their main publishers are Asian companies.
This could be a perfect option for you if you have visitors from that region and don't know where to find a good ad network within the Asian market.
Currently, they've monetized 310 websites and apps, so if you're looking into targeting the Asian market there might not be many problems with you joining their network.

AddApptr
Network Description: Access to all premium ad networks and over 1,000 advertisers via Real Time Bidding (RTB), with a focus on mobile apps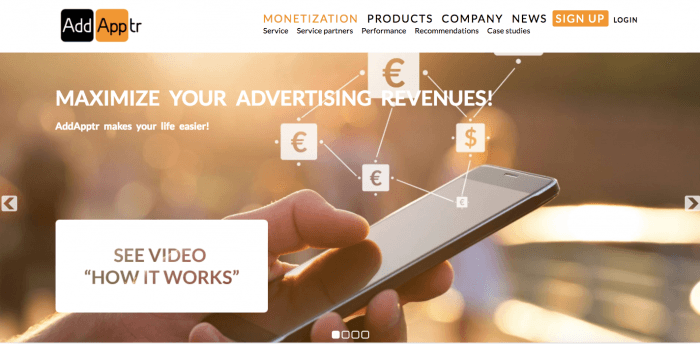 Based in Germany, AddApptr is a solution that helps you to optimize in-app and mobile web advertising revenue.
While this is not your traditional ad network for your blog or website, I know there are many bloggers and content creators who launch their own apps at some point.
Imagine you're a fitness blogger and you find yourself with the opportunity to develop a new app that includes your training routines, recipes, and more.
AddApptr would be the perfect option for you. In a single dashboard, you can find ad revenue and performance metrics, along with reports about overall ad networks and Real-Time Bidding (RTB) exchanges.
With AddApptr, you gain access to premium ad networks, more than 1,000 advertisers, and premium ad servers.
AddApptr supports all mobile ad formats. You can even create an account for free and simply get started.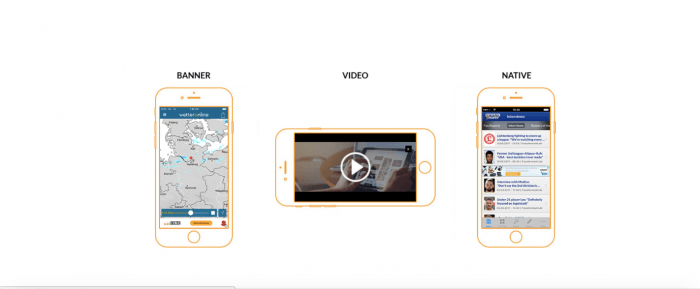 So, if part of your plan to increase your online income is an app, I would say that AddApptr is a pretty good place to start looking.
AdThrive
Network Description: Ad Management, Mobile Ad Optimization, Video Monetization, Learning Tools, plus Expert Support and Guidance from their team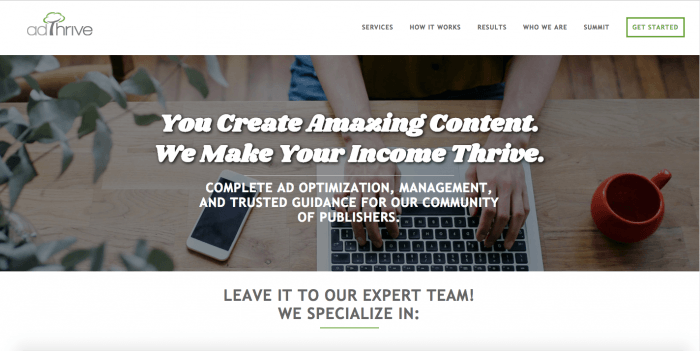 AdThrive was started by Kelly and Andy, a blogging family. Like many of us, they got tired of the 9-to-5 routine, so they started their blogging careers.
Andy was an expert in ad optimization. He started to get a positive return on investment (ROI) on his blogging journey and eventually decided to create AdThrive to help others achieve similar success.
In other words, this platform was created by bloggers for bloggers. So, you can expect many good things from AdThrive. They fully understand content creators, in a way that other networks won't.
For example, they have their own ad network with family-friendly ads. Plus, by working with them, you'll have access to DFP (Doubleclick For Publishers), once you're all set up on your blog.
If you want to work with AdThrive you just sign up. They'll analyze your website to suggest a custom ad layout that their experts think would work best for your website.
Once you're ready and displaying ads, their team will continuously work to optimize your ads according to your results and industry trends. You get paid no more than 45 days after the month ends.
Nevertheless, AdThrive does have a waiting list, so getting approved might take you some time.
They also have two lines of service for you. AdThrive Edge and AdThrive Premium.
To qualify for the AdThrive Edge level, you need at least 100,000 page views per month. For AdThrive Premium, you need to have at least 750,000 page views per month to qualify.
Other requirements include that your traffic is mostly from the US, that you have no previous advertising infringements, and that you're not blacklisted by Google. You also need unique content that is considered original and even incredible from the perspective of audiences and advertisers.
Any service you qualify will be good, but in AdThrive Premium you get more personalized help when it comes to maximizing your ad revenue.
Don't worry if your blog isn't there yet in terms of monthly traffic, there are many other options that have lower traffic requirements.

bRealTime
Network Description: Ad Revenue Optimization, Analytics, Audience Development, Mobile Site, and Quality Review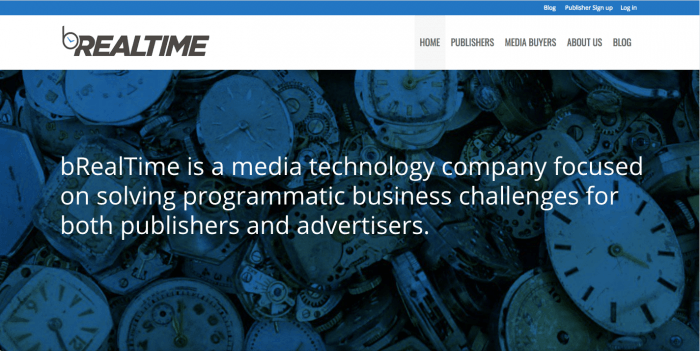 bRealtime promotes access to a global marketplace, where you can 'achieve the highest yield with 100% visibility into the advertisers filling their inventory'. This is good news for hosting ads and making money.
They have relationships with the top media buyers to help you monetize across display, mobile, and video platforms.
One of the core benefits is that they guarantee you'll fill your inventory (i.e. your ad space) with the most competitive CPMs.
There is also a consultancy component, where their team will work with you to help you understand the value of your inventory and learn how to maximize performance.
Another approach is multichannel monetization. This is how you can take advantage of display, mobile, and video for showing ads. So, go ahead and test multiple formats to find what suits your site and your audience.
They're also powerful for keeping your brand safe. The various tools from bRealtime provide full transparency into who is advertising on your site. This way you're always in control. After all, you don't want irrelevant advertising on your site.
One of the biggest challenges when monetizing your traffic is to keep the user experience as neat as possible, while displaying relevant ads that interest your audience and drive that ad revenue up. bRealtime strikes a fantastic balance in this area, allowing you to display appealing ads without compromising user experience.

Ezoic
Network description: Ad Revenue Optimization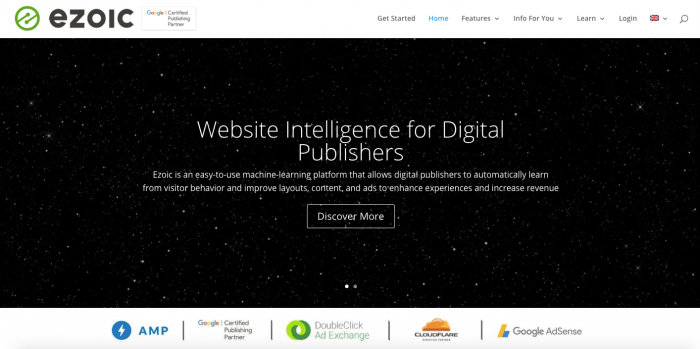 Ezoic is not just another ad network. I would define it as a user-friendly machine-learning platform that allows you to automatically gather data about your visitor's behavior.
With this useful data, you can improve layouts, content creation, and ads to take your user experience and ad revenue to the next level.
The Ezoic team claims to help you increase your revenue at least 50% with their platform.
One of the most interesting things about Ezoic is the possibility of running several tests to "crack" your revenue success formula.
Ezoic will automatically test different layouts and, ad placements for desktop and mobile to (eventually) find the perfect combination that makes you the most money while delivering the best experience for your visitors. You can combine this with an ad management plugin for optimal results.
This platform offers you three plans. These include the Free and Pro versions for informational websites or blogs that make money from ads, along with a Corporate solution (for business or corporate sites). All plans come with a 30-day full access trial period.

It's amazing that such a great tool offers a free plan. This option works perfectly if you're just starting or don't feel like investing in another tool.
However, if you choose to stay on a free plan, you're required to run a small ad at the bottom of your page.
Nevertheless, Ezoic will remain free forever while you still enjoy all the benefits.
You can give it a try for a month. If you choose to continue with the free plan, they will put the ad after your trial period expires.
The Pro plan starts at $49 per month, for up to $1,000 in ad revenue. For this price, you get no ad at the bottom and you even get live support. The price changes as the maximum ad revenue increases.
Something that amazed me with Ezoic is the fact that if your website is for a nonprofit or charity you can get to use it for free. You just need to sign up and connect with them.
Finally, the corporate plan starts at $19. You need to talk to their team first to learn more about it, as it is strongly business-specific. This plan includes DFP & DMP integrations and server-side integration. [Note: Ezoic does not accept websites or Adsense accounts that have been banned by Google Advertising]
What if I'm banned from Google AdSense?
If, like many others, you happen to be banned from Google AdSense, working with a Google Certified Partner ad network is not going to work for you. Google banned you, so you simply cannot work with their ads, whether it's directly through Adsense or through an ad partner.
Now what?
AdSense might be a popular way to monetize your traffic but it is not the only way to do so. In fact, depending on the content of your website and the source of your traffic, some of these networks below may perform just as good, if not better!
Don't forget, these can be used in addition to AdSense if you want! But, don't overload your website with ads. Too many ads can create a negative user experience. A well-placed ad under a main image or in the header can go a long way, versus the "shotgun approach", where you just stick ads in every blank space on your website.
Non-Google Partners Ad Networks
Infolinks
Ad formats: InFold, InTag, InText, InScreen, InFrame, and InArticle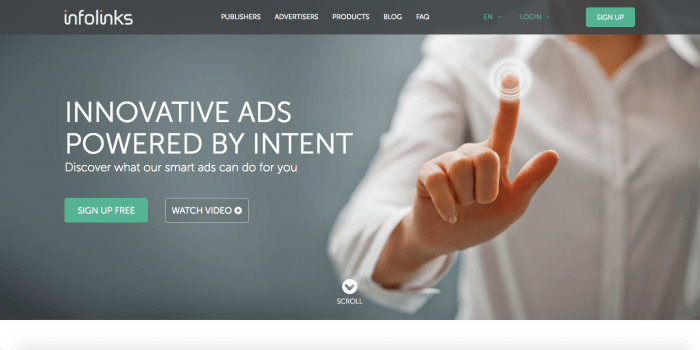 Infolinks is an advertising platform that offers ad solutions for publishers and advertisers. It operates across more than 100,000 websites and in 128 countries.
Infolinks provide publishers with the following different ad formats:
InScreen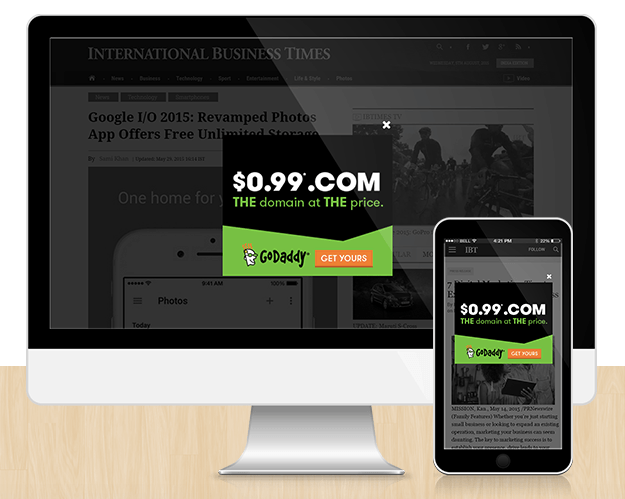 InFold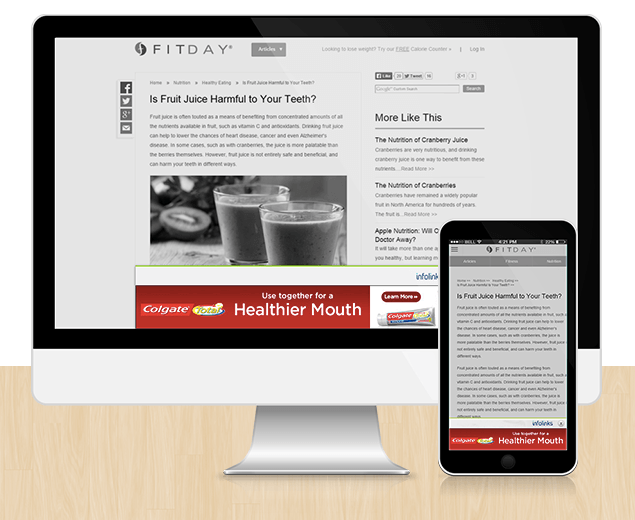 InTag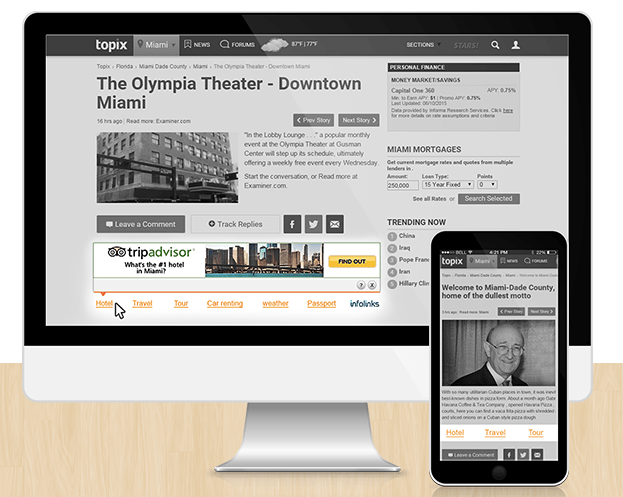 InText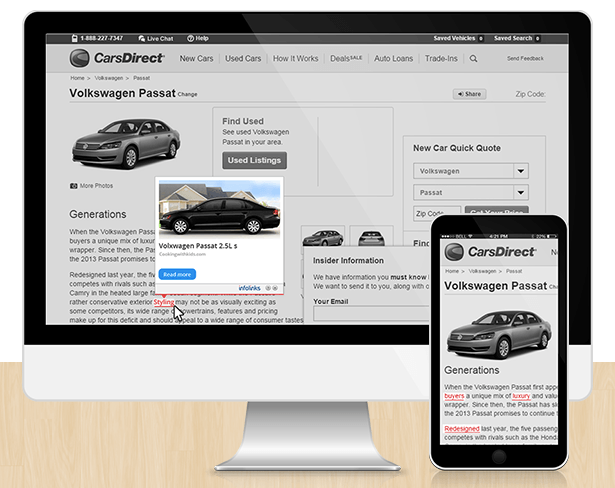 InFrame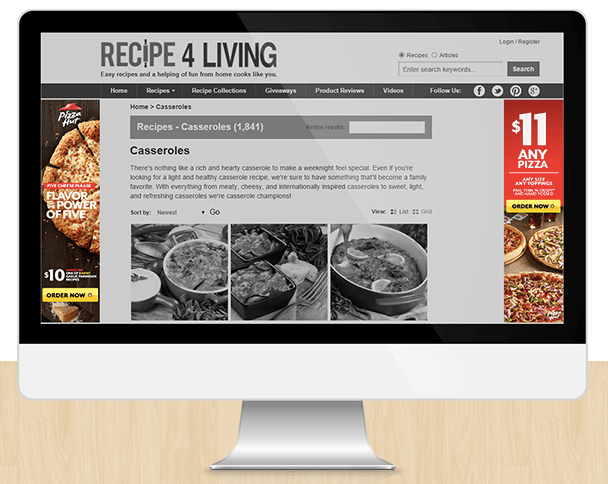 InArticle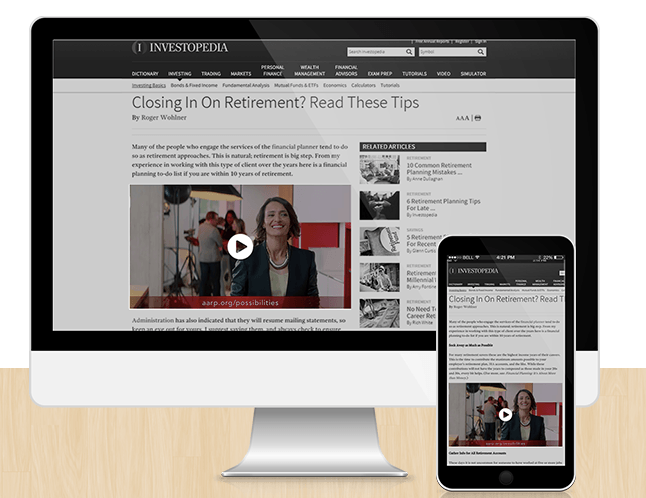 To learn more about each format I recommend that you check the Infolinks publisher page.
It's much easier to get your site approved by Infolinks and start monetizing than it is with Google AdSense, which is an immediate advantage. In fact, if you ever felt that AdSense was too strict with their policy you might love Infolinks.
Another good thing about Infolinks is the possibility of providing a less intrusive ad experience for your visitors. Unlike Adsense, Infolinks doesn't require you to give away any space on your blog to display ads.
Instead, Infolinks can take relevant keywords within your article and turn them into links. Once the user hovers over the keywords, ads are displayed and you make money.
Infolinks offers you 24/7 customer support. If you have any requests you simply contact them and you'll have a reply quickly.
Furthermore, you have access to various customization options. For example, you can tailor the link colors based on your website's theme. This is a good way for you to get more clicks by creating more eye-catching ads.
Infolinks is particularly great if your website has high paying keywords and quality content. With this formula, you can you earn some good money from your traffic.
When it comes to payments, Infolinks shares 70% of the revenue with publishers and the site pays within 45 days from the end of the month.
The minimum payment threshold is $50 for PayPal, Payoneer, and eCheck. For wire transfer, $100 will be your minimum. You can also get some extra money with their referral program which pays 10% commission for 12 months to its users.
Despite the multiple benefits we've been exploring there are some downsides to Infolinks. For example, Infolinks only has a basic reporting system, it does not provide detailed data. Moreover, you can expect low earnings for some regions like Asia. The Inframe and Infold advertisements can also be too intrusive for some website visitors.
Even so, I believe that Infolinks is a solid option to monetize your traffic. You can even use it with together with AdSense as long as the Infolink ads don't cover your AdSense Banners.

Sulvo
Ad Network Description: Mostly a CPM ad network which pays for the ad impression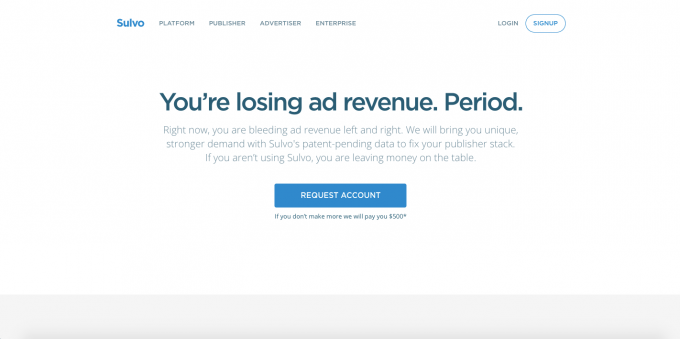 Hands down, Sulvo could be one of the best ad networks for you to try. They have one mission, to make advertisers take their ad budget away from big corporations and invest more with independent publishers.
Their platform uses price prediction algorithms to help publishers to increase CPM rates.
The algorithms analyze the value per impression before the advertisers give Sulvo any information about their buying criteria.
Publishers who come to Sulvo from Adsense often experience a 25-250% increase in their revenue within hours.
Sulvo's team is so confident about their platform's capabilities that they claim to pay you $500 if you don't see any increase in revenue.
However, to be eligible to the offer you need to be sure you're not banned from any ad network. You also need to have 25 MM page views per month and most of your traffic should be from North America and Western Europe.
Once you start working with Sulvo, you unlock a world of high-spending buyers.
With Sulvo, you'll find yourself promoting some of the world's biggest brands and Fortune 500 campaigns on your site. This translates into more ad revenue for you.
Consequently, during your registration process, you need to verify your traffic before being accepted to join with a seller account. The general rule is that starter account begins at 1 million visitors per month.
Other requirements include your content should be in English and 100% original, no adult content is allowed, and your site needs to be updated on regular basis.
Sulvo supports all the standard ad formats. You can choose from leaderboard (729×90), super leaderboard (970×90), medium rectangle (300×250), large rectangle (336×280), skyscraper (160×600), and wide skyscraper (300×600). There is also a video ad format.
When it comes to payments, there's a minimum payout threshold of $100. They pay publishers on a Net 6 days basis. As a publisher, you can receive payments through PayPal, Payoneer, and bank wire transfer.
In conclusion, Sulvo is a well-rounded option to monetize your traffic, with high eCPM, timely payments, a cutting-edge price prediction algorithm, and responsive ads. There's no reason why you shouldn't try Sulvo if your site has the required traffic.

Adsterra
Network Description: CPA, CPC, and CPM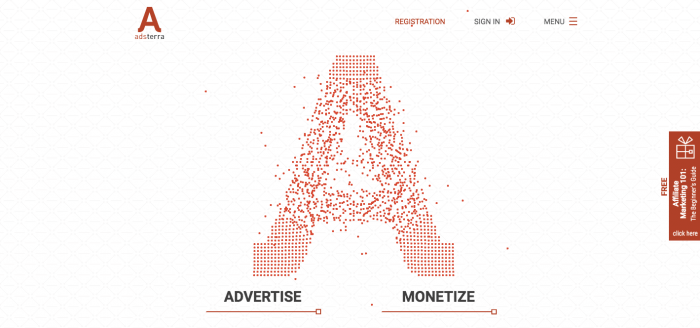 Adsterra is an ad network that was founded in 2013. It currently serves billions of impressions each month in 190 countries.
In fact, they're running over 10,000 ad campaigns and finding success all over the world. Their key differentiator is you can make money from both clicks and conversions generated by visitors on the Adsterra ads.
Adsterra also works in conjunction with AdSense, so both types of ads can coexist on your site without an issue. The terms and conditions for both Google AdSense and Adsterra also allow you to do so.
As long as you differentiate the two ad types by customizing a little, there's no risk to get banned from AdSense or Adsterra.
Adsterra offers you different ad formats to choose from, including direct links, display banners, interstitials, pop-under, and many more.
As it is common among ad networks, there are some requirements that you need to meet so you can join.
To have your site approved with Adsterra, you need at least 5,000 impressions per month. This allows you to display for pop-unders on your site. You also need at least 50,000 impressions per month to be qualified to have banners on your site.
Adsterra is a serious company and they only work with reputable publishers. Using any form of fake traffic before (or after) you get approval from the network will get you banned.
They also expect publishers to have sites in English, although you can display ads in other languages with consent from Adsterra.
On top of that, to register, the site must have an Alexa rank below 1 million and needs to be completely up and running, with content on it. No site under construction can register on Adsterra.
Adsterra is a good option when it comes to monetizing, it can be an alternative to AdSense or just another source of income that works next to AdSense.
Another relevant aspect is that, compared to other ad networks, it requires you have less traffic to start earning.
The only challenge is that AdSense is superior to Adsterra when it comes to the amount you earn. In particular, the Adsterra CPM rates tend to be lower than in AdSense.
As a result, I recommend that you use Adsterra together with AdSense when possible. But, if you don't have AdSense for whatever reason, Adsterra is still a solid option to monetize your site.

Media.net
Network Description: Contextual Ad Network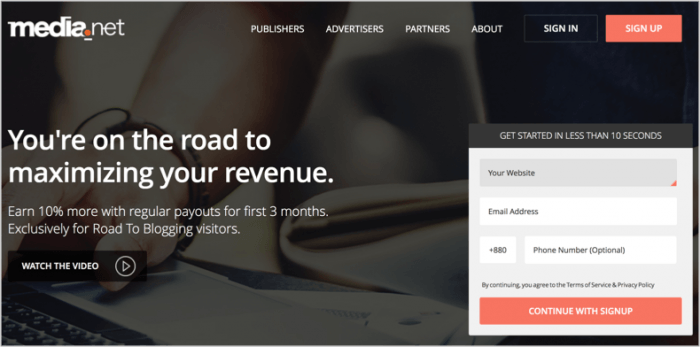 Let's take a second to understand who is Media.net in the contextual ad game. Their platform serves more than a 100 billion ads each year, across a network of 500,000+ sites and hundreds of publishers.
Media.net is the second largest contextual advertising business in the world, based on revenue.
The traffic they manage generates 70+ million paid clicks on ads every month. All of this is possible thanks to their collaboration with the Yahoo-Bing network.
By joining their list of publishers your site is on the same network as sites like Forbes, WebMD, NY Times, Good Housekeeping, Martha Stewart, and many other big names.
Thanks to the Yahoo-Bing network, you gain access to an extensive list of advertisers from all sorts of industries.
Regardless of the niche of your website, I'm sure you'll find advertisers that suit your needs.
Media.net has a strict quality verification procedure, which you must pass if you want to display their ads on your site.
To get approved to become a publisher, your website needs to be in English, you need to provide amazing content that is useful to your audience, and most of your traffic needs to be from the USA, UK, and Canada.
Websites offering illegal content are forbidden within the Media.net network, as is typically the case.
If your traffic is reasonable and your site complies with all Media.net regulations, you can be approved without any problem.
Once you get approved, you start to work with an account manager who will help you create display contextual ads for your site.
The minimum amount to withdraw is $100. You can get paid via PayPal or wire transfer.

Amazon Associates
Network Description: Affiliate program with some ad network functions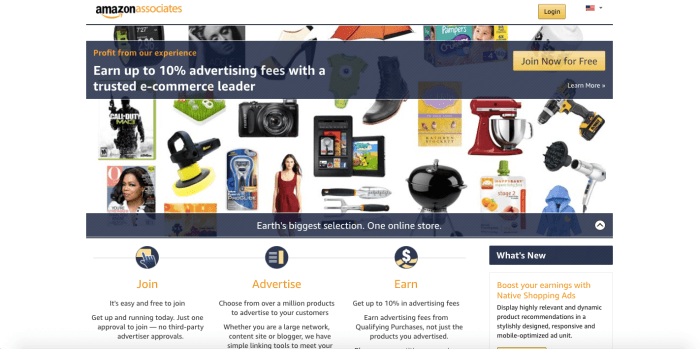 Created in 1994 by Jeff Bezos, Amazon went from just selling books online to being perhaps the biggest e-commerce player in the world, with all sorts of products.
I would even dare to say they invented the e-commerce game, and if they didn't, they at least they redefined the way that we buy products online.
Of course, we all buy a thing or two on Amazon. Otherwise, where would you get that cool drone for those impressive shots on your vlog, clothing from the brands you love, or even groceries?
So, why not give it Amazon Associates a try and earn a paycheck from Amazon as well?
Amazon Associates is an easy option to start monetizing your blog. Once you sign up for their program, simply pick how you want to add Amazon products to your blog and you're pretty much ready to go.
Some options that are available for promoting products on your site include contextual links, widgets with products, and automated ads – just to mention a few.
The great thing about working with Amazon Associates is that you get to select the products you're promoting. By choosing just the right products, you can catch the attention of your visitors and increase the chance that they will click on those ads and earn you a commission.
However, I recommend that you be careful. You know how much effort it takes to grow your traffic and gain countless visitors that follow and love your content.
It's important that you are extremely selective about the products you promote and how you promote them on your site.
Essentially, the last thing you want while monetizing with Amazon Associates is to be pushy with product promotion.
My advice is to promote products you personally use and love already, or that you truly believe will make your audience's life a lot better.
Write an honest review or make some unboxing videos, and always give your unique perspective on the product.
If you prefer not to take the time to choose products, there's the option for you to display automated ads that choose products for you, based on your site's content.
However, if you're serious about your monetization, and I know you are, I recommend picking the best products for your audience. This increases your chance of conversion and therefore your ability to make more money.
But wait – there's more. The Amazon Associates program is not only an affiliate marketing option, otherwise, it won't be listed here as an ad network alternative to AdSense.
Amazon also offers you Amazon CPM ads for you to display on your blog. These are basically banner ads. You earn money for each impression you generate in the same way you would in any CPM-based campaign from another network.
Unlike AdSense, there are no Amazon CPC ads only CPM. To start with CPM ads, you just need to add some code to your site, create ads from your account choosing a name, ad size, and minimum CPM.
As you know CPM rates change according to factors such as traffic location and you might not reach the minimum CPM you choose.
In this case, Amazon offers you the chance to fill that ad space with ads from other ad networks that you work with such as AdSense, by providing your passback ad code.
As a blogger with a new site, to be honest, you won't earn much with Amazon CPM because you're not generating massive amounts of traffic yet. But, in my opinion, it is always worth making a little bit of money rather than no money from your blogging.
You can increase your possibilities to earn more by using Amazon CPM in pages with your highest traffic and affiliate links on more targeted articles, like reviews.
Imagine your most viral article so far with Amazon CPM banner ads and your new smart backpack review with some affiliate links where is appropriate.
Even though Amazon is an amazing way to generate money with your site, as always there are some downsides to it.
For example, the tracking cookies only last 24 hours, while other affiliate programs often offer more cookie tracking time.
The affiliate commissions are also low when compared to other alternatives. Still, you can earn some good money depending on your industry and there is an extensive range of products to choose from.
Another thing I would qualify as negative is the fact that PayPal is not supported for payouts. You can receive payments via direct deposit, check, or as an Amazon gift card.
We're aware that Amazon, like Google or Facebook, isn't going anywhere. So, despite the downsides of Amazon Associates, it is still a great alternative for monetization and it works perfectly as Google AdSense alternative.

Bidvertiser
Network Description: PPC text ads and image ads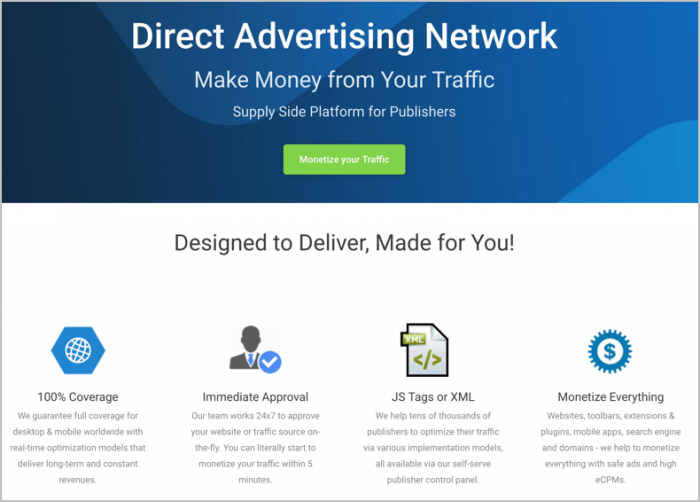 Created in 2003, Bidvertiser is one of the oldest PPC networks that exists. The platform was launched at the same time that AdSense was released.
Bidvertiser sets the bids for the ads that you're going to display based on the specific category or niche you pick when you register.
A particularly interesting aspect is that you don't just make money when visitors click on your ads. Instead, you can earn some extra revenue when that click generates a conversion.
While some users find that the AdSense approval process can be complicated at times. Bidvertiser will get you auto-approved to sign up. This means that if you meet all of the requirements it is possible to have Bidvertiser ads running on your site almost instantly.
However, this doesn't mean just any website can join their network, they do have some rules.
For instance, Bidvertiser will not approve your site if is related to porn, hacking, drugs, or any illegal content.
Also, you cannot offer any incentives to your visitors in exchange for clicks. Doing so will get you banned.
But, beyond these basic rules, the process of signing up is fairly easy. There is no minimum site age and no pre-approval process.
Even if you have a new blog or you are just starting to build up your traffic, getting accepted to Bidvertiser is a viable goal.
The minimum payment amount is $10. Bidvertiser offers several payment methods for you to choose from, including wire transfer, PayPal, check, Payza, and Western Union.
I would like you to know that Bidvertiser offers reasonable Pay Per Click, but the rates are not better than AdSense.
In some niches, you might find great Pay Per Click. However, because they classify websites into categories, a website targeting a small niche might end up with low earnings at the beginning due to insufficient exposure to advertisers.
In conclusion, we could say that Bidvertiser is a great AdSense alternative and is particularly well suited to a new blog.
It offers numerous ad formats and good payment methods. In addition, the minimum payout is just $10 to your PayPal account.

VigLink
Network Description: Affiliate and ad network, with an automatic affiliate link creator and PPC offers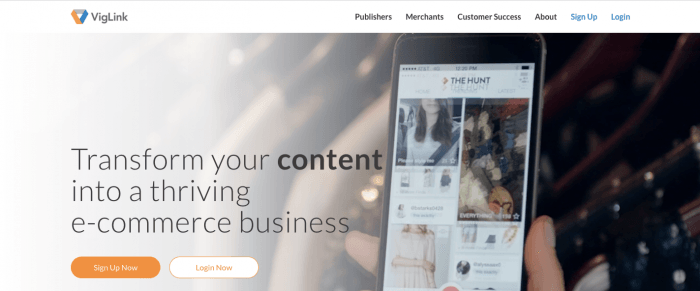 VigLink is a monetization platform that works to connect publishers and advertisers to create a win-win situation for both parties. It does this by offering multiple components.
The first is based on affiliate marketing. Here, VigLink grants you access to more than 30,000 merchants. Once the reader clicks the link and makes a purchase, you earn a commission.
At the same time, VigLink works in a similar way to other ad networks in the market, helping you to improve the value of your traffic by finding the highest bidding advertiser.
If the links on your site are PPC (Pay Per Click) links, then you make a commission from those clicks as well. This aspect is just like any other ad network.
VigLink has thousands of merchants in their network. Many of those merchants are CPA (Cost Per Action) based, which means you're likely to earn a commission with them.
Yet, fewer merchants work with CPC (Cost Per Click) programs and some products only generate revenue from clicks.
Because of this, if you're interested in trying VigLink, I recommend that you focus on CPA-oriented offers and merchants.
A key advantage is that you get the chance to promote many products from top networks on your site. VigLink also allows you to create ads from relevant keywords within your content using the best offers available.
You can join VigLink for free right now, if you want to. However, they take 25% of all your commissions as a fee.
VigLink has no restriction on whether you work with a similar service (or services) in order to boost your earnings. But, be careful about mixing too many platforms. You don't want users to get overwhelmed with ads.
The most relevant thing that I can say about VigLink is that it comes with great automation features, such as converting your non-affiliate links into affiliate links wherever that is convenient. Another example is inserting profitable hyperlinks into product keywords.
These aspects mean that you won't miss any opportunities and you don't have to manually pick the best deals to promote. There's also no minimum threshold for you to get paid.
In conclusion, VigLink is a great opportunity for bloggers and affiliate marketers to make more money.
Still, it may not be effective for every niche. To get approved on VigLink, you need to have a fully developed website and the more traffic you have, the better.
Smaller and niche-specific sites can still get approved but it is likely to be difficult to earn from these.
In practice, most of your money with VigLink will come from affiliate deals. Even then, the lower your traffic is, the fewer potential customers there are who may purchase the product.
On the plus side, VigLink is free to join and can be a good option for many situations. After all, there is no risk and there is the potential to earn money.

Skimlinks
Network Description: Affiliate ad network on a CPA model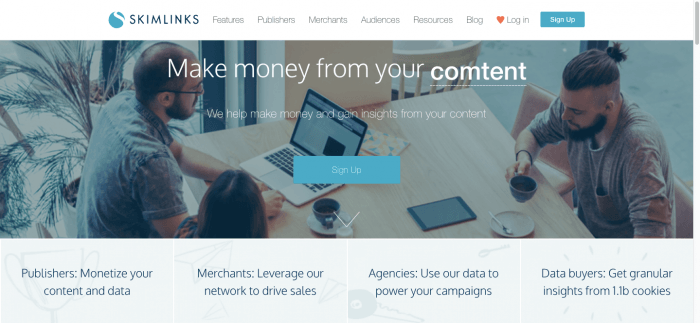 Skimlinks is another interesting way to earn money with your blog, one that also enables you to monetize social media links and apps.
There are two ways you could use Skimlinks. The first option is to install a script that automatically monetizes your content by placing affiliate links.
The second use is to manually look for relevant products that relate to your content and place them on your site by yourself.
Skimlinks is an affiliate ad network working on a Cost Per Action model (CPA). Therefore, you earn money for every successful action your visitors complete, not just for their purchases.
On a CPA model, these actions can be almost anything but they often include behaviors like signups and sharing personal user information (which generates leads), along with completing surveys, downloads, and purchases. If your visitors complete the required actions, you get commissions. This is how you grow your revenue with Skimlinks ad network.
Allow me to elaborate more on that before you abandon the idea of trying Skimlinks because is not your traditional AdSense lookalike ad network.
First, I must tell you that you could earn up to 50% commission in some CPA offers, thanks to some exclusive premium merchants on Skimlinks.
Skimlinks also provides you with tools to help you make the most out of their ad network. The essentials you'll get access to include:
Editor Tool: This tool gives you a shortened affiliate URL on demand and lets you know when you visit a Skimlinks merchant site. You can compare merchants and commission rates on the go, immediately add products to the content you are writing, share those links on social media, and send them in emails and newsletters to your audience. If you work with Skimlinks, the editor tool is a must-have.
Merchant Alerts: Once you have merchant alerts on, you get a quick notification every time there are new offers or programs from merchants you like. This means that you never miss an opportunity to maximize profit.
You can join Skimlinks free of charge, but you pay a 25% cut to Skimlinks on the commissions you earn.
To illustrate, let's say that you have a link with a CPA worth $50 and the merchant offers a 10% commission on that action. That means $5 commission per action completed by the user. From your 10% commission, Skimlinks takes $1.25 (25%). So, in the end, you receive $3.75 on commission for that offer.
This means that you need to choose your merchants carefully. You want to maximize your profit, which means that you should pick deals that leave you with decent earnings, even after Skimlinks takes their cut.
To sum it all up, this platform gives you the option of monetization through affiliate offers. There is no need to join networks separately, as there are no CPC offers on this network.
Finally, 25% commission on your earnings might sound like a lot, but the platform provides significant value.
If you need more information, you can check out the Blogger's FAQ from Skimlinks here.

Chitika
Network type: Media Ad Network, PPC model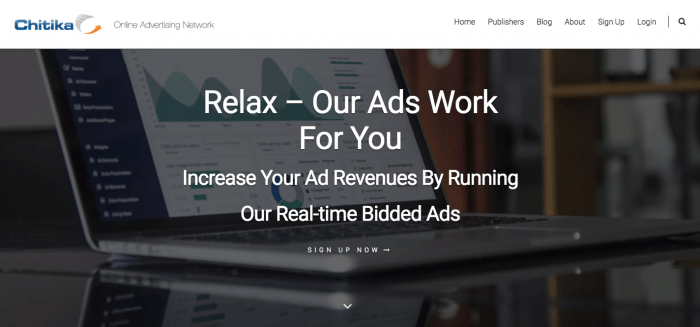 Chitika is your classic ad network that works on a CPC (or Cost Per Click) model. This is similar to Google AdSense, where you also get paid through CPC.
What's interesting about Chitika is the possibility to run Chitika and AdSense ads simultaneously to boost your ad revenue.
Chitika is not just another AdSense lookalike. Instead, it is loaded with interesting features and a flawless interface, making it an ad network that is truly worth exploring.
In fact, the user-friendly interface of Chitika is one of the best that I've ever seen in ad networks. It has an intuitive and easy-to-navigate interface.
If you're just starting your monetization journey, this platform is a nice way for you to get familiarize with managing ads on ad networks.
Another positive point about Chitika is that it offers a low minimum payout of $10. You don't need to wait until you get to $100 in ad revenue to start enjoying your earnings. You get paid with a check or PayPal.
In addition, Chitika offers you various customization options to choose from. For example, you can select the ad color that matches your website's color palette, along with different banners in all sizes and styles.
Of course, not everything is great with Chitika. Like everything in the online advertising and monetization field, Chitika has some downsides to consider.
One issue is that it might take you a while to grow decent revenue from this platform. This is because the average earnings are not as high as what you could get from the market leader Google AdSense.
Of course, you can make the best out of the situation and use Chitika together with other ad networks from this list. That's a good way to increase your overall earnings.
Another downside is the limited number of advertisers. This means there is a limited choice of ads, which also increases the chance that you'll get ads that simply aren't relevant to your site.
Thus, you obtain a lower number of clicks and decreased income from CPC advertising.
However, to be fair to the platform, this is a common problem with most of the companies on this list. The main way around it is to work with some of the biggest networks in the industry, including Google AdSense.
I hope you try Chitika and get amazing results. But, remember that the best strategy to monetize with success is to try a combination of strategies. For example, perhaps Chitika combined with an affiliate network could work. Your options are limitless.

RevenueHits
Network Description: CPM Ad Network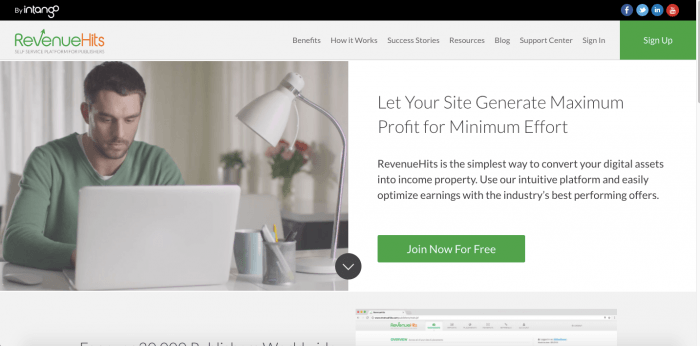 RevenueHits is a CPM based ad network from Israel. Since 2008, they're focused on scanning the performance of millions of ads online to provide almost immediate results about performance.
With RevenueHits, you can monetize all sorts of online assets, such as toolbars, blogs, widgets, apps, and more.
RevenueHits works on a dynamic CPM model. As a publisher, you get paid for every 1,000 impressions generated. This could be interesting for you if your site receives substantial and consistent amounts of traffic.
In theory, you could focus your work on exploring other quality traffic sources for your site and simply earn money from RevenueHits .
To get paid you can choose to use PayPal, Payoneer, or wire transfer. The minimum payout is $20 for PayPal or Payoneer and $500 for wire transfers. They pay you on monthly basis.
RevenueHits has a broad selection of ad types to choose from, including display banners, buttons, footer ads, interstitial ads, pop-under, shadow box, slider, top banners, and mobile-only options like dialog and notifier. You can watch each ad type in action here.
From all the ad types to choose from, I would say that pop-under ads tend to have higher CPM than other ad placements within the platform. Nevertheless, pop-under ads are intrusive and even feel like spam to many users.
With pop-under ads, you might experience an increase in your earnings due to the higher CPM rates. Yet, the quality of your user experience could decrease because your visitors get ads as soon as they click anywhere on the site.
If you run a blog, the last thing you want is to distract your users from your amazing content with random offers popping up.
I would personally be careful with using pop-under ads. But, they could work well if your site is about downloads, torrents, or free resources like music, wallpapers, or free design assets. This is because the user needs to go back to the page to get the unique file that you offer for free.
Unlike most other ad networks, RevenueHits ads can bypass the biggest enemy the online advertising industry has ever faced, ad blocker technology.
"In 2016 ad blocking usage has increased by more than 69% and cost publishers nearly $41 billion in terms of lost revenue." RevenueHits Blog
What you need to do is to get RevenueHits anti-ad-blocking solution, implement the code on your site, relax and watch your revenue grow again. This code will display ads to all visitors even if they have the ad blocker enabled.
But there's more. If you want to earn more money with RevenueHits, make sure you take a look at their referral program.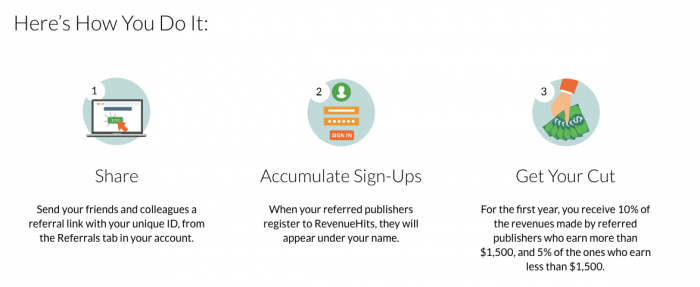 The idea is simple, share your link with as many relevant contacts as you can. Once they sign-up, you're building a list within RevenueHits for potential commissions.
If you referred someone and they make less than $1500/month, you get 5% commission on their revenue. When a referred contact earns more than $1500/month, you will receive 10% of their earnings.
To start referring friends, go to the referrals tab in RevenueHits. Copy your referral link, then start sharing and promoting. It's that simple.
To sum it all up, RevenueHits is an option that is worth taking the time to try. It offers many wonderful ad types, a nice referral program, a user-friendly platform, and anti ad block technology at your fingertips. So, give it a try and enjoy the new earnings on your blog.

Revcontent
Network Description: Native Ads, Widget, and Sponsored Content. CPC and CPM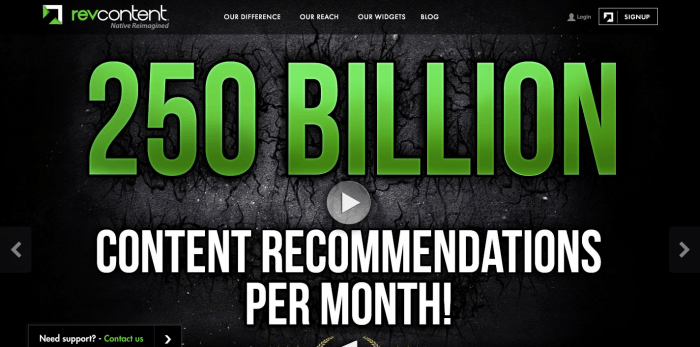 Revcontent is a big player when it comes to native ad networks. The site works with some of the most relevant names in the publishing industry like Forbes, CBS, and NBC News, just to mention a few.
It is also possible for you to implement Revcontent along with Google AdSense. This can be particularly beneficial for you when the AdSense CPC is not very high for your niche.
Besides, in many cases, you would be able to get earnings that are close to what you can make with AdSense. And if you place the native ads without compromising AdSense CTR, you could end up increasing your income by as much as 50% of your current earnings.
Now, I'm not trying to imply that Revcontent is a magic formula or a quick route to double up your revenue. Yet, with the right approaches, experimentation, and patience, you can get there.
As we established before, Revcontent is a big player in the industry. Therefore, you can expect that around 90% of the applications get rejected. Only high-level publishers are welcome to join.
By high-level publishers, we're talking about a minimum of 2-3 million page views a month, on average.
Inappropriate content like hacking, piracy, or malware won't be allowed and, as you can imagine, your content must be authentic, unique and simply amazing overall.
Your Alexa rank should be under 20k and it's critical that there are no spelling or grammar mistakes on your site. Revcontent is also strict with their copyright policy. So, I'll say it one more time, your content must be authentic, dazzling, superlative, and outstanding.
Revcontent attempts to deliver a premium online advertising experience to your users, so they don't think they're clicking ads. In a world where advertisers are almost polluting the internet with their ads, your audience will value a cleaner and more subtle approach to advertising.
As a result, you should expect good CTR from Revcontent, which means more clicks and more money.
Revcontent delivers its premium online advertising user experience by providing:
Widgets with great native navigation feel on ads, thus, users don't feel there is an ad.

Data about device types, website sections, and top content.

Algorithms to distribute only high-engaging content based on key metrics, hence improving website page views.
There are many restrictions on publishers and advertisers. Plus, the rejection rate is very high, even for high-quality sites.
If you have a small blog, you probably won't get approved. After all, high traffic is a key component of qualifying. Just having amazing content isn't enough. Besides, this is still an ad network and your visitors might still find the ads intrusive regardless.
Revcontent is a great ad network that offers many benefits, but getting approved can be difficult for most sites out there.
AdSense is a great option for many sites and Revcontent is compatible with AdSense, so it is possible for you to implement both solutions together.

PropellerAds
Network Description: CPM ad network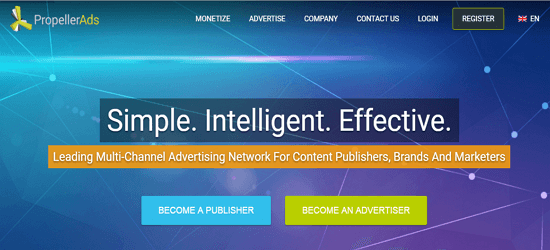 PropellerAds started in 2012 and is based in the United Kingdom. They attempt to serve all of your traffic at the highest CPM possible. The best CPM opportunities are from traffic based in the US, Canada, UK, and Australia.
With PropellerAds, you can monetize everything, including websites, games, software, apps, and even your error 404 pages. PropellerAds is also fully compatible with all other ad networks.
On a CPM model, you get paid based on the number of impressions you can generate on your site. As you get paid for impressions and not clicks, many big publishers prefer to work with CPM options instead CPC ad networks like Bing Ads.
CPM ad networks can be an amazing monetization option, as long as your site gets consistent high-quality traffic. When this happens, your CPM ads can generate income for you every day.
If you normally read content from websites with high volume traffic, you probably notice sometimes articles are presented as slides.
When I'm a reader, I always consider that format incredibly annoying. However, the design helps those sites to get more page views per visitor, as a result, they push the profit of their CPM up.
As far as payment options you have various convenient options:
PayPal

Bank Wire

Payoneer Prepaid Mastercard

Payoneer Global Bank Transfer

ePayments

EPESE

Webmoney
So, that was your quick PropellerAds overview. I hope it gives you a proper introduction to the service. If you would like to work with a nice CPM ad network that has a simple sign up process, no minimum traffic requirement, and an easy-to-use interface, don't miss PropellerAds.

YesAdvertising
Network Description: CPM, CPC, and CPA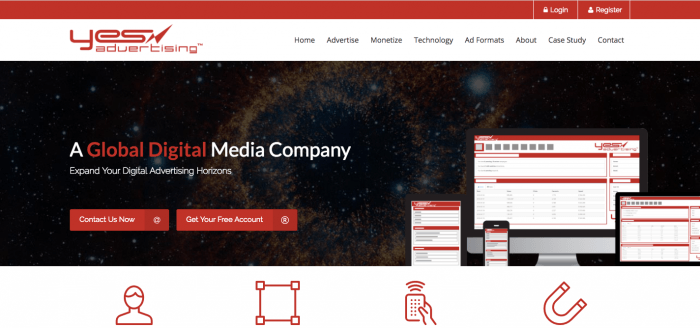 YesAdvertising is currently serving ads in 180+ countries with 500+ million impressions daily. The platform will pay you as one of its publishers based on CPM, CPC, and CPA models. As such, this ad network offers the ability to make money on the impressions you generate on ads, along with earning from clicks and conversions.
There are a couple characteristics about YesAdvertising that make this company an attractive option for your blog monetization.
For one thing, there aren't any minimum traffic requirements to join the network. This is particularly relevant for any new website owner. Just because you're new to the field, there's no reason why you cannot have your site set up to make money right from the beginning.
Second, you don't need to submit your website to get approval first. Instead, all you need to do is create an account and get the ad tags onto your website to start earning money.
As long as your website complies with YesAdvertising terms, you'll be ready to start displaying ads immediately.
I believe this is an amazing thing about YesAdvertising – it really is beginner friendly. Even if you're making $1 a month while starting. Congrats! You're making money online from anywhere with internet connection and from this point it can only get better and better.
With YesAdvertising, getting that first little bit of income is a real possibility and I don't need to tell you how motivating that can be.
YesAdvertising provides you with several ad formats that you can play with. Some of them include In-Text, Text Banner, Pop-Under, Interstitial, Push Down, Corner Peel, Native Ads, and a lot more. You can learn more about the different YesAdvertising ad formats here.
In the meantime, let's discuss business. The Standard payment rate is up to 60% of the bid price paid by the advertisers. Your payment rate may vary according to your performance, traffic, niche, ad types, and market conditions. Your ad revenue will be paid via PayPal or check in US dollars.
The platform pays at the end of a 15-day period. No payments are issued below $50. If you don't claim your payment within 6 months after the issue date you won't get paid that period and all your unpaid earnings will roll over to the next pay period.
As far as ground rules to work with YesAdvertising, you can expect similar rules to other ad networks. Things like hacking, piracy, adult content, warez, and incomplete sites are not accepted. In other words, no illegal content is allowed. You might get onto the network with these types of content but you'd be banned almost immediately.
At least 50% of your traffic should be from the US and Canada. Otherwise, your account will be suspended.
You must be at least 18 years old to monetize with YesAdvertising. However, with written permission from your parents or legal guardians, it may be possible to join the ad network at a younger age.

Spoutable
Network Description: CPC, CPM, and CPCV (Cost Per Completed Video View)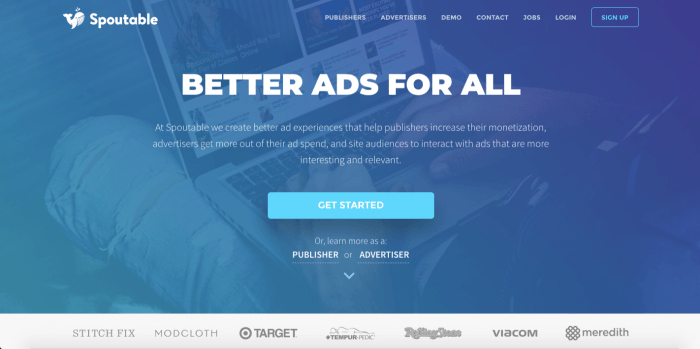 Spoutable is an ad network with some interesting ad format solutions. The company mainly focuses on exit intent ads and opens a world of potential earnings from visitors who are leaving your page.
Visitors can enjoy your content, with no intrusive ads on your website. As soon they're ready to leave, they get relevant ads that could potentially drive clicks and conversions up.
All ads you serve while working with Spoutable are rich media ads. These increase user engagement and produce significant results for you and the advertiser.
The Spoutable team seems to be obsessed with great design and flawless functionality for their ads. As for the ads themselves, I would describe them as being tailor-made with a natural navigation feel. This makes them seem much less like ads to your visitors.
Take a look at Spoutable demo page, where you can get an accurate live preview of all their ad formats, along with how ads behave when visitors interact with them.
The sign-up process is straightforward. You simply need to fill out the registration form and submit it. Once you access your account, you need to submit your website for approval.
You'll normally know whether or not your website is approved within 12 hours but in some cases, it could take up to 24 hours.
As you might expect, Spoutable doesn't accept adult content websites or any form of unlawful content whatsoever.
Spoutable pays you via PayPal or wire transfer no more than 60 days after the month ends. The minimum payment threshold is $100 for American bank accounts and $500 for international bank accounts.
You can monitor your account performance daily via the online reporting system. This includes access to data like clicks, impressions, views, and CPC Revenue Share rate (up to 50%).
Among the various interesting reporting options. I highly recommend that you verify your data using the filters. Date, geolocation, sites, devices, and placements are just some of the options you can use to break down your reports for better analysis. This process makes it easier to maximize your ad revenue.
In conclusion, Spoutable is an amazing AdSense alternative, with ads that naturally feel like a part of your site, amazing customization options, and exit intent ads to help you capture ad revenue that would otherwise go away. So, there's no reason why you shouldn't try Spoutable.

Outbrain
Network Description: Native Advertising Platform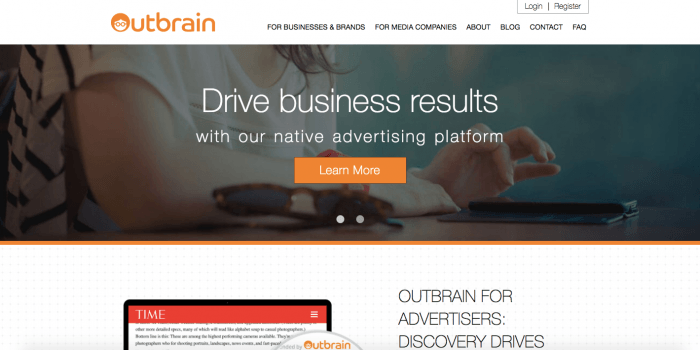 Outbrain is high-end native advertising platform that helps you to maximize user engagement while increasing ad revenue with nonintrusive ads that feel and look more like relevant content recommendations than ads.
With 275 billion content recommendations monthly and 80% of the world's top publishers represented in 10 different languages, Outbrain is a platform that worth a mention in our AdSense alternatives compilation.
It is simple to start as a publisher with Outbrain, as long as your website focuses on delivering top-notch content to your audience. You also need to have at least 1 million page views per month to join the network. However, Outbrain would prefer your site to be somewhere between 5-10 million page views each month.
Outbrain offers a recommendation widget that is easy to implement on your site. The revenue is calculated based on CPC. Every time your visitors click on the ads, you earn money from the clicks and conversions.
You can expect one of the highest CPC rates on the market, more than what most similar platforms offer.
This is not a surprise, as Outbrain only works with top class advertisers. Plus, anyone accepted as a publisher is already receiving high amounts of traffic on a monthly basis.
The minimum payout amount is $50. Once you reach the minimum you'll get paid on either Net 60 or Net 90 days, based on what you choose when you join the network.
Can AdSense and Outbrain work together?
Absolutely. While using AdSense, try to grow your revenue with Outbrain as well. It's fine to use them together. This is allowed by both platforms. However, if you do so, then make sure that the two ad types are clearly different. How you do this will depend on your creativity.
Now, when it comes to revenue share I must admit that AdSense is superior to Outbrain. The Outbrain CPM rates tend to be lower than the AdSense rates.
In fact, most revenue generated with any form of sponsored content network like Outbrain tends to be low, in comparison with traditional forms of online advertising such as banners.
This is due to the fact that many of recommended links may appear to be spammy. Ask yourself, how many times have you clicked sponsored content links? In my case, very few times and probably by accident.
Clearly sponsored content is not for every website and exposing your site to recommendations of videos or gossip-related articles may not be the best way to get that extra revenue you're looking for.
But, there are some people out there obtaining incredible results.
Plus, as far as native advertising networks go, Outbrain is one of the top options out there.
But anyways, at the end of the day, you will need to rely on A/B testing and your own creativity to get the best out of every platform and to maximize profit for your website.

Taboola
Network Description: Native Advertising Platform (Sponsored Content Network)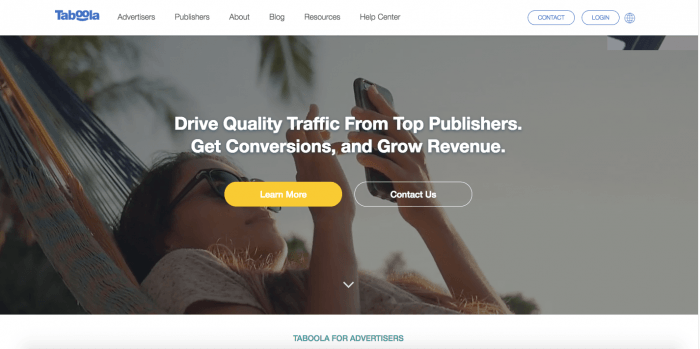 Taboola is one of the top sponsored content networks in the market. Taboola currently has around 360 billion content recommendations a day and more than 1 billion unique visitors every month on some of the internet's best publishers such as Business Insider, Forbes, NY Times, USA Today and many more.
The platform claims to reach 88% of internet users in the United States on desktop and mobile, which is more reach than any other content recommendation provider.
It is not a coincidence that you find Taboola just after Outbrain on this list. Because of Outbrain's minimum traffic requirements, Taboola is the natural choice for publishers with smaller levels of traffic, who are looking to increase their ad revenue with a sponsored content network.
Taboola requires you to have a minimum of 500,000 page views per month to join the network. That is still is a significant amount of traffic for many publishers, although it is an easier goal to reach that Outbrain's requirements. As a consequence, Taboola is not a beginner-friendly platform.
The main disadvantage of any sponsored content platform such as Taboola is that the sponsored content often feels spammy to your visitor.
Take a look at the image below to see what I mean. This is a real example of the type of content networks like Taboola suggest to your visitors.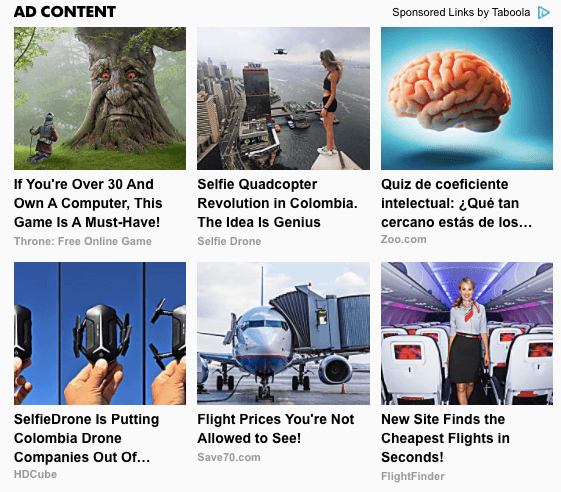 None of those are high quality nor are they related to what you can find on any high-end publisher. Honestly, these headlines simply look like click bait and seem low-quality.
Be careful with such networks, because the reputation of your site can easily be affected by displaying such spammy low-quality content recommendations.
On the other hand, the recommendations do actually work in terms of revenue. The ads shown above were taken from a huge news portal. I can assure you the ads wouldn't be there if they didn't work.
Imagine a CTR of 1%, with CPC of somewhere between 4 to 5 cents, at 500,000 impressions per month. That could end up somewhere around $200 in revenue. That might not be an exciting number. But, it is additional revenue that you don't really have to work for. It also adds up to around $2,400 extra per year.
Another interesting thing about Taboola is that getting approved is still a manual process. That's different than many other platforms. There are no sign-up forms and you can't expect instant approval either. Instead, you request access using a contact form and days later (at least 5) their support team will contact you. If you fulfill their requirements, your site gets approval.
Taboola seems to pay on Net 30 basis. Payment options are limited to just deposit via Payoneer.
The platform is still worth a try if you're looking for additional revenue. I recommend you to place the widget at the end of your content. This way you hide the "Spammy" looking ads until the end and only engaged users are exposed to the ads.
If your site has high traffic, I also encourage you to include Outbrain into your ad revenue strategy but on a different article or page than the one you use for Taboola.

Clicksor
Network Description: Contextual Advertising Network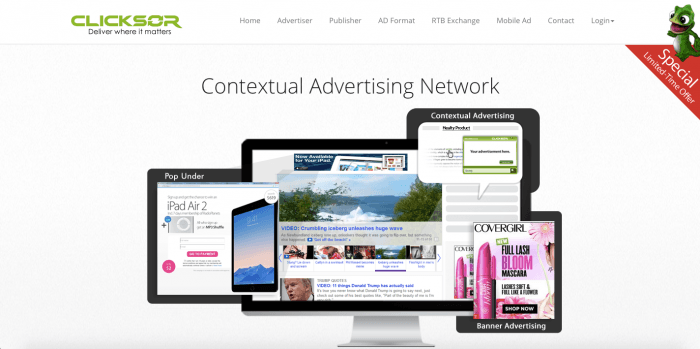 Clicksor defines itself as contextual advertising network. In other words, Clicksor enables you to display ads based on your website's content.
The promise is that, with Clicksor's technology, you'll be displaying relevant ads consistently. The process should increase your CTR along with your potential earnings.
You can also earn some extra money with a 10% referral commission per person that joins Clicksor as a result of your promotion efforts.
When you're a publisher with Clicksor, you can get paid up to 85% of the bid price paid by the advertisers. But, your final rate may vary according to your performance, market conditions and the geolocation of your traffic.
Clicksor pays you with PayPal or checks with a minimum payout of $50 and wire transfer with a $1,000 minimum payout (plus a $75 transaction fee). Payments are sent on Thursdays on a Net 15 schedule.
Signing up is easy. Simply fill out and submit the registration form it. There are no minimum traffic requirements to join, just make sure you have a nice website with great content and you'll be fine. As always, illegal or improper content won't be accepted on Clicksor.
Clicksor can be very effective as a way to grow your ad revenue when it used on the right website. But, don't expect it to be an AdSense replacement in case you're banned. Consider it as more as an additional income generator for your site, like many other platforms we've been analyzing in this list.
It's easy to set up with a quick approval process and almost every website will be accepted regardless of its traffic level. My recommendation, in case you're starting, to try to get your AdSense account as soon as possible. Don't get stressed while you wait, instead join Clicksor to start earning money right from the beginning.
Clicksor is a great alternative but AdSense is still superior. As the alternatives grow in popularity, we may also get better features in the near future.

PopCash
Network Description: Pop-under Ad Network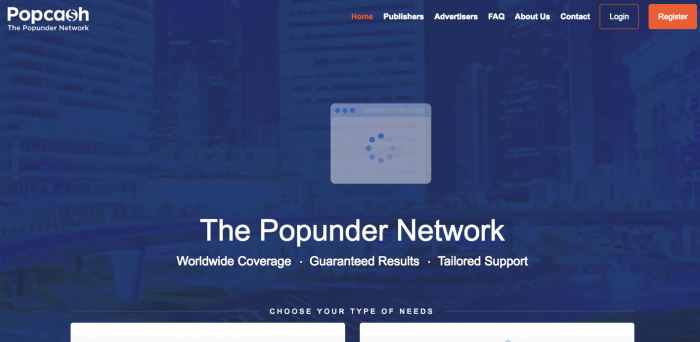 There has been an inconclusive debate about whether or not pop-under ads are effective as a way to grow your revenue online.
One view is that pop-under ads are invasive and downright unfriendly to users. What's more, there is an exponential growth of ad block technology use among internet users.
However, I invite you to keep your mind open about PopCash because we're talking about a platform that is generating 850 million monthly visitors and working along with 50k publishers.
PopCash is one of most prominent pop-under ad networks, working with both CPC and CPM.
There are many positive aspects about working with PopCash as well, including the following:
Fast payments. Requests are processed on a daily basis.

24/7 support via email and Skype.

8+ payment processors, including PayPal, Paxum, Payza, Skrill, Bitcoin, wire transfer, WebMoney and many others.

Performance focused, offering a variety of targeting features
There are not many disadvantages to using PopCash. Yet, I would say that the earning potential is low compared to AdSense and that the ads aren't always as relevant as they could be.
PopCash and AdSense integrate with no problems. You can have 3 pop-under ads on your site together with Google AdSense to improve your ad revenue.
In fact, it's even possible to have PopCash and other pop-under ad networks at the same time.
The minimum withdrawal amount is $10. For payment through wire transfer, your minimum amount is $1,000.
PopCash is a versatile platform. You can monetize all sorts of websites, even adult content websites are allowed.
There are some general restrictions but most websites are accepted.
On logical grounds, there is no compelling reason not to give PopCash a chance. It can be very effective when implemented on the right website.
You should definitely try PopCash if you are working on your first blog or if your site has traffic but is waiting on approval for Google AdSense.

Adrecover
Network Description: Monetize AdBlock Traffic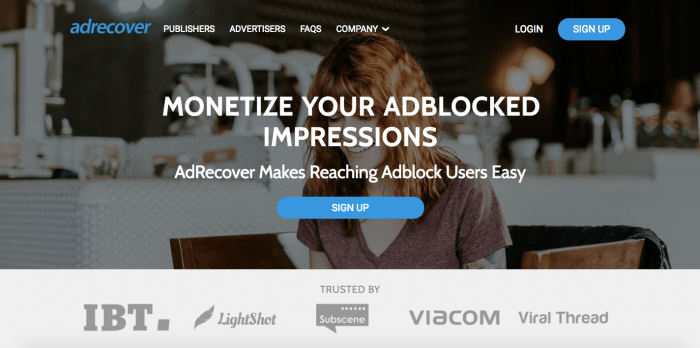 According to a report by Juniper Research, ad blocking technology could cost digital publishers over $27 billion by 2020.
As a response to the devastating effects of ad blocking software in the revenue of online publishers, you have AdRecover.
It is a simple service to sign up for and allows you to start measuring your site's ad blocked traffic in minutes. You just need to insert the AdRecover code on your website and it will automatically track your traffic in the dashboard.
As it is usual, your site needs to be approved first, which might take anywhere from 24 hours to a week.
You need at least 10,000 ad blocked page views to join AdRecover. The CPMs are competitive compared with other networks.
Remember that you're giving advertisers access to "untouchable" AdBlock users. It is fair to expect something around $0.50 CPM for US traffic.
Finally, because you're showing ads to users that are actively avoiding online advertising, AdRecover only allows static/text ads to be served.
AdRecover is making AdBlock users easy to reach by ads while providing you with a way to the monetize these visitors.

Madadsmedia
Network Description: CPM, CPC, and CPL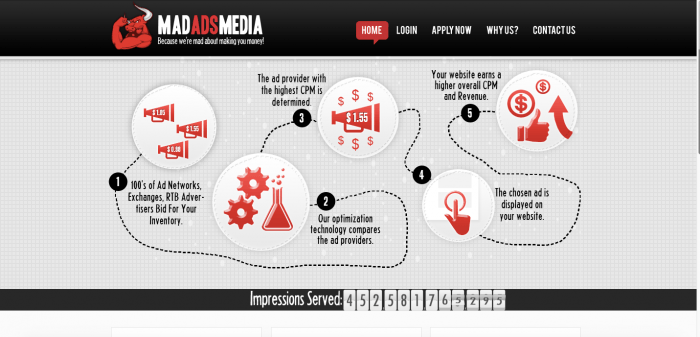 Madadsmedia claims to be all about the money. Their value proposition is simple, join the network and get a higher revenue share.
This is possible because they negotiate with many top advertisers, leveraging a large number of quality impressions that they deliver on daily basis to get better rates for you.
Madadsmedia takes your success seriously. That's why every publisher works with a dedicated account manager to help them along the way.
You can join the network if your website has at least 10k pageviews per day. As always, it's best if your site is well-designed and you post great content.
Despite the preference for sites with at least 10k page view per day, you might be able to join with less than that, as long as you run a quality site with relevant traffic.
Payments are made on a Net 45 basis, with a minimum payment threshold of $50.
The eCPM for small-traffic new blogs is low, so it wouldn't be a good idea monetizing with Madadsmedia until you are able to grow and sustain your traffic.
That being said, if you want to increase your eCPM with Madadsmedia, your ads should be placed in high click-through rate areas, such as above the fold.
You can run some tests with different placements and ad types to see what work best for your website.
If you want to take it a step further, you could add a heat map app. This can provide you details about the locations on your site that users are clicking on and help you to determine why.
I personally recommend Hotjar. This is one of the top options on the market and you can try it for free.
The basic plan starts at $89, so I understand if many of you can't afford such tool just yet. However, for those with more advanced needs, I think Hotjar can be a good investment for you.
Implementing heat map technology on your site could enhance the understanding of your traffic and therefore boost your revenue.
With Madadsmedia, knowing where to place your ads is crucial to your success, especially as you can have up to 5 ads per page.
Focus on optimization and drive traffic from top countries like the US, Australia, and Canada. By doing that, you should start to see some decent earnings.

Adblade
Network Description: Content-Style Ad Platform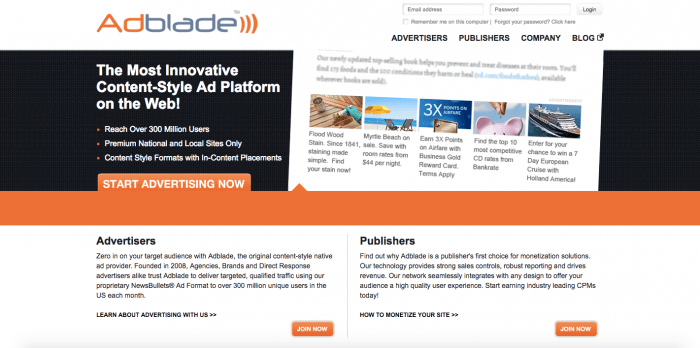 Adblade was launched in 2008 and the service now reaches more than 300 million unique users every month, across hundreds of world-class sites.
Adblade is selective about the publishers they work with and you need to be generating at least 500,000 page views per month to be considered.
But, even if your traffic is high, you might not get approved. This is because Adblade focuses on maintaining a high standard and the image of being a premium network for advertisers.
After applying, your website will typically be reviewed within one or two business days. The company will then contact about the next steps you need to take, as long as your site meets the requirements.
Adblade pays you on a Net 30 basis.
The average CPC rate for Adblade is between 50 cents and $1 per click. This may fluctuate up or down, depending on your niche and market trends. CPM is normally $2, on average.
Rates might be lower for international traffic. So, to obtain the best results possible, it's best to focus on US traffic generation strategies only.
The main downside about Adblade is that you cannot use this service at the same time as other networks.

PopAds
Network Description: Pop-under and Popups on CPV bidding model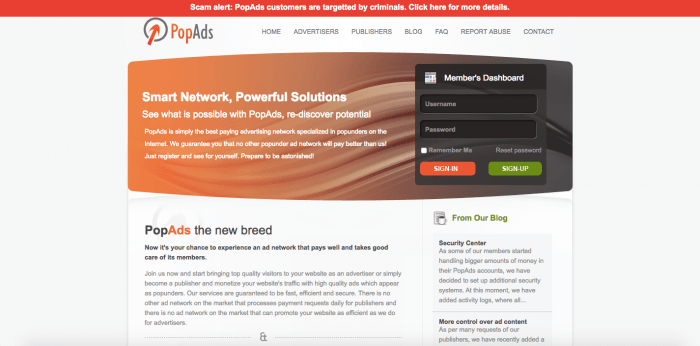 PopAds is an ad network focused on pop-unders. It allows you to serve pop-under ads with autoplaying sound and video ads to monetize your traffic.
They have a "earn what you see" policy, meaning that there are no chargebacks from your account.
Unlike many top ad networks, PopAds is not focused on high traffic websites. Instead, their terms are more flexible than most other sites on our list.
All types of websites and niches are welcome. This includes adult content, dating sites, and warez. Plus, there's no minimum traffic requirement. Even a blog built on a free domain is welcome to join.
As a result, the quality of websites and traffic might be low when compared to other networks.
Low-quality traffic and content might be a deal breaker for many advertisers. But, PopAds is a great option for those with sites that would never make it on networks with strict rules.
PopAds claims to offer you one of the highest rates in the market. According to them, their CPM is never below $4 for your US visitors.
A more realistic estimation, in my opinion, is a CPM rate up to $2. But, this is just an estimate.
CPM rates also tend to change depending on the quality of your website, your niche, and the overall quality of your traffic.
You may also find that performance varies over time. Still, this is the case for many pop-under ad networks.
You will usually receive payments in your PayPal or AlertPay account within 24 hours.
PopAds is a platform with high traffic and loaded with features. Personally, I don't feel like it should be your first when it comes to monetization. Still, if you plan carefully and are strategic, the platform could be a way to earn some money.

Adnow
Network Description: Native Advertising Network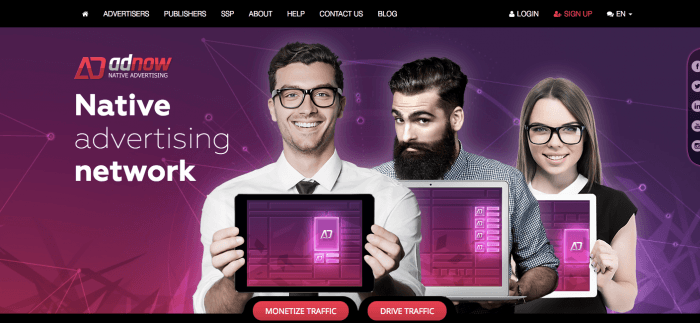 AdNow is native advertising network with more 200k publishers currently monetizing traffic via the platform.
Created in 2014, this young network serves 6 billion impressions and reaches 980 million users per month in 114 countries, making it a powerful native ad tool.
However, the ads are not always related to site content and publishers cannot filter ads that they feel are irrelevant or inappropriate for their websites
The approval process is a no-brainer. You just need to fill in a sign-up form to start your monetization journey with AdNow.
After that, you can proceed to your dashboard and contact a support manager. Or, you can simply add your website yourself. The review normally takes around 24 hours.
If your site complies with the network's rules and restrictions, you will be able to install the widget and start serving ads with AdNow.
This part is easy. But, tuning your account, gathering data to reach optimal numbers and solid earnings, that's always the real challenge.
You can add as many websites as you please. But, if you're an agency or enterprise level website owner with 100+ websites to monetize, you will need to contact a support manager to gain access to the bulk upload tool.
AdNow pays on weekly basis via PayPal, bank/wire transfer, ePayments, and Webmoney.
Your minimum payment threshold is $20 for all payment methods except bank transfer, where the minimum to withdraw is $200.
AdNow is one of the best options in the market when it comes to native advertising networks.
It includes many benefits, such as weekly payments, a low minimum payout (except for bank transfer), a wide range of payment methods, multiple customization options, and a 5% commission referral program.
AdNow is an option that is worth your time especially if you have already built up your traffic. You'll be working with one of the top native advertising networks currently out there.

AdMaven
Network Description: Pop-under advertising network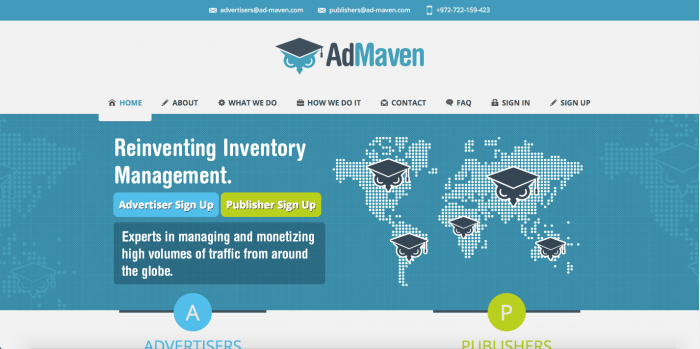 With over 500 million daily impressions and 15 years of experience, AdMaven is one of the industry leaders when it comes to the pop-under advertising industry.
But AdMaven is not limited to pop-unders. They offer other monetization methods too, including formats such as popups, banners, lightboxes, interstitials, and sliders – just to mention a few examples.
AdMaven algorithms work to favor publishers. Consequently, the ads you serve on your site are the ones with the highest bids and strongest CPMs that you can possibly find within your niche.
Another great thing about AdMaven is that their ads are fully compatible with Google's new ad blocking feature. Therefore, all your ads from AdMaven will not be blocked by this program.
The new feature was launched in February this year and you can read more about it here.
The preferred niches for AdMaven include streaming (sports included), file sharing, torrents, gaming, downloads (of all types), and adult content sites.
You can still monetize other types of sites, but AdMaven has a clear preference for the niches mentioned above.
There are four payout methods offered to publishers: PayPal, Payoneer, wire transfer, and Bitcoin.
For PayPal and Payoneer, the minimum payment is $50, while wire transfer has a minimum requirement of $1,000.
AdMaven does not charge a fee for PayPal payments, although you may still be paying your regular fee. However, there is a $40 fee if you get paid with a wire transfer.
One limitation is reporting and it would be nice if AdMaven could implement a reporting interface with graphics, along with online support. Despite this, the company is still a good way to generate a new revenue stream for your website.
Plus, they're one of the top players in the pop-under advertising industry. They offer you decent CPMs and cutting-edge algorithms, with a clear focus on helping you to optimize your revenue.

Payclick
Network Description: Native Advertising Platform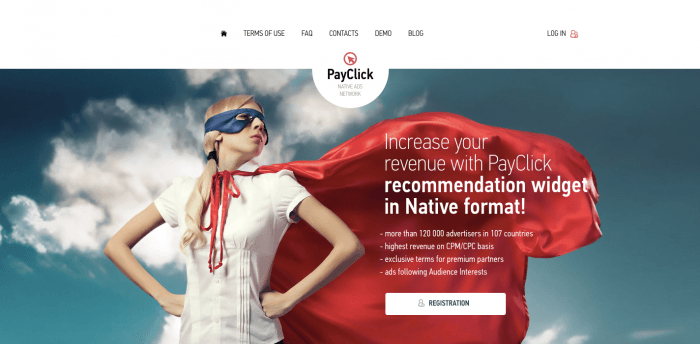 PayClick is a native advertising network with 120k advertisers in 107 countries. It gets billions of impressions and millions of clicks every month.
There are many reasons why this network worth your time, including the following:
Competitive CPM and CPC revenue

Weekly payments

50+ ad formats to try

Compatibility with other ad networks

Multiple payment methods

24/7 support
Getting started with the platform is a smooth process that won't take you more than 5 minutes.
Complete the registration form at the end of their website by entering your email and password, along with your Skype user information.
There are no minimum traffic requirements to join the network. All you need is to add at least one of their widgets to your website, then set the pricing model and rates.
However, there are still some restrictions. As you can probably imagine, all new websites submitted to PayClick go through a moderation process.
If your website has pornographic content or anything illegal, then you won't make it beyond the moderation process. However, it is possible to have erotic and R-rated content.
PayClick ads won't interfere or have any effect on ads from another ad network, such as AdSense.
The PayClick support team is there for you 24/7, which is an advantage. Publishers also get access to a personal support manager that can be reached using your Admin panel.
PayClick claims that your average CTR may be around 2.3% as a publisher. As you know, the higher the CTR, the higher your income potential.
But, keep in mind that your CTR could be higher or lower than that value depending on external factors such as your niche, advertiser demand, your traffic quality and more.
By far, my favorite thing about Payclick is their easy-to-use free Anti-AdBlock feature.
It's simple. Once you're approved and you have ads up and running, you just need to copy the Anti-AdBlock code and paste it between the <body></body> tags of your site. Then, you're good to go.
PayClick's teams claim that you could experience a 25% increase in revenue using this tool. That's revenue that you'd be losing otherwise.
There are multiple payment methods you can use, such as PayPal, Payoneer, ePayments, Webmoney, or wire transfer. The minimum payout is $20 for all payment methods, except wire transfer where the minimum payout is $200.
In essence, PayClick is a well-rounded native advertising network. It offers multiple ad formats, flexible widget customization options, competitive CTR, is compatible with AdSense and has no minimum traffic requirements to join. There's no reason why you shouldn't give it a try.

Native Ads
Network Description: Native Advertising Network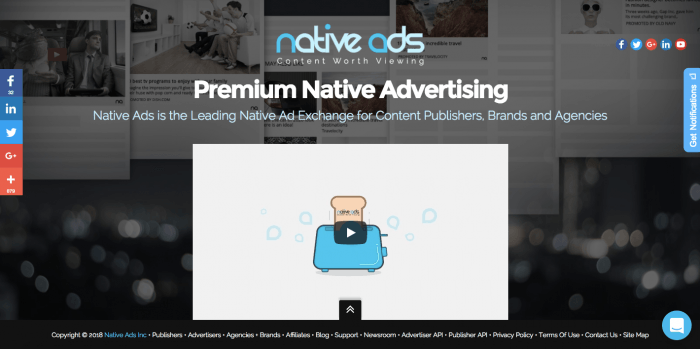 Native Ads is a premium native advertising network. The key advantage of using their platform is the high-quality content recommendations you'll be serving on your site.
I'm not a big fan of native advertising. In my opinion, it usually makes your site look spammy and most content recommendations are irrelevant to your written content.
That's not the case with Native Ads. Instead, the service tends to provide and relevant content recommendations that could significantly increase your CTR and therefore your income.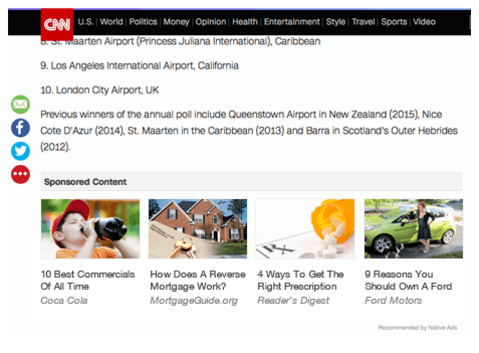 The first step is to sign up, which involves filling out a form on the website. There is then a review process, which normally takes around 24 hours.
They use various criteria to determine whether or not to approve you, including the quality of your website, your traffic volume, where the traffic comes from, and the overall quality of your traffic.
The minimum traffic needed to join the Native Ads network is 100k visitors per month and at least 50% of your visitors should be from the US.
As we established at the beginning, Native Ads consider themselves a premium network. Therefore, they have a strict content policy that you must follow to get approved.
Adult content (PG-13 is ok), any form of hate speech, profanity, drugs and drug paraphernalia, hacking, and any other content that is considered illegal won't get you approved
As for payment methods, Native Ads offers payments through PayPal, check or wire transfer.
For PayPal and checks, the minimum payout amount is $25, while the minimum is $1,000 for wire transfers.
For anyone not located in the US, PayPal and wire transfer are the only payment methods.
The platform pays on a Net 45 basis for non-video ads and Net 65 for video ads.
All-in-all, if you're publisher looking to increase your ad revenue and have a clean looking site with outstanding content, then this platform is a must try for you.
Native Ads network is not only a solid AdSense alternative, but it is also the best alternative to popular native advertising networks such as Taboola or Outbrain.

Affinity
Network Description: Contextual Advertising Network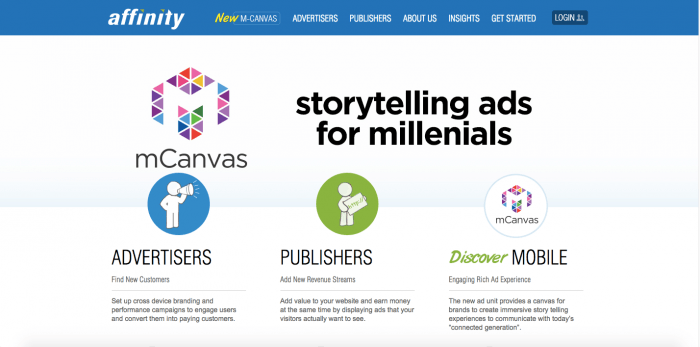 Founded in 2006, Affinity is an advertising network with more than 100k advertisers from all over the world, which generates around 50 billion impressions monthly.
The signup process is a simple three-step process. Fill the information in the signup form, log in to your publisher's dashboard, and then copy a JavaScript code snippet onto your website. It's easy, isn't it?
There are no minimum traffic requirements to join the network and start monetizing your content. There is no setup fee to pay either.
However, you will still need to have consistent high-quality traffic to your site if you want to earn money.
Another interesting thing is that you have the ability to add as many websites as you like to your account. This is an attractive feature for anyone who owns multiple websites.
But wait – there's more! Affinity offers 80% revenue share to their publishers. This means that if you drive the right traffic in terms of quality and quantity, you could obtain decent earnings from Affinity.
Affinity won't accept your website if the content could be considered offensive or illegal.
For instance, extremely violent, drug-related, or racist types of content won't be able to display ads and might get you banned from Affinity.
You can use Affinity with other ad networks such as AdSense. But, keep in mind that your visitors should be able to easily distinguish the ads from your different ad networks.
Customizing colors is an easy way to comply with this rule and to keep your accounts healthy.
However, I encourage you to check the terms of service for any platforms you plan to use simultaneously to avoid any issues.
Affinity offers you two options to receive your payments. PayPal, which has a minimum threshold of $50 and wire transfer, which has a minimum payment threshold of $1,000.
In a nutshell, Affinity is another contextual advertising network with an interesting revenue share percentage and a straightforward signup process. However, in my opinion, there's nothing unique enough about it to make me recommend that you run and open an account as soon as possible.
Anyway, this is another option that you could possibly combine with other ad networks. I just wouldn't put it at the top of the list to mix with Google AdSense or anything similar.

Advertopia
Network Description: CPM Ad Network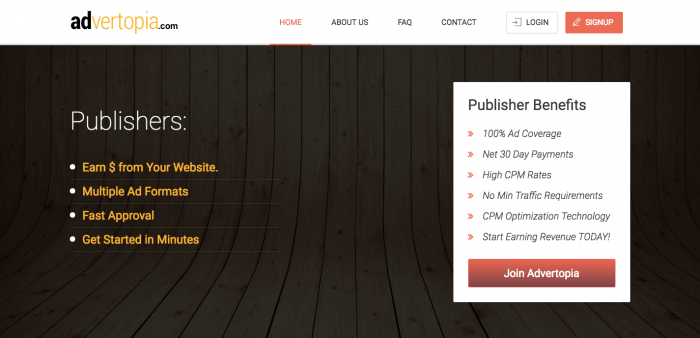 Advertopia is an ad network with 1k+ registered publishers that works with media buying agencies, advertisers, advertising networks, and ad exchanges to offer you the best CPM possible on a daily basis.
The joining process is painless. You can simply access your account as soon as you've submitted the application form.
You then submit your website for review. Once you're done and approved you can start monetizing by displaying their ads on your website.
One odd thing about Advertopia is that the first thing you see on their website is them inviting you to join as a publisher with no minimum traffic requirements.
However, when you proceed to fill the signup form, you find out that your site needs at least 5k impressions per month.
This might be an honest mistake, but as someone that is also a publisher, I felt that they were trying to trick me into joining their network.
Imagine how disappointed you would feel as a new website owner if you were to find Advertopia and think that it is a new source of income. Yet, when you stepped through the process, you found that you're not eligible to join. That hardly seems fair.
Beyond this "hidden" minimum traffic requirement, the platform is pretty typical. This means that it doesn't accept any form of illegal, violent, or pornographic content. Advertopia will also reject websites hosted on free services like Blogspot, websites under construction or with missing functionality, and websites with an excessive number of ads already in place.
Advertopia offers only one payment method, PayPal. There is a minimum payment of $20 and the platform pays the 15th and the last day of each month.
Advertopia also seems to be as strict with rules as AdSense and you can only place two ads per page.
Their main value proposition focuses on the fast approval process, the presence of multiple ad formats and the promise that you can earn money online.
In my opinion, they are not unique enough for most publishers. However, due to their low minimum traffic requirements and low minimum payment, it might worth your time especially if you're just getting started.

Adversal
Network Description: CPM Ad Network

Adversal is a CPM ad network. The company started their journey in 2003 and quickly grew to become one of the top pop-under advertising networks in the market.
They eventually expanded the ad network to include PPC ads and they now offer a wide range of ad formats for advertisers and publishers.
It's worth mentioning that Adversal pays you for your impressions and not per visitor. Do you know what that means? More money for you!
Let's dig a little deeper and highlight the relevant facts that you should know as a publisher who wants to join Adversal.
Adversal pop-under ads are able to bypass most ad blockers thanks to their technology.
As a consequence, you might increase your chances to get paid for impressions that you would otherwise lose. Nice, right?
They offer fairly high CPM rates and they have advertisers available for multiple niches and verticals, so don't worry if you think "my site is too specific".
If you have quality traffic and you meet the requirements, I'm sure you'll be able to find relevant ads for your site.
As a publisher, you need to have at least 50k page views per month and the site must have been online for at least 60 days. You also need your own domain name, a clean design, original content, and a privacy policy.
In terms of restrictions, your site must not contain adult content or anything illegal and shouldn't be incomplete or under construction. Visitors should also be able to access content without having to log in.
As you can expect from the majority of ad networks (and Adversal is no exception), traffic from the US will bring you the highest earning potential.
However, this doesn't mean that you're done if your traffic is not from the US. You can still receive high CPMs for traffic that originates in other countries.
What you earn depends on several factors, such as quality of your traffic, your niche, and advertiser demand for placements.
Nevertheless, it can be difficult to get approval to join the network if you don't meet their US traffic requirements.
Before starting to add code snippets to your site, you need to wait for approval after you send your request. It normally takes around 24 hours to hear whether or not you are approved.
Once you add the code to your site it will take 72 hours for the platform to determine the highest paying and best performing offers for you.
Payment methods include check and PayPal (both with a minimum payout of $20), bank wire (with a minimum payout of $250) and ACH (US only, $100 minimum payout).
You'll receive your payments 35 days after the end of the month or Net 35.
Adversal is probably one of the best AdSense alternatives you can possibly find. Loaded with features, multiple ad formats, and great performing CPM, I highly recommend that you register, if you meet their requirements.
You can also implement both AdSense and Adversal, as long as you make sure that your users can clearly distinguish which ad belongs to which platform.
Still, as is always the case, AdSense is still superior to Adversal in terms of earning and revenue share.

Yllix
Network Description: CPM, CPC, and CPA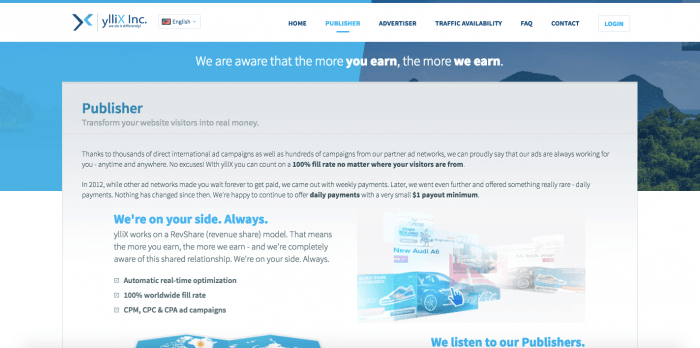 Yllix is one of the few ad networks in the market that truly cares about international publishers and their needs. As part of this, Yllix offers a 100% worldwide fill rate.
With automatic real-time optimization, dedicated support, and daily payments (with a minimum payout of $1), Yllix is an interesting option to consider for your monetization arsenal.
Getting started with the platform couldn't be easier. Simply create a free publisher account, which gets instantly activated.
Generate your JavaScript code, then paste it into your website and that's it! Their system will do the rest.
There's no minimum traffic requirement to join the network. Yllix will accept your website regardless your location or the size of your traffic. International traffic is more than welcome in this network.
Yllix even accepts adult traffic, as long as you're not breaking any laws.
As you already know, Yllix offers you daily payments. You can use several payment methods such as PayPal, Payza, eZCashs, Bitcoin, Payoneer, and international wire transfer.
Another interesting thing about the platform is their surprisingly generous referral program. They claim to offer you up to $100 for each new publisher that you refer, along with 2% of their lifetime earnings.
To sum up, Yllix is particularly relevant if you're an international publisher struggling to find Google AdSense alternatives that accept your international traffic. With flexible requirements to join, multiple ad formats, and a low minimum payment threshold you have nothing to lose by trying this ad network.

Content.ad
Network Description: Native Advertising Network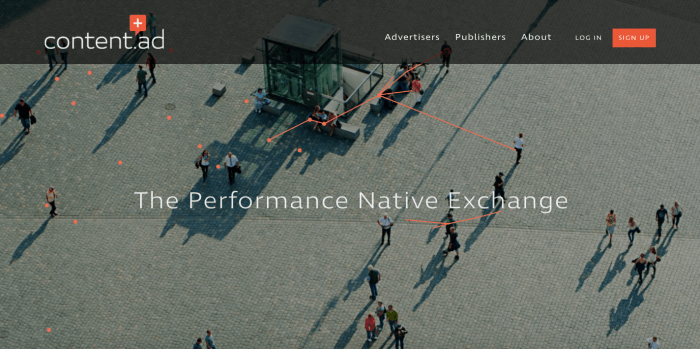 Content.ad is a native advertising network. Think of it as your alternative to Outbrain and Taboola, but with lower traffic requirements to join.
They've been in this industry for roughly ten years and represent a highly reliable source of sales and traffic for many advertisers.
But, the platform is not just focused on their advertisers. Publishers are a big part of the success equation too.
That's why Content.ad offers you quality sponsored content. You also get full control over your ads. This includes the ability to filter based on quality ratings and content categories.
Another interesting thing about this platform is that it works with other ad networks including Media.net and AdSense, without any problems.
Your CPM, as usual, mostly depends on the traffic that you have and its quality, along with aspects such as ad placements, country, and even the devices that your visitors use.
The average CPC might be somewhere around 3 to 6 cents. However, you must have traffic coming from top locations like the US, Canada, Australia, or Europe to reach steady monthly income with the platform.
Content.ad is legitimate native advertising network to try. Personally, I think is a good idea to use it along with Google AdSense.
It is a particularly good choice if the requirements of Outbrain and Taboola are out of your reach for the moment.

Adbuff
Network Description: CPC, CPM, and CPA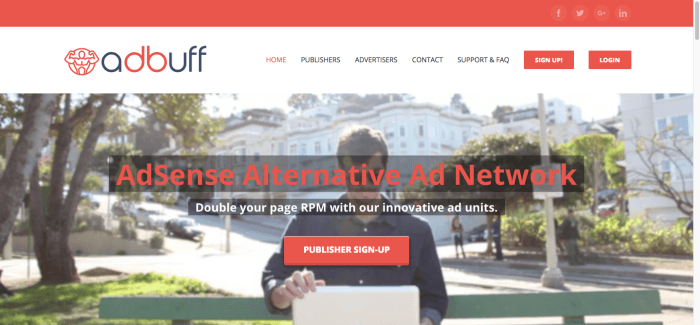 Founded in 2016, Adbuff is one of the newest names in the ad network world. But, don't judge the platform based on its age.
Even though Adbuff is a young company, they manage to work with some of the best names in the digital world like PulsePoint, Criteo, and Google Ads, to mention just a few.
As a publisher, you might experience some of the highest CPM rates in the industry. In fact, Adbuff even manages to surpass AdSense rates in some niches.
This is impressive for such a young platform, especially when you consider what AdSense represents to the industry.
Without hesitation, I can tell you that Adbuff strengths are its rates, along with the top-notch customer service. As a publisher, you enjoy the benefits of having your own account manager and 24/7 access to their support system.
Adbuff works with some of the top ad exchanges and advertisers in almost every country you can imagine. With such reach, 100% fill rate on both CPM and CPC ads is almost a given.
To join, your website needs at least 2k unique visitors per day. It also needs to have been fully operational or online for minimum two months, have only original content, and be well-designed.
Their approval process is not as fast as I would like it to be. But, I understand that to ensure the quality of their network, they take some time to review your submission.
The process can take 5 to 7 business days. This might sound like a lot when you compare to other networks. Still, a high-quality network means quality advertisers which translates into better earnings for you.
Adbuff offers you two payment methods: Payoneer (with a minimum payout of $100) and wire transfer (with a minimum payout of $500 plus a $25 fee per transfer).
This platform is an excellent choice as a Google AdSense alternative or an extra revenue source. They provide you with the assistance you need to reach the highest rates possible, real-time reporting, weekly bonuses, timely payments, compatibility with AdSense, and more.
If your AdSense earnings are not as satisfactory as you would like, don't think about it much and give Adbuff a try. As long as you have steady quality traffic, you won't be disappointed.

Sovrn
Network Description: CPM Ad Network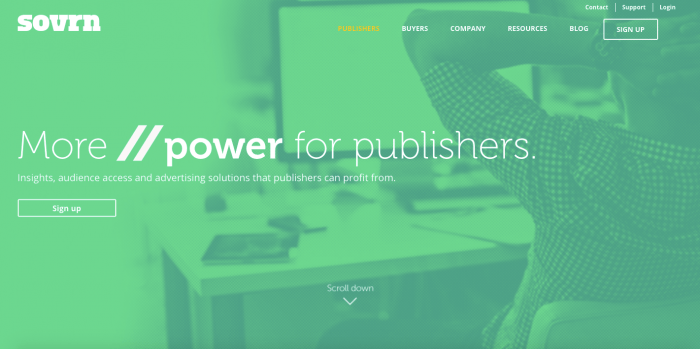 Sovrn is a CPM ad network that is working with 20k publishers all over the world.
What immediately caught my attention was their amazing analytics tools. These offer detailed insights into your audience, traffic volume, and best performing content to help you determine which areas you can improve to increase your conversion rates.
There's no minimum amount of traffic required to join the network. However, high-quality content that brings quality traffic to your site is mandatory. Otherwise, you won't get approved.
The approval process takes up to 72 hours because their team carefully checks each website manually.
As a publisher, you'll receive payments every 30 days. The platform offers you these different payment methods:
eCheck

Paper Check

International Wire Transfer

PayPal
Sovrn provides publishers with access to their platform, Meridian. This platform includes a complete set of tools that is loaded with data insights and designed to improve your performance.
Meridian allows you to follow the performance of your site in real-time, analyze advertisers, keep track of ad revenue stats, and more. The platform is designed to give you a clear vision of your performance as a publisher from a single dashboard
Sovrn seems to be a decent choice for you to test. However, publishers have complained about delayed payments and employees have expressed some concerns about massive layoffs and low revenue from the company.
Some employees are also worried about the future of the company.
After looking at these red flags, I recommend that you avoid Sovrn, at least until changes are made to the company.
There are plenty of options on this list that you can try before considering Sovrn as a monetization option.

BuySellAds
Network Description: Ad network with native ads and direct advertising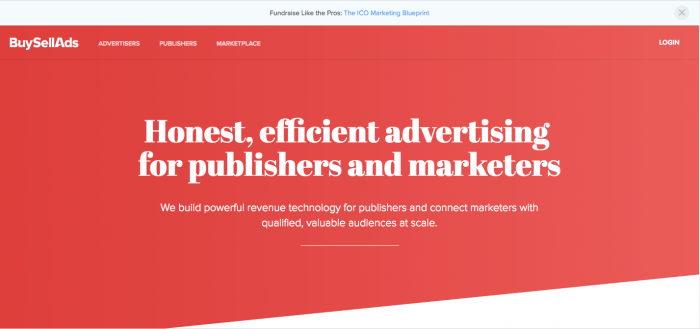 BuySellAds is one of the more interesting ad networks on this list because is not just a native advertising network. It is also a direct advertising marketplace.
Direct advertising has the potential to be even more profitable than monetizing with any traditional ad network, including Google AdSense.
This is because direct advertising allows you to close deals directly with publishers. By doing so, you may get 100% of the earnings, along with fixed prices per month for your ads.
However, it is difficult to find good direct advertisers. That's where BuySellAds advertising marketplace can help you.
As a publisher, you can list your site and advertisers can directly buy your ad spots after verifying the stats from your site.
I highly recommend you to only accept ads that are relevant to your niche. It is essential that you avoid accepting spammy ads, as these reflect poorly on you and your site.
As soon as you accept the ads, they'll start to be shown on your site and you'll receive money in your account.
To get started using BuySellAds, just create an account by filling the form.
Of course, not every site get approved. You must have a minimum of 50k page impressions per month, a quality site, plus original and updated content.
It usually takes 48 hours for their team to let you know whether or not you got approved.
The minimum payout is $20 for PayPal, $50 for bank check, and $500 for wire transfer.
BuySellAds will take 25% of each ad space sale you make using their platform.

PopMyAds
Network Description: Pop-under Advertising Network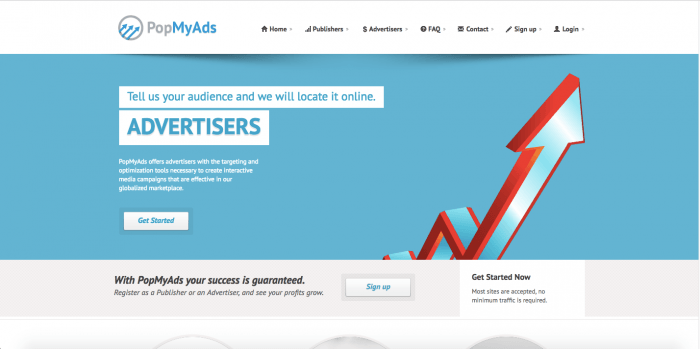 PopMyAds a pop-under ad network. There is no minimum traffic requirement and websites of all sizes are welcome to sign-up.
If your site complies with their terms of service, you can get instant approval. Like other pop-under networks, PopMyAds also accepts sites that contain adult content.
However, sites with abusive, illegal, or unethical content are not allowed to join the network.
It's also possible to monetize your traffic or increase your earnings by combining Google AdSense and PopMyAds.
Google's policy allows you to have up to 3 pop-unders on your website. However, you can never be cautious enough and I recommend that you check the terms of service for each platform you try to implement.
Many of the advertising networks may change their policies without notifying you. So, it is imperative that you stay on top on of your game, especially when you are showing ads from different platforms on your site.
You can get paid with PayPal, Payza, and wire transfer but only by contacting their support team. Your minimum payout is $5 within 10 days after you make a request to get paid.
To sum up, PopMyAds has excellent 24/7 support, competitive CPM rates, real-time statistics, a low minimum payout, different payment methods, and a large inventory of ads.

Ayboll
Network Description: Ideal for the small blogger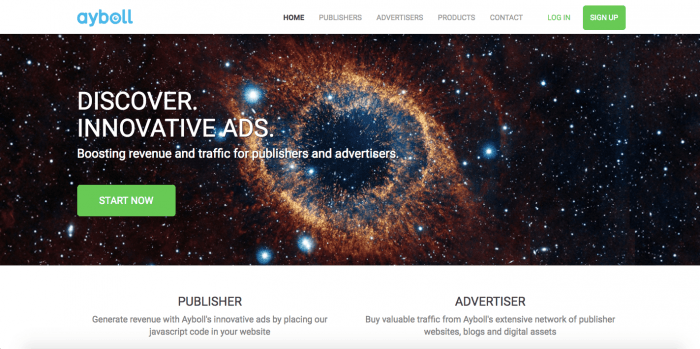 Ayboll is an advertising network that reaches 2.2 billion content recommendations per month.
This platform is ideal for small bloggers and webmasters looking for extra revenue. Plus, they have a high acceptance rate.
All the native ads are malware free and Ayboll works with premium advertisers. You can expect quality ads and not the average spammy content that you often find on other platforms.
Publishers with US traffic might obtain better earnings from the network. However, the rates and success strongly depend on geographical location, advertisers, and other market conditions.
Something you should know about Ayboll is that there may be times where not all clicks generate income.
Some campaigns are CPA-based. This means that you don't make money for clicks or impressions but for conversions.
As far as payment methods you have multiple options, bank wire transfer with a $30 dollar fee and a minimum payout of $100, PayPal with a minimum payout of $100, and Bitcoin or Ethereum with a $100 minimum payout. You get paid once a month between the 1st and 10th.
The platform ads will work simultaneously with other native advertising networks or Google AdSense.
Ayboll is strong in the entertainment and music niche, and sites focused on those verticals with decent US traffic might get solid earnings.
Small publishers may benefit from focusing on lead generation for CPA offers. This can bring you substantial earnings with a low traffic volume. However, the process is difficult and you would need to work hard to ensure that you generate high-quality targeted traffic.

Tribaladnetwork
Network Description: PPC Ad Network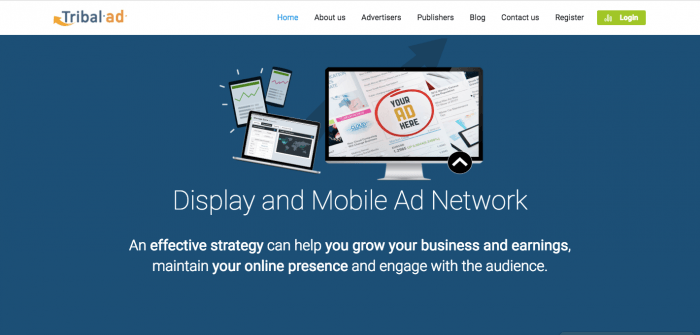 Founded in 2015, Tribaladnetwork is a young PPC ad network with 10k+ publishers.
You get paid through PayPal or direct deposit to your bank, with a minimum payment threshold of $50.
Their core proposal is that they use artificial intelligence to only display ads from top paying advertisers on your website.
There have also been complaints among publishers about the quality of this ad network.
With that in mind, this ad network isn't the best you could try. But, my goal here is to highlight all of the AdSense alternatives that you could use, along with what they have to offer.

Mgid
Network Description: Native Advertising Network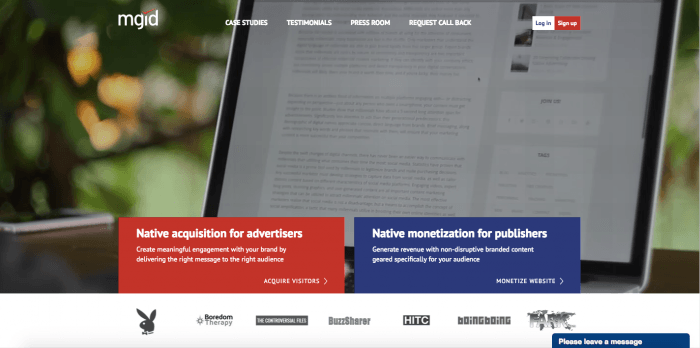 Mgid is a native advertising network that has more than 10 years of experience working with some of the best publishers and advertisers all over the world.
The ad network is estimated to generate 54 billion content recommendations and 165+ million unique visitors per month. Although Mgid is a large network content the quality remains high and each piece is inspected before getting approved.
Timely payments, real-time tracking, competitive rates, dedicated support, and compatibility with Google AdSense are some key characteristics that make Mgid an interesting option.
Mgid also has the experience and technology to help you increase your ad revenue, while their rates for the European and US markets are competitive.
The system also allows publishers to filter and control which ads are displayed on their website.
Mgid is a great network for you to try, but whether or not you choose to use it will depend on your particular case and needs.
Native advertising networks tend to work best for sites with large amounts traffic. Small site owners often find that this type of advertising simply increases their bounce rate. After all, you are essentially being paid to get visitors to leave your site and visit someone else's content.
Might it be better to stick to other forms of advertising? Is your content better than what you'll be suggesting to your users with Mgid? These are some questions you might need to answer before trying Mgid or any other native advertising network.
The good news is that if you do decide to use it, Mgid is easy to set up and integrate with your site.

Engageya
Network Description: Native Advertising for Emerging Markets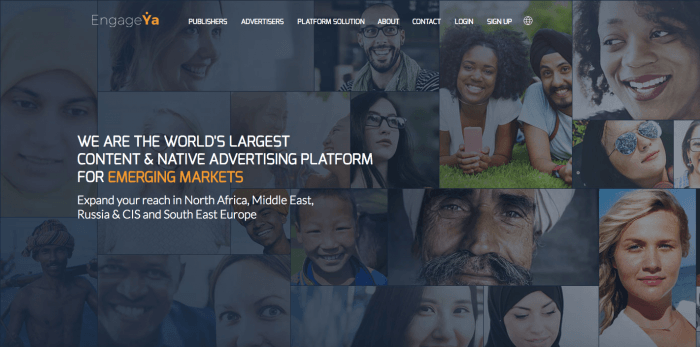 Engageya is a native advertising network that reaches 29 million visitors and makes 40 billion content recommendations each month in countries like Turkey, Egypt, Greece, Portugal, and Russia.
The main thing that makes Engageya different to other ad networks is how they help advertisers to efficiently reach users in emerging markets. The network has an especially strong focus on the entertainment, food and beverage, sports, and technology niches.
For international publishers, this is good news. While many other ad networks demand that most of your traffic comes from countries like the US, Engageya allows you to monetize with advertisers actively looking for traffic in emerging markets.
Engageya offers you everything you might want from a reliable ad network, including 100% fill rate regardless of the country, relevant content recommendations, timely payments, statistics that are updated in real time, and a practical interface.
CPM rates can be somewhere between 0.2 cents up to $2. As you know, rates can easily change depending on multiple factors like traffic quality and demand.
They also run a referral program. However, you get paid in credits that allow you to use the platform to advertise and drive more traffic to your blog. You'll get 100 credits for each publisher you refer.
This might not be better than getting commissions in money, but I think it is still an interesting option to grow your traffic for "free", especially if you're looking for more traffic from North Africa, Middle East, Russia, and East Europe
A downside to using Engageya is the minimum payout amount. You will need at least $150 in your account before you're able to request payment. This isn't a big deal for large traffic sites, but for small sites, reaching this minimum could be difficult and it might take a while.

Adskeeper
Network Description: Native Advertising Network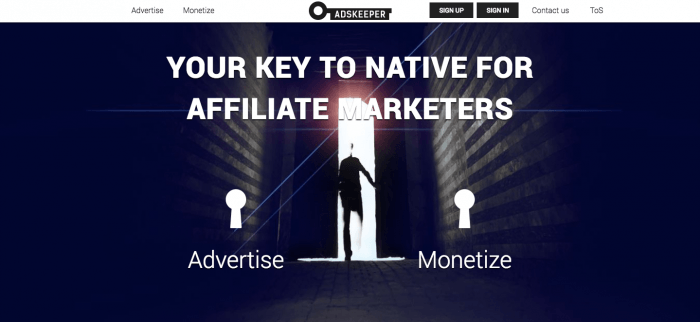 This platform claims to use artificial intelligence to track the patterns that visitors generate when using your site.
Adskeeper will then use these patterns to determine content preferences and serve the best content recommendations.
The network has a considerable amount of advertisers from the European market.
Rates from top traffic countries (including the US and UK) might be around $3. However, it's always important to test new ad networks and placements to obtain the best possible ad revenue.
They also serve quality ads that look less spammy than what you will find from many other native ad networks. However, is still a native advertising network and the ads will always look like ads. They can still be effective for generating earnings, but this aspect is worth considering.
The platform also offers many customization options that allow you to create ads that match your site's style.
To sign up, simply fill out a form and submit it. Later, you'll receive a verification email to activate your account.
Once you get your account credentials and log into the platform, you will be required to submit the website for approval.
The process is time-consuming when you compare it with other ad networks, as you need to verify that you have ownership of your website.
To do this, you need to place some code in the header of your website. This is a similar process to what you would do if you were implementing Google Analytics on your site.
Once your website gets verified and approved, you're all set up to start serving native ads and earn money with Adskeeper.
The platform offers PayPal and wire transfer as payment methods. Payments are made on Net 30 terms. In other words, you get paid the earnings from last month.
Adskeeper is a platform for sites of all types, regardless of how big or small they are. Revenue is directly related to the quality of your site, niche, ads placement strategy, and traffic location.
Rates tend to be high for traffic from the US, UK, Canadian, Australian, and European markets.
Overall, Adskeeper is a great alternative that is less restrictive than Google AdSense. However, while AdSense is most effective with niche-focused content, native ad networks work best if your content is viral or entertainment-related with viral content ads to match. Adskeeper is no exception to that rule.

Shareaholic
Network Description: Native Advertising Network with several Apps included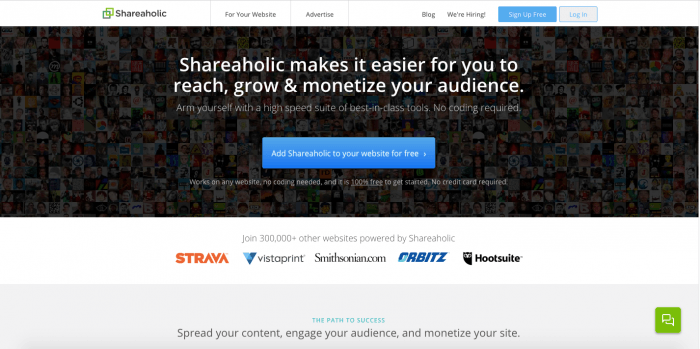 Founded in 2009, Shareaholic has grown to become a platform with 300k+ websites reaching more than 450 million people monthly on every continent.
Shareaholic is a unique platform in our list and its capabilities go beyond what you can expect from any other ad network.
The platform provides you various apps that can help with different aspects of your website's growth.
These include social share widgets for content and images, which can help you increase your social media presence and revenue generation with native advertising. This is just one example of how versatile Shareaholic is as a platform.
It is simple to add the Shareaholic widgets to sites using content management systems like WordPress, Drupal, or Joomla. The social share buttons also integrate flawlessly to your site.
However, when it comes to content recommendations, I don't think the network offers the highest quality content in the market.
Another interesting fact about Shareaholic is there are no minimum traffic requirements to join. Sites of all sizes are welcome to use the service.
To start using Shareaholic just sign up for an account. Add your site to your account, install their software on your page, and that's it.
While the sign-up and installation process is simple, you need to verify ownership of your site before you can start to earn revenue from their monetization apps. This is a separate process from your initial registration.
It is totally fine for you to use Google AdSense with Shareaholic and run ads from both. But, as always, double check the ToS before implementing any platform.
Shareaholic offers multiple payment methods like PayPal (you pay a $1 fee), direct deposit (for US accounts only and has a $1 fee), eCheck / local bank transfer / Global ACH (with a $5 fee) and wire transfer. Wire transfer has a $25 fee for international transfers and a $15 fee for local US accounts.
Shareaholic is an interesting platform, mostly due to its diverse technology and reasonable pricing. You can use it free forever and their personal/basic package starts at $8.
If you're interested in the platform and what it has to offer, you can go ahead and check their pricing plans in detail here.
There are no minimum traffic requirements and Shareaholic is compatible with Google Advertising. However, Google AdSense does have superior ad quality.

Dianomi
Network Description: Native Advertising Network with premium business and finance content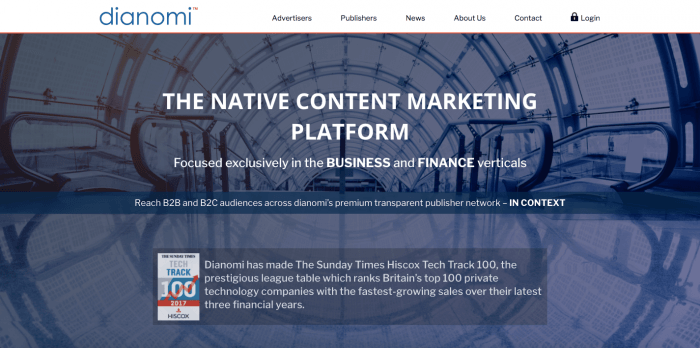 Dianomi is a native advertising network focused exclusively on the business and finance niches.
The network serves 4 billion impressions per month for more than 300 clients, including powerful companies like Oppenheimer Funds, Bank of America, and JP Morgan.
With Dianomi, advertisers reach 100+ million unique visitors per month from the US, UK, and Australia.
The company works only with top publishers and is looking into including top stock exchange sites like Nasdaq to their portfolio of more than 200 finance related publishers.
Econo Times, Kiplinger, Reuters, and Zacks are some names you can find as publishers.
Dianomi offers you PayPal and Payza as payment methods, with a minimum payment of $10.
To join Dianomi, you need at least 250k visitors per month from the US, UK, Australia, or any other top traffic country. Remember, this ad network is for business and finance related sites only.
Dianomi is a top class native ad platform with premium financial advertisers looking to reach audiences that engage with financial content.
If you are in the financial niche and meet the traffic requirements for Dianomi, this is one network that you should certainly try out.
I am aware that this network will be unsuitable for most people reading this list. But, there are some bloggers operating in the financial niche, so the network is worth highlighting.

Connatix
Network Description: Native Advertising Network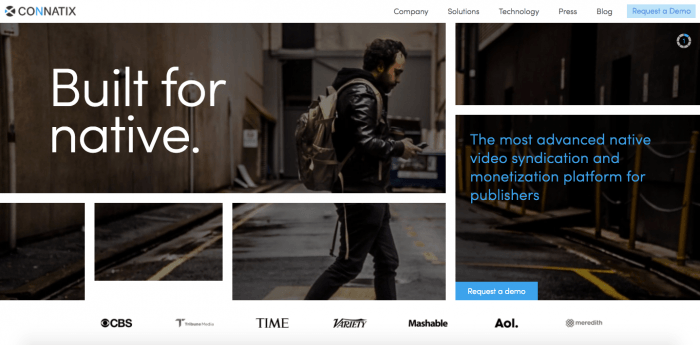 Connatix is a native advertising platform that is focused on video ads. It allows publishers to create native ad placements to offer in a marketplace with multiple premium advertisers.
By premium advertisers, I am referring to big brands like Bank of America, Ford, Lipton, Unilever, and Amex, just to bring up some examples.
The platform offers video campaigns with videos opening in overlay boxes and articles that smoothly integrate as part of your site. This is similar to ad networks like Taboola.
Connatix reaches around 279k visitors within their 3k monthly publisher's network. The traffic mostly comes from countries like the US, Romania, Canada, and India.
The interesting thing about Connatix is it offers the publisher total control over the user experience. For example, you are able to customize options like content type and ad frequency.
Connatix is a network that aims to work only with high volume traffic websites and you need around 5 million page views per month to get started.
This network doesn't accept sites with content about alcohol, tobacco, online gambling, or adult-related topics of any kind.
Payment methods include check, PayPal, and wire transfer.
Connatix seems to be premium network working with premium advertisers. So, if your traffic is up to the standard it might worth trying out. However, there are many reviews where employees claim the company isn't willing to invest in technology or to improve their process.
When you have at least 5 million page views per month, there's no rush to join the first network you find. Take your time and explore the market before joining an ad network.
On the other hand, newbies might not find Connatix useful in any way and that's ok, you'll find other 49 options for you to try in this current list.

Epom Market
Network Description: High traffic requirements to join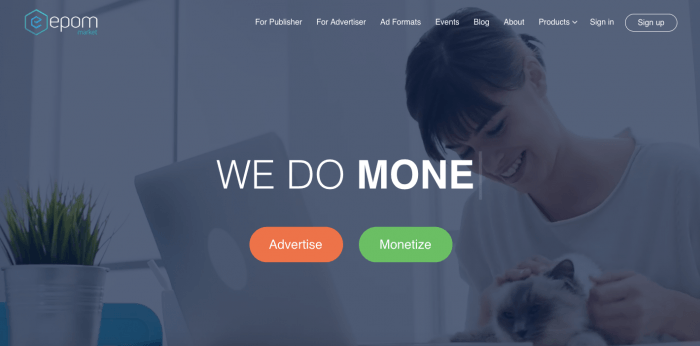 Epom Market is an ad network generating 13 billion ad impressions and reaching 320 million unique monthly visitors monthly.
This ad network offers you the chance to filter ads from categories that you can choose, with the goal of increasing ad relevance and obtaining higher CPM rates.
In terms of ad formats, Epom Market offers a wide range of options, like banners, in-text, and all kinds of mobile ad. Go ahead and take a look at all the format options in here.
To get access to this ad network, you need to fill out a registration form. Then someone from their support team will guide you through the rest of the process.
Epom Market works with premium advertisers, so you can expect high traffic requirements.
To be considered to join the network, you need around 50K+ visitors per day and the registration process can take up to two business days.
Adult content isn't allowed nor is any form of offensive or illegal content.
Once you get approved the support team will provide you with codes that you can insert on your site. You should then be ready to start serving ads and monetizing.
Epom Market offers PayPal and wire transfers as payment methods, with a minimum payout of $100. You can expect your payments 45 days after the end of the month.
Overall, this ad network asks for a high volume of traffic to let you join and it might not be the best options for newbies.
Epom Market may be especially beneficial if you have decent traffic and are looking to monetize your mobile inventory. However, there have been complaints from publishers about overdue payments.
Final Thoughts
Congrats! You now have 50 alternatives to Google AdSense, and you'll never have to worry about "What if I get banned from AdSense?" There will always be an alternative way to monetize your website if you have traffic. Don't have enough organic traffic? Learn how to get it here.
I wanted to give you even more options in the list, but I decided to leave some platforms off of the list due to their poor quality, bad customer reviews, or that they weren't straightforward with their policies for publishers and advertisers.
These are the ad networks that didn't make it to the list and I recommend you to stay away from:
Hexagram

Yavli

StoryStack

Adclickmedia
My intention was to provide you with a glance at what can you expect from each of these platforms, but that's not the only part of the equation! Remember, a big part of your success will depend on how well can you mix revenue from different networks. Sure, you can stick to just one, but you'll be limiting your income. You can also just throw ads at a site and hope for the best. Again, you're probably leaving money on the table.
How well you analyze your data will affect your monthly ad revenue. Maybe Media.net performs great under a main image, but doesn't do well in a sticky sidebar. Google doesn't allow for sticky sidebars, so you may want to pick an Amazon CPM ad for that. What about exit intent ads? They're annoying as hell, but would you annoy your visitors for $500 per month? I guess it depends on your brand.
Finally, good luck increasing your ad revenue and please let me know in the comments which option turned out to be the best for you and your blog.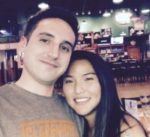 Nathaniell
What's up ladies and dudes! Great to finally meet you, and I hope you enjoyed this post. My name is Nathaniell and I'm the owner of One More Cup of Coffee. I started my first online business in 2010 promoting computer software and now I help newbies start their own businesses. Sign up for my #1 recommended training course and learn how to start your business for FREE!