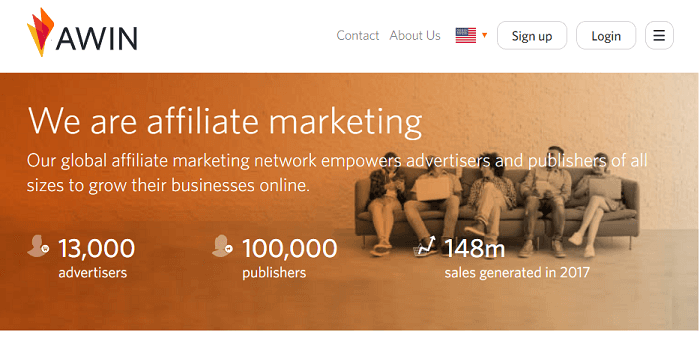 Affiliate marketing is one of the most popular new ways to start a business online and it's growing easier and easier to get involved every day. Why is it so popular and why is it such an awesome way to start your own business? Lets dig right in and find out.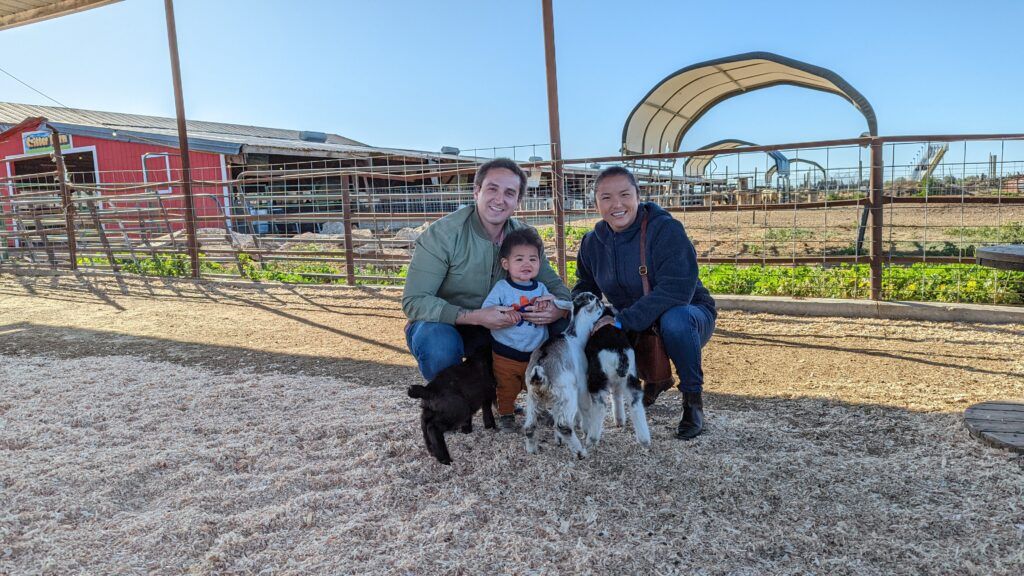 Are You Ready To Work Your Ass Off to Earn Your Lifestyle?
Are you tired of the daily grind? With a laptop and an internet connection I built a small website to generate income, and my life completely changed. Let me show you exactly how I've been doing it for more than 13 years.
Affiliate marketing has been around for many years, but in the past few years it has really exploded since more and more people are purchasing most of their things online. Last year only 51% of sales happened in physical stores while 45% was online. This is expected to tilt into online being the new majority.
Companies that sell products online love affiliate marketers. We basically give them free advertising (not paid by the hour), then only the people who produce results get paid. There are a lot of reasons to love affiliate marketing (as the marketer), but one of my top reasons is freedom. I can pick any product or company I want, and write whatever I want (within reason) on my website.
You can learn how to do what I do with my free email course!
To facilitate this relationship between companies that want advertising, and people who want to earn money online, affiliate networks play a big role. Companies like Awin Companies provide you with tools to advertise products on your website or social media account, while making it easy for individual companies to run their affiliate program and find great affiliates.
It usually costs nothing to sign up and doesn't cost you anything to publish the content.
So basically – it's the cheapest way to start an online business. You don't need any employees either – you just need a little bit of free time. Spark up your creative juices an hour or two every day, and within a year you could have your own fully functional money-making business free of cost!
We're going to be looking more at how affiliate marketing works by first going through some terminology about what affiliate programs are versus affiliate networks. Then we're going to do look in-depth at an amazing affiliate network called Awin.
If you prefer to learn by video, checkout our online tutorial of Awin instead:
Awin Affiliate Network Review
Affiliate Programs VS Affiliate Networks
If you're new to affiliate programs or affiliate networks, let's talk through them first so you have an understanding of the differences before you get started. When companies start to decide how to setup their affiliate network they first determine if they want to create their own online platform to host their affiliate program on or not.
If they decide to create their own, they will have to create everything from scratch which is a huge investment. Companies that create their own, create an affiliate "program". They do have another option which is to join an affiliate network. The affiliate networks have the platform already setup for them, they just have to get all of their deals, promotions, products, and services setup into the network. The network gets a share of the profit along with you too.
This is cool for you too, because you can stack earnings from multiple companies in one portal. You'll get paid more often, and won't have to manage too many individual affiliate programs. Plus, you can become an expert on how to navigate the network, create tracking links, improve earnings, etc.
Some of the biggest affiliate networks include Awin, Rakuten, ShareASale, CJ, Flexoffers, and more. You'll find a list of most of the best affiliate networks here.
Today we're featuring an affiliate network called Awin. This company has over 13,000 companies advertising on it, and over 100,000 publisher affiliates advertising the products for them. This is one of the largest affiliate programs online which is I want to share everything about it so you can decide if it's the right one for you.
How To Sign Up
If you want to get started with Awin and learn everything about their affiliate network, you'll first need to make sure you have everything you need to join an affiliate network. Most affiliate networks will require you to have a website that has already been established and has content for a while.
Build a website
If you're just getting started and don't yet have a website, thats the place to start first. If you know nothing about making a website, don't worry – it's really easy! We can get you setup with building your new website on our quick-start guide.
Once you have your website ready, then select your niche topic and target crowd. If you're not sure what you want to blog about and who you want to target, here's a guide on how to choose passion vs profit. There's a difference between them, but try to settle for a happy medium in the middle.
Once you have your direction, then start writing. Write articles which are informative and helpful. Readers want to learn something useful, so if there's no value then your readers might not stay. Try not to write with the intent to sell using affiliate programs to start.
Once you have a dozen or so articles published, then it's the time to apply to an affiliate program/network.
Sign Up With Awin Affiliate Network
To get started with Awin, go to www.awin.com and click the Sign Up button at the top of the screen.
You'll then be taken to the account setup screen where you'll have to go through the process of creating your account and verifying your promotional space. There are 4 different setup steps you'll have to follow including the following:

Account Setup: The first step of the setup process is inputting all of your company and personal information including the company name, your name, email, and password.
Promotional Type: Next you'll tell Awin the primary country you will promote to and what promotional types you plan on using. You should expand each section and click the check box next to all that apply for your site. You also

must select one as a primary

by clicking the radial button below one of the check boxes.
Promotional Space: The third step is where you'll enter your website information and description so that you can tell Awin where you're going to promote your content at. You'll also need to select what sectors you'll be primarily promoting in whether thats Travel, Retail, Financial, etc.
Verification: Awin is a strict company who doesn't allow everyone on their platform. In order for you to sign up with Awin, they do require a verification process which includes the following 2 steps:

Verify your promotion space by adding a meta tag to your website.
Enter a credit card to charge you $5 which will be credited directly to your Awin account afterwards.***
In order to start applying to programs you will need to complete the verification steps first or you will not have access to apply. Once you've submitted all necessary information for verification, you'll have to wait for the Awin team to approve your application. This can take up to 48 hours to complete.
***Note: Normally, affiliate networks are free to sign up for. It's a bit disappointing to see that Awin charges, but I guess the philosophy is that they only want serious entrepreneurs promoting their network's products. If you don't have $5, then you probably aren't that good at what you do (yet). There are plenty of alternatives out there if the $5 thing bothers you, but I just sucked it up, wrote it off as a business cost, and got access to the companies I was attempting to promote.
Finding and Applying to Affiliate Programs
Now that you're signed up, you'll have access to the Awin Dashboard where you'll see each of your approved accounts listed. If you just got started, you'll only have one account listed. Upon clicking on the account name you'll see the Awin affiliate dashboard with account information, advertiser details, links/tools, and reports.
To search for advertisers that you wish to use on your website, click the Advertisers dropdown and select "Join Program" as shown below.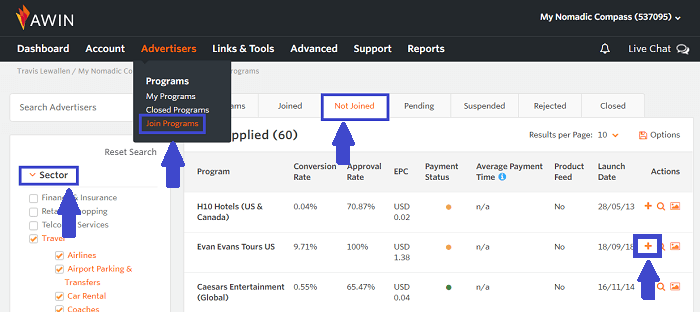 Here you'll see different search options to find affiliate programs. If you know the company name that you want to advertise with (Example: :Best Buy") you can enter it in the Search bar on the top left. If you don't, you can narrow down the search results by using the filters on the left side column. You can filter based on Sector or Region.
Once you have the results filtered down, you'll have a list of company programs showing. You'll also see a few different stats that are important to understand when selecting what affiliate program is right for you.
Conversion Rate: The conversion rate of transactions is the percentage of people who click the affiliate link and then make a purchase after clicking them. You should target ones that are higher than 2-3% at least.
Approval Rate: The percentage of people who apply that are approved. The higher it is, the more likely you'll get in.
EPC: The Earnings Per Click is the average earnings per 100 people who click on the affiliate links. This means that for every 100 people who click the affiliate links for that company, you will take in approximately that much.
If you want to know more information about the advertiser, simply click the advertiser's name and it will open the advertiser's program information. Under each advertiser you can read about their affiliate program in the "Overview" section, but the specifics about their commission is under the "Commission Groups" tab.

Here you'll see their cookie length, which is the duration of time that you'll receive commissions from that customer from the point that they click on your affiliate link. Below that you'll see the default commission rates for the affiliate.
Once you find an affiliate company that you want to work with, you'll see the + sign on the right-hand side where you can apply. Simply click that + sign and you'll get a pop-up box that asks you to agree to the program terms.
Once you submit your application, it will go to the affiliate administrator who will need to approve it. The approval process typically takes 24 hours but may take up to a week sometimes.
How To Find Your Links
Since Awin is an affiliate portal, you'll have many different affiliate programs that you will be managing so keeping everything straight is a big priority. Awin has many different tools to help you creating and managing your affiliate links which are important if you want to earn money.
In the Awin portal under the "Links & Tools" tab you'll see many different options, but I'm going to go over the 2 most important ones below.
My Creative
Selecting the "My Creative" option under the links tab will bring you to the standard banners and text links through each of your advertisers. To get started, select the Type of link you want.
Image Banners are great for adding a graphic banner to your website home page and blog entries to get potential traffic. Text Links are also important when you want to hyperlink a specific word or image to that advertiser's page.
Select the advertiser you want as well to narrow down your search results and then click "Filter" to show the results.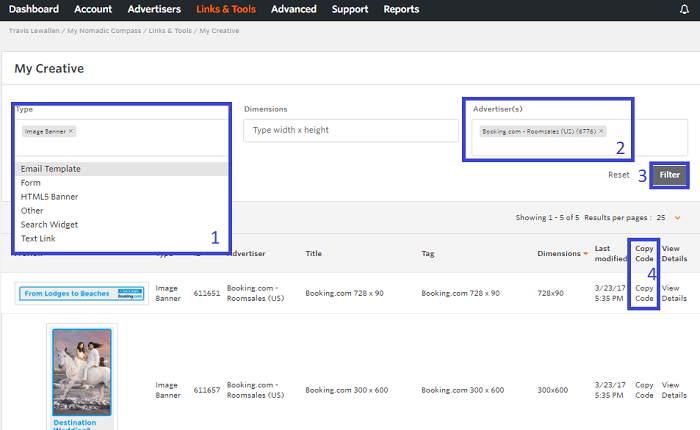 You'll see from above that I searched for Image Banners under Booking.com to show me the different banners available. If you find a banner you're interested in, simply click the "Copy Code" button and the HTML code will be copied. Place this code into the HTML section of your site and the banner will automatically appear. This works the same for any of the link types available in Awin.
Link Builder (Deep Linking)
Personally, I use individual links more than banner ads. It makes my advertising campaigns more specific and relevant.
While the My Creative has pre-made links, it's also important to have the flexibility to create your own links for each advertiser based on a specific URL that you want to share to your website visitors.
Under the "Links & Tools" tab for Awin, click on the "Link Builder" option. You'll first see on the bottom of the page a "Your Deep Link" URL. To use this, simply select the advertiser you want to use and then go to the advertiser's website and find the URL that you want to create an affiliate link for.
Once you've pasted the link into the Destination URL field, you then have an option to create a tracking phrase in the "click ref" field. This is helpful if you want to track the traffic and performance of that specific link in reports in the future.
Once you've entered the destination URL and the Click Ref (optional) the system will automatically update your Deep Link below. Simply copy it and use it on your site from there for hyperlinking text or photos.
Why do you need link building?
It's important to point out the importance of link building through the Awin portal because if you don't utilize only the links that Awin provides you, then your affiliate ID will not be associated with it. If your account isn't associated with that link then you will no longer receive credit for the potential sales achieved.
Only use links that you receive from the Awin affiliate portal so you can be sure you receive credit.
What Next?
Now that you know how to utilize the affiliate portal, you can now start incorporating it into the material on your site. Before you start using affiliate links, be sure you've written a lot of relevant content to drive traffic to your links. Creating content that is engaging, funny, and informative is key to keeping your readers interested and trusting your referrals.
Since affiliate marketing is a referral system, to succeed you'll need to ensure readers will want to visit the advertiser. Be creative and come up with playful ideas on how you can keep them coming back for more every time.
Here's some help figuring out what to write about Let me know if you have a favorite affiliate network that you work with as well in the comments below.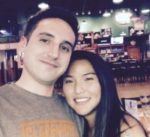 Nathaniell
What's up ladies and dudes! Great to finally meet you, and I hope you enjoyed this post. My name is Nathaniell and I'm the owner of One More Cup of Coffee. I started my first online business in 2010 promoting computer software and now I help newbies start their own businesses. Sign up for my #1 recommended training course and learn how to start your business for FREE!