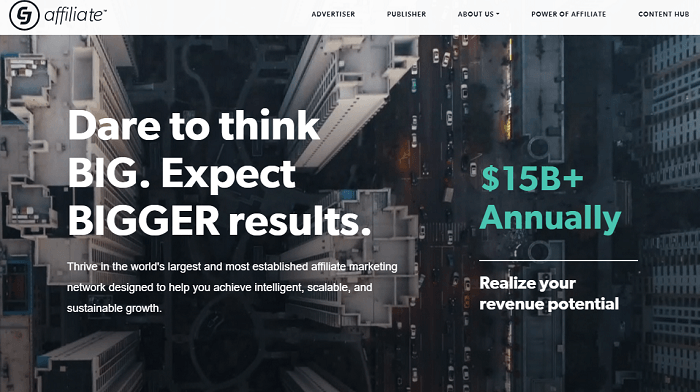 The CJ affiliate network (at CJ.com) is one of the most used, and well known affiliate networks out there. People make thousands of dollars per month online promoting nothing but CJ.com affiliate programs. If you're sick of working in a cubicle and you want to start your own online business that requires no startup cash, then affiliate marketing just might be what you need!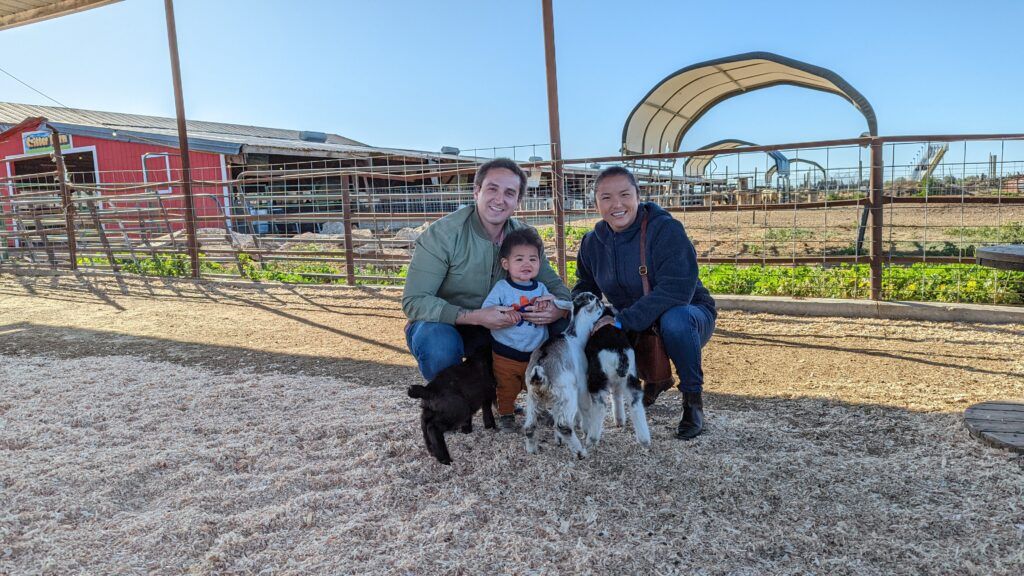 Are You Ready To Work Your Ass Off to Earn Your Lifestyle?
Are you tired of the daily grind? With a laptop and an internet connection I built a small website to generate income, and my life completely changed. Let me show you exactly how I've been doing it for more than 13 years.
Affiliate marketing is one of the most affordable ways to startup your own business and there is real power in getting hooked up with Affiliate Networks which can really take your affiliate program skills to the next level.
CJ Affiliate Network Review
Affiliate programs are companies ways of creating a "free advertising" program. They do this by creating an online platform where you can become an affiliate "partner". On these platforms you can create banners, website links, and other interactive items that can be placed on websites and social media accounts to generate traffic to that company's website.
In return for you advertising their products/services they give you a commission either per person that goes to their site or more commonly a commission percentage of the sale completed by those customers you referred.
The awesome part about affiliate programs is they cost you nothing to enroll and usually take only a minute to complete the sign up process. You also dont need any experience or employees to operate it as a business! All you need is a website and the ability to write about things that you're passionate about.
No matter what avenue that you venture down into the website/social media space, as long as you can create content that readers will want to read, you can always pair a great affiliate program with it! It also is flexible in that you can use affiliate programs on many different kinds of media including videos, photos, written articles, pretty much anywhere!
Learn how to start your affiliate website on any topic you want with my free email course!
Affiliate Programs VS Affiliate Networks
So far we've talked about affiliate programs and affiliate networking as synonymous, however, it's important to understand there are differences between an affiliate program and an affiliate network. An affiliate program refers to a single company's affiliate program and does not overlap with other companies. An affiliate network instead is a group of affiliate programs all combined together into one easy to use portal.
In general there are many more benefits to using affiliate networks which is why we're featuring the CJ Affiliate Network today in our overview. The reason affiliate networks are really great in general is the simplicity of it. You only have to sign up once for the affiliate network and it gives you access to all of their affiliate programs under it. Whereas for singular affiliate programs you'll need to create a new login and account for each affiliate program you want to sign up for.
Affiliate networks do require you to still apply for each program, but it's as simple as checking a box to send your application in and it uses your affiliate network profile to send to that company for approval.
There are many affiliate networks including some of our favorites like CJ Affiliate Network, Rakuten Linkshare, and ShareASale. Flexoffers and Awin are two of my top picks as well. You can checkout a full list of affiliate networks so you can compare all of them by going to our Best Affiliate Networks page.
Throughout this article we will review how to sign up for the CJ Affiliate Network, how to search for advertisers, and how to use their affiliate links on your website.
How To Sign Up To CJ.com
To get started with the CJ Affiliate Network, head on over to www.cj.com and scroll down until you see the section to sign up. There are two different sign up options including advertisers or publishers. Click on the sign up for "Publishers" as the "Advertisers" is for companies looking to add their program to CJ's network.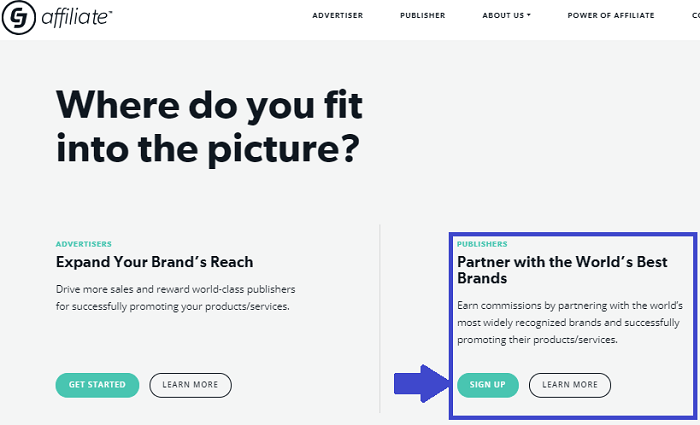 As a publisher for CJ you'll earn commission by partnering with them to advertise and earn commission. The sign up process is quite easy and starts with just your name and email address. After you submit those you'll be required to confirm your email address by clicking the link in an email you will receive.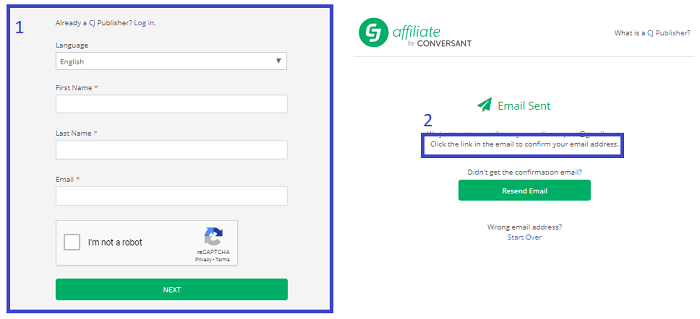 After you've clicked the link, your account creation will start. On the account creation page you'll need to enter all important pieces of information including the following:
Country
Phone Number
Password
Company Name
Address
Preferred Currency
Website Name/URL
Website Description
Website Category
Average Site Traffic
Once you've entered everything you'll have to agree to the legal agreements and your account will officially be created.
To signup for CJ Affiliate there are no requirements except a working email address and website. While your site may not have much traffic to start, CJ will still accept you. This does not mean that every affiliate program will still accept you if you dont match the right category or traffic size though.
If you dont yet have a website, you'll need to get that up and running before you apply for CJ. If you need help, we have a great guide on How To Build A Simple Website. Make sure you've chosen the type of website you want to build and choose the name carefully. Some people write for on topics they are passionate about and others choose to write on topics that are profitable. There's a tricky balancing act that many people do here so if you're not sure, you can check out guide on Passion vs Profit here.
Finding Affiliate Programs
Once you're signed up and approved as a CJ Affiliate(Publisher) you're ready to start using the affiliate network and search for affiliate programs within it. This is where the real fun begins!
To get started, in the CJ Affiliate Portal click on the tab at the top that says "Advertisers. This is where you can start searching for affiliate programs to work with.
Manual Affiliate Search
You have different ways to search, but if you know the company you want to work with simply enter the company name in the keyword search box and click search as seen in the screenshot below.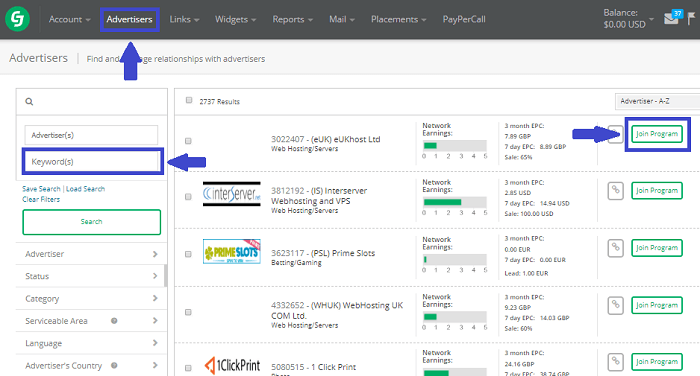 Here you'll see a summary of the companies that show up. You'll also see some great information that helps you decide if you want to sign up for this affiliate program including the following:
Network Earnings: The network earning rating shows you an average earning between 0-5 which shows you against the other affiliate programs on the network where does this one rate on the scale of $. The higher the number, the better the average earnings of affiliates.
3 Months/7 Day EPC: The EPC is the earnings per click which is a metric used by affiliates which can seem missleading. The EPC doesn't mean how much on average is earned per click but rather the earnings per 100 clicks. So if 100 customers click on your affiliate links, on average the affiliates earn the commission listed on the portal. This isn't a guarantee, but it gives you a good signal of how much you can expect from 100 clicks.
Sale: The sale will show you the affiliate program's commission. This can either be listed as a percentage or as a dollar figure depending on the affiliate program's terms.
Search By Affiliate Category
One of the easier ways to search for affiliate programs is to search by a specific category. Since by this point you will have already decided what niche your website will be targeting, you should have a few categories in mind on what you are writing about.
To search by category, click the Category dropdown under the search box. Here you'll see all of the different categories of affiliate programs within CJ. Simply select as many categories as you like and then hit the search button again.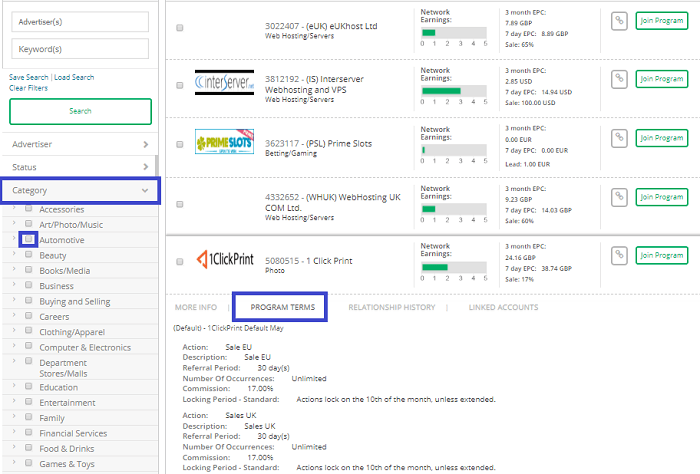 While the search screen shows you only a summary, you can always click on the company name to get more information including the "Program Terms". The Program Terms are important because although the summary line shows you the commission, there can often be differences between different locations and product types.
As you can see in the screenshot above for 1ClickPrint, the commission is broken up by country, but both locations show the same 17%. Not all companies have the same commission per location though.
Some of CJ's highest paying affiliate programs include the following:
Zappos.com
Walgreens
Vimeo
Vista Print
Verizon
TripAdvisor
TJ Max
Torrid
There's literally hundreds of affiliate programs that you can search for – just keep looking for the right one for you.
How To Apply For Affiliate Programs
Once you've found an affiliate program that you're interested in, the next step is simple – click the "Join Program" button next to it . You'll then be prompted with a pop-up box to accept the affiliate programs terms.
Thats how simple it is to apply for each program. After it's submitted, the company will review your application and determine if you are a match or not.
You will notice sometimes that you are automatically rejected upon clicking the join program button. This will be because the affiliate program has certain terms that your profile do not match including the traffic size, income amount, or category. If this is the case and but you feel you are still a good fit, you can find the contact information for the affiliate by clicking on the "More Info" tab under the affiliate program and you'll find either an email, website, or phone number to call. See below screenshot.

Typically after you submit an application it only takes between 1-2 days for your application to be approved or not and you'll get a confirmation email either way. Some companies get so many applications and they may not get to yours for quite a long time. If that happens, you can also contact the affiliate company using the same above steps.
How To Find Your Links
After you've been approved you're ready to start earning!
To start using the affiliate program, you'll need to first explore all of the different affiliate links that the program has available. Every program is different, so you'll want to look at whats available and if there isn't something there are also options to create affiliate content yourself.
Here is an example of the TripAdvisor affiliate program on CJ and an understanding of what each of their affiliate link types are:
Advanced Link Types: Most companies do not supply Advanced link types as they are more complex to create on the advertiser's side. Advanced links are interactive boxes typically in the form of search boxes. Here's an example from Trip Advisor below that allows you to find hotels.

Banner Images: Banners may look similar to the advanced box above, however, a banner is just an image that you cant type or search in. Banners allow for you to add a graphic advertisement to your page of a company's products, services, and sales.
Text Links: The text links are simply website URLs that take you to different areas of the company's website. This could be for a specific type of product, to a discount page, etc. You will typically use this to hyperlink text or to post on your social media site.
How to get the links to use on your website?
Each link that you search for will have a button that looks like this "</>" that says Get Code". You'll use each differently which i'll explain below:
Banners/Advanced Link Types: For these two link types, simply click the "</>" button, then click "Get Code" which will show you the "HTML" code. You'll want to copy everything in the box that says HTML onto your site to make the banner/interactive box to show up.
Text Links: For text links, you typically will want just the website URL which you can find by clicking the "</>" button next to each, then the "Get Code" tab. From here you'll scroll down and select the "Click URL" tab to get a shortened URL that will take your customer to the exact place. See screenshot below:

Your first time using CJ may seem quite confusing, so I do suggest to watch our YouTube tutorial for a more detailed walk-through of it here.
Creating Deep Links
Deep linking is available on most affiliate networks and the functionality allows you to take any URL from your advertiser's website and input it into the affiliate network's deep link tool and it will return to you an affiliate link that you can use on your website.
In CJ, they have a "bookmark" button which works in IE9, Chrome, Firefox, and Safari.
To use it, click on the "Links" tab on the top of the CJ portal and then click Link Tools.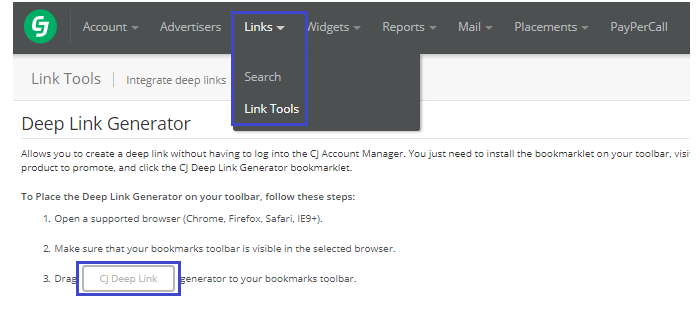 Simply drag the "CJ Deep Link" button onto your bookmarks bar and it's automatically active on your computer then.
To use it, go to your advertiser's website and navigate to the where you want to create a deep link and simply click the "CJ Deep Link" button on your bookmarks.
A pop-up will then appear that will have a CJ affiliate link for that specific website so you can use it on your site to hyperlink text and images.
Creating Tracking Links
One problem you'll face as your website and traffic grows is optimization. Where are your sales coming from? How can you turn your 10-sale day into a 12-sale day? How can you increase conversion rates for your top pages?
Part of this optimization and growth process is tracking your affiliate links. You need to know which links are producing the most income so you can double down. You need to know which links are not producing income so you can put them in a more useful position on the page, or change your CTA (call to action).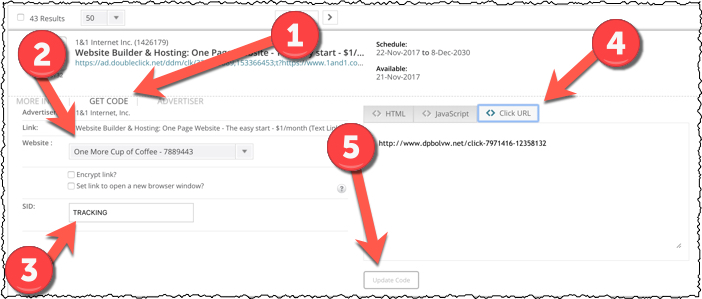 Click "Get Code"
Select the appropriate website where you'll be posting the link
Create a tracking name. (Make it descriptive so you can remember what it means six months later!)
Select "Click URL" to get the raw URL for your website
Click "Update Code"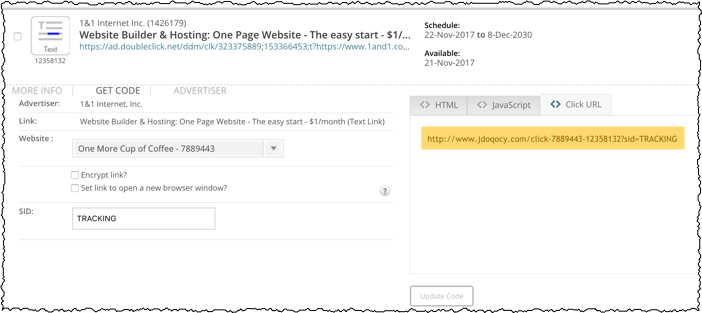 You can see in the image above that your affiliate URL has now been updated with the proper tracking code. In my experience, always create tracking codes, even if you think you won't need them. Once sales start coming in, you don't want to sort through hundreds of pages on your site to identify where the link is!
What Next?
Once you have your affiliate links, you're ready to start using them.
In order to use your affiliate links you should first start to write great content and increase your social media exposure. Your website shouldn't be loaded up with affiliate links and banners but rather used as an accessory to your content. Add 2-3 banners per page typically one at the header, one on the sidebar, and one somewhere throughout your content.
Also be sure to only add hyperlinks to text where it truly makes sense where there's a piece of information the reader will want to learn more.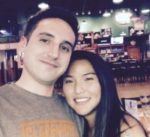 Nathaniell
What's up ladies and dudes! Great to finally meet you, and I hope you enjoyed this post. My name is Nathaniell and I'm the owner of One More Cup of Coffee. I started my first online business in 2010 promoting computer software and now I help newbies start their own businesses. Sign up for my #1 recommended training course and learn how to start your business for FREE!