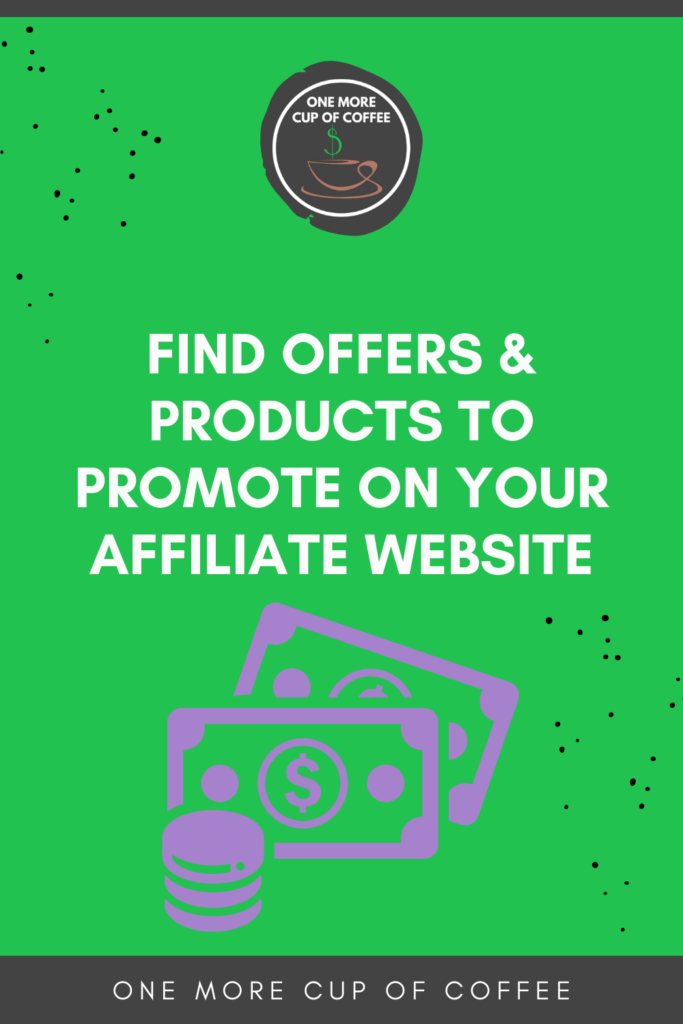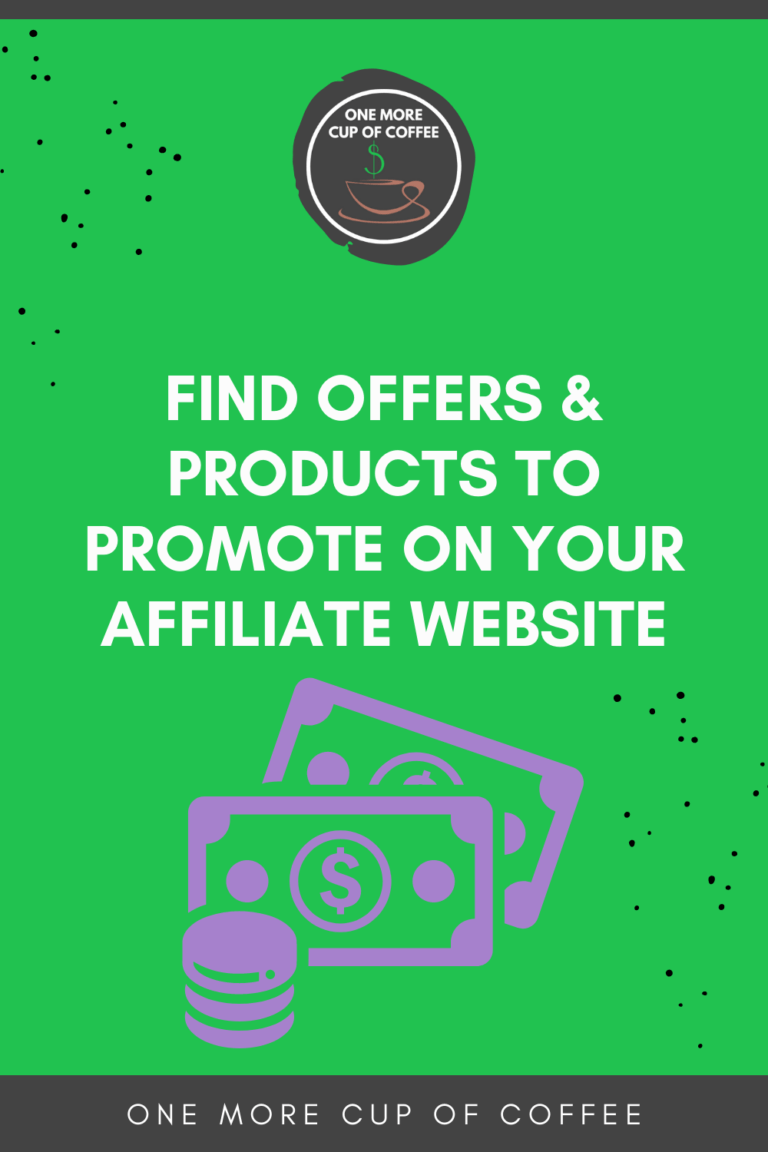 Now we're cookin'. We have a niche, and a website. We understand the basics of keywords and traffic. Even with just this very basic setup, most affiliate companies are ready to work with us, which means we can start signing up for affiliate programs.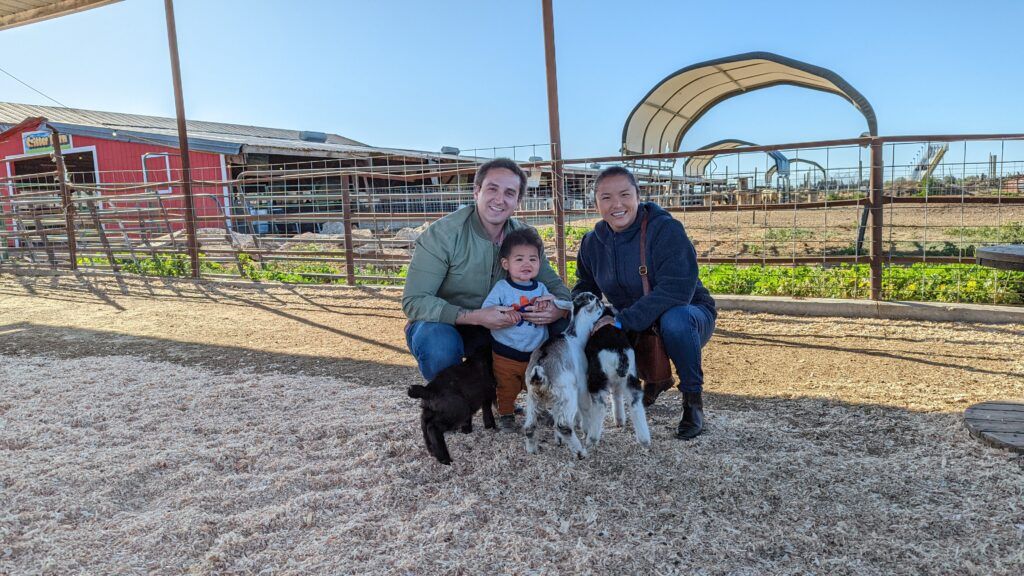 Are You Ready To Work Your Ass Off to Earn Your Lifestyle?
Are you tired of the daily grind? With a laptop and an internet connection I built a small website to generate income, and my life completely changed. Let me show you exactly how I've been doing it for more than 13 years.
So how the hell do we make money?
This is an important question because you can have all of the previous elements and still not be making money!
Let's take a look at how to choose some products, offers, and services to promote on our affiliate site. Plus, at the bottom of this article, you'll see the #1 mistake that will kill your earnings, and the one thing that will save your butt (and your business).
Choosing The Right Affiliate Products & Offers To Promote
How To Find Products To Promote
Which Products & Offers To Promote
How To Write A Product Review
How To Add Affiliate Links To Your Website
How To Find Products To Promote
Maybe this goes without saying, but a lot of people get confused at this part, so I might as well say it. YOU are in full control of your business. 100%. There are no rules about what you have to promote, or how you need to promote it. You get to decide.
This unlimited freedom can be intimidating for a new entrepreneur! What if I do it wrong?!
Bad new. You might do it wrong. Good news. You can fix it.
Promote the products YOU think are good for your audience. Write content in a way that resonates with YOUR readers. These are just ideas of how to find good affiliate products for your website, but ultimately, you get to make the final choice of what to promote and how to promote it.
Google Trends
This is big picture stuff because Google Trends needs a lot of data to actually tell you anything. If you are thinking of promoting some kind of unique item or niche services, it will likely not be listed here. But if the products related to your niche are in the iPhone or Tesla scale of popularity, this service can give you insight into what's getting more or less popular.
For example, you'll be able to see trends for drones, but not for specific drone models.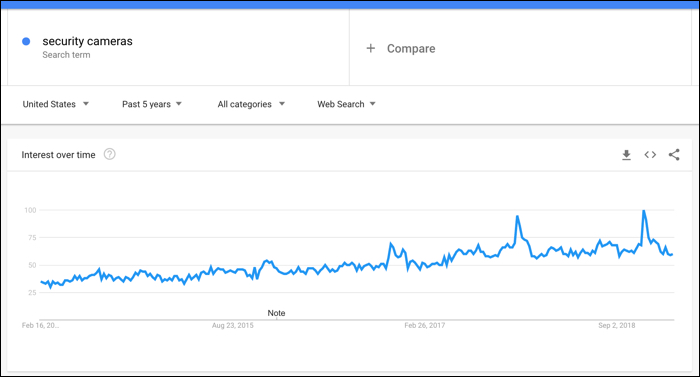 Amazon Top Sellers
Getting more into the actual products, rather than product trends, Amazon is the biggest online marketplace in the world, and they tell you what's selling best. Sort by category for more relevant products to your niche.
Plus, you can use popular products to discover new keywords, and a cascade of ideas of what to write about.
The cool thing about new product launches is that every new product is a new keyword set. That means new products are often in low competition areas, and as you get more familiar with your niche, you'll be able to front-run the crowds.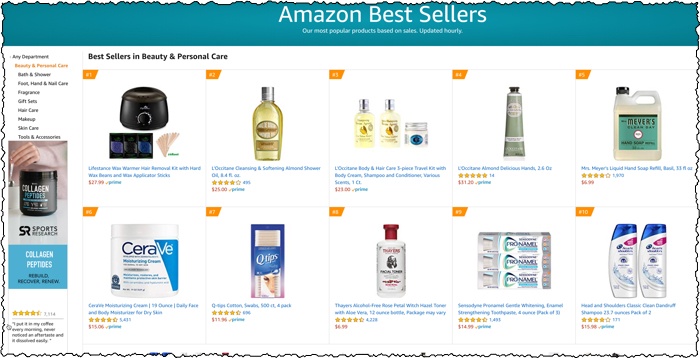 Sign up for Google Alerts
Google Alerts can be used to get notifications to your inbox about specific phrases or topics. You can set alerts to be sent once a day/week/month with a list of all instances of that phrase being published online.
It'll make your research faster and more cutting edge. Many times, if you are first to publish on a topic, you can tap into a traffic source that your competitors haven't figured out yet.
You can get notified of product updates, product launches, or interesting news related to your niche worth blogging about.
Browse Related Forums and Social Media
People talk online. Listen. Stalk. Browse. Your customers are telling you exactly what they want and how they want it. Of course, the information isn't always easily digested, so you need to read between the lines some of the time.
Join related forums and social media groups. Get involved in Twitter and Pinterest. Join some Facebook groups and follow some hashtags on Instagram. Take a few hours a week or month to get a pulse on the communities interested in your niche and take notes. There are new things happening all the time. Coffee has been around for centuries, but it's always being reinvented.
No niche is ever stale or exhausted!

What Are Your Competitors Promoting?
If you are new to the niche, take a look at how your competitors are making money. You can leverage this in two ways. One, you can see what they are promoting and promote the same stuff. If they have been around for a few years and are promoting this one product, it's probably popular and making them money.
Otherwise, you can do the opposite of what they do. If you see flaws in the product they promote, pick a different one and position yourself (and your recommended product) accordingly. If the top websites are making money with an email list, you can do affiliate links instead, or display ads.

Browse Affiliate Networks
Affiliate Networks are home to hundreds or even thousands of affiliate programs. That means you can manage several affiliate programs from one dashboard, which makes getting minimum payouts a lot faster since you can combine income from multiple companies into one withdrawal.
Here's a list of good affiliate networks to work with, but my favorite ones are:
Click a link to go to a full breakdown, including an over-the-shoulder tutorial of how to sign up and get links for each network. Below is a screenshot of the merchant search area for Shareasale and CJ.com.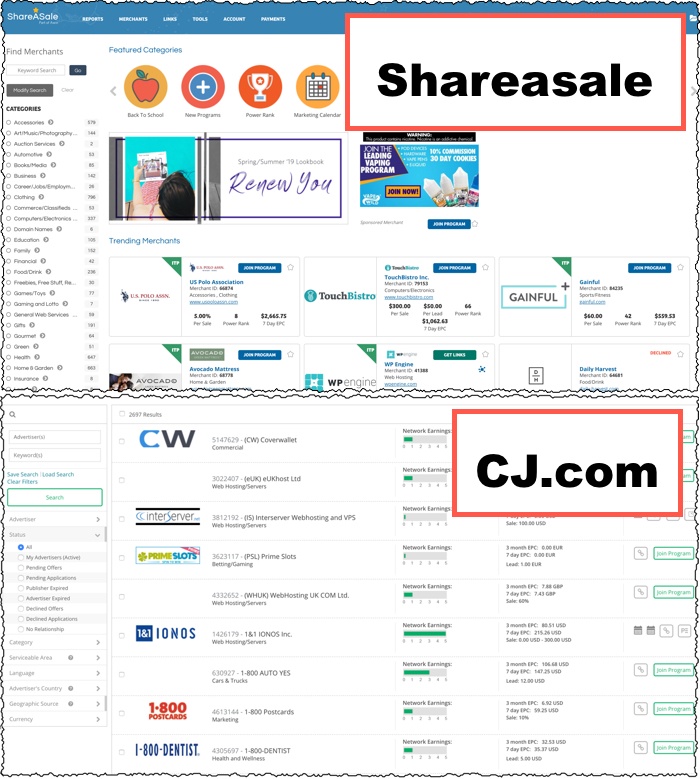 Within each network you'll be able to browse by category, search for company names, or insert keywords to see which companies you could potentially work with. Most of the time it's pretty easy to get accepted as long as you have a website with traffic and content.
Some companies are strict about who they work with though, so rejection is not uncommon. If you believe you should have been accepted, email the affiliate manager directly. Sometimes they just auto-reject, and by letting the company know you're human and genuinely interested in promoting their product, you can get accepted.
You'll find tons of products and companies you've never heard of by browsing affiliate networks.
Which Products & Offers To Promote
Products That Solve a Problem
Think about which products in your niche solve the problems your customer faces. This is common advice, but what most people miss is that a "problem" could mean many things.
You may thing that buying a pink pair of snow boots isn't really a crisis situation, but if you're a girl who cares about fashion and needs a cute pair of boots for the winter, finding the perfect pair of boots actually is a problem.
However, a pair of snow boots that keep your toes warm in -30 degree snow and wind is a life-saving product. It's a must have item for a winter camper. You probably have a bit more leverage there if you promote that kind of stuff.
Buying a really cool computer game is a want. "Solving boredom" isn't really a problem per se, but being able to beat the game before your friends and get the high score could be considered a kind of problem.
Still, buying antivirus software after your computer is overtaken with malware is a need, so probably a bigger problem worth solving, and you'll get more sales with that type of thinking.
It doesn't have to be a life and death situation either. For example, I run a business and I need bookkeeping software. I absolutely need to have it, no matter the cost. Intuit (Quickbooks) has an affiliate program, and I'd bet there are thousands of people promoting it and making money on their entrepreneur blogs.

Choose A Variety of Products
Make sure you get a variety of things on your blog, not just what you like. You might be surprised what people want to buy! There are a million other people out there and they all think differently than you.
In one instance, I promoted Product A for several years, and it made some money, but nothing crazy. After looking into my earnings, I noticed that my #2 recommendation was earning almost as much as my #1 recommendation. I switched places in my "Top 10" chart, and earnings skyrocketed.
With more clicks to Product B, which was already converting better, means my overall income was higher. Though I preferred product A, it was clear that visitors to my website preferred Product B.

Recurring Commission Products
This is my favorite thing to recommend because it's saved my butt a number of times. Back in 2011 I had some website rankings crash and burn due to a Google update. My websites lost about 70% of their traffic.
I was earning about $15,000/mo at the time. Luckily, the product I was a promoting was a subscription service, so the recurring commissions kept me afloat with about eight grand in earnings over the next couple years while I fixed the Google issues and brought my sites back to life.
Though I lost 70% of my traffic, I only lost about 30% of my income (from losing those new commission sales).
Another cool story is that one company I was promoting only paid 15% on a $12/month product. I was earning about a dollar per sale, but it was recurring. After a year or two I was getting paid over $1,000 per month just in recurring commissions. Even just stacking single dollars day after day can really add up over time.
==> List of Recurring Commission Affiliate Programs
==> List of Two-Tier Affiliate Programs

Higher-Priced Items (#1 Mistake Newbies Make)
The #1 mistake I see newbies make however, is not finding expensive enough items to promote. I see lots of blogs that are promoting $10 items that pay a 4% commission or less. This means you are making pennies per sale. You have to sell hundreds of items every single day just to make a decent income from your site if this is the case.
But turn the tables around and sell some high ticket items with at least half-decent commissions and suddenly you're making dollars per sale. If you can find a way to make $25 per sale (maybe a 50% commission on a $50 sale or 25% commission on a $100 sale), you only need to make 4 sales per day to clear your first $100 day.
If you were making $1 per say you would need to make 100 sales per day. Converting at 4% (very high in some niches), that means you need 400 visits per day! That's a lot for a beginner! Still converting at 4%, with the previous example you only need 100 visits per day, which is totally achievable in a couple of months of work.
Everyone likes to budget, and everyone wants to provide good deals for their visitors. Hey, we have the customer in mind, right? That's good, but many people want the best, they don't what's cheapest. And it's your job to identify the best, the cheapest, and the most suitable for the customer. That's what you get paid for!
List some high ticket items on your site and highlight some of their awesome features. They make these products because SOMEBODY wants them. It might not be you, but somebody does, and somebody will buy it, with or without you.
==> List of High Ticket Affiliate Programs
==> List of High Paying Affiliate Programs

Related Products
What will get you more sales in the future? If you sell a coffee cup, end of story. The person has a cup, you have a commission. Bye bye!
Promote a DIY solar water heater instructional guide instead, and you can recommend all the parts to go along with it. You could also promote solar ice chests, solar coffee brewer, and other solar camping equipment.
A sale doesn't have to end with a sale. It can be just the beginning of a mutually beneficial relationship.
You don't need a spreadsheet of the thousands of products you plan to review and promote on your site at this point. It's good enough to just get a general concept, take some mental notes, and think of a general direction you'd like to go.

Promote EVERYTHING
Grab a giant list of everything related to your niche and work your way through the list one by one. It's boring. It's mechanical. But it works. Sometimes I like to work in "phases", and I'll do a couple months of informational content, then bang out a bunch of product reviews day after day for a few weeks.
That way, in a couple months, I can rack up something like 20 product reviews and get them out of the way.
Often enough, someone will ask me to review their website to figure out why they aren't making money yet. I see tons of great content, but just one or two affiliate reviews. My advice is to start cranking out product reviews.
Sometimes you simply can't know what will be a hit or what you will rank well for. The wider your web, the more flies you're going to catch.
How To Write A Product Review
General Product Review Template
There's no specific way to write an article for a product review. In fact, you can put affiliate links any place on your website and make money! There are as many styles writing as there are methods of earning money through affiliate links. As you grow your website, you'll figure out what you're comfortable with and what works for your audience.
That being said, a very basic formula looks like this:
Introduction + Affiliate Link
Supporting Content
Conclusion + Affilaite Link
The first affiliate link will get more clicks but lower conversions to sales. The last affiliate link will get fewer clicks but higher conversion to sales. That makes sense, right? The impatient people click the first link, but are impulsive and frequently close the page. A smaller number of deep readers read to the end of the article, but by the end they are convinced to buy.

Write Reviews Of Stuff You Don't Own
If you have a budget, buying products is a huge advantage. You get insider knowledge about how the thing works, and original photos you can use to make your review stand out. The vast majority of people do not buy products for their affiliate reviews, so it's pretty obvious if you have unique photos on your site.
That being said, many people just getting started don't have a budget. That's OK. It's still possible to write helpful product reviews that convert to sales. How?
Even if a doctor has never tried a specific medicine, he can still read the label and the studies to understand the benefits and side effects. A patient who is trying the medicine has first hand experience, but his opinion may not be well-informed.
This is an example of how an expert can look at the facts and give good advice. As an expert in your niche, that means you should be able to talk about products objectively, even if you don't own them outright.
This assumes that you are an expert, or at least put in the work and do the research. If that doesn't work, there are a couple other ways to review products you don't own you can try as well.

How To Get Conversions & Sales
Once you start getting traffic to your reviews, it's not like the money is going to start cascading in. There's still a lot of work to be done! You need to turn that one sale per month into one sale per week, then one sale per day, then multiple sales per day.
Getting your product review to convert better is a challenge! Personally, I'm a lot better at cranking out reviews and seeing what sticks. However, you are leaving money on the table if you are not tweaking your reviews to optimize conversions.
If you are getting 200 visits per day to a page but only one sale, there's a disconnect somewhere. Why are only 0.5% of people signing up?
It could be a problem with the content, or that the offer doesn't match the content. It might be that your page is getting discovered through one set of keywords you didn't expect (check Search Console).
For example, imagine you created an article titled "How To Brew Green Coffee" and your intent was to teach people how to make coffee with unroasted coffee beans. However, on the page you also mentioned the word "roasting" a couple times. Google might interpret your page as talking about how to roast green coffee beans.
If people are landing on that page looking for information about home-roasting green coffee beans, they are not going to convert as well since the page was not relevant to their search.
It could also just be a problem like not enough affiliate links.
How To Add Affiliate Links To Your Website
Affiliate Links
Creating a link in WordPress is Easy. Here's a video on how to do it, but basically you just highlight the text you want to make a link with, then click the "link" button in your WordPress editor. Watch the video to see how this applies to images.

Finding your affiliate link is another story! IT can be kind of confusing for newbies. Many affiliate programs and affiliate networks just shove a bunch of code in front of your face and expect you to know what to do with it.
Unfortunately, there are so many variations that I won't be able to cover them all. I can give you a couple rules of thumb and a demonstration though!
Firstly, your LINK will begin with https. Secondly, the link will end with a number/letter combination or a forward slash (/). Test the link out before to make sure you didn't copy any extra code and link to a 404 (missing page). This type of link works exactly like I show in the video, and like any normal type of WordPress link.
If you see something like <iframe> or <div> or any < > combination, you have some HTML code on your hands (see below). Watch this video to see how to extract your affiliate link from the HTML code if need be.
HTML Code
Most affiliate programs you join will provide you with some pre-made phrases you can use with HTML code that contains your affilaite link. I don't use it that much because I like to have control over what my link text says.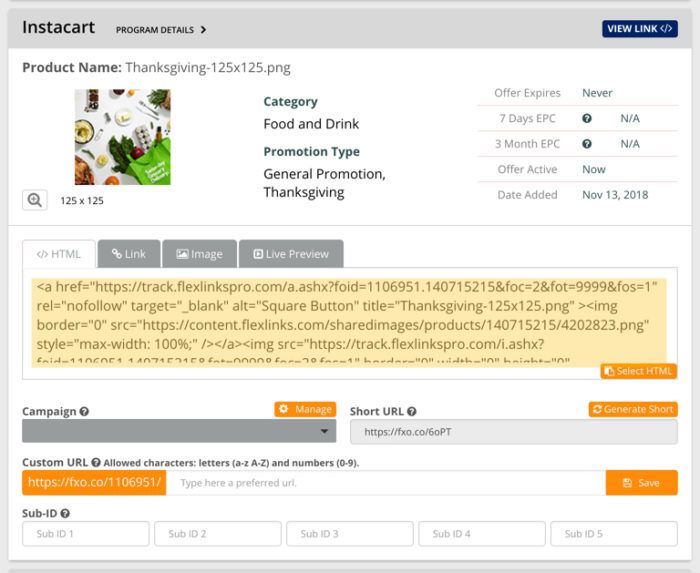 As you can see in the tab of the image, I can select "Link" for just the link version.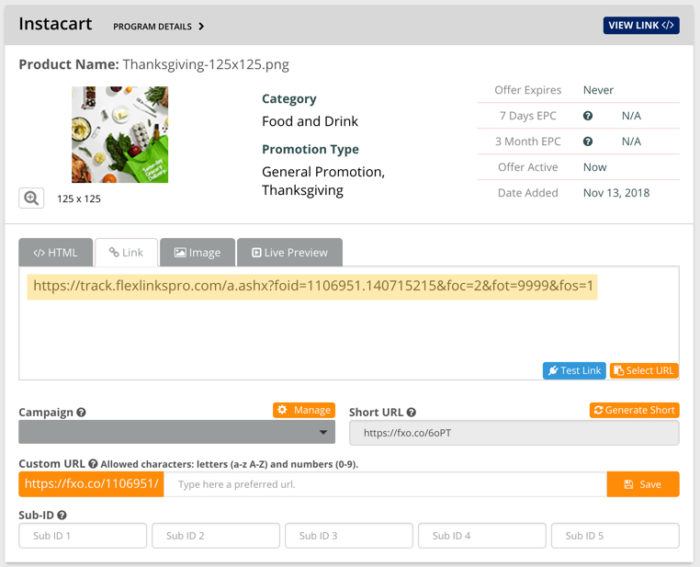 So what do you do with HTML affiliate code?
If you are using the Classic editor, you need to switch to "Text" mode. If you are using Gutenberg, you need to add a Custom HTML block. In the Classic editor, you can just flip back to visual when you are done, and you'll see the new image/video/hyperlink. In Gutenberg, you'll just see the HTML code. You can click "Preview" to see a preview open up and see if the code worked!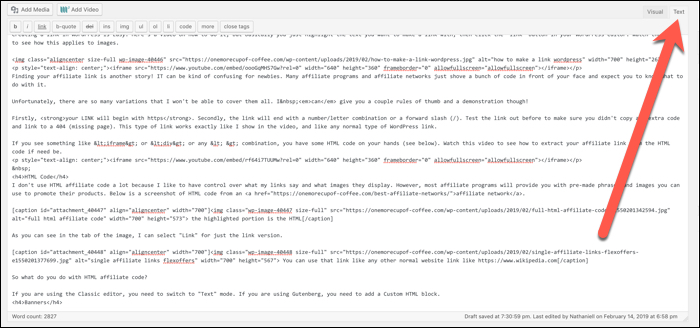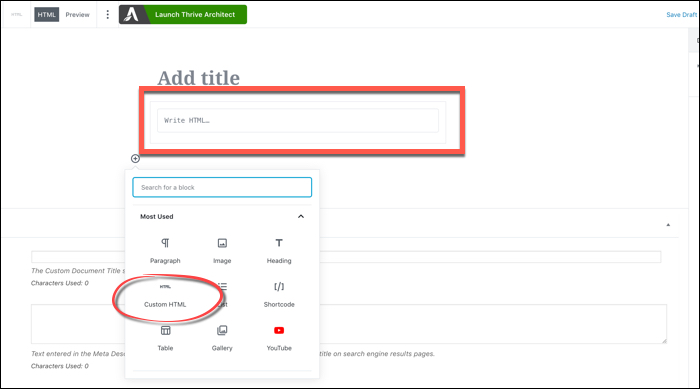 Banners
The word "banner" just describes a flashy advertising image with your affiliate code. Most of the time people place these in the sidebars or other widget spots on their site. It's a common way to advertise on blogs.
The problem with banners is that they are not very targeted. The offer never changes, no matter what someone is searching for. Someone who lands on your winter camping website may be looking for waterproof boot reviews, or a tutorial on how to make fire in the snow. Either way, they are going to see the same ad in the sidebar.
Even so, these can get clicks and conversions!
Getting a banner to display in a widget is easy. Grab a Text or Custom HTML widget, put it where you want it, then place the full HTML code into the text widget and save.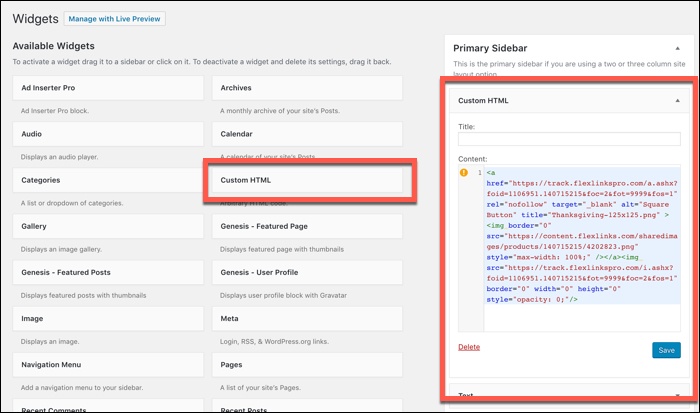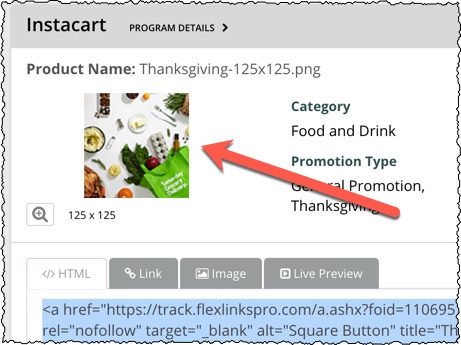 ---
The next lessons is a recap of what we've done so far. After that, you can move onto Level 2 Intermediate affiliate lessons.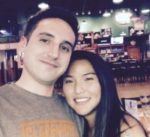 Nathaniell
What's up ladies and dudes! Great to finally meet you, and I hope you enjoyed this post. My name is Nathaniell and I'm the owner of One More Cup of Coffee. I started my first online business in 2010 promoting computer software and now I help newbies start their own businesses. Sign up for my #1 recommended training course and learn how to start your business for FREE!