When I first started out with selecting a hotel affiliate program, I jumped right for companies like Agoda and Booking.com. While those are great options that you can earn cash from, Hotels Combined offers a really unique service that your website visitors will LOVE.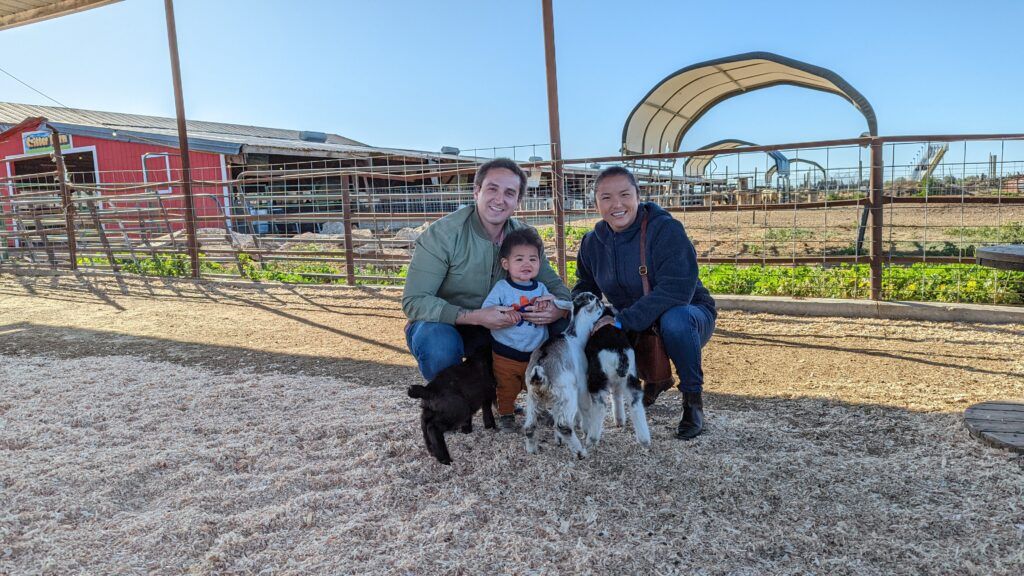 Are You Ready To Work Your Ass Off to Earn Your Lifestyle?
Are you tired of the daily grind? With a laptop and an internet connection I built a small website to generate income, and my life completely changed. Let me show you exactly how I've been doing it for more than 13 years.
Hotels Combined Searches All Hotel Sites For you!
When you search for accommodations on Hotels Combined, the site searches all of the top hotel booking sites and provides you with all of the resulting prices. This includes many of the top hotel sites like Agoda, Booking.com, Expedia, Hotels.com, etc. This site made it very simple to find the best rate on hotel rooms across the globe.
Before you read on, check out Hotels Combined so you can see what the site is like and add it to your bookmarks today. You'll see right away that there's a search box, but further below that you'll some of their partner companies.
What Type of Products Are Featured
Although Hotels Combined appears as an online hotel booking service, it actually is only a search platform for hotels. The way Hotels Combined works is it takes your search request and automatically combines the results from all of the top online hotel booking sites and provides you with the results.

The results provided can be sorted and filtered to include things like free cancelation, free breakfast, pay later options, etc. As you sort through the results, and decide to select a booking you will click the "view offer" button and this will automatically redirect you to the company where you will book (whether that's Agoda, Epicedia, etc.).
From that point onward, you will book through that company's website and will no longer be connected with Hotels Combined.
What Is The Commission Rate
This is when the good news for you as the affiliate comes 😊 Unlike all other hotel affiliate programs, Hotels Combined provides a commission per click. This means that each customer who clicks your affiliate link will be counted and you will receive commission based on that click.
Hotels Combined pays per add click through!
What's the rate? "Most Affiliates earn between USD $0.50 and $2.00 per Lead, depending on the value of the hotel room, the demographics of the visitor and the historical performance of each Affiliate's account."
It's very important to understand the last part of the Hotels Combined policy because although Hotels combined does pay per person who clicks on an ad, if your account does not generate actual bookings, they will reduce your commission rate and eventually they will terminate your account if the bookings are too low. This is to ensure fake traffic isn't being generated that will not lead to actual bookings for the company.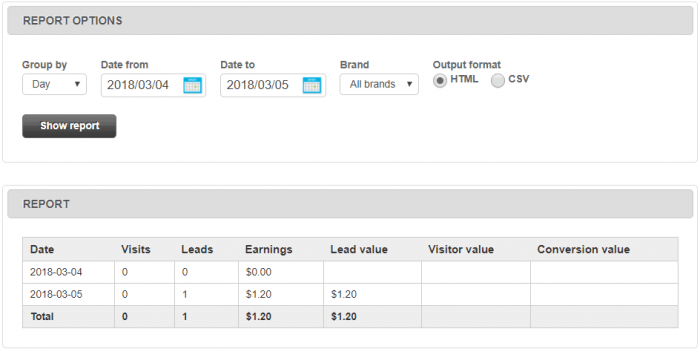 When you start getting traffic through your site, you will be able to see and track this using the reporting functionality built into Hotels Combined. They allow customized search criteria to show your daily visits, leads, lead value, visitor value, and earnings all in one chart.
Alternative Affiliate Programs
While there are many other hotel affiliate programs, none offer a commission on a per click-through rate. Nevertheless, there are many other affiliate hotel programs including some of the most well-known ones below:
If you are using Hotels Combined, you may want to consider not using alternative hotel booking sites. The point of Hotels combined is aggregate all hotel booking services, so that kind of defeats the purpose when you are also featuring other options. It may cannibalize your commissions.
That being said, different websites will have their own design and user experience, so you may find that hotels.com is easier to use for one type of traveler, while Expedia may be better for another, and Hotels combined fits another customer avatar in your mind. There are no restrictions in this regard, it's just something to think about with your affiliate strategy.
Website Ideas
If you're a travel writer or if you're working in any tourism related field, signing up on the Hotels Combined affiliate program is great for you!
Everyone loves traveling and while many know about the most common hotel booking sites, most people have no idea services like Hotels Combined exists to help them find the cheapest deal. You can use this affiliate program when talking to families looking to get a budget trip planned, or those looking to plan work outings to get the best deals for large groups. Remember to keep your "niche" audience in mind. A business traveler will have different expectations from a CEO, and equally different expectations from a religious family.
Though it can be an attractive idea to simply start a "travel website", I think most people are better off picking a niche audience within the travel industry to focus on one group. For hotels, what about a website that reviews just hotels with awesome swimming pools? Or hotels on the beach? Or hotels that contain amazing restaurants inside? All these "types" of hotels could be used to create a niche website and you could leverage the Hotels Combined affiliate program to monetize your website.
Here are some sites which are utilizing Hotels Combined currently.
Can You Make Money with the Hotels Combined Affiliate Program?
With each affiliate program, there is so much potential to make money and Hotels Combined isn't any different. The key for Hotels Combined is generating traffic since you make money per lead and not per booking. Just keep in mind that the only way to make money long-term on this affiliate program is by ensuring you have high quality traffic. Participating in traffic exchanges or click schemes will definitely get you banned.
The best way to make sure you generate healthy customer leads by promoting Hotels Combined to the right audience. If you're promoting DIY home improvements, then Hotels Combined is not the right place for the ad to go. I think you get the gist here.
Hotels Combined offers funny interactive ads
Hotels Combined has many different ad types, and I actually find their ads quite entertaining and fun unlike the plain ads that most companies have. I'll go through the different types of ads below:
Search Boxes: The search box functionality is great because it allows you to customize it to either be generic, location specific, or an exact hotel which is great if you're promoting a specific area/place.

This will allow your customer to enter their details (dates, location, etc) and it will find them all of the options based on the search criteria.
Text Links: Text links are easy to use and can also be to a specific hotel, location, or the home-page. Text links can be used as the full link on your websites, but preferably you should use these as hyperlinks to text so that it gives your site a cleaner look. Affiliate links can often be quite long as they contain your affiliate partner information for tracking information.
Text links are great for promoting something specific in a specific context, and will have a higher conversion rate than banner ads.
Banners: This is where the fun starts! Hotels Combined has really fun banner ads that look both entertaining and get the point across. Phrases used like "Overwhelmed? We got this" and "Brain fried from hotel deals? Try us!".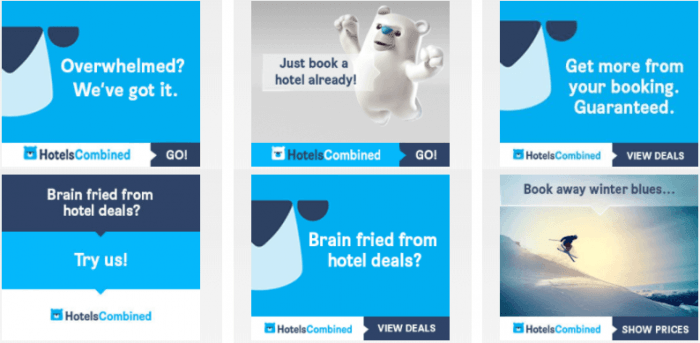 I personally really enjoy the banners from Hotels Combined. The site also allows you to customize the banner to many different shapes and dimensions whether you're using a sidebar, footer, or for inserting anywhere in the webpage.
Banner ads are great for any website generally related to travel. Your CTR will probably be low, as will conversion rate, but banner ads can definitely make some good money if you are getting high quality, engaged readers to your website.
What We Like/Dislike About Working With Hotels Combined
The thing that stands out the best about Hotels Combined is the service that they offer. When you discover a site like this that takes so much of the hassle out of searching for hotels, you'll be pleasantly surprised you hadn't found it before! As someone that personally uses this website, I feel that in the right context, you don't really have to pitch the company very hard. If a tool is useful, people will simply use it because it works.
Like – One of the most important things is that your affiliate ID is stored in a user's computer for 365 days. This means that if that customer returns to Hotels Combined in a full year, you will receive commission again (pending they dont clear their cookies).
Like – We also loved the fact that you will get commissions just for customers visiting the affiliate link. This makes us feel like we're gaining cash each time someone comes by, unlike other sites that you only get it during the booking itself. The slow trickle can sometimes be more interesting to follow than the more rare booking commission.
Dislike – The downside to the program is that we saw customers complain that sometimes the price that Hotels Combined saw was different than when they went to complete the actual booking. Hotels combined said that there can in rare circumstances be differences in price if they were not able to get the updates to their site in time, however, they ensure prices are updated daily and are committed to making sure the site stays in sync with their search partners. I find that this happens a lot during holidays when rates change, or with websites that don't update their own bookings properly
Dislike – I also wished that the banners/search bars were customizable to change the background and color combinations to match my site. They only have specific banner themes available. The customization would allow you to make it specific to the destination you're advertising for (beach theme, mountain climbing, etc)
Comment below if you've also used Hotels Combined Affiliate Program and how your experience was with it! I'd really like to hear from someone who wasn't able to generate bookings and if they got kicked from the program. How did you go about getting back into the program? What changes did you do on your site to improve your lead generation?
The Internet's #1 Affiliate Training
It sounds like you're pretty familiar with the basics of how affiliate marketing works. Awesome! But is your website profitable yet? Are you stuck spending hours wondering why you aren't seeing results yet?
You aren't alone. Most newbie affiliate marketers are a little lost, jumping from one "how to" guide to the next, hoping to learn the secret sauce of how to make money with affiliate marketing
I was able to turn my basic niche blog into a six-figure earner in 18 months following the training from this company. They focus on building a sustainable business that will earn for years, not just a website that will "game" search engines for temporary rankings. That's why 8 years later my websites are still earning and still growing.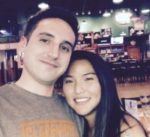 Nathaniell
What's up ladies and dudes! Great to finally meet you, and I hope you enjoyed this post. My name is Nathaniell and I'm the owner of One More Cup of Coffee. I started my first online business in 2010 promoting computer software and now I help newbies start their own businesses. Sign up for my #1 recommended training course and learn how to start your business for FREE!