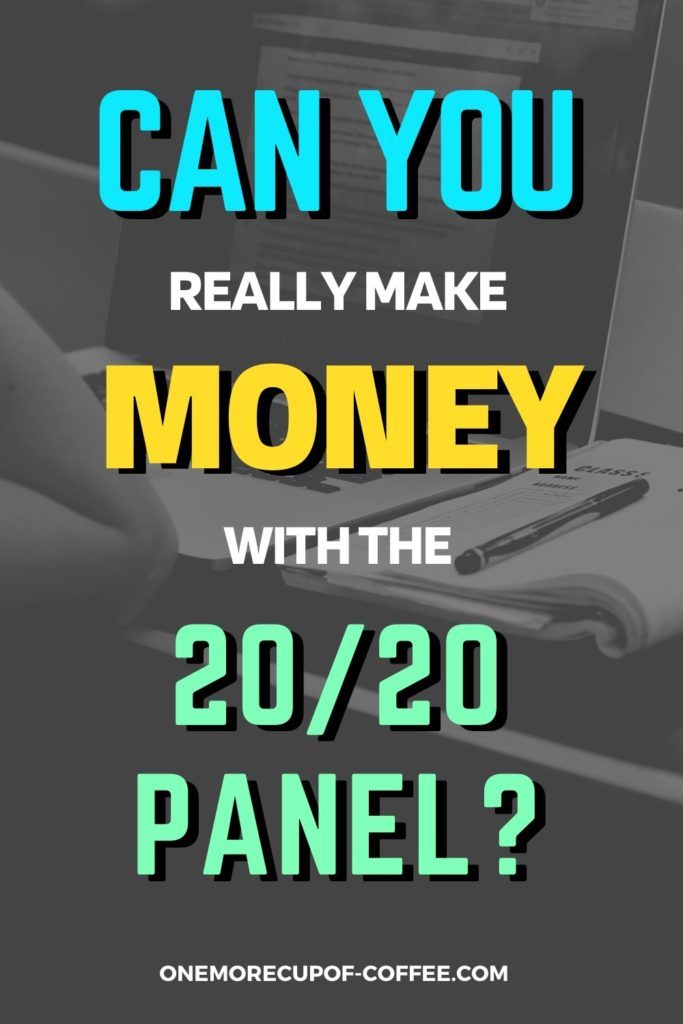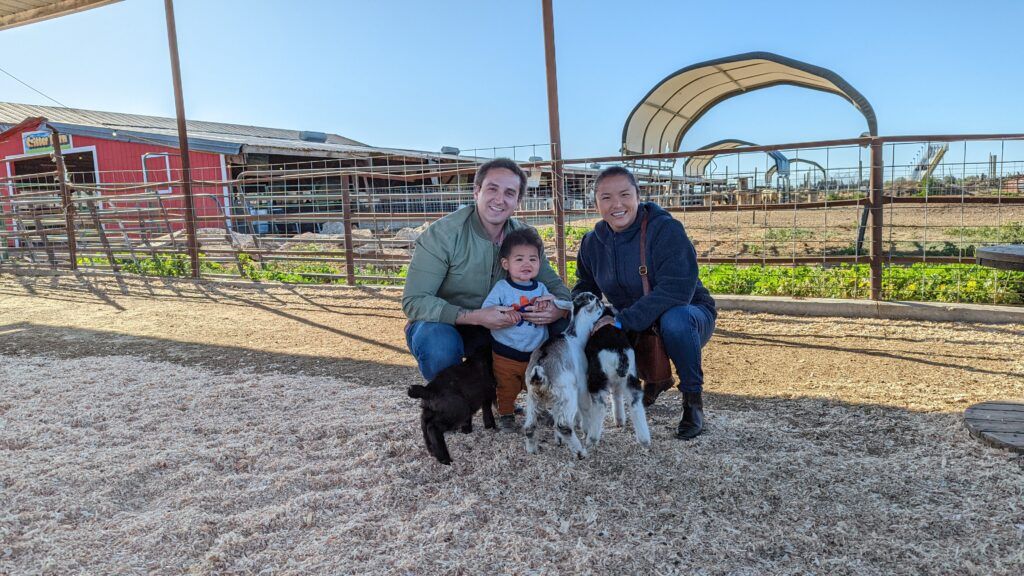 Are You Ready To Work Your Ass Off to Earn Your Lifestyle?
Are you tired of the daily grind? With a laptop and an internet connection I built a small website to generate income, and my life completely changed. Let me show you exactly how I've been doing it for more than 13 years.
I found this site quite by accident and was surprised at how much they offer to pay you for sharing your opinion. But what's the catch? Does it really work? Can you really make money with the 20/20 Panel, or is it just another gimmick?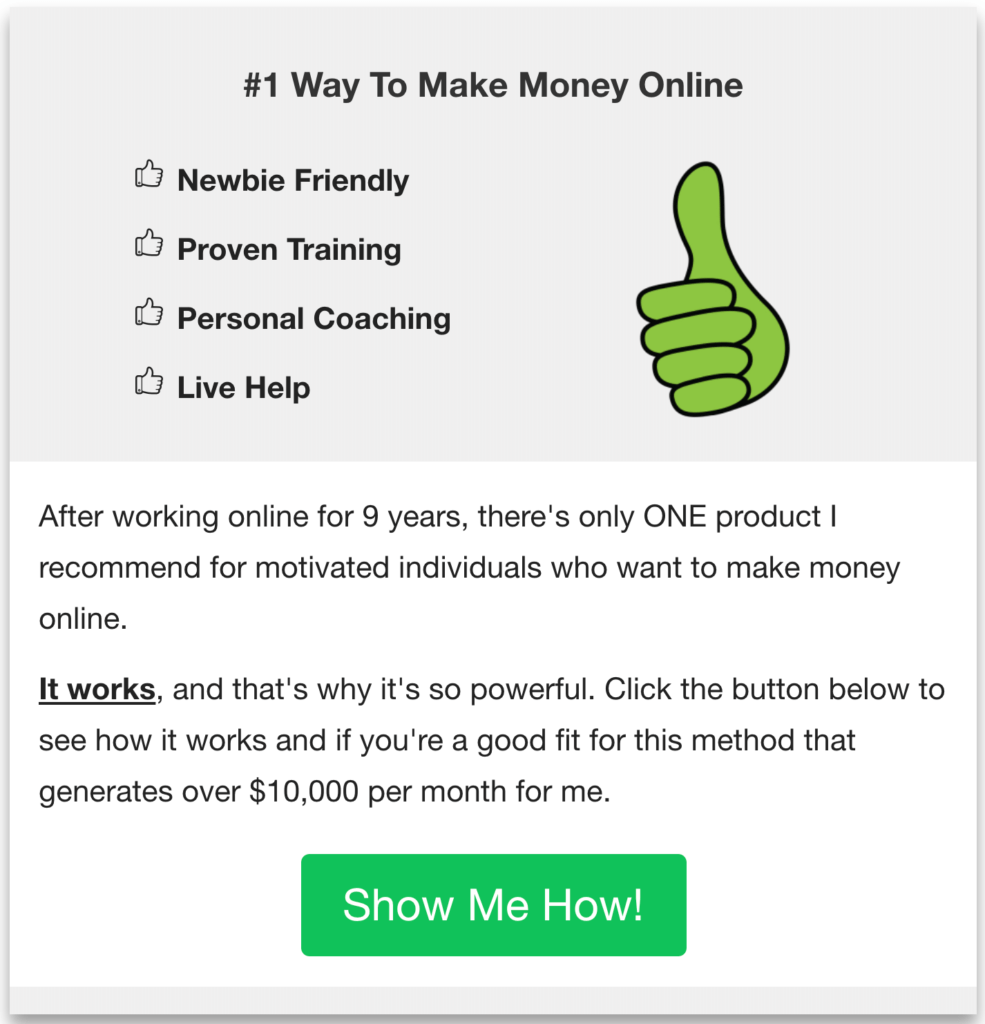 Making Money With The 20/20 Panel
I came across this site online (located at join.2020panel.com), and was pretty blown away by the initial claims. Apparently, according to the home page, you can earn between $50 and $150 just for sharing your opinion!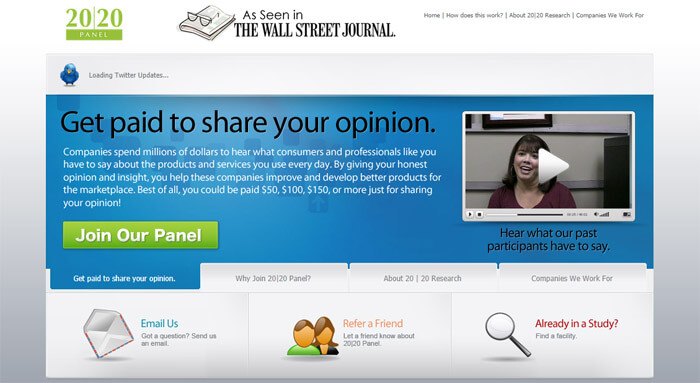 Now, obviously, I had no idea what this meant, exactly. I was not sure if this meant 'per survey,' or if it meant 'for all of the surveys you will ever get,' but I was very excited to figure out which it was. That is a lot of money if it is on a per-survey basis! And if the work is consistent, even more so! Since finding this website, I've actually found a couple other survey apps that work for making extra money on the side.
But therein lies the big problem. A lot of survey sites are good in-theory, and then fail to deliver on the important parts.
A lot of survey sites offer you a 'per survey' amount of money that sounds good. But then, you either have to jump through time-consuming hoops, or the money isn't consistent enough to warrant further attention.
That is why I do what I do. I take a look at survey sites, like this one, and decide whether or not they are 'side-hustle' worthy, and worth recommending to our readers.
A side hustle is a cash-on-the-side opportunity that offers you three distinctly different things. First, it must offer you flexibility. Second, it must offer consistency. And third, it must be worth the time for the amount of money that it makes you.
But is the 20/20 Panel a survey site that actually delivers on all three of these fronts?
20/20 Research Panel Review
To start off this review, I want to take you through the signup process. Located right on the home page was a button that said 'Join Our Panel,' which seemed like the obvious next step in learning about the site. The next page that we were taken to was a page that gave us two different options.
Either we could click on the link to signup for local panel pages for live events for Nashville, Charlotte, or Miami…
Or we could click on the link for nationwide panelists online in the US and Canada.
I was certainly not going to be interested in live panel events in Nashville, Charlotte, or Miami… so I clicked on the second link.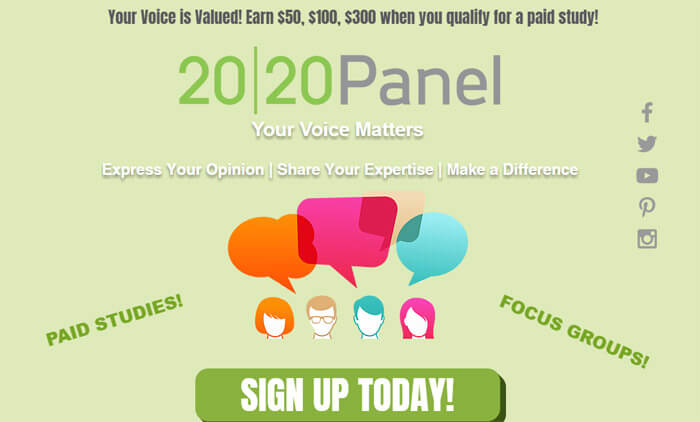 Scrolling down, there was a 'how it works' video, along with some other links that you could use to update your profile and such.
I watched the video. Here is what the main points were.
The studies take place online, for the most part
There are pretty specific criteria for specific studies
They send post/pre-qualifying surveys, and use this information (along with profile information) to figure out if you meet the criteria for a study
They will call you to conduct a small interview if they discover that you are a perfect fit for a study. This is when you will know that you have 'made it in'
The company pays out $50 to $150 dollars to every participant who completes a study
The company has paid out over 35 million dollars to participants so far, since 1986
Ok, so far so good. I was liking what I was hearing so far.
This video told me a few very important things about the 20/20 Panel:
It is much more difficult to get into and qualify for a survey with this site
You get paid a lot more for studies given by this site than you generally do for studies from other sites
Getting into a study is a lot more involved with this site (you get a phone call and must also go through quite a bit of qualifying stuff first)
Generally, sites like this pay much less for studies… but, the studies are also much easier to get into, so this was all a very interesting development! A higher barrier to entry could actually mean better pay.
Signing Up For The 20/20 Panel
The first step here was to prove that I wasn't a robot by doing a quick captcha test. Next, I was asked to fill in my basic information. This included information like my name, age, gender, address, phone number, race, what language I speak, etc.
After filling all of this out, I was told that my registration was complete. But I could opt to answer 10 more questions that were supposed to help place me for additional surveys. So I selected this option and continued.
I answered some more questions, mostly about my job, my salary, what type of business I was in, etc. They asked if I had any preexisting diseases, and even asked what my political party was.
After all of this was said and done, I was taken to the last page of the process. Here is what it looked like.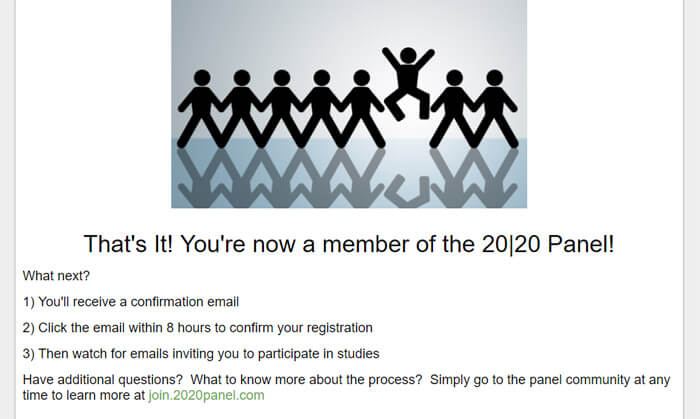 As of now, all I had to do was to click on my confirmation email and I would be all done with the registration process. Then, I would just have to wait for emails inviting me to participate in studies.
Is 2020 Panel Legit?
Personally, I liked this site… but it does have its limitations. Like most people, and like most well-paying survey sites, the issue I ran into was consistency. Though the surveys pay well, you don't get that many opportunities to participate, and of that group, you are only qualified for a select few.
See what other reviewers are saying about 2020 Panel: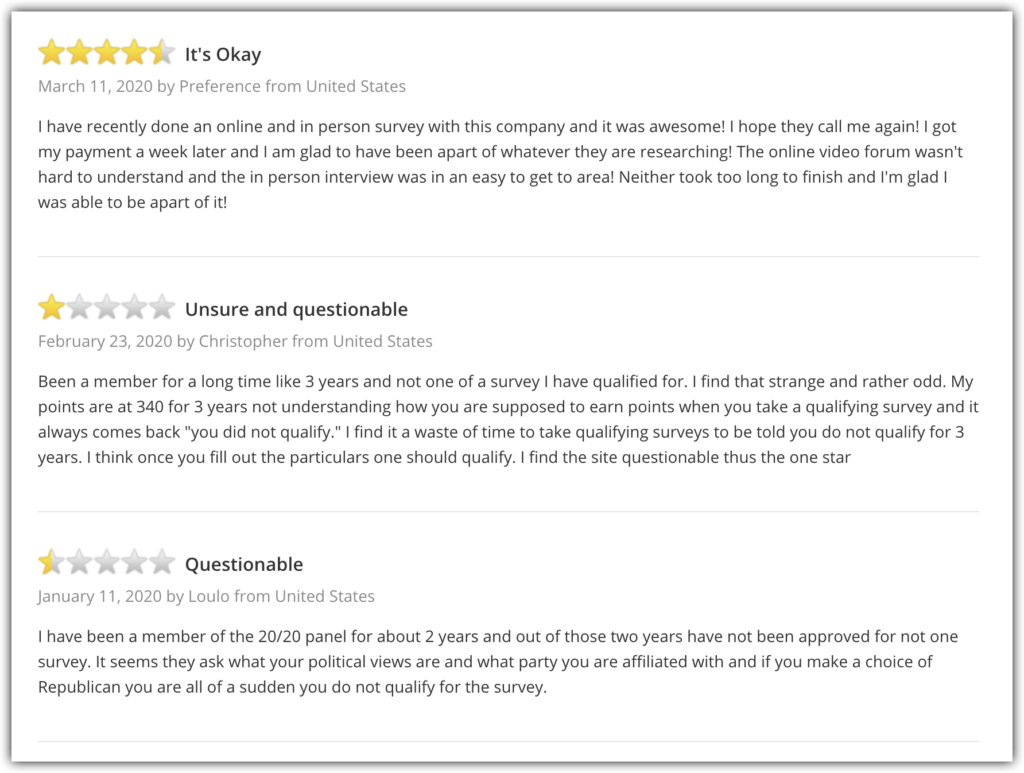 Three years and one survey?!
Two years and no surveys?!
That's pretty frustrating. Like most people though, survey websites were not designed to be full time income work. They are supposed to be a side hustle you take on when the opportunity strikes. I do like 20/20 panel, and they do pay, but if you're looking to build a reliable side hustle you are going to need to jump into the modern service industry of gig apps
20/20 Panel pay out $50 to $150 for each survey that you take, which is WAY more than most other survey sites even come close to paying!
Seriously—most survey sites pay out barely $2 an hour when you factor in all of the nonsense that you have to go through to take the surveys and get paid for them. So with all of that taken into consideration, even if the surveys/studies on this site are longer, you are still going to be money ahead.
Another thing that I like is that, as far as I can tell, the studies on this site are flexible. That is another crucial component to any good side hustle, and it is an obvious must-have if a site is going to qualify for that label with me.
The site was also very technically well-designed. I didn't experience any glitchiness or anything like that, so that was a definite upside.
If a site pays well, but doesn't provide you with a quality experience… then sometimes, the frustration of using it just isn't worth the payout. But thankfully, I did not have that problem with this site.
Now, let's talk about the downsides.
First of all, this site is a bit time consuming to join. But… based on how much money you could potentially make… that is not such a big deal.
Second, the surveys are a bit more difficult to qualify for, which really narrows down the pool of possible candidates. In a sense, this is good… because it limits competition. But it will also likely narrow the number of surveys that you could potentially qualify for… which will also diminish your ability to earn consistently.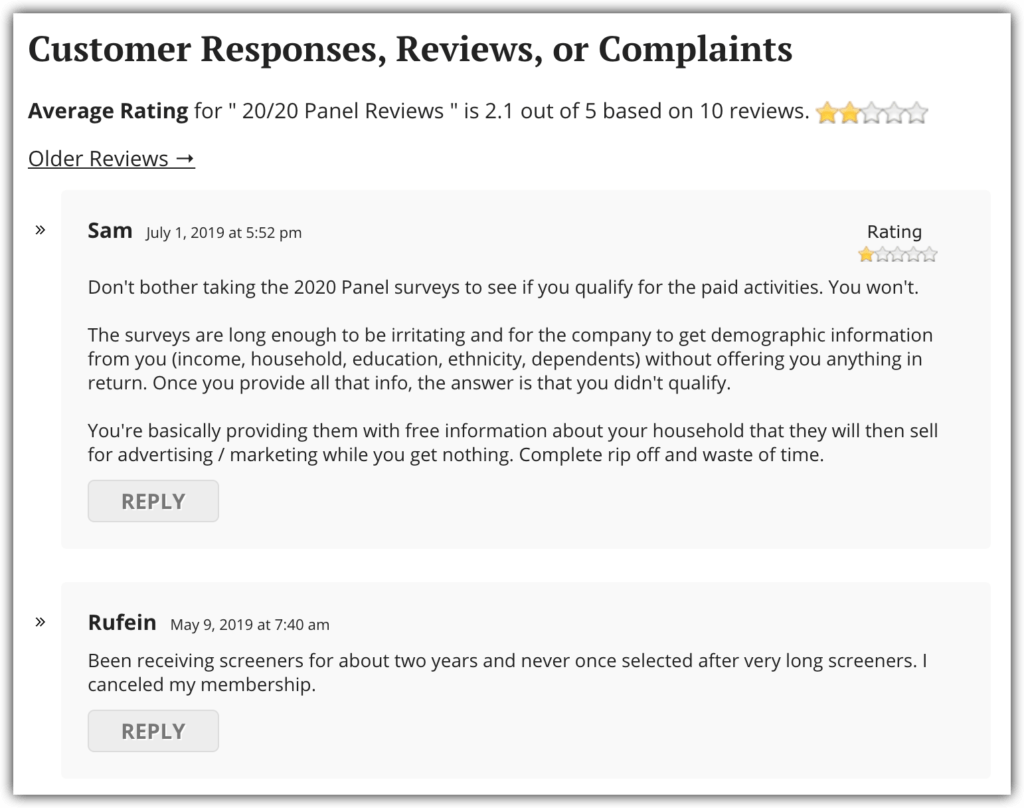 I cannot say for sure how many surveys you could expect to get, as I have not gotten to use the site yet, other than signing up for it and reading through it.
The site also offers other smaller surveys as well, which pay out $1 to $10 each. These are more 'typical.' The ones that pay out more are more like round-table webcam discussions, so there are also some technical hurdles to overcome.
How Does 20/20 Panel Pay Out?
How you get paid depends on the surveys you take. Paypal, prepaid credit cards, and rewards points.
If you want to participate in surveys and studies, and want to potentially make some sweet cash while you are doing it, then yes… this survey site is probably going to be a great one to sign up for.
If you want a quality side hustle, however, this site is not going to do the trick. It is not consistent enough to provide you with the kind of income that you would need to qualify it as a full-fledged side hustle. This is true for most survey sites, including PointClub, Panel Payday, MyPoints or My Opinion Now.
Our Final Thoughts About The 20/20 Panel
Should you sign up and use it to make some extra cash?
The 20/20 Panel Review
To be completely honest, doing online surveys will never earn more than minimum wage. In fact, most people rarely earn more than $1-$3 per hour, if they are lucky enough to get a payout.
If you want to legit make money online you need to invest time into building a website. Earn passive income through affiliate links & advertising revenue. Rather than spend an hour trying to answer boring questions, build a real web property that you can earn monthly income from.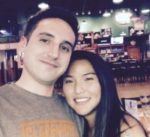 Nathaniell
What's up ladies and dudes! Great to finally meet you, and I hope you enjoyed this post. My name is Nathaniell and I'm the owner of One More Cup of Coffee. I started my first online business in 2010 promoting computer software and now I help newbies start their own businesses. Sign up for my #1 recommended training course and learn how to start your business for FREE!