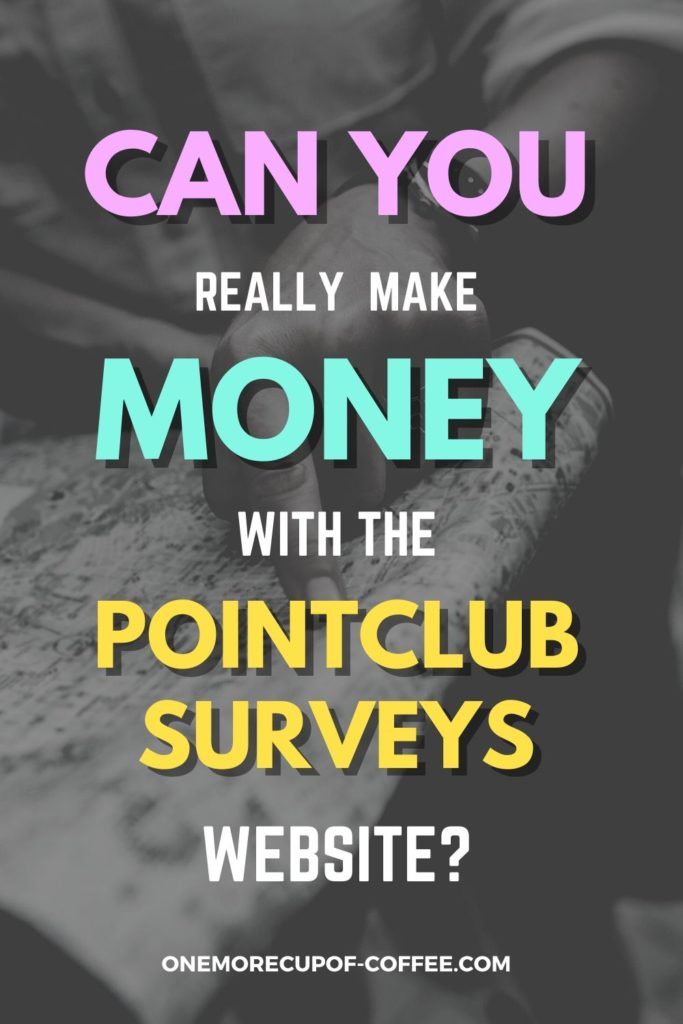 This survey site came pretty highly recommended in some online forums I was exploring. But can you really make money with the PointClub survey website?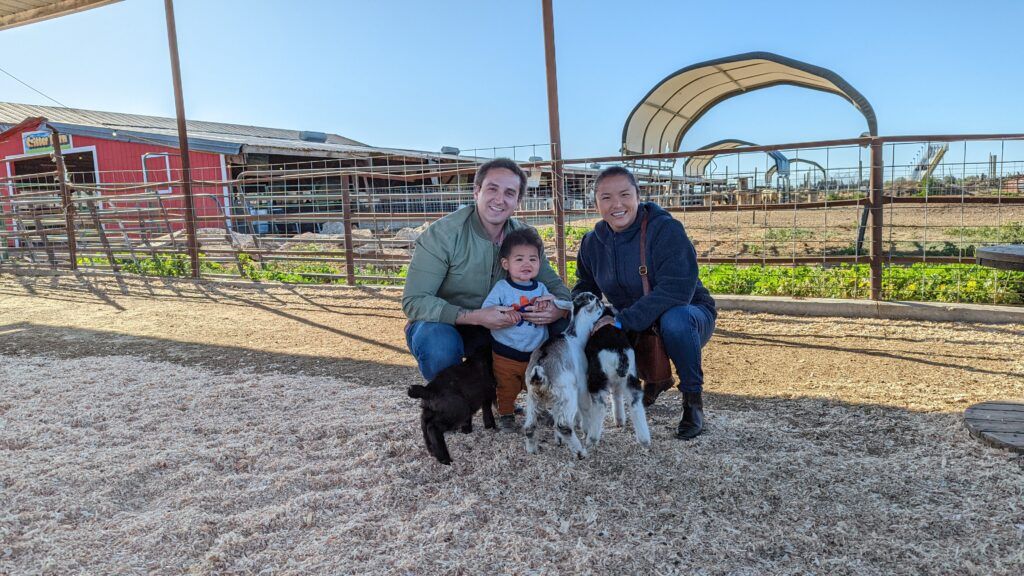 Are You Ready To Work Your Ass Off to Earn Your Lifestyle?
Are you tired of the daily grind? With a laptop and an internet connection I built a small website to generate income, and my life completely changed. Let me show you exactly how I've been doing it for more than 13 years.
On the landing page, it says that you can 'take surveys' and 'make money,' and that it's 'that easy.' I am obviously all about side hustles, as you really have to have one or two of them to get ahead in this day and age.
And the idea of survey sites appeals to me, because (in theory) they offer a lot of flexibility, and give you the ability to earn extra cash whenever you want, on your own timeline. I mean, companies are always paying for market research data—so this is also an industry that isn't necessarily going anywhere, either.
With that being said, however, not all survey sites are created equal. And I have actually not found very many of them that have impressed me enough to make the cut.
But will PointClub prove to be different?
Here is what you need to know.
Making Money With The PointClub Surveys Website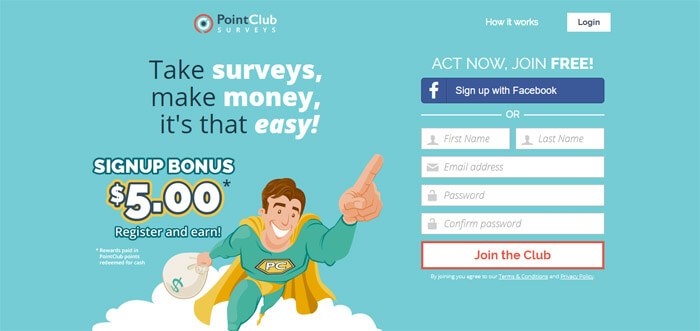 I tend to start survey reviews in the same way, but looking at the site in question and how it is designed to work.
Getting Started: What Exactly Is PointClub?
The landing page has a link in the top-right corner to a 'How It Works' section, which is where I went first. Here, I found a pretty detailed description of what the site does and how you can use it.
Basically, you take surveys in exchange for points. The site is free to use, which is pretty typical. But, I was surprised to find a point-system-exchange rate in this section as well.
I usually have to look everything up and do this math myself… but PointClub just put everything related to this right in this little section, which I was pretty happy about.
Basically, it takes 1,000 points to equal $1 in real-world currency.
So far so good.
They also say that the average survey will earn you anywhere from 200 to 2,000 points. So, that is also good. There was also an interesting little banner on the side of this page. Here is a screenshot of it…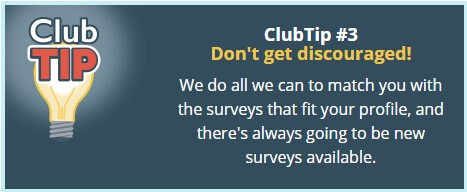 This came as an interesting inclusion to me for several reasons. First of all, this means that they are trying to be proactive in keeping their survey takers. Secondly, it tells me that they are constantly adding new surveys… which is a really big upside actually.
Some survey sites don't add enough surveys fast enough. So, the fact that this site even thinks to mention this in such a way is kind of cool to me.
Signing Up For PointClub
So, signing up for PointClub was pretty easy. I needed to give my name and email address, and create a password. Once inside, I needed to answer a few more questions.
They were pretty standard. They asked me what my gender was, asked for my zip code, wanted my birth date, etc.
After this, I was taken to this screen.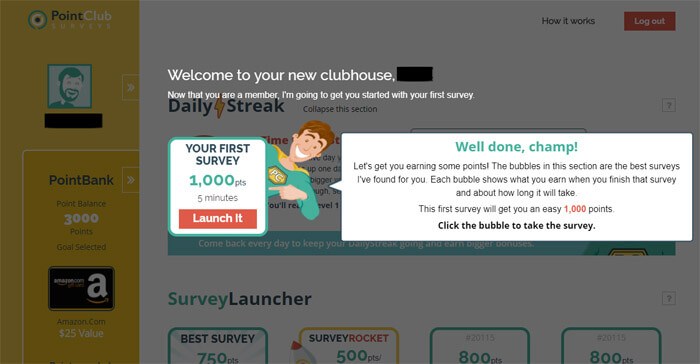 It seemed as though I needed to take this survey to proceed. It was supposed to take about 5 minutes, and was worth 1,000 points… which was pretty good really. So I went ahead and started it.
I finished it up in probably 3 minutes and made 1,000 points in the process. So yeah. At this point, so far so good.
After this, I was kicked back to the main hub of the app. Here is what it looked like…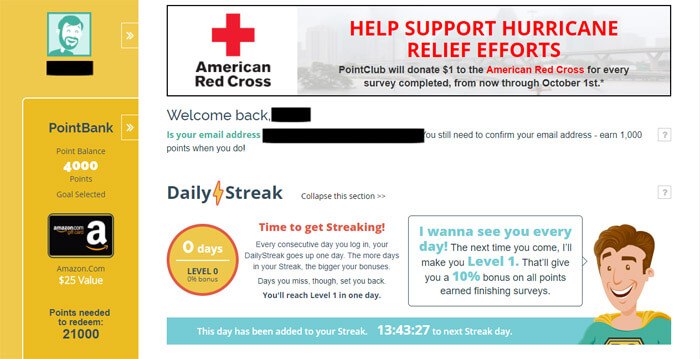 Here are some of my more immediate thoughts I thought as I explored it.
Main Hub Of The PointClub Survey Website
At this point, the first thing I noticed was that I could see my point total on the left hand side of the screen. Earlier, I had been asked to choose what rewards method I would likely be using, and I chose an Amazon gift card… though you can also do other gift cards, or even PayPal.
It not only showed my current point balance, but also how many points I would need to redeem a $25 card… which is actually pretty awesome.
It also told me that I needed to verify my email, that I had started a daily streak, and that the next time I visited the site, I would become a level 1 and would get a 10% bonus on all points earned on finished surveys.
So, it seems that the longer and harder you work on this site, the more you earn… which is pretty awesome.
The next thing I noticed was the 'SurveyLauncher,' located in the middle of the screen. This displayed several surveys that you could take, and also had a link to where you could see all of the available survey opportunities.
I clicked on this, and saw that there were literally dozens of survey opportunities… ranging from about 200 points, all the way up to close to 4,000! This site definitely hosts a lot of surveys… and I was happy to see how accessible all of them were.
Granted, not every survey is going to be usable for everyone, as there will doubtlessly be some that not everyone will qualify for… but I was still happy to see so many options available.
The Quality Of The Surveys
The quality of the surveys on PointClub was pretty good, really. I did encounter one glitch, where the question seemed to load for a long time before canceling out and going back. I had to answer the question again, and this time it worked perfectly.
So, all things considered, I liked how the surveys looked and functioned… and was also pretty impressed with the technical aspects of the rest of the site. So in this category, I give PointClub two thumbs up!
How Much Money Can You Make With The Surveys On PointClub?
Based on everything that I can see, the average survey on this site will earn you about 800 points… which is 80 cents. A survey worth this much will typically take you about 15 minutes… though I will say that these point values and survey times really range across the board.
There are 3,000 point surveys that take 15 minutes, and 450 point surveys that take 25 minutes… so there is a lot of variance here.
But, all things considered, it seems like it would be a sure bet to say that I could pretty easily earn $3.00 to $4.00 a day on this site, if I spent about an hour on it.
That's basically $20 a week.
Now, I am not saying that I could make that consistently. I have no idea how often they get new surveys, and I have no idea how many surveys I would end up not qualifying for.
But, I am saying that it would be pretty easy to earn my $25 gift card in the span of two weeks or less… which means that I could easily pull in $50 extra on a monthly basis.
So, with all of that being said, I feel like PointClub actually offers a lot more than the typical survey site. This site averages out to be way above average, in the sense that it seems like it would pay out closer to $3 per hour, as opposed to the usual 1 to 2 dollars that most survey sites pay out for an hour's time.
With that being said, I felt like I was ready to record my personal thoughts on the survey site. Here is what I felt about the site after spending the time to review it.
Is PointClub Worth The Time?
This survey site actually surprised me a lot. At first, I was unsure about whether or not it was going to prove to be a good one… but as it turned out, it performed better than most others I've tried in the past.
The best points about it were as follows.
First, I loved that it paid far more for surveys than most sites. Secondly, I love how many surveys are available. I also really like how well it functions on a technical level.
Plus, it is also laid-out really well. I like how you can see how many points you have, how many points you need, and how many points you earn for each survey.
This kind of information makes the entire process a lot easier and less frustrating.
Now, with that being said, I do still have some reservations.
I do like how profitable this survey site can be… and I will admit that they pay out better than most.
But, I am still not sure if they pay out enough for me to actually spend the time on it.
If you want to do surveys and get paid for them, PointClub is the site for you. But if you need a side hustle that is really going to bring in some extra money in exchange for your time, you may be able to find better opportunities elsewhere.
Our Final Thoughts About The PointClub Survey Website
Should you sign up and use it to earn extra cash?
The PointClub Surveys Website Review
To be completely honest, doing online surveys will never earn more than minimum wage. In fact, most people rarely earn more than $1-$3 per hour, if they are lucky enough to get a payout.
If you want to legit make money online you need to invest time into building a website. Earn passive income through affiliate links & advertising revenue. Rather than spend an hour trying to answer boring questions, build a real web property that you can earn monthly income from.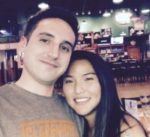 Nathaniell
What's up ladies and dudes! Great to finally meet you, and I hope you enjoyed this post. My name is Nathaniell and I'm the owner of One More Cup of Coffee. I started my first online business in 2010 promoting computer software and now I help newbies start their own businesses. Sign up for my #1 recommended training course and learn how to start your business for FREE!