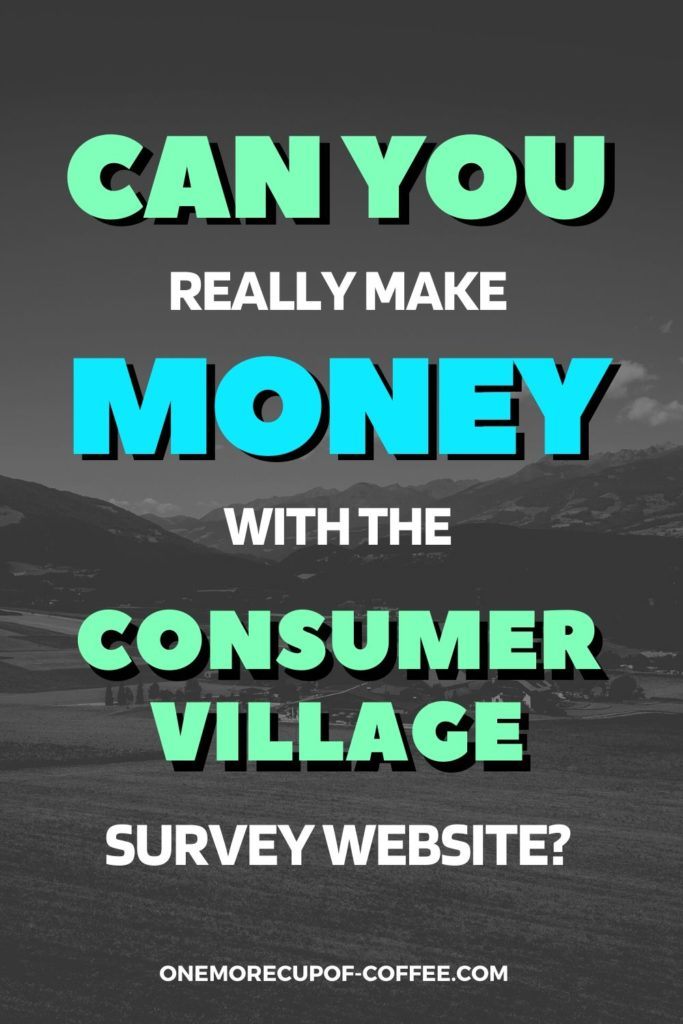 This site got my attention because it was in a list of websites that supposedly pay you for taking surveys. But can you really make money with the Consumer Village survey website?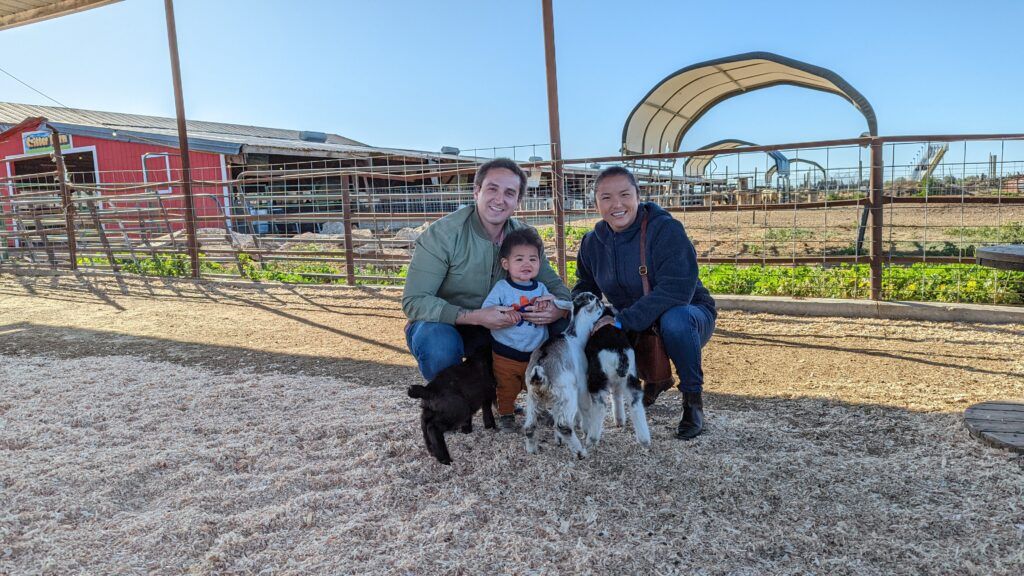 Are You Ready To Work Your Ass Off to Earn Your Lifestyle?
Are you tired of the daily grind? With a laptop and an internet connection I built a small website to generate income, and my life completely changed. Let me show you exactly how I've been doing it for more than 13 years.
Making Money With The Consumer Village Survey Website
To begin with, let's take a look at the site itself. My first visit to the site started off on a rather interesting note.
I got to a page where I needed to prove that I wasn't a robot—and this literally happened before I even made it to the home page!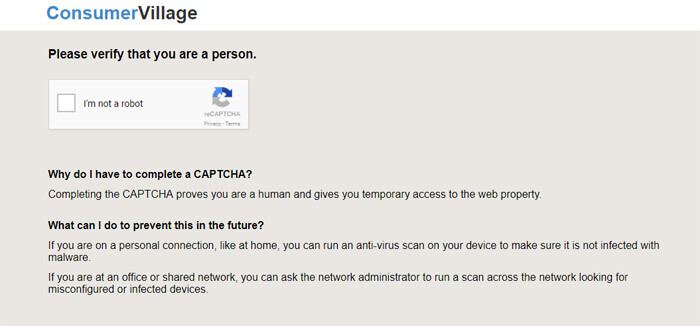 But this was easily settled, and I was taken to the site's landing page. But even this was vague, and didn't really give me much information. I could either log-in, or sign up. Those were pretty much my only two options.
Keep in mind, I had never even heard of this site before… much less visited it. But it was supposed to be a survey site that you could use to make some extra cash—and as you likely know, I am all about the side hustle.
Nowadays, having a quality side-hustle or two can really help to balance things out. Let's be real for a minute… bills are not cheap. And it really seems like they are getting more and more expensive as time goes on.
So the idea of having a good side-hustle or two going really appeals to me… as I am sure that it appeals to you as well.
So survey sites get my attention as a side-hustle opportunity, for a few different reasons.
For one, they are time-flexible. Two, they are sometimes pretty consistent (it depends on the site, obviously, but they do tend to be pretty consistent for the most part). And three, they give you the freedom to work in pretty much whatever location you choose.
These are all important elements that are required in a good side-hustle, in my opinion. But… I still find that survey sites tend to lack another basic element that is required in a quality side-hustle.
Generally, I find that they just do not pay enough to make them worth the time investment.
But would Consumer Village prove to be different? Here is what I found out.
Trying Out Consumer Village For The First Time
So, before I could even try this website out, I had to join it. So that was my first step.
The sign up process looked pretty easy… or at least, that is what I thought. But when I got to the email part, this is what I found.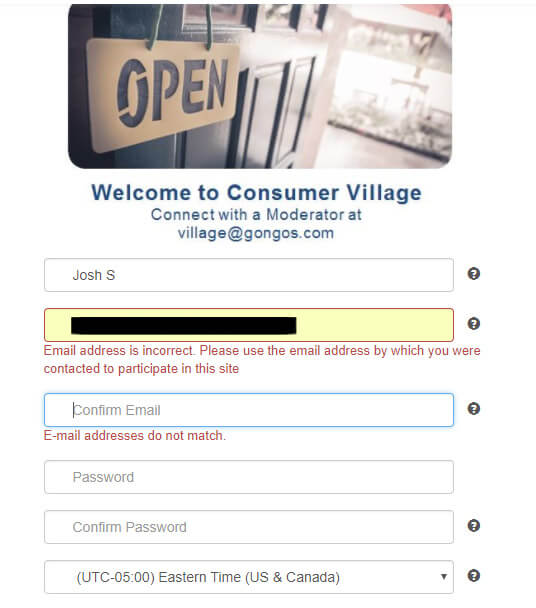 So apparently, you cannot join this site unless you have been invited? That, at least, is what it was looking like right now.
Granted, I had never even heard of Consumer Village before today—so all bets were really off at this point. Still, what if other users read this review, and wonder the same thing as me?
Is it possible to join this site without being invited? Is there any way to score an invite without jumping through huge hoops to do so?
These are questions that I still wanted answered… and since the website itself (located at www.village.gongos.com) was not really giving me any information, I decided that a Google search about the site was in order.
So here is how that went.
Conducting Some Google Research About Consumer Village
The first thing that I discovered was that Consumer Village is apparently owned by a company called 'Gongos.'
(No-duh… the name is literally in the web address. I just didn't think to research this until I started poking around. I know, I know… not one of my finer moments!)
So the next-first step I took was to research Gongos.
I found their official website at Gongos.com. Here is what they said on their home page.
"As a decision intelligence company, Gongos helps organizations create new value by: gaining and applying consumer wisdom; transforming decisions into action; and navigating organizational change."
So basically, this is a market research company. I mean, that is what it sounded like to me. Which makes sense—because that is what survey sites are usually all about.
There was a button that you could click to 'join' the site, so I decided to explore that.
But this just ended up being a tab to a part of the home page where they listed career opportunities for their company. I had not yet seen any mention of Consumer Village.
But… I also found a search-bar, and decided to search the page for it. Haha… this is what I came up with.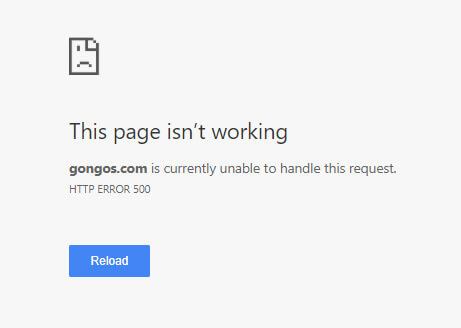 Nice. Was Consumer Village just a dead site? Did anyone even use it anymore? I found one site that said that it had been going since 2007. That was ten years ago.
A lot of the reviews that I did find on it were just reviews posted on affiliate market sites, and most of them were from back in 2015… but there was actual value in the comments left on these reviews as well.
And a lot of the comments seemed to come from users who considered Consumer Village to be 'average.' They made no mention of not being able to join it, which led me to begin to believe that the site has perhaps gone through some recent changes.
Maybe Gongos has recently acquired the site and made some changes to it? Maybe the site has yet to be re-vamped? Maybe the user-base grew so large that they had to slow down the increase in survey-takers?
I learned in some of the reviews that the site paid out an average amount for surveys. Many of the comments that I read were slightly more positive than negative. To hear these users talk about it, the site sounded like a fairly 'average' survey site all around.
One of the downsides that I heard was that it didn't invite people to surveys very often—but that is hardly a unique downside. A lot of survey sites like this fail to deliver a high-volume of surveys, and therein is one of their biggest downsides.
Obviously, the larger the user base, the 'thinner' the survey taking opportunities would be. So maybe that is one reason or why Consumer Village now only 'invites' people to join… instead of letting people join whenever they want.
If it is, I was unable to verify it, as I was not able to sign up.
At any rate, after this research, I felt that I had learned enough about Consumer Village to give my input about it. Here is what I learned.
What I Learned About Consumer Village Over The Course Of My Research
First of all, I learned that it seems to be impossible, as of right now, to join this site without an invite. So if you are here because you were trying to join it and were wondering how it is done, rest assured that this boggled my mind as well.
Second of all, I discovered from my research that Consumer Village does sound like a survey site that is slightly above-average. But, I also discovered that it does not sound much different from the typical survey site out there.
I have reviewed a lot of survey sites, including Paid Viewpoint, Quest Mindshare, TestSpin and many many more,
I am afraid that what I discovered while researching this one is about the same thing that I have discovered about many of them… that the payout for your time and effort does not seem to be enough to justify using them as a side hustle.
So even though I was unable to use Consumer Village, I still felt like, with what little information I was able to acquire, it would not make a suitable side-hustle opportunity anyway.
This was mostly due to the amount of money that it paid out per survey, coupled with how many surveys they sent out.
So, in the end, I have come to learn that most survey sites do fall under this category. But… that does not necessarily mean that they are not worth using at all. If you like to take surveys, and you enjoy the process of sharing your opinion, then yes—you can make some pretty decent cash doing it.
But it will not get you rich, and it will not make a serious dent in your bills, or add up to enough to help you to start a new business.
So as a side hustle, most survey sites just don't cut it.
But, I am still on the lookout—and continue to scour the internet for sites that may end up paying enough to make them worth my time. And when I find one—you can rest assured that we will be posting the review and recommending it to everyone!
After all, that is what all of this is about… right?
Our Final Thoughts About The Consumer Village Survey Website
Should you try to join it and attempt to make some extra money with it?
The Consumer Village Survey Website Review
To be completely honest, doing online surveys will never earn more than minimum wage. In fact, most people rarely earn more than $1-$3 per hour, if they are lucky enough to get a payout.
If you want to legit make money online you need to invest time into building a website. Earn passive income through affiliate links & advertising revenue. Rather than spend an hour trying to answer boring questions, build a real web property that you can earn monthly income from.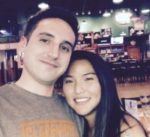 Nathaniell
What's up ladies and dudes! Great to finally meet you, and I hope you enjoyed this post. My name is Nathaniell and I'm the owner of One More Cup of Coffee. I started my first online business in 2010 promoting computer software and now I help newbies start their own businesses. Sign up for my #1 recommended training course and learn how to start your business for FREE!