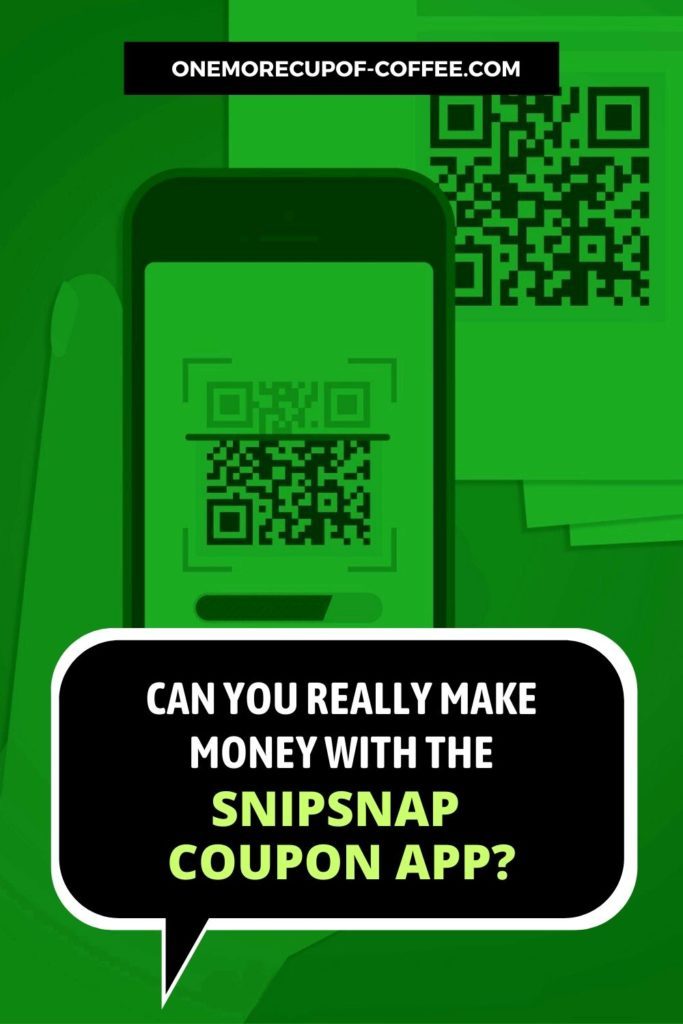 I found this app while looking for new and different ways to earn cash online. But can you really make money with the SnipSnap Coupon App, or is this more of a 'save a bit here and there' kind of app?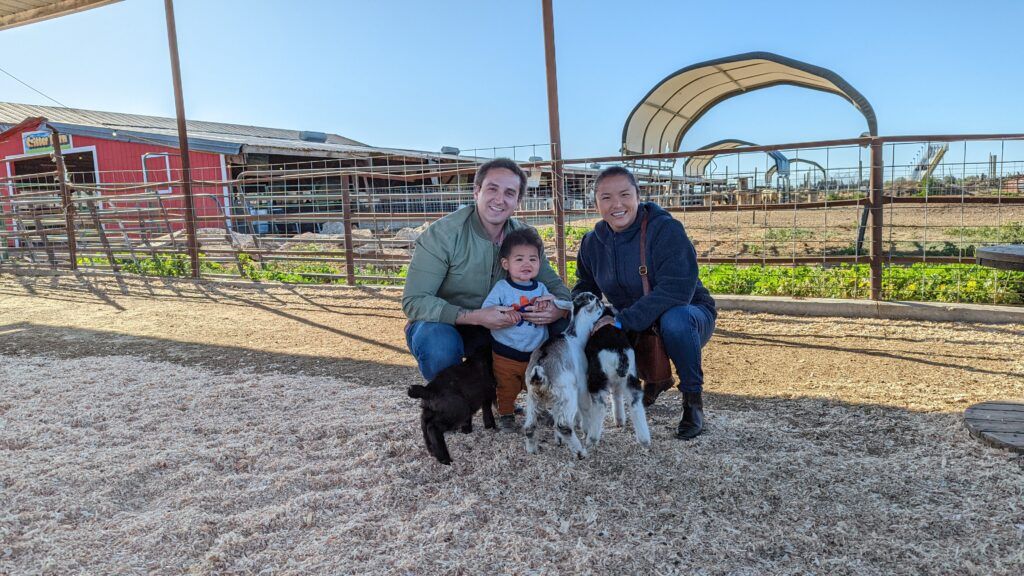 Are You Ready To Work Your Ass Off to Earn Your Lifestyle?
Are you tired of the daily grind? With a laptop and an internet connection I built a small website to generate income, and my life completely changed. Let me show you exactly how I've been doing it for more than 13 years.
Even the name of this one makes it a bit obvious that it is a coupon app—but that is not necessarily a bad thing. I've got quite a bit of experience with all kinds of apps that claim to pay you for your time and effort—and coupon apps deserve just about as much as attention as any of them.
In fact, some coupon/cash back shopping apps that I have reviewed have been well worth the time. But will SnipSnap fall under this category, or leave us wanting?
Making Money With The SnipSnap Coupon App
First things first, let's take a look at the app itself. It has a 4.2 star rating on Google Play, and has over 1 million downloads… both of which are good signs.
I find that apps with good ratings usually have a much better chance of working out, though that is not always true in 100% of cases either. The only way to know for sure about an app is to try it.
And that is why I downloaded it!
One of the best things about using online apps to earn extra money is that they are available anytime. I am all about quality side-hustles, and I have certainly had some good experiences with a few of the apps out there on the marketplace.
But with that being said, this is also not necessarily an exact science either. You have to test each and every app to see if it may be worth the time… and this is time-consuming.
On top of that, most of the apps that are advertised to help you make money are just not that profitable. Many of them simply do not deliver the kind of payout that they would need to make them 'legitimate contenders' for my own side-hustle plans.
But, I was actually hopeful about this one—so let's take a look at it. Here is what you need to know about SnipSnap, the Coupon App.
Getting Started With SnipSnap
Once I opened the app, I was greeted with this little how-it-works page. There was also a video at the top, but I scrolled past this so that I could read all of the directions first.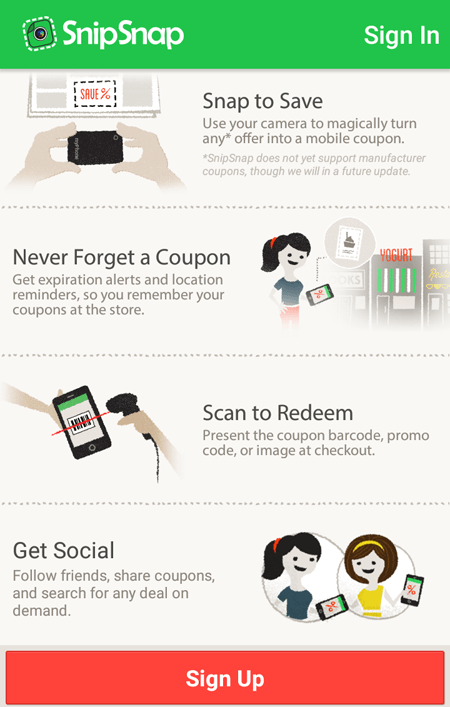 As you can see, the process just involves a few simple steps.
Snap to save: Use your camera to turn any offer into a mobile coupon
Never forget a coupon: You will get expiration alerts and location reminders. This will help you to avoid forgetting your coupons while at the store
Scan to redeem: Just present the coupon barcode at checkout to redeem your savings
Get social: you can follow friends, share coupons, and/or search for any deal on demand using the app
And that seems to cover the basics. After that, the next thing to do is to click on the 'Sign Up' button toward the bottom of the page. Clicking on this brought me to a page where I was asked to either sign up by filling out my information, signing up with Facebook, or signing up with Google.
I decided to just fill out my information.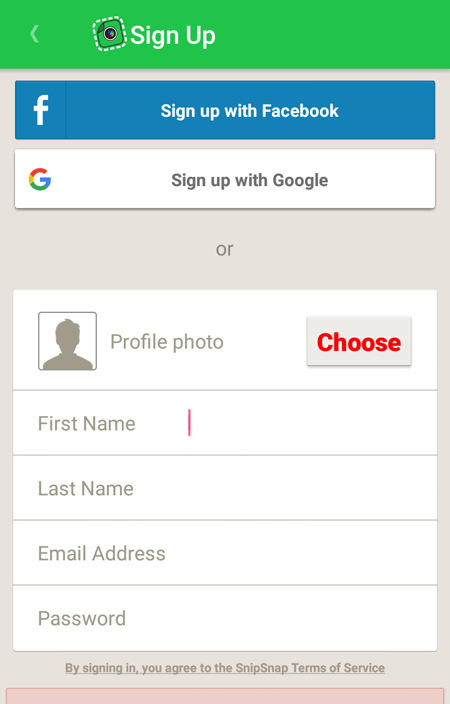 After filling all of this out, I came to a page where I was asked to select my favorite categories.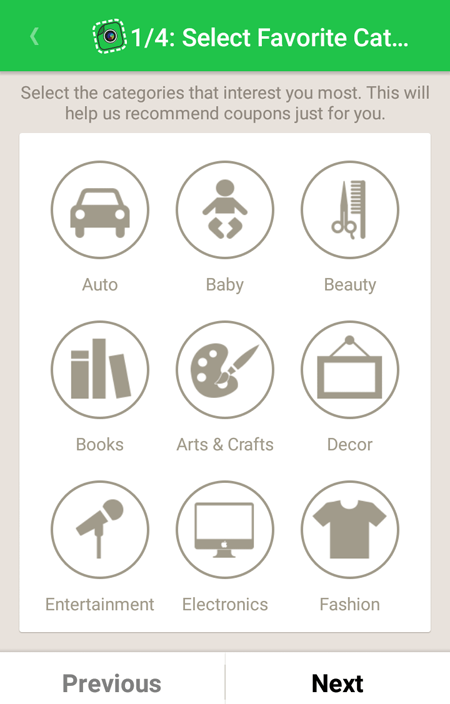 According to the app, I needed select the ones that interested me the most. They say that asking me to select my favorite categories will help them to recommend specific coupons for me.
But I skipped this, kind of by accident. I had to close the app to answer a phone call and to do some other things. And then, when I opened it back up, I ended up having to just move on to the main hub.
Here is what I found.
Checking Out The Main Hub Of The SnipSnap App
The main hub seems to mostly consist of coupons found by the app itself, and coupons snapped by other users. This is actually really awesome, because it allows the community to share coupons—which is very efficient and helpful.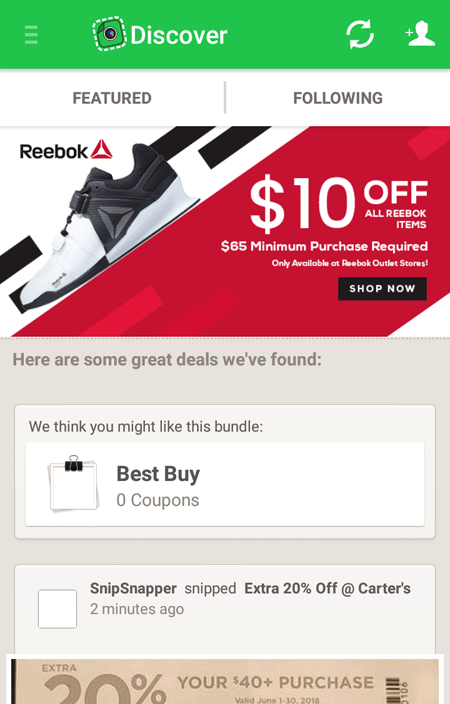 As I scrolled down through the app, I became aware of all kinds of coupons that had been 'snapped' only moments earlier by people all over the place… and I could use any of these coupons, which was outstanding.
So yes. In every sense of the word, this is a coupon app—but it is almost more like a coupon social network, designed for people to not only find and use coupons, but also to share them with other people. But the best part is that this all seems to work together in a seemingly flawless fashion—which I very much liked.
So yeah. So far so good with SnipSnap.
There was also a menu tab located on the left hand side of the app. This gave me access to my personal profile, as well as to menu options like My Coupons, My Bundles, Top Coupons, Top Stores, etc.
This was also the place where you access the camera to take pictures of the coupons you have in your possession. After snapping pics of these coupons, you are good to go for not only using them later, but also for sharing them with other people. Plus, the camera used to take pictures is actually pretty cool!
There is also a 'follow' feature that you can use to follow friends, family, or even top coupon-users, so that you can end up with more awesome coupons in your feed.
What Are The Downsides To SnipSnap?
Thus far, I have seen quite a few upsides to this app—and we will talk about them in a moment. But first, let's talk a bit about the downsides.
First off, coupons are never going to make you rich. They can save you money on purchases that you were going to be making anyway, and money saved is absolutely money earned.
But you will always need to spend money to make it with this app, so that means that it is not really going to ever be able to fill a vital side-hustle role in your personal finances.
It can save you money, but it isn't going to make you rich.
Also, it is important to point out that couponing can backfire if you aren't careful. Sometimes, people use coupons to buy stuff that they may not normally buy.
And when you figure everything out and add up what you spent, you can come to find that you would have been better off had you just not bought those items that you found coupons for in the first place… so that is another thing to consider.
I mean, this is why companies give out coupons anyway!
Upsides To SnipSnap
With that being said, there are also, most definitely, some upsides to the app as well.
For one, I loved the idea of a 'coupon social network' that this app seems to have explored. This is a fantastic idea that really has some potential returns… more so than I think I've seen with any other coupon app.
I also really like how the app is set up. The camera works well, it is all laid out nicely, and I am a pretty big fan of how it all works and flows together.
My Personal Feelings About The SnipSnap Coupon App
Personally, I may just give this one a try—or at least do a bit of looking around at it. If I could find a couple of serious coupon hunters to follow who I could get awesome coupons from, then it may just pan out to be a sweet deal.
It is also a nice idea to contribute to the community with coupon-finds of my own.
Of course, coupon apps do have their downsides. They are not perfect. They are not going to make you rich or earn you a ton of money.
They are also not going to necessarily be able to even save you that much—unless you can find the right coupons for what you need to buy.
This is true for all coupon and many rebate apps, including others we have reviewed like Be Frugal and SavingStar.
But the good thing about coupon apps is that they are always there if you need them. They are also free, and can be pretty awesome for people who enjoy the process of seeking out the right coupons for the task at hand.
You can, admittedly, save quite a bit of cash with coupons—and I feel like this app could be an awesome tool to help with that.
So yeah. If you are into coupons (or are thinking about getting into them), then I would seriously consider downloading this app and at least taking a look at it.
It may not work for everyone, and it certainly has its downsides—but I have also seen worse, and I feel like the SnipSnap App does enough things right that it deserves a fair shot.
Our Final Opinion Of The SnipSnap Coupon App
Should you download it and try to use it to save some money?
The SnipSnap Coupon App Review
Honestly, there are tons of various apps that claim to help you "make money", but really there are two facts to consider. 1) Most of them don't actually work. 2) If you can make money, it's not going be very much. If I'm going to spend any amount of time working online, I want to be working for myself by building my own profitable website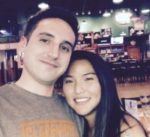 Nathaniell
What's up ladies and dudes! Great to finally meet you, and I hope you enjoyed this post. My name is Nathaniell and I'm the owner of One More Cup of Coffee. I started my first online business in 2010 promoting computer software and now I help newbies start their own businesses. Sign up for my #1 recommended training course and learn how to start your business for FREE!