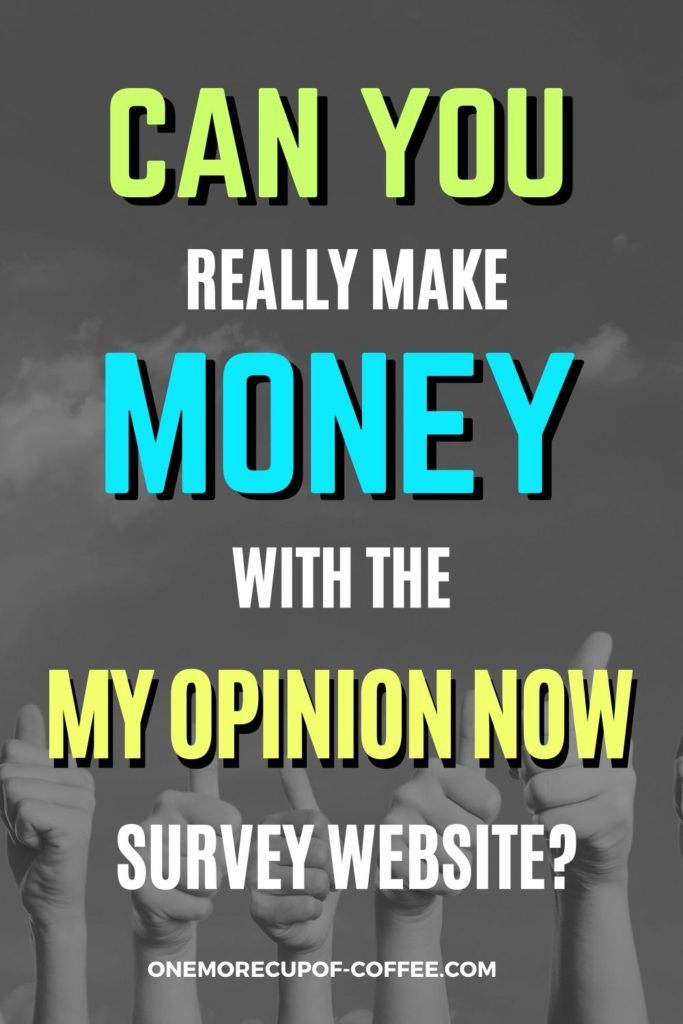 This site tells users to voice their unique opinion and then offers to pay cash for those opinions. But can you really make money with the My Opinion Now Survey Website?
I found out about this site on a forum that I was browsing, and was told that it's a good website for making money on surveys. I am a pretty big fan of the idea of earning extra cash through survey websites, so naturally, I was pretty excited to give this one a try.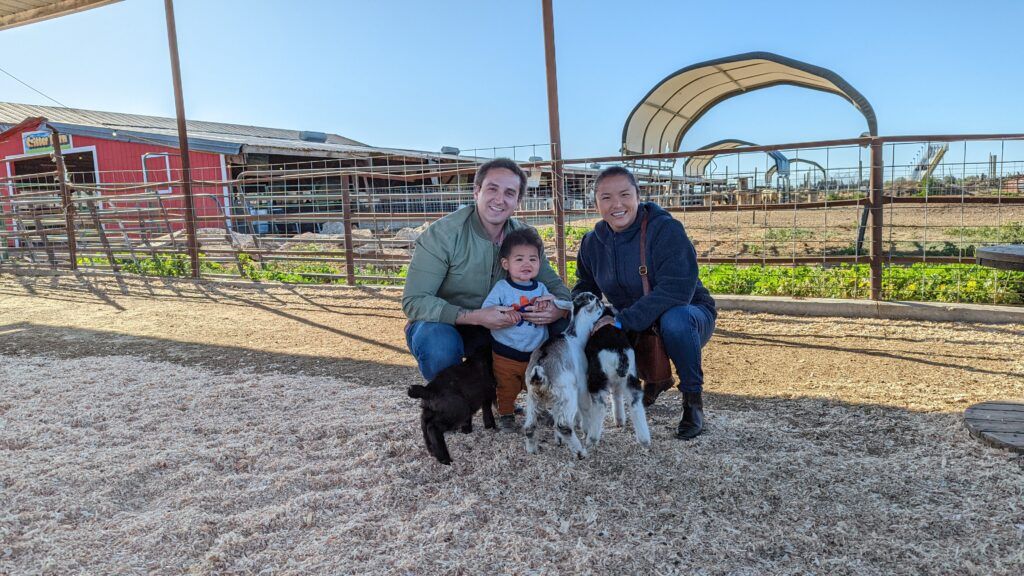 Are You Ready To Work Your Ass Off to Earn Your Lifestyle?
Are you tired of the daily grind? With a laptop and an internet connection I built a small website to generate income, and my life completely changed. Let me show you exactly how I've been doing it for more than 13 years.
But would it prove to be worth my time? That was what I was getting ready to figure out.
Here is what I discovered.
Making Money With The My Opinion Now Survey Website
To get started, let's look at the site as a whole.
My First Impression Of The My Opinion Now Website
My first impression of this site (found at http://us.myopinionnow.com/) was not too bad. The graphics and the general styling of the site were pretty fun and engaging. The landing page was simple and contained a bit of text explaining the function of the site.
Here is a small quote from this text.
"Join over one million people who earn cash online and get great cash rewards just for answering simple questions in our paid online surveys. What's better than getting rewarded for giving your honest opinion?"
It goes on to say that members of the site get invited to participate in surveys that are both easy and profitable. They said that they give out cash prizes and that you could earn 1,000 bonus points just for becoming a member.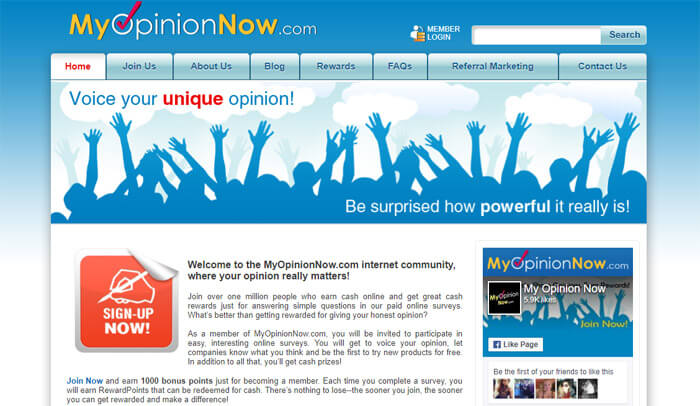 Their little Facebook Like button to the right of the screen showed that they have almost 6,000 likes on Facebook, which isn't too shabby… so, all things considered, my first impression of the site was good. But I still wanted to learn more.
I noticed that there was a FAQ tab along the top menu bar, so I clicked on that next and started reading.
What I Learned On The My Opinion Now FAQ Page
Checking out the FAQ page actually gave me a lot of really good information about this company. First of all, I learned that it is free to join My Opinion Now, which is awesome.
Next, I learned that the company will send you surveys via email once you join and fill out your profile. I liked this because it meant that I wouldn't have to keep checking back in to see if surveys were available. I would simply be notified if/when there were any to take.
As for how many surveys users can expect to get in a month, the number is said to vary—but you should not expect more than two every month. I was a bit disappointed by this, for probably obvious reasons.
If a website is going to prove to be a reliable side-hustle, then it would have to provide some consistent work that would also promise to earn you a pretty decent sum of money every month… and from the sound of it, this site doesn't send out very many surveys.
As for how long the surveys take to complete, the FAQ page said that you can expect them to take anywhere from a few minutes to a half-hour, to even longer… depending on several factors. They did say that longer surveys were worth more points though, which is a good thing.
I also found out that reward points are basically worth $1 per every 1,000 points. In other words, 20,000 points equal $20, etc.
The FAQ didn't say how much you can expect to earn per survey, though they did say that the amount you get paid per survey varies with the length of each survey. You get paid more for longer surveys, etc.
And that about covers what I learned in the FAQ. So at this point, I decided to take a look around the rest of the site, just to see what else I could learn from it.
What Else I Learned About The My Opinion Now Website
I clicked on the 'About Us' tab, located along the top of the website menu, but didn't really learn much here that I didn't know before. Here is a small quote that I found here, which was pretty interesting…
"As a member of MyOpinionNow.com, you become part of a special group of consumers who help decide which product and service ideas are winners and which are not."
Ok, so from the sound of it, this website seems to focus a lot on products and services. This isn't that surprising, as a lot of survey sites like this do. It is just interesting to note.
Next, I checked out the Blog. This was a weird page, to be super honest. There were a lot of random things posted here… things that I am actually surprised they post. I also found out that their last blog post was published in October of 2013… so yeah, it has been more than a little while since this has been updated.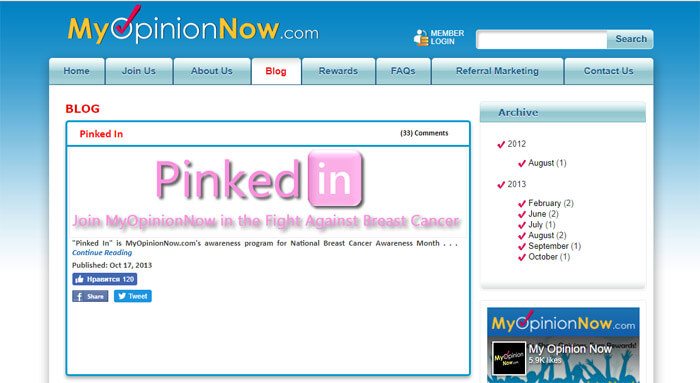 I'm always a little leery of things like this. If the site is so popular and great, wouldn't they update the blog? I'm not trying to be a pessimist. This is just something that I always think of when I see old blog posts and blogs that haven't been updated in a while.
I checked the Rewards page and learned that you can only cash out in denominations of 20,000 points. So if you have 70,000 points in your account, and want to cash out, you will cash out 60,000 and have 10,000 remaining until you earn another 10,000, etc.
I also learned that the company pays out via check, which is a bit old-fashioned… but effective nonetheless.
You can earn points for referring people to the site too. This is offered by a lot of survey companies, but it is also nice that this company offers to pay you for helping to bring more traffic into the community.
This about summarizes what I learned as I investigated the website. At this point, I was left with a pretty important choice. I could either…
Join the site and learn more
Take what I had already learned and formulate my official opinion about it from that
I like to be thorough, but this was a pretty easy choice. I already knew what I needed to know to decide if this website was going to work as a side-hustle for me, and I will share my final thoughts about it below.
How Did The Site Perform Technically?
From a technical standpoint, I actually really liked this website. I didn't encounter any glitches while browsing the initial pages, and I was able to navigate it without having my computer freeze up or anything like that.
Granted, there wasn't much crazy stuff going on with this site… just typical web-surfing through pages. But I had no problem with how it performed in a technical sense.
Will I Be Using The My Opinion Now Website In The Future?
I will say that I liked a few different things about this site. I love that the FAQ is detailed. I also love how much you can learn about the website before going through the process of signing up for it.
But is it a true side-hustle-worthy website?
I'm afraid not, and I will explain why.
This site literally says, in the frequently asked questions, not to expect more than 2 surveys per month. Even if these surveys pay out in amounts that are far above average, you are not looking at a financial outcome here that is going to result in you earning a lot of extra cash.
2 surveys per month is on the low side, even for a survey site. It's not unusual to find survey sites like Panel PayDay or Opinion Square, where you might get closer to 4 surveys a month (if not more).
I also had a problem with the fact that the blog has not been updated since 2013. Does this mean that the company isn't putting effort into it anymore? If they aren't updating the blog, does that mean that they're also not updating anything else?
I just didn't feel super comfortable with this aspect of what I found.
As a survey site that pays out a little bit when you finish a survey, I liked it. My Opinion Now seems like a pretty typical, fun survey site… and if you like to share your opinion, you really can't go wrong with signing up and giving it a try.
But it is a far cry from being the side hustle that I would need it to be. And for that reason, I am afraid that I am going to be moving on and trying something else. Don't get me wrong, this isn't a bad site.
But I'm afraid it just didn't add up to what I would need it to be in order to really be able to justify spending time on it. It's just that simple. My time is too valuable, and I need to find a business opportunity that I can really sink my teeth into.
Our Final Thoughts About The My Opinion Now Survey Site
Should you join and use it to make some extra money?
The My Opinion Now Survey Website Review
To be completely honest, doing online surveys will never earn more than minimum wage. In fact, most people rarely earn more than $1-$3 per hour, if they are lucky enough to get a payout.
If you want to legit make money online you need to invest time into building a website. Earn passive income through affiliate links & advertising revenue. Rather than spend an hour trying to answer boring questions, build a real web property that you can earn monthly income from.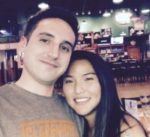 Nathaniell
What's up ladies and dudes! Great to finally meet you, and I hope you enjoyed this post. My name is Nathaniell and I'm the owner of One More Cup of Coffee. I started my first online business in 2010 promoting computer software and now I help newbies start their own businesses. Sign up for my #1 recommended training course and learn how to start your business for FREE!