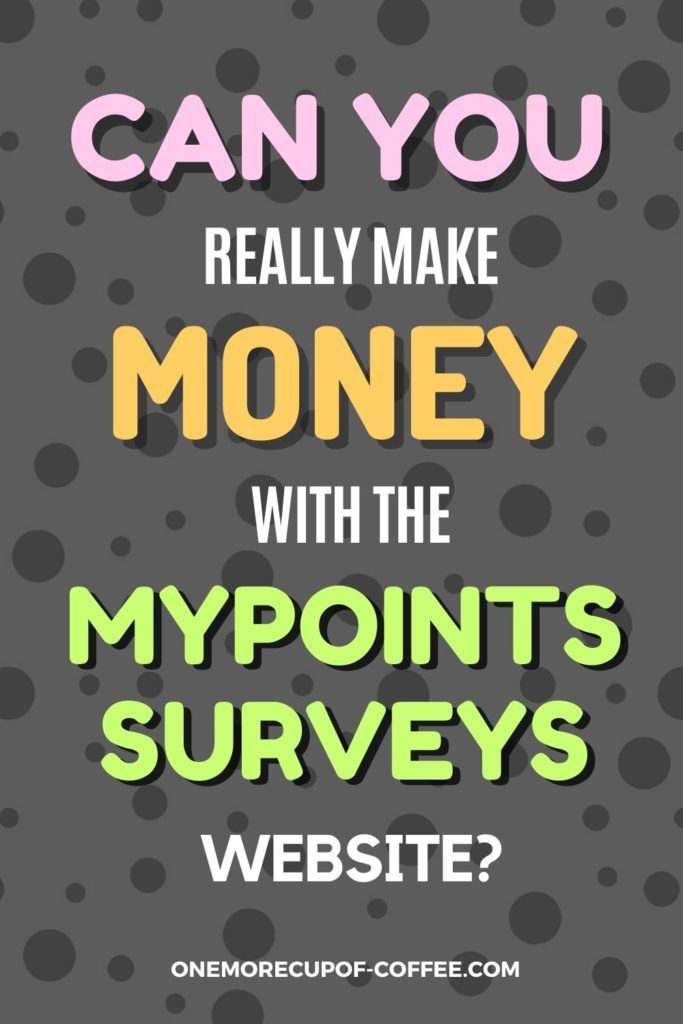 This is a survey company that we've been hearing a lot about lately… so we decided to give it a try. I was particularly interested in seeing what they had to offer, because they have had plugs from some pretty popular sources, including ABC News, TechCrunch, Aol., Yahoo!, etc . But can you really make money with MyPoints Surveys?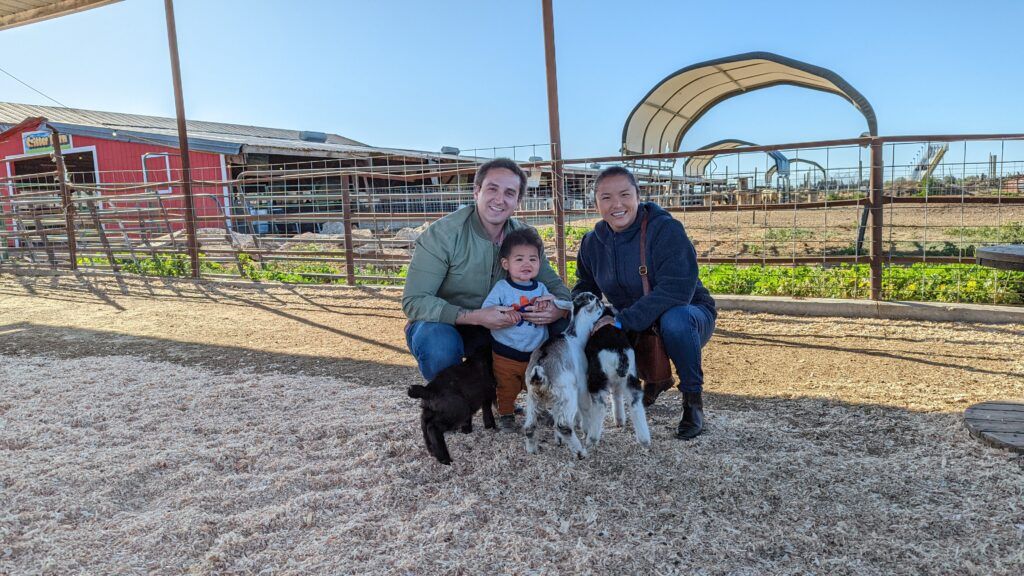 Are You Ready To Work Your Ass Off to Earn Your Lifestyle?
Are you tired of the daily grind? With a laptop and an internet connection I built a small website to generate income, and my life completely changed. Let me show you exactly how I've been doing it for more than 13 years.
This is what I was determined to find out. You can locate them online at www.mypoints.com.
In general, I like the idea of using survey sites to earn extra cash, mostly because they offer a lot of flexibility. But this is often a trade-off for lower per-hour wages. So, the key is to find survey sites that actually pay you enough to make it worth your time.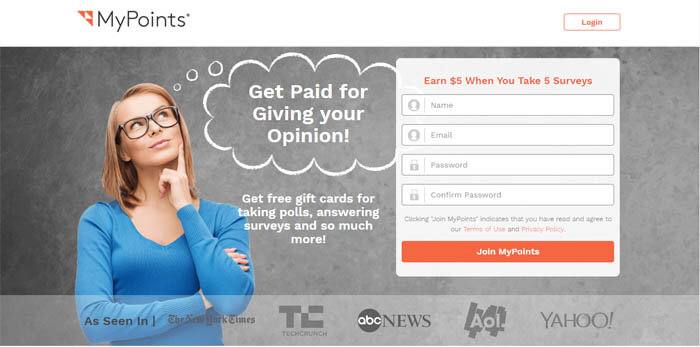 But does MyPoints do this? Or is it another survey site that just doesn't give you what you need to make it worth it?
Here is what you need to know.
Making Money With The MyPoints Survey Website
Let's begin with the website itself and how it functions.
The Basics: Getting Started With MyPoints Surveys
So first, I had to register. Joining MyPoints was a pretty painless task, to be fair.
I just had to input my name and my email address, create a password…and then confirm it.
This took me about thirty seconds, then I was inside. Once inside, I was greeted with a welcome page. It looked like this.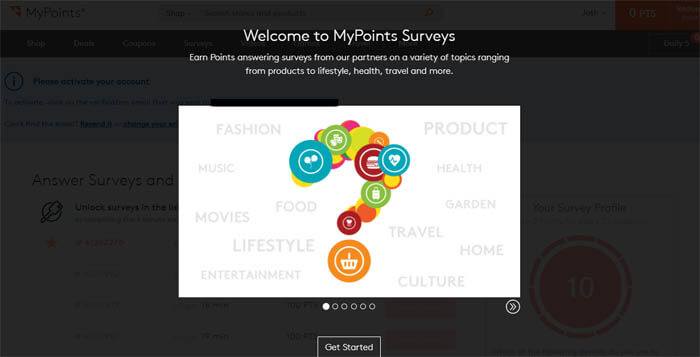 I saw that I could scroll across this screen to get more information about the survey site, so I did. Here is what I learned.
That I could earn points by answering surveys on a variety of topics, including health, lifestyle, travel, and more.
That the survey dashboard would show me what surveys were available, along with an expected time to completion and the points that I could earn with each survey.
That the partners rely on accurate data, so you should provide true, consistent answers in your surveys, lest you be blocked from participating in the future.
That you can maximize your earning potential by completing the available surveys before they expire.
And that new surveys are added throughout the day, so you should keep checking back regularly to make the most of the opportunity.
So far, so good. This all seemed pretty straightforward to me. At this point, I decided to take a look at the main hub of the survey service. Here is what it looked like.
Taking A Look At The Main Hub Of MyPoints SurveyZone
Once I moved on to the main hub of the page, I was asked to verify my email address. This took just a minute, though I did have to request that another email be sent—as I could not seem to find the original email anywhere in the email folder.
Once I requested the new email, however, it was a simple matter to visit my email folder and verify my address. Once this was done, I was taken to the main hub, which looked like this.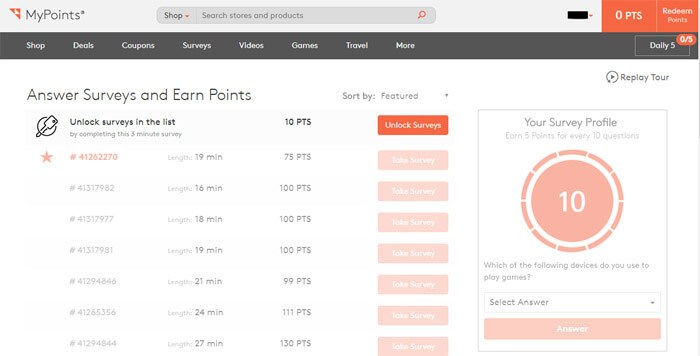 At this point, I realized that I didn't seem to be eligible for any surveys. It seemed that I needed to take the first one in order to see what I qualified for, so that's what I decided to do next.
I took the survey. It wasn't very difficult to get through, and I was able to complete it rather quickly. One thing that I did notice was that it sometimes asked me the same question, but in a different way.
I think that this is how it looks for discrepancies—so make sure that you answer truthfully, or at least consistently, as you take your surveys… lest you end up blocked and not allowed to participate in the future.
On a technical note, the site was behaving pretty well at this point. The survey was easy to take, and I didn't really experience anything in the way of glitches. It was quite user-friendly. I had no complaints in this area.
Now, I was shown a list of surveys that I qualified for and could take. Here is what it looked like.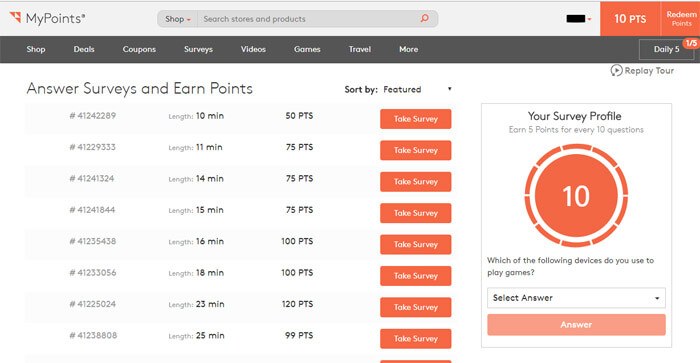 At this point, I could see what kinds of point values were available to me in the surveys. The surveys averaged out to about 15 minutes in duration, and point totals seemed to average out at about 90 points per survey.
But I still didn't know what points were actually worth in real-world currency, so that is what I took a look at next.
How Much Are Points Actually Worth With The MyPoints Survey Website?
To figure this out, I clicked on the 'Redeem Points' button at the top-right side of the screen. So far, I had accumulated 10 points, but I could quickly start to earn more by completing surveys.
As far as I could tell, it would be pretty easy for me to earn about 200 points a day, if I dedicated about half an hour to an hour of my time to the site. If I were to do this 5 days a week, I could earn an impressive 1,000 points a week using the MyPoints survey site, which sounds pretty good to me, to be honest!
But I wanted to see what these points translated to in real-world currency.
Clicking on this button led me to a page where I could access gift cards from a lot of different businesses. Some of the options I had to choose from included…
1-800 Flowers
Amazon
AMC Theatres
American Airlines
American Eagle Outfitters
Barnes & Noble
Banana Republic
And many, many more
I clicked on the Amazon tab, because that is probably what I would choose if I were going to redeem my points for a gift card.
Here is what I found.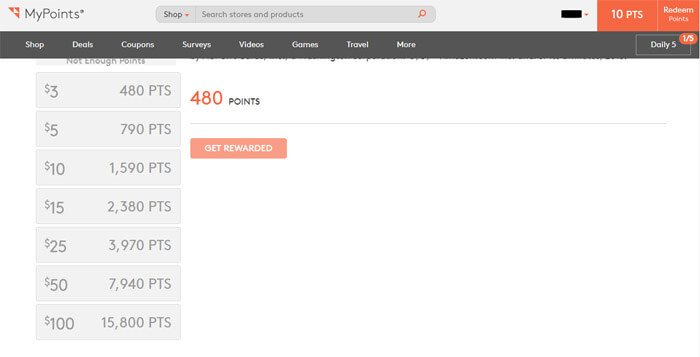 As you can see, I could get a $10 Amazon Gift Card for 1,590 points. If I worked consistently on the MyPoints site, I feel that I could most definitely manage to do this within a two week period… which means that I could consistently pull down about $20 extra per month if I stick with it for somewhere around 30 minutes to an hour a day, 5 days a week.
Now, granted, that might seem like a lot of work for the money, and it is. It is an average of somewhere between $1 and $2 an hour, or so… but that is not too bad when you consider what some of these surveys are paying out for the time.
Plus, as you get better at the surveys, you may be able to get them done even faster—so that's a good thing.
But, with that being said… objectively speaking, I am not sure that this is the kind of per-hour payout that would grab my attention. There are worse gigs out there… but that doesn't necessarily make this one 'ideal,' if that makes sense.
Do I Plan On Using The MyPoints Site To Try To Make Some Extra Money?
I looked into some online reviews of MyPoints, and found a few extra tidbits of information that made me pause. I found out that a lot of users used to like it, but that it just isn't as trustworthy or as efficient as it used to be.
I have even heard of some stories about them giving out expired gift cards… which is a huge negative for me! If I am going to spend my time taking surveys, I certainly don't want my rewards to get messed with like that.
So yeah. While these stories can usually be chalked up to human error, they just made me a little too cautious.
Even without those stories, the app seemed to be just a little too much work for what you make for my taste. I really value my time, and while MyPoints does seem to be reputable, in the sense that it isn't a scam… I am not sure that it is worth enough money to justify spending the time on it.
Now, with that being said, there are some good points to this survey site as well. For one, the surveys can be taken at any time, from any location.
That makes it very convenient. Pretty much anywhere you have access to your laptop/tablet and internet, you can take surveys… so that's a good thing.
There are a limited number of surveys on the site, which is a bit of a downside… but this is balanced out by the fact that they add new surveys every day, which is awesome.
If you enjoy taking surveys, don't mind earning fifty cents or so per survey, and are willing to do a lot of them to build up points, then you can most certainly make extra money with MyPoints… but for me, I am afraid that it requires a bit too much work for the payoff.
There are worse survey sites out there, for sure… but MyPoints didn't quite give me what I needed to make it worth my time.
Our Final Thoughts About The MyPoints Survey Site
Should you sign up and use it to earn extra cash?
The MyPoints Surveys Website Review
To be completely honest, doing online surveys will never earn more than minimum wage. In fact, most people rarely earn more than $1-$3 per hour, if they are lucky enough to get a payout.
If you want to legit make money online you need to invest time into building a website. Earn passive income through affiliate links & advertising revenue. Rather than spend an hour trying to answer boring questions, build a real web property that you can earn monthly income from.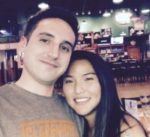 Nathaniell
What's up ladies and dudes! Great to finally meet you, and I hope you enjoyed this post. My name is Nathaniell and I'm the owner of One More Cup of Coffee. I started my first online business in 2010 promoting computer software and now I help newbies start their own businesses. Sign up for my #1 recommended training course and learn how to start your business for FREE!