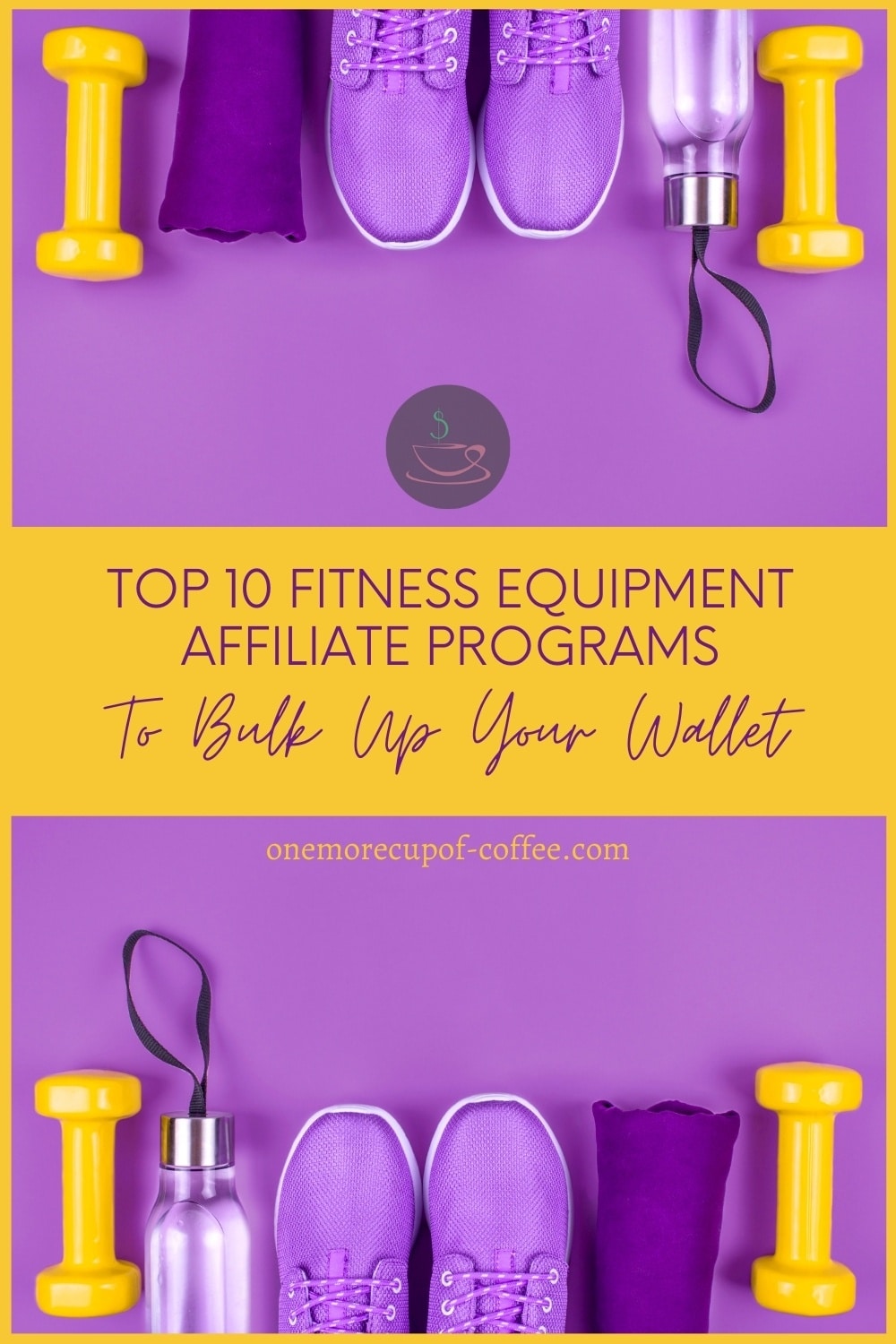 In early Autumn, Halloween candy and pumpkin pies are already appearing on local grocery store shelves. By mid-October, some shops have set up a section for holiday shopping. For about three months, the stores are packed with rich foods like eggnog, fancy loaves of bread, and candy.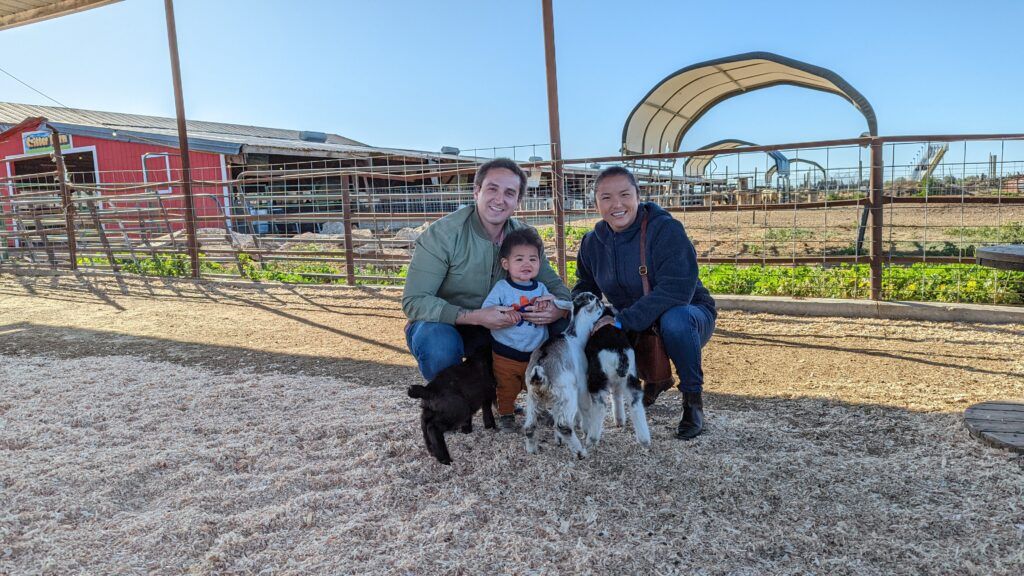 Are You Ready To Work Your Ass Off to Earn Your Lifestyle?
Are you tired of the daily grind? With a laptop and an internet connection I built a small website to generate income, and my life completely changed. Let me show you exactly how I've been doing it for more than 13 years.
Maintaining a healthy weight and keeping fit during these months of celebrations can be a challenge. For many people, finding time to hit the gym becomes more difficult, too. Purchasing fitness equipment that can be used at home gym or on the go can make things a little easier.
However, some customers don't know where to start looking. Affiliate marketers can help by connecting these customers with companies that sell the fitness equipment they need.
If you're interested, read through this list of the 10 best fitness equipment affiliate programs. These dovetail nicely with a variety of niche market strategies, so they can boost affiliate holiday cash, too. Depending on your niche, another category worth exploring would be our list of sports affiliate programs.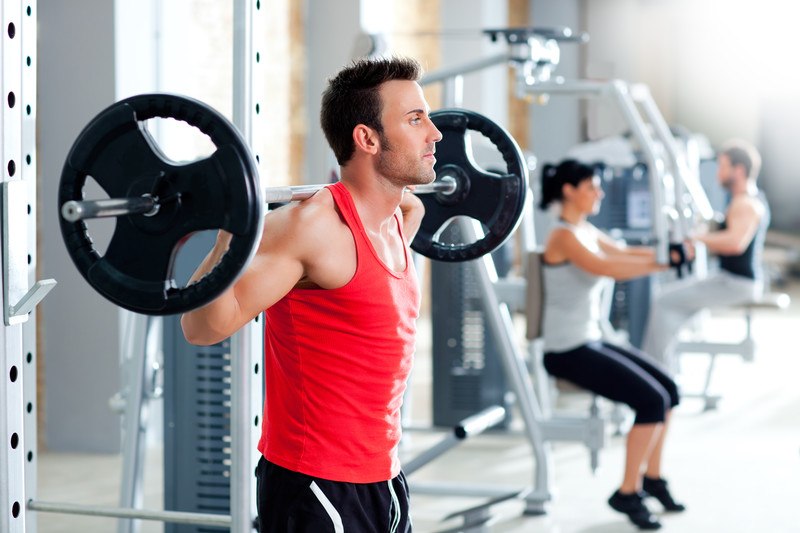 Fitness Equipment Affiliate Programs
Fitbit
Life Fitness
Horizon Fitness
BowFlex
Workout Warehouse
Total Gym
REP Fitness
Lifeline Fitness
Garage Fit
TRX Training
1. Fitbit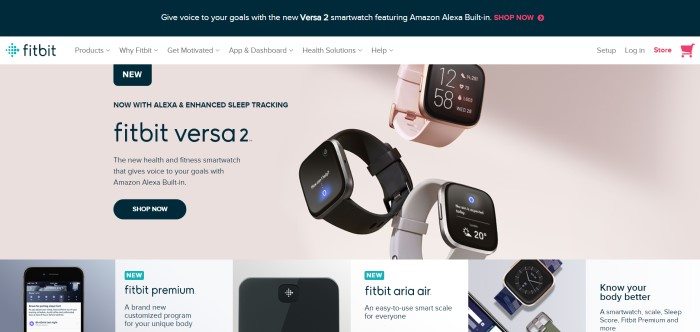 Fitbit is one of the best-known brand names for fitness equipment. The products are mostly smartwatches, with some designed to monitor heart rates and others performing simpler functions such as tracking food intake or exercise.
These devices are consistently top sellers for connected fitness equipment on Amazon.com, and they account for about 72% of all connected fitness devices on the market. The work with a variety of different platforms, so the target audience is broad.
Fitbit runs its affiliate Program through CJ.
Why You Should Promote Fitbit: Fitbit is a trusted brand for connected fitness equipment. However, the company is currently only accepting affiliate partners from the United States and Canada.
2. Life Fitness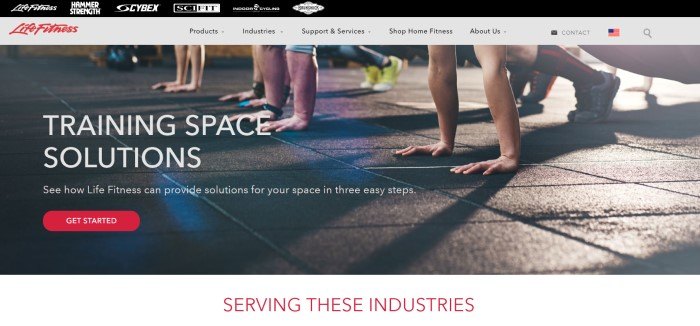 Life Fitness sells fitness equipment for both home use and commercial use. The online store carries cardio equipment, strength training equipment, and accessories.
Customers can shop by the brands they like as well as the types of exercise they want to do. They can also browse through the sales section or filter their searches based on equipment prices. These are high-ticket items that range from around $1775 to $9,000, with an average order value of $3,000.
Life Fitness, which has been in business for almost half a century, administers its affiliate program through AvantLink.
Why You Should Promote Life Fitness: Affiliate marketers can get bonuses and other performance-based incentives. Also, because the products are priced so high, just one or two sales can result in a significant bump in affiliate earnings.
3. Horizon Fitness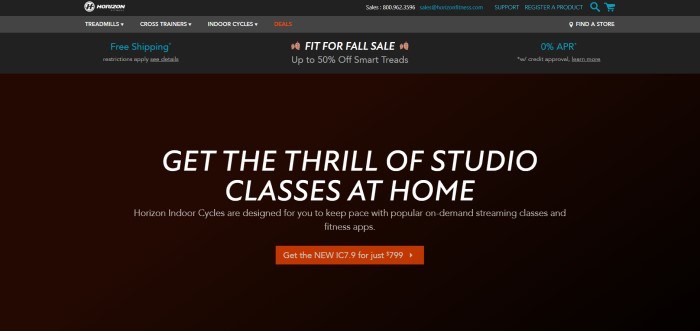 Horizon Fitness sells high-end treadmills, cross trainers such as rowing machines and ellipticals, and indoor cycles. Some pieces of equipment can connect to Bluetooth technology, and the company lists monthly financing options on the product pages.
Many of the products cost a few hundred dollars, so the commission can be nice for affiliate marketers. The average order value is more than $800. In some cases, Horizon Fitness provides free shipping.
Horizon Fitness's affiliate program is being administered by Impact.
Why You Should Promote Horizon Fitness: The financing option and possibly free shipping could both be converting factors for some shoppers. There's also a 30-day money-back guarantee on all Horizon Fitness products.
4. Bowflex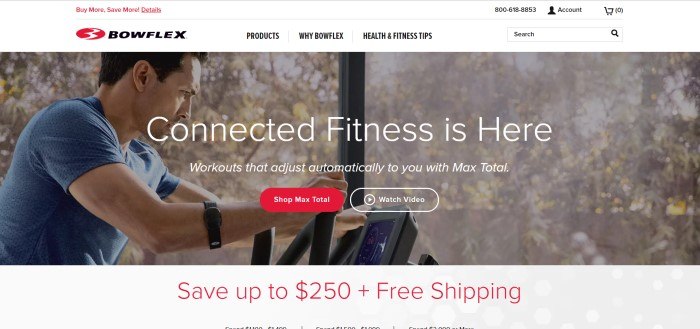 Bowflex sells gym equipment such as the Bowflex Treadclimber Machines, which are crosses between treadmills and stair-climbing machines. These pieces of fitness equipment can burn 25 times more calories than a treadmill alone. Prices range from around $1,800-$2,400.
Another favorite product that Bowflex sells is a piece of equipment called the Max Trainer. Max Trainer machines use software to act as personal trainers. They measure the capabilities of people using them and help them slowly increase their abilities. Max Trainers range in cost from around $1,000-2,600.
Bowflex carries other home gym equipment, and the website offers workout tips for cardio and strength training. The affiliate program for Bowflex is run through Impact Radius.
Why You Should Promote BowFlex: These pieces of equipment are sophisticated and connected, which could be a draw for some customers. The price tags are somewhat high, which means more money per sale for affiliate marketers.
5. Workout Warehouse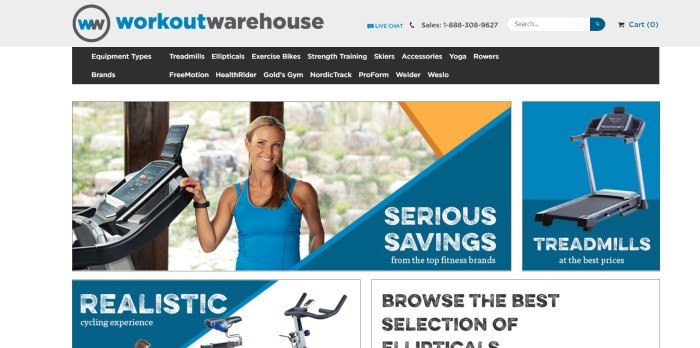 Workout Warehouse sells a wide variety of different types of fitness equipment. These include treadmills, which are the most popular items and can range in price from around $600-2,000. The company also carries ellipticals, strength training equipment, cycling machines, skiers, yoga equipment, and rowers.
Workout Warehouse runs its affiliate program through Commission Junction.
Why You Should Promote Workout Warehouse: Workout Warehouse has a tiered commission system that starts at 8% for sales up to $10,000. Affiliate marketers who bring in sales of $30,000 or more can get as much as 11% commission.
6. Total Gym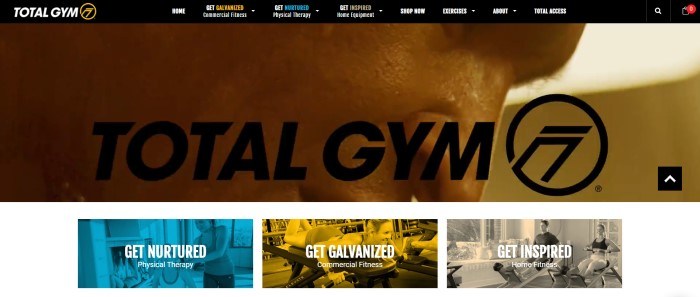 Total Gym is meant to be a light-weight but heavy-duty piece of fitness equipment that anyone can use at home. This home gym weighs less than 100 lbs., and it's been endorsed by celebrities (including Christie Brinkley and Chuck Norris) for 15 years.
Customers could pay as little as $530 or as much as $3,795, depending on the home gym they choose. The company offers free shipping for all orders of $175 or more, as well as a 30-day risk-free trial period for trying out the machine. They can also pay in monthly installments without interest.
The commission rate is tiered based on the product type. Affiliates earn 7.5% commissions on full units, 5% on the core trainer, and 3% on DVDs.
Why You Should Promote Total Gym: The company offers a lot of benefits for consumers, including interest-free installment payments. The commission rate and cookie length are generous for affiliate marketers, too.
7. REP Fitness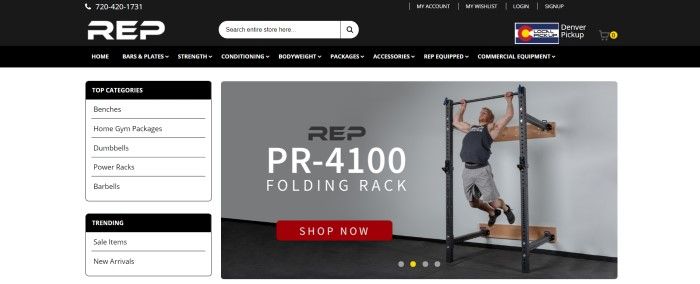 REP Fitness carries the usual rowers, ellipticals treadmills, and weight benches that other fitness stores sell, but it also has a nice selection of strength training and conditioning equipment. These include squat racks, kettlebells, battle ropes, and balance trainers.
This company sells home gym packages that generally include a weight bar and weights which bodybuilders will need to get the reps in at home. Packages start around $240 each and top out around $3,860.
REP Fitness runs its affiliate program through Post Affiliate Pro.
Why You Should Promote REP Fitness: There are a lot of products to choose from, and they're all relatively high-priced. This usually means more commissions per sale for affiliate marketers, but this company doesn't list the commission rate, so it's hard to tell what you could make.
8. Lifeline Fitness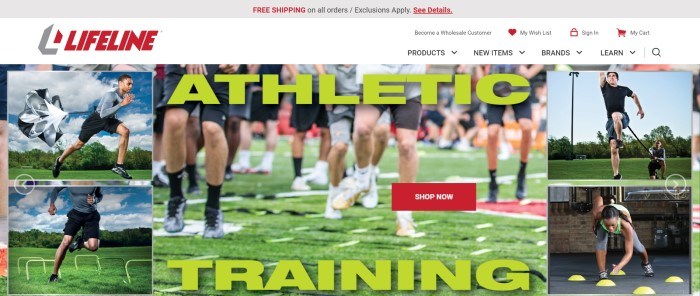 Lifeline Fitness sells many individual fitness equipment pieces. These include training ropes, speed ladders, pull-up bars, power wheels, and weighted vests. Some full sets of weights with racks and benches can cost up to $3,000, but most orders come in at around$100 each.
This company seems to specialize in equipment to help recovery and boost mobility. Items such as massage bars, stretching straps, training mats, core balls, and shoulder pulleys are meant to help people who have been injured or inactive gently work back into fitness routines.
One really great thing about Lifeline Fitness is that it offers free shipping on every order. They use ShareASale to manage their affiliate program.
Why You Should Promote Lifeline Fitness: For affiliate marketers, the commission rate and cookie length are both decent. For customers, the equipment that helps to increase mobility could be a big draw, and the free shipping might help convert customers.
9. Garage Fit

Garage Fit sells some great pieces of fitness equipment for practicing bodyweight resistance, including pull-up bars, training vests, and stretch bands. This company also carries harder-to-find items for helping people increase agility and speed. These products include agility dots and rings, high-speed jump ladders, steel maces, plyometrics boxes, and thunder balls.
Unlike other fitness equipment stores, almost all of the products are relatively small and somewhat portable, so they can be used at home, at parks, or taken on vacations.
Why You Should Promote Garage Fit: The equipment sold by Garage Fit could fit well with niche market websites, especially ones focusing on sports where speed and agility are important. There's also free shipping on orders of $25 or more, which could help convert some shoppers.
10. TRX Training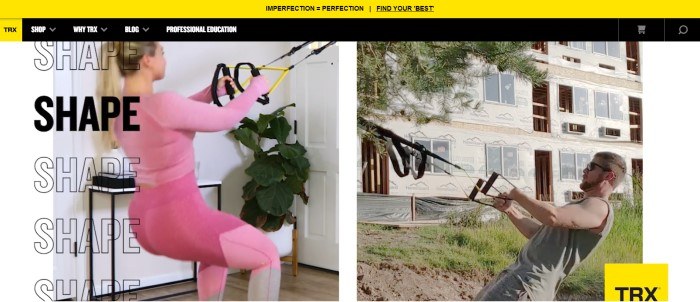 TRX Training sells a conditioning system based on suspension. The company has several suspension-based products, including the TRX Tactical, which is used by the military.
There's also the TRX Pro4, the TRX Rip Trainer, and the signature product—the TRX Home 2, which comes with full workouts, a training app, and tracking capabilities. The TRX Home 2 currently sells for around $170. TRX Training products come with hassle-free returns, a five-year warranty, and access to the app for a year.
TRX Training's affiliate program is being run via Commission Junction and PepperJam.
Why You Should Promote TRX Training: The products are reasonably priced and provide effective workouts that are used by the military. Access to the app could also help to convert some shoppers.
Affiliate Website Ideas
This list of the top 10 fitness equipment affiliate programs is a great springboard for drawing wellness elements into your niche marketing efforts. Do you know how you're going to do it?
One idea is to fold the promotion of fitness equipment into a website for people who are dealing with a specific chronic disease, such as multiple sclerosis. Besides fitness equipment, a website like this one could feature at-home medical supplies, insurance options, and even transportation options for people who can no longer drive.
You might also consider a website that focuses on building local sports teams. A website like this one could feature sneakers, sports apparel, team tee shirts, and even larger items like sound systems as well as fitness equipment.
One more idea is to create a website that targets a rural lifestyle. Elements for country living, such as gardening resources and canning supplies could be featured here. Online shopping outlets and fitness equipment for areas where local gyms aren't readily available could also be promoted on this type of website.
Boost Your Affiliate Earnings
These 10 affiliate programs are just the beginning of what's possible. There are hundreds of ways to earn affiliate commissions with your website, including product reviews, top 10 lists, how-to guides, and more
But what about traffic and conversions? How do you make sure your affiliate links get clicked?
I used the affiliate training here to turn my brand new website into a six-figure income generator in less than two years. Build a business, not just a pocket-money side project!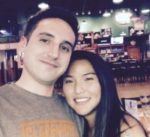 Nathaniell
What's up ladies and dudes! Great to finally meet you, and I hope you enjoyed this post. My name is Nathaniell and I'm the owner of One More Cup of Coffee. I started my first online business in 2010 promoting computer software and now I help newbies start their own businesses. Sign up for my #1 recommended training course and learn how to start your business for FREE!