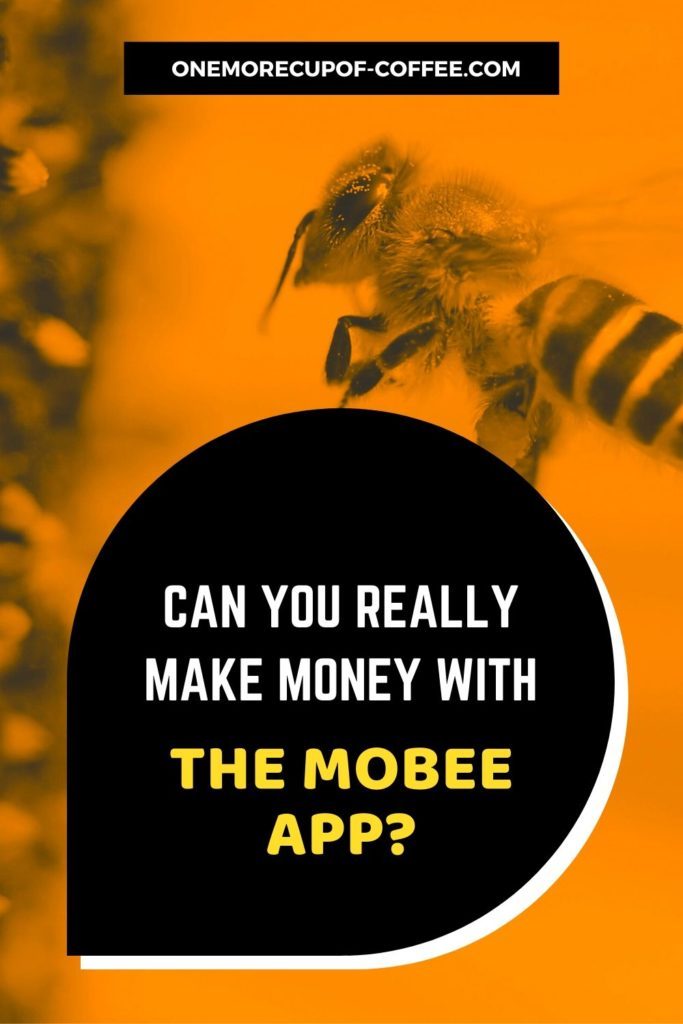 I like to make extra cash, and apps are one of my favorite ways to do it. So when I heard about this interesting, prospective cash-making opportunity on Google Play, I downloaded it and jumped at the chance. But can you really make money with the Mobee app?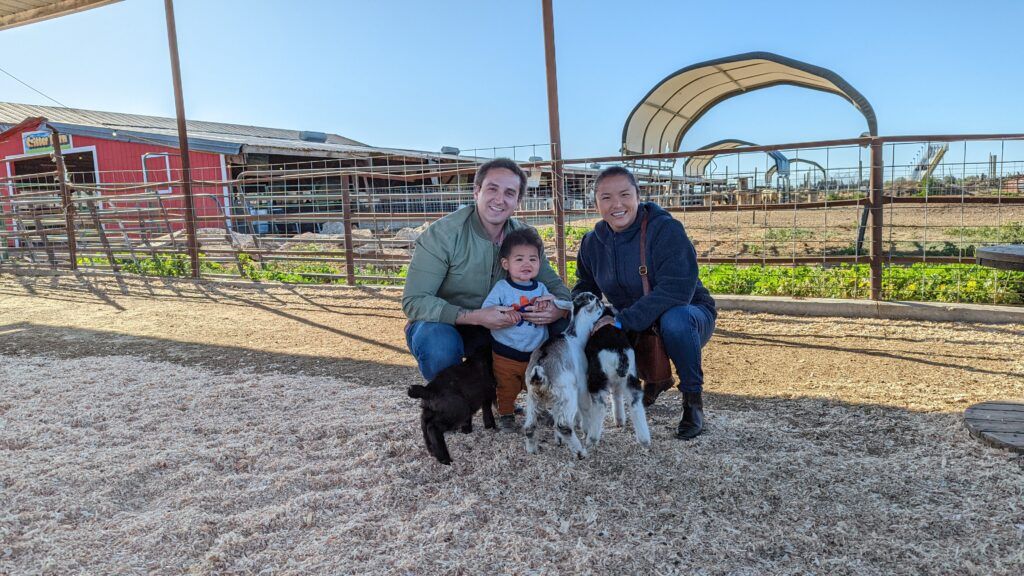 Are You Ready To Work Your Ass Off to Earn Your Lifestyle?
Are you tired of the daily grind? With a laptop and an internet connection I built a small website to generate income, and my life completely changed. Let me show you exactly how I've been doing it for more than 13 years.
That's what I really wanted to know—so here's what I found out over the course of my research.
Making Money With The Mobee App
As always, my first step was to look at the app itself and the ratings on the Google Play store.
Getting Started With Mobee
Mobee has been downloaded over 100,000 times. But… it only has a Google Play rating of 2.9 stars—which is among the worst that I've seen.
But still, I wasn't daunted. I know that some apps have a tough time getting off of the ground, and I was willing to give Mobee the benefit of the doubt.
So I downloaded it and got started. Here's what I found.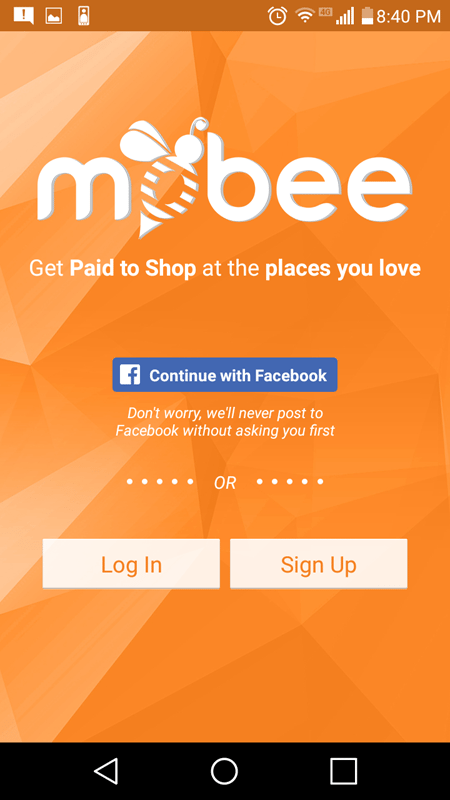 First of all, I signed up using my Facebook account. This was easy, as usual.
Mobee asked me if I had a referral code, which I didn't have. So I opted to skip that part.
Next, I was taken to a series of pages which basically told me what the app did and was all about.
Here are screenshots of the pages, which help a lot to describe exactly how you're expected to make extra cash using Mobee.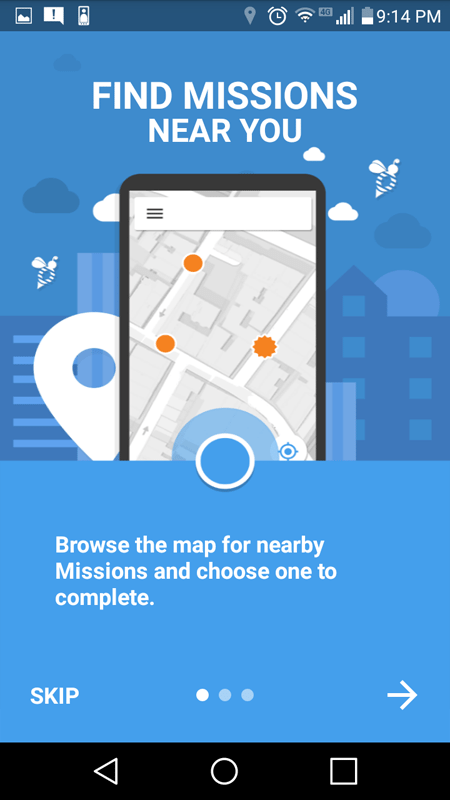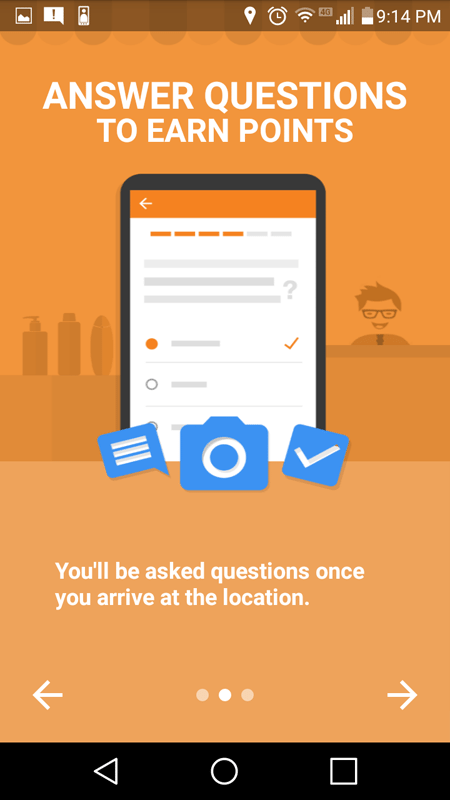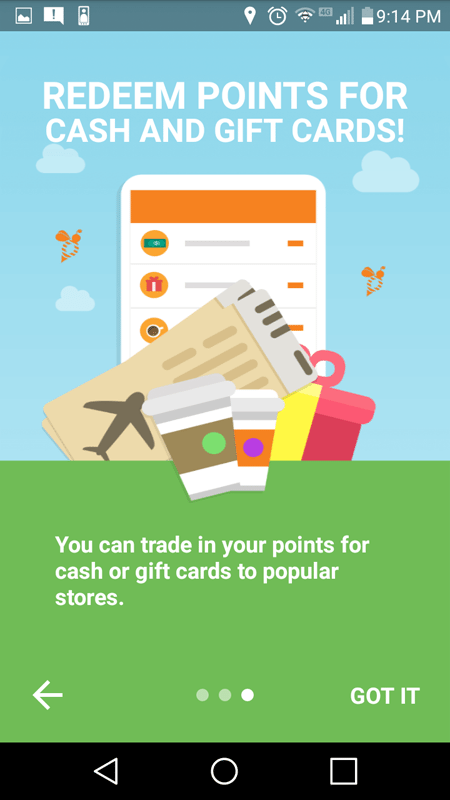 After viewing these screens, I clicked 'got it,' and was taken to a screen that was basically a map of my hometown. The app obviously uses my GPS location to figure out where I am, because it was pretty spot-on regarding my current geographic coordinates (using the word 'coordinates' makes me feel like I'm in an Indiana Jones movie… just saying).
At the top of the page was a search bar, which said 'Search nearby places,' and along the bottom of the screen, there was a tab-like button that had the number 4 in an orange circle, along with the words 'Anywhere Missions.'
I opened the tab and was taken to this page.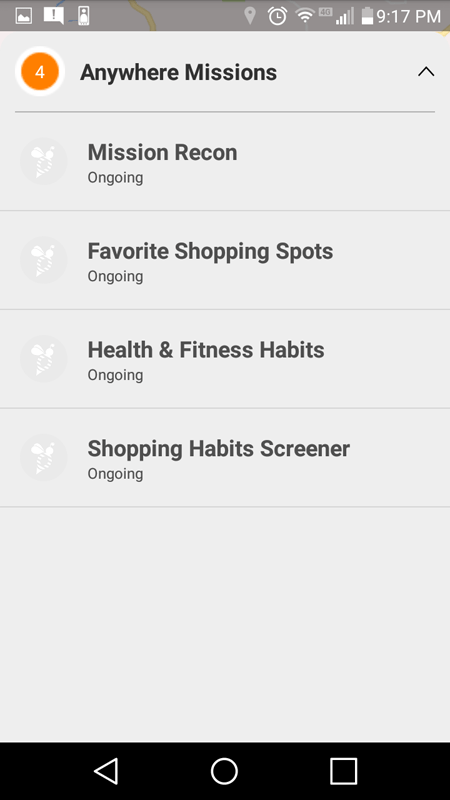 At this point, I realized that these were missions that any users could try to complete, no matter where they were located.
This was super-good news for me, as I live in a very small, rural town in the center of the United States—so apps with missions aren't generally a very good fit for me.
But my hopes were still high for Mobee… so I decided to take a look at some missions.
A Closer Look At Missions On Mobee
Before I could get the chance to check out these missions that I had discovered, I had to close out the app and take a break—because something came up that took me away from the task for a bit.
And when I returned, and opened the app back up, I was greeted with this page.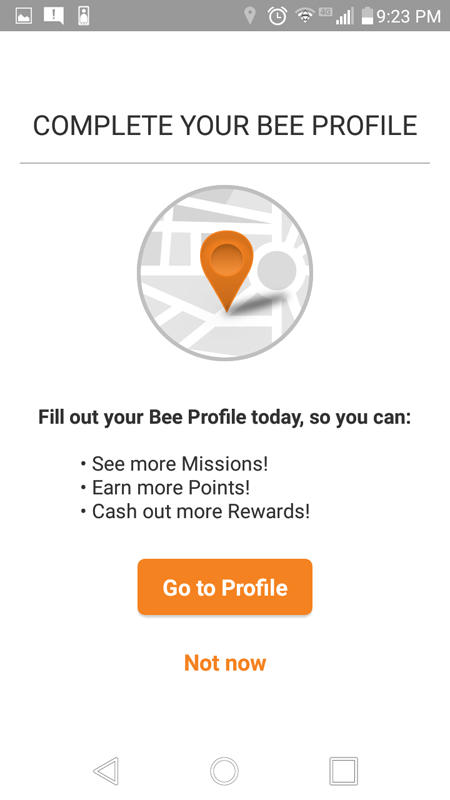 Not wanting to miss out on any possible opportunities, I clicked 'Go To Profile,' and was taken to a series of pages where I was asked some questions about myself.
They wanted to know my gender, my birthdate, my zip code, my ethnicity, my level of education, my marital status, how many children I had, what my household income was, and asked if I would send them a vial of my blood and perform a pagan ritual within a candle-lit pentagram (the blood vial and the ritual part are jokes: they did not actually ask for these).
After completing all of this, I went back to the map section of the app—and still didn't have any more missions to do, other than those that I had when I first logged in (the 'anywhere' missions).
Not willing to be daunted by this, I once again opened the Anywhere Missions tab and selected 'Favorite Shopping Spots' as the option that I wanted.
After selecting the mission, I was taken to this page.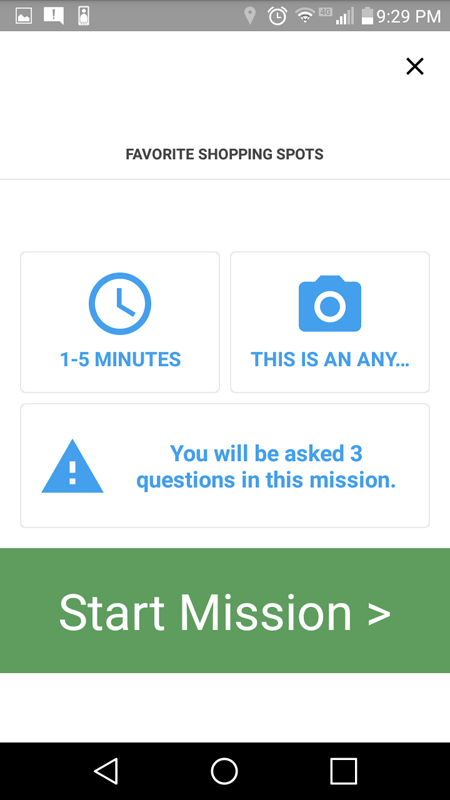 It looked like a survey, to be honest—but I wasn't 100% sure what I was getting into, so I decided to bite-the-bullet and go for it.
I clicked 'Start Mission,' and got the ball rolling.
Completing The Mobee Mission
The mission was supposed to last 1 to 5 minutes—but it really didn't even last 30 seconds. They asked me just a couple of questions about my favorite stores to shop in, and asked me if I had a reward card to any of the stores on their list. After I answered these, I was greeted by this screen.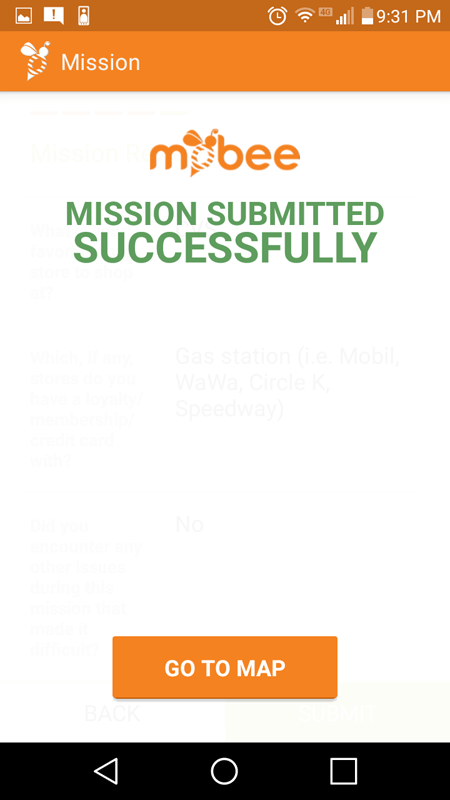 It had only taken me about 30 seconds to finish this survey, but I wasn't sure what I had gotten for it—if anything. So I returned to the map and decided to look into the drop-down menu on the top-left part of the app home screen (the map seemed to act as the home screen).
Finding Out About My Rewards
I quickly realized that these 'anywhere' missions do not reward you points… which was a bit of a bummer.
But—I did use the search bar to find a mission about 20 miles away from me that paid out 150 points. It seemed to be a mission that I would carry out at a Walmart.
I would have needed the camera on my phone to complete it, I think, if I understood it correctly—but beyond that, I didn't have any other details about it.
I probably wouldn't ever take such a mission, because I never go to that town or that particular Walmart store, really, unless I'm passing through or near it for some reason—so it was a bit pointless to me.
And that was apparently the only mission within the extended parameters of what the app would show me that I was eligible for. Beyond that, I had no feasible way to earn any points.
But… with that being said, I do kind of live in an out-of-the-way little town—which makes mission apps like this difficult for me to use.
Rewards on Mobee start out at 500 points for $5 gift cards to businesses like Starbucks, Dunkin' Donuts, iTunes, etc. So, as you can see, a trip to Walmart like the one listed above would have basically earned me $1.50.
I'm not sure how long such a mission would take to complete, but that's not very much money… certainly not enough to justify me driving 20 miles to complete!
But what if this mission had been closer to me? What if it has been a mile away from me?
Would the app be worth using in that case?
At this point, I believed that I had the answer I was looking for.
Can I Earn Enough Money On Mobee To Make It Count?
Alright, I'm going to be 100% honest here… and believe me when I say that this is a completely unbiased opinion. I just like to earn extra money, and I write about what helps and what doesn't.
Mobee isn't an altogether 'new' concept. I've reviewed many apps like this in the past (including iPoll, Rewardable, Apperwall and Instant Rewards)—but I have to say the same thing about Mobee that I've said about many of the others.
With Mobee, I just don't feel like the cash you can earn is really worth the trouble. If I could sit at home or ride as a passenger on a long car ride and fill out surveys that paid me $1.50 each for 3, 5, or 10 minutes of my time—that would be one thing.
But these surveys need to be done on-location. They also require you to use your phone while you do them… so not only are you going to have to travel somewhere special to complete these 'missions,' but you are also going to have to deviate from what you would normally be doing there in order to do so.
Granted, the idea might be to only take missions for businesses and locations that you would already be going to—but let's be real for a minute. Is it really worth $1.50 to me to walk around Walmart with my phone out, spending my valuable time reporting information to this app?
This is going to take time—and my time is, I'm not afraid to say, perhaps a bit too valuable for a concept like this to really work for me.
There might be people out there who are willing to do what it takes to earn money on Mobee—and I have no doubt that the app will work for them, earn them gift cards, and pay them for their effort.
But will they be getting a fair trade for their labor?
I must say that I don't think so. I feel that I would be better suited to stand outside of a business and sing a song or perform magic tricks for tips. I really feel like I would earn more money for my time doing that.
I don't wish to sound overly negative, but Mobee just didn't do it for me. There are many other apps that I would use to try to earn extra cash over this one. In a larger city it would doubtlessly be better—but I still cannot imagine it being good enough to earn a permanent place on my phone.
Our Final Thoughts About Mobee
Should you download it and use it on your phone?
The Mobee App Review
Honestly, there are tons of various apps that claim to help you "make money", but really there are two facts to consider. 1) Most of them don't actually work. 2) If you can make money, it's not going be very much. If I'm going to spend any amount of time working online, I want to be working for myself by building my own profitable website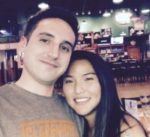 Nathaniell
What's up ladies and dudes! Great to finally meet you, and I hope you enjoyed this post. My name is Nathaniell and I'm the owner of One More Cup of Coffee. I started my first online business in 2010 promoting computer software and now I help newbies start their own businesses. Sign up for my #1 recommended training course and learn how to start your business for FREE!