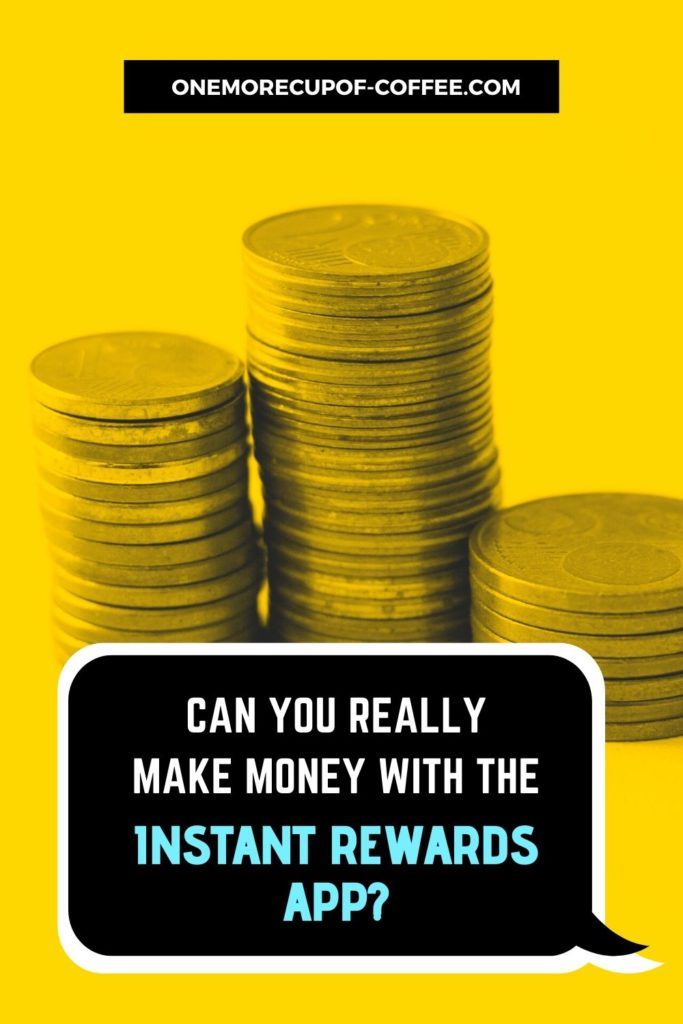 This app claims to help you 'earn cash, prizes, gift cards, and more'… but can you really make money with the Instant Rewards App?
This app, which was published by FlashPoint Media LLC, is available on the Google Play store as a free download. I actually found it in a list of apps that are supposed to help you earn extra cash, so I decided to download and try it out for myself.
As you can see, the Google Play Store stats for the app are pretty solid.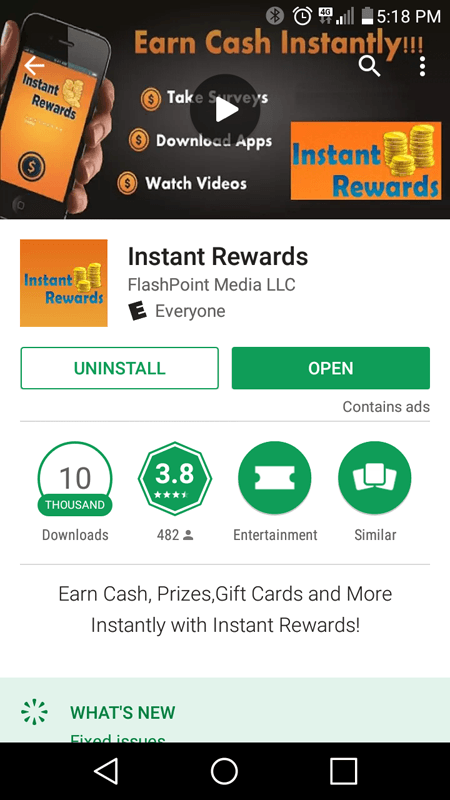 It has over 10,000 downloads, boasts a Google Play rating of 3.8 stars, and has been reviewed by almost 500 people. But is it all that it claims to be? The tagline for the app makes some pretty big claims…
"Earn cash, prizes, gift cards, and more instantly with Instant Rewards."
But… I was still a little bit skeptical. So I decided to try it out, and also decided to record my findings here. So here's what you need to know if you're thinking about downloading and using the Instant Rewards App.
Making Money With The Instant Rewards App
To talk about making money, we first need to look at the app itself and what it has to offer.
The first page that we found was literally a 'getting started' page. It said that you need to register to use the app, but that you can get paid for completing offers with it. I clicked the 'register' button, which brought me to this page.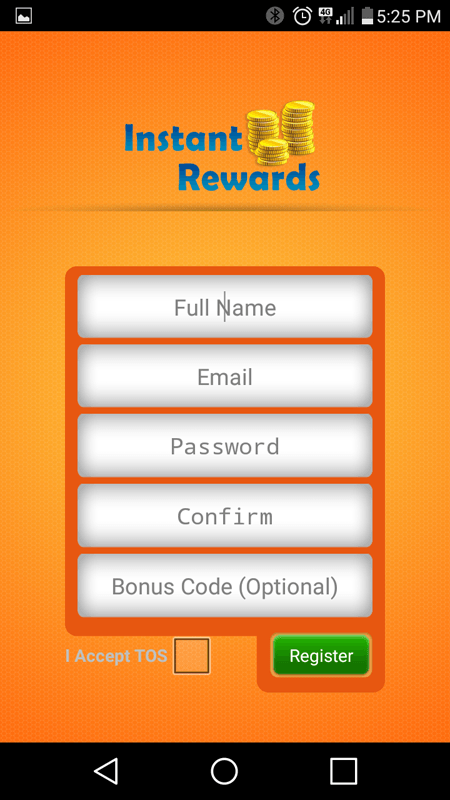 So, registering was pretty easy… though I will say that, even here at the beginning, the app looked a little 'weird' to me. The text and the field boxes were just… a little funky.
It actually made me feel like I was using software from the late 1990s. But, this was really just a cosmetic issue, so I put it to the back of my mind and moved on.
After I registered, I got an email from the company thanking me for registering, and I also reached what seemed to be the 'main hub' of the app itself. Here is what it looked like.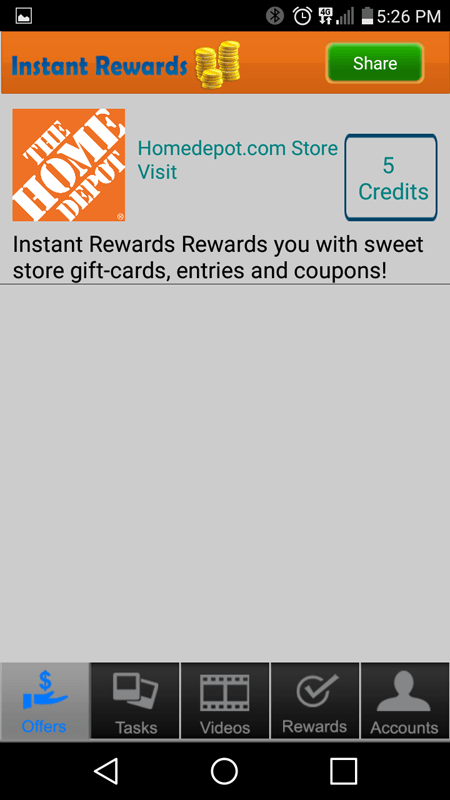 Now, I was definitely inside the app, so the next course of action was to take a look around and see what I could do with it.
Taking A Look Around Inside The Instant Rewards App
The first thing that I noticed was that there were five different page tabs located at the bottom of the app. There were tabs for all of the following: Offers, Tasks, Videos, Rewards, and Accounts.
To get started, I clicked on the Offers tab, and was taken to the offer I saw on the main hub… it was an offer for a trip to Home Depot. Here is what the job description looked like.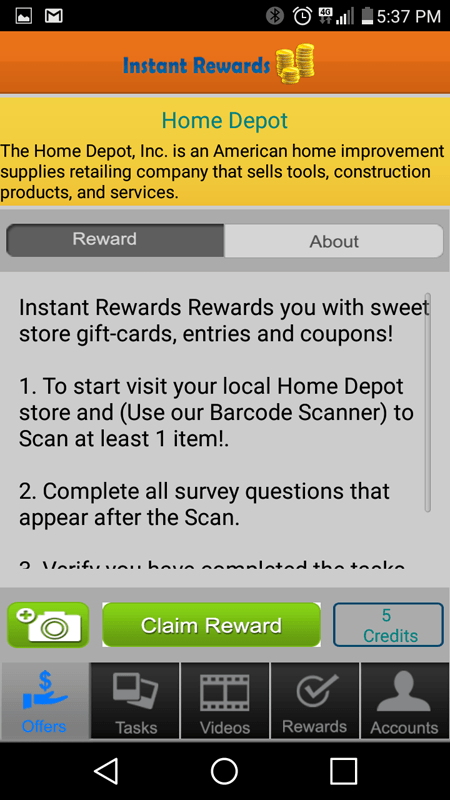 So, pretty much, this job would require me to go to Home Depot, scan a product, answer some questions, and then take a photo of the scanned item(s). And then, in theory, I would get paid. This means that the app follows a microtasking approach.
The reward for this job was 5 credits… but as of right now, I had no idea what credits were worth, so I decided to figure that out next.
Asking me to take a special trip to Home Depot for this survey was quite a big deal. I am generally not a big fan of apps that require me to go to certain places to make money—unless they pay me enough to really make it worth my while.
Plus, I live in a small town in the rural United States—so I would have to drive about an hour to even get to a Home Depot.
People in larger cities won't necessarily have the same problem as me in this sense—but still, it is something that I personally need to take into account.
At any rate, here is what I learned about the credits and what they are worth in real-life currency.
What Are Credits Worth In The Instant Rewards App?
To figure this out, I visited the 'Rewards' page of the app and started taking a look around. I realized that you can cash out using any of the following methods: PayPal, with an Amazon gift card, with a Best Buy gift card, with a Starbucks gift card, or with a Target gift card.
I was pretty happy to see that I had quite a few options. But I still didn't know how much credits were worth, or how many I would need to equal any amount of real-world cash.
So, I tried to cash out with PayPal, and this happened.
Alright. So, as it turns out, the minimum number of credits that you can cash out with is 10,500. This will get you $10 in PayPal credit.
That is quite a few credits.
But what really stuck out the most to me was that the job at Home Depot only paid 5 credits! I would need to go on so many jobs like that to even get a $10 gift card that I began to have a hard time believing that this app would be worth it—in any capacity.
I mean, I would almost need to be promised a payout of $10 just to go to Home Depot! Even that would seem a bit 'cheap' for me… much less a few low-value credits!
I was almost insulted.
Here, I decided to take a break from this and read some of the Google Play Reviews. I wanted to see if other people thought the same way I did, or if I was maybe seeing something the wrong way. So I went and checked this out. Here is what I found.
What I Found Out About The Instant Rewards App In The Google Play Reviews
First of all, I will say that I noticed A LOT of reviews that seemed to complain that people were not getting their payouts as they expected.
There are always a few reviews like this on any app that promises to pay you money… and it can usually be chalked up to user-error. But there were so many of them on this app that I actually felt a bit uneasy.
I really hate to get involved with apps with complaints like these, because I am very afraid of wasting my time earning points that I will never get to cash out on. So yeah, that is a thing.
And, just as I suspected, the second most common type of review that I seemed to run across, while looking into the Google Play Reviews for the Instant Rewards App, were reviews that complained about the low monetary payout.
These reviews essentially said that it was kind of a waste of time to use the app… and at this point, I must say that I do not disagree.
It was here that I felt as if I had figured out everything I needed to. Here is what my personal opinion of the app amounted to after conducting my research.
My Personal Feelings About The Instant Rewards App
After using the app for a little while, getting a feel for it, and figuring out what I did and didn't like, here are the end-game thoughts that led me to my decision.
I will not be keeping this app installed on my personal device, and here is why.
First and foremost, the negative Google Play reviews really shot this one down for me. I personally didn't lose any points while using the app… but there were just way too many reviews that told scary tales of that happening to people.
And I have zero interest in even taking a chance like that with an app like this, when there are literally dozens of others that are pretty much just like it out there on the market that I could also choose from.
But, even if it wouldn't have been for that, I still would have chosen to pass on this one based on the amount of money that I could have made with it.
Granted, you can do a few different things to earn money with the Instant Rewards App (like complete offers, watch videos, etc.), but none of them seemed to pay well enough to really make it worth my while. There are many other apps with similar features anyway (like iPoll, Mobee and QuickThoughts). If you're going to spend your time on an app like this, it's probably best to pick one that consistently pays out.
I do like that the app seemed to function rather well, and I was also impressed that they actually had missions that you could go on… but therein lies another personal downside for me. I don't really want my apps to tell me to go anywhere specific.
I like the idea of earning extra cash with apps because they are mobile, and I would like to be able to earn my extra cash wherever and whenever I want… not on someone else's timetable or in a location designated by an app.
So yeah. Sorry Instant Rewards App, but you just didn't have it where it counted for me.
Our Final Thoughts About The Instant Rewards App
Should you download and use it on your phone?
The Instant Rewards App Review
Honestly, there are tons of various apps that claim to help you "make money", but really there are two facts to consider. 1) Most of them don't actually work. 2) If you can make money, it's not going be very much. If I'm going to spend any amount of time working online, I want to be working for myself by building my own profitable website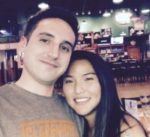 Nathaniell
What's up ladies and dudes! Great to finally meet you, and I hope you enjoyed this post. My name is Nathaniell and I'm the owner of One More Cup of Coffee. I started my first online business in 2010 promoting computer software and now I help newbies start their own businesses. Sign up for my #1 recommended training course and learn how to start your business for FREE!