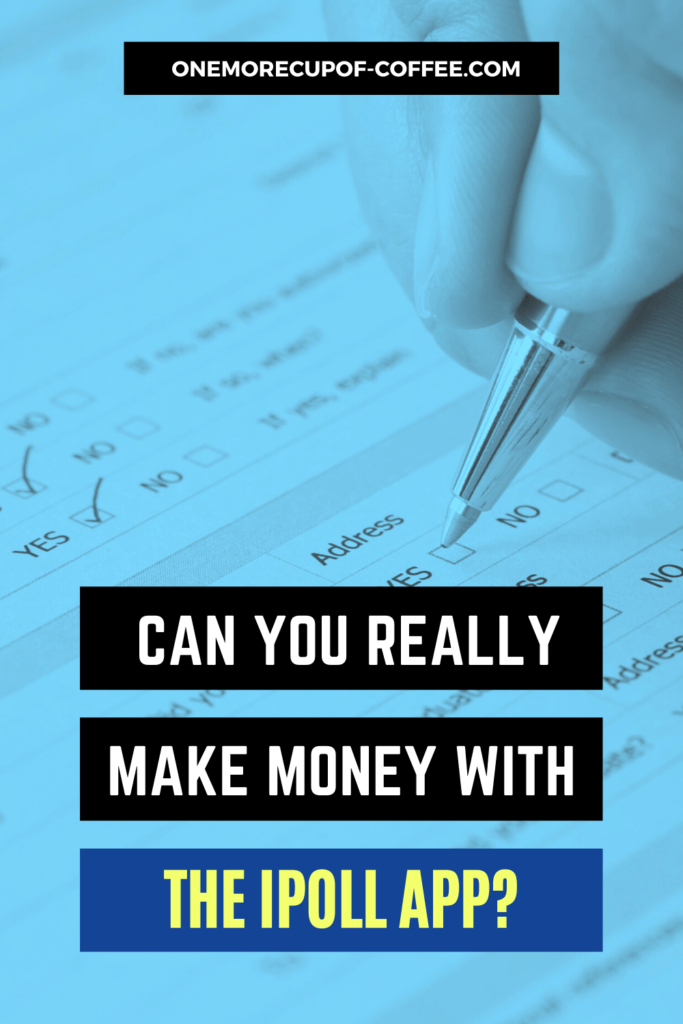 iPoll, an app published by Instantly, Inc., is basically described as an app that pays you for taking surveys. But can you really make money with the iPoll app?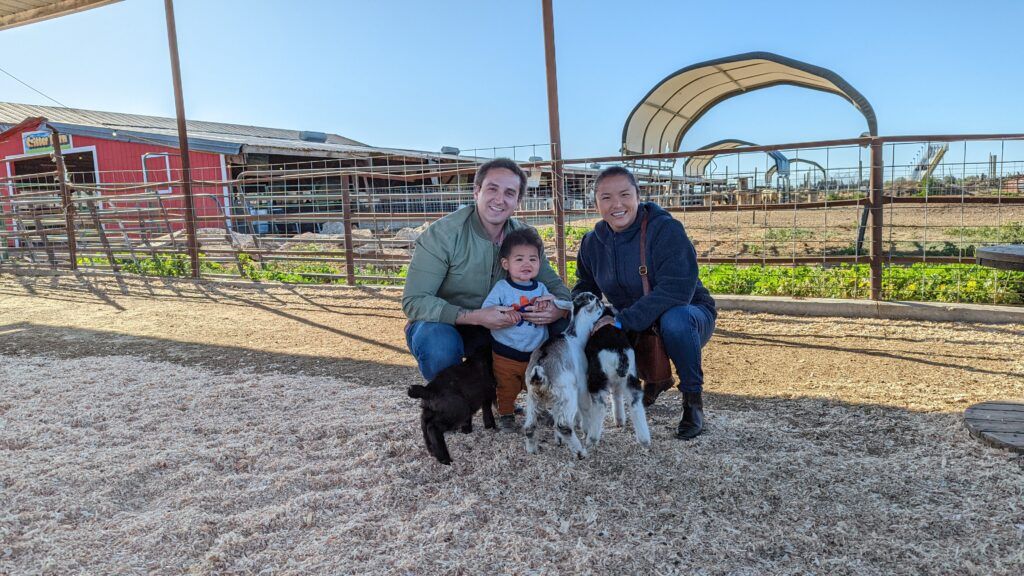 Are You Ready To Work Your Ass Off to Earn Your Lifestyle?
Are you tired of the daily grind? With a laptop and an internet connection I built a small website to generate income, and my life completely changed. Let me show you exactly how I've been doing it for more than 13 years.
Across the top of the iPoll app download screen in the Google Play Store, you will see the following text, displayed in bold, fun letters…
Fun Missions, Great Rewards!
Obviously, our mission here was to see if we could use iPoll to earn real money in the real world… and to see if you can earn enough to make it worth your while. So we downloaded the app and proceeded to get started.
Here's what we found.
Making Money With The iPoll App
To get started, we're going to take our normal approach and look at the app in the Google Play store.
Ratings And Google Play Reviews Of iPoll
As of the time that this review was written, iPoll had 3.7 stars on the Google Play Store… which isn't terrible, but not necessarily awesome either.
Here's what the online review information looked like…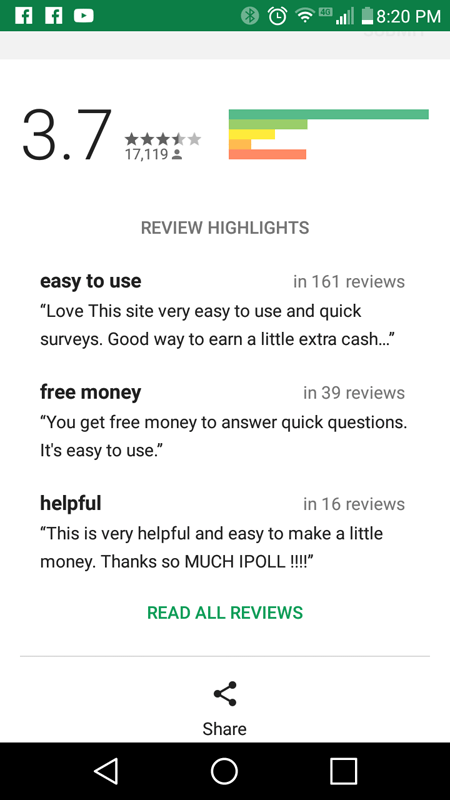 Downloading And Registering With iPoll
Downloading the app was easy and hassle-free. No big surprises or problems. It didn't take up a ton of space on my phone, which was an upside.
Once you get it downloaded, you'll need to register. This involves agreeing to the terms and conditions (which seemed pretty straightforward), and then moving on to what seemed to be the 'hub screen.'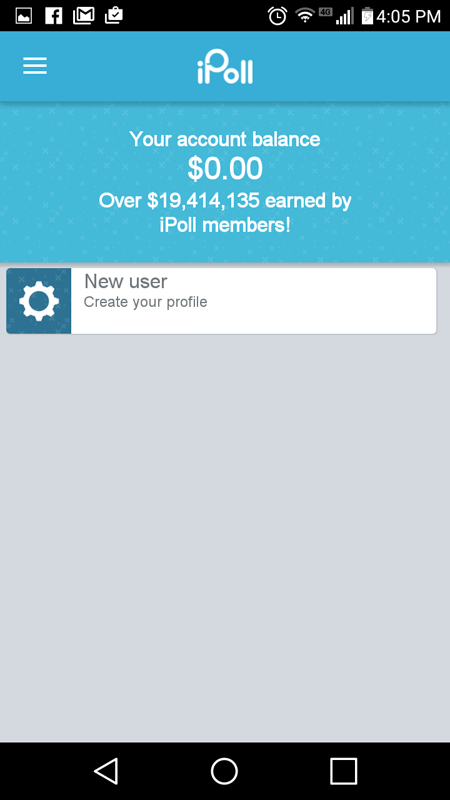 As you can see, there is a tab that says 'New User' where you can create your own profile.
Here, you will need to provide a range of information, including your name, your address, your date of birth, your email address, and your race. You will also need to create a password.
Once you finish this process, you will be fully registered and ready to move on.
Finding Surveys Within iPoll
Once you register, a button will appear on your hub that will say 'Find A Survey.'
Clicking on it will take you to a screen where you are asked some questions to help determine which types of surveys are right for you. You will be asked to select what types of publications you read, what your household income is, and some other questions obviously intended to help guide you toward entrance into some specific data-group.
This process is easy and takes about 1 minute.
After this, the app quickly loads your answers… and then BOOM! It's survey time!
The survey I found on my first try told me that I would earn $0.50, and that it would take about 10 minutes to complete.
I decided to set a timer and see how accurate it was. It took me a total of 14 minutes to complete it, during which time I was asked a surprisingly varied number of questions.
Most were multiple choice, and there were so many options for some of them that scrolling and deciding on the best answer became almost a bit time-consuming.
There were even a couple of brief essay questions, which really surprised me! At one point in the survey, I was asked to provide my telephone number. It was a voluntary thing—but they said that if I did, I might get a call for verification. I decided not to include it.
Note: I took this survey without turning on my GPS locator… but while I was taking it, I realized that I might have been able to find better surveys with it on, as location can sometimes be important during survey analysis. It turns out that I was correct—but I will discuss this later on in greater depth.
When I was done, the app thanked me for taking the survey, and told me that I had earned my reward. Sure enough, when I returned to the hub, I was greeted by a shiny $0.50 in my account balance… for 14 minutes of pretty easy survey-taking.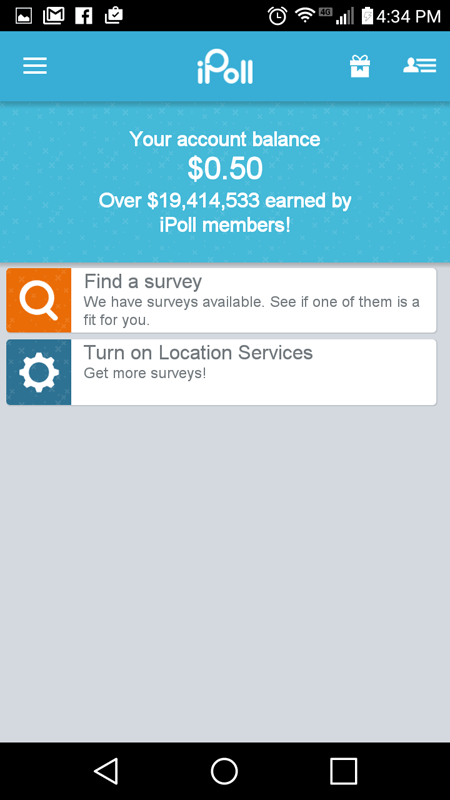 Turning On The GPS Locator And Looking For Another Survey
After I finished the first survey, I decided to turn on the GPS services and give the app access to my location. I then tried to load another survey to see what I came up with.
At this point, I was given another list of questions to answer—which was when I realized that every time I log in to take a survey, I seem to get slightly different 'find a survey' questions… which makes sense.
It wasn't long before I had found another one. Once again, this process was quick. It took a minute or two, tops.
This survey was about twice as good as the first one. It said that I would make $0.50, but that it would only take me about 5 minutes to complete it.
Once again, I timed it to see how accurate their timing predictions would be. I was greeted with a survey that looked quite a bit like the first one—with most of the questions being multiple-choice.
But this time, something different happened. I went through the survey as usual, but came to a screen toward the end that gave me a mission!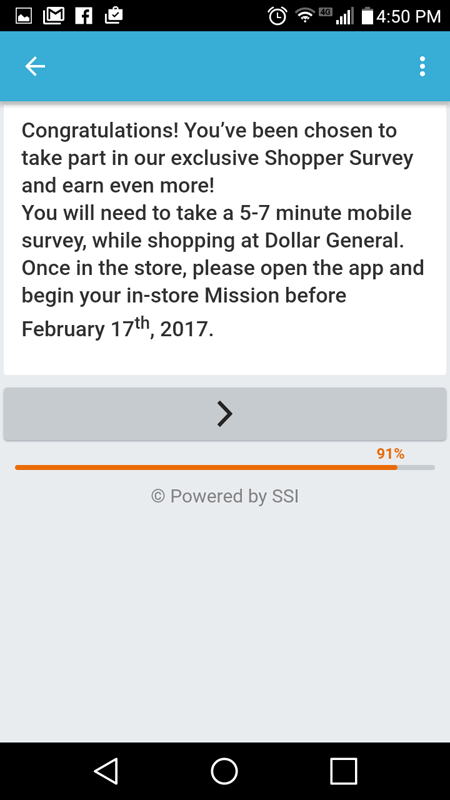 I chose to accept the mission, and the survey ended. I was promptly rewarded with the promised amount. This time, the survey only took about 6 minutes (one minute over the estimate). It went a lot faster than the first one—partly because the questions were easier, and partly because I had already grown a bit more accustomed to the format by this point.
Next, I will describe the mission I went on to earn extra rewards.
What Was The Mission?
The app didn't display the mission until I had logged out and back in again—so if you end up getting a mission and are not sure how to find it, you might want to try logging out and back in.
I needed to drive a few blocks down to the local Dollar General Store to finish the survey. All I really needed to do was walk into the store, activate the survey, and take it.
It asked me to find a certain type of display and take a picture of it… but this process was super easy. The app uses your camera, and you snap the picture and upload it all right within iPoll.
It also asked me some more general questions about my shopping habits, as exemplified in this screenshot…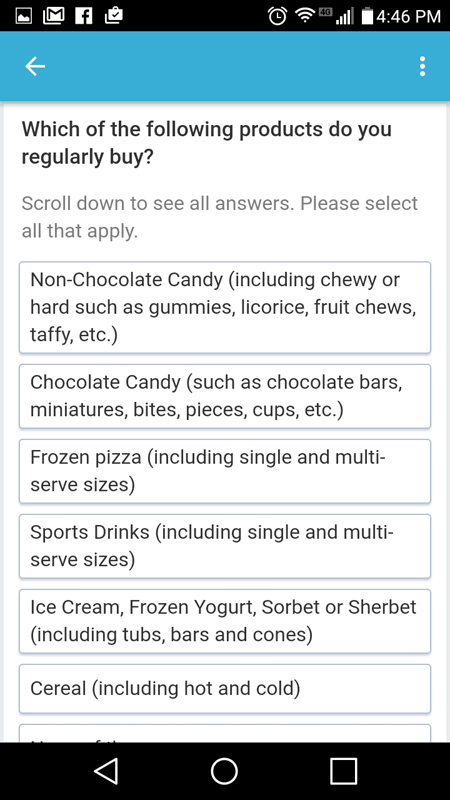 The biggest part of the mission, however, was answering questions about what I thought of the display. I felt a bit awkward walking around the store with my phone out… and some of the store employees looked at me a bit weirdly! But all in all, it took about 5 minutes, and I made $10 in the process!
What other reviews have said
To be honest, my experience with this app was still relatively limited by the time my test was complete—so I decided to do some research to find out what other people reported experiencing while using it. I figured that if there were any helpful tips or tricks, then knowing them might factor into my final conclusion.
I learned quite a bit while conducting this research. First of all, I learned that some people earn as much as $100 or so in extra money every month using iPoll.
This was a bit surprising to me at first… but as I continued to read about other people's experiences, I realized that not all of the surveys pay out such small rewards ($0.50-$1.00).
As exemplified by my own experience with my first Mission Survey, Some of them pay out pretty big ($5-$15)… and while these are rarer, they do exist, and snagging one or two of them a month can really boost your numbers!
Cashing In Your Rewards from iPoll
There are a number of ways that you can get your rewards transferred from your iPoll account to some kind of usable currency in the real-world. The most obvious and easiest method seems to be to transfer it to your PayPal account—where you can then use the money that way. As long as you have at least $25 in your account, you qualify for this option.
You can also redeem your credit for Amazon or iTunes gift cards. The same minimum applies—as long as you have $25, you can redeem it for a card.
You need to log on to the official iPoll.com website to send your money to PayPal… but the gift card options can be redeemed over your mobile device.
Quick Review About iPoll and Earning Money
If you spend just a few minutes on this app per day, you could easily make $30 to $50 per month.
If you tend to have long periods of downtime in your day to day life (waiting lines, sitting at the doctor's office, watching TV with a lot of commercials, riding on the subway, commuting to work with someone else who is driving, etc.), and don't mind taking surveys during these down times, then I could definitely see the potential to earn $70-$85 per month, or even more.
Also, the more willing you are to go out on 'Missions,' the more likely you are to earn better rewards. Without the missions, this app wouldn't be anywhere near as good as it is.
But as it is, we were pretty impressed with it.
Is it a viable money-making opportunity to take part in during downtime and when you aren't doing anything else?
We think so. It beats collecting change off the street or picking up aluminum cans, and you can do it on your own time, whenever you want… which is pretty awesome.
It's easy to use, sets up in minutes, and makes the process of earning rewards simple and efficient. The app itself works well, and seems to do what it was designed to do without any difficulty.
On a side note, iPoll isn't the only app that works in this manner. Other examples include Instant Rewards, Mobee, Rewardable and QuickThoughts. Still, iPoll seems to be the post appealing of the selection.
Final Thoughts on iPoll
Should you download it onto your phone?
The iPoll App Review
Honestly, there are tons of various apps that claim to help you "make money", but really there are two facts to consider. 1) Most of them don't actually work. 2) If you can make money, it's not going be very much. If I'm going to spend any amount of time working online, I want to be working for myself by building my own profitable website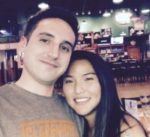 Nathaniell
What's up ladies and dudes! Great to finally meet you, and I hope you enjoyed this post. My name is Nathaniell and I'm the owner of One More Cup of Coffee. I started my first online business in 2010 promoting computer software and now I help newbies start their own businesses. Sign up for my #1 recommended training course and learn how to start your business for FREE!