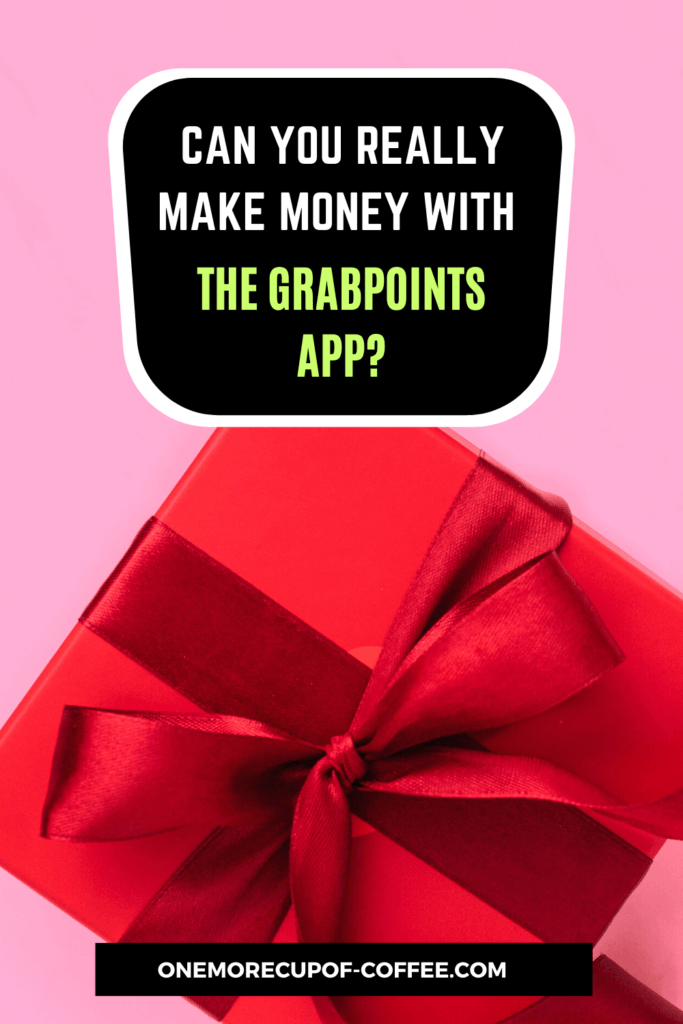 This is an app that you can use to get free gift cards and cash for interacting with apps, surveys, videos, and more. But can you really make money with the GrabPoints app?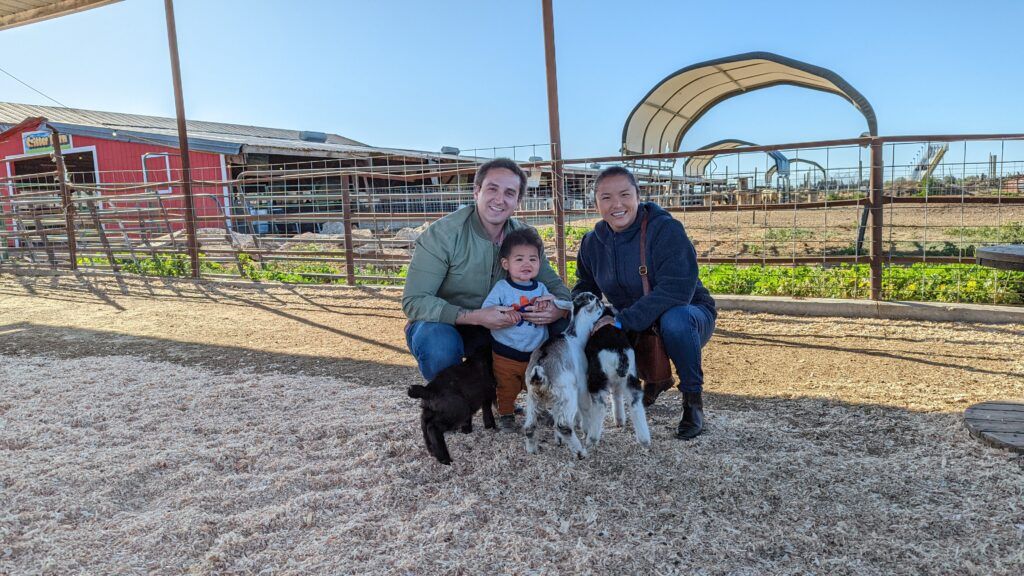 Are You Ready To Work Your Ass Off to Earn Your Lifestyle?
Are you tired of the daily grind? With a laptop and an internet connection I built a small website to generate income, and my life completely changed. Let me show you exactly how I've been doing it for more than 13 years.
Making Money With The GrabPoints App
As you likely know, we are all about the free stuff and extra money on this site. We like to find ways to earn extra cash for a minimal amount of extra time or effort (in other words, we don't want to waste our time…)—and this app came across our radar as we were doing some research, so we decided to give it a try.
Here's a quote from the Read More section of the app's listing on the Google Play Store. It does a pretty good job of describing exactly what the app actually does.
"Get free gift cards and cash for interacting with apps, surveys and videos and more."
They also say this a bit further down in the description…
"Grabpoints – The most rewarding gift card app is now on Android. GrabPoints allows members to earn points for watching videos, completing surveys, trying apps and much more!"
When you've earned enough in points on this app, you can exchange them for a free gift card. You can also redeem them for PayPal cash or through the app's 'comprehensive rewards store.'
But is the app worth all the hype? Here's what we found out over the course of our research.
Getting Started With GrabPoints
The app has been downloaded over 1 million times, and has a 4.4 star rating on Google Play. It has currently been reviewed by over 63,000 users—so there is a lot of feedback that's available to look over.
This is certainly a popular app… but we weren't interested in how many downloads it had. We wanted to know if we could actually make money on it—so we downloaded it for ourselves and decided to give it a try.
Here's what we found out.
Opening GrabPoints For The First Time
When we opened the app for the first time, we were greeted by several sliding screens that told us a bit about exactly what the app did. Here were the main points…
Earn rewards at your favorite online stores
Visit your homepage daily to see the latest offers available to you
Earn points when you download apps, complete surveys, watch videos and more
Redeem your points for gift cards and rewards
Visit GrabPoints store and redeem a reward
We liked these scrolling pages. They were easy to understand and did a good job of laying out the basic concepts of the app. We decided to log in using Facebook, though we could have also logged in using our Google Acount, which was pretty cool.
We came to a page where we could enter an invite code, which we didn't do because we didn't have one. So we skipped this, and were taken through a small series of tutorial screens. We got past these, and eventually arrived here.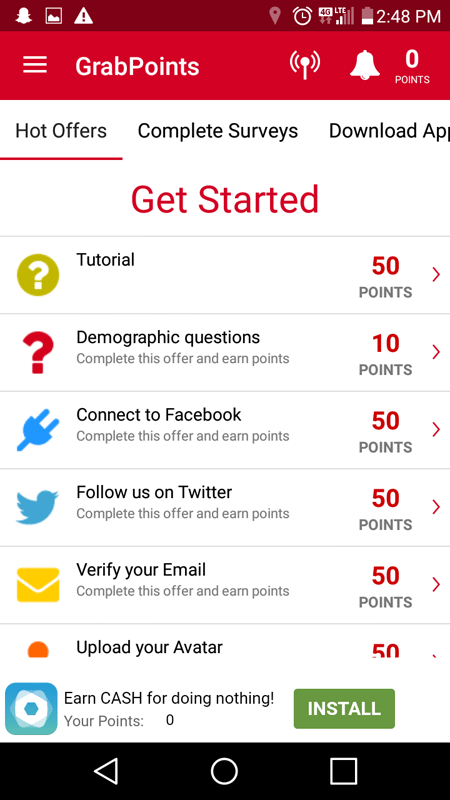 This seemed to be the 'hub' of the app, and displayed a number of actions that we could take to earn points. We scrolled over to the Complete Surveys page, but were (seemingly) unable to take surveys until we had completed our profile—which was understandable.
We then scrolled over to the Download Apps page, and found that we could earn quite a few points for downloading apps—but in order to actually get our points, we had to do more than just download them.
An Example Of What It Takes To Earn Point By Downloading Apps In GrabPoints
We looked at the first app in the list, called Game of War – Fire Age, and decided to see what it would take to earn the massive 3080 points reward for downloading it.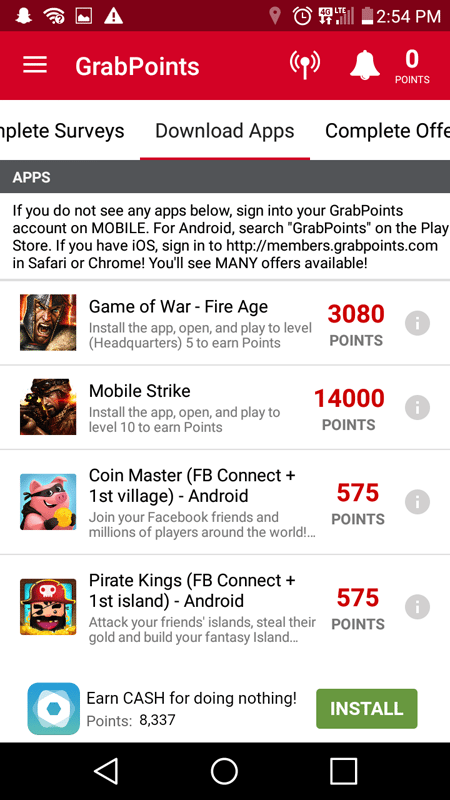 We were a bit dismayed, however, when we read the following underneath the app name in the download list.
"Install the app, open, and play to level (Headquarters) 5 to earn Points."
So, apparently, it wasn't necessarily enough to download the app. We also had to play to level 5 to really get the payout. This is understandable, obviously, as it is simply too easy to just download an app… but this was going to be a pretty serious time investment (at least an evening of gaming, by our reckoning).
This particular style of app isn't unusual. There are many examples where you're earning by playing the games that you download, not just by the initial download. Other examples include Tapporo, CashPirate and AppNana.
So we needed to figure out exactly how much money these points were actually worth in real-world currency, to figure out if playing the game for this long would even be worth our while.
Here's what we found out.
How Much Are Points Worth In GrabPoints?
We entered the drop-down menu at the top-left corner of the screen, and were presented with several different options. We scrolled down until we saw the Reward Store option.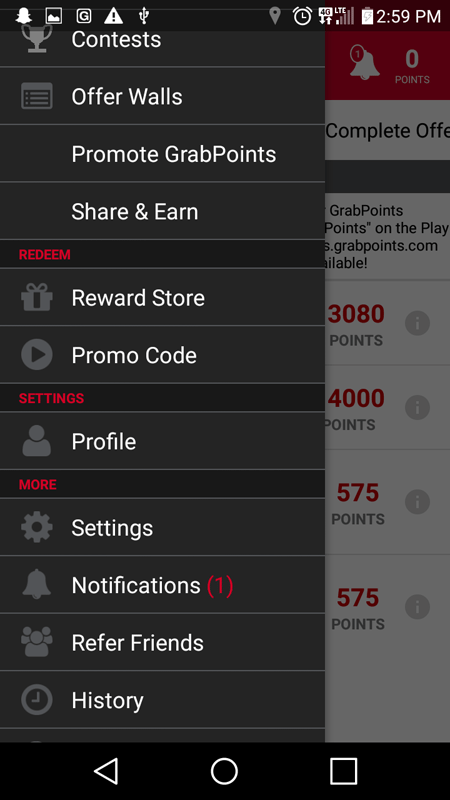 We clicked on it, and were taken to a page that gave us several options for redeeming points. These seemed to consist mainly of gift cards and other rewards.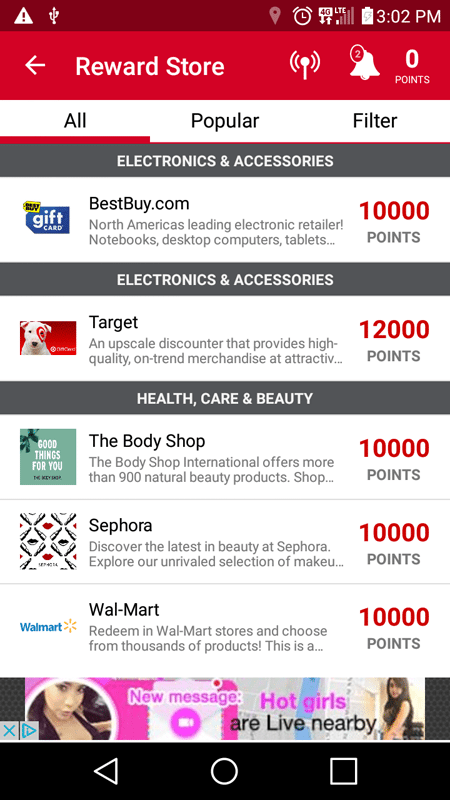 (Side note: We kept seeing banner adds across the bottom of the app pages, and we sometimes had to wait for a video add to play while we were scrolling through the app. Not cool, in our opinion. This took away from the experience for us because we didn't want to download the app to watch videos for free… we wanted to get paid for them!)
As you can see in the screenshot, we could get a Best Buy gift card for 10,000 points. So we clicked on this to see how much the gift card would be worth. We found out that 10,000 points on GrabPoints would get us a $10 gift card to BestBuy.com… which was honesty not that bad of a conversion rate, to be honest.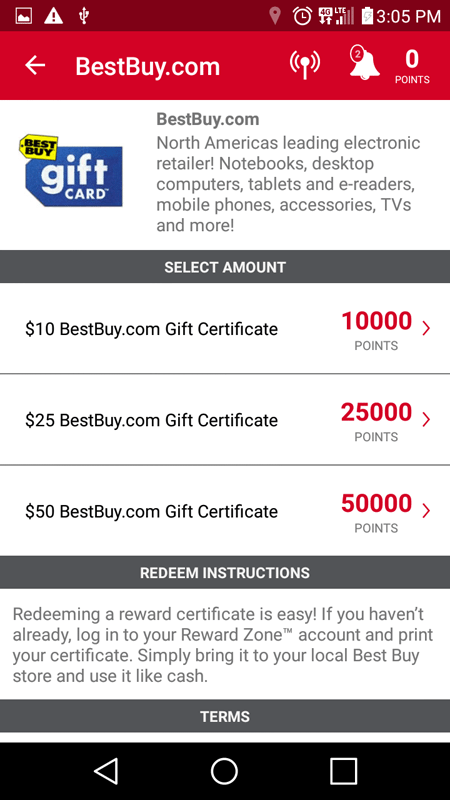 But did this make it worth it?
Can You Make Enough Money To Make It Count On GrabPoints?
Granted, we could earn just over 3,000 points by downloading just one app… but we would have also had to play it for several hours to get to level 5 (by our figuring), and that app also offered a much higher reward than was typical of a lot of apps on GrabPoints.
You can also do other things to earn points—but the number of points that you can earn certainly doesn't seem to make the app extremely worthwhile when you look at the conversion rate to real-world currency.
For playing this game and leveling up to a level 5, you are pretty much earning about $3… which might not seem that bad for playing a game if you are going to be having fun playing it, but that price does translate to a pretty low hourly payout for playing games if you are using the app specifically for the purpose of making extra money.
You can also take the surveys and do other things to earn points, but the process is going to take a bit of time.
Can you earn money with this app? Yes. Definitely.
Can you earn enough to make it worth your while?
For me, the answer was no… but that doesn't mean that nobody can find value in GrabPoints.
People who enjoy watching videos, trying new apps, playing new games, and completing surveys will have the biggest and best chance of making this app work for them.
People who have long commutes on the bus or the subway could use the app in their down-time to earn extra cash or gift-cards, as could people who tend to just have a lot of downtime in their day-to-day life anyway.
This app does not give you the ability to earn a lot of money quickly. But… it can earn you some profits if you use it consistently.
I could see someone making $10 per month pretty easily on this app. $20 or even $30 a month is not outside of the realm of possibility… but you would need to spend a lot more time on it to earn this much.
If you greatly value your time and hate to waste it on things that you don't care about, then GrabPoints is not going to be for you. If, however, you enjoy doing random things on your phone and don't care to 'waste' a bit of time doing funny/silly/ridiculous things (like filling out surveys and watching videos) for money, then GrabPoints will certainly pay off and earn you some fun gift cards on the side.
Is it the best money making app that we've found? No.
But it certainly isn't the worst. I won't be leaving it on my phone… but I could certainly see how it could be appealing to some.
Our Final Thoughts About GrabPoints
Should you download it onto your phone?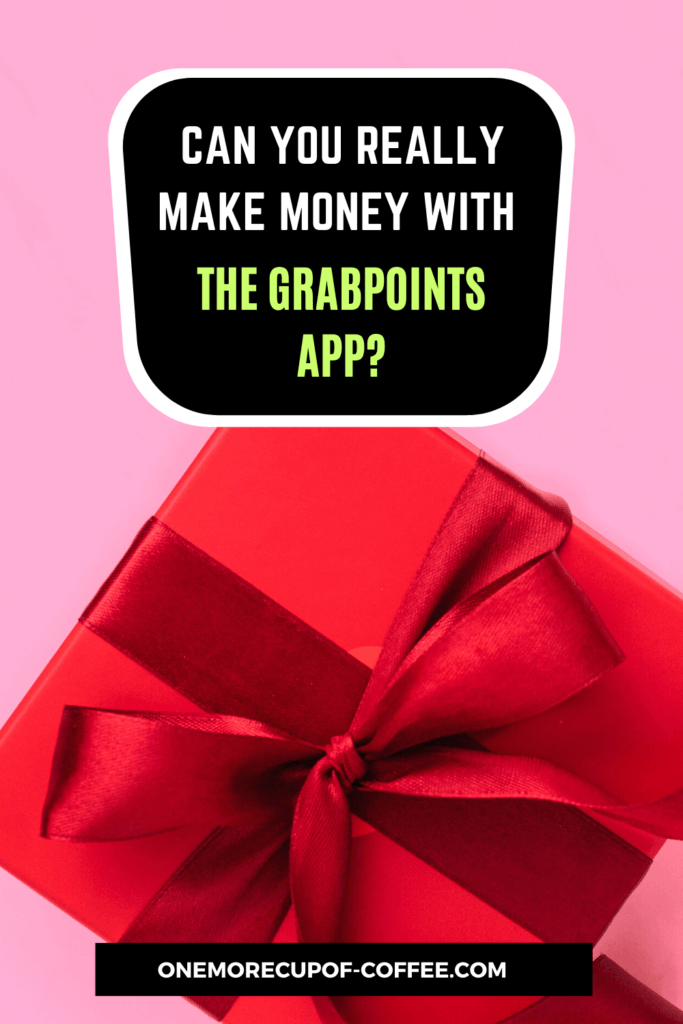 The GrabPoints App Review
Honestly, there are tons of various apps that claim to help you "make money", but really there are two facts to consider. 1) Most of them don't actually work. 2) If you can make money, it's not going be very much. If I'm going to spend any amount of time working online, I want to be working for myself by building my own profitable website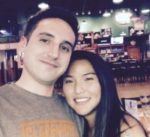 Nathaniell
What's up ladies and dudes! Great to finally meet you, and I hope you enjoyed this post. My name is Nathaniell and I'm the owner of One More Cup of Coffee. I started my first online business in 2010 promoting computer software and now I help newbies start their own businesses. Sign up for my #1 recommended training course and learn how to start your business for FREE!