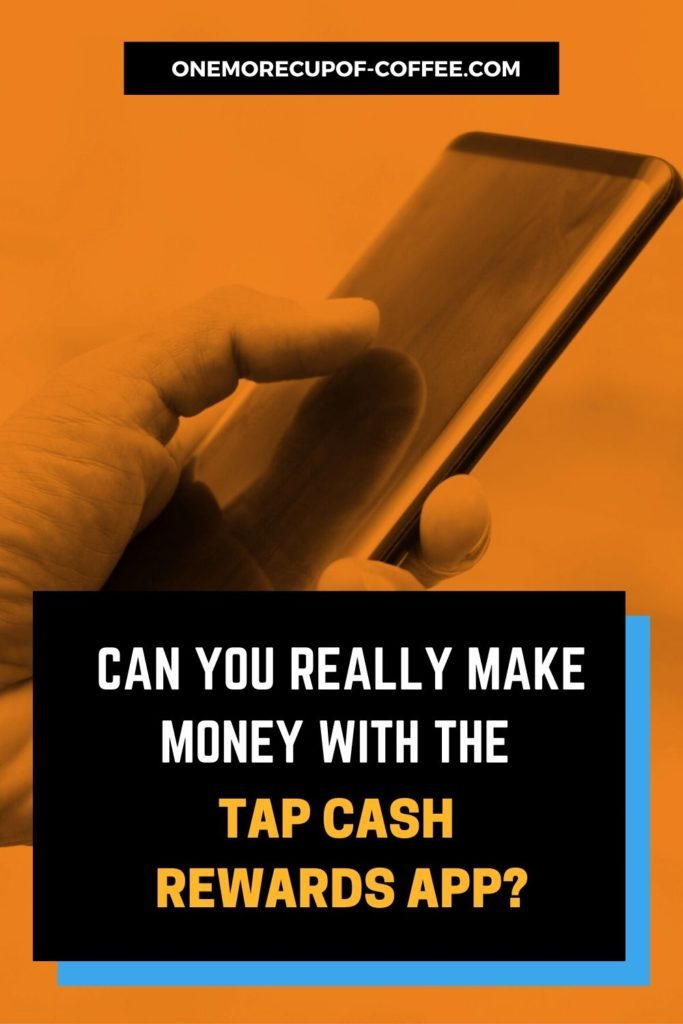 When I hear of a new app that might potentially be able to make me some extra cash, I usually spring pretty quickly into action to check it out. And that is exactly what happened with this one. But can you really make money with the Tap Cash Rewards app?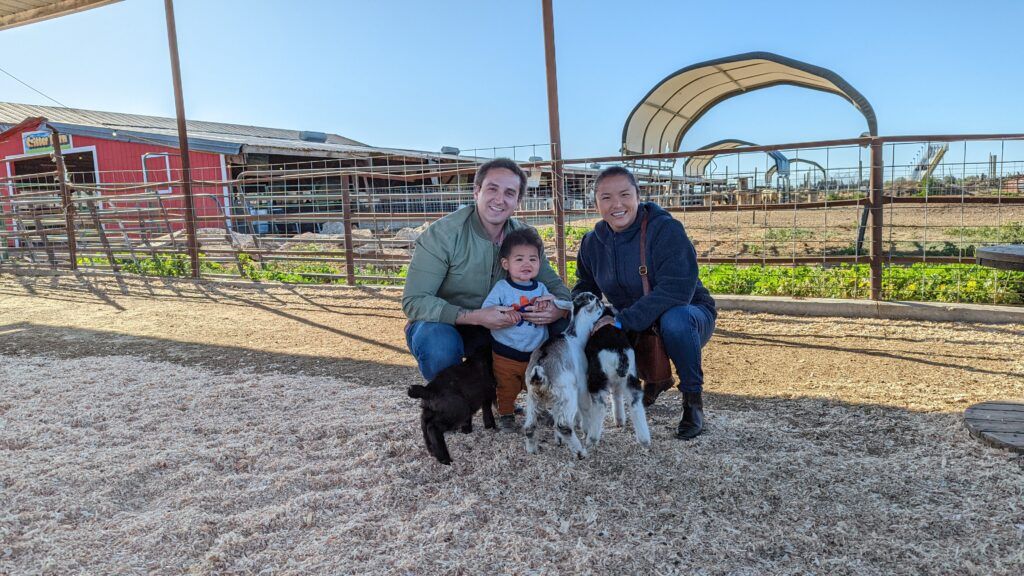 Are You Ready To Work Your Ass Off to Earn Your Lifestyle?
Are you tired of the daily grind? With a laptop and an internet connection I built a small website to generate income, and my life completely changed. Let me show you exactly how I've been doing it for more than 13 years.
The heading for the App on the Google Play store literally reads as follows…
"Tap Cash Rewards – Make Money. Earn money online, get free gift cards and PayPal cash, make money fast and easy."
So far, this sounded like the app for me! I love earning extra cash, and I love to use apps to earn it with, because they are usually free to download, work well, and can be used almost anywhere.
But on this day, my mission was quite specific. Was Tap Cash Rewards really an app that I could make money with? Or was it more of a gimmick?
Here's what I found out.
Making Money With The Tap Cash Rewards App
My first step was to take a look at the app itself and see what it had to offer.
What Exactly Is Tap Cash Rewards?
First of all, let's look at what the Google Play store had to say about it. The app has over 1 million downloads, and a fairly impressive 4.3 star rating on Google Play.
I have seen higher ratings (like 4.7 for Super Cash Rewards), but 4.3 is pretty good. Besides, the rating doesn't always reflect the quality of the app.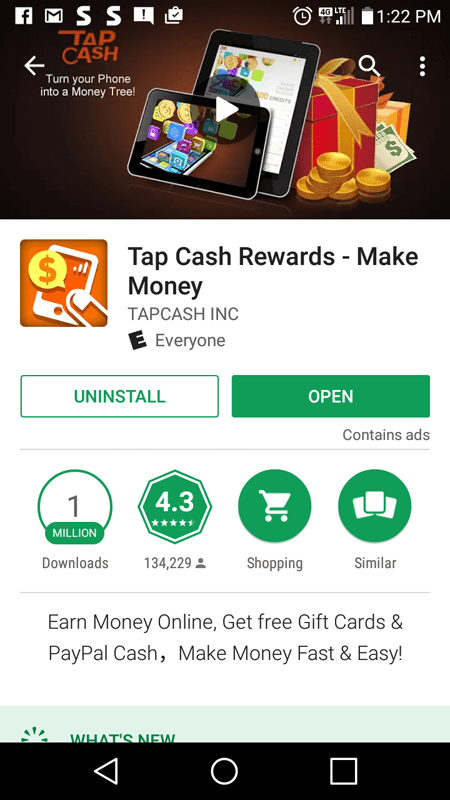 Here's a bit more about what the app is supposed to do, recorded in the Read More section of the Google Play listing.
"Try free apps and games, watch videos and get rewarded with awesome gift cards and PayPal cash rewards for free."
At this point, it was fairly easy to determine that this is one app in a fairly common category of apps that rewards you for watching videos and trying other apps. I'll be really honest with you… I've reviewed others like this in the past (like Get Giftz and AppMan), and very rarely did they end up being worth the time.
But right from the beginning, Tap Cash Rewards did look a bit different. It seemed more professional, somehow—and seemed to give a better first-impression than many that I've looked at.
So I was really excited to figure out if it was really worth the time.
I downloaded the app, and this is what I found.
Getting Started With Tap Cash Rewards
First off, when I opened the app, it ran through a really quick tutorial… which was nice, but the app actually seemed really easy to use.
Here is a picture of the 'hub' of the app that I discovered after getting through the tutorial and a couple of the pop-ups that told me some other things about it.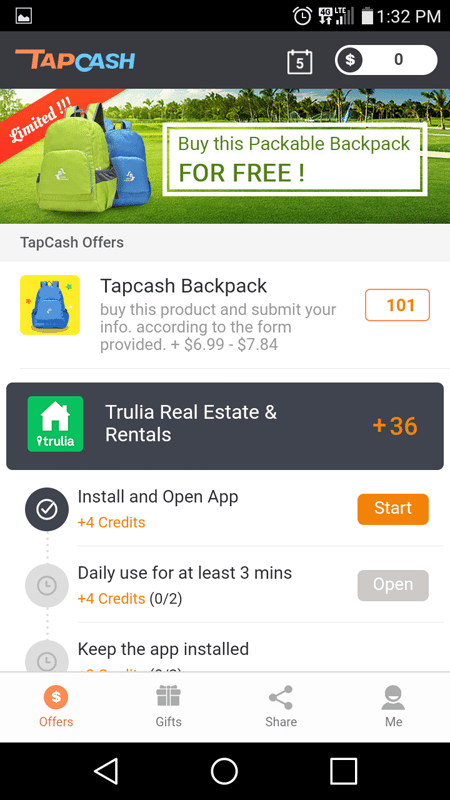 I found a layout very similar to the types of layouts that I see on other types of apps in this category. Along the bottom were options for other tabs, like 'Offers,' 'Gifts,' 'Share,' and 'Me.' There were also some buttons along the top of the app that I had yet to try out, as well as a banner ad right across the top of the screen.
As far as earning points goes, I saw pretty quickly what you could do to get started. There were several apps that I could try in an effort to earn quite a few points (224 for one of them, 137 for another, etc.). These were broken up into small 'challenges' that I could take part in regarding those particular apps to try to earn the points.
Keeping an app installed, for example, was a challenge that could earn me 10-25 credits, depending on the app. Using the app daily was another challenge for each app, and the list went on.
Once all of the challenges for an app were complete, I could get paid the full amount for the app.
The first thing I decided to do was simply to try the app. Sometimes, these apps don't seem to log time very well—so I was interested in seeing how Tap Cash Rewards handled this aspect of the process.
Here's what I found.
Trying Out Tap Cash Rewards
To start this process, I found an app that I thought looked fun to me. I decided on an app called 'War Dragons.'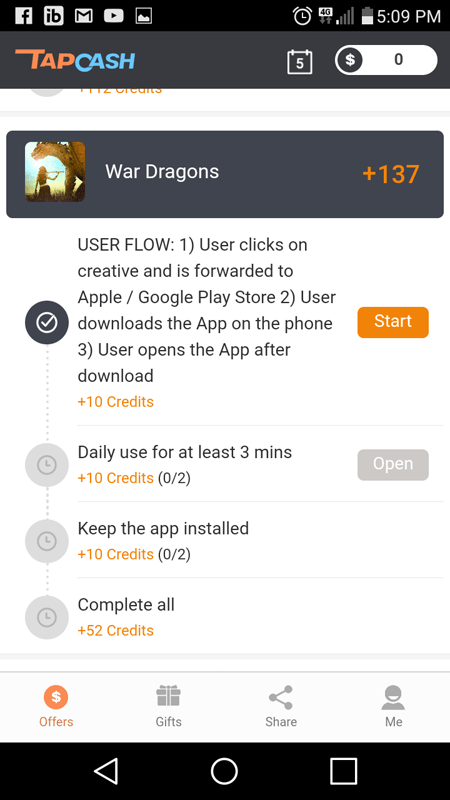 The actual app button wasn't actually a button… so I moved downward and tried the first challenge. I very quickly realized that I needed to allow Tap Cash Rewards access to how I was using other apps.
I realized this because a notification popped up that told me so. This makes sense, as they would need to be able to see what I was doing on the Dragon War app in order to reward me… so I went ahead and made this settings change.
Next, a game of 'wait' ensued…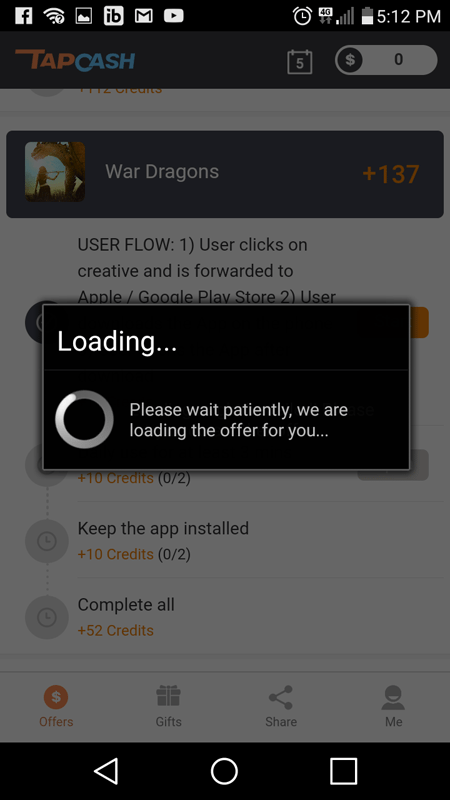 Well, the loading apparently failed. So I closed the app and restarted it, and tried again.
And still, I waited.
This is what showed up next.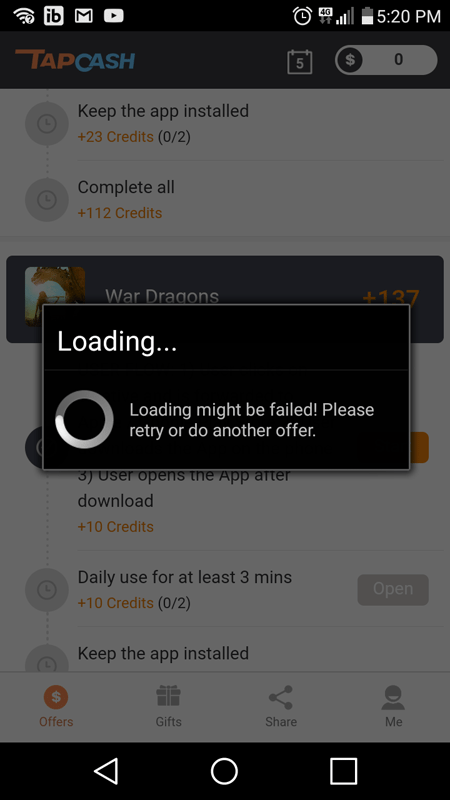 Not willing to be outdone quite so easily, I moved on to a different app. I was still interested in making this work, and I was not to be outdone by an app that wouldn't load. Maybe Dragon War just wasn't willing to cooperate—and I'm not so sure that Tap Cash Rewards deserved to be blamed for that.
So instead, I took I stab at 'Disney Emoji Blitz.' Still nothing.
So I downloaded a different app altogether (at this point, I feel that name-dropping is pretty unimportant), and finally got it to work.
So I used the app for a few minutes, as per the instructions (actually, the app I downloaded was a phone cleaner… and it cleaned the hell out of my phone, making it super fast… so this was a definite plus, and an unexpected surprise!).
The instructions for the challenge that I was trying to complete on Tap Cash Rewards were specifically as follows…
"Install the application and play for a few minute."
(Note: Yes, the typo was on the app… I wrote it letter-for-letter how it appeared in the app… so the typo was not my fault!)
And yet, despite the fact that I felt like I absolutely did everything included in these instructions, it still seemed like the app didn't 'detect' that I had done it.
This is a bit frustrating and seems to be a recurring thing with me. It might be my phone, or maybe I didn't use the app for long enough.
Regardless, I feel like I probably could have gotten it to work had I tried it one or two more times, but I decided to just move forward with the review anyway.
I didn't count this against the app because I know that it seems to work for most people.
So the next thing I want to know is how much money these points are worth. I would have earned about 80 points for completing the challenges for this app—and I wanted to know exactly how much real-world money that I could get for the work I did.
The amount of work that I actually didn't take very long. At the most, 10 to 20 minutes—depending on the challenges, the app, etc.
So figuring out the conversion rate was my next step.
The Credit To Cash Conversion Rate On Tap Cash Rewards
To figure out how much credits were actually worth, I clicked on the small 'Gifts' icon located at the bottom of the screen.
Here is a screenshot of what I found in this section of the app.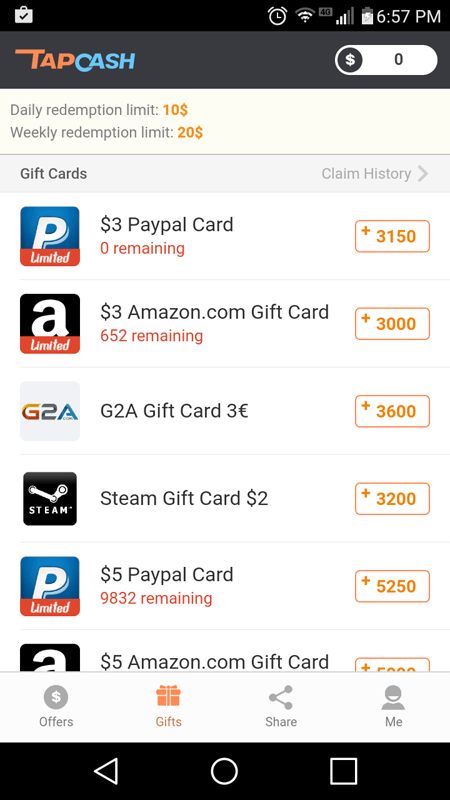 As you can see, this was pretty much what we were looking for. A $2 Steam Gift Card, on this app, would require 3,200 credits. That's 1600 credits to each dollar. I would have had to, give or take, perform about 32 challenges similar to the one I tried to do to make this much.
Some apps are worth more, but still—by the time you build up $5 worth of credit, you've spent a LOT of time on the app, messed with a LOT of other apps, and subjected your phone to a myriad of different programs, pop up ads, and other things.
Did I Feel Like Tap Cash Rewards Was Worth The Time?
Honestly, no. The answer to this question is a straight, simple, no. Some people might find value in this app—such as people on super-long car rides who just need something to do, or people who, for some reason or another, just want to download and try random-apps—and can claim the cash as a secondhand bonus.
I really don't recommend this app for anyone who wants their time to amount to any real measure of extra cash.
Then again, this pattern is true for any app that allows you to earn by downloading and playing other apps (like AppKarma, AppMan and MintCoins). The problem isn't with the app itself, but the underlying idea.
Functionally, Tap Cash Rewards seems to work well, despite the little glitches I experienced, and I have no doubt that they would pay out what they promise—but it's not a very time-efficient way to earn extra money, in my opinion.
Our Final Thoughts About Tap Cash Rewards
Should you download and use this app on your phone?
The Tap Cash Rewards App Review
Honestly, there are tons of various apps that claim to help you "make money", but really there are two facts to consider. 1) Most of them don't actually work. 2) If you can make money, it's not going be very much. If I'm going to spend any amount of time working online, I want to be working for myself by building my own profitable website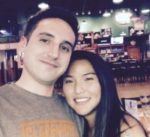 Nathaniell
What's up ladies and dudes! Great to finally meet you, and I hope you enjoyed this post. My name is Nathaniell and I'm the owner of One More Cup of Coffee. I started my first online business in 2010 promoting computer software and now I help newbies start their own businesses. Sign up for my #1 recommended training course and learn how to start your business for FREE!