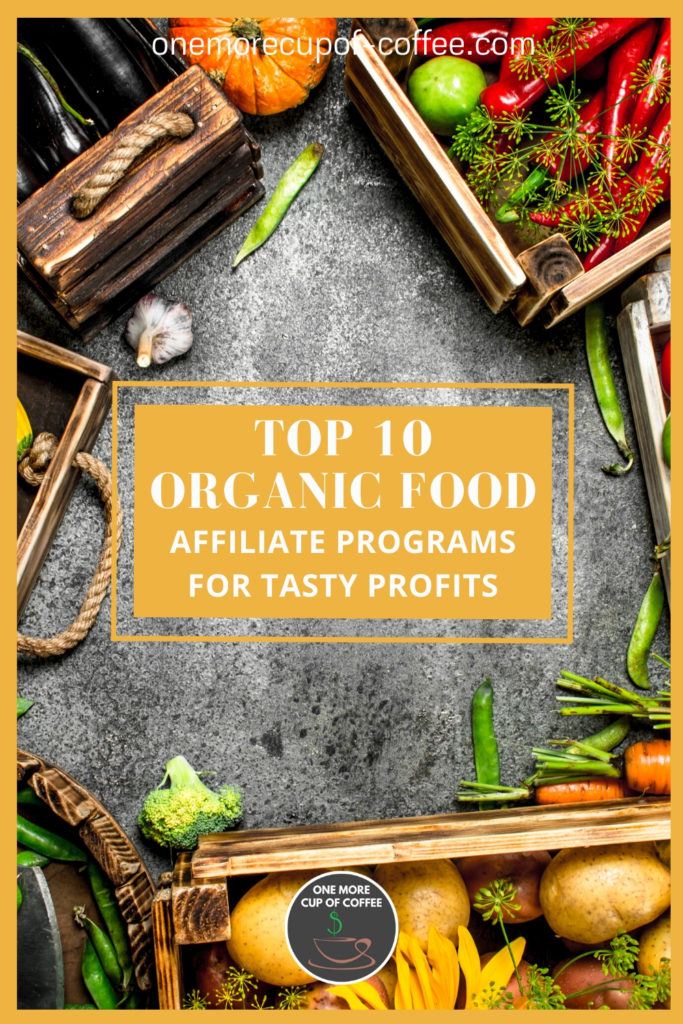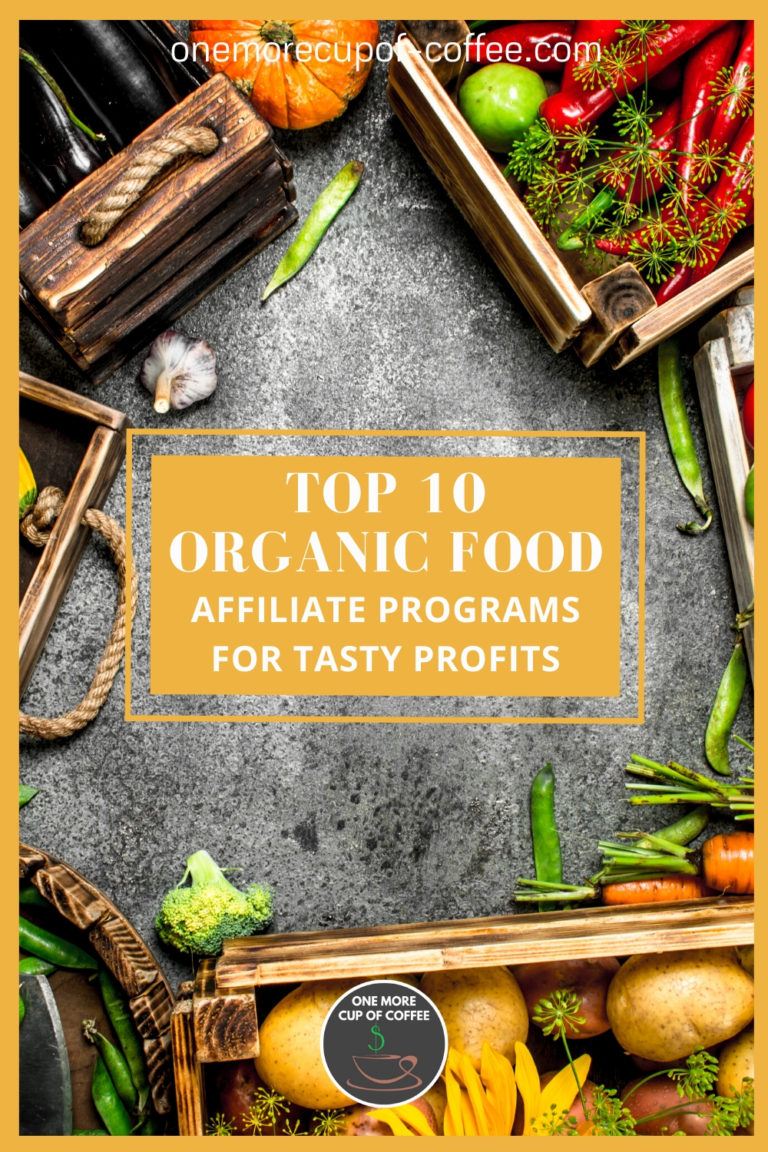 Organic food is grown without chemicals and pesticides. It's trendy, but not the kind of "trendy" that's going anywhere soon. More and more people are switching to purchasing only organic food for health and environmental reasons. In 2017, 54 million people in the US purchased organic food. These 10 organic food affiliate programs could be used for a website that focuses on solely talking about a specific food, or for a website that has a tangential relationship to organic products.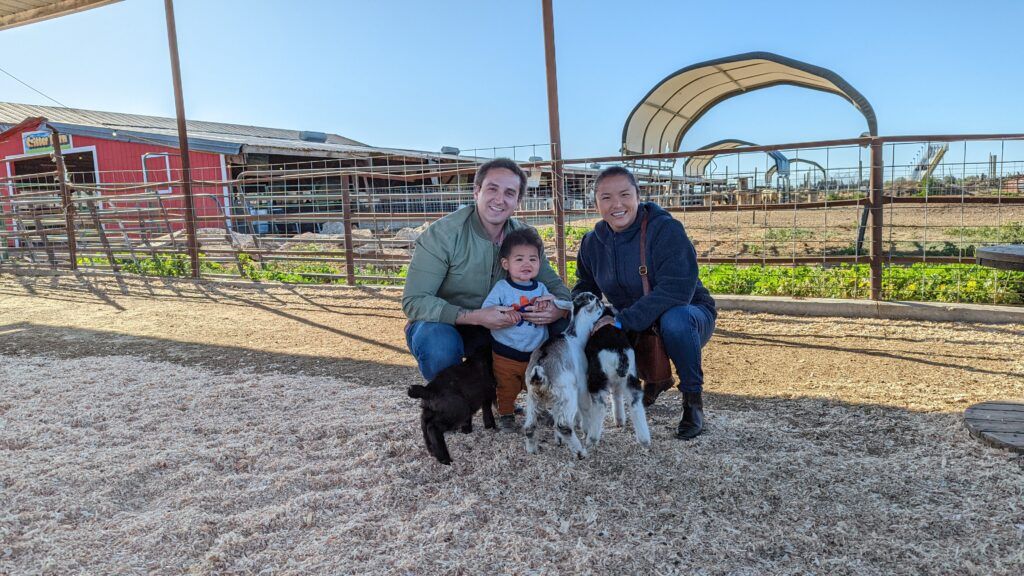 Are You Ready To Work Your Ass Off to Earn Your Lifestyle?
Are you tired of the daily grind? With a laptop and an internet connection I built a small website to generate income, and my life completely changed. Let me show you exactly how I've been doing it for more than 13 years.
For example, you could have a website about homemade cheese making, or even homesteading, and promote organic cheese. You could also have a website about healthy weight loss and promote organic meal replacements. See how writing about organic food, ingredients and recipes can fit with a broad range of ideas?
Another angle is to decide whether to promote fresh items or not. When online shopping for food, we typically think of canned goods, bags of snacks, and other things that store/ship easily. However, more and more people are doing online shopping for weekly groceries, so you could potentially make money with your affiliate site that way too. Instacart has an affiliate program through Flexoffers that would be worth looking at, and of course Amazon Fresh is another option.
I think promoting organic food affiliate programs is especially interesting for food blogs because more and more people are buying specialty food online. I know my local grocery store isn't going to be selling exotic fruit, specialty kombucha, or fun snacks I see on TikTok, so I just buy them online. If someone doesn't have a good selection of organic food in their local area, they can just purchase them online.
Organic Food Affiliate Programs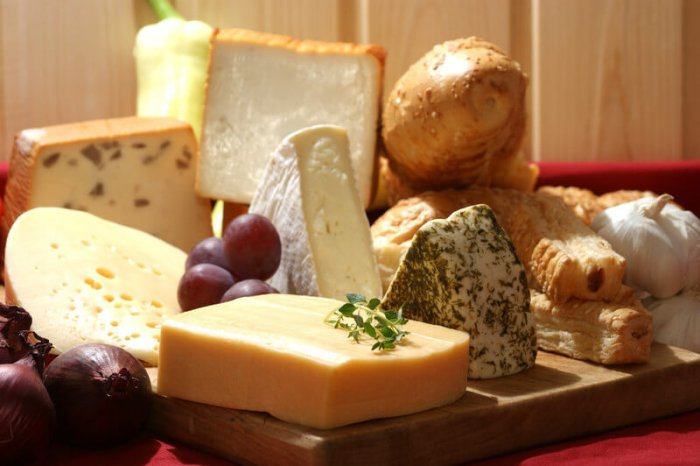 Thrive Market
Live Superfoods
Sunfood
Green Chef
Organifi
Nutiva
Wilderness Family Naturals
Amazing Grass
Vital Choice
Natural Zing
Thrive Market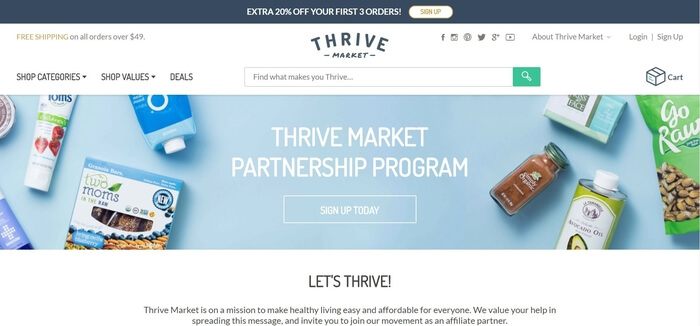 Thrive Market is on a mission to make healthy living accessible and more importantly affordable for everyone. They are an online marketplace that offers a wide selection of non-GMO, Organic, Gluten-Free, and Vegan foods and products at 25-50% below retail price.
When you join the Thrive Market affiliate program you not only receive over 40% of every new member subscription fee, Thrive Market also donates a free membership to a low-income family in need, teacher, or veteran. So everyone wins, you get $25 cash for every new sign up, and a family in need gets access to healthy food and products. The cookie life is 7 days. Thrive Market uses Commission Junction to run their affiliate program. It's managed by OPMpro.com, a group of highly experienced online marketers who are there to help you increase your monthly commissions.
Why Should You Promote Thrive Market: High flat commission fee, Thrive Market donates one membership per every signup, great selection of organic food
Not only does Thrive Market offer their affiliates over 40% of every new member subscription fee ($25 per sign up), they also donate a membership to a family in need, teacher, or veteran.
Live Superfoods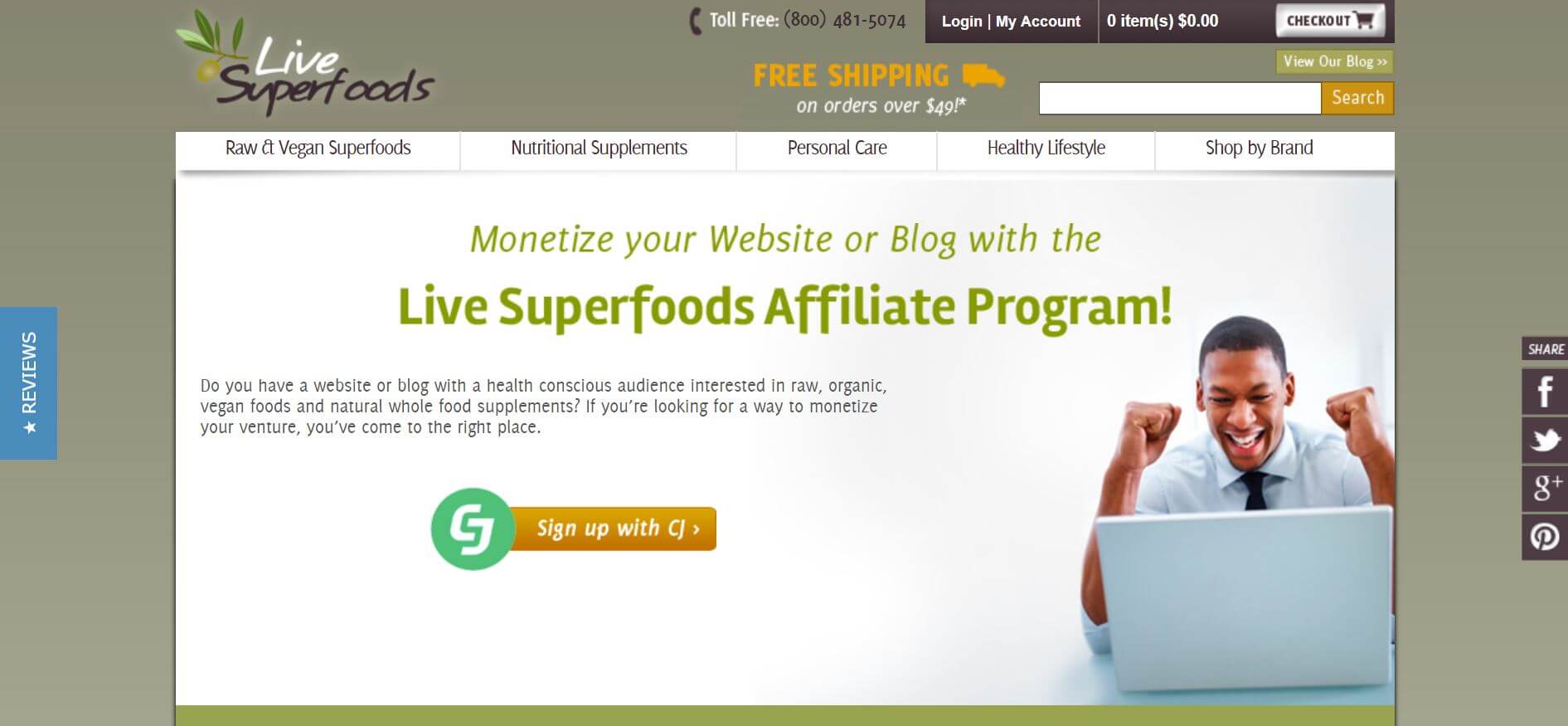 Live Superfoods strives to provide its customers with a large selection of the purest unprocessed raw organic foods and natural supplements. They specialized in hard to find raw foods that you can't usually find at your local health food store. Their company owns and operates out of a USDA certified organic packaging facility and temperature-controlled warehouse in Bend, Oregon. That way they are able to buy large quantities of bulk ingredients, repackage them into consumer size packing and sell them directly to the public. This allows them to pass on significant savings to their customers. Along with their own products, they carry products from the industry's finest suppliers. Orders over $49 are eligible to free shipping in the continental US. Also, 99% of all orders placed before 2 pm are shipped the same business day.
Affiliates receive 10% commissions on sales with a 30-day cookie duration. Their average order is just over $100 with a return rate of less than 0.5%. Live Superfoods uses Commission Junction to manage its affiliate program. They are certified CJ mobile optimized and responsive.
Why Should You Promote Live Superfoods: High average order amount, very low return rate, competitive commission rate
Live Superfood has a very low return rate which means their customers are very happy with their purchases. They have a high average order amount and offer their affiliates a 10% commission of sales.
Sunfood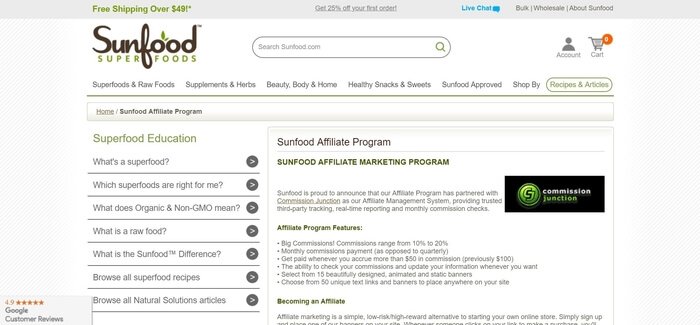 Sunfood has been the world's top source for raw, organic, non-GMO superfoods and cutting edge nutritional information since 1995. They are not a drop-ship site, they stock all of their product lines. This allows them to carry unique products that their customers love and leads to a higher conversion rate. They also constantly test their shopping experience to increase conversion rates even more.
The average order size is $120 but there are often individual orders between $250-$500. Affiliates receive aggressive 10-20% tiered commissions with a 30-day cookie life. Sunfood uses Commission Junction to manage its affiliate program, track sales, and payout monthly commission checks. Affiliates get paid whenever they accrue more than $50. You can choose from 15 elegantly designed animated and static banners and 50 unique text links to place anywhere on your site.
Why Should You Promote Sunfood: Aggressive tiered commission rates, very high average order size, lots of marketing materials
Not only does Sunfood have a high average order size, but it's also not uncommon to have individual orders between $250-500 which means higher commissions for you.
Green Chef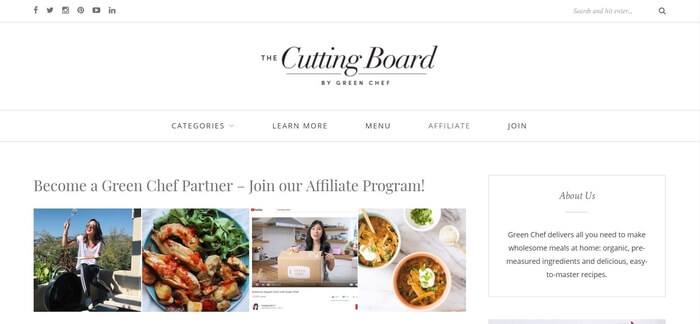 Green Chef was the first USDA and Gluten-Free certified meal kit company in the industry. They offer more organic ingredients than any other company on the market. They are known for offering specialty meal plans for people looking for Paleo, Vegan, or Gluten-Free options. Each kit contains 3 pre-portioned dinners for 2 people with organic ingredients free from antibiotics, growth hormones, steroids, GMOs, or synthetic pesticides. Each kit includes recipe cards with step by step instructions, photos, and chef tips. Green Chef meal kits are also environmentally friendly. They are 100% compostable or recyclable.
Affiliates earn up to $15 per sale. They also offer periodic performance-based incentives to their top affiliates. The cookie life is 7 days. The sales tend to surge at the beginning of the year when more people make resolutions to live more organic lifestyles. Green Chef uses Commission Junction to manage its affiliate program. To sign up, search for them in the Advertisers section. A large range of logos, banners ads, and marketing creative are available to help you product their meal kits. You can also request samples of content for your blog.
Why Should You Promote Green Chef: Environmentally friendly organic meal kits, generous flat fee commission, lots of marketing materials
It's important to note that affiliates only receive payouts for new Green Chef subscribers and coupon and deal sites only receive $5 per sale.
Organifi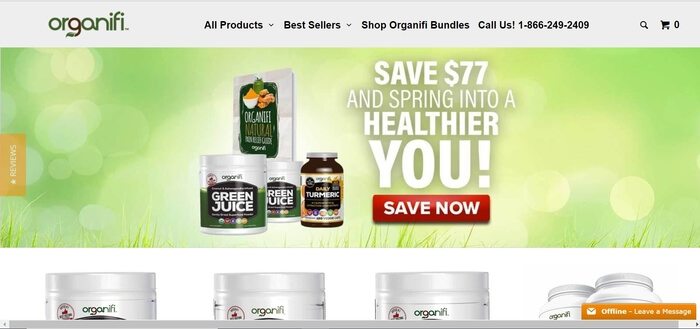 Organifi was created to show the healing and detoxifying benefits of natural plant life can help you overcome your biggest health obstacles. It took them two years to create their superior organic, vegan, all-natural, and non-GMO superfood blend which raises the standard in their industry. They wholeheartedly believe in the benefits of Organifi and have countless testimonials and clinical trials to back them up. They also offer a 60-day money-back satisfaction guarantee. Their products include juices, proteins, turmeric, and probiotics.
Organifi offers a 30% lifetime commission on the front end, all upsells, and a lifetime commission on rebills and future purchases from the affiliate's referred customers.
Why Should You Promote Organifi: Generous commission fee, lots of banners and links to choose from, lifetime commission
It's important to note read through their terms and conditions to make sure you are following all their guidelines such as not using before and after photos without consent, running ads on Google Adwords, or spamming in any way.
Nutiva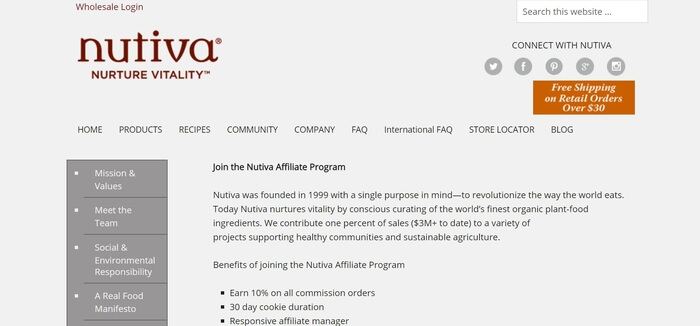 Nutiva set out in 1999 to revolutionize the way the world eats. They nurture vitality by curating the world's finest organic plant food ingredients. They also support healthy communities and sustainable agriculture by donating one percent of sales. They've donated more than 3 million dollars to date. Nutiva sells a variety of products including coconut oil, MCT oil, palm oil, hemp protein, chia seeds, and more.
Affiliate earns 10% of all orders. The cookie life is 30 days. Affiliates have access to their responsive affiliate managers, branded banner ads in all standard sizes for your website, frequent newsletter updates, and exclusive offers for your readers and followers. You can apply for their affiliate program by filling out the form on their website.
Why Should You Promote Nutiva: Nutiva donates 1% of all sales, competitive commission rate, month-long cookie life, lots of marketing materials
Nutiva offers its affiliates a competitive commission rate and lots of marketing material and helps from their affiliate managers to help you succeed.
Wilderness Family Naturals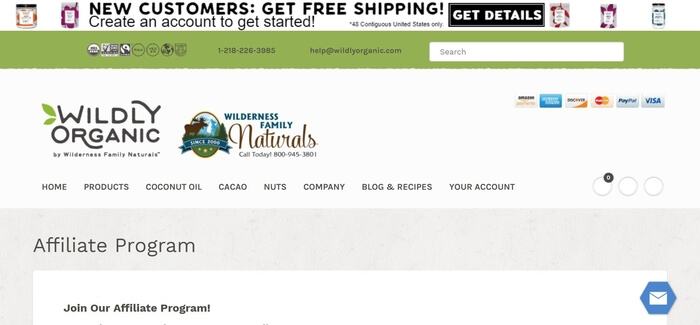 Wilderness Family Naturals lives by the motto "Trust what you eat. The rest comes naturally". They are an independent source for the highest quality natural and organic foods. They also sell body care products and package and prepare almost everything they sell in their own facilities in the US. Plus no membership is required to purchase their products.
They offer their affiliates a generous commission structure. The base commission is 10% with the potential to earn up to 20% based on sales. You can recommend their products on your blog or social media accounts. The cookie life is 30 days. They provide tools to help you generate sales from your website, social media accounts, and emails. You also get access to banners, headers, buttons, and more you can use to promote their products. Wilderness Family Naturals uses Affiliatly to manage their Affiliate program and track sales, access marketing materials, and issue payouts after you've receive a minimum commission of $50.
Why Should You Promote Wilderness Family Naturals: Generous commission structure, high-quality products, lots of marketing materials
Wilderness Family Naturals provides its affiliates with lots of marketing materials and tools to help them promote their products on websites, social media accounts, and emails.
Amazing Grass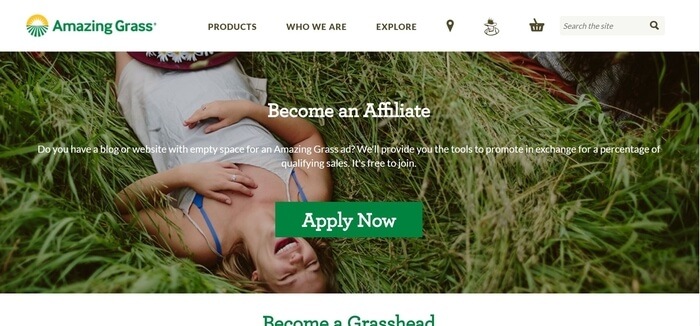 Amazing Grass was created in 2002 when its founders began mixing green drinks for their friends and coworker. They are dedicated to sourcing the highest quality organic, non-GMO fruits and vegetables from across the country. Amazing Grass helps people lead healthier lives through organic, plant-based nutrition. Their greens are USDA organic, non-GMO, vegan, kosher pareve, and gluten-free. To help you discover what products will work best for you, you can use their product finder tool.
They call their affiliate program the "Grasshead Program". They want to build long-term partnerships with their affiliates who want to share their mission. They've divided their program into 3 levels: Advocates, Influencers, and Ambassadors. Advocates are brand supports who can share their love of Amazing Grass on their social media pages. In return, they have access to the monthly newsletter and a yearly discount code to share with friends and family. Influencers create content in exchange for free products and a steep discount code. Ambassadors have a minimum of 50k followers and work with Amazing Grass on a year-long contract to develop and collaborate on content. Both Influencers and Ambassadors receive 10% commissions with an average sale of around $73. The cookie duration is 30 days. Amazing Grass uses ShareASale to manage its affiliate program.
Why Should You Promote Amazing Grass: Great average sale value, competitive commission rate, 3 different affiliate program types to choose from
Be sure to check out their website to learn more about each program level and pick which lone best describes your brand or social media following.
Vital Choice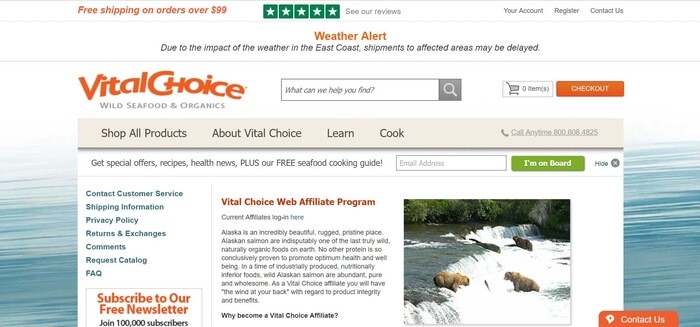 Vital Choice is a trusted source for fast home delivery of the world's best wild seafood and organic fare. Their sustainably harvested Alaskan salmon and other northwest Pacific seafood are cleaned and flash-frozen within hours of harvest to maintain its fresh-caught quality. Their high-quality shellfish and wild fish are free of hazardous levels of contaminants. They also carry organic, natural, and Kosher foods selected for their great culinary and nutritional qualities. Free shipping is available on all orders $99 or higher. They offer a 100% guarantee if you are not happy with your purchase they will replace it or issue you a refund.
Affiliates receive 8% commissions for first orders and 5% for repeat orders. They have a high level of repeat orders because of their loyal fan base. Many customers order several times a year. They have a very large average order size of $170+. Vital Choice uses Commission Junction to manage its affiliate program.
Why Should You Promote Vital Choice: Very high average order size, lots of repeat orders, additional commission possible for repeat customers
Vital Choice has a very loyal fan base who often order multiple times per year, which means more commissions for you.
Natural Zing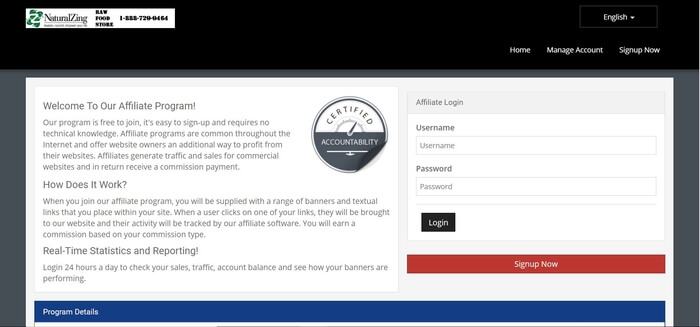 Natural Zing has been sourcing premium raw, vegan, wildcrafted, superfood, and living food products for 13 years. They offer 30 core superfoods and over 1200 raw organic vegan selections. Natural Zing prides themselves on their reasonable prices, knowledgeable customer service representatives, and fast delivery.
Affiliates receive 7% of each sale with a 30-day cookie life. The minimum balance required for payout is $30 and payments are made once per month for the previous month. Affiliate is given a range of banners and text links to choose from. You can check the real-time statistics and reporting 24 hours a day to see your traffic, sales, and account balance.
Why Should You Promote Natural Zing: Large selection of organic food, competitive commission rate, lots of marketing materials
Natural Zing offers over 1200 raw organic products at reasonable prices. Affiliates receive 7% commissions and 30-day cookie life.
Affiliate Website Ideas
Now that you've read more about my favorite organic food affiliate programs, it's time to decide what kind of affiliate website you want to create. Since the organic food industry is growing in popularity, it's better to focus on niche categories to help your website stand out. One niche idea would be to focus on organic food meal kits. Green Chef is a great affiliate program to promote because they have the largest selection of organic foods and offer specialty kits to help cross-promote people on Paleo, Vegan, or Gluten-Free diets. Affiliates receive a flat $25 fee per order with a 7-day cookie life.
Along with organic fruits and vegetables, sustainable seafood is also becoming more popular. People want to know their seafood is sustainably harvested and free of hazardous levels of contaminants. Vital Choice offers the world's best wild seafood and has a very high average order size and lots of repeat customers. Affiliates receive 8% commissions for first orders and 5% for repeat orders.
Raw organic food is another niche to target. Cooking can destroy foods' nutrients and natural enzymes so in order to get the maximum health benefits it's best to eat some foods raw. Sunfood offers a large selection of raw organic foods and a very high average order size of $120. Affiliates receive between 10-20% commissions based on sales with a 30-day cookie duration.
I've also seen food promoted in entirely different types of niches. For example, articles on mental illness may talk about nutrition and food, as eating well is particularly important for those with mental health challenges. In a similar way, articles about health or nursing articles might also cover nutrition and food, to some degree.
Boost Your Affiliate Earnings
These 10 affiliate programs are just the beginning of what's possible. There are hundreds of ways to earn affiliate commissions with your website, including product reviews, top 10 lists, how-to guides, and more
But what about traffic and conversions? How do you make sure your affiliate links get clicked?
I used the affiliate training here to turn my brand new website into a six-figure income generator in less than two years. Build a business, not just a pocket-money side project!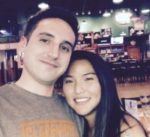 Nathaniell
What's up ladies and dudes! Great to finally meet you, and I hope you enjoyed this post. My name is Nathaniell and I'm the owner of One More Cup of Coffee. I started my first online business in 2010 promoting computer software and now I help newbies start their own businesses. Sign up for my #1 recommended training course and learn how to start your business for FREE!