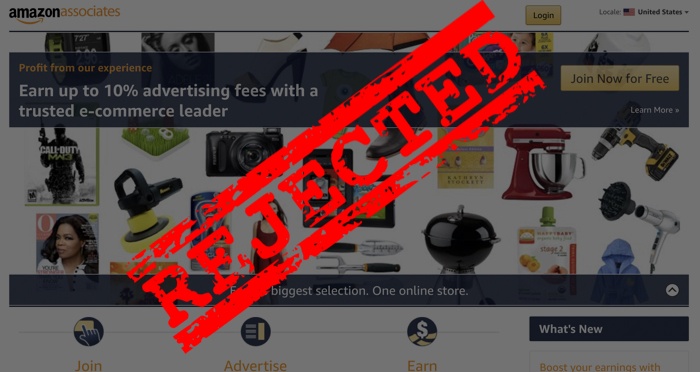 If you've been rejected from Amazon's affiliate program, don't freak out.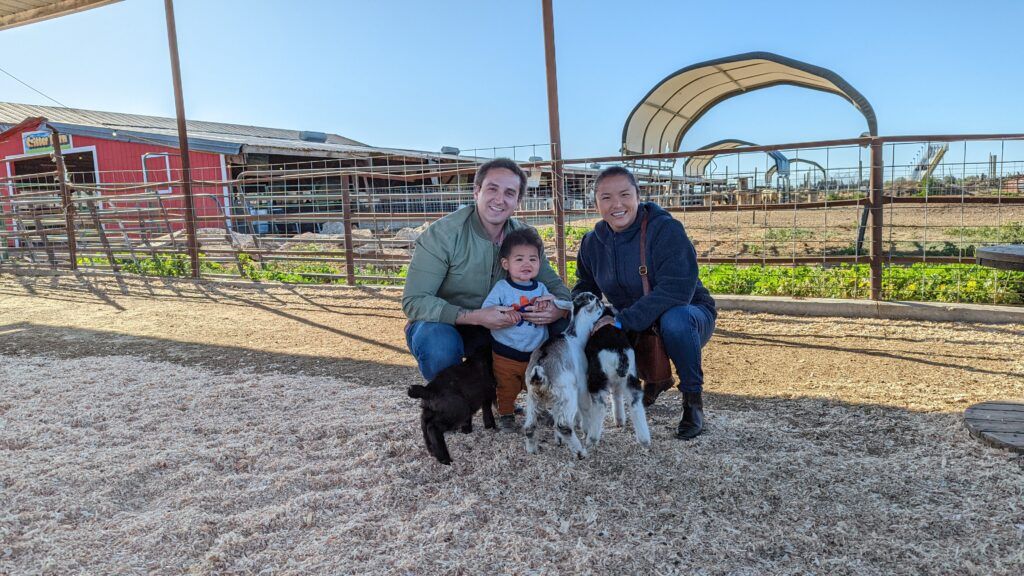 Are You Ready To Work Your Ass Off to Earn Your Lifestyle?
Are you tired of the daily grind? With a laptop and an internet connection I built a small website to generate income, and my life completely changed. Let me show you exactly how I've been doing it for more than 13 years.
Amazon runs one of the most popular affiliate programs out there. It's used by both newbies and experts, and people make $100,000+ per month promoting their products. There's literally (almost) anything available on their website, meaning you can use them whether you're in the health and fitness niche, computer parts, or something a little more…kinky.
But getting rejected from Amazon's affiliate program is not the end of the world. Far from it.
They are just one of hundreds of thousands of affiliate programs you could potentially use to monetize your website.
In fact, Amazon's pay is pretty garbage, ranging from just 1% up to 10% depending on what you promote.
Making 1% commission sucks.
So think of this as an opportunity to expand your horizon's and figure out a better way to make money with your traffic.
How To Find Alternative Affiliate Programs
Don't know how to find affiliate programs? It's easy.
Go to Google and type "My Niche" + "Affiliate Program". Tons will pop up.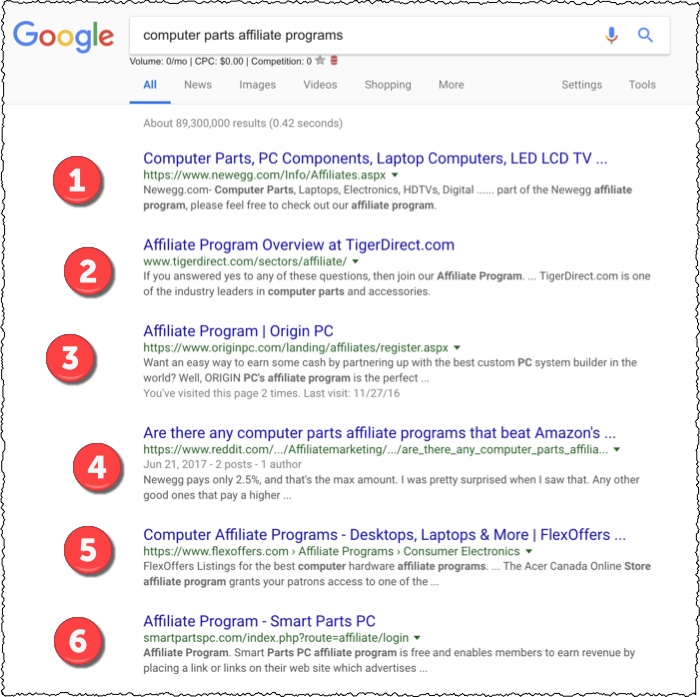 I honestly wish there was more to it, but that's about it.
Depending on what your niche is, you could turn up hundreds of other affiliate programs, many of which will have the same products as Amazon. I've seen plenty of times where a company will offer their products through their own program, as well as Amazon, because they are being sold on both platforms.
Sometimes, you may even find that there are products being sold through Amazon, Impact, CJ, Shareasale, and other affiliate networks.
Digging Deeper For Affiliate Programs
Here's where the real opportunity comes in – what if you started thinking about how to better monetize your website?
As I said above, 1% or even 10% commissions can really be depressing, especially if you're promoting stuff in the low to mid range, like kitchen equipment. A 5% commission on a $100 item is still just $5.00 per sale that you make.
Why not take another look at your website and see what else you can promote?
One of main things I look for when deciding what to promote on my website are high ticket items. These are expensive things, like diamonds, yachts, or luxury watches. Sell thing for $10,000, and even with a 1% commission you're still making $100 per sale. One sale a day and that's $36 grand a year you could earn from your site.
You're telling me that after a year or two of writing content you can't make one sale a day? I find that highly unlikely! Stick with building your business, and high ticket affiliate sales will definitely pay off.
The other thing I look for is recurring commissions.
These are great for "stacking" commissions month after month. If you make just two sales a month, and the customer sticks around for a year or so with whatever you're promoting, those earnings add up quickly.
For example, if you make $10 per sale and two sales per month, that's $20 per month starting out. By month two, you're making $40/month, then $80. By the end of the year you're $260/month from just two sales a month. Compounded with your website's growth, it's really easy to earn passive income this way.
…but my niche doesn't have recurring and high commission items!
Yes, it does.
You just need to dig deeper with keyword research. You need to think broadly about keywords and how they relate to your niche.
Let's look at an example.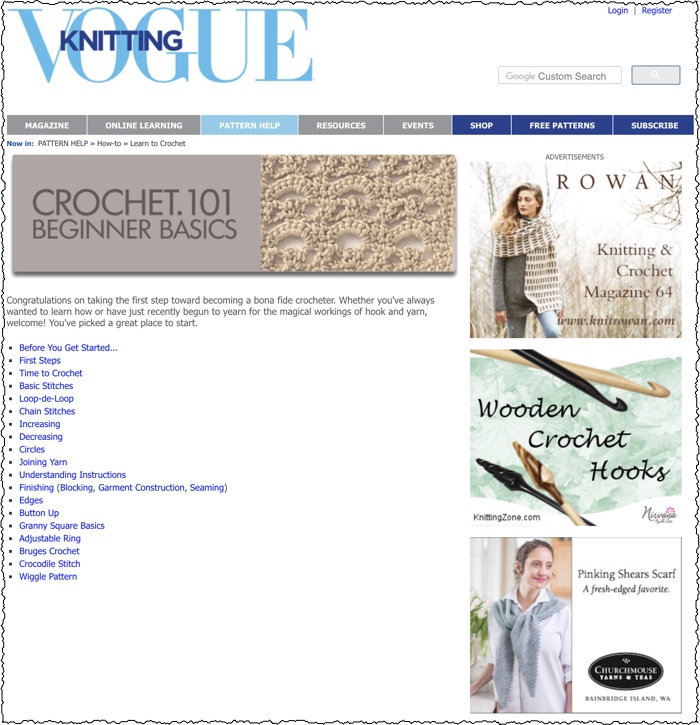 This is a website about knitting all around, but let's pretend it's a website just about crocheting.
Also, let's assume that you applied to the Amazon affiliate program and got denied for whatever reason.
One more assumption – you can't find any other affiliate program for needles, yarn, patterns, or anything else obvious.
What's your next step?
Think outside the box.
What else could you promote that's somewhat related.
How about this.
Someone who likes to crochet might want to sell their stuff online, right? So how do they do that?
They can open an Etsy store, or start their own ecommerce website.
Etsy won't pay you for referring sellers (although they do have an affiliate program). There's got to be some "how to make money on Etsy" courses out there though.
After less than 10 minutes of research, I found that both Skillshare and CreativeLive have Etsy-selling classes, plus they affiliate programs.
What about high ticket and recurring affiliate ideas?
I found this sewing machine for $300 on HSD, and they have an affiliate program too.

Now, instead of promoting $15 yarns, you're earning commissions on $300 items. It may not be exactly related to your niche, but it's an option worth considering if your original niche idea is running out of steam.
How To Get Accepted To Amazon's Affiliate Program
After all that is said and done, there are two problems that may still exist.
One, your rejection from Amazon's affiliate programs probably means there's issues with your website, and you might get rejected across the board from all the good affiliate programs in your niche.
Two, the items you want to promote could be sold only on Amazon, and it's really a main goal of yours to get accepted to this affiliate program specifically.
That's OK.
Amazon's pretty relaxed about who they allow into their affiliate program, so I can guarantee you'll get in if you put in just a minimum amount of work.
What needs to be done?
You need to start building up traffic to your website.
It's that simple. I mean, getting traffic isn't simple, but the concept that you just need traffic and you're good to go is all you really have to know.
The thing is, there's really no rush to monetize your website if you aren't getting traffic yet.
If you have no traffic, your only sales are going to be random people buying random things, and that's not a sustainable business model.
If you want to build passive income that you can rely on for years to come, you need to do things right from the beginning.
And that starts with ranking posts in Google for organic traffic.
Once you start getting a couple hundred visits per day to your website, you can add an affiliate link and start making money the next day.
I know a guy who built a website for one year with out adding affiliate links.
One day, he decided he built a strong enough business to monetize, and added amazon affiliate links to his ranking post.
He was making money the next day.
Sure, he missed out on maybe a few hundred, or maybe even a few thousand dollars over the course of the year.
But in the grand scheme of things, if you're making six figures for the next 10 years, $2,000 lost is a drop in the bucket. Not a huge deal.
I'm not saying that's the best strategy – hey, I'd want that two grand!
The point is that you can't monetize a website without traffic, so start writing.
If you don't know how to write content that ranks, or how to research keywords, you should really take some basic lessons on affiliate marketing.
Just knowing how to research and write content is about 80% of what you need to succeed in making money with an affiliate website.
Most people fail because they just pick a niche, write a couple paragraphs, then start spamming their affiliate links across their website and hope for the best.
A successful website starts with traffic, and with a traffic generating website, I can guarantee that Amazon will accept you to their affiliate program the second time around.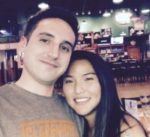 Nathaniell
What's up ladies and dudes! Great to finally meet you, and I hope you enjoyed this post. My name is Nathaniell and I'm the owner of One More Cup of Coffee. I started my first online business in 2010 promoting computer software and now I help newbies start their own businesses. Sign up for my #1 recommended training course and learn how to start your business for FREE!