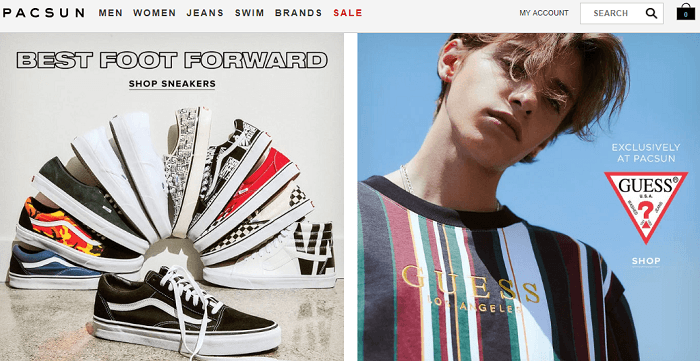 Affiliate programs typically target the everyday person, but this is one affiliate program that I'm happy to say is for all my surfer friends out there! Whether you're into the surfer "California dreamer" style of clothes or not, you know this is a brand that has a really excited youthful glee to it.
If you're using affiliate programs to target lifestyle and clothing customers then you should definitely be adding PacSun to your list. This is targeting all of those millennials, skaters, surfers, and rich-grunge-looking kids with that care-free mentality to life.
If you dont feel like you fit in with that crowd, not to worry. PacSun offers quite a variety of clothing including some preppy and relaxed looks as well. They also offer a variety of quality sporting brands as well to compliment their clothing so nobody is left out. Overall it's a really great brand to add into your clothing affiliate arsenal.
What Type Of Products Are Featured?
PacSun caters to both women and men looking to spice up their wardrobe with a bit of color. You wont find dress clothes for your next wedding or work event here, but you will find everyday clothes that will keep you feeling relaxed and looking like you fit in with every crowd.

Here's an overview of PacSun's products that are offered at www.pacsun.com:
Graphic tees, basic tees, and long-sleeve polos
Sweaters, hoodies, jackets and sweatshirts
Jeans, joggers, and pants including skinny, slim, chino, and straight legged
Swimwear including board shorts, swim trunks, and girls two piece
Shoes and slippers by many well known brands like Adidas, Vans, Converse and others
Accessories: Bags, hats, socks, boxers, watches, sunglasses, tights, boxers, and jewlery
There are many different brands that supply PacSun with it's great clothing including some of the following:
Adidas, Bilabong, Calvin Klein, Champion, Converse, Guess, K-Swiss, Hurley, Levi's, Nautica, New Balance, Obey, Puma, Reebok, Volcom, Vans, and many more.
What Is The Commission Rate?
PacSun's affiliate program is easy to use and refer customers to their site. When you do refer customers, you have the potential to earn a commission from that sale as long as they purchase using your affiliate link and they do so within a 30 day time-frame as PacSun only allows the system to keep a 30-day cookie in that visitor's browser.
If a customer who you refer successfully purchases products from PacSun, you get a 2% commission on that sale. Two percent is pretty small, but somewhat common for big brands or clothing companies. Digital products can fetch 75% or more, so I get it if you are scoffing at this percentage rate!
This is a flat commission on all sales made, however, they do have special deals on certain products. An example of that, for all of 2018 any purchase of women's tops made from affiliate links gets you a 4% total commission.

The commission rate from PacSun sadly is quite a bit lower than most affiliate programs, especially for clothing. This is a bit of a let-down considering the great following that they have and the potential for success as an affiliate partner. This is why if you do use PacSun as an affiliate, focus on the special deals that they offer as the commission rates are higher in those categories.
Alternative Affiliate Programs
There are many different clothing affiliate programs to choose from, but one that most closely aligns to PacSun's products is Urban Outfitters.
Urban Outfitter's affiliate program has a much higher affiliate commission rate of 4.99% on average commission which can fluctuate with different products and how many sales you complete. With a higher commission, this can often make it a much more worth-while when you achieve sales successfully. You should take a look at this program if you're interested in similar niche programs like PacSun.
Another great affiliate program that has a similar crowd you can onboard with is the American Eagle affiliate program. They have one of the highest commission rates at around 8% on all sales achieved. This is the highest commission I've seen on affiliate commissions for clothing which is why it's a pretty exciting program.
While some of these have higher commission rates, nothing beats PacSun's incredible swim-wear!
Website Ideas
If you haven't started your website and social media theme that you'll be using the PacSun affiliate program with, here are a couple ideas you can use when you decide to get started.
SurfShop – PacSun has been a long time promoter and board short supplier to the surfer dudes and gals out there and their many surfer wanna be fans alike. They offer some of the best board shorts and swimwear on the market by well known brands like Hurley and Bilabong alike. If you're going to get into this niche, do your research first and find out the best products that everyone likes. Is there a specific color, brand, style, etc? Also find out the top social media pages and groups that you can use for advertisements whether that be posting to those groups or running paid advertisements to attract potential buyers.
Lifestyle Or Fashion Blog – Lifestyle and fashion blogs are really awesome because you have the luxury to diversify what you're discussing and advertising whether that be clothing, food, travel, etc. Lifestyle channels can often be difficult to start because you have to establish the proper following first but over time it's simple and easy to explode your lifestyle blog once you're able to get the proper following. PacSun products are clean and colorful which is attractive to the wandering eye that spots your page.
While PacSun has awesome products, make sure to mix up your affiliate programs and not just focus on one company as your sole provider of products. PacSun partners with so many companies already, but find related products like beach items, surfing/skateboarding, music/speakers, and travel related goods. Amazon may just be the perfect pair for locating those one-off items that are great cross-sells to PacSun's products.
Can You Make Money With The PacSun Affiliate Program?
While the low commission rate that PacSun offers may make affiliates worried about the potential for success, every affiliate program has incredible potential if you use the tools right, prepare legit good content for your readers, and invest the proper time in growing your social media presence.
Lets review the affiliate tools that PacSun offers to it's affiliate partners so you can easily get started in adding their products to your website, blog, or social media site.
In order to use the affiliate tools for PacSun you'll need to first get signed up with their network affiliate partner called Rakuten. You can do so at https://rakutenmarketing.com/affiliate. Once signed up with Rakuten, you can search for PacSun in their advertisers list.
Approval is required from each advertiser before you can begin using their tools, but once signed up it's easy to use their affiliate tools. From the screenshot below you can see all of the advertiser's affiliate program details under the "Advertiser Information section". To use the affiliate tools, you'll click on the "Link Types" so you can get the appropriate tools. Click "Link Types" to get started.

Under link types, you'll see 3 different link types available for you to use with PacSun. I'll review each of these and how they can be applied on your program:
Text/Email: Under the text/email link types you'll find a broad range of links to PacSun's site including many of their current promotions which are perfect when advertising their products on your site.
Product Links: When you want to talk about an exact product, it's best to have a direct link to it so it gives your visitor the easiest way to achieve a sale. There are over 14,000 products on PacSun's website and the affiliate program has an updated link to every product.
Banners/Images: Banners are one of the best ways to add a visual symbol to your site. Adding a banner from PacSun to your sidebar, header, or footer will give an easy link and add potential income without having to write any content. Use these as well mid-content if the banner fits the content.
Using all of these 3 affiliate link types are easy, just click the "Get Link" button next to them. Each of these includes your affiliate code in the link so that if a customer clicks it, you get credit for it. Be sure not to use any links to PacSun that dont come from the affiliate portal. If you do, you will not get credit for any sales achieved.
Pros/Cons of Working With PacSun
Need help deciding if this is the right affiliate program for you? I'll highlight both the highlights and low-lights of the PacSun affiliate program so you can make the best decision when deciding.
Pros:
Trendy millennial brand thats easy to advertise and gain attention from passing young visitors.
Established and trustworthy brand to partner with.
Easy to use affiliate partner of Rakuten Marketing.
Cons:
Low commission of just between 2-4% on product sales.
Clothing as a niche takes a long time to become established so the ROY isn't seen until months or years down the road.
Sign up here: https://www.pacsun.com/content/affiliates.html
If you have a clothing affiliate program that you absolutely love working with, tell me in the comments below so we can get on board with determining how that rolls up with the competition.
The Internet's #1 Affiliate Training
It sounds like you're pretty familiar with the basics of how affiliate marketing works. Awesome! But is your website profitable yet? Are you stuck spending hours wondering why you aren't seeing results yet?
You aren't alone. Most newbie affiliate marketers are a little lost, jumping from one "how to" guide to the next, hoping to learn the secret sauce of how to make money with affiliate marketing
I was able to turn my basic niche blog into a six-figure earner in 18 months following the training from this company. They focus on building a sustainable business that will earn for years, not just a website that will "game" search engines for temporary rankings. That's why 8 years later my websites are still earning and still growing.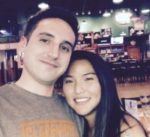 Nathaniell
What's up ladies and dudes! Great to finally meet you, and I hope you enjoyed this post. My name is Nathaniell and I'm the owner of One More Cup of Coffee. I started my first online business in 2010 promoting computer software and now I help newbies start their own businesses. Sign up for my #1 recommended training course and learn how to start your business for FREE!