A digital product is any product you can sell online that doesn't have a physical form.
Examples include PDFs, ebooks, MP3s, media files, software, website themes, and graphics. There really is a large amount of things to choose from, like WordPress plugins, tutorial guides on how to do something, learning programs like Udemy, online universities, or even video game downloads. 
The fact that there's no storage costs, no shipping costs, and no duplication costs (just the one-time cost of creation of the product), means that selling digital products online is one of the most popular and most lucrative business models. This means that they can pay affiliates a lot more than other types of affiliate programs, so digital products are some of the highest paying programs out there. In fact, I've promoted products that pay 100% commissions (these are recurring subscriptions, so the company pays you 100% of the first sale, but no recurring commissions).
That means you can expect some big commissions…and lots of competition as well. Where there's money to be made, there will be plenty of healthy competition. Some spaces are quite crowded, but there is certainly no shortage of great digital products affiliate programs to promote as an affiliate marketer.
In fact, it was pretty much impossible to construct a "top 10" list for digital product companies because there is just so many to choose from. I've re-worked this list several times, and I still can't get it exactly perfect, but at the very least it can get you started.
The one thing I will emphasize is that lots of people would include Clickbank as a top choice for digital product affiliate programs since they offer a full digital products marketplace, but that site is seriously garbage. I would advise against it, and even advise against other similar marketplaces like JVZoo, which are rife with scams. So how can we choose ten individual products to promote among a sea of possibilities in the digital landscape? You simply can't.
So to start you off, I wanted to list some potential categories to think about.
digital downloads
digital subscription services
education
software
b2b products
My suggestion is to read these affiliate options below and interpret them as a starting point for finding a good product to promote on your blog. Look at the type of product it is, then the type of industry, and consider what its competition may be, or what products could pair well with it. Seriously. Don't limit yourself to just this list, or any list. There's like 1000+ choices out there, so these ten are just the beginning.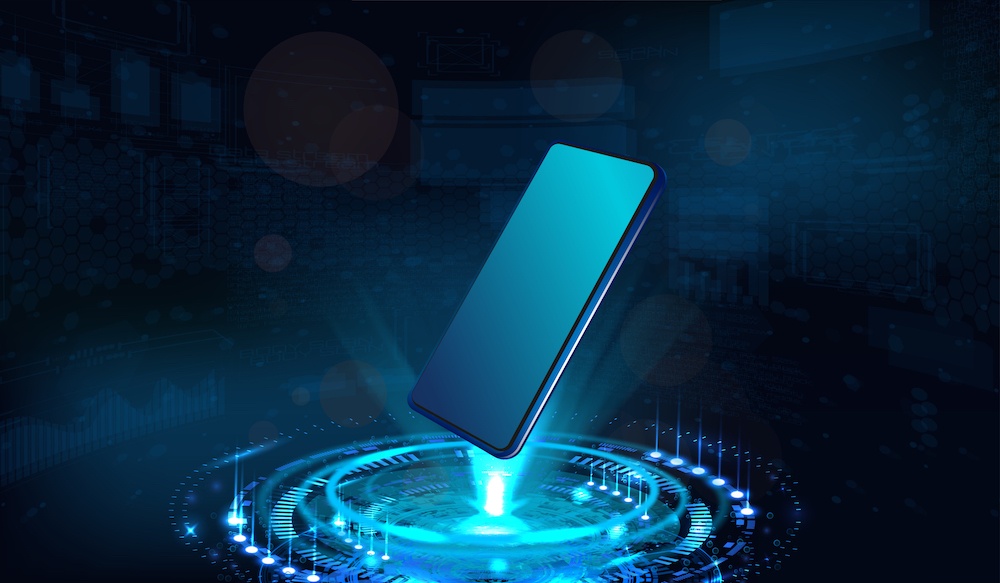 Digital Products Affiliate Programs
Envato Market
WP Engine + StudioPress
Wondershare
InPixio
InkyDeals
Animoto
SoftwareKeep
Dover Publications
Autodesk
Easy Digital Downloads
Envato Market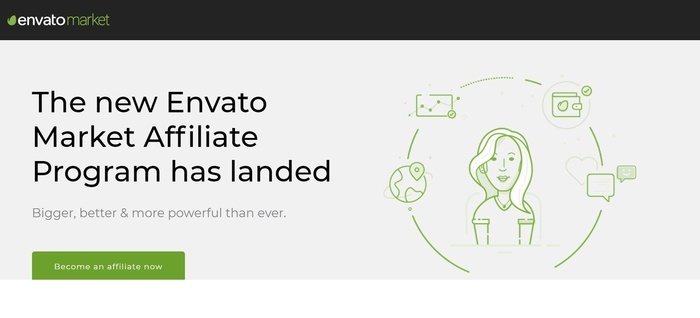 Commission: 30%
Cookie: 90 days
Envato Market is the largest creative marketplace in the world that sells millions of digital assets each year. You can buy anything from advanced WordPress themes, plugins, Photoshop actions, to video footage. They also offer an education network of tutorials, training, and courses.
Their affiliates earn more than $3 million per year. Their affiliate program is powered by Impact Radius. Envato Market gives their affiliates full access to high-performing banners, text links, and performance tracking.
Why Should You Promote Envato Market: Largest creative marketplace, millions of digital products, high performing marketing materials
Affiliates earn 30% commissions when their viewers make their first purchase on any Envato Market site.
WP Engine & Studiopress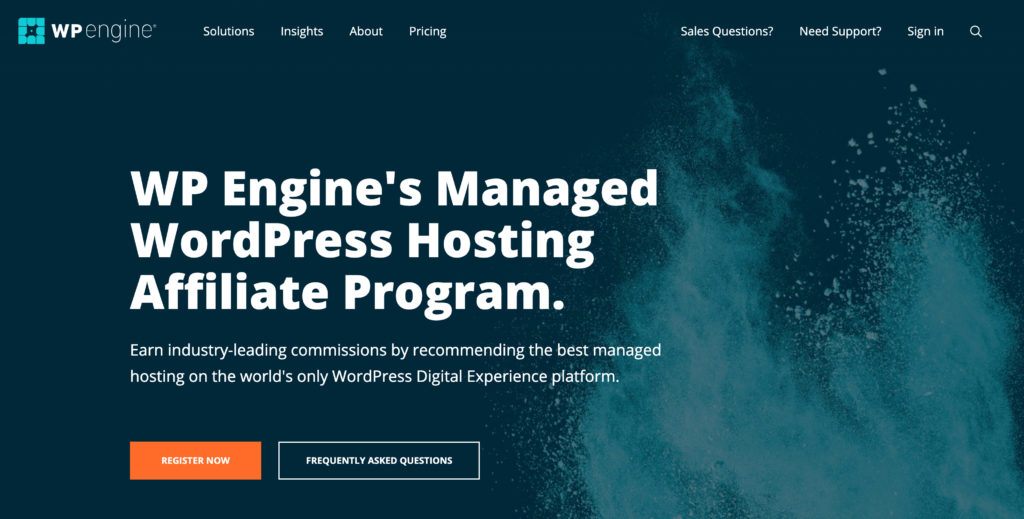 Commission: $200 + 35%
Cookie: 180 / 60 days
WP Engine is one of the most popular, and highest quality web hosting services available as of 2020. They offer extremely high payouts, paying $200 per conversion, which is pretty crazy since their basic monthly hosting plan is just $30/month.
StudioPress creates themes and tools to make WordPress easier. Their combined expert knowledge of design, SEO, performance, support, and security creates stunning, reliable WordPress sites. These are the themes I use on my sites, and can personally vouch for their quality and performance.
Both programs are run under the WPEngine flag via ShareASale to manage their affiliate program.
Why Should You Promote StudioPress: Premium WordPress themes, plugins, and hosting all wrapped up in one very lucrative affiliate program. Brand awareness, and good customer reviews.
Wondershare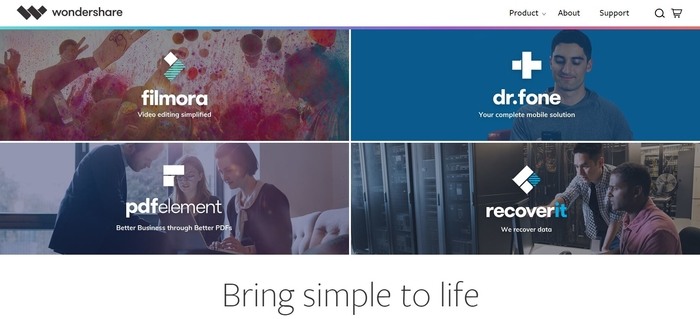 Commission: 30%
Cookie: 90 days
Wondershare is an innovative software developer that creates top-selling software and services. They help bring simplicity to your digital life with their utilities, multimedia, mobile apps, and software. Their top products include Video Editor, PDF Editor, DVD Creator, Data Recovery, Video Converter Ultimate, and more.
They use different partner affiliate networks including ShareASale, CJ AFfiliates, Awin, Rakuten, Linkconnector, and Admitad, to run their affiliate program. They provide all the marketing materials and tools you will need to get started including creatives, coupons, and promotional codes.
Why Should You Promote Wondershare: Innovative software, great tiered commission rates, exclusive promo codes and coupons
Affiliates can earn increased commission rates of 35-50% for the monthly sales of $2,000-8000+.
InPixio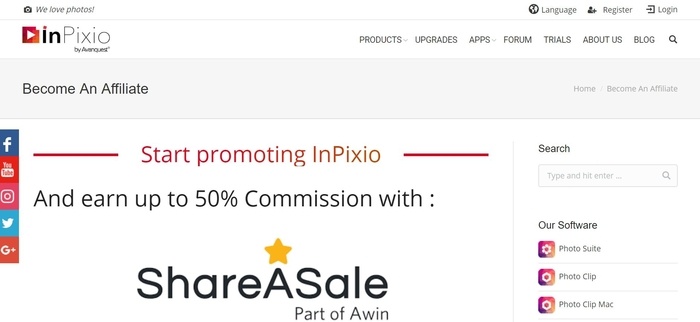 Commission: 30-50%
Cookie: 60 days
InPixio creates easy-to-use photo editing software. Their products are geared towards all types of users from novice to professional photographers. They offer modern software design, innovative features, video tutorials, and helpful support.
Their affiliate program is managed by ShareASale. InPixio provides their affiliates with creatives and tracking tools. All of their products have in-cart upsells which lead to higher average order values and higher commissions.
Why Should You Promote InPixio: Innovative photo editing products, creatives for all types of photographers, tiered commissions
Their tiered commissions of 30-50% reward higher sales with higher commissions.
InkyDeals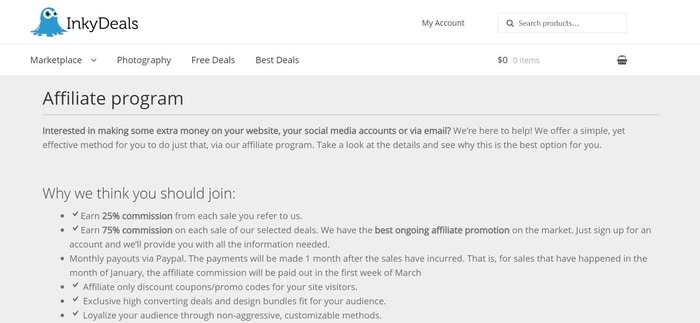 Commission: 25%, 75% select deals
Cookie: 30 days
InkyDeals offers one of the largest and most affordable digital resource libraries. They help empower photographers, graphic designers, web developers, and business owners to create great content. Their high-converting digital products include Photoshop actions, vector packs, fonts, templates, textures, and WordPress templates.
They use ShareASale to run their affiliate program. InkyDeals provides its affiliates with unique banner ads, graphics, affiliate-only coupons, tracking tools, and a dedicated affiliate support team. They also send out a weekly newsletter with new content for your viewers.
Why Should You Promote InkyDeals: Affordable digital resources, high converting products, exclusive affiliate deals
Affiliates can promote exclusive high converting design bundles and deals to fit the needs of their viewers.
Animoto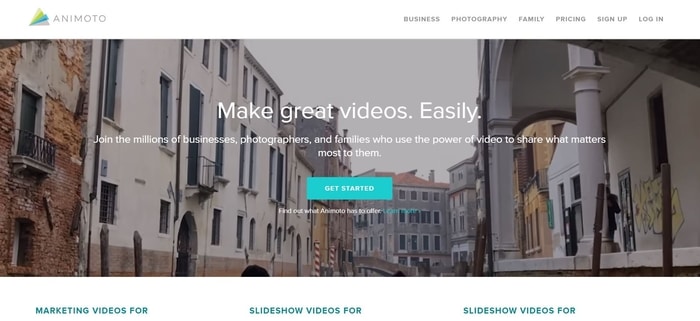 Commission: Up to 15% for monthly subscriptions, 20% for yearly subscriptions
Cookie: 45 days
Animoto makes it easy to create professional videos on the web or on the go. They wanted to find a cost-effective, easy-to-use, and fun solution for anyone to make great videos. Millions of photographers, businesses, and families have used their products to create marketing and slideshow videos.
Their average sale is around $83. Animoto uses ShareASale to power their affiliate program. Affiliates have access to a great selection of marketing tools and resources. Their dedicated affiliate management team is available to help answer any questions and offer suggestions on how to optimize your campaigns.
Why Should You Promote Animoto: Easy to use video software, millions of happy customers, lots of marketing materials
Animoto provides their affiliates with frequent updates on new promotions, sales opportunities, and contents.
SoftwareKeep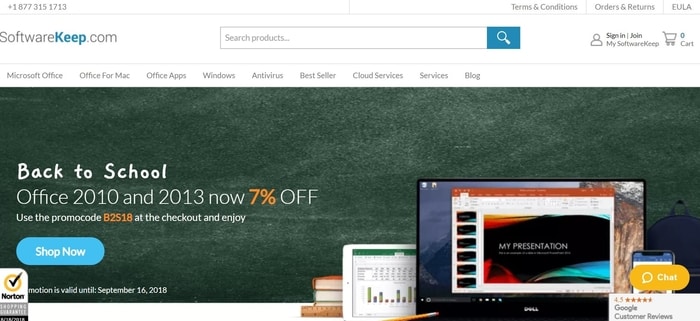 Commission: 10%
Cookie: 30 days
SoftwareKeep is an authorized Microsoft reseller that carries everything you need for your computer. Customers can save money on their digital copies of software like Microsoft Office Suites, Office applications, and anti-virus software. On top of their already low prices, they offer frequent sales, bulk discounts, and will beat prices by as much as 5%.
Their average order value is $115. SoftwareKeep has partnered with ShareASale to run their affiliate program. Affiliates have access to banner ads, text links, monthly sales, discounts, and reporting tools to track their progress.
Why Should You Promote SoftwareKeep: Authorized Microsoft reseller, low prices, high average order value
Affiliates earn great commissions on trusted Microsoft products for an authorized reseller.
Dover Publications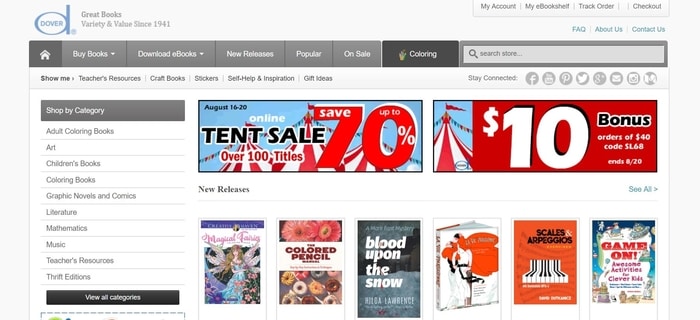 Commission: 10%
Cookie: 30 days
Dover Publications has been a trusted source for books since 1941. They offer over 10,000 books and ebooks for every age and interest. Their newly redesigned website features detailed descriptions, images, and content to inspire and increase conversion rates.
Their easy-to-sell products cover a big market with universal appeal. Dover Publications uses ShareASale to give their affiliates access to marketing materials and tracking tools on an easy-to-use affiliate dashboard. Affiliates can promote regular discount offers and specials to their viewers.
Why Should You Promote Dover Publications: Trusted book retailer, huge product selection, easy to sell products
Affiliates can promote Dover Publications' entire selection of books or just a few categories to fit their audience.
Autodesk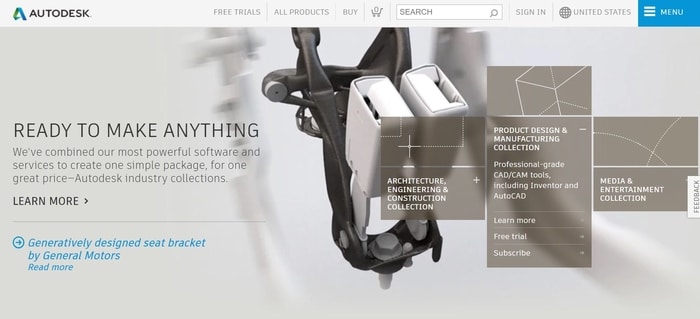 Commission: 9%
Cookie: 60 days
Autodesk is an industry leader in engineering, 3D design, and entertainment software. They make software for people in the manufacturing, building, construction, architecture, media, and entertainment industries. They've helped over 10 million customers including every Fortune 100 member.
Their affiliate program is run on Commission Junction. Autodesk provides their affiliates with top-performing product information, creatives, active deals, and promotions. Affiliates can promote products in the Americas, Europe, and Asia and have the ability to join their international affiliate programs.
Why Should You Promote Autodesk: Leader in engineering and entertainment software, top-performing product information, limited action referral occurrences
Autodesk offers free trials on their high-value software to let customers test out the software and help increase conversion rates.
Easy Digital Downloads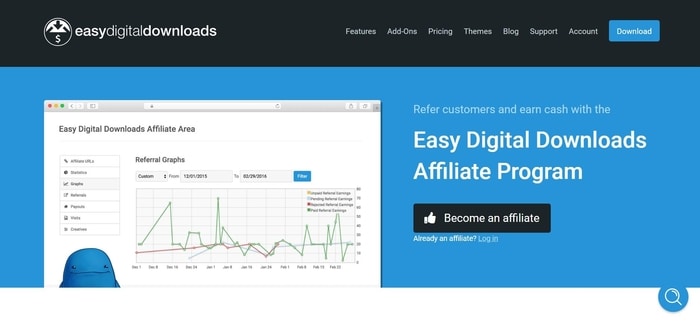 Commission: 20%
Cookie: 30 days
Easy Digital Downloads helps people sell digital products with WordPress. Users can sell everything from ebooks, PDF files, WordPress plugins, and more. Their features include a full shopping cart, discount codes, unlimited file downloads, download activity tracking, and much more.
They manage their affiliate program on their website. Easy Digital Downloads gives their affiliates access to attention-grabbing banners and HTML snippets. Affiliates have access to detailed statistics and performance tracking to determine which promotion tactics work the best.
Why Should You Promote Easy Digital Downloads: Helps people sell digital products on their website, lots of product features, high performing material materials
Easy Digital Downloads is a great option for businesses looking to sell their own digital products on their website.
Affiliate Website Ideas
Now that you've read about 10 great digital product affiliate programs, it's time to choose a niche to target. It doesn't make sense to build a site about digital products per se. You need a niche, then you can promote digital products as one (or several) product within that niche.
For example, you could focus on WordPress themes. StudioPress creates WordPress themes and tools to make building and managing your website easier. Affiliates earn a 35% commission on sales.
Another niche idea is photo editing software. InPixio creates easy-to-use photo editing software for all types of photographers. They offer their affiliates commissions of 30-50% based on sales. You could also target ebooks. Dover Publications offers over 10,000 books and ebooks. Affiliates earn 10% on sales of their books and ebooks.
There are obviously tons more that could go on this list…too much to fit into a Top 10. I've picked just 10 that I like, but you'll need to get more specific with your niche to discover appropriate affiliate programs for your website.
>>> Download 309 Digital Product Keywords For Free!
Boost Your Affiliate Earnings
These 10 affiliate programs are just the beginning of what's possible. There are hundreds of ways to earn affiliate commissions with your website, including product reviews, top 10 lists, how-to guides, and more
But what about traffic and conversions? How do you make sure your affiliate links get clicked?
I used the affiliate training here to turn my brand new website into a six-figure income generator in less than two years. Build a business, not just a pocket-money side project!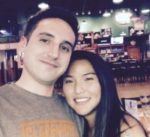 Nathaniell
What's up ladies and dudes! Great to finally meet you, and I hope you enjoyed this post. My name is Nathaniell and I'm the owner of One More Cup of Coffee. I started my first online business in 2010 promoting computer software and now I help newbies start their own businesses. Sign up for my #1 recommended training course and learn how to start your business for FREE!