Have you ever wondered how awesome it would be if you could make playing video games your career? We're talking anywhere from a few extra bucks to thousands of dollars a month just to do what you probably already do for free.
In this article, we'll discuss just how you can make that dream a reality using the Twitch.Tv live-streaming platform. Can you really make money on Twitch? Let's find out.
I. What is Twitch?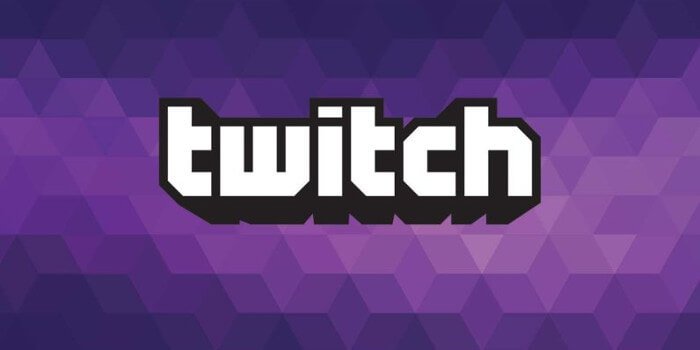 Founded in 2005, Justin.Tv, named for its founder Justin Kan, was originally intended to be an around the clock life broadcasting service. After receiving mixed reviews, Justin enabled the viewers the opportunity to set up their own broadcasting channels. This would, in turn, give birth to what we now know as Twitch.Tv.
In 2014 Twitch Interactive was sold to Amazon.com for $970 million and was ranked 4th in peaked online traffic behind only Apple, Google, and Netflix.
Twitch is a streaming platform where gamers are allowed to stream live video of their gameplay in front of an online audience.
Gaming publishers and media outlets also have their own Twitch channels and communities where they often provide potential consumers with a small peek behind the curtain of their next featured product.
Twitch.Tv is also host to many competitive and charity events that include tournaments, gaming marathons, and eSports.

1. How to Get Set Up
If you're looking to make money streaming, there are a few things you'll need to do in order to be properly setup on Twitch. You'll need to make sure that you have the proper equipment and of course, an account. Seeing that you can create an account for free, we'll start there.
A. Account Creation
By creating an account on Twitch, you'll be allowed to interact with other broadcasters and their communities via chat, follow your favorite live streamers and broadcast your own gameplay to the Twitch community.
To sign up for a Twitch account, you'll need to go to the website at http://twitch.tv. Once there, select the "Sign Up" button on the top-right portion of the page.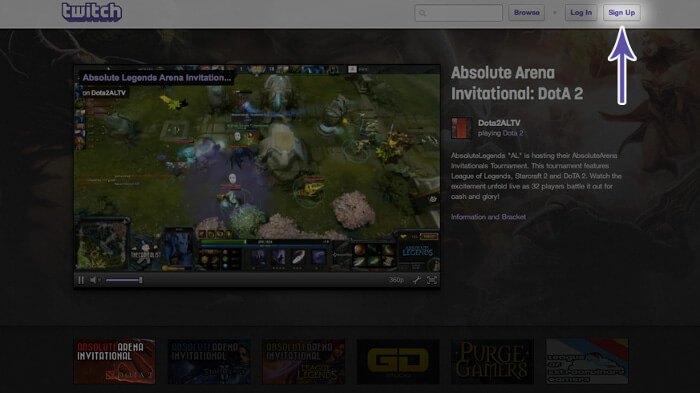 This opens the Login / Sign Up screen. You'll want to fill out the form on the right-hand side, which requires you to provide a username, password, email and your date of birth.
If you'd rather not have to fill out the form, then you may also sign up for a Twitch account by using your Facebook account. Simply click the "Connect with Facebook" button and you'll be on your way.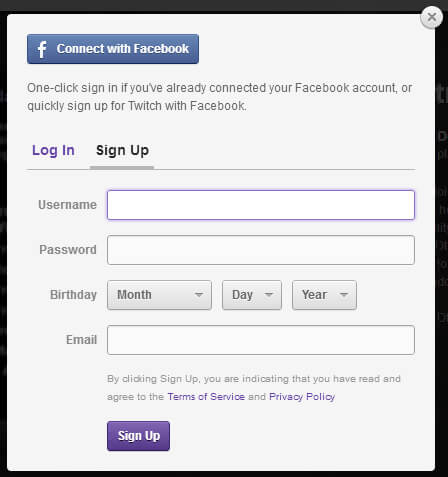 B. Proper Equipment
Twitch is first and foremost a live streaming platform for gamers. Therefore, it should be a no-brainer that you'll want to have either a PC or gaming console. If you opt for the latter, then you'll need to purchase a capture card in order to live stream.
If you choose to stream via a personal computer, you'll need to ensure you meet the requirements for the output you're attempting. A higher end rig is not necessary for streaming but the more performance you can get out of it, especially in relation to frames per second (fps), the better the viewing quality.
The recommended minimum specifications that Twitch offers are as follows:
CPU: Intel Core i5-4670 or AMD Equivalent
MEMORY: 8GB DDR3 SDRAM
OS: Windows 7 Home Premium
You'll also need to acquire broadcasting software in order to stream on Twitch. A few suggestions would be:
Aside from the obvious, it may also benefit you to purchase both a webcam and a microphone. It allows for building that necessary rapport with your audience when they're both able to see and hear you. Providing audio commentary for your gameplay is also a boon to viewers and highly recommended.

2. You're Setup, Now What?

Twitch channel streams are 24-hour streams. This doesn't mean that you'll need to be playing video games all day, but your channel is there for viewers to watch. You're given the opportunity to upload pre-recorded videos to your channel, but the true purpose of Twitch is to provide users with access to live streams of gameplay.
For broadcasters, Twitch can be something on the side, a complement to a career in e-Sports (competitive gaming), a fun hobby or a legit full-time job.
How you go about broadcasting depends entirely on how you choose to play and on the specific equipment you're using. Whichever way you decide, the gaming community at Twitch is there to offer plenty of online support via chats and forums that can be a great resource for anyone just starting out.

II. Popularity and Growth
The first step after setting up is to get people to want to watch you (and stick around). This is usually the most difficult part of Twitch streaming. You can play any old game, streaming when in the mood, and attempt to pull in viewers organically. If your goal is to monetize (and it should be since you're reading this article) then this approach will take far too long to establish any kind presence.
If you want to make money, you're going to have to get a bit more creative.

1. Choosing The Right Game
When choosing your game, you need to be strategic if you want to attract viewers. Gaming reviews are extremely powerful online, both for the companies selling the game, and for the reviewing putting out the content. Opting for an older or unpopular game will likely net you very minimal results. However, playing a more popular game can have you drowning in a sea of competition for viewers.
As of writing this article, the top 5 games being streamed on Twitch are:
League of Legends (LoL)
Fortnite
Dota2
Player Unknown Battlegrounds (PUBG)
Hearthstone
Your best bet is to browse Twitch and look out for the games with a number of streamers ranging between 10 to 20. This offers you a good chance that the game itself is ranked highly on Twitch while also giving you room to shine and attract those coveted viewers.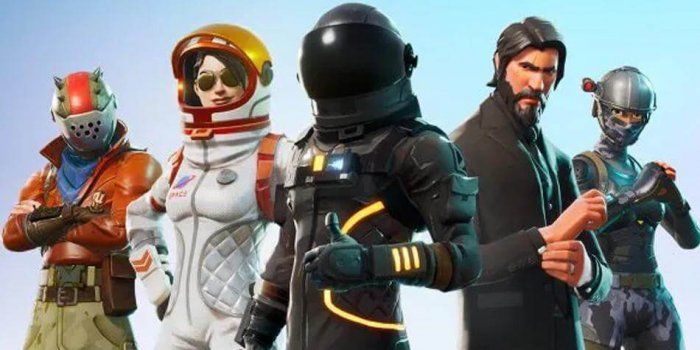 2. Other Popular Streams and Streamers
Going at it alone is admirable but in any business, it's not necessarily what you can do, but who you know. Forming bonds within the Twitch streamer community can garner exposure, helpful tips and strategies for your stream that you may not have thought of otherwise, and more followers of your own.
Engaging in conversation in other streamer's chat rooms can lead to great results. If you seem knowledgeable, interesting, or an all-around decent person, other viewers may decide to follow you on your own channel. Becoming friends with the streamer can also lead to massive exposure. They may choose to host your channel leading to even more potential viewers and followers.
The current top 5 most followed streams are:
Ninja (FortNite player and streamer)
summit1g (Currently playing FortNite)
riotgames (League of Legends organization)
shroud (PUBG player and streamer who plays for the eSports organization Cloud9
syndicate (Recently FortNite and IRL as well)
3. Use Social Media

Often overlooked, social networks can significantly aid you in building your brand. Many successful streamers use apps such as Twitter, Instagram, and Facebook to keep fans informed and up to date on their comings and goings of daily life. This allows you to connect with them on a more personal level.
Exposure to potential new followers is also a benefit of social media. Fans of other social media accounts may stumble across your own and like what you have going on. This then leads to a myriad of possibilities and growth for you, your channel, and potentially your bank account.
4. Growing Your Community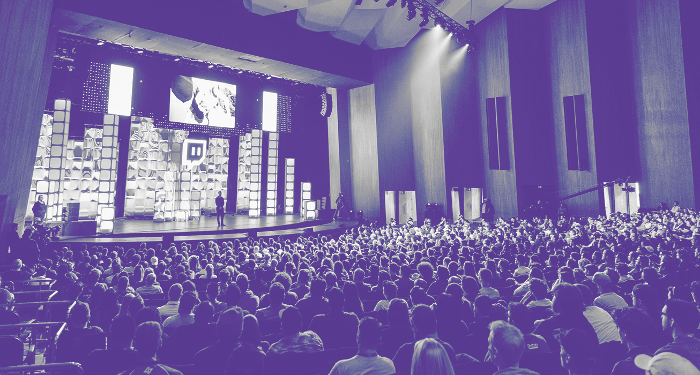 In order to grow, increasing your regular viewers is very important. However, not all viewers are created equal. Those who frequent your channel could be:
Trolls that harass you and the other followers in the chat
Quiet lurkers who never interact with you or your chat
Fair-weather viewers that only show up for giveaways and free stuff
Bots
In order to acquire the right kind of viewers, followers, and potential subscribers, you'll want to go about it in the proper way. Things you should never do to attract viewers:
Use Viewbots (programs that generate a false viewer count)
Pay outside websites to grow your channel
You can catch more flies with honey than vinegar is an apt adage for this situation. If you want to grow your community, you'll need to branch out. A few things that will help with growth are:
Interacting with other streamers and sharing the love by hosting them on your channel
Join a streaming community of like-minded individuals
Holding giveaways to loyal followers. Try to keep these to a minimum to not attract the freeloaders mentioned above
Uploading your videos to other platforms like Vimeo or YouTube
Posting your thoughts and opinions on gaming websites
5. More Than Just Gaming
Twitch actually houses a few different kinds of streamers on its platform. The bulk is of course filled by gamers and gamer affiliates, but what about the other folks who can't dedicate hours to just streaming video games? Where do they fit in?
Over the years Twitch has added more outlets for those wanting to stream for income that doesn't necessarily fit the gamer mold. There are those like JimLee who dedicate their Twitch streaming time to hand drawing illustrations live. Others such as Jae_Bunny have turned their Twitch stream into more of a cooking show. These particular streamers can often be found in the Creative section.
Additionally, sometimes a streamer doesn't have the luxury of sitting at home in front of their preferred gaming platform and stream for the masses. This is where the IRL section comes into play. Twitch streamers can choose to stream themselves doing everyday things in their daily lives.
Each of these options is still perfectly viable and are able to earn money through tips, donations, and the programs offered to gaming streams.

III. Affiliate vs Partner, What's The Difference?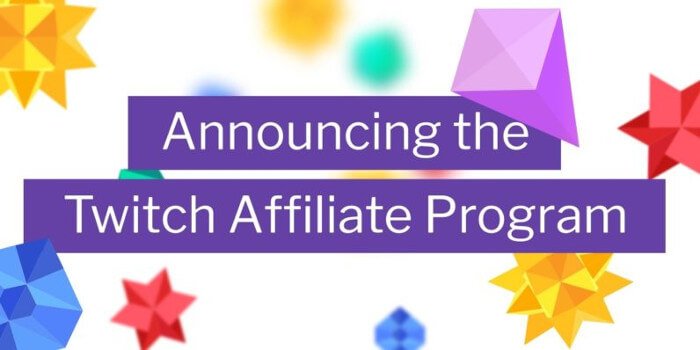 1. Becoming a Twitch Affiliate
In order to receive an invite to the Affiliate Program, you must meet 4 requirements:
Stream for 8 hours in the last 30 days
The stream has been on for 7 days in the last 30 days
Reach an average of 3 viewers per stream
Grow your audience to 50 followers
Once an individual requirement is met, a checkmark will appear under "Path to Affiliate". If any of these checkmarks are lost, then you'll need to complete those requirements again. Once all 4 checkmarks are achieved, an invite button will be displayed on your Achievements page and an email will be sent to you.
Once invited, you'll be directed to the Settings tab of your Dashboard. It is here where you'll begin the onboarding process to monetize your channel.
A. Bits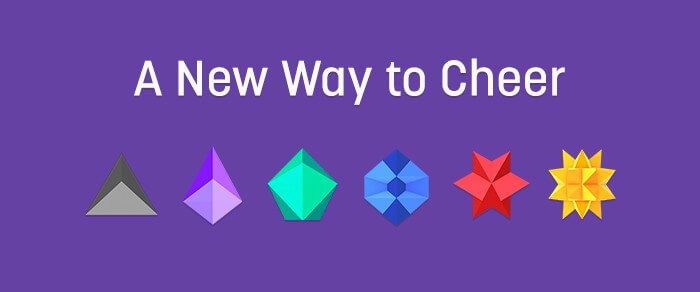 Bits are a currency used on Twitch to provide the streamer with a small tip through "cheering". You can cheer on the streamer for a minimum cost of $.014 per Bit. The streamer themselves receive $.01 for every Bit received. That is roughly 70% of the revenue share while the other 30% is sent to Twitch.
Setting up your channel to use Bits is a short process of 4 steps that you'll need to complete.
Supply general information
Agree to the Twitch Affiliate Program's terms with a signature
Complete the Royalty and Service tax interviews
Provide payment details by filling out the Tipalti form
You'll also need to setup two-factor authentication in order to receive your payouts. This will help to keep your account secure and ensures that your payouts are received by you. To ensure you can set up 2FA, make sure your Twitch account has been verified and that you have access to a computer. 2FA cannot be set up mobile.
Set up Twitch Two-Factor Authentication
Once 2FA has been set up, you'll be able to choose your method of payouts.
You'll be able to select direct bank deposit (3-5 day wait), wire transfer (1-3 days), PayPal (1-2 days), or check (1-2 weeks) to receive your payments. There is also the option to hold payments until you specify your desired method.
B. Affiliate Payout
Affiliates are eligible to receive pay once their accrued revenue balance reaches the $100 mark. If you fail to reach this minimum, the amount rolls over to the following month until the threshold is met.
The payout period for an Affiliate is 60 days. This means that you'll receive your payments 60 days from the end of the month you reached the $100 threshold.
C. Affiliate Subscription Program
Affiliates are eligible for a subscribe button that allows followers to become subscribers for a monthly fee. All options that are also afforded to those in the Partner Program are available to Affiliates as well. A subscription can be acquired for $4.99, $9.99, $24.99, and the Twitch Prime free subscription.
Affiliates also get one global subscriber emote for all subscribers, with the options of adding two additional for $9.99 and $24.99 subscribers.
D. Game Sales
An Affiliate can opt to sell games or in-game items on their channel for additional revenue. This offer area will appear on all channel pages whether the streamer is an Affiliate, Partner, or not. The Affiliate is eligible to earn up to 5% revenue share on purchases that originate from their channel.
Making one of these purchases is not only beneficial to the streamer, but those who make the purchase can also receive a loot-crate if said purchase is $4.99 or more. The Twitch crate contents will vary between an exclusive emote, chat badge, or some Bits.

2. Making Twitch Partner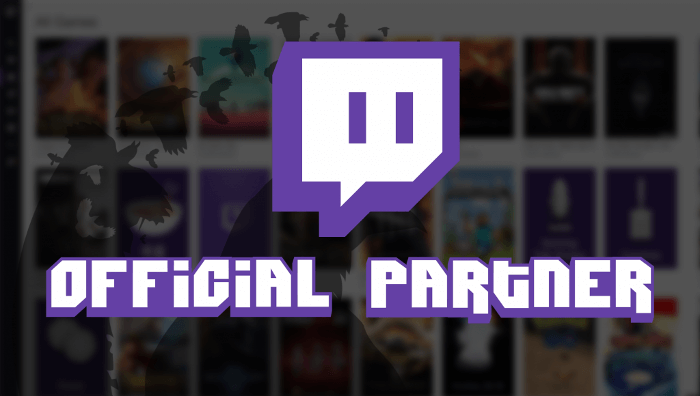 What equates to the Holy Grail of streaming online games for a living is the coveted Twitch Partner Program. Few people have reached the status of partner but that hasn't demotivated the millions of streamers from making the attempt to acquire the position.
The most popular gaming personalities from around the world are what make up the bulk of the Partner elite. Once you're "in the club" you can begin earning revenue through advertisement streaming and additional perks that a member of the Affiliate Program cannot yet access.
Once becoming Partner, should you not wish to take part in the subscription program, you may opt out at your leisure. If you change your mind later on, you're able to file a ticket via help.twitch.tv and get set up.
A. Partner Subscription Program
Very similar to the Affiliate Subscription Program with a few minor additions. Partners have a bit more free reign and options with their subscribers, such as:
A Subscriber Badge for display exclusively on your channel
Emoticon code prefix preference
Up to 50 subscriber exclusive emoticons
Subscriber-only chat
Excluding subscribers from Slow Mode (chat room speaking delay)
Archive Restriction
Video quality restriction
Ad-Free for Subscribers
International Payment Acceptance
B. Streaming Advertisements
During a live stream, Partners are able to run commercials for additional revenue. How often and how long is also entirely up to the Partner. Additionally, every 1000 advertisements shown on stream will grant the Partner an industry-leading CPM.
Corporate performance management (CPM) is the area of business intelligence involved with monitoring and managing an organization's performance, according to key performance indicators such as revenue, return on investment, overhead, and operational costs.
Ad management is left entirely up to the Partner.
Below is the chart presented on the Twitch help site for the differences between being a part of the Affiliate and Partner Programs.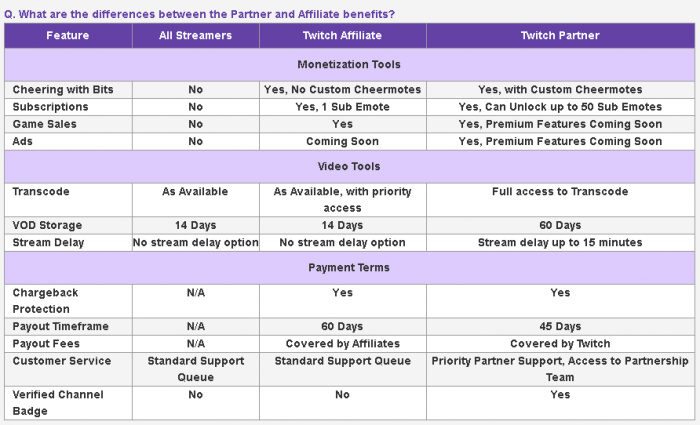 IV. Twitch vs YouTube Gaming
YouTube gaming is Google's response to the juggernaut that is Twitch.Tv. Which may sound a bit funny seeing how the YouTube platform came first. YouTube even made an offer to purchase Twitch at one point but history shows that this scenario had Amazon walking away as the victor.
So why even bring up YouTube Gaming in an article that's supposed to be all about Twitch?
In addition to the similarities and differences, there's a list of pros and cons on why you should choose one over the other. In truth, a lot of current Twitch streamers got their start uploading their gaming sessions to YouTube. So it seemed only right to understand the comparisons and contrasts of these two major streaming platforms.
1. Similarities & Differences
The most obvious similarity between the two is the audience they are attempting to attract. With over 470 million gaming video viewers worldwide, both platforms are working hard to consume as much of that pie as possible.
A. The Focus
Twitch is more focused on the live-streaming aspect whereas YouTube Gaming leans more towards pre-recorded videos. This alone has most broadcasters and eSports organizations settling more towards Twitch as their primary live stream host.
YouTube has been around a lot longer than Twitch and is, therefore, a bit more familiar to the masses. However, Twitch has been the live stream king for quite a while now and it shows in their congruent user base.
YouTube Gaming has been on a roll over the last two years, taking in a larger viewer base than even Twitch but still fails to match it's streamer numbers.
B. User Interface
The user interfaces (UIs) of both platforms are somewhat difficult to navigate if you're new to either. YouTube tends to throw a bunch of information at you from the onset. This may seem like a jumbled mess but it actually puts everything at your fingertips making it likely that you'll find what you're looking for.
Twitch opted for a more minimalist approach with it's UI. A carousel of featured live streams across the top, the most viewed games just below, and a section of the top live channels below that.
C. Features
Each channel comes equipped with a live stream and a chat box area. The chat itself varies from channel to channel but it's safe to say that both platforms have their share of toxicity.
Already established YouTubers who wish to stream on YouTube Gaming will find that their channel's followers are not transferred over. Discovery isn't the issue but rediscovery may cause a problem. One that Twitch does not face. It was built specifically with live streaming in mind and has no older accounts to transfer.
One of the biggest things going for YouTube Gaming over Twitch is the live broadcast rewind option. YouTube Gaming gives viewers the ability to essentially TiVo a stream being broadcast live. This is something Twitch has yet to implement.

3. Do I Have to Choose?
Ultimately, we have two very similar platforms doing essentially the same things. One is more known for its live stream capabilities. The other more so for video uploads and viewings.
Twitch may actually be a bit more difficult to get your foot in the door as a decently paid streamer in comparison to YouTube Gaming. Seeing as there are already so many large and well-known streamers featured on Twitch, those starting out may feel YouTube Gaming would make a better platform.
Although Twitch may be flooded with streamers, should you become well known, and your channel begins to flourish, Twitch is definitely the more lucrative option in the long run.
If you decide that Twitch is the platform for you, that shouldn't automatically discount YouTube. Uploading your streaming videos (preferably well-edited ones) to the YouTube platform can be an excellent source of secondary income. It also offers another platform to get your name and brand out there.
It's always beneficial to have supplemental income from multiple sources. Never put all of your eggs in one basket. Speaking of which…

V. Additional Ways of Earning Money
There are many avenues to earning revenue while streaming on Twitch. Some are only available to you once you reach affiliate or partner status. Others are as simple as selling merchandise or adding a donation button to your channel's page.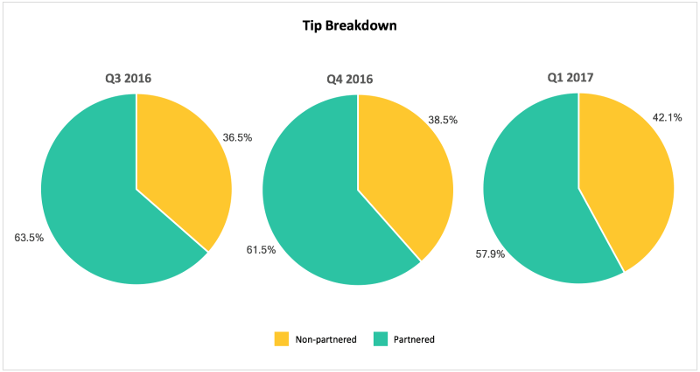 1. Donations
This will possibly be your first foray into making money streaming on Twitch. It's not uncommon for followers to insist that you add a Donations button to your channel so that they can tip you for a job well done.
There is no limit to the amount a follower can donate to you. Play your cards right and this particular revenue could actually be the primary source of income for your channel.
You can generate the code for the donation button through the PayPal website, and then add it to your Twitch account.
Head over to the PayPal website and sign in to your account.
Click the "Profile" section and then select "My Selling Tools."
Once there, Click "Update" which is located next to the "PayPal Buttons" section. From here you can hit the "Create New Button" link.
In the "Choose a Button-Type" drop-down list select "Donations." Type in the name of your Twitch channel in the box provided.
If you'd like to upload your own button click the "Customize text or appearance" link.
Copy or save the donation button as you'll need to add it to your Twitch stream.
Choose the currency you intend to use for your donations and finalize it by hitting the "Create Button" button.
Next head to the "Email" tab and click "Select Code. Copy the code provided as you'll need it in a bit.
In a new tab, sign in to your Twitch account.
Head to your "Channel" and select the "Edit" option located above your stream window.
Add a new panel by clicking the "+" and name it something appropriate for donations.
Next "Add Image" and paste the code you copied earlier into the area provided.
Once complete, hit "Done," then copy/paste your donation button code into the "Image Links To" input box.
Add a description for your viewers and then click the "Submit" button.
You and your viewers should now be able to see the donation button on your channel.
So just how much money can you make from donations? Perhaps this video will shed a little light on the subject.
2. Sponsorships
Being sponsored by a brand is quite common for the larger streamers on Twitch. However, the lesser-known streamers who are new to the idea of using Twitch as a possible revenue source, the sponsorship process can be a bit vague. It may surprise you but you can actually get sponsored without a massive viewer base. You'll just need to put in a bit of extra effort.
You can begin by ensuring that your channel is ready to receive sponsorship. Clean up the information and graphics on your page to be more presentable to viewers and potential sponsors. Make a list of the equipment that you use while streaming and add it to your channel. Add a way for sponsors to get in contact with you should they wish to reach out.
Before accepting a sponsorship offer, make sure to do your research. The company should be trustworthy and you should be willing to use or talk about the products that they offer.

3. Affiliate Links
If you don't use a brand discovery software or program, and sponsors have yet to contact you, you'll need to begin seeking out sponsors manually. The right sponsors for you will all depend on what you and your channel represent.
If you spend your time promoting being a healthy gamer on your stream, it may benefit you to seek out sponsors in that niche. Similarly, the brands of gaming or PC equipment you use can also benefit you when seeking out sponsors.
Amazon, Newegg, Green Man Gaming, and Razer are among the top gaming affiliates to apply for in order to receive a higher revenue percentage. You can use affiliate links in your stream, or write about gaming products, on your own website.

4. Merchandising
Once you've developed a solid personality and garnered a community of followers and subscribers, it may be beneficial to begin adding your brand to purchasable items. T-shirts, hoodies, mugs, and much more can net you a decent amount of side money from those willing to represent you.
You can create an entirely separate website for your merchandise store and add a link to your Twitch channel. This option is also a decent way to have your channel promoted, leading to more lucrative opportunities.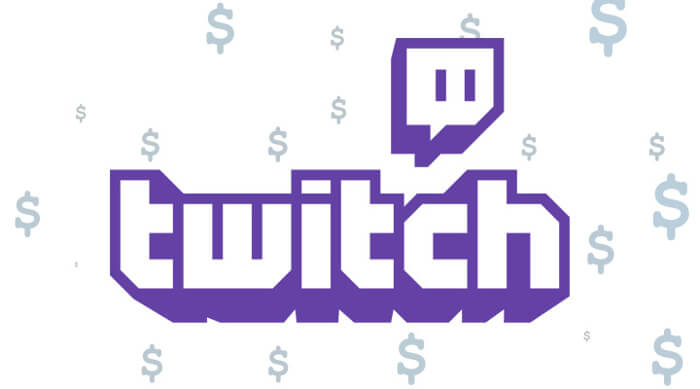 VI. How Much Can I Actually Make On Twitch?
Though not necessarily an easy road, you have multiple options to achieve monetary gains live-streaming on Twitch. More options are being presented as time goes on and Twitch streaming doesn't seem to be going away anytime soon.
For avid gamers, getting paid to play games for multiple hours a day is living the dream. Even the most casual gamer can make a decent side earning that they otherwise wouldn't have playing games offline.
The total amount of money that you can make varies depending on how big your stream becomes. If you're pulling in 100 monthly subscriptions at $4.99/per, subtracting Twitch's 30% for each subscription, leaves you with $349. This is not counting potential Bits, donations, affiliate link sales, and possible merchandising. Imaqtpie, a former League of Legends pro player, is rumored to make close to a $15k monthly figure. This is accumulated through not only subscriptions but also advertising revenue on stream.
I've personally witnessed a streamer that goes by DocGotGame who received multiple $500-$1000 donations around the Christmas holiday from viewers who love what he does. He's a character for sure but he also interacts consistently with viewers in chat, has exclusive gaming sessions with followers and subscribers, and 99% of the time has a very upbeat and relatable attitude.
Ninja, a very popular Fortnite streamer, makes $500,000 per month thanks to a subscriber count of over 200,000. That's insane! Of course, having special guests like Drake make an appearance on your stream is sure to bring in the fans. If that's not motivation, I don't know what is.
All in all, Twitch can be very lucrative if you're willing to put in the time and dedication necessary for the payoff. Hone your skills, work on your online persona, be personable and engaging, and above all else, enjoy what you do.
Making Money With Affiliate Marketing
Making money with Twitch is a pretty exciting idea already, but this is just one window into the world of affiliate marketing. You can be an affiliate of any number of companies and make huge sums of money online with just a few strategically placed links.
As people found out when the YouTube Adpocalypse hit, it's never smart to have all your eggs in one basket. So if you're thinking about being a Twitch affiliate, you definitely want to create a website that you retain full control over, and have Twitch as a portion of your income. Even if it's your main gig for the time being, you should be building a website with your brand as a safety net.
Many people will simply opt to not use Twitch at all, and can still make money in affiliate marketing. You could even stick with video games and make bank. What angle you decide to pick is a process but there's tons of options. So at this point, your biggest problem isn't if you can make money or how to make money, it's which method is the best fit for you. See how I built my first affiliate website and how you can build your own according to the same training.
The Internet's #1 Affiliate Training
It sounds like you're pretty familiar with the basics of how affiliate marketing works. Awesome! But is your website profitable yet? Are you stuck spending hours wondering why you aren't seeing results yet?
You aren't alone. Most newbie affiliate marketers are a little lost, jumping from one "how to" guide to the next, hoping to learn the secret sauce of how to make money with affiliate marketing
I was able to turn my basic niche blog into a six-figure earner in 18 months following the training from this company. They focus on building a sustainable business that will earn for years, not just a website that will "game" search engines for temporary rankings. That's why 8 years later my websites are still earning and still growing.

What's up ladies and dudes! Great to finally meet you, and I hope you enjoyed this post. My name is Nathaniell and I'm the owner of One More Cup of Coffee. I started my first online business in 2010 promoting computer software and now I help newbies start their own businesses. Sign up for
my #1 recommended training course
and learn how to start your business for FREE!

Latest posts by Nathaniell (see all)